Everyone is talking about artificial intelligence (AI) these days. Dozens of new tools are launching daily, so keeping up with the latest technology can be tricky. Thankfully, we keep track of the most recent developments in AI to keep you in the loop. In this post, we'll highlight the best AI websites in 2023 (so far) so you'll have a better idea about what's available.
Let's dive in.
What is an AI Website?
Web-based AI tools allow you to perform GPU-intensive tasks without bogging down your computer. These AI tools run in the cloud on the platform's own servers so that you can accomplish more in less time. They encompass the gamut when it comes to functionality, ranging from AI image generators to AI video generators and everything in between. All of them incorporate generative AI, which is a type of machine learning that uses a huge dataset and battling algorithms to generate high-quality images, videos, music, and more.
11 Best AI Websites in 2023

Subscribe To Our Youtube Channel
To bring you the best of the best, we scoured the internet, read countless reviews, and tested our top picks thoroughly. Our list doesn't include AI powerhouses like Midjourney or Gigapixel AI because they require desktop apps or Discord servers to run. Each of the entries on our list doesn't need powerful GPUs or expensive computers because they run on the World Wide Web, allowing people with simple machines – even Chromebooks – to run them seamlessly. So, without further ado, let's explore our picks for the best AI websites available.
The Best AI Websites Listed In Order
Expand List
1. Framer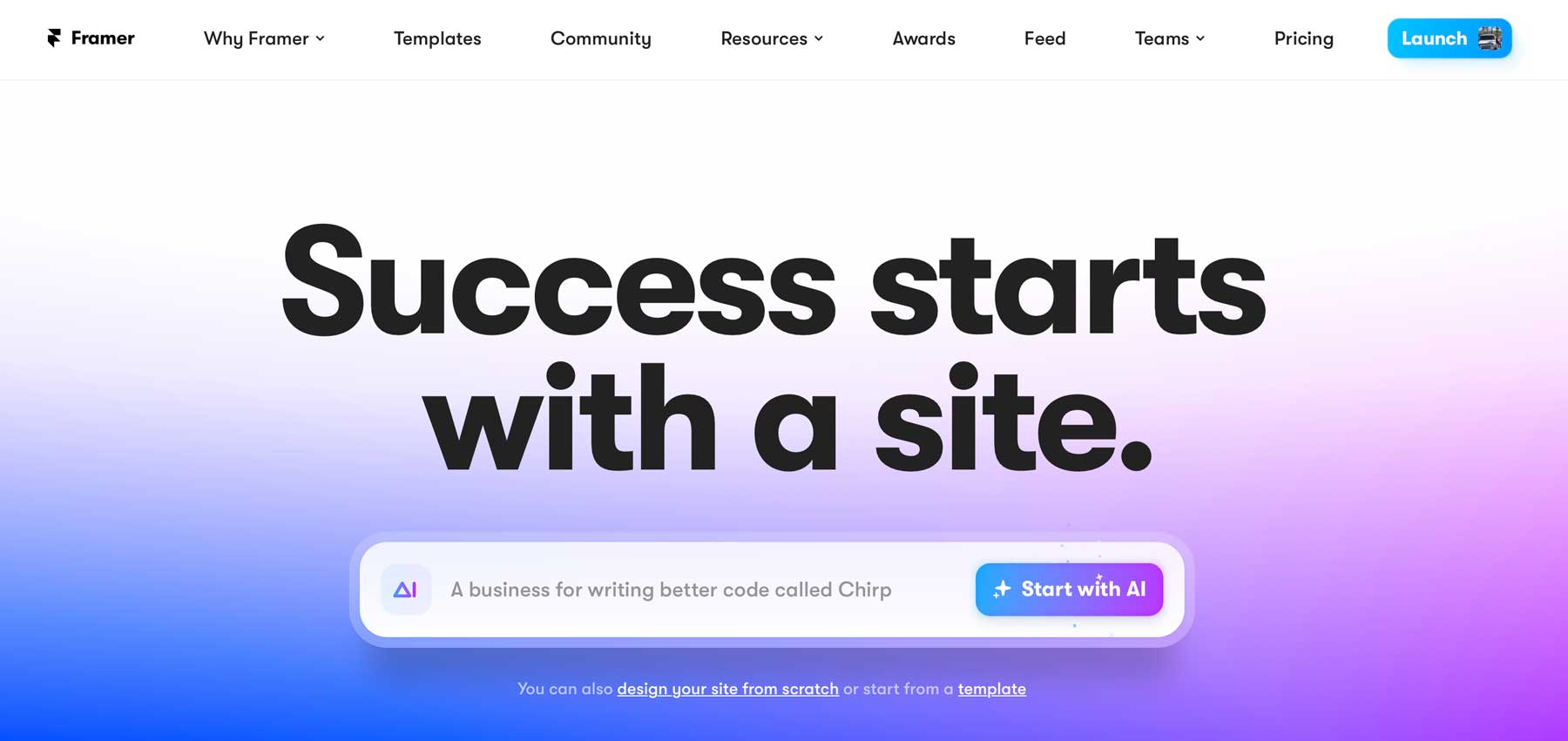 Up first on our list of best AI websites is Framer. It allows you to create landing pages and full websites with a text prompt without coding. It has similarities to WebFlow, where you can use Figma to design your masterpiece and then import it into Framer to make design tweaks and add functionalities like scrolling effects.
Key Features of Framer:
Import Figma designs
Built on the React framework
Simple interface with powerful design tools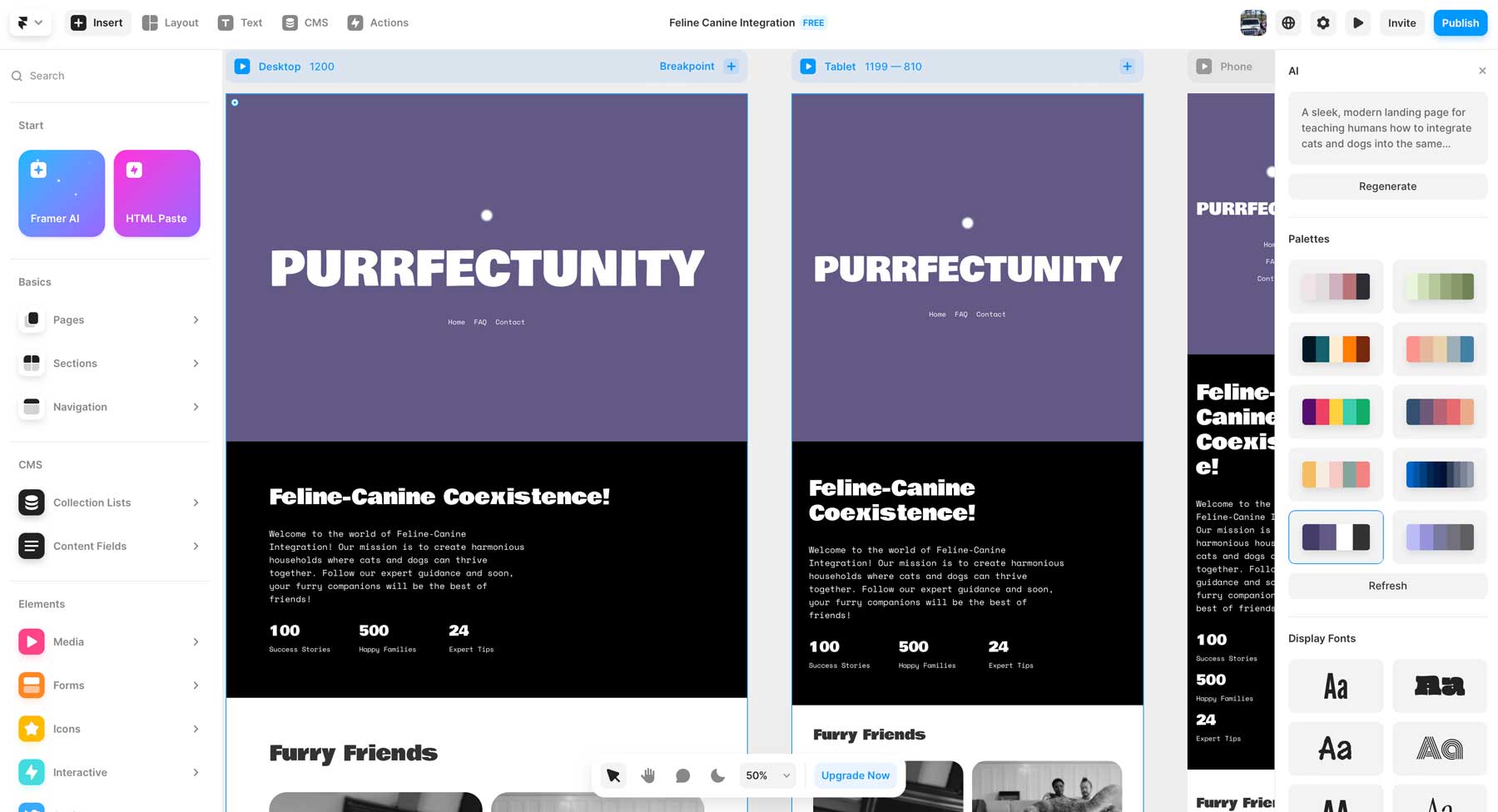 The interface is simple to understand and offers plenty of powerful design tools to craft your website. You can add hover animations, responsive breakpoints, plugins, and even adjust positioning to make engaging scroll effects. Framer also offers dozens of free templates, so you can start with a pre-made design if you need a little help getting started.
Best AI Website for Creating Websites:
Framer is an excellent tool for those who want to build a website without design experience. More seasoned designers can build out their creations in Figma and then easily import them to generate a stunning responsive website. They offer a free plan, so you can play around with it before committing to a paid one.
Pricing: Free, with plan starting at $5 per month (billed annually).
2. Adobe Firefly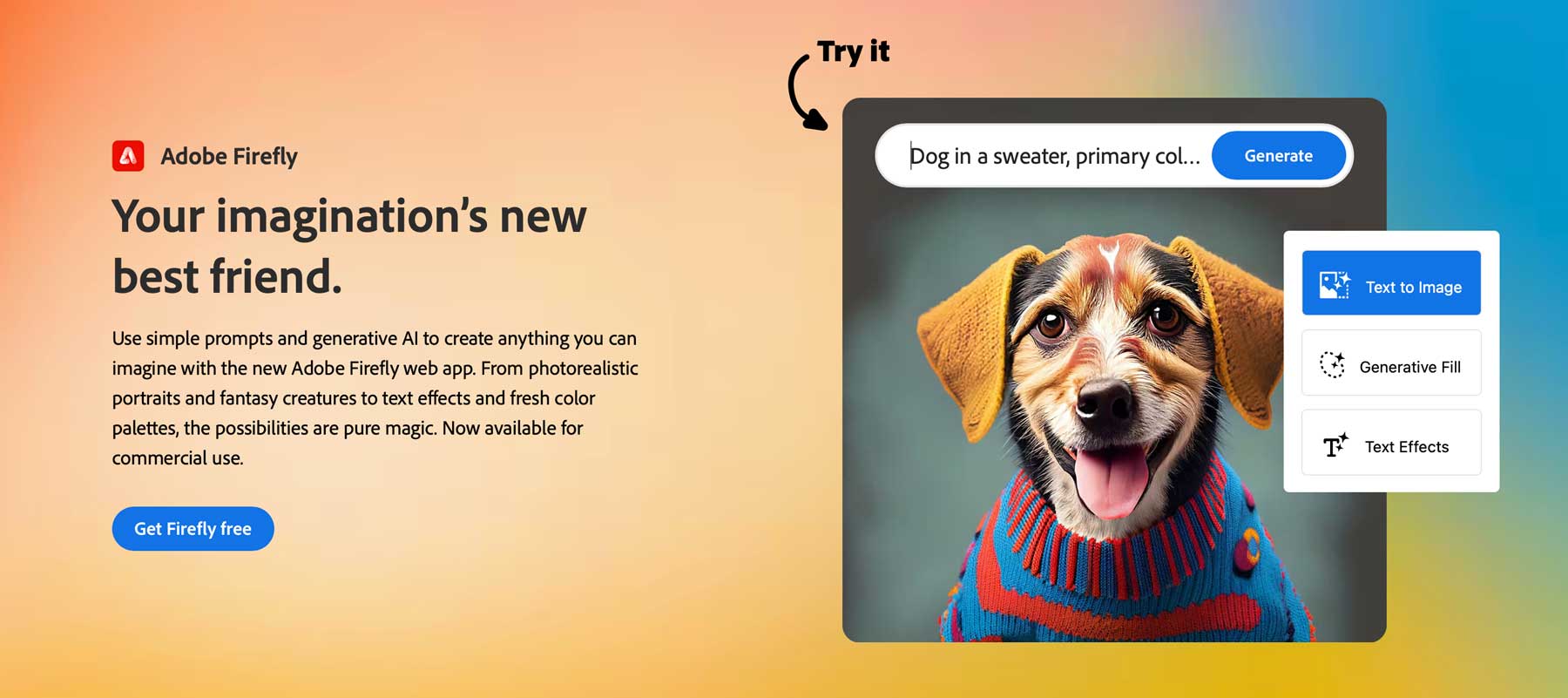 Our next AI website, Adobe Firefly, is free to use. It offers four AI tools, including text-to-image, generative fill, text effects, and generative recolor. Firefly is Adobe's online offering, but its AI tools are also available in Photoshop, Illustrator, and Adobe Express.
Key Features of Adobe Firefly:
Generative fill
AI image generator
AI text effects
Generative recolor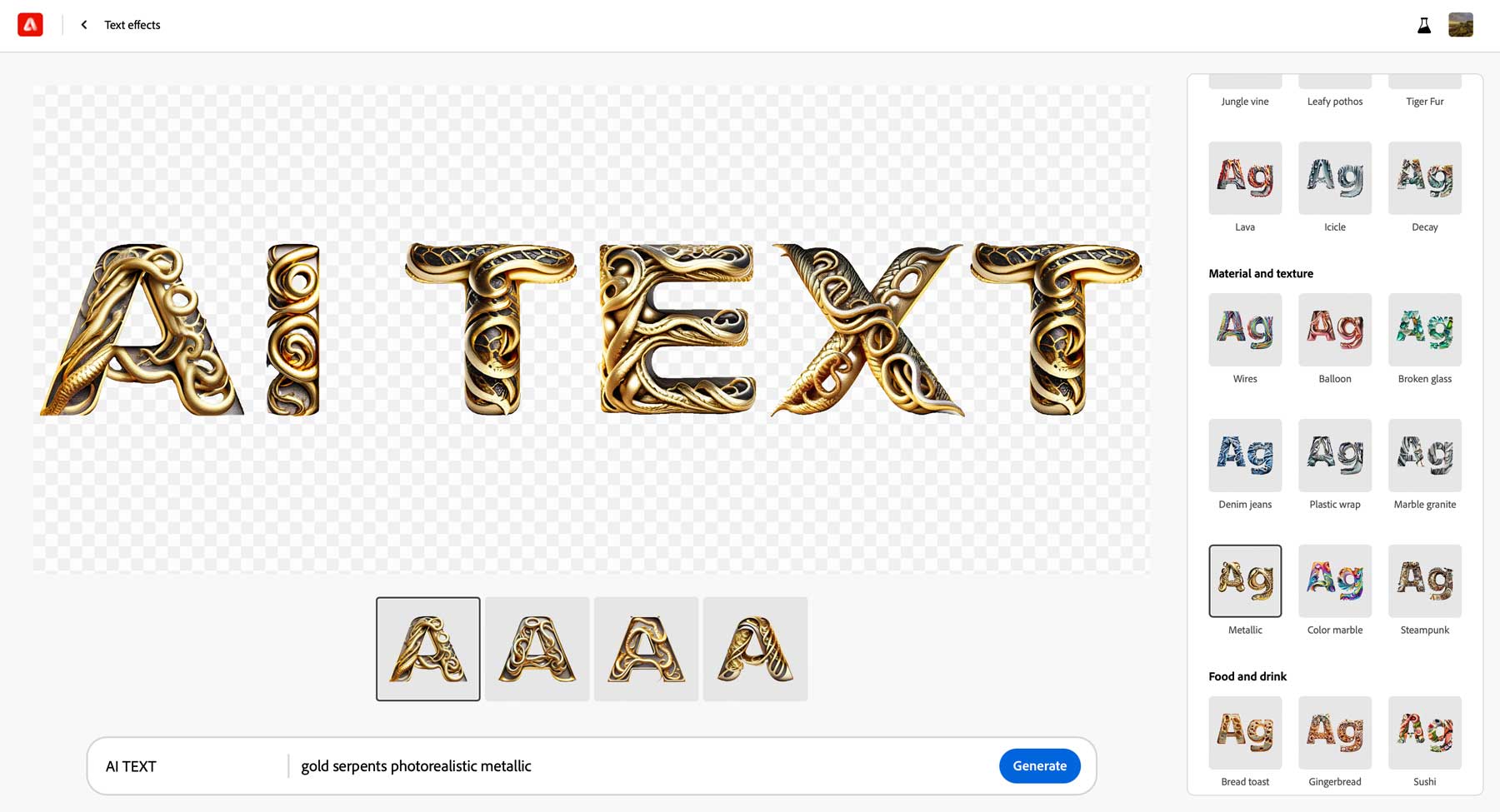 The best feature of Adobe Firefly is the text effects feature. If you've been using AI to generate images or other content, you know it doesn't do well with text. Adobe's text effects tool is revolutionary in AI tech, allowing you to generate cool effects for your words without garbling the letters.
Best AI Website For Creating Text Effects:
Adobe hit a home run with its Firefly AI website. The best part is that everything generated with it comes directly from Adobe's massive library of stock images and vectors, so anything you create can be used commercially. New tools are in the pipeline, including text-to-vector, 3D-to-image, and sketch-to-image, so we're excited to see what the future holds for Firefly.
Pricing: Free, with monthly plans starting at $4.99.
3. Rytr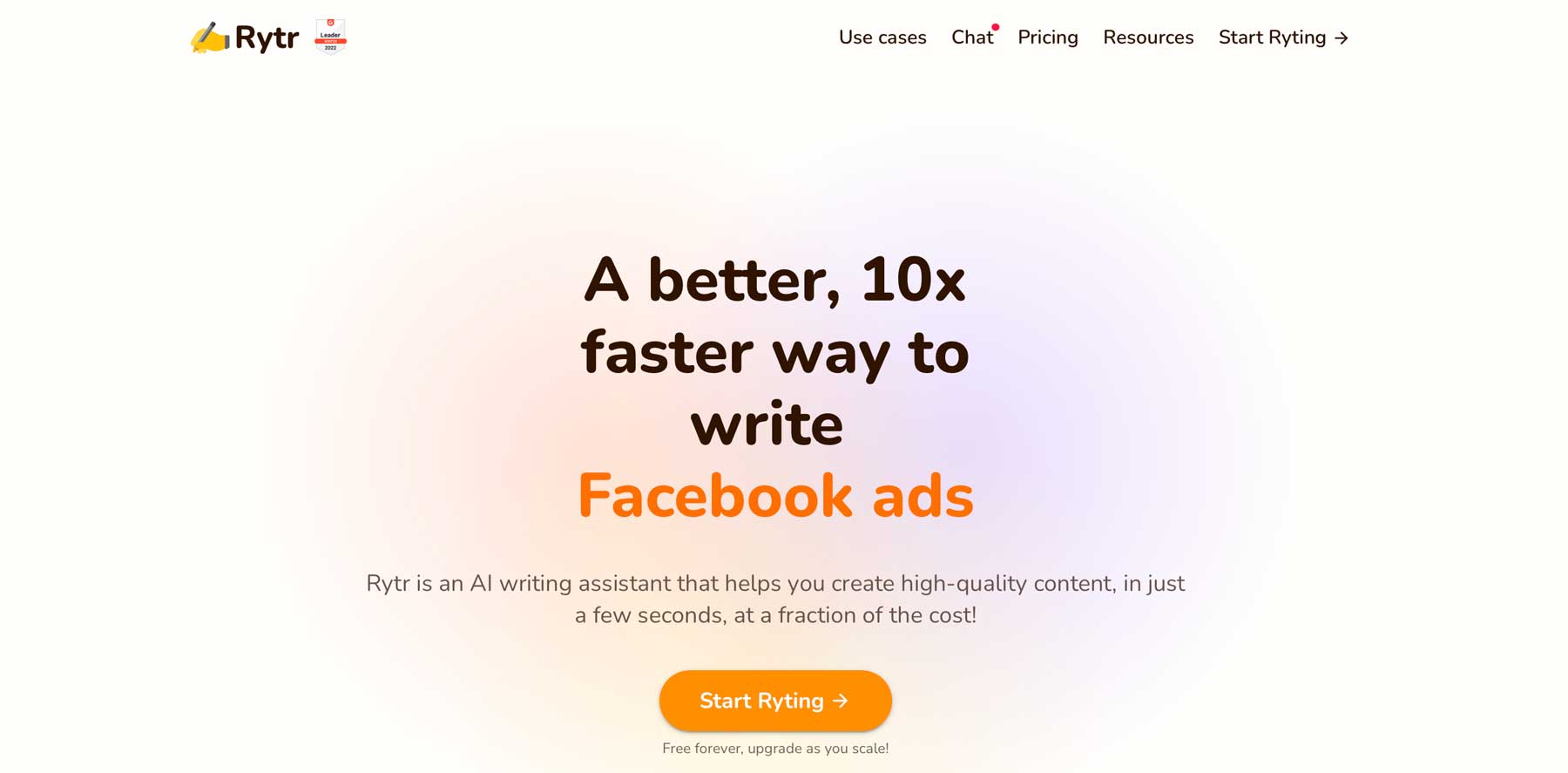 Our next AI website is Rytr, one of the best AI writing software websites on the net. It offers over 40 writing templates, including blog outlines, newsletters, branding ideas, and more. They also offer a Chrome extension so you can generate text no matter what platform you're working with.
Key Features of Rytr:
Over 40 writing templates
Chrome extension
Support for over 30 languages
User-friendly interface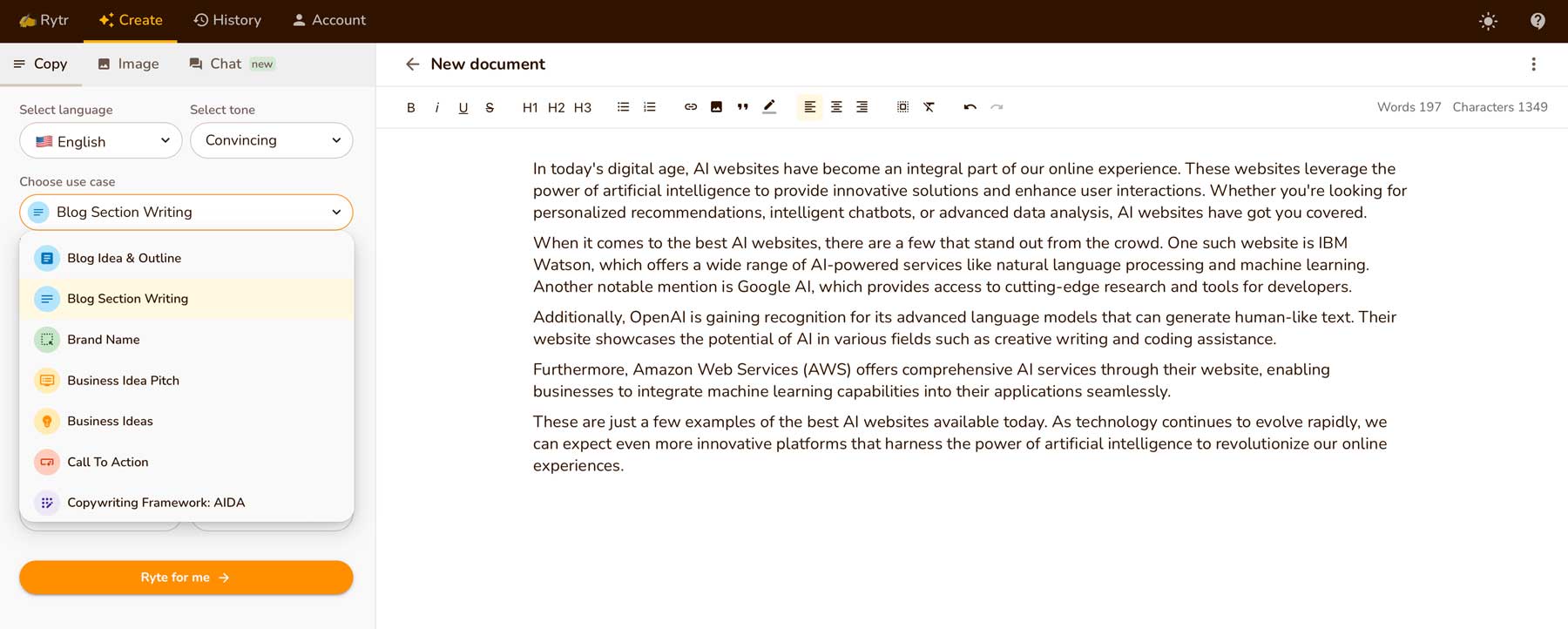 The biggest benefit of Rytr is its simple interface. There aren't a lot of bells and whistles so you can focus solely on writing. Users can easily switch between templates, languages, writing tones, and creativity levels, so no matter what type of content you want to generate, Rytr makes it easy for you.
Best For AI Writing:
Anyone looking to overcome writer's block or generate a quick headline for their next blog post will love Rytr. With over 40 writing templates and a no-frills interface, marketers can concentrate on developing content instead of mastering a clunky interface.
Pricing: Free, with monthly plans starting at $9.
4. Voicify AI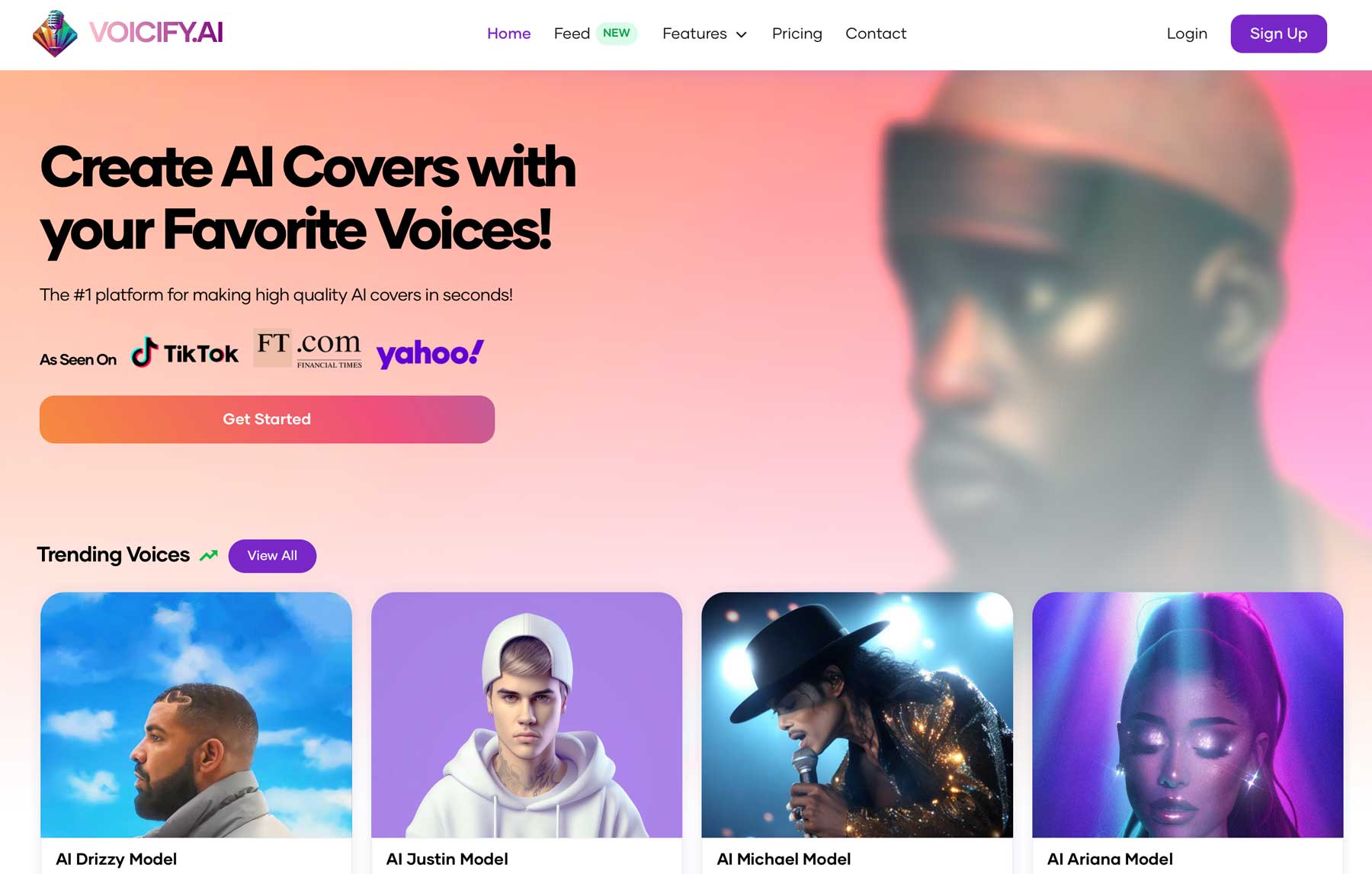 If you're looking for an AI website to generate AI covers, you won't find a better one than Voicify AI. It comes with over 3,000 AI voices in several genres, including music, public figures, anime, gaming, and more. Features include custom voice models, where you can upload your voice and transform it into AI or add a YouTube link to convert songs into AI vocal masterpieces.
Key Features of Voicify AI:
Dozens of realistic celebrity voices
Train your own AI model
AI Vocal Toolkit
Create covers from YouTube links

In addition to creating covers, the AI Vocal Toolkit allows you to extract voices and turn them into excellent acapella renditions. Need to remove reverb from your recordings? No problem. There's a tool for that, too. There's also an AI silence remover, which will analyze your recordings and remove pauses.
Best AI Website For AI Music Covers:
Anyone looking to create realistic AI voices will love Voicify. While you can't use their AI voice models commercially, it's a lot of fun to play with. That said, you can train your voice model in a matter of hours and use it for any number of commercial purposes, including voiceovers, narrations, and original songs.
Pricing: Starting at $7.99 per month.
4. LeiaPix Converter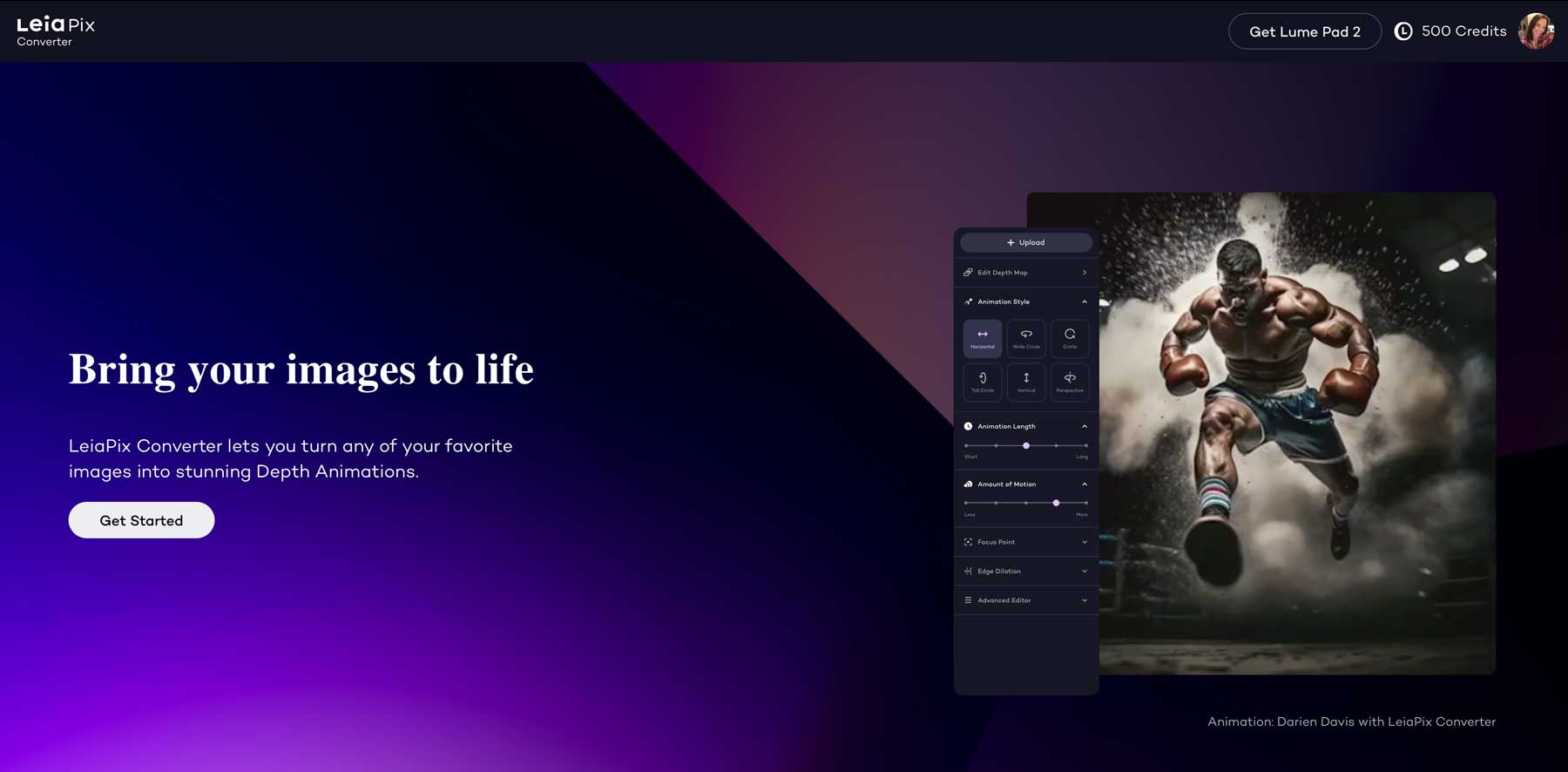 Up next on our list of best AI websites is LeiaPix. It lets you bring your 2D photos to life with stunning 3D animations. LeiaPix enables you to edit the depth map to add more focus to certain elements or send them farther back into your image. Output choices include MP4, Facebook 3D, LIF, and SBS. You can also download the depth map to edit your creation in your favorite 3D software.
Key Features of LeiaPix:
Create depth animations from still photos
Save as MP4, Facebook 3D
500 credits upon signup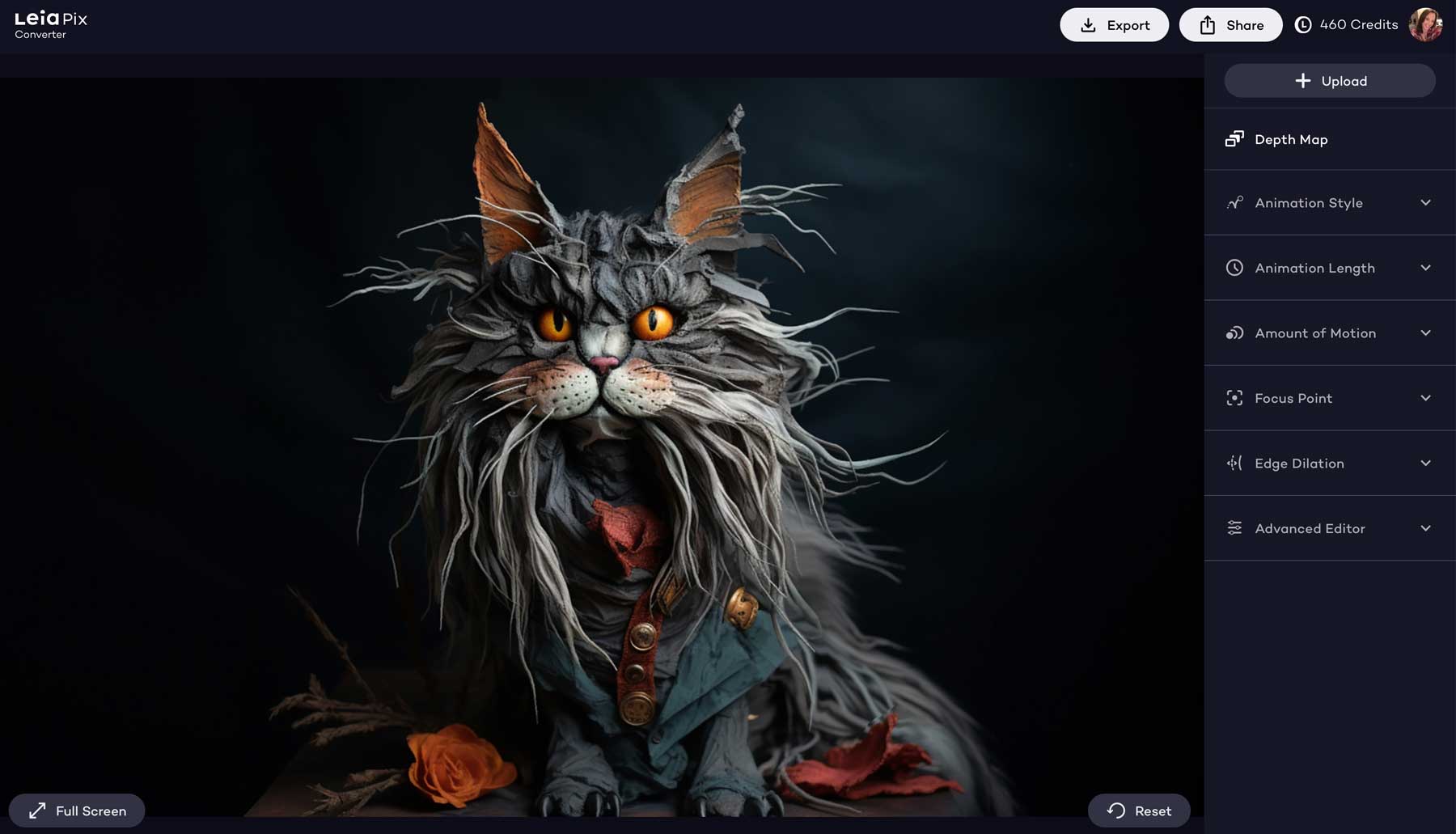 The best feature about LeiaPix is the amount of editing you can do with a free tool. You can adjust the perspective (depth map), animation style, animation length, and the amount of motion. Additional tools include the ability to shift the focus point and edge dilation.
Best AI Website For Creating 3D Animations:
If you're looking for an AI website that turns 2D images into 3D videos, LeiaPix is an excellent choice. It's free and allows you to use the videos in your creative projects without paying a cent.
Pricing: Free
6. G-Prompter

G-Prompter is a free prompting tool for Midjourney and Stable Diffusion. It allows you to generate prompts by inputting an idea and then selecting the length for the prompt. From there, copy and paste it into your Stable Diffusion program or Midjourney, and you'll get some crazy good results. And since Divi AI image generation is built on Stable Diffusion, you can use it there, too.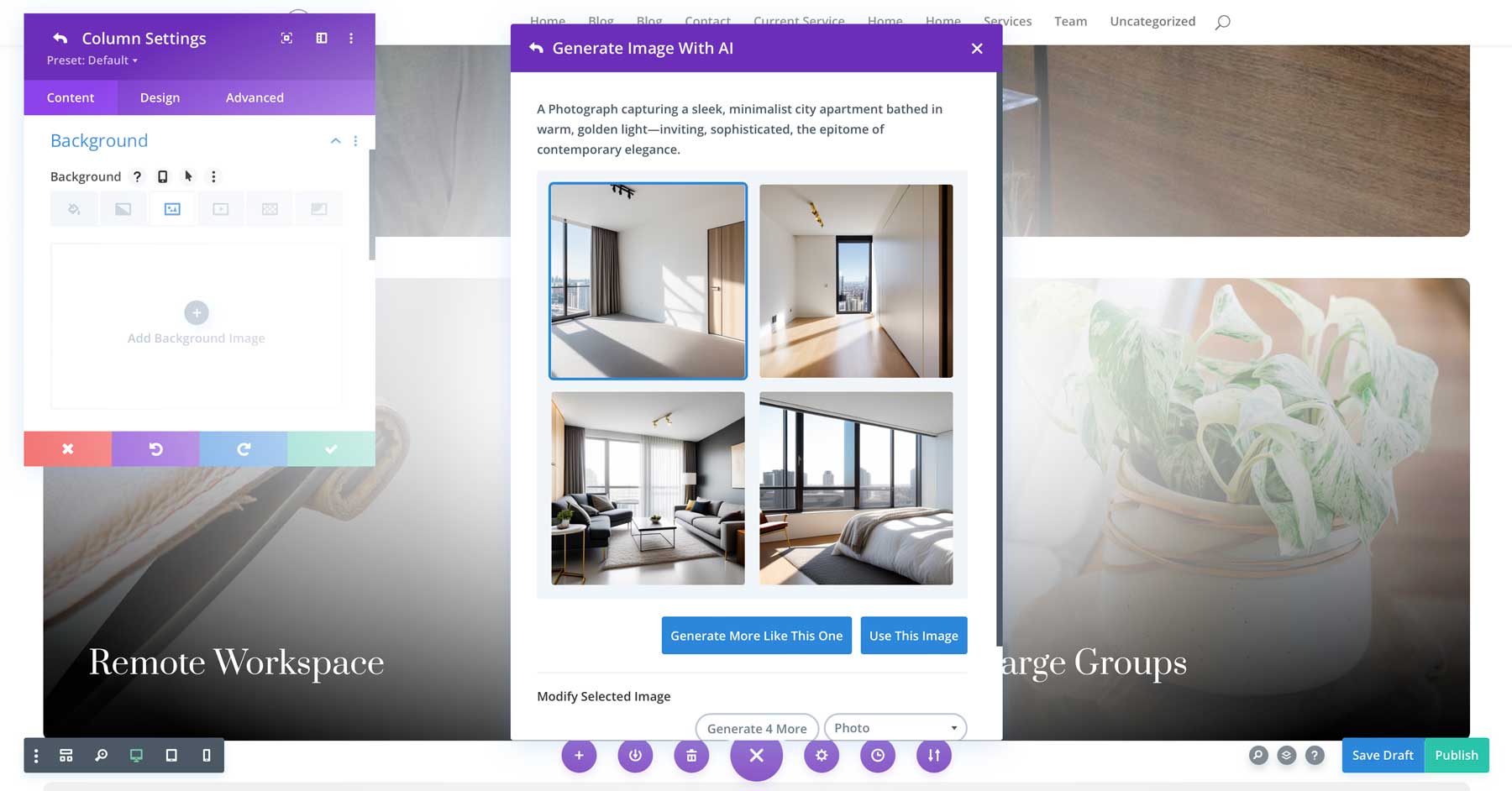 Key Features of G-Prompter:
Generates prompts for Midjourney and Stable Diffusion
Different styles, including photography, artwork, and vectors
Blog with prompting tips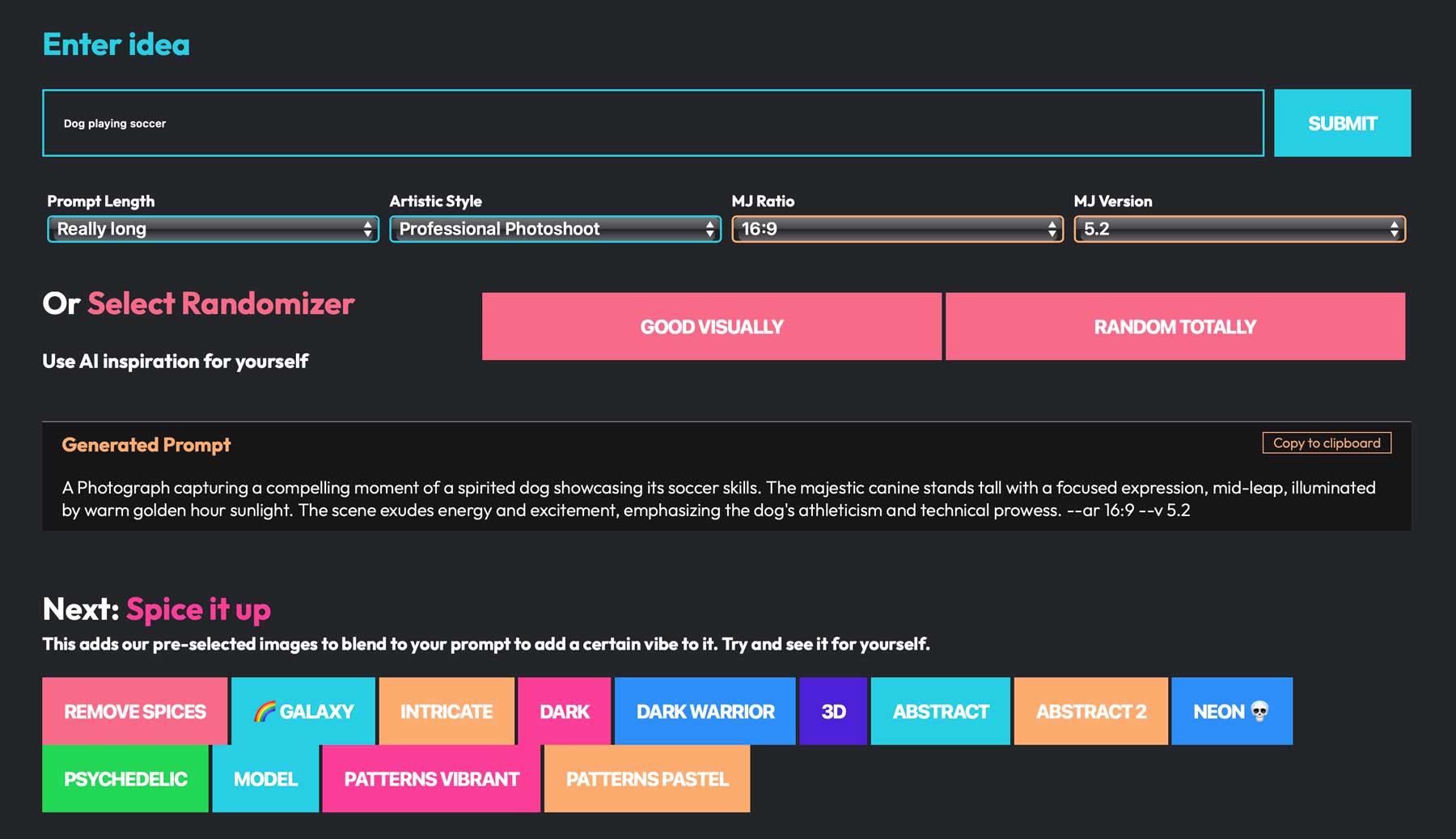 Aside from generating excellent prompts for creating art, G-Prompter provides a blog highlighting different prompting techniques and examples so you can learn more about prompt engineering, image styling techniques, and more.
Best AI Website For Prompting Tips:
G-Promopter is an amazing AI website that generates prompts for your favorite AI image generators. If you're a Divi AI, Stable Diffusion, or Midjourney user, it can help you hone your prompt engineering skills and, at the very least, help you learn how to get the most out of your AI images.
Pricing: Free
7. Leonardo AI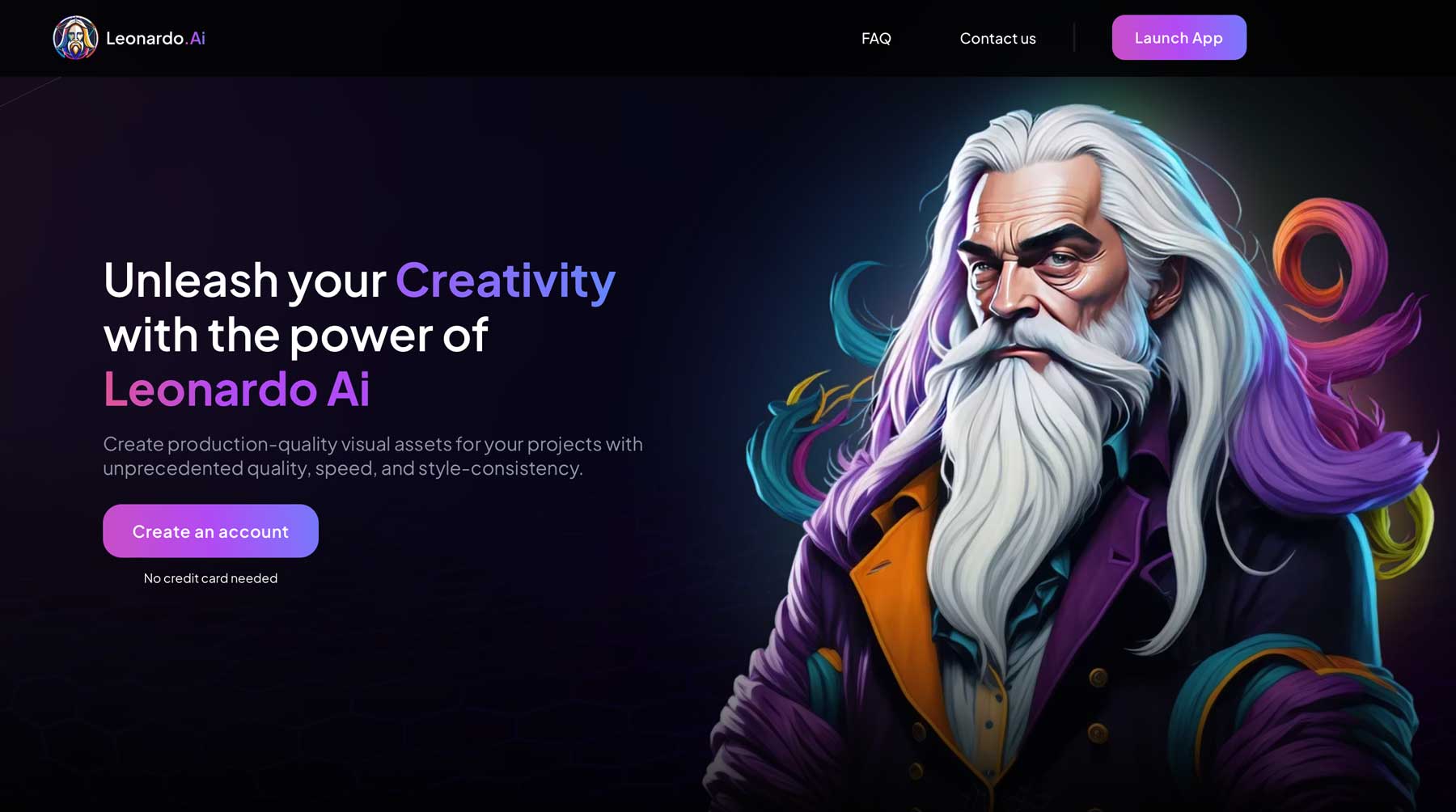 Leonardo AI is one of the coolest AI image generators on the market today. Founded in early 2022, it offers several different Stable Diffusion models to create incredible AI art. Unlike Midjourney, no parameters or styles exist to learn, so anyone can easily create images.
Key Features of Leonardo AI:
Granular control over image generation
Upscale images with one click
2D and 3D image generation
Short prompts produce incredible results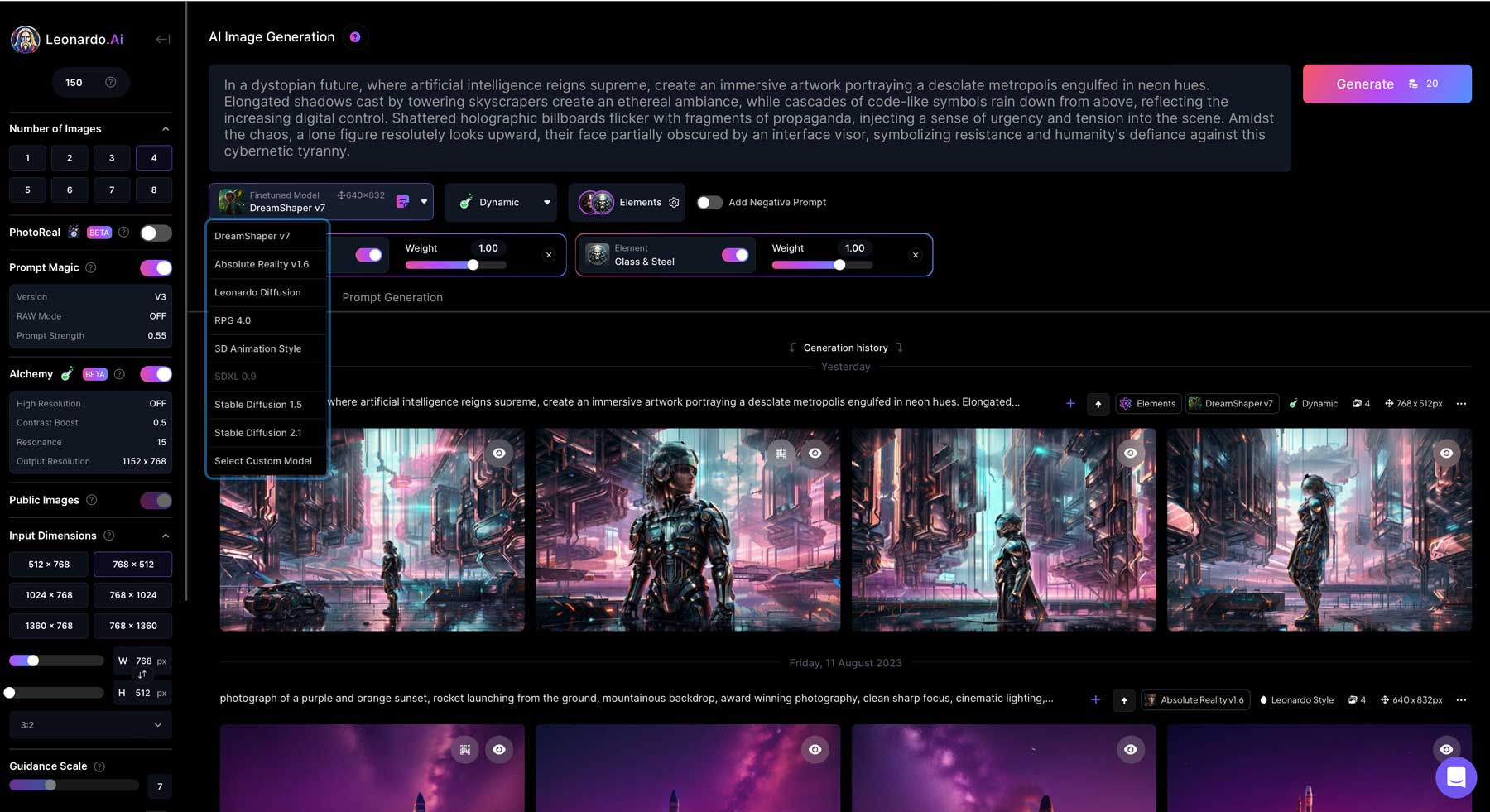 The best feature of Leonardo AI is the interface. You have complete control over the image creation process, from choosing the number of images you want to generate to the image dimensions. There are several models to choose from, including DreamShaper v7, Absolute Reality v1.6, and the widely popular Stable Diffusion 1.5.
Best AI Website For Generating Photo-realistic Images:
Leonardo AI is great for creators with any background who want to create photo-realistic images without learning a difficult interface.
Pricing: Free, with monthly plans starting at $10.
8. Super Meme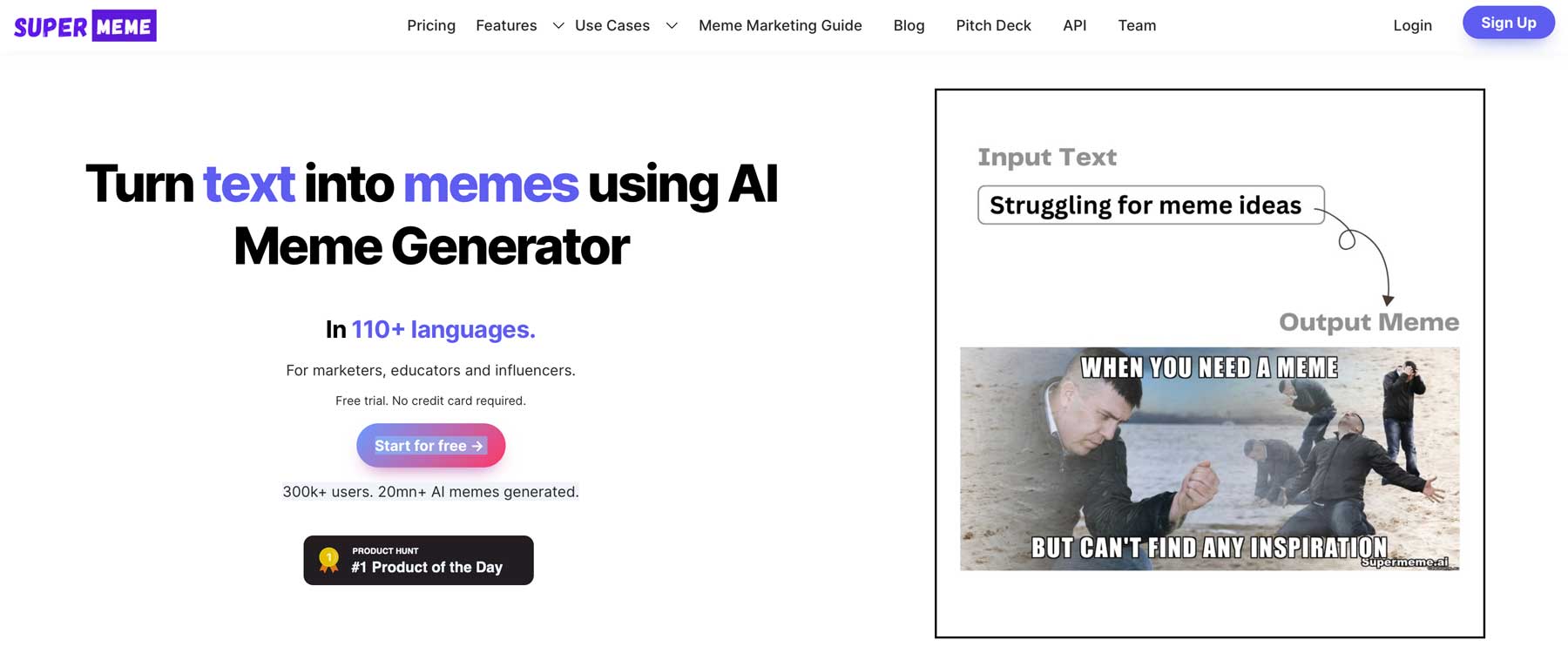 Memes are great for several reasons, but finding the right one is challenging when you need one on the fly. That's where Super Meme comes in. It's a fun and powerful AI website where you can generate AI memes with a simple text prompt in seconds.
Key Features of Super Meme:
Create memes with a text prompt
20 memes free
Edit memes with your own text and images
Support for more than 110 languages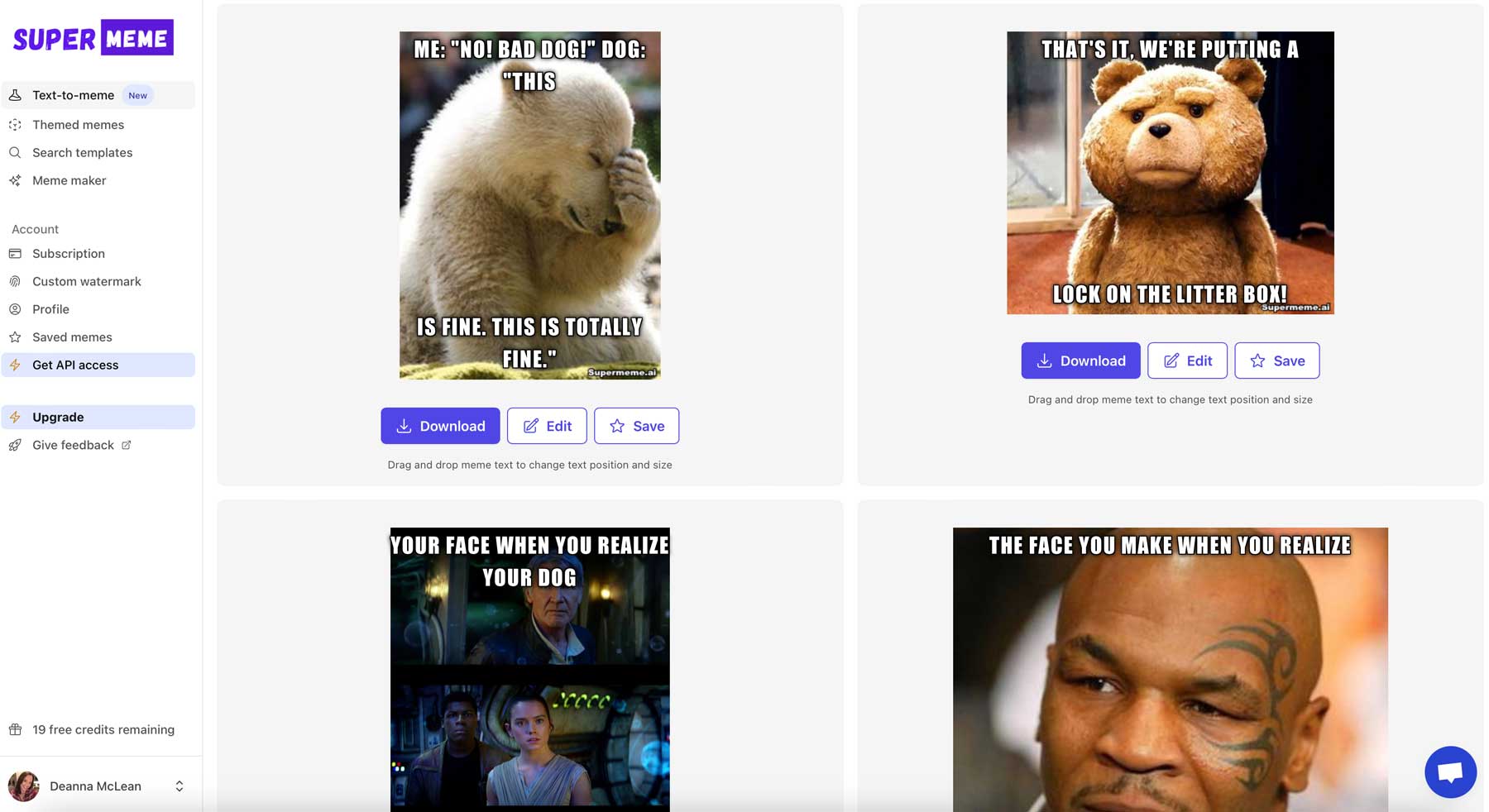 One of the best features of Super Meme's AI website is the editing features. Upon generating your memes, you can choose your favorite and edit it by changing the text, image or adding stickers. Super Meme also has a variety of templates that you can search through by describing the emotion or action you're going for. In addition, you can upload an image and add your own text for a customized meme.
Best AI Website For Generating Memes:
Super Memes are best for people who love memes and want to create unique ones in a flash. The free plan allows you to generate up to 20 memes for free. If you are a meme fanatic, their paid plans start at $9.99 monthly for a whopping 800 memes.
Pricing: Free, with monthly plans starting at $9.99.
9. There's An AI For That

Keeping up with the latest in AI technology can be challenging. Thankfully, There's An AI For That can help. It serves as an online directory for all things AI so that you can find the perfect AI tool for your needs. The home page features fan favorites along with the latest generative AI to hit the scene.
Key Features of There's An AI For That:
Search by category, most saved, and new AI tools
Includes pricing
Save your favorites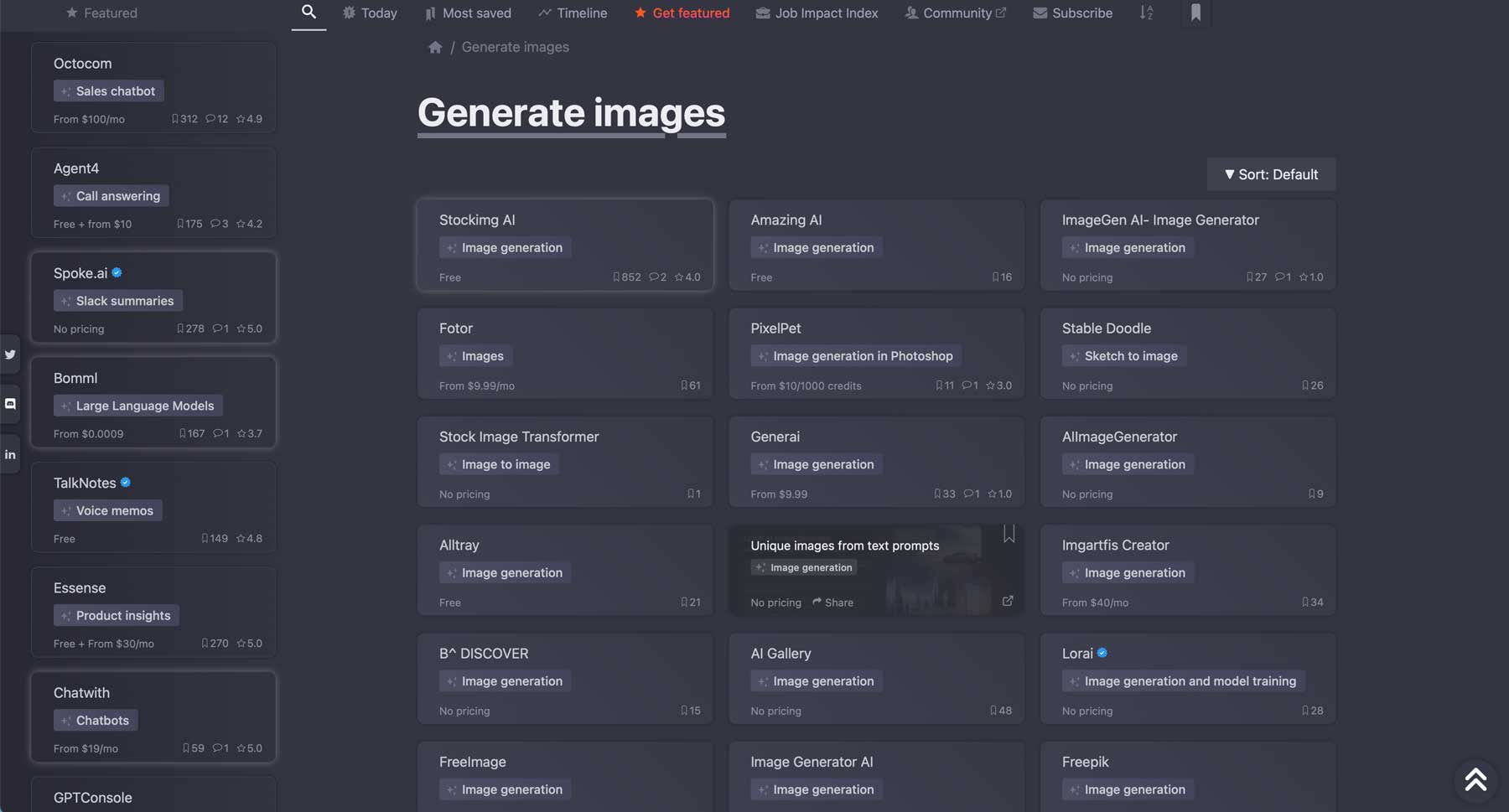 The best feature of There's An AI For That is that it provides pricing (when applicable), so you'll know what you're getting into before signing up for any tool. Plus, you can sign in with your Google account to save your favorites.
Best AI Website Directory:
There's An AI For That is an excellent tool for people who want to stay up-to-date on the best AI tools in the industry. The ability to search by category and save your favorites is a great way to stay organized and informed.
Pricing: Free
10. Palette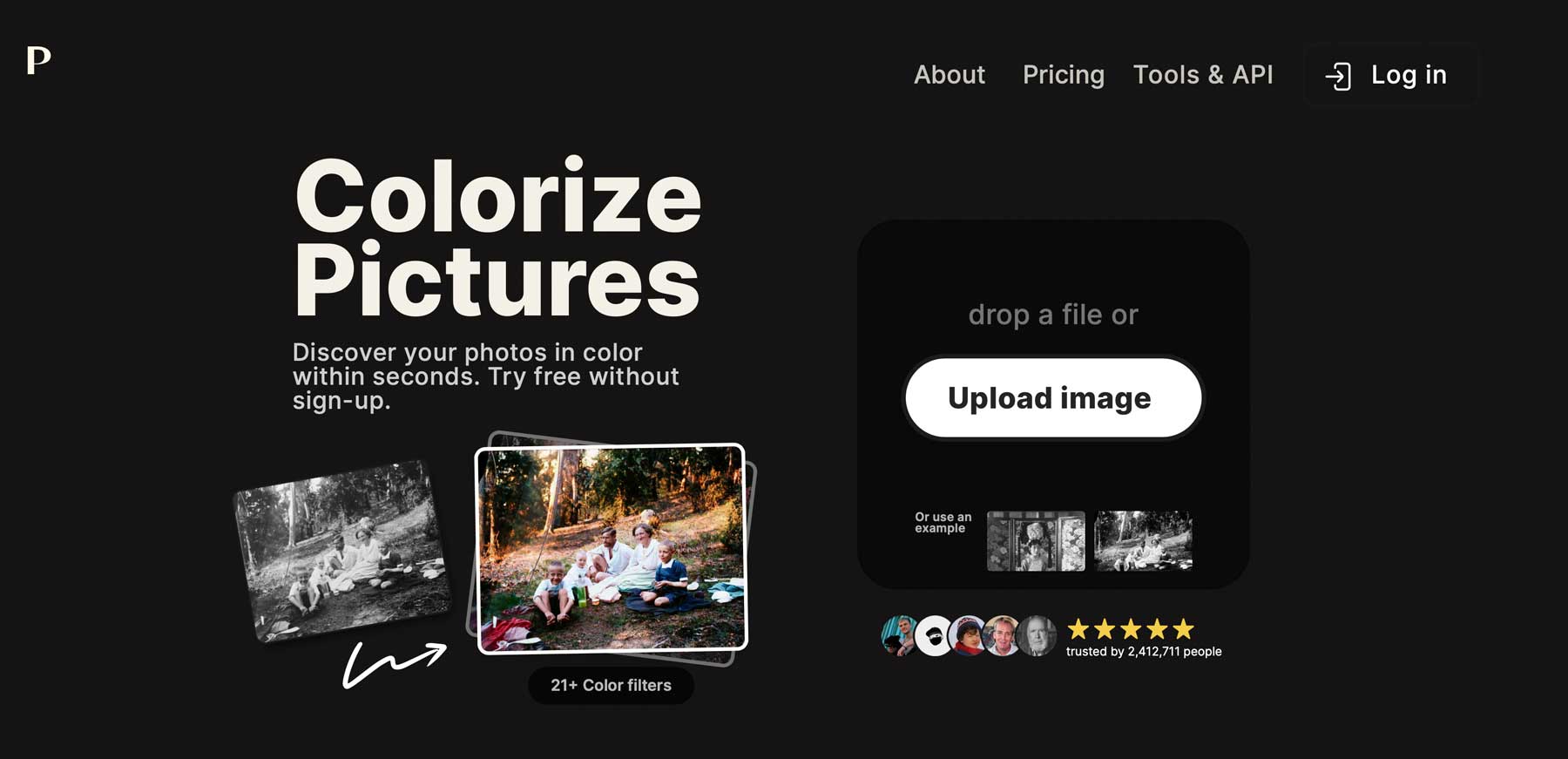 Do you have old photographs you'd love to pull into the modern age? If so, our next AI website, Palette, is the tool for you. Palette allows you to upload your black and white photographs and colorize them with various effects. With 20 style choices, your vintage photos will look better than ever.
Key Features of Palette:
Colorize black and white photos
Works on PNG and JPG files
20 style presets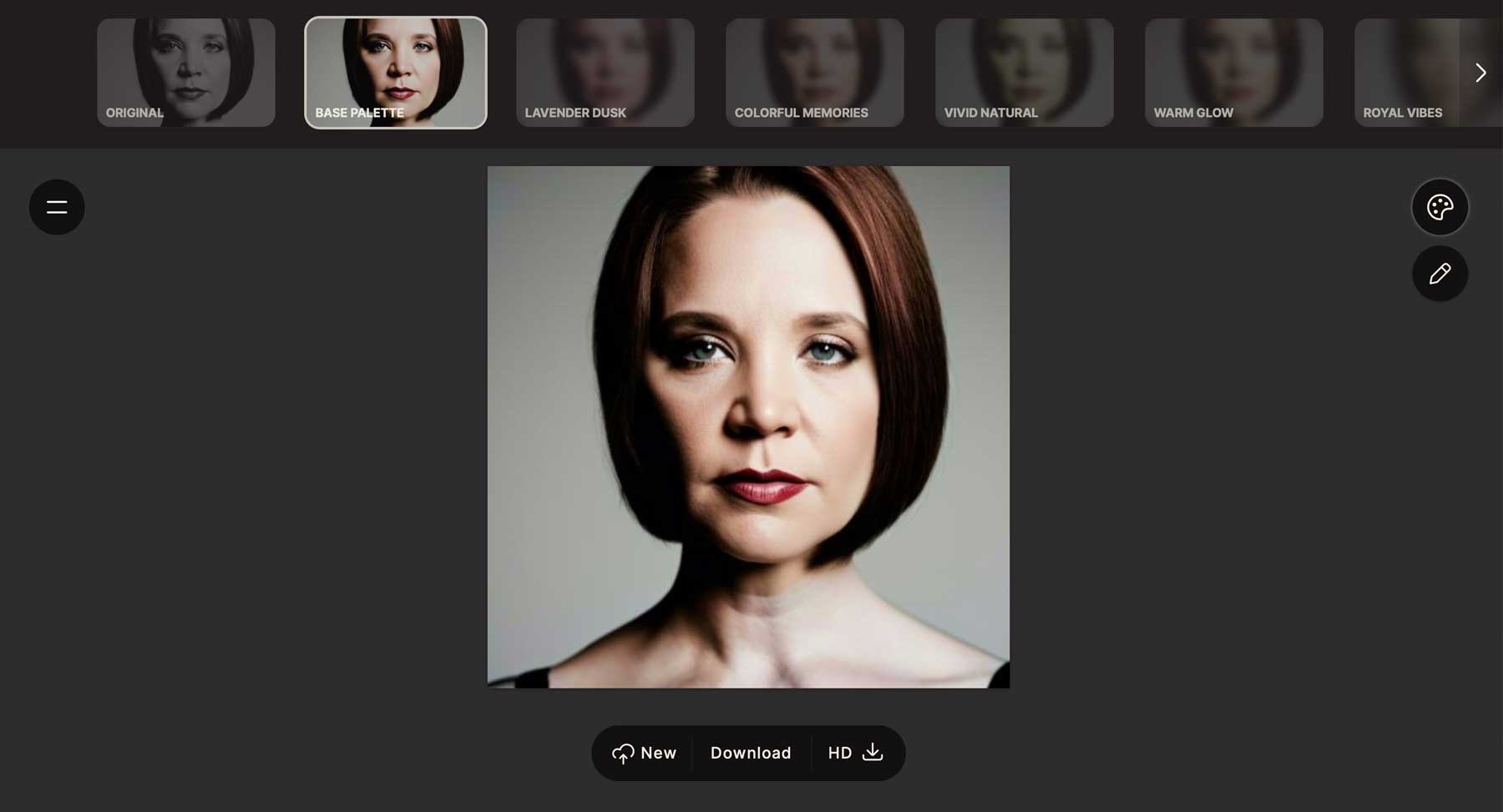 Palette makes it easy to colorize your photographs. Upload an image and choose from 20 style presets for your photo. In addition to colorizing images, Palette can apply the same effects to color photographs, too, so you can easily alter your favorites with the click of a button.
Best AI Website For Colorizing Images:
If you're a photographer or retouch artist looking for an easy way to colorize photos, you won't find a better solution than Palette. With HD images for roughly .15¢ apiece, it won't break the bank either.
Pricing: Free for the first image, with packages starting at $6 for 40 images.
11. Kaiber AI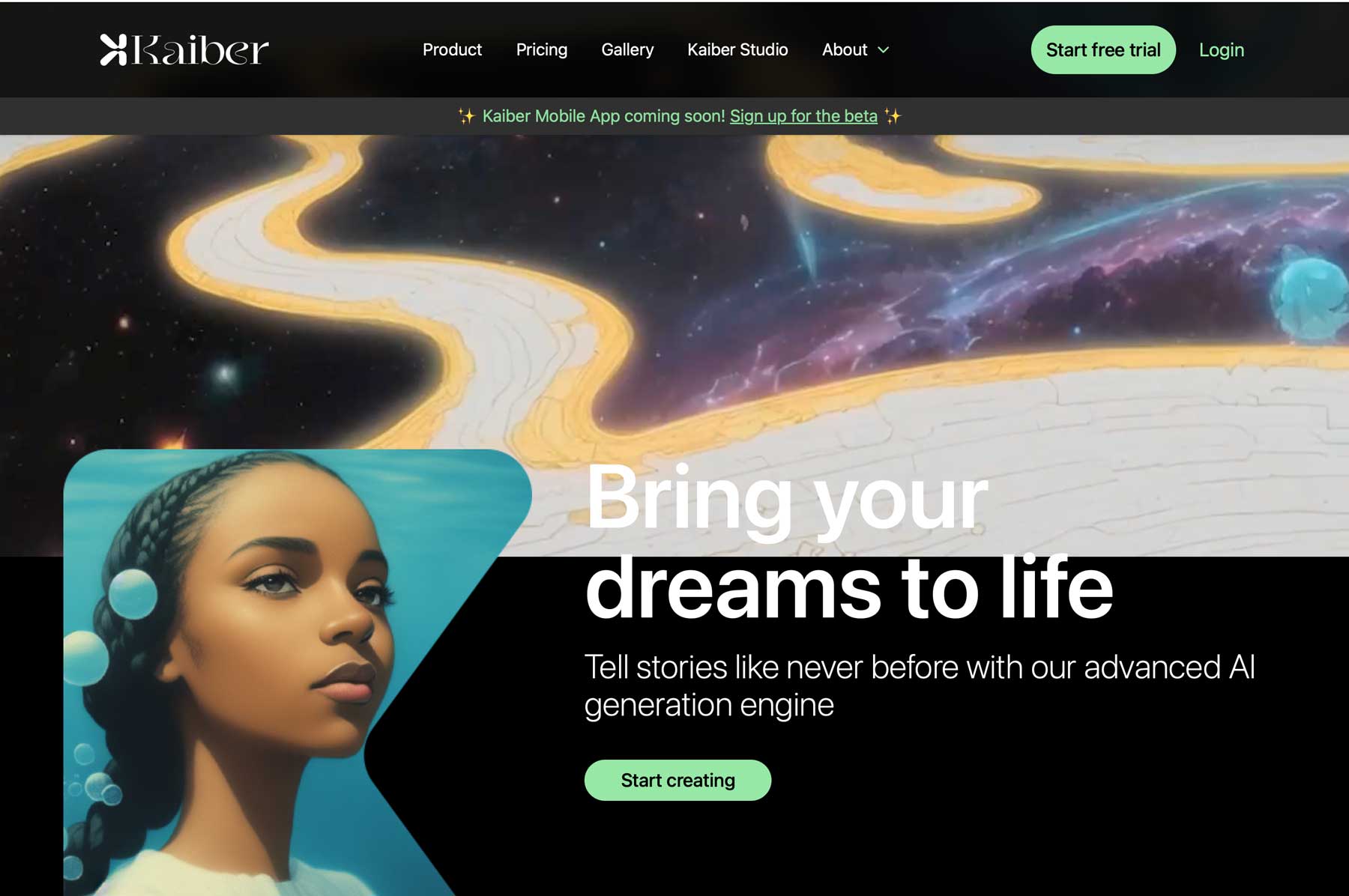 Last but certainly not least, we have Kaiber. It's an AI website that creates video animations through the power of Stable Diffusion. It works by uploading a photo, source video, and/or music, then adjusting settings to develop an AI-animated masterpiece. You have the choice between two styles: Flipbook and Motion. With Flipbook, Kaiber creates a frame-by-frame animation from your source material. Alternatively, the Motion tool uses fluid motion to create an animation.
Key Features of Kaiber AI:
Flipbook or Motion AI animated videos
Creates videos from images or existing videos
Ability to add a music soundtrack
Various styling aspects to choose from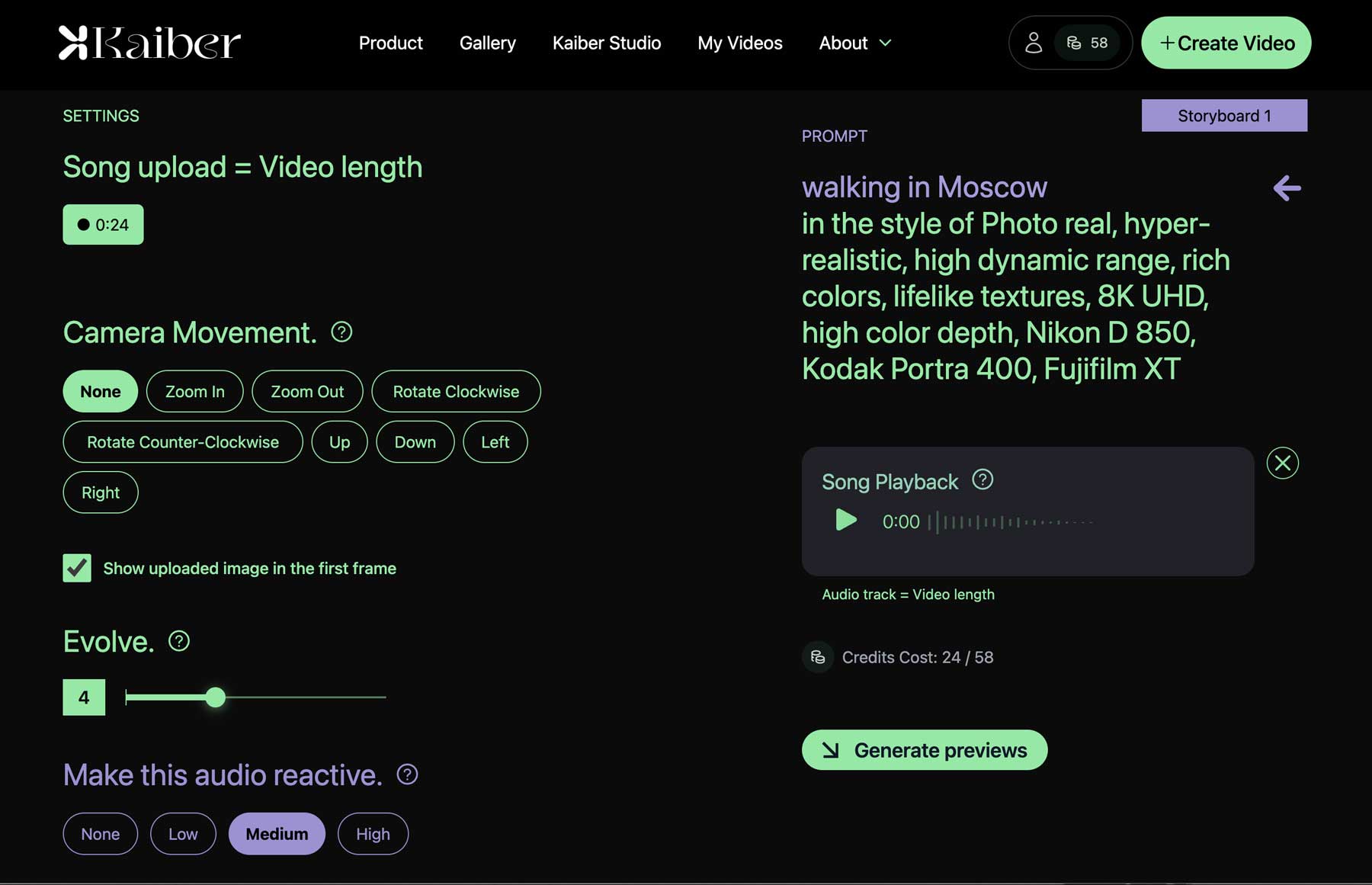 One of the best features of Kaiber is the various settings you can use. As mentioned, you can create your animation using a source image or video. However, users can also generate animations from a text prompt. You can choose from various styling elements, such as cinematic, photo-realistic, 3D rendering, steampunk, and more. Kaiber also allows you to create storyboards, using different source videos or images to make your project more impactful. If adding music, Kaiber's Audioreactivity setting will pulse the footage to the beat of your soundtrack, which is pretty cool.
Best AI Website for Image-to-Video:
Kaiber is a great tool for people who want to create animated videos with AI. It's become so popular that music artists like Linkin Park have used it to create official music videos. Kaiber isn't without flaws, however. While they offer a 7-day free trial, some users stated that they were charged immediately upon signing up. While we didn't experience this, it should be considered if you decide to move forward with Kaiber.
Pricing: Free, with prices starting at $5 per month.
Best AI Websites Price Comparison
When it comes to choosing the best AI websites, it depends on what you're looking to do. Each of the entries on our list offers something different. That said, it's important to know what's out there, how much each one costs, and whether they provide a free version. Here's a side-by-side comparison to help you decide.
What is the Best AI Website?
All the AI websites on our list offer unique tools to help you be more productive. That said, a couple stand out above the rest, mostly due to their range of features and price point. Framer is an excellent tool for creating websites, either by importing a Figma design or letting AI generate a site for you. Adobe Firefly stands out for its ability to generate cool text effects and edit photos with generative fill. Regardless of what you want to do with AI, our list has a tool that will appeal to everyone.
Are you looking for more AI tools? Check out our complete list of best AI tools.
Featured Image via Allies Interactive / shutterstock.com