Sliders are an excellent way to create a memorable visual experience for your visitors. Therefore, they're especially useful if your website features a lot of videos and images. However, given the abundance of WordPress slider plugins on the market it can be challenging to find well-coded and useful tools.
In this article, we'll give you an overview of the best WordPress slider plugins to help you enhance your website. What's more, we have options to suit all users – even if you have no coding experience.
Let's go!
Free WordPress Slider Plugins
If your budget is tight or your needs are basic, you can achieve excellent results without spending a dime. The free tools below are all top-rated, lightweight, and highly responsive. Let's look at them in more detail!
1. Master Slider

Master Slider is a fully responsive plugin that supports touch navigation. While the freemium version only gives you basic features, you can still build impressive sliders without touching a line of code. It comes with a drag-and-drop visual editor, so you can see your creations unfold in real-time. In addition, it's lightweight thanks to its smart preloading capabilities.
Key Features:
Offers an intuitive interface.
Provides unlimited, touch-enabled slides with multiple templates.
Lets you add thumbnails and tabs to your sliders.
Master Slider Is For You If…
…you're looking for a basic lightweight slider that's highly responsive and easy to use. What's more, the premium version also gives you access to over 90 pre-built sliders, animation effects, and the ability to add HTML files (such as posts or products).
Price: Free or $24 for the Pro edition.
2. Smart Slider 3

Smart Slider 3 is another powerful tool that offers a fully responsive freemium version. It comes with a dynamic post slider feature, enabling you to add images, videos, or featured posts. You can also pick from an array of pre-built templates or create your own with a drag-and-drop editor. Plus, it's compatible with Divi!
Key Features:
Lets users perform touch swipes, and is mobile-friendly.
Provides layer customization options.
Offers image optimization options.
Lets you choose custom color, typography, and background animations.
Smart Slider 3 Is For You If…
…you need a responsive and intuitive slider that gives you access to basic animation and layer customization options. The premium version can also help you create more advanced elements such as typewriting effects, reveal animations, parallax, and more.
Price: Free or $35 for the Pro edition.
3. Slide Anything

As the name suggests, Slide Anything enables you to add almost any element to a slider. Apart from images and videos, you can also load various HTML elements, posts, and even shortcodes. This developer-friendly tool enables you to create a fully responsive carousel that users can swipe from any device. In addition, you can add basic transition effects such as zooming.
Key Features:
Offers lazy loading to help with page speeds.
Gives you the ability to loop slides infinitely, and reorder them.
Includes many cool transition effects.
Slide Anything Is For You If…
…you are a developer who needs a flexible tool to build complex layouts. With the premium version, you can also create pop-ups and add thumbnail pagination.
Price: Free or $10 for the Pro edition.
4. Slider by 10Web

Slider by 10Web is a versatile tool that helps you create responsive slides with images or videos. You can also apply various transition effects to make your slides more unique. What's more, the plugin is easy to use, thanks to its drag-and-drop interface. However, you can easily customize each element if required, and even add text or watermark to your slides.
Key Features:
Provides a lot of helpful customization options.
Includes image watermarking and transition effects.
Lets you use Google Fonts within slides.
Slider by 10Web Is For You If…
…you want a user-friendly tool that lets you create basic transition effects for free. In addition, the premium version also supports embeds, social sharing buttons, parallax, and more.
Price: Free or $20 for the Basic premium edition.
5. Ultimate Responsive Image Slider

Similarly to some other additions on this list, the Ultimate Responsive Image Slider is a simple yet highly responsive tool that lets you create infinite slides. It comes with a simple drag-and-drop editor, enabling you to customize your slides' dimensions and reposition thumbnails. Also, it's optimized for search engines and has a handy multiple image uploader option.
Key Features:
Lets you customize slide thumbnails.
Gives you a number of title, description, font, and color settings.
Lets you upload multiple images at once
Ultimate Responsive Image Slider Is For You If…
…you're looking for a simple, no-frills slider to display images on your blog.
Price: Free
If you can't achieve the results you want with any of the free tools, you'll want to prime your wallet for opening. The premium plugins below boast a number of impressive features such as enhanced parallax and lazy loading that will help you create stunning effects without overloading your site.
6. Slider Revolution

Slider Revolution is a popular plugin that's packed with smart features. This tool will help you create full-screen slideshows, unique animations, and smooth transitions. You can also add dynamic content and special effects such as a 'before and after', 'bubble morph', and more. In addition, you get access to many professional templates, which you can customize with a visual editor.
Key features:
Includes a whole host of stock images and videos.
Provides one-click template install.
Offers flexible modules (such as hero blocks, special effects, carousels, and more) that smartly load.
Includes advanced customization options.
Slider Revolution Is For You If…
… you're a designer, artist, or business owner who wants to build a professional website or portfolio.
Price: $29
7. Layer Slider

Layer Slider is another high-quality plugin that will help you create advanced slides and animation effects. This tool comes with a drag-and-drop editor, over 200 pre-built transitions, multiple templates, and even entire websites. Plus, the lazy loading option will ensure that the slider doesn't slow down your page.
Key Features:
Comes with an extensive templates library.
Lets you design slider pop-ups.
Offers access to a revisions archive, in case you need to rollback changes.
Includes pre-set transitions, various scrolling features, and animation effects.
Provides dynamic, full-screen content.
Layer Slider Is For You If…
…you're looking for a versatile tool to create a complete website or presentation of your creative work.
Price: $25
8. Soliloquy

Soliloquy is a well-coded, lightweight slider optimized for both speed and usability. Users will be able to navigate through sliders easily, and swipe when using mobile devices. You can start from many pre-built templates, or create your own using an intuitive drag-and-drop editor. Moreover, it enables you to create interactive product slides and import images from Instagram or Pinterest.
Key Features:
Includes pre-built slider themes.
Offers compatibility with WooCommerce websites.
Includes a lightbox option, and custom CSS for developers.
Lets you display featured posts and PDF sliders.
Soliloquy Is For You If…
…you're looking for an advanced yet lightweight slider for your online store, or you want to create an elegant Instagram feed on your website.
Price: from $19
9. Meta Slider

Meta Slider is a simple yet robust plugin that offers advanced customization options. It enables HTML overlays, video integration, thumbnail navigation, and more. The live theme editor will help you work more efficiently. Also, it integrates seamlessly with popular plugins such as WooCommerce or WPML. There is also a free version available of this tool if you'd like to try it, although the premium version is cost-effecvtive.
Key Features:
Lets you intelligently crop images.
Provides support for videos.
Gives you a robust theme editor.
Meta Slider Is For You If…
…you're a WordPress theme developer or site owner looking for a simple tool with advanced features.
Price: $19
10. Slider Pro

Slider Pro is another reliable premium option that will help you create professional effects on your website. You can add touch-enabled slides, smooth transitions, and animated layers. You can also choose from multiple layout options and various navigation possibilities. In addition, it lets you import content from other galleries like Flickr.
Key Features:
Lets users touch swipe on slides.
Provides animation effects, video options, dynamic content, and a lightbox option.
Enables you to add full-width slides, that loop infinitely.
Includes lazy loading, API support, and caching.
Slider Pro Is For You If…
…you're a developer who needs a lightweight tool with advanced customization options, or a visual creative who wants to import images from other websites.
Price: $30
Divi Slider Plugins
In our final section, we're going to present Divi-compatible sliders that work seamlessly with your site, and help you go beyond the possibilities of your theme. If you want to take your Divi designs to the next level, these sliders could help.
11. Anything Slider

Anything Slider is a feature-rich plugin that compliments the Divi Builder. It helps you create sliding menus, smooth animations, and interactive sections. Moreover, it comes equipped with layout starter packs to help you work faster. You can even choose a Divi layout as a slide, which means your scope for slider creation is immense!
Key Features:
Lets you add video to your slides.
Provides a way to create pop-ups.
Includes pagination options, autoplay functionality, and Next and Previous controls.
Price: $30 per year or $267 for a lifetime license
12. Divi Carousel Module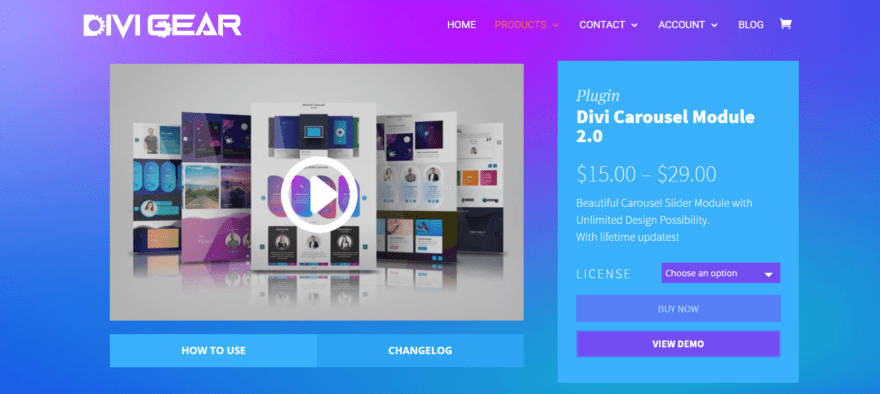 Divi Carousel Module is an advanced add-on to the Divi Builder. You can create multiple carousel types and choose from over 50 templates to speed up your work. It also comes with various customization options that let you control almost every element of the module.
Key Features:
Lets you add social media icons to your slides.
Enables you to finely position images and other elements.
Provides hover effects, custom spacing options, carousel sizing, and specific navigation settings.
Price: $29
13. Owl Carousel Pro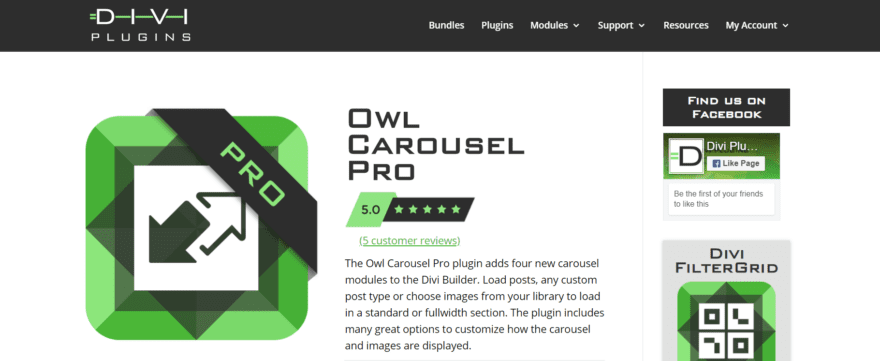 Finally, we have Owl Carousel Pro, a simple Divi plugin that helps you add almost any kind of content to a carousel slider. It enables you to load posts or images in a standard or full-width window, and customize their dimensions. In addition, you can control how the carousel displays on different mobile devices.
Key Features:
Comes with four different carousel modules.
Lets you create full-width slides.
Enables you to customize the included fields and slide dimensions.
Price: $19
Conclusion
Slider plugins can make your website more attractive, thanks to slick effects such as parallax layers and various animations. However, with so many plugins to choose from, it can be hard to find the right tool that won't compromise your website's functionality.
In this article, we've compiled a list of 13 best WordPress slider plugins with premium and free features. The popular Slider Revolution or Layer Slider will help you create professional slides with advanced customization options. In contrast, Master Slider or Smart Slider 3 are solid free options. However, we're confident you can achieve excellent results with any of the recommendations on this list.
Do you have any questions about WordPress slider plugins? Let us know in the comments section below!
Image by PureSolution / shutterstock.com.