Online job boards are complex systems. For starters, you have to manage listings, maintain user and company profiles, and enable job-seekers to submit applications. Fortunately, there are some fantastic plugins you can use to match your visitors with their ideal positions.
For this post, we've collected three of the best WordPress job board plugins available.  All of them are well-maintained, highly rated, and free. They even offer features to rival those of popular job-hunting platforms.
Let's take a look!
Subscribe To Our Youtube Channel
1. WP Job Openings

WP Job Openings is a lightweight plugin that can help you set up an internal hiring page for your business. It enables you to upload as many openings as you like using two different layouts, including a grid and a list: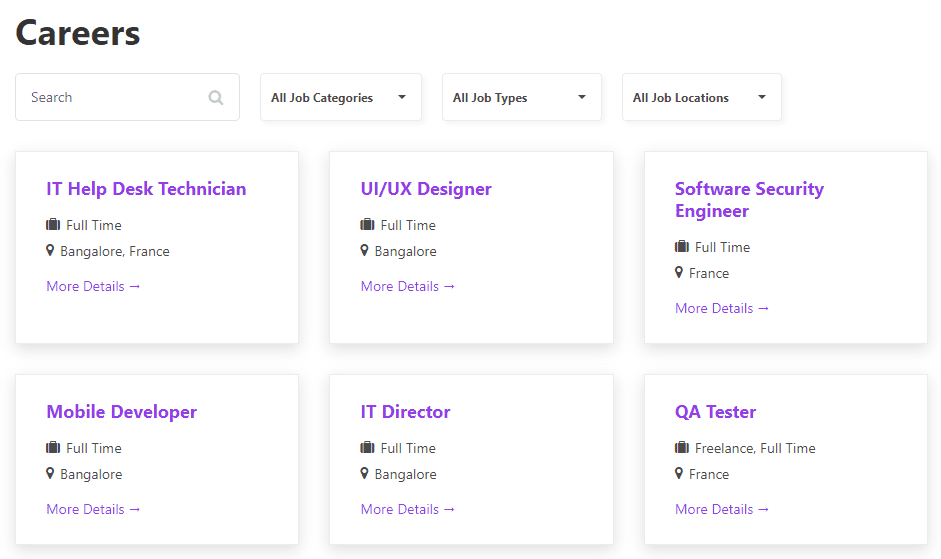 Users can filter jobs according to category, type of employment, and location. This plugin also includes an internal search feature, which comes in handy if you're advertising for a lot of open positions.
Each individual listing can include as much detail as you want. WP Job Openings also provides a custom field you can use to add specific requirements: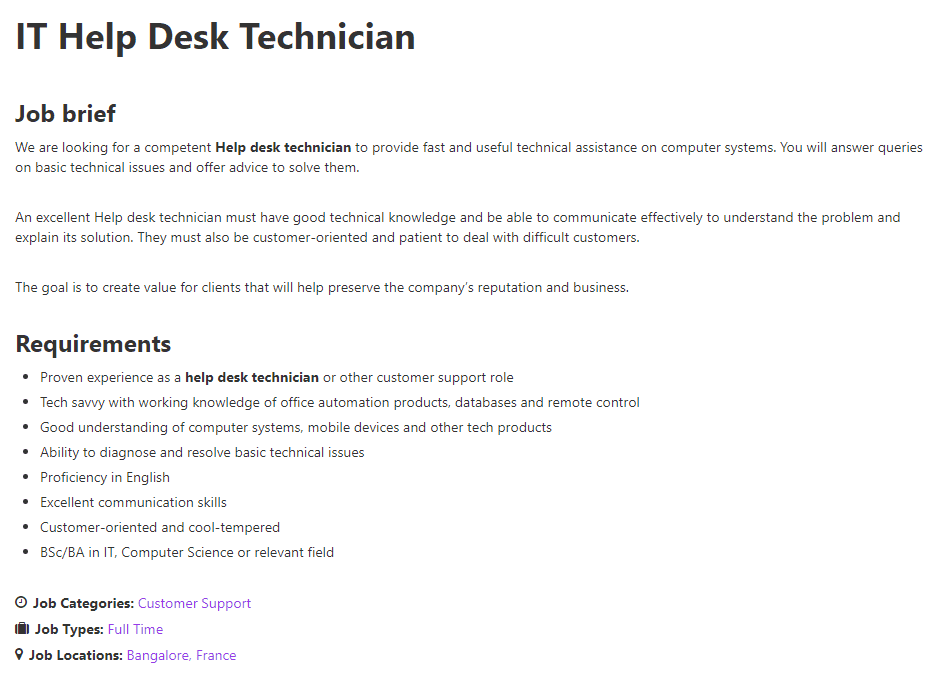 WP Job Openings sets up a simple application form for each job, which enables users to attach their CV alongside the required fields. The downside is that all applications are stored in the same tab in your dashboard. It's easy to filter them, but it can be a pain to wade through a lot of candidates: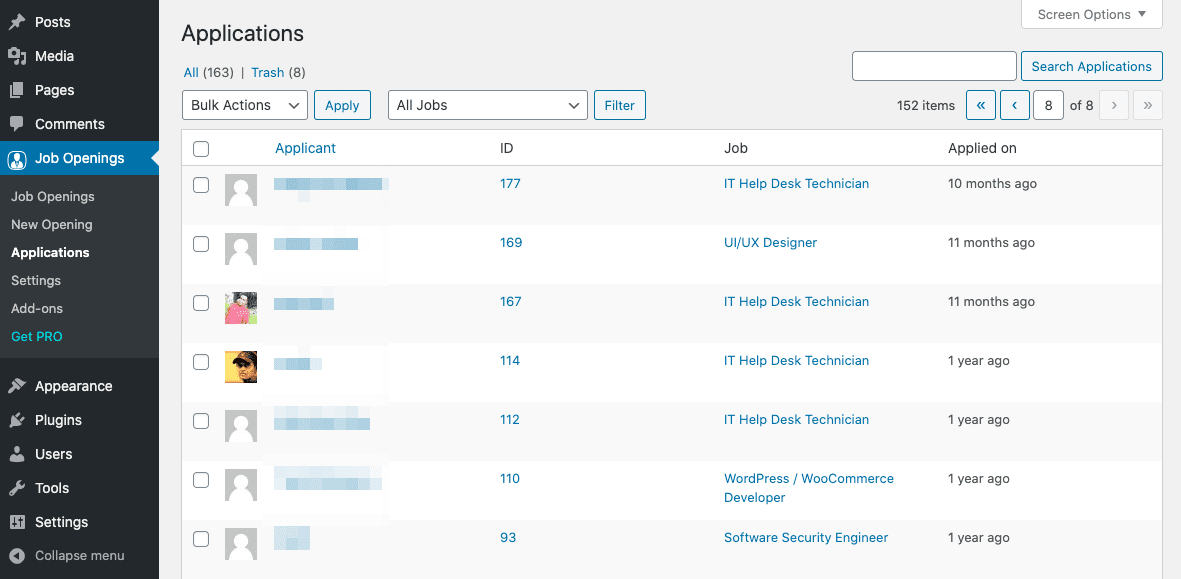 However, individual applications are a joy to navigate, as the plugin formats them automatically. It also enables you to preview PDFs, so you can see CVs without having to download them: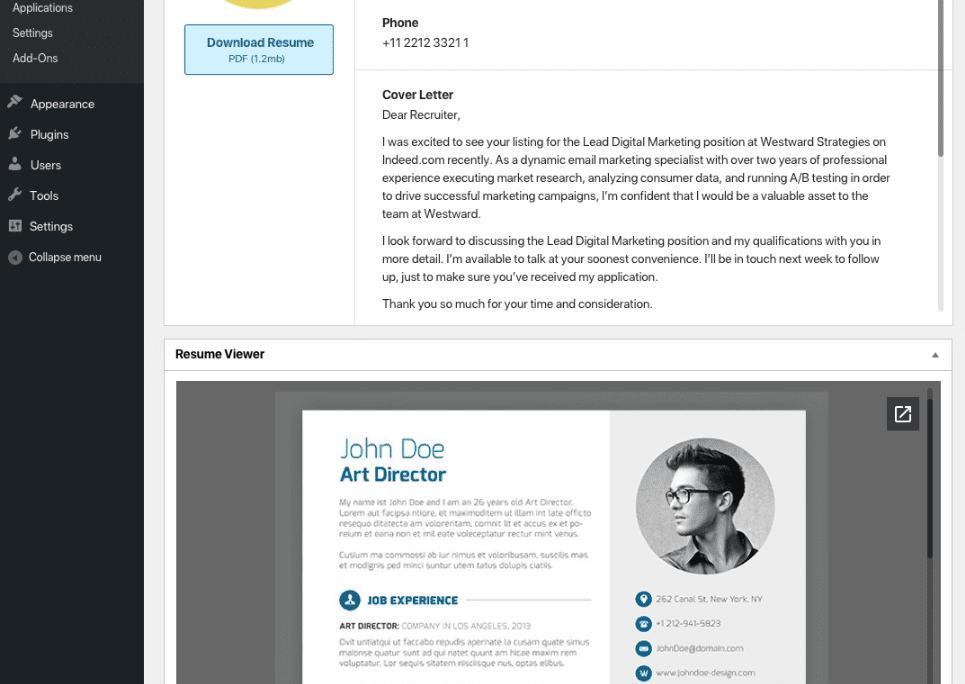 In any case, this plugin is a quality solution for individual businesses that want to take their websites' hiring pages to the next level. However, its back end application management features aren't the best if you're looking to publish jobs from multiple companies.
Key Features:
Display open positions using grid or list layouts.
Filter listings by category, job type, and location.
Enable users to submit applications using a front end form.
Preview resumes within WordPress.
Price: Free with a premium add-on pack available | More Information
2. Simple Job Board

Simple Job Board is a shortcode-based plugin that enables you to publish listings anywhere on your website. With it, you can set up a highly extendable online job board system.
To use the plugin, all you have to do is add the [jobpost] shortcode anywhere you want on your site. This will display either a grid or list of available openings, depending on how you configure Simple Job Board's settings: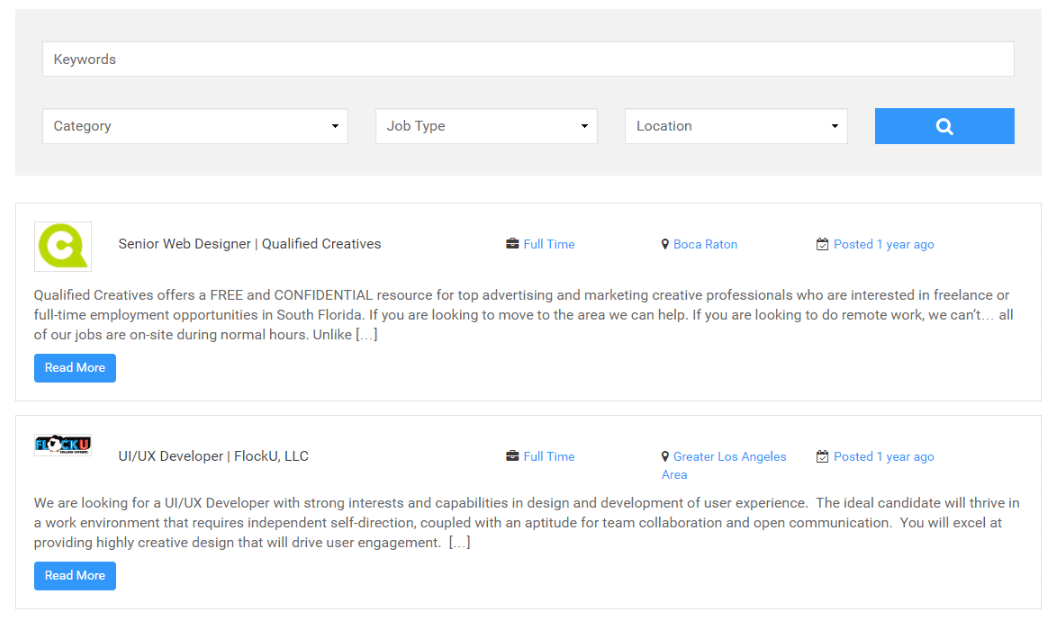 Individual listings include specific sections for job requirements and features. This plugin also sets up application forms and enables users to attach their resumes alongside their submissions: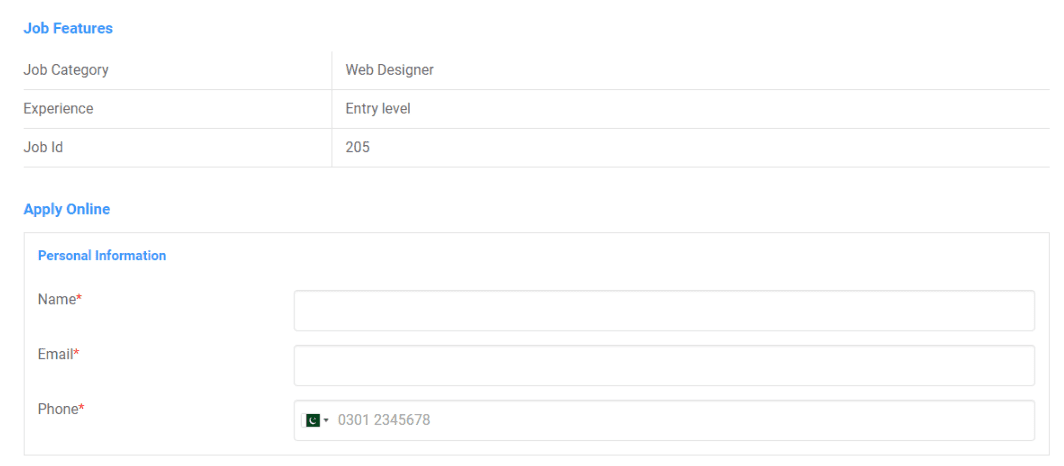 Where this plugin really shines is when it comes to customization. Simple Job Board enables you to create custom application forms for each position. You can specify required fields, add multiple-choice options, and more: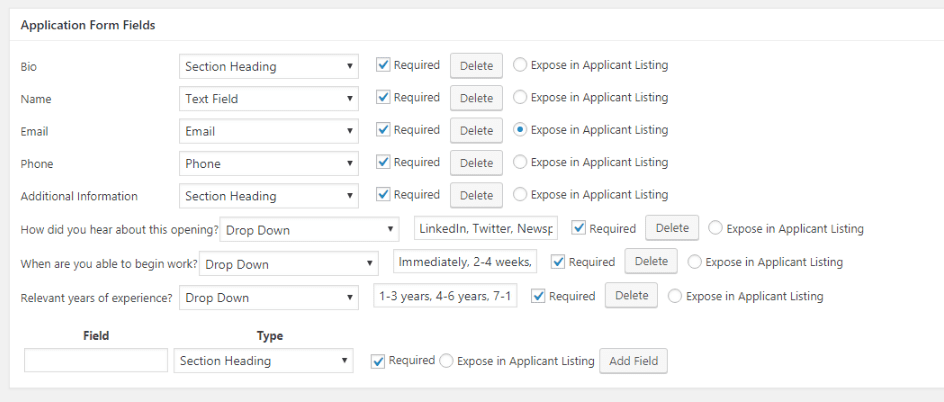 As a result, you can create forms that help you weed out unsuitable applicants from the get-go. That way, you can reach a hiring decision faster. Once you're ready to review applications, the plugin enables you to set statuses for each of them: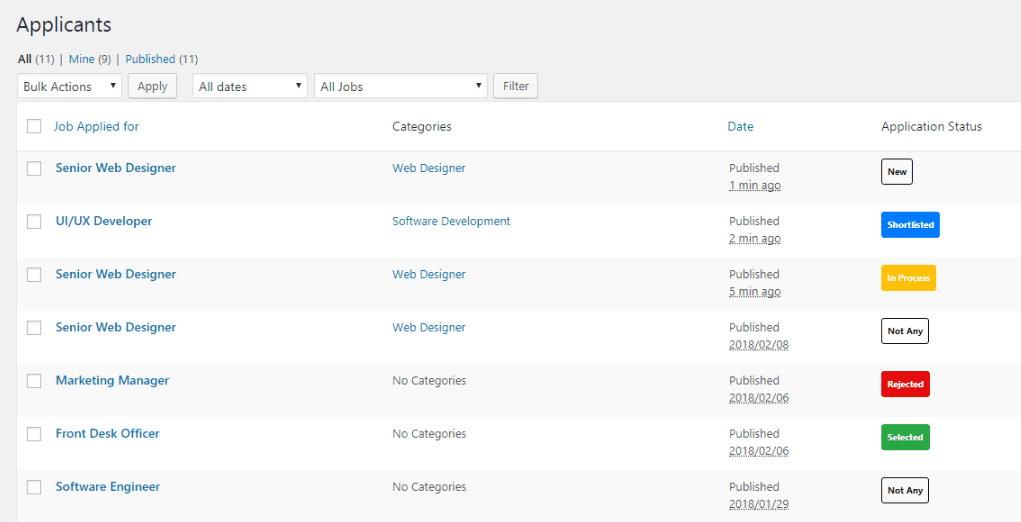 This can help you organize applications, keep a shortlist of your top candidates, and stay on top of which resumes you've reviewed and which ones you still need to read through.
The downside to Simple Job Board is that there's no way for regular users to submit job listings. If you want to enable other companies to post openings on your site, they'll need accounts with at least Author level permissions. That's easy enough to set up, but it can be a hassle.
Key Features:
Use shortcodes to publish job listings on any page you want.
Include requirements and features for each job post.
Create custom application forms for each listing.
Review applications and categorize them using multiple statuses.
Price: Free with premium add-ons available | More Information
3. WP Job Manager

WP Job Manager is perhaps the most comprehensive and popular job board plugin there is. If you look for WordPress job board themes, you'll find a lot of them are built around this tool. It's developed by Automattic, which is the same team behind WordPress itself.
Of the best WordPress job board plugins we've tried out, this is the only one that supports user submissions. Guests and registered users can supply postings using front end forms, making this a viable option if you want to monetize your job board and accept listings from multiple companies.
The basic listings system is fairly intuitive, too. It uses a simple list layout with filter and search functionality: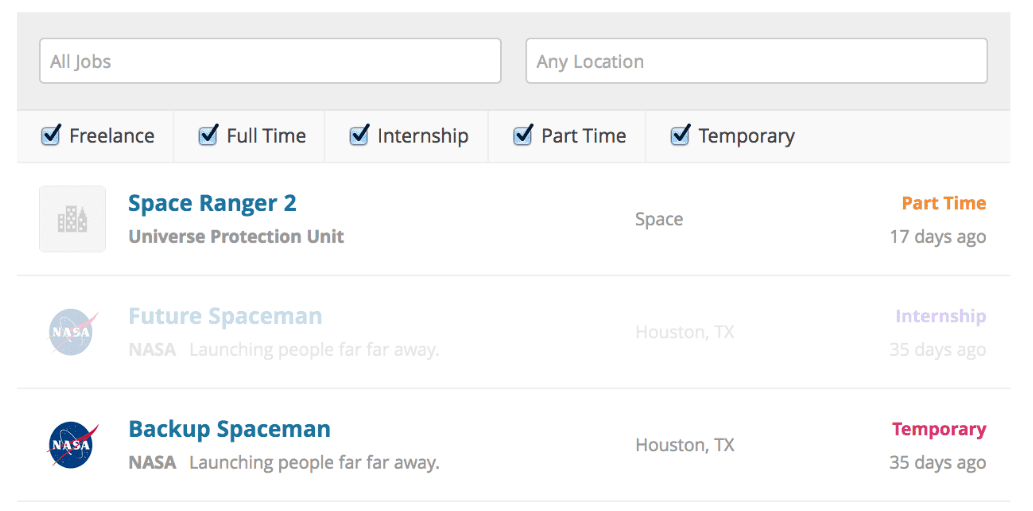 One thing WP Job Manager lacks is job application forms. When users apply for a job, the listing will either show a contact email or redirect them to the website of the company that published the opening: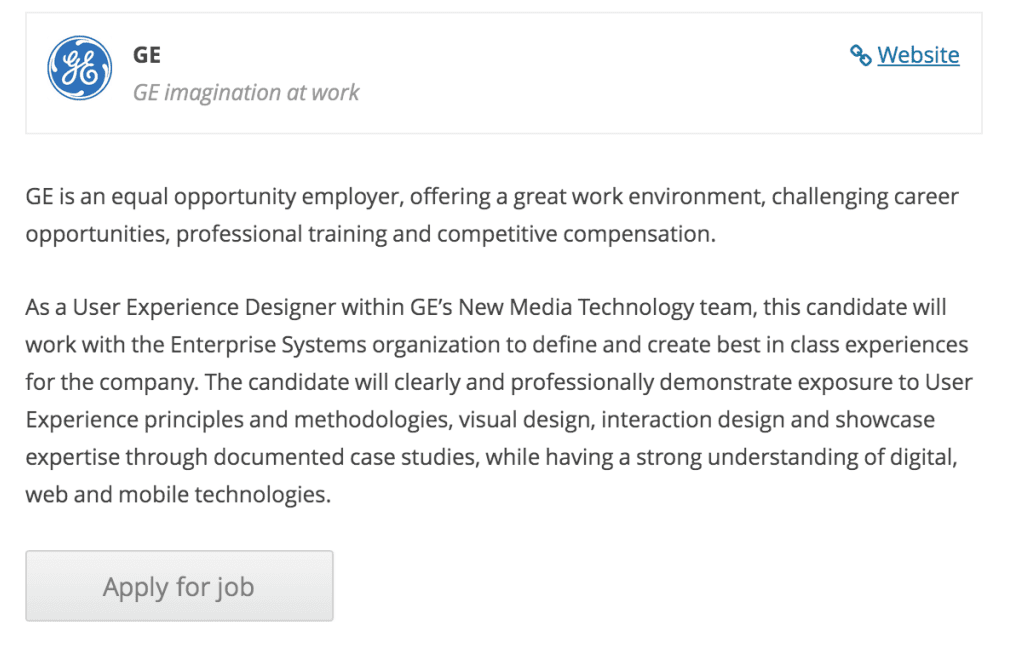 This means that you don't have to share access to your WordPress dashboard with employers. However, those who do have adequate user permissions can check out all the published jobs on your site as you would posts or pages: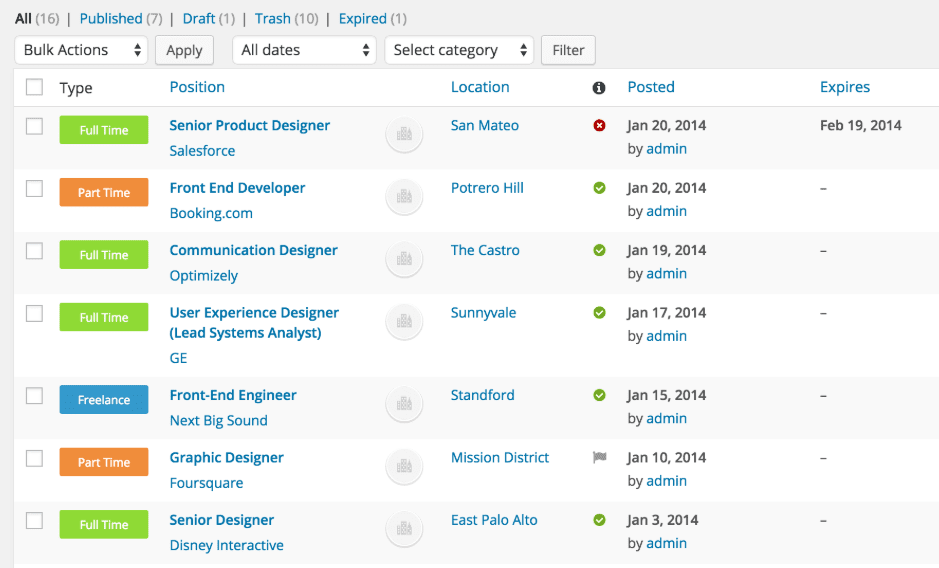 These features are all available with the base WP Job Manager plugin. With its premium extensions, you can set up paid listings using WooCommerce, implement job alerts, and utilize the resume manager system: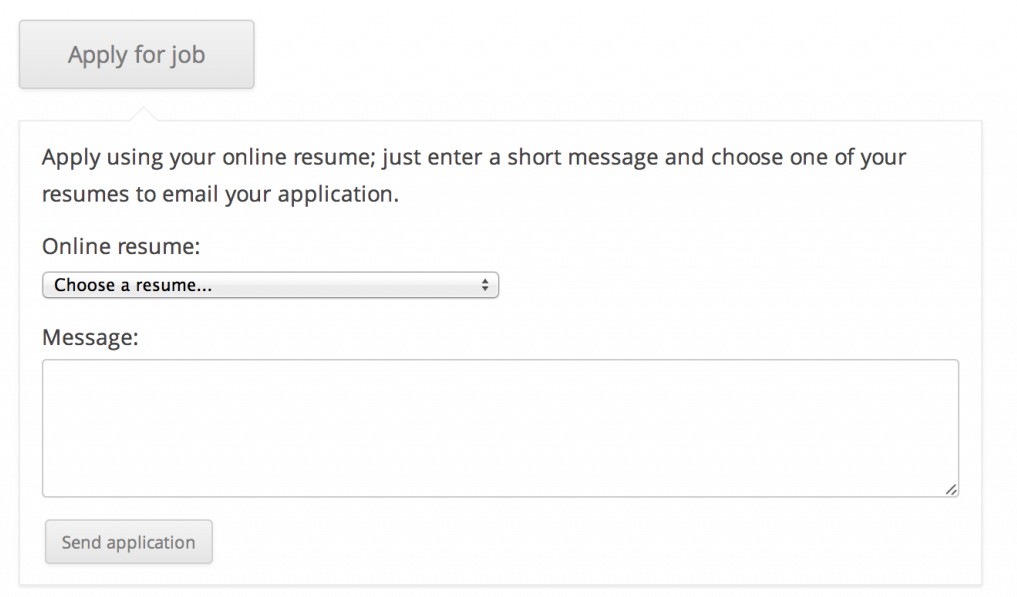 Out of the box, WP Job Manager is an excellent plugin for community job boards. When you take its extensions into account, it becomes a powerful platform with monetization options.
Key Features:
Enable guests and users to submit job listings using a front end form.
Filter job listings using multiple fields.
Monitor all jobs published on your website and their status.
Monetize listings via WooCommerce (premium extension).
Price: Free with premium extensions available | More Information
Conclusion
Job board plugins aren't one of the most popular types of WordPress extensions. However, the ones that do exist offer surprisingly robust feature sets. With the right plugin, you can create advanced job boards, manage hundreds of listings, and even get paid for it.
The three best WordPress job board plugins include:
WP Job Openings: A simple solution for internal hiring pages.
Simple Job Board: A customizable and flexible option with advanced application management.
WP Job Manager: Ideal for creating community job boards, as it provides front end listing submissions and monetization options.
Do you have any questions about how to launch an online job board using WordPress? Let's talk about them in the comments section below!
Article thumbnail image by Tetiana Yurchenko / shutterstock.com