Turning your website into a job board platform can be complicated without the right tools; you'll need a way to track responses, easily remove and add listings, and reviews applicant profiles. Luckily, there are a ton of great WordPress Job Board Plugins that are available so that you can make a beautiful and functional job board in no time.
What is a WordPress Job Board Plugin?
A WordPress job board plugin is a way for employers to advertise their vacant positions to job seekers via their WordPress website. It's an awesome tool to implement because, with the right plugin, you don't need to be reliant on external platforms for job listings. Plus, adding a functional job board to your website can help gain more traffic and even get additional revenue if you list positions from other employers on your site.
In a very real way, you can use any WordPress directory plugin to create a job board. Many of the job board plugins in this article have already done some of the heavy lifting for you and allow you to start posting jobs on your website today.
Let's take a look at some of the best job board plugins available!
The Best WordPress Job Board Plugins
Let's go over the 5 best job board plugins for WordPress, so you can pick the right
The Best WordPress Job Board Plugins Listed In Order
Expand List
1. WP Job Openings

WP Job Openings is another stellar freemium job board plugin. It provides various features for developers to alter the appearance and feel of your customized job board, such as versatile filter choices, two layouts for showing job listings, and two filtering options.
It's best used to build and add to your business's career page. Applications are automatically formatted for readability, and you can see PDF copies of resumes and CVs without downloading each separately. It does, however, compile all applications into a single tab, which can be challenging if you're posting positions from multiple businesses.
Key Features of WP Job Openings:
Easy setup.
Clean grid layout.
Unlimited Job Specifications.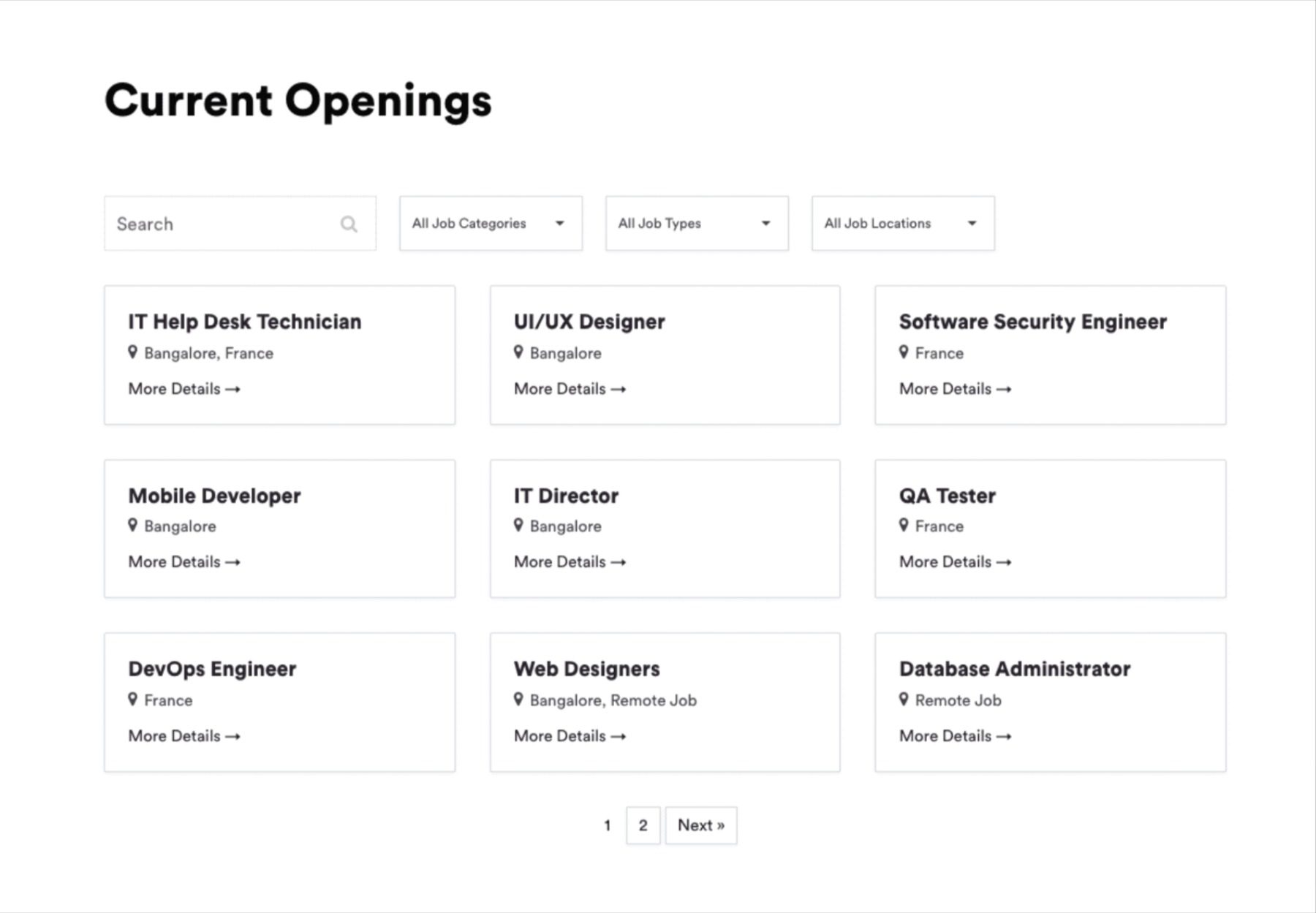 The clean grid design makes looking for a specific job super easy for your users.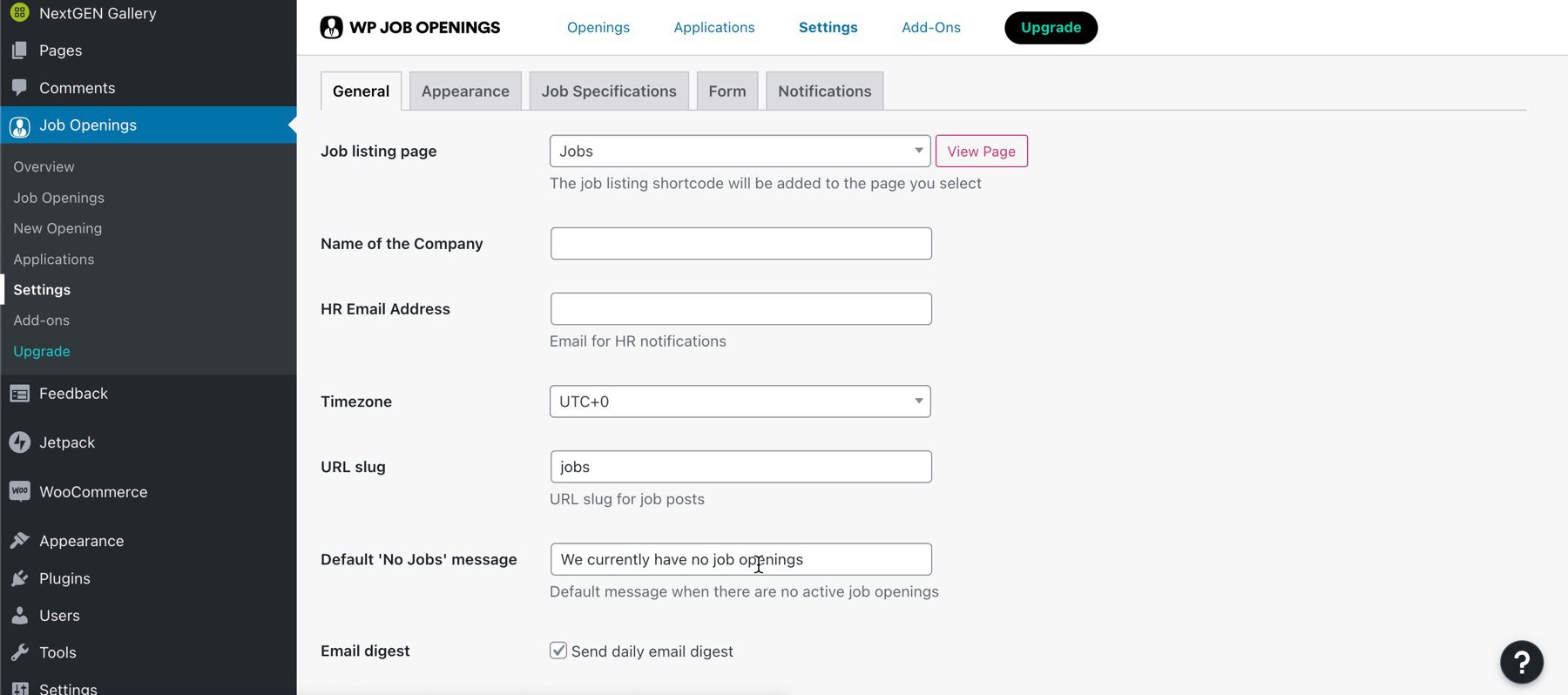 In addition, since WP Job Openings already includes a default form for applicants to submit their applications, building a form requires little to no busy work.
WP Job Openings is for you if…
You want to display open positions using grid or list layouts.
You are focused on getting applicants for your site rather than multiple companies.
You want unlimited job specifications and filtering options.
WP Job Openings Pricing: Free. Premium add-ons for $69 per year.
2. WP Job Manager

WP Job Manager is an incredibly user-friendly WordPress plugin brought to you by people from Automattic. With just a few clicks, you can have a live job portal up and running by adding new pages and shortcodes. It enables recruiters to post their job postings by registering on your website. Job seekers can also manage the jobs they are interested in from a straightforward dashboard.
Through premium add-ons, you can also use the plugin to publish paid jobs online and earn money from them. Additionally, it features add-ons for managing a resume, monetizing your job board with WooCommerce, sending email alerts, and more.
Key Features of WP Job Manager:
Job listing filters.
A user-friendly admin UI.
Frontend form submissions.
Searchable and filterable job listings via shortcode.
Shortcodes work with most themes, including Divi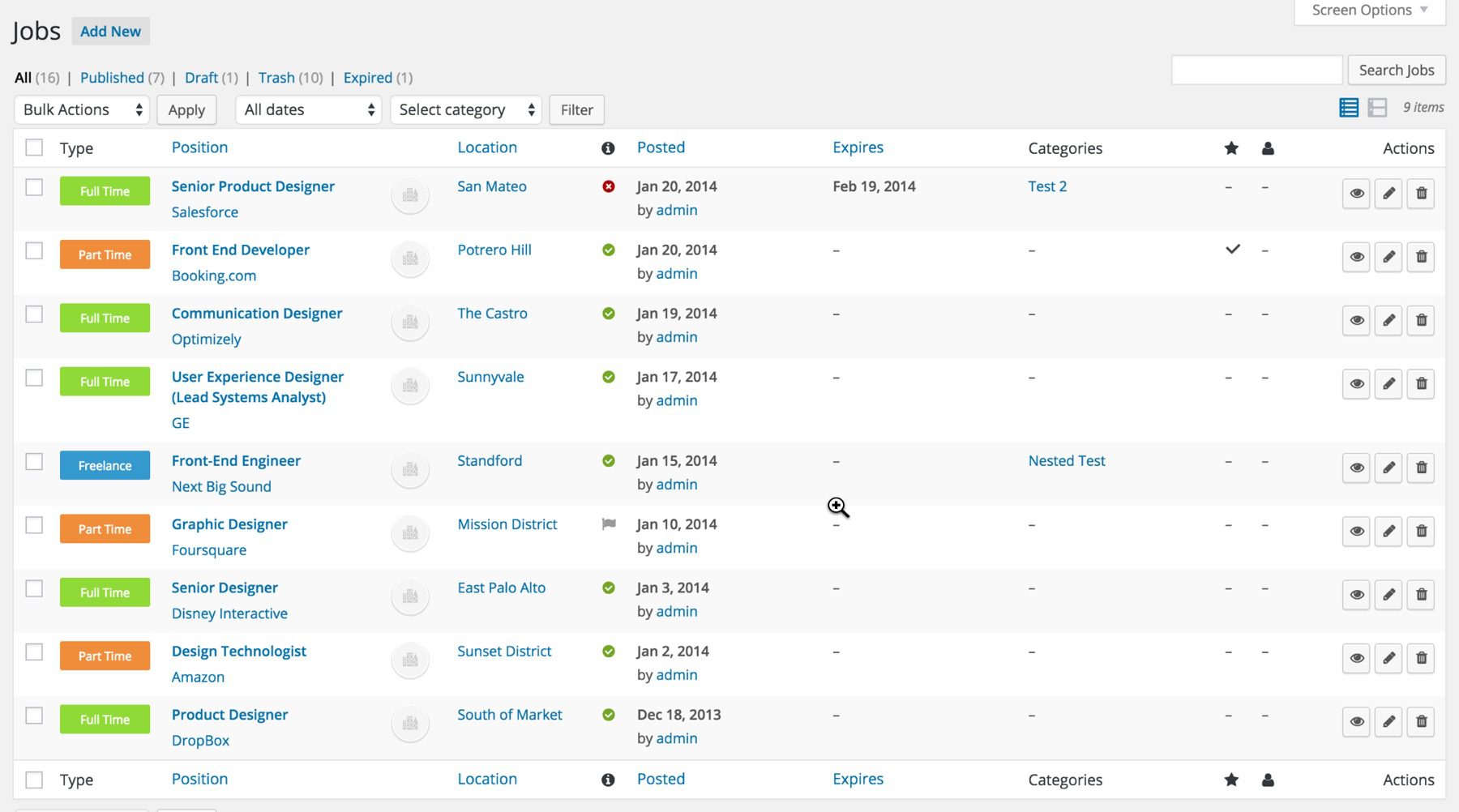 You can manage all of your job listings from the WordPress dashboard, and your users can also control their applications from their dashboard.
WP Job Manager is for you if…
You want to create filterable jobs for different categories.
You want to monetize your job board.
You want to use shortcodes to output jobs in different formats.
See our complete guide on how to create a job board in WordPress using this plugin.
WP Job Manager Pricing: Free. Premium features start at $29 per year.
3. WPJobBoard

WPJobBoard is another premium WordPress job board plugin with everything you need to add a powerful career search engine to your webpage. In addition, it has a ton of tools that make it simple to make, manage, and display job listings, resumes, forms, and other materials.
The ability to customize WPJobBoard is what really makes it stand out. With this plugin, you can modify the plugin's functionality and customize templates for email notifications and job application forms. The plugin's PHP Templating Engine allows you to overhaul your job board completely, so it's tailor-made for your site. Additionally, it has a resume database and an employer interface where users can look for the ideal individual.
Key Features of WPJobBoard:
SEO and social media feautures.
Works with any WordPress theme.
Drag and drop editor.
Great support team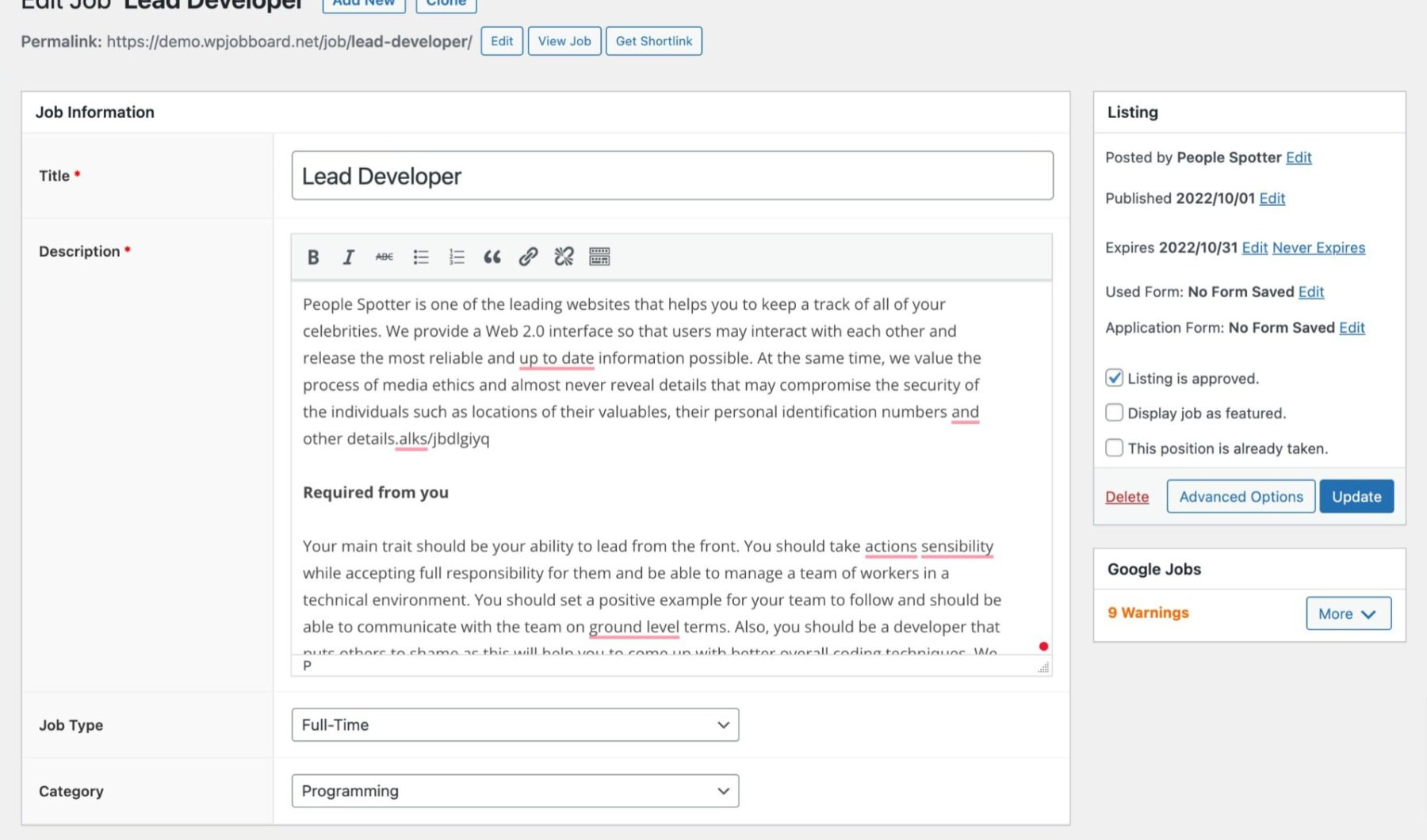 The plugin comes with its own free theme and is compatible with all WordPress themes. Additionally, it enables you to receive payments and gives employers membership packages, coupons, and discounts.
WPJobBoard is for you if…
You want a solution with multiple monetization options. (Works with PayPal, Stripe, etc.)
You want a solution compatible with any theme.
You want access to a simple drag-and-drop editor.
WPJobBoard: $97 per year.
4. Simple Job Board

Simple Job Board is a short-code-based job board plugin. It allows you to create a system for a highly extensible online job board. Add the [jobpost] shortcode wherever you like on your website to start using the plugin.
The ability to customize is where this plugin excels. You can design unique application forms for each job opening, and you can create multiple-choice options, designate mandatory fields, and much more. Available in 14 languages, Simple Job Board is ideal if you're running a multilingual site.
Key Features of Simple Job Board:
Uses a shortcode for complete control.
Include unique specifications and requirements for each job post.
Categorize reviewed applications for easy management.
Review applications and categorize them using multiple statuses.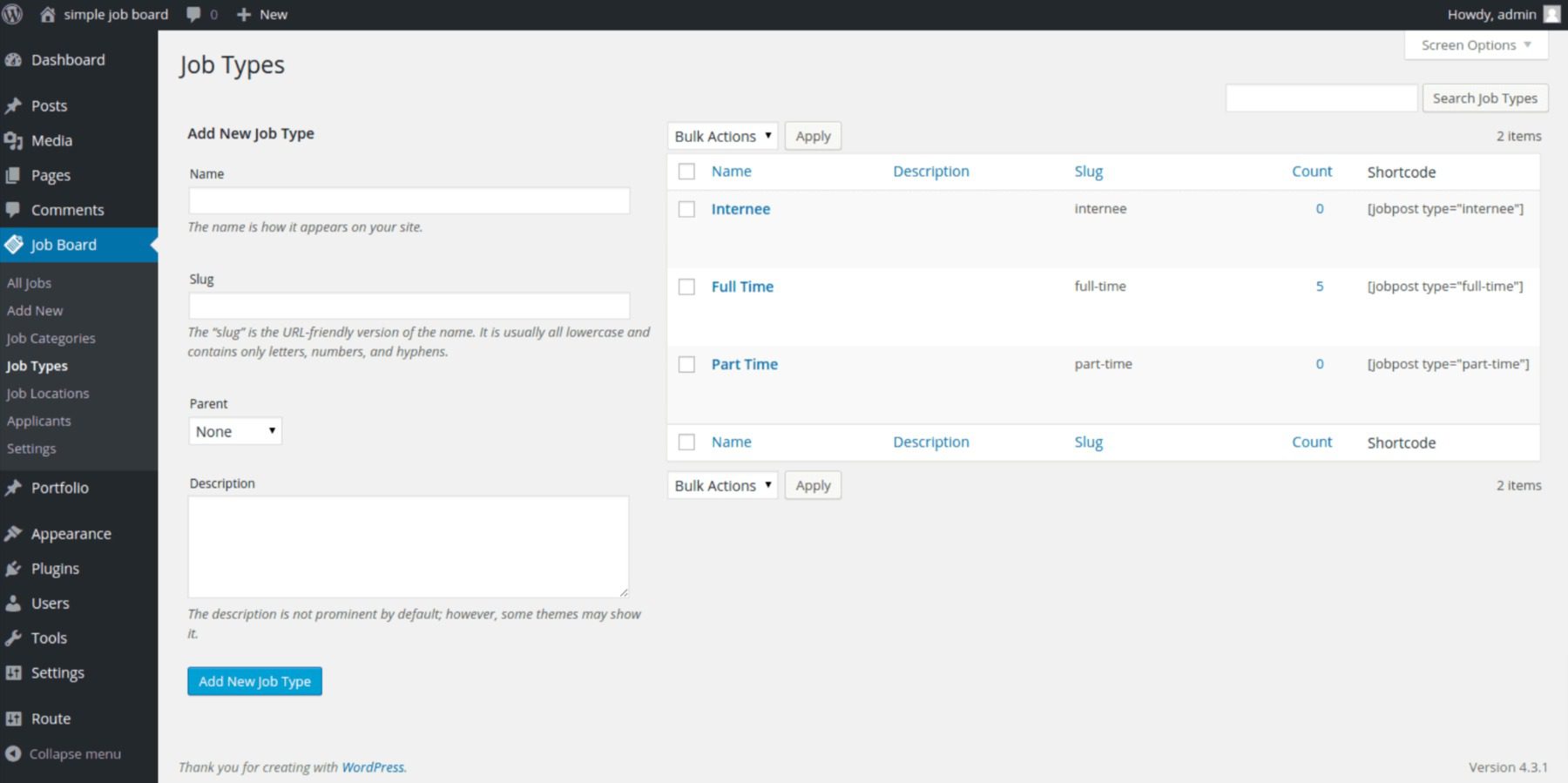 Simple Job Board provides customers forms, although these options are limited. However, the pro version offers more possibilities.
Simple Job Board is for you if…
You have a website using multiple languages.
You want a shortcode solution.
You want to be able to short out unsuitable applicants quickly.
Simple Job Board Pricing: Free.
5. WP Job Portal

WP Job Portal is another great option for a job board plugin. It's intended to make it simpler and quicker for job seekers to identify the positions that best fit them and for companies to find the most qualified applicants.
You can quickly narrow down your job postings by filtering results by application title, country, category, and more using a simple auto-fill option. Users can also save jobs they are interested in and go back to apply, and you can check how your listing is doing with a sleek-looking dashboard.
Key Features of WP Job Portal:
Filter system.
Custom fields on registration forms.
Resume Parsing.
Save jobs to refer to them later.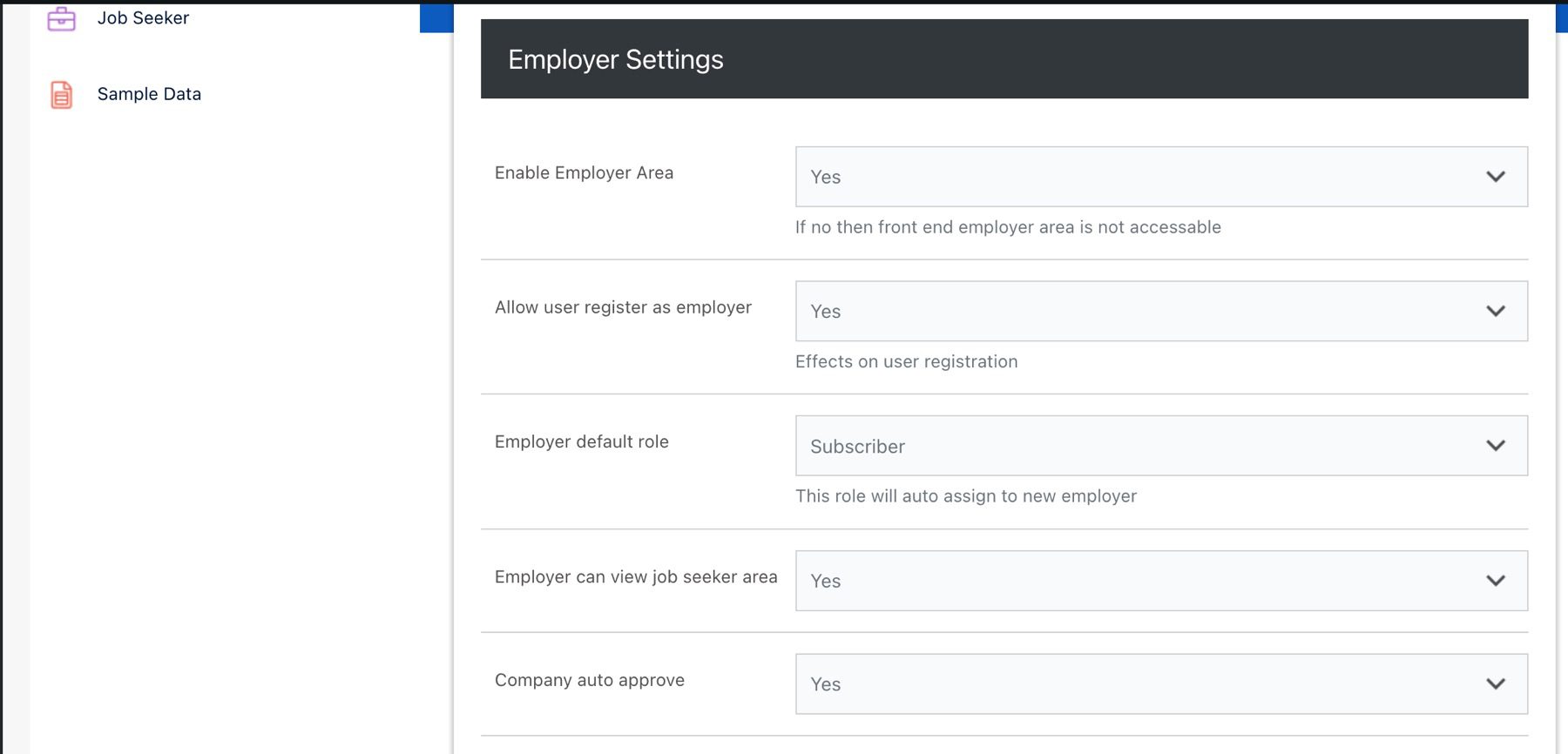 WP Job Portal is essentially plug-and-play. It's compatible with any theme for WordPress, so you know it'll look great on your site, you can customize various options for both employers and job seekers from the dashboard.
WP Job Portal is for you if…
You want to be able to parse through candidate resumés.
You want a high-quality UI.
You want a solution that's set up without needing to make an account on an external platform.
WP Job Portal Pricing: Free. The basic Add-on is $49 per year.
Comparing All the Best Job Plugins
You can quickly and easily post open opportunities using a WordPress job posting plugin. You can do so with the intention of internal hiring or use your website as a hub for job seekers and finders. This is a fantastic method to increase the number of people that visit your WordPress website, broaden your applicant pool, and perhaps even generate some extra revenue.
Job Board Plugin Price Comparison
Job Board Plugin Feature Comparison
🥇 WP Job Openings

🥈 WP Job Manager

🥉 WPJobBoard

Starting Price
$69/yr
$29/yr
$97/yr
Free Version
✔️
✔️
❌
Visual Editor/Drag-and Drop Builder
✔️
❌
✔️
Layout Options
✔️
❌
❌
Custom Fields
✔️
✔️
✔️
Filters and Sorting
✔️
✔️
✔️
Search Functionality
✔️
✔️
✔️
Frontend User Profile Management
❌
✔️
✔️
Email Notifications/Templates
✔️
✔️
✔️
Google Job Schema
✔️
✔️
✔️
Active Installations
20,000+
100,000+
N/A
Community Rating
4.9/5
⭐⭐⭐⭐⭐
Read Reviews
4.4/5
⭐⭐⭐⭐
Read Reviews
N/A
Get WP Job Openings
Get WP Job Manager
Get WPJobBoard
What is the Best WordPress Job Board Plugin?
We highly recommend checking out WP Job Openings. This is a popular job board plugin available for WordPress that offers a wide range of features to help you manage your job listings and applications.
Hopefully, one of the plugins listed above has features you're looking to use on your site.
Frequently Asked Questions (FAQs)
Before we wrap up, let's answer some of your most common questions regarding the best WordPress job board plugins. Did we miss one? Leave a question below, and we will respond!
What is the best WordPress job board plugin?
WP Job Openings
is our recommendation for the best WordPress job board plugin. It includes features like an intuitive drag-and-drop builder, multiple layout options, and helpful filters and search functions. WP Job Openings also offers a Google Job Schema generator, making connecting with potential employers and employees easier.
What is the best free WordPress job board plugin?
WP Job Openings
is our top pick. The free version boasts an impressive array of features, including a drag-and-drop builder, two layout options, filters, search functionality, and a Google Job Schema generator.
Can you build a job board with WordPress?
Indeed, it is possible to create a job board using a plugin, such as
WP Job Openings
or
WP Job Manager
, to quickly set up and oversee a job board on your WordPress site.
What are the most popular WordPress job board plugins?
Which WordPress job board plugin is easiest to use?
We believe
WP Job Openings
is the easiest plugin to use, thanks to its simplistic user interface, drag-and-drop job builder, and excellent documentation.
What features should a job board plugin have?
A job board plugin must have key features such as job listing and management tools, streamlined applicant management, a robust search function for easy navigation, alerts for new job postings, a customizable interface, and seamless integration with other plugins and services like WooCommerce.
What is a WordPress job board?
WordPress job boards are those WordPress websites made with plugins like
WP Job Openings
that can help you create and manage job listings, which can be a valuable resource for job seekers and employers. A job board can also drive traffic to your website.
Are job boards profitable?
Yes, job boards do have the potential to generate revenue. Nevertheless, the level of profitability that a job board can achieve depends on several variables, such as the scale of the target audience, the number of job vacancies, the pricing strategy, and the expenses associated with running the job board.
How do you monetize a job board?
You can employ various strategies to generate revenue from a job board. Charging for job postings, charging monthly subscription fees, promoting advertising opportunities, securing sponsorships, and using a pay-per-click model are the popular ways to monetize your job board.
How can I promote my WordPress job board?
There are numerous ways to boost your WordPress job board's visibility, such as leveraging social media platforms, optimizing content for search engines, email marketing campaigns, investing in advertising, and encouraging referrals.
Looking for more great plugins? Check out this ultimate list of best WordPress plugins, which includes a top recommendation for each plugin type!
Article featured image illustration by Viktoria Kurpas / shutterstock.com