Whether you're looking for people to add to your team or you're a job seeker looking for your next role, there are a lot of job boards out there to help. Some are free or have an optional free plan, while others you'll want to pay for to get value from them. We've gathered the best general job boards to add to your job-hunting routine, plus top specialized job boards, including a selection specifically for those with WordPress skills. If you are looking to create your own, consider these best job board plugins for WordPress websites.
Note: It's common for job sites to have a section where employers can submit their postings or seek out potential employees, so while this article will speak mainly to job seekers, hiring companies are also encouraged to use these sources.
Job Boards vs. Job Search Engines
There's a difference between job boards and job search engines. On job boards, employers post positions to those specific boards. A job search engine has a collection of listings from various job boards and company websites.
In this list, we have both types of listing sites, and I often use "job boards" as a shorthand way to refer to them. What's most important is that you don't use too many sites that have repeat jobs. You could end up applying for the same job more than once, or you could just waste a lot of time reading through the same postings. Also, you don't want to waste your time looking through jobs that don't apply to you.
Furthermore, every site will have its own way of doing things, from the criteria you can search by to the types of jobs available and whether or not you have to pay for access. Mix and match the following job sites so that you're finding the most relevant jobs for you without spending excess time on job hunting alone.
The Best Job Boards
The following job boards don't have specific focuses. Instead, they're for casting a wide net when job- or client-seeking, though there are also targeting features you can use to narrow down your options.
CareerBuilder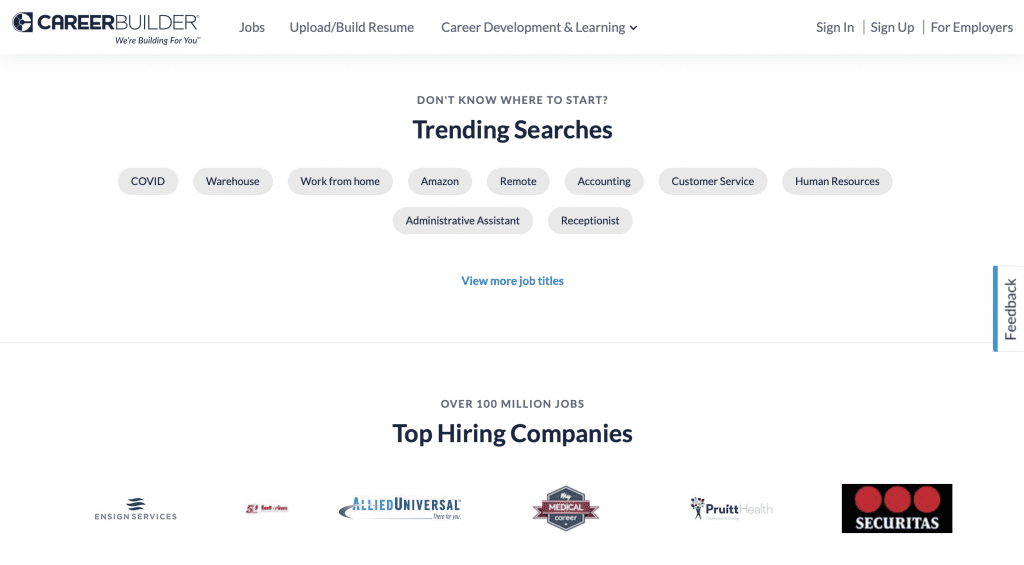 CareerBuilder gets its job listings directly from employers, so you know they're verified. You can browse jobs by industry or job title. The site includes location-specific listings, too, so you can find a local job if you're not interested in relocating or remote work. Post your resume, get career advice and see the most popular current searches and hiring companies. With the mobile app, you'll get notified when jobs matching your criteria are added and when your resume is viewed by an employer.
Glassdoor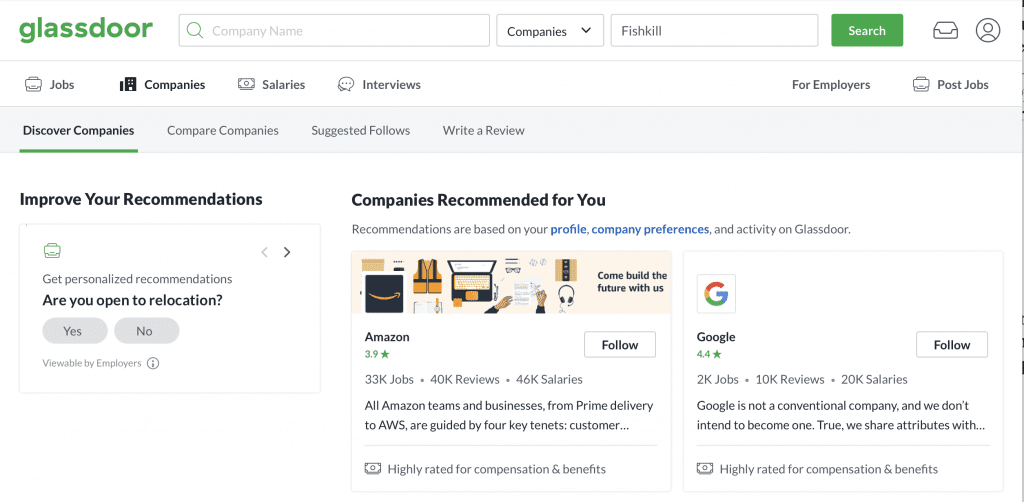 Glassdoor has job listings that you can browse, but even if you don't use this site for job-seeking, keep it bookmarked. Users post reviews of companies, making it an invaluable asset when you're deciding whether a job is right for you. You can see ratings and reviews, learn what to expect salary-wise and even read about the interview questions to expect.
Google for Jobs
Instead of a job board, Google for Jobs is an aggregator that collects all sorts of jobs that are posted online. There isn't a dedicated website to use. Instead, go to Google and search for "[job type] jobs." The results should include a box labeled "Jobs," like the one below. Then, by clicking on the "more" link, you'll go to a longer list of jobs that you can filter with all sorts of criteria.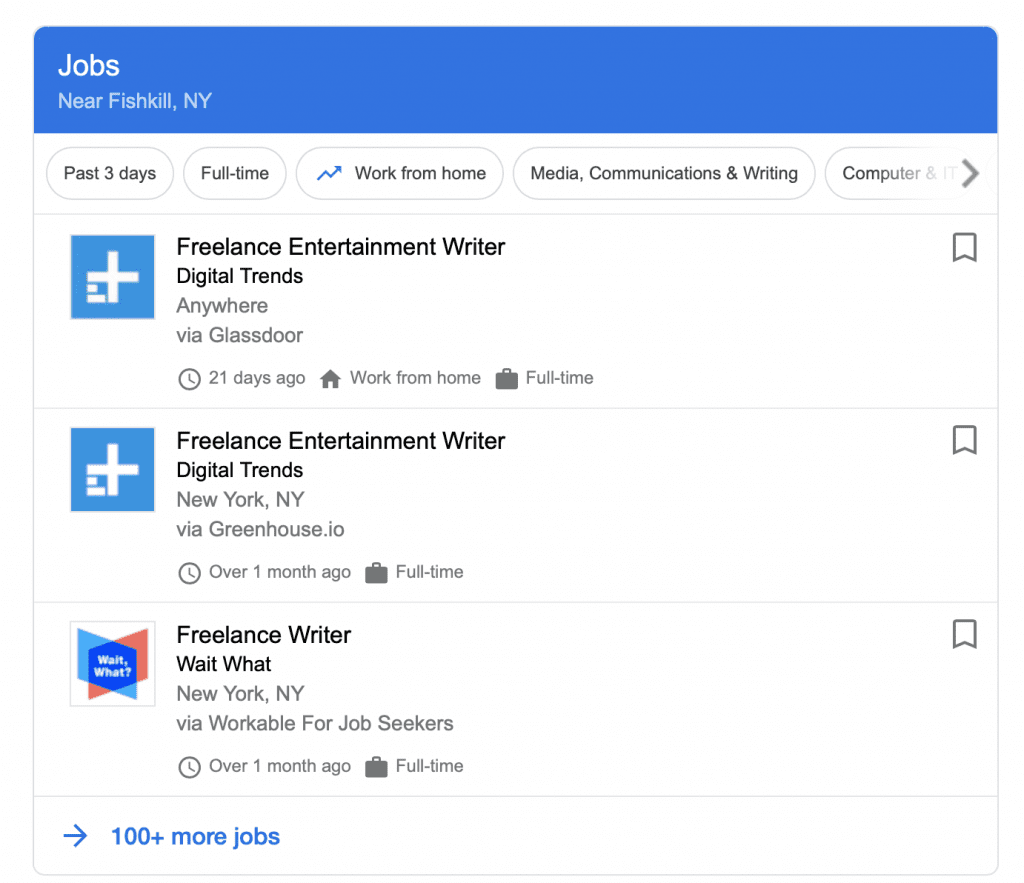 Indeed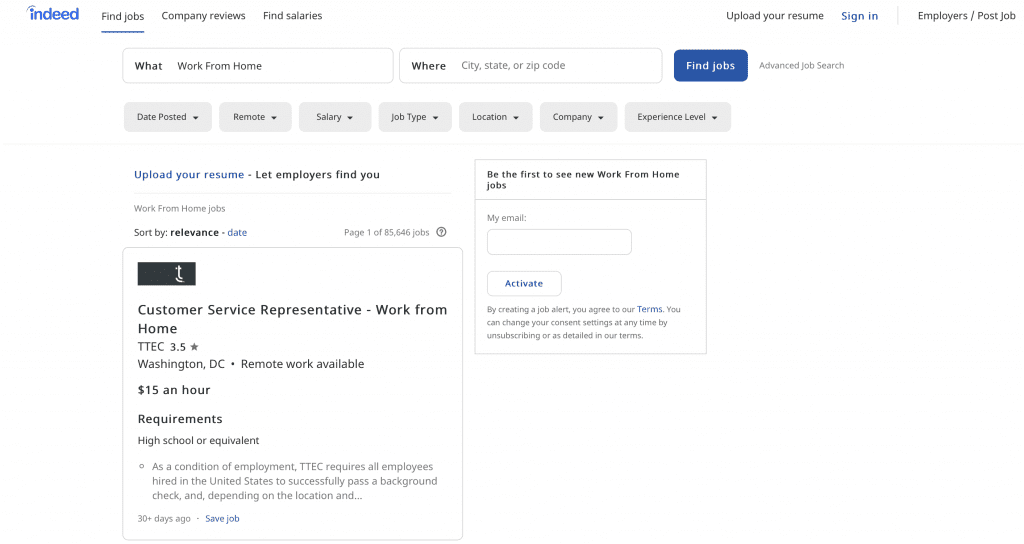 Indeed is a job search engine that aggregates listings from all over. Upload your resume and get a personalized link that you can then send to employers. On top of signing up for job alerts, you can also read company reviews and find out salary information. There's info about job trends as well, in case you need some direction about where to focus your efforts.
LinkedIn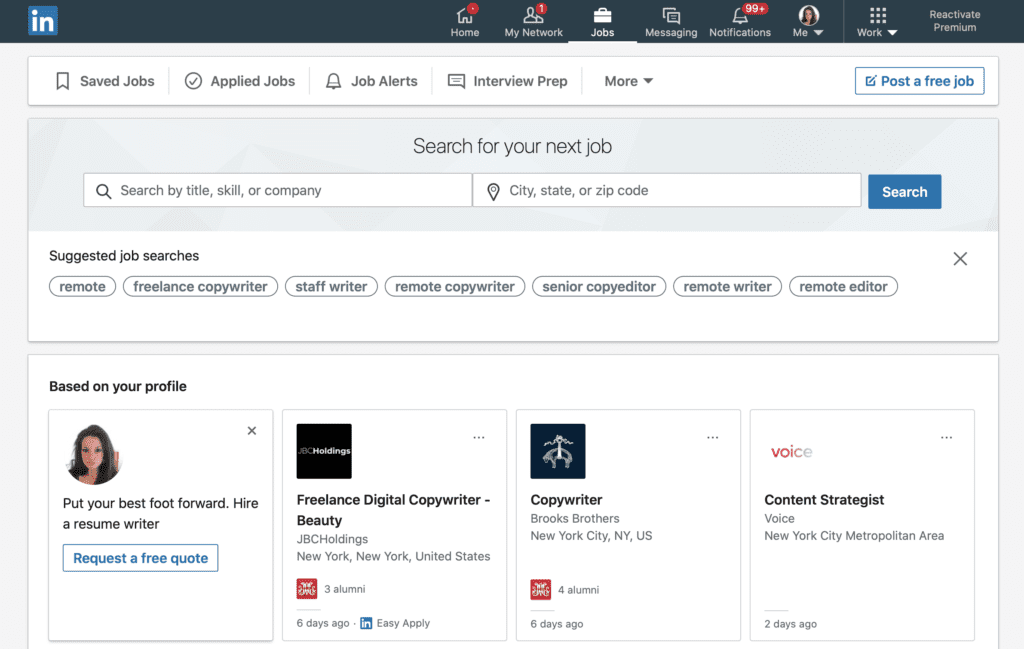 You're probably already on LinkedIn (and if you aren't, you should be), and if you click the Jobs icon on the top, you'll go to the job search page. Yes, you can search for jobs based on different criteria, but LinkedIn is great for job seekers in other ways. You can add portfolio samples to your profile to illustrate your qualifications. You can seek out key contacts at companies and also follow those companies to stay informed. Plus, if you're interested in job opportunities but aren't actively looking, you can optimize your profile so that employers and recruiters find you.
ZipRecruiter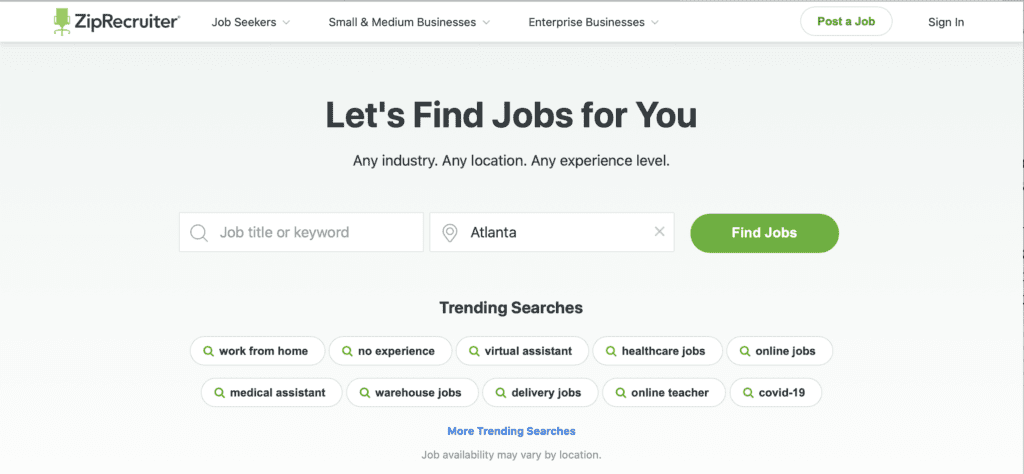 ZipRecruiter learns your job preferences the more you apply, so it can then better target jobs to you. There's a huge inventory of job openings, and you can get notifications about jobs that match what you're looking for. You can also research trending categories, companies and locations, as well as find out salary information.
Best Job Boards for Specialized Roles
If you know exactly what you're looking for and you plan on staying in a specific industry, add a few specialized job boards to the mix. The selection of jobs may be smaller, but what you're trading in quantity you'll make up for in quality.
College Recruiter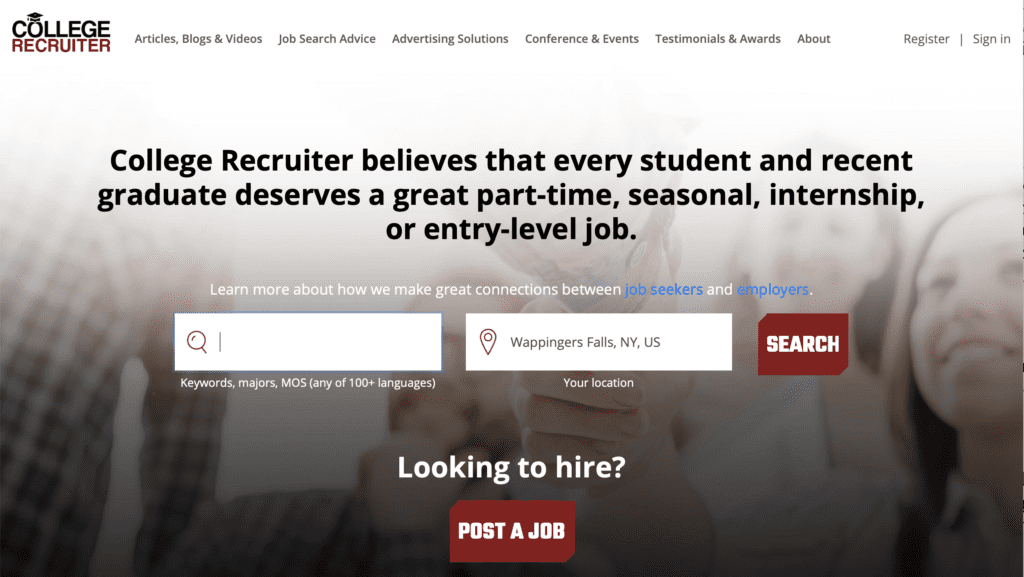 What it's for: entry-level positions
College Recruiter is intended for college students and recent grads who are looking for internships or entry-level positions. On top of the job search function, you can get career advice and a free resume critique.
Dice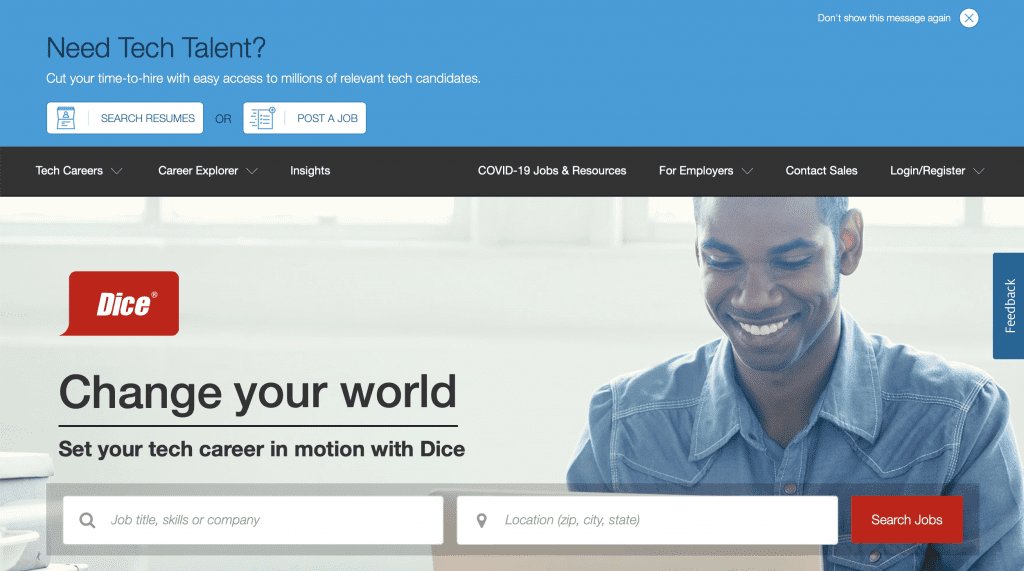 What it's for: the tech industry
Dice is for job seekers and talent-seeking companies in the tech niche. Track the jobs you have your eye on, and add your experience and skills to your profile so employers can find you, too. Upload and store your cover letters and resumes so you can easily apply the next time you see a job you're interested in. You can also use Dice to look up salary information, get career advice and to stay up to date on tech industry news.
eFinancialCareers

What it's for: finance industry jobs
eFinancialCareers has job opportunities from 35 finance niches, ranging from accounting and trading to analytics. Create a profile, set up job alerts and upload your cover letter and resume to make applying a breeze. They also have articles with industry news, making it easy to stay on top of what's going on (and impress potential employers during interviews).
Energy Jobline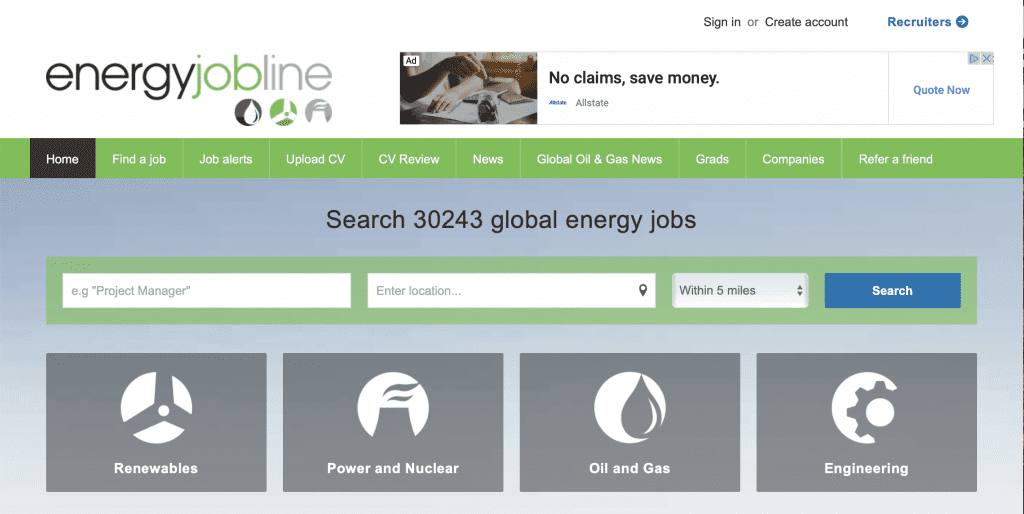 What it's for: jobs in the energy industry
Energy Jobline has different energy industry jobs in niches like oil and gas, nuclear energy and renewables. There are all sorts of roles, including engineering, marketing and technical positions. You can complete your profile and then sign up for job alerts. Read about industry trends and news, too.
Freelance Writing Jobs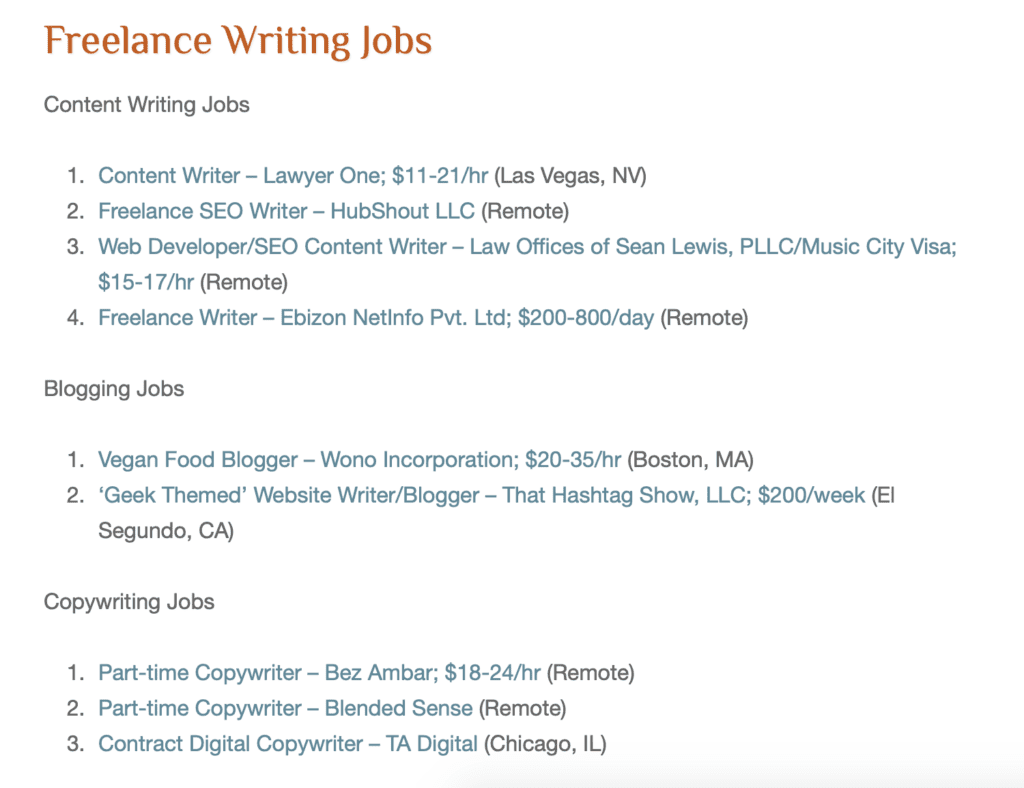 What it's for: freelance writing
Freelance Writing Jobs is a leading job board for freelance writers. Lists of current jobs come out several times a week, and they're sorted by type, including grant writing, journalism and internships. It takes under 10 minutes to scan that day's jobs (longer, obviously, if you're going to apply), and it's one of two job boards I depend on to keep my client dance card full.
Idealist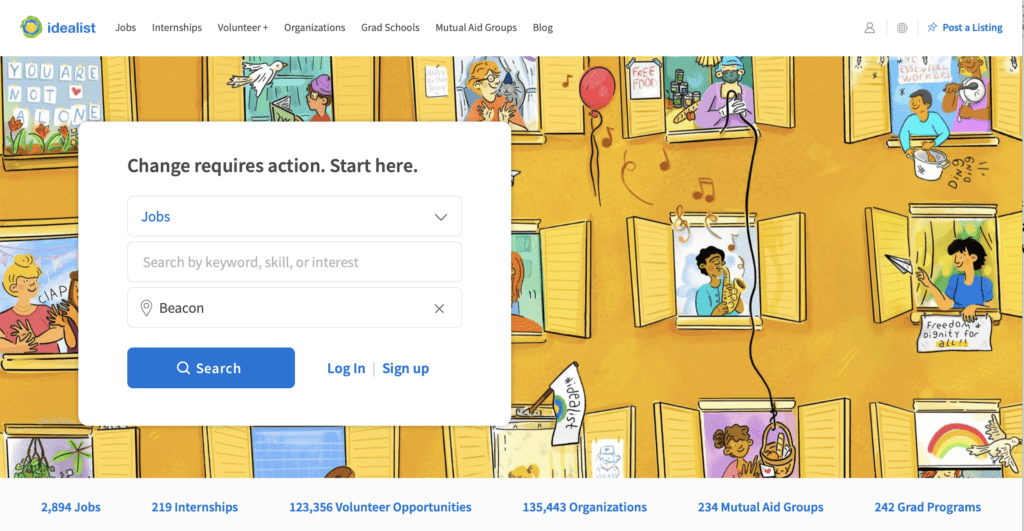 What it's for: non-profit roles
Idealist has internships, full-time positions and volunteer positions in the non-profit niche. You can search by your preferred cause to find related organizations, or search by job function to find open positions. If you register, you can get involved with interest groups and start networking.
Mediabistro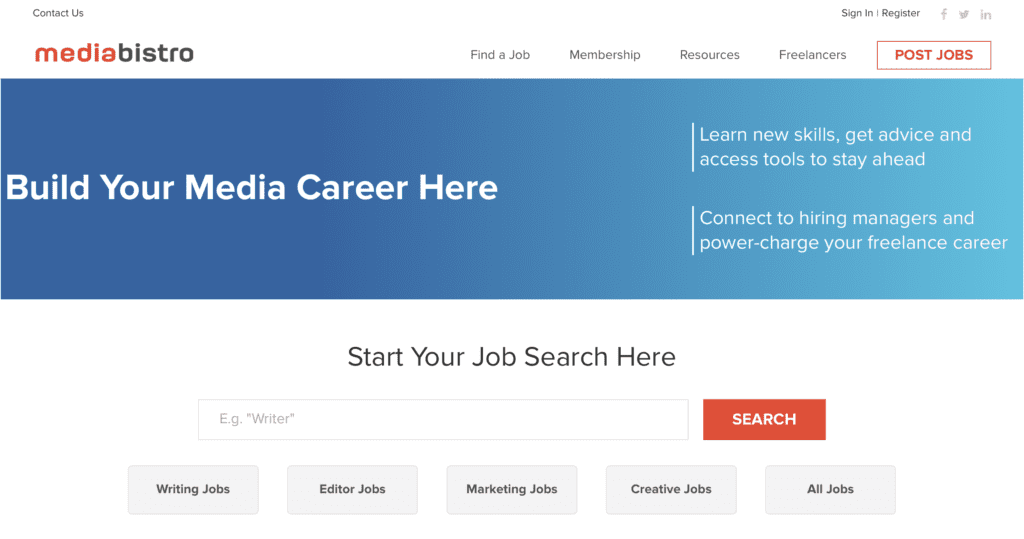 What it's for: communications and media jobs
Mediabistro is a leading job site for communications and media positions, including those in the advertising, design, film and TV, public relations, publishing and social media niches. On top of searching for jobs, you can also read advice, information and news about the industry, including available events to attend and courses to take.
OneWire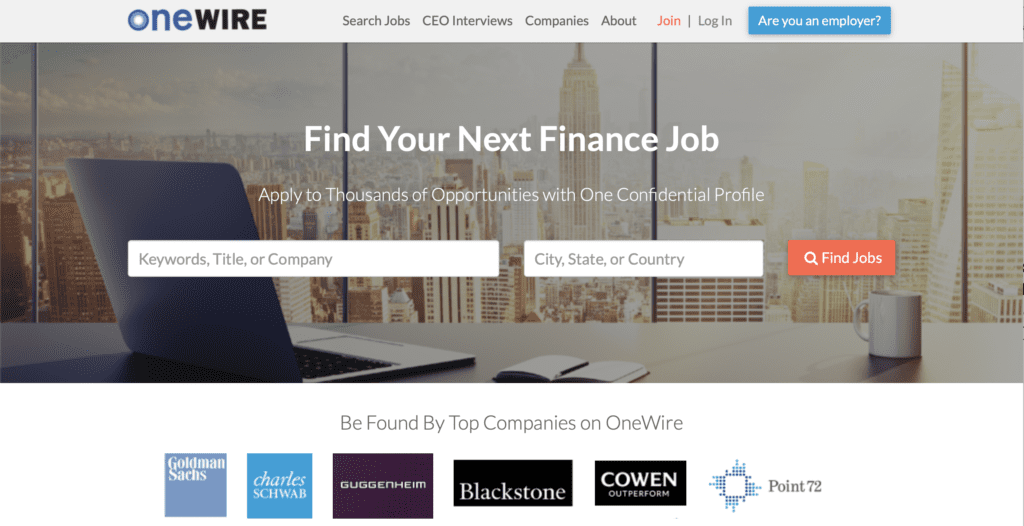 What it's for: financial and technology firm jobs
If you're hoping to work for a financial or tech firm, head to OneWire. You can create a profile and then match with jobs included in the database. A standout feature of the site is the series of video interviews with industry professionals, which may help you better prepare for your interview, too.
ProBlogger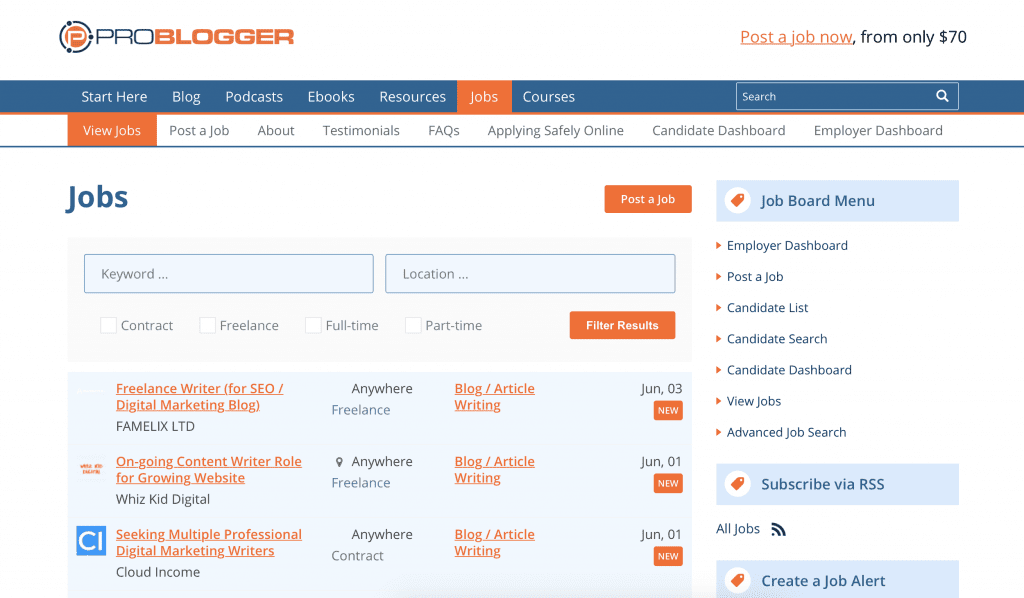 What it's for: freelance writing
The job board at ProBlogger is short and sweet, and in my experience, it often has high-quality freelance writing jobs (meaning they pay well and have thorough descriptions). Jobs are only listed for around a couple weeks before they're completely removed, so this is one you'll want to check often. By checking the boxes at the top, you can quickly filter by contract, freelance, part-time and full-time jobs – however, if anything is mislabeled, you could miss out on opportunities. My suggestion is to simply browse the latest postings since there aren't ever a lot to go through.
Public Relations Society of America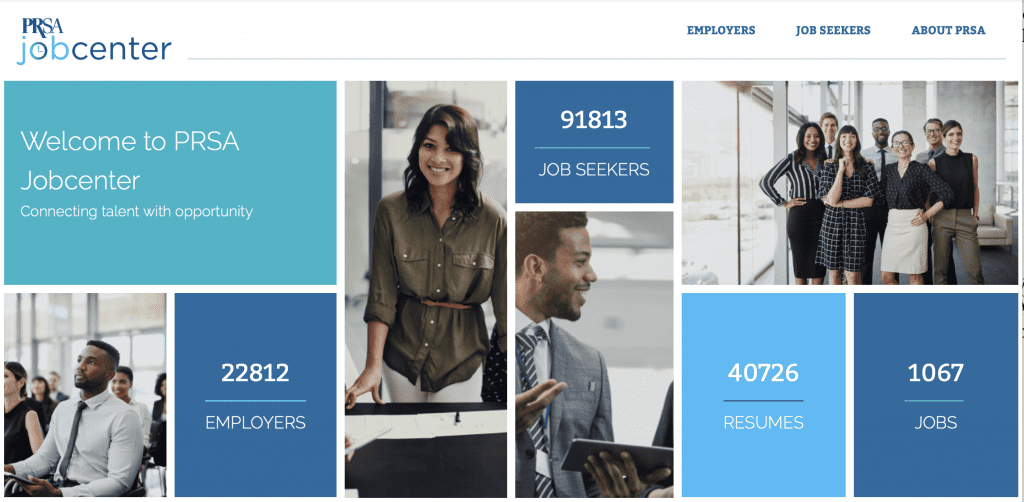 What it's for: communications jobs
The jobs section of the PRSA website is open to the public; you don't have to be a member to use it. Head here to search for jobs in corporate communications, marketing, media relations and PR. You can also access the directory of PR organizations in case you want to reach out to ones that don't have active job listings.
Best Job Boards for WordPress Skills
Job seekers skilled in WordPress – whether on the creative or technical side – should consider these niche job listing sites.
Authentic Jobs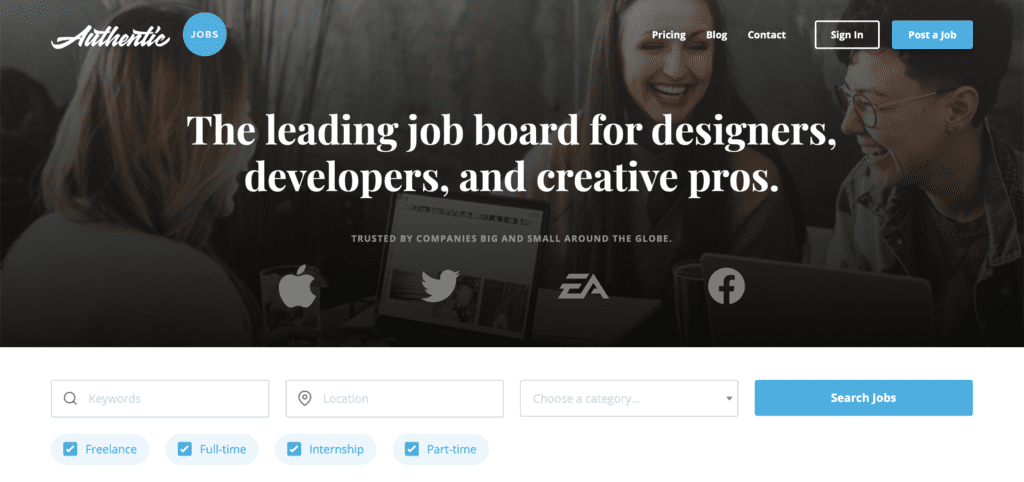 Authentic Jobs has a host of WordPress-friendly jobs, including UI and UX positions, engineering roles, app developers, designers and more. Set your search criteria, decide if you want a freelance, part-time or full-time position, and explore what's available. There are internship listings, too, if you're just getting started in the industry.
Coroflot

Coroflot's Design Jobs section has a number of web design-related positions, but there are a few one-offs, too, like jobs for writers and educators. If you're in the design realm at all, you'll want to check out this site. You can also see U.S. salaries for an assortment of related jobs, making it possible to get an idea of what your skills are worth.
Dribbble

Dribbble is an excellent resource for design jobs, whether you're searching for one or looking for talent. There's also a Freelance Projects for Designers section where you can look specifically for contract work. And if you want to have Dribbble look for jobs on your behalf, learn about Dribbble Talent.
Krop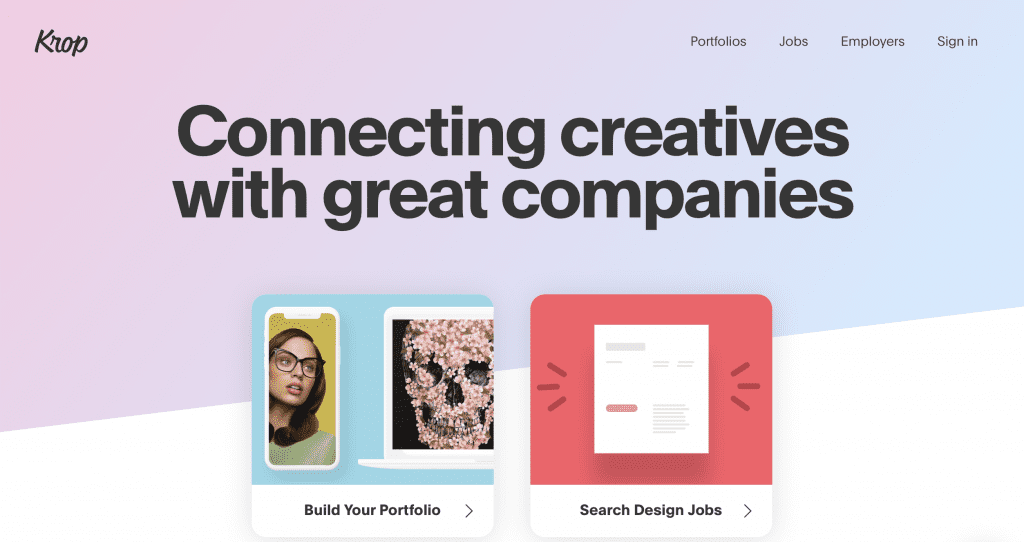 Krop does double-duty as a portfolio site and a job search portal for designers (there's a Search Creatives link for hiring companies, too). Use their templates to create a portfolio website and show off what you can do. Then, search for creative jobs, which include copywriting, video production, graphic design, marketing and more.
Stack Overflow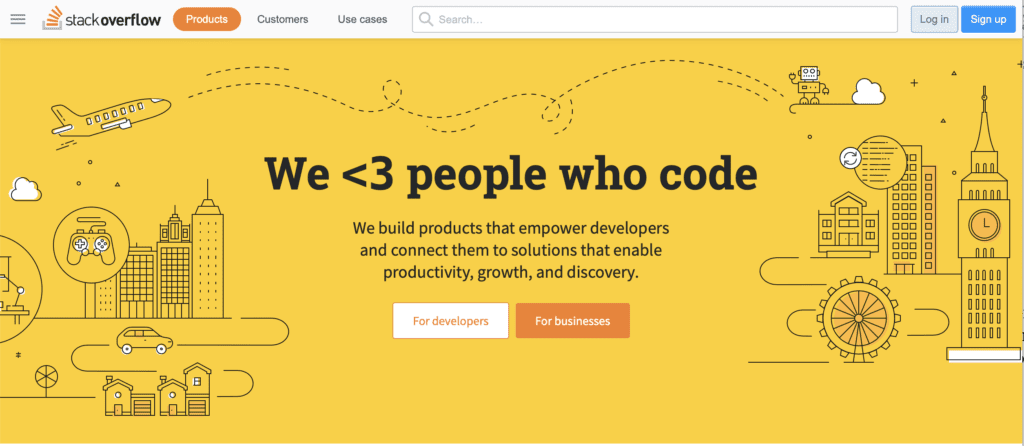 Stack Overflow is specifically for developers and programmers (or companies looking to hire them). On top of searching for jobs, the site can be used for networking. Their questions and answers feature lets community members ask and answer tech-specific questions. This is an excellent way to demonstrate your knowledge and gain visibility, hopefully catching the eye of your dream employer.
Insider Tips for Job Hunters
Whether you've been a job seeker for one month or 15 years, you can always improve your game. Here are a few must-know tips when securing your next role.
Go Directly to Company Websites
There are plenty of companies that are hiring that won't post their job to a job board. It's common for some popular companies that tend to get overwhelmed with applications to only post open positions on their own website. If you have a brand in mind that you want to work for, regularly check their site to see if they're hiring.
Keep a Running Spreadsheet of Jobs You've Applied To
You can take notes about the status of your applications, the companies you realized you don't want to work for, etc. Also, if you're a freelancer, it's helpful to see how many jobs you have to apply for on average to close one and also the average time it takes to secure a new client. Here's what my job spreadsheet looks like, plus a sample job:

P.S. If you're hiring people for your team, you can do something similar to keep track of applicants and make the workflow more efficient.
Think Beyond the Best Job Boards
Job boards have a ton of information beyond the specific job that needs to be filled. You can get an idea of the skills you'll need to land certain jobs or to work for specific companies. You may be able to get contact information for key employees or managers who you can then contact for networking purposes. Additionally, you can keep a running list of companies you hope to work for one day, even if they don't have openings that match your skills right now.
Final Thoughts About the Best Job Boards
After searching job sites for a decade, here's my best tip: if you don't have any luck on one for a while, ditch it. Your time is valuable, and with so many job boards to choose from, there's no reason to burn time looking on a job site that doesn't have anything to offer you.
Job boards should be part of your job seeking (or employee hiring) plan. Combine these sites with other tactics, like networking, taking note of interesting companies or impressive professionals, and thinking outside-the-box when it comes to career opportunities.
Not quite sure where to point your job search compass? Check out this article with 10 Signs You May Be Ready for a Career Change.
Featured Image via Golden Sikorka / shutterstock.com