Leveraging AI writers to generate content for WordPress can streamline the content development process, saving both time and effort. These tools are a big help if you deal with writer's block, but choosing the right AI content writer for your WordPress website is important. In this post, we will compare the top AI content writers for WordPress. With an eye on key features, pricing, and more, our goal is to assist you in making an informed decision about your WordPress AI content writer tool!
Let's get to it.
What Is a WordPress AI Content Writer
WordPress AI content writers are essentially plugins that allow you to write and edit content directly within the WordPress editor. These tools use machine learning and natural language algorithms to expedite the process of content creation by eliminating repetitive tasks. Using an AI content writer streamlines your workflow and enhances efficiency.
Ideal for marketers, creators, and site administrators, AI content writers greatly contribute to creating new articles, blog posts, website copy, and more. At the heart of a WordPress AI content writer, you'll find Natural Language Processing (NLP). This important component enables the AI to understand and mimic human behavior and the patterns detected in language.
Why Do We Need a WordPress AI Content Writer
Artificial Intelligence (AI) remarkably boosts the speed of content creation. It's not about taking our place but rather enhancing our productivity. Imagine being able to generate top-notch content with incredible speed. With the best WordPress AI content writers at your fingertips, creating a blog post can take just a few minutes, saving you precious time. Moreover, AI content tools are demonstrating their value against writer's block. By providing a wealth of ideas, they help to keep your writing on the right track. AI content writers' effectiveness is becoming more widely recognized, and more writers are incorporating these tools into their writing processes.
Enhancing your SERP ranking is an additional benefit. Customizing content to comply with search engine guidelines can be tiresome. However, combining AI with SEO ensures your content is always relevant. While AI-generated content undoubtedly has its advantages, it's essential to recognize that it might occasionally fall short in terms of relevance and accuracy due to the algorithm's dependency on the supplied data. Despite its potential to create superb content, there can be occasional glitches. Therefore, reviewing and fine-tuning the output is vital to ensure it's in sync with the website's style and tone. Some plugins might also require a premium subscription to unlock all their features. It's critical to weigh different options before choosing the most suitable plugin.
The Best WordPress AI Content Writers

Subscribe To Our Youtube Channel
Choosing the best WordPress AI content writer heavily depends on the specific needs of your website. While many may seem to offer similar functionalities, there is a notable variance in cost. In this post, we will break down the standout WordPress AI content writers.
1. Divi AI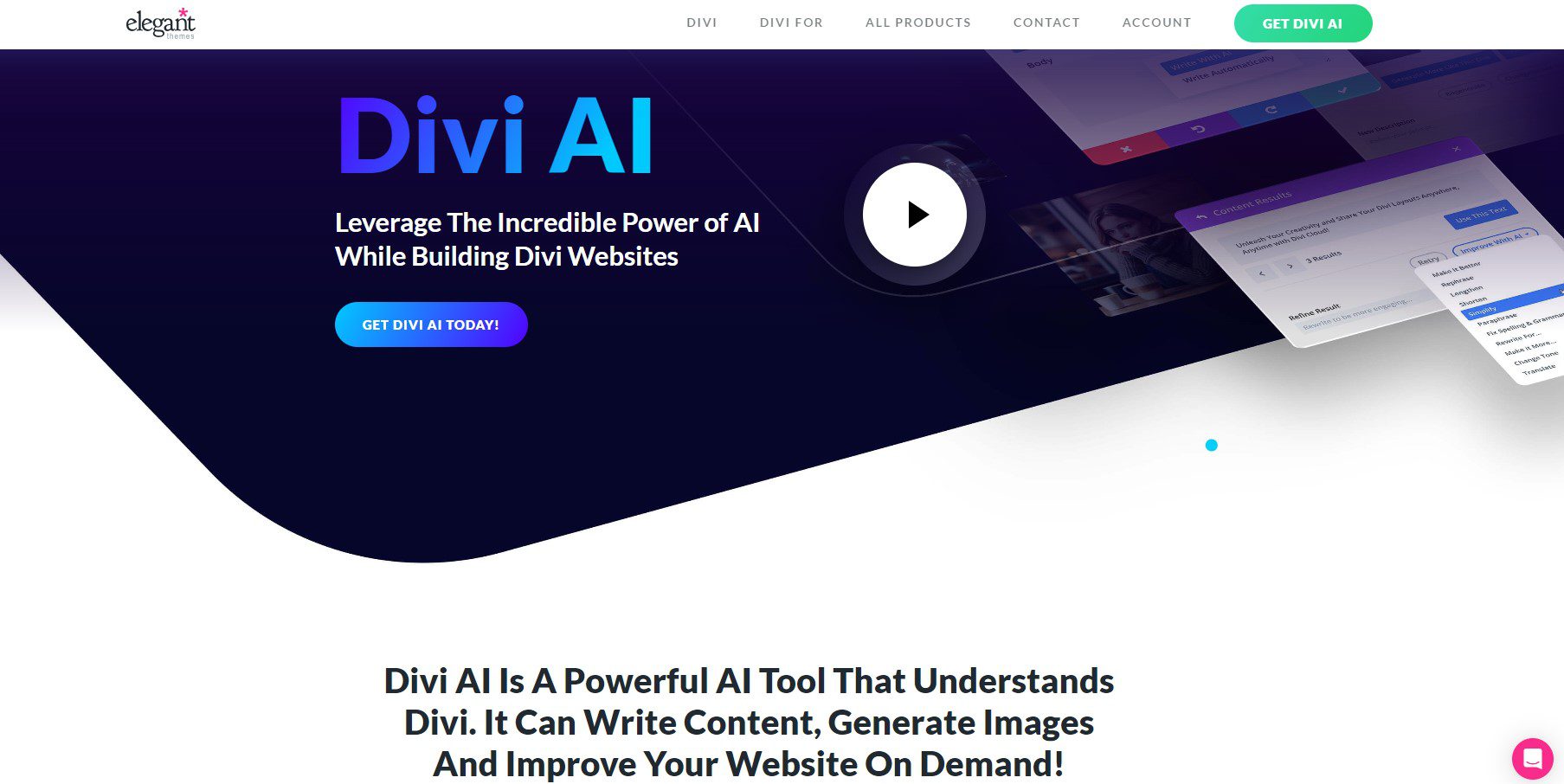 At the top of our list is Divi AI, a powerful AI assistant for building websites in WordPress. It integrates with Divi, our very own WordPress theme and page builder, which can be used on any WordPress site as a theme or plugin. Divi Al helps build websites by using AI to create eye-catching images and compelling content. It lets you generate new images or improve upon existing images. The content writing tool inside Divi AI works similarly; it allows you to generate content from scratch or improve it.
Divi AI is cleverly designed to comprehend Divi and learn from your site, leading to the creation of relevant content.
Key Features of Divi AI
Accessible within the Visual Builder and Divi Modules
Auto-generate images and text content with one click
Divi AI learns from your website to auto-generate on-brand content in the right context
Write new content & improve current content with prompts and quick actions
Generate high-quality AI images using built-in style prompts and refining options
Upscale and Improve any image with Divi AI in a few clicks
Best For
Divi AI is a powerful tool for bloggers, agencies, content marketers, and web developers. It's ideal for those who need to generate unique content and create images directly within the builder.
Pricing
$18 per month or $216 annual subscription
2. AI Engine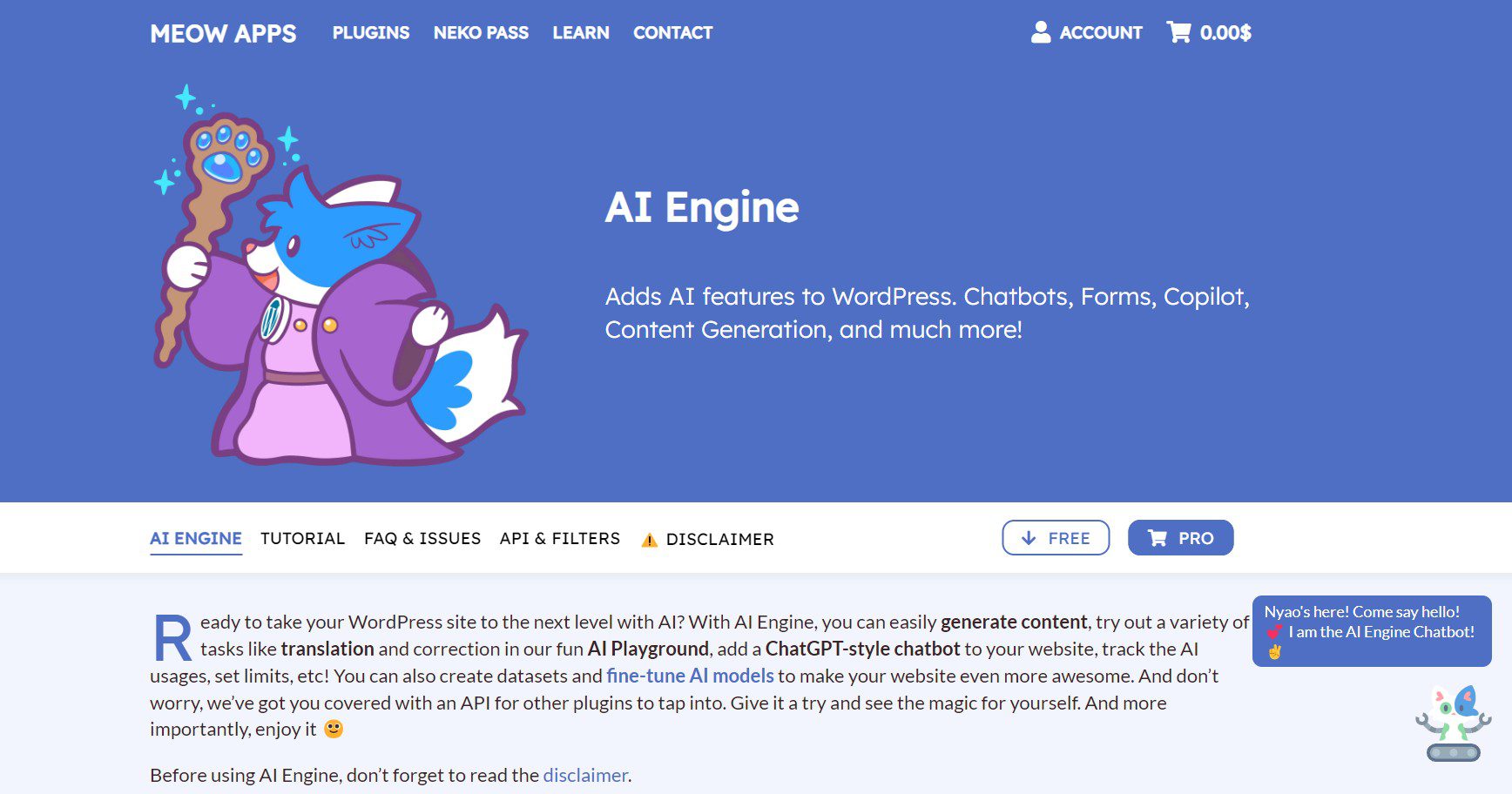 AI Engine is a WordPress plugin that enhances the process of content generation. This tool excels by offering a variety of features. It allows you to create visuals, generate text, and incorporate chat widgets, to name just a few.
Boost your interactive experience with the AI Engine, which introduces you to the dynamic AI Playground. It simplifies tasks around text translation and correction. It goes a step further by providing the capability to incorporate a ChatGPT-themed chatbot into your site. Monitor AI activities with ease and set limits speedily.
This plugin allows you to generate datasets and refine AI algorithms, enhancing your website's appeal. It also provides an API for seamless integration with other plugins. There's no need for complex coding; an API key from OpenAI will do the trick. This key connects your OpenAI account to the plugin.
After your setup, you can customize the plugin and execute specific actions to your liking.
Key Features of AI Engine
Add a ChatGPT chatbot or an image creation bot to your website easily
An AI Playground features various tools like translation, correction, SEO, and more
Fullscreen, popup, and window modes for the chatbot
Generate fresh and captivating content
Monitor your OpenAI use with handy built-in statistics
Receive recommendations for titles, excerpts, and more
Create your templates for the Content Generator
Best For
AI Engine is the perfect tool for those with a limited budget who aspire to remain competitive in the current landscape of content and image creation. They achieve this through the use of advanced AI technology.
Pricing
Free plan available, with Pro plans starting at $49 yearly or a $249 lifetime subscription.
3. GetGenie AI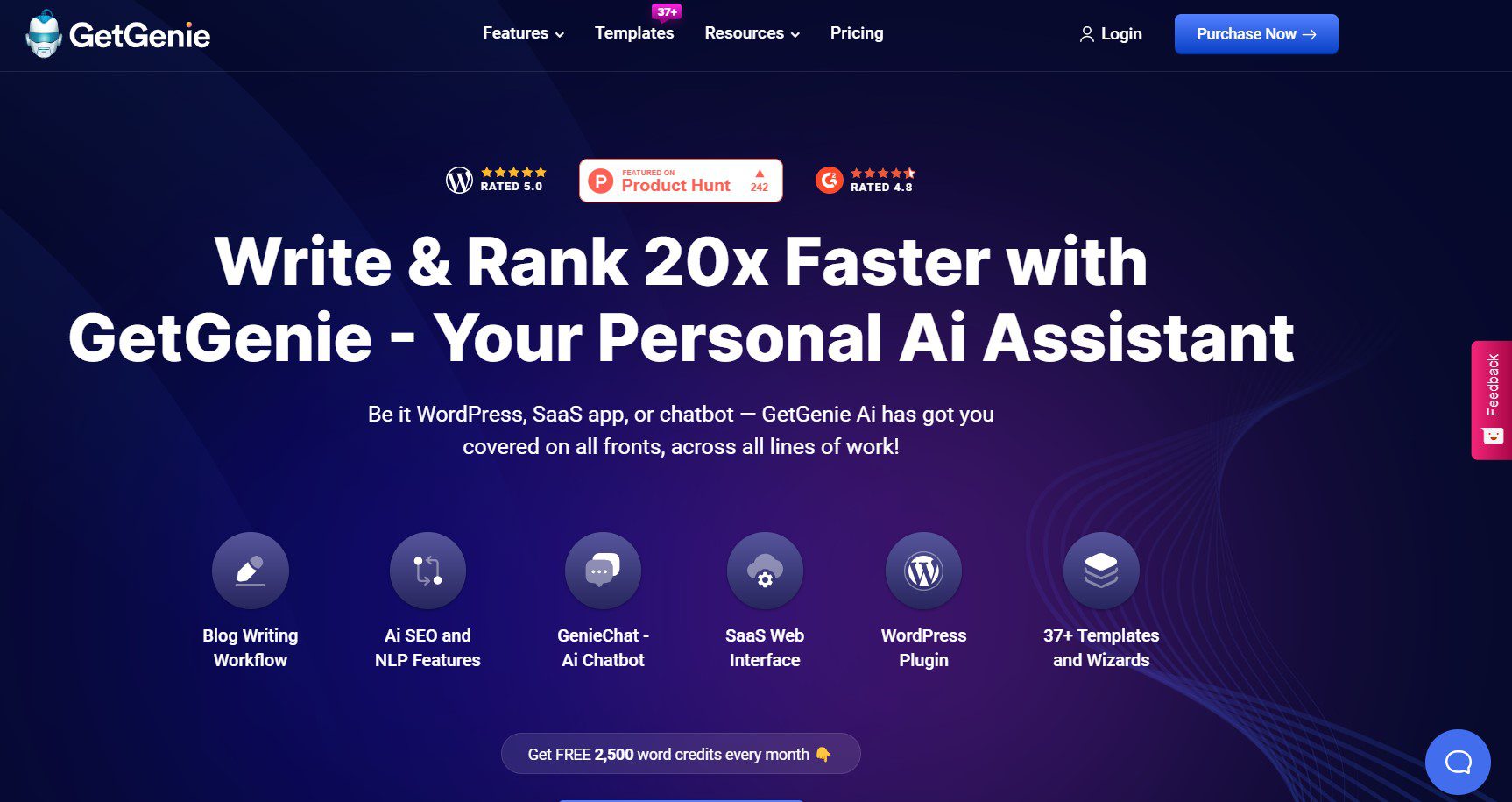 GetGenie.AI is an AI content writer that can assist you in writing and optimizing content for SEO. Notably, it comes with a predictive AI score. This score optimizes on-page factors for better rankings of Search Engine Results Pages (SERPs).
GetGenie AI isn't just like any other AI content writer. It offers a wide range of over 37 AI templates for your copywriting and content-writing needs. Even better, you can access all these templates with the free plan. This platform seamlessly integrates with Gutenberg and top page builders like Elementor. Furthermore, integration with WooCommerce generates product descriptions, saving time and effort.
GetGenie AI Key Features
Offers over 37 AI templates for high-quality content and copywriting.
Supports generating and optimizing content in more than 33 languages.
It comes with an AI chatbot capable of conversing with more than 22 AI expert personalities.
Provides WooCommerce SEO analysis.
Helps in faster writing and ranking of blog content with AI workflow.
Allows for analyzing the content gaps and strengths of your SERP competitors.
Improves content with a predictive AI score.
Supports writing and optimizing long-form content with its Natural Language Processing (NLP).
Who is it Best For?
GetGenie AI is a perfect fit for agencies managing multiple websites. It provides a package offering access to unlimited websites and can be used by infinite users with no word limit per month. Furthermore, it's an excellent tool for SEO specialists, thanks to its comprehensive features in Search Engine Optimization.
Pricing
Free, Premium plans start at $17.10 per month (billed monthly) or $13.30 per month (billed annually).
4. Bertha AI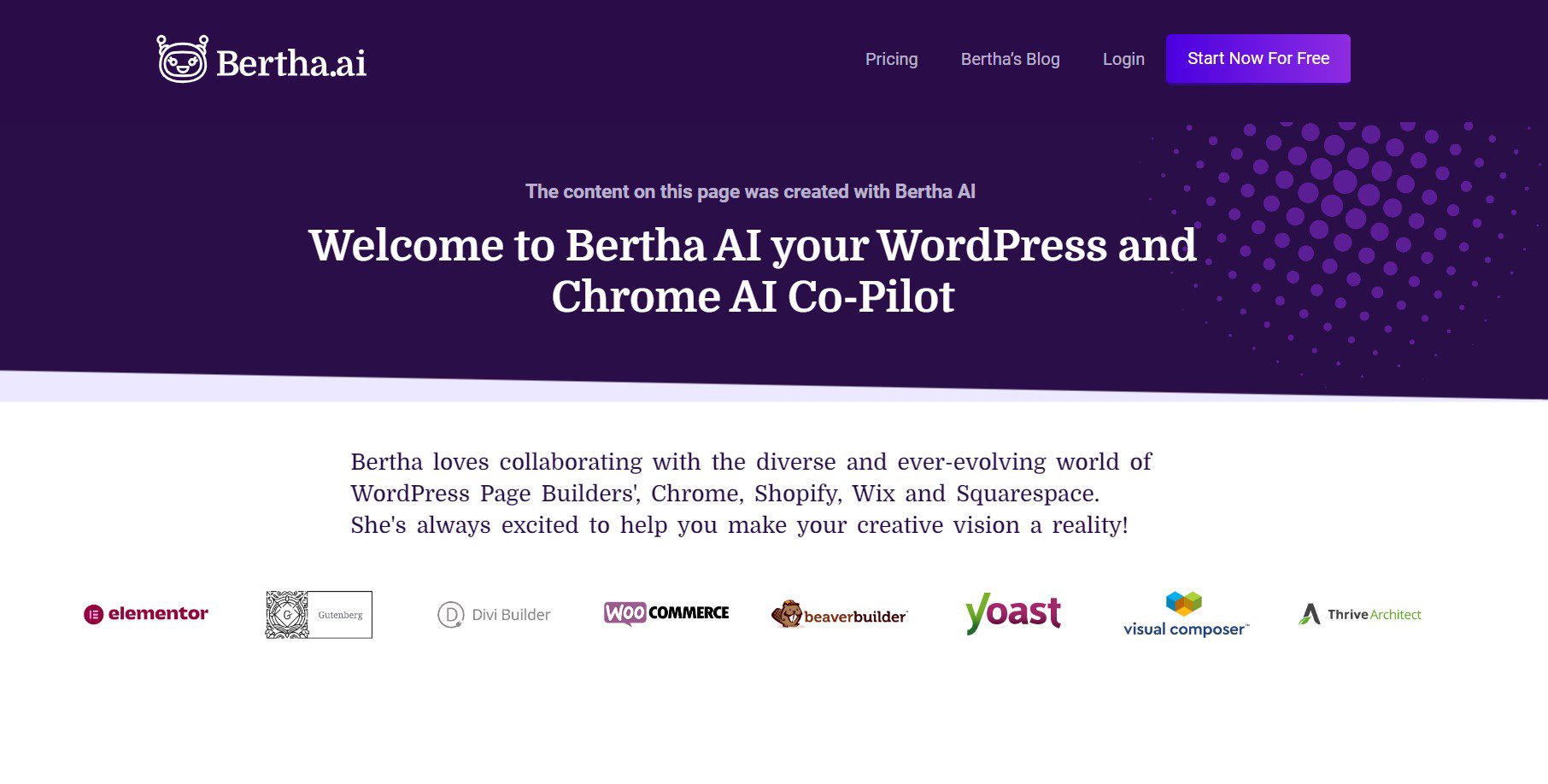 Bertha AI is an AI content generator that creates unique content and images for your WordPress website. It is comparable to WriteSonic, Copy.ai, Rytr, and Sudowrite. One defining feature of Bertha AI is that it is specifically designed for WordPress.
Leveraging Open AI and GPT-4 technologies, Bertha AI guarantees that your content is grammatically correct and possesses a unique, high-quality, human-like writing style. Additionally, Bertha AI offers a straightforward and intuitive dashboard. This makes it easy for you to create various types of content for your website, such as articles, blog posts, web pages, sales pitches, and landing pages.
Bertha AI also provides a convenient Chrome extension. This allows you to utilize Bertha AI's Chat, Ask Me Anything, and Long Form Content text generation features anywhere in a web browser. This tool can notably diminish your content creation process by up to 90%. With Bertha AI, there's no need to juggle writing and editing simultaneously. Bertha AI handles the writing aspect smoothly while you focus on the editing tasks, thus optimizing the process. Furthermore, Bertha AI's compatibility extends to any theme and page builder available on the market; it even natively integrates with Gutenberg.
Key Features of Bertha AI
Direct integration with WordPress for publishing content
Works with all the large page builders, SEO tools, e-commerce platforms, and LMS
Supports unlimited users on any WordPress website and in Chrome
Content rephrasing capabilities
Web-wide functionality with Bertha's Chrome extension
"Ask Me Anything" feature for diverse content creation
SEO guidance to amplify online visibility and ranking
Best For
Bertha AI is tailored for content creators, bloggers, website owners, designers, and marketing professionals. Bertha AI executes various content creation tasks. Its endless user access, non-restrictive website applicability, Chrome extension availability, and reasonable pricing present a cost-effective solution.
Pricing
$20 per month (one price for all).
5. 10Web AI Writing Assistant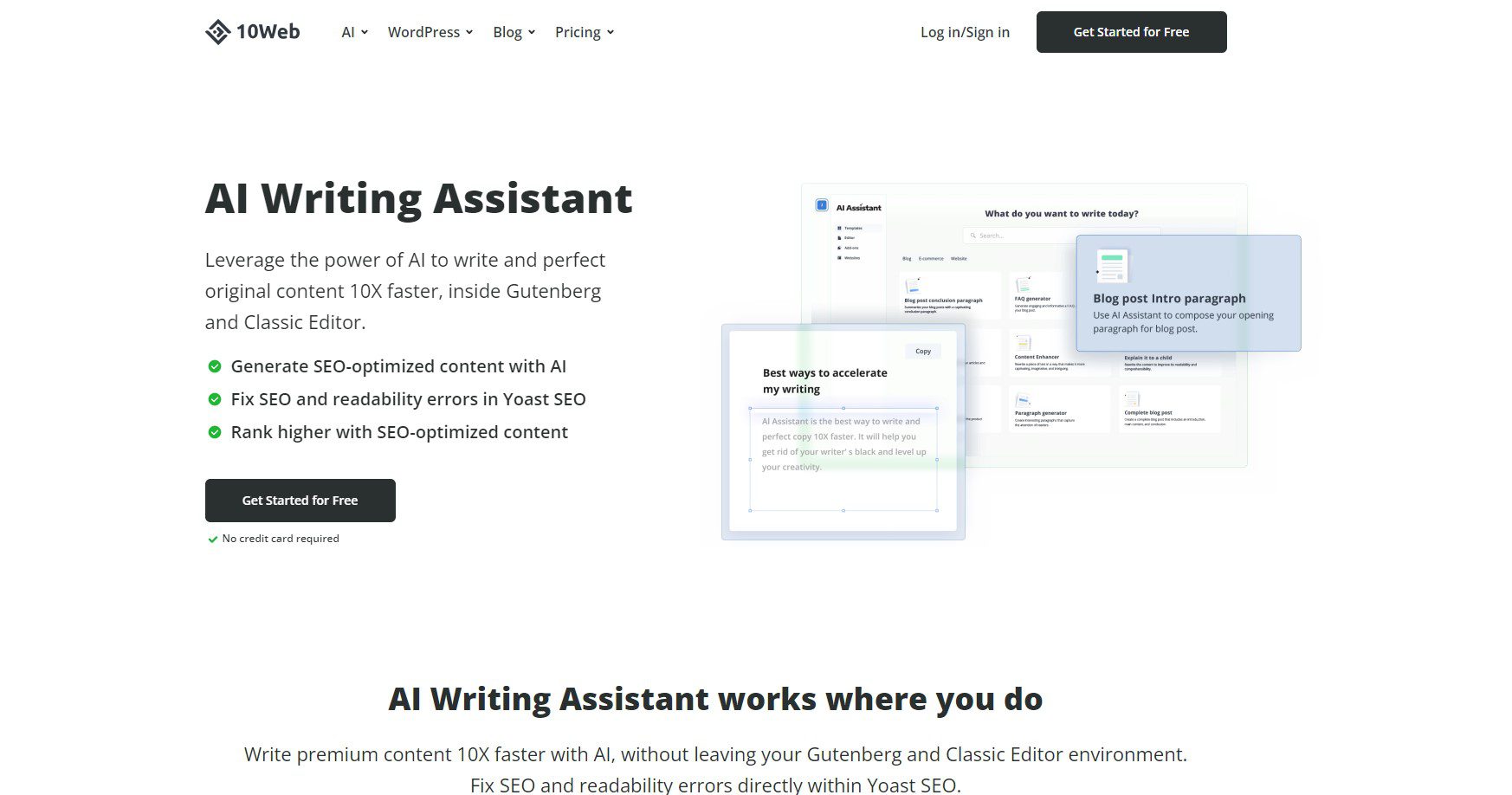 10Web AI Assistant is an innovative AI-driven content creator and editor designed specifically for WordPress. This AI-powered tool dramatically accelerates content generation and modification, outperforming traditional methods by a factor of ten. Experience seamless content creation using the Gutenberg block editor and Classic Editor.
If you're in the market for a comprehensive AI tool that can flawlessly generate, tweak, and polish content within WordPress, the 10Web AI Assistant may be your ideal solution. This remarkable tool boosts your site's reach by integrating the capabilities of a content writer, editor, and optimizer in one package.
10Web AI Assistant Key Features
Rapid content generation with over 20 templates available
Effortlessly create content with your Gutenberg block editor and Classic Editor
With the Paragraph Generator, you can increase productivity and avoid repetitive thoughts
Use the page title or another content section as a prompt to generate an introduction, outline, or conclusion
Paraphrase content within your WordPress website
Automatically correct SEO and readability issues
Create captivating landing pages with various structures, FAQs, and engaging headlines.
Best For
The 10Web AI assistant is primarily geared towards those who use the Classic editor and Gutenberg. It is ideally suitable for the creation and editing of long documents.
Pricing
Subscription for the Premium plan begins at $10 per month for the Business category, $15 per month for eCommerce, and $24 per month for the Agency category.
6. AI Power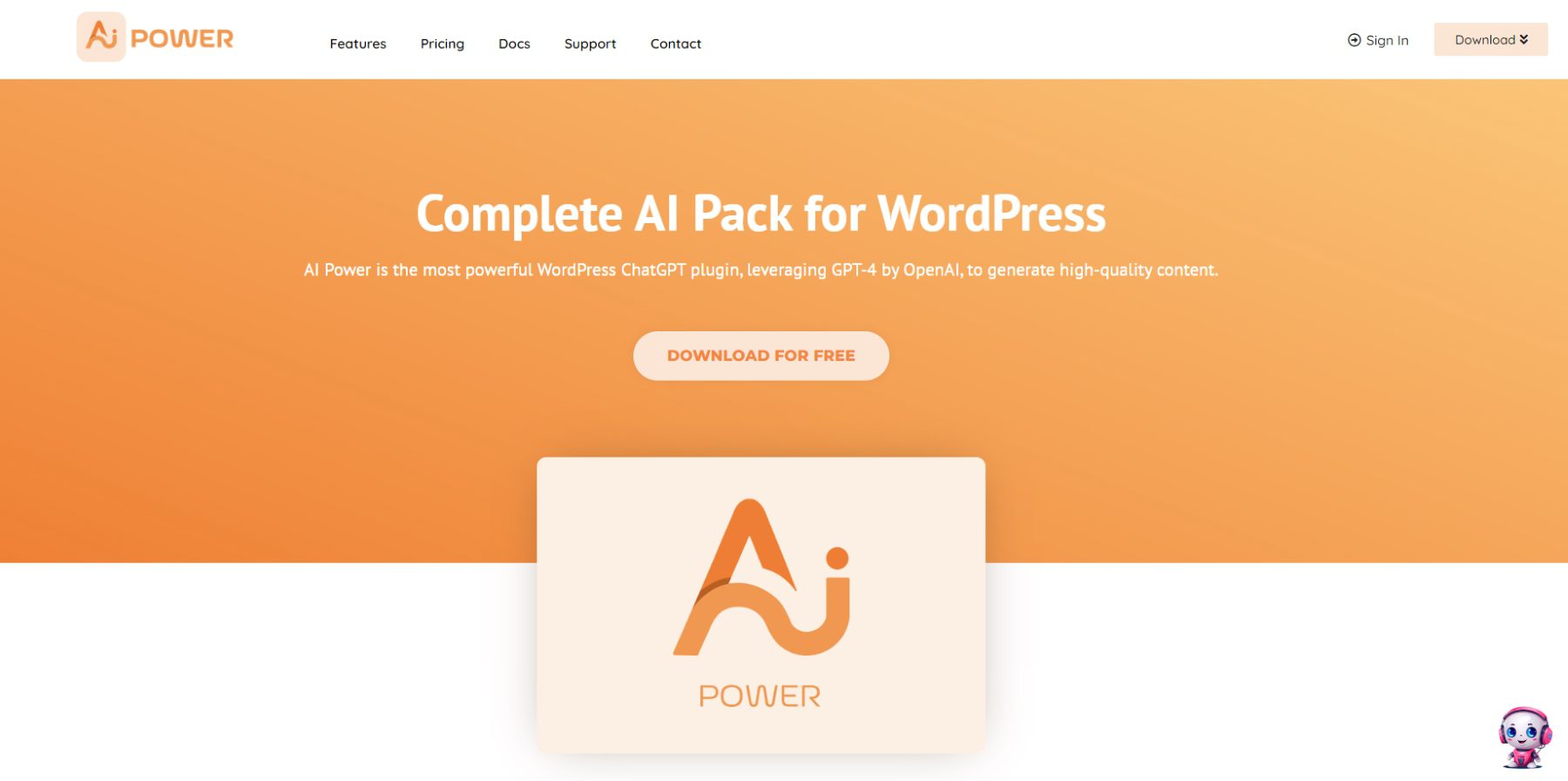 AI Power is an AI assistant plugin for WordPress. It can generate content, images, and customizable forms, so it's a versatile tool for any website. The AI content writer presents a straightforward and intuitive interface, providing easy access to its extensive suite of features from a basic control panel.
The ChatGPT-powered chatbot, Lisa, brings additional support to AI Power users. She's capable of answering queries and offering valuable tips and suggestions. Beyond these, Lisa can also guide you through the extensive features offered by the plugin. Beyond its impressive self-contained features, AI Power offers seamless integration with well-known WordPress plugins. These include WooCommerce, Yoast, All In One SEO, and Rank Math. This ensures a comprehensive user experience across diverse plugins, further enhancing the overall functionality of your website.
Key Features of AI Power:
Features an auto-content writer to streamline the content generation process.
Provides customizable options for writing style, tone, and image generation.
Supports multiple languages.
Includes customizable introductions, conclusions, heading tags, hyperlinks, and anchor text.
It comes equipped with a custom ChatGPT module, which allows for adding a chatbot to your site.
The AI Forms module offers over 100 pre-built AI forms for your website.
Offers a PromptBase with over 100 pre-built templates.
Includes a WooCommerce product writer.
A SearchGPT feature improves your WordPress website's search functionality.
This Product is Ideal For:
AI Power greatly benefits content creators who must schedule multiple posts in advance. It also serves as a valuable tool for social media managers aiming to automate social media posting with the help of AI.
Pricing
The premium plans are priced at $9.99 per month, $95.88 per year, or $289.99 for a lifetime subscription
7. ContentBot AI Writer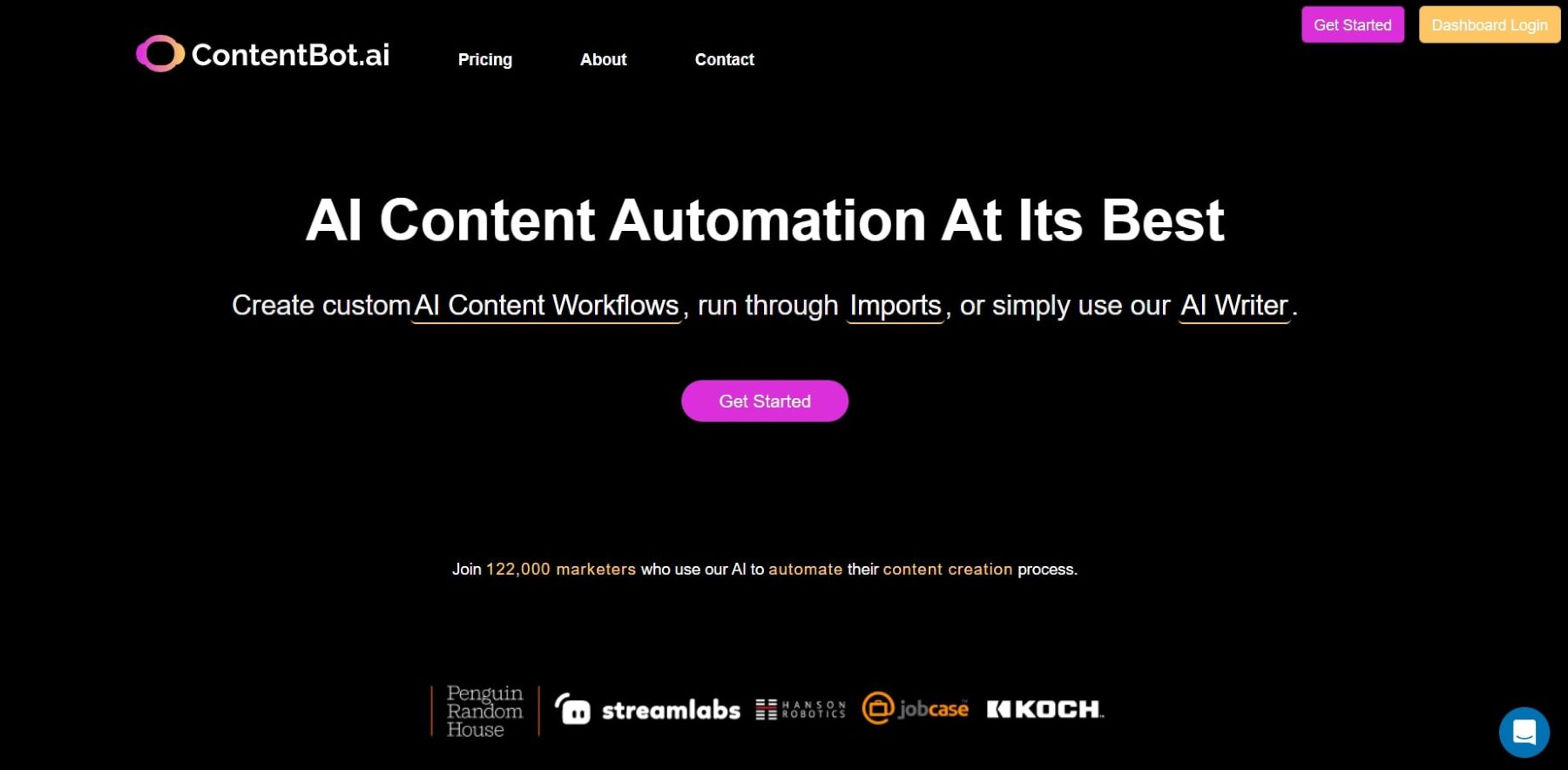 ContentBot AI Writer is an AI-driven WordPress plugin designed to assist creators in automating their content creation process. It can generate various types of content, such as blog posts, landing page copies, marketing copies, and e-commerce content.
The newly introduced Flows feature of ContentBot AI Writer can streamline content planning. This feature allows users to create comprehensive content plans with just a few simple clicks. Moreover, the bot's newly launched Long Form Editor is designed to speed up your content writing and overcome writer's block.
The recent addition of an Import feature simplifies the process of uploading significant amounts of data, enabling users to achieve results more quickly.
Key Features of ContentBot AI Writer
Drag-and-drop AI writer
Import feature for large data volumes
Flow feature for intricate content plans
Supports over 110 languages
Sentence rewriter
Offers five options for blog introduction generation
Best For
ContentBot AI writer is an excellent choice for all creators looking to enhance their content production significantly. The web app, along with the Chrome extension and WordPress plugin, can give a notable boost to blogging output.
Pricing
The Starter Plan is priced at $19 per month.
8. AI Content Writing Assistant by Recorp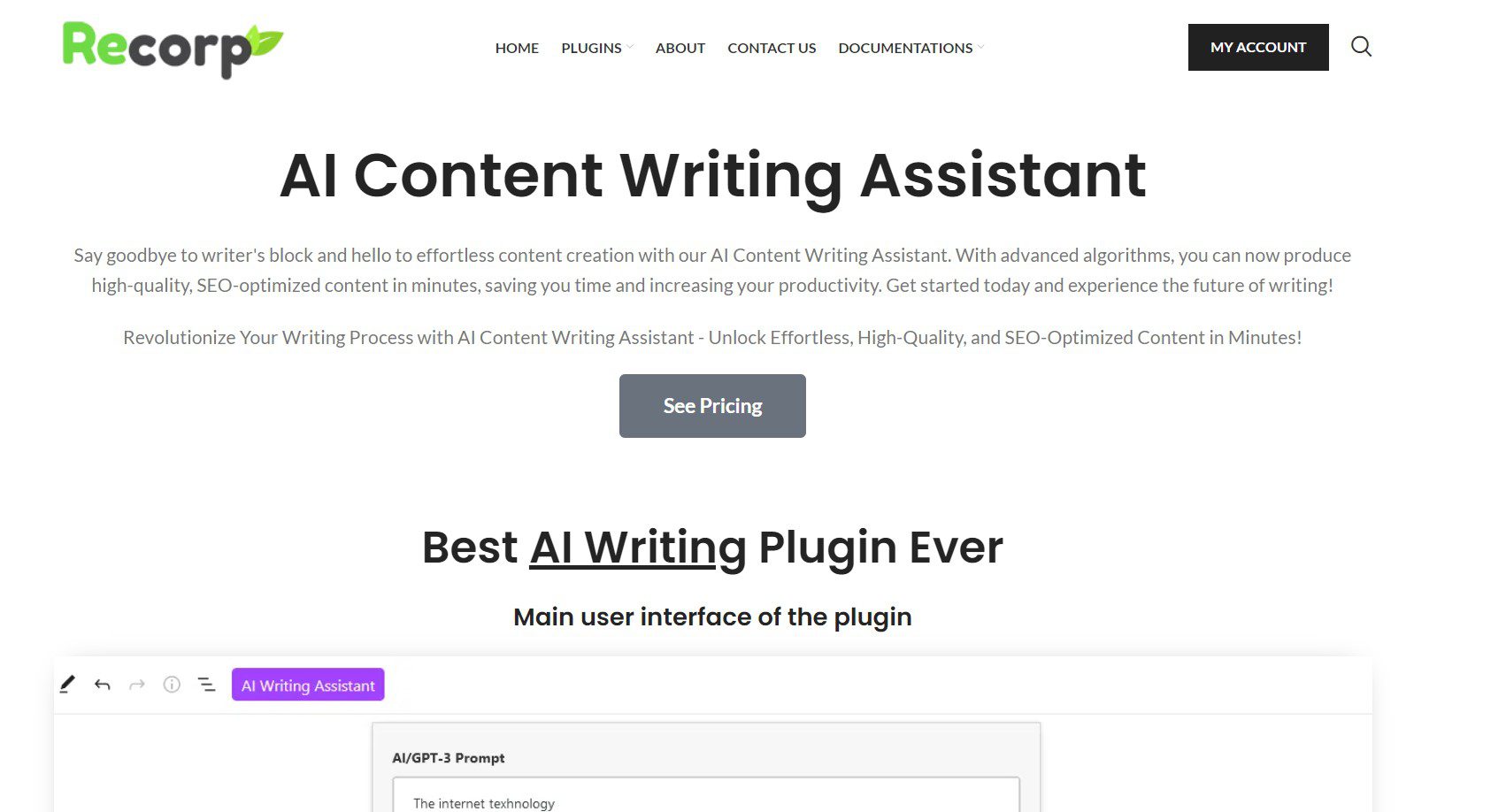 AI Content Writing Assistant by Recorp is an AI/GPT-3 writing assistant and image generator WordPress plugin. Its purpose? To enable you to create unique, high-quality content. Leveraging the advanced language capabilities of GPT-3, it supports you in creating articles, blog posts, and more.
Key Features of AI Content Writing Assistant
Create content in all major languages.
Integration with DALL-E for top-notch image generation
Included image beautifier
Offer customization for your content – choose different structures, writing styles, and tones.
Option to customize topic heading tags
Generate unlimited scheduled post titles
Add as many scheduled posts to the queued list as you want
Best For
AI Content Writing Assistant by Recorp is best for blogger, marketer, or agency who wants to access all of the product's features at a lower price. The features are less extensive than others. Still, if you are looking for a content assistant with high-quality image generation, then AI Content Writing Assistant by Recorp can do the job.
Pricing
Premium plan starts at $39.99 per year (or $109.99 Lifetime)
Get AI Content Writing Assistant
9. WP Wand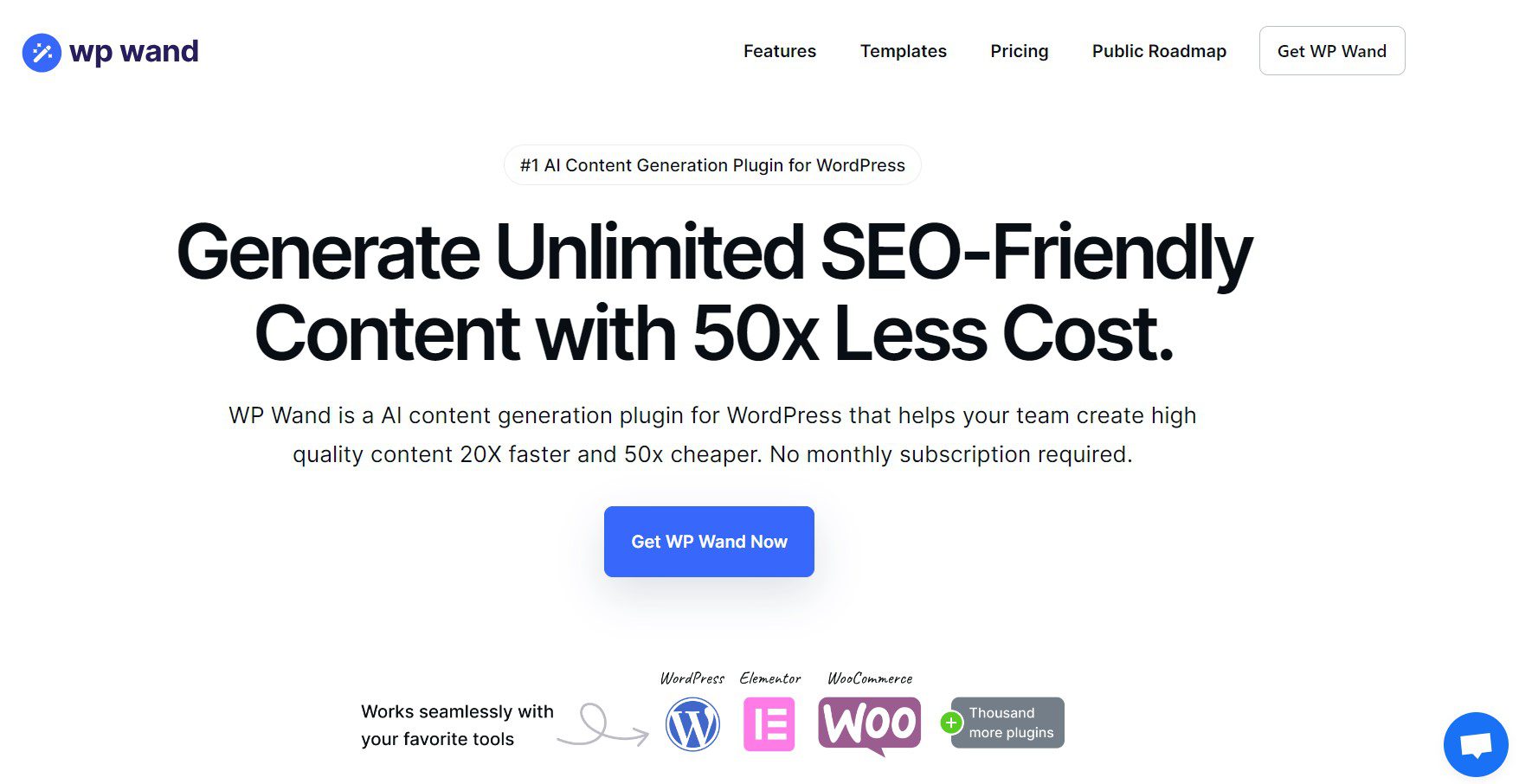 WP Wand is an AI content generation plugin for WordPress. This tool assists your team in quickly producing high-quality content at a significantly lower cost. With WP Wand, a hefty monthly subscription isn't necessary. This plugin works seamlessly with the default Gutenberg editor and the popular Elementor page builder.
Its limitless content generation capability sets WP Wand apart from other AI services. Despite being substantially more affordable than other AI content writers, it doesn't compromise quality. WP Wand also boasts compatibility with all WordPress themes and plugins.
Key Features of WP Wand
Unlimited content generation at a significantly reduced cost
AI for Gutenberg and Elementor
Over 40 ready-to-use templates for quick, professional content creation
A single-click WooCommerce Description Writer
Automatic generation of top-notch content for over 40 use cases
Compatibility with all WordPress themes and plugins
Convenient content generation within WordPress, similar to ChatGPT
Straightforward content amendment and enhancement inside the WordPress editor
Real-time content creation and insertion without leaving the Elementor interface
Content generation support for over 30 languages
Best For
WP Wand primarily benefits website developers working on a new creation or updating an existing site. The platform offers a free plan, enabling potential users to get a feel for it before upgrading to the affordable premium plan. But where WP Wand truly shines is among digital agency owners managing multiple sites. Thanks to its budget-friendly plan offering access to unlimited websites, it stands out as an ideal option.
Pricing
You can start for free. However, the premium plan begins at $29 per year.
Comparing The Best WordPress AI Content Writer
Now that we've gone through all the best AI content writers for WordPress, let's look at some final comparisons.
AI Content Writer Price Comparison
Deciding the best WordPress AI content writer plugin with the best price is crucial. To help you make an informed decision, we have compiled the best plugins alongside their plans, offering a clear view of value for money.
AI Content Writer Feature Comparison
Now, let's compare the key features of our top three WordPress AI content writers so you can choose which best suits your needs.
Features

🥇 Divi AI

🥈 AI Engine

🥉 GetGenie

Lifetime Plan Available
✔️
✔️
❌
Unlimited Sites per License
✔️
❌
✔️
Blog Post Generator
✔️
✔️
✔️
Auto-Generate Content with One Click
✔️
❌
✔️
AI Templates for Copy and Content Writing
✔️
❌
✔️(37+)
AI chatbot
❌
✔️
✔️
Image Refiner and Modfiier
✔️
❌
❌
SEO Optimization
❌
✔️
✔️
AI Content Score Analysis
❌
❌
✔️
Page Builder Integration
❌
❌
✔️
Product description generator
✔️
✔️
✔️
WordPress Plugin
✔️
✔️
✔️
Free Version
❌
✔️
✔️
Grammar Correction
✔️
✔️
❌
WooCommerce Integration
✔️
✔️
✔️
Price for All Features
$216/yr
(unlimited sites)
$49/yr
(1 site)
$159.60/yr
(unlimited sites)
Supports Multiple Languages
✔️
✔️
✔️ (37+)
Generate Images Automatically
✔️
✔️
❌
Get Divi
Get AI Engine
Get GetGenie
What is The Best WordPress AI Content Writer
Are you looking for a powerful AI tool to help with content creation and image generation? Divi AI is a great option. With Divi AI, you can create unlimited text and images, and access AI right inside the Divi Visual Builder!
To start with Divi AI, you must first become a Divi member. Once you're a member, you can sign up for a free trial of Divi AI.
AI Engine is an excellent choice if you're looking for a free AI content writer. It's beginner-friendly and offers a free plan with all the essential features needed to create website content.
If you're looking for an AI content writer that also helps with SEO keyword analysis and SERP rankings, GetGenie AI is a great option. It's freemium, so you can start with a free plan and upgrade as needed.
No matter which AI content writer you choose, you're sure to save time and improve the quality of your content. Try one today!
Featured image by SurfsUp / shutterstock