Most managed WordPress hosts build servers and services with the idea of caching your website to speed it up. The problem is this doesn't work well for WooCommerce. Liquid Web's managed WooCommerce hosting plans are designed with WooCommerce in mind. They work differently than regular managed WordPress hosting to provide a fast and secure eCommerce platform. In this article, we'll look at an overview of Liquid Web's managed WooCommerce hosting to help you decide if it's the right platform for your needs.
What is Liquid Web's Managed WooCommerce Hosting?
Regular managed WordPress hosting includes services and server optimizations specifically for WordPress. They not only manage the updates, backups, and security, they also include speed optimizations designed specifically for WordPress.
Rather than optimizing for anything and everything that can be made with WordPress, Liquid Web focuses on the specific needs of WooCommerce. The focus is on delivering the best shopping experience rather than on content delivery. This requires a different type of caching. They provide a managed WordPress website that's finely tuned for one thing – eCommerce.
Nexcess Dashboard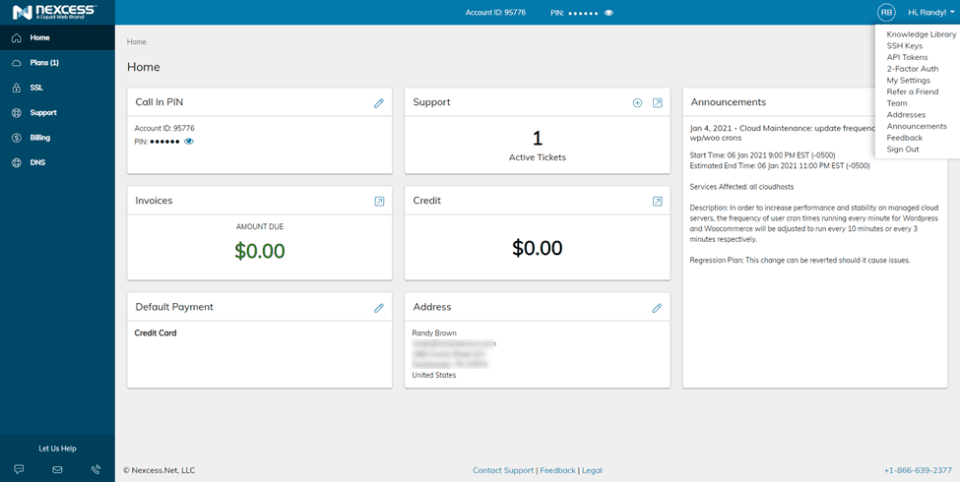 The Nexcess portal is a dashboard that makes it easy to navigate your Liquid Web account. Here, you can see your websites, manage SSL, see your billing information, see your DNS information, and get help. If you hover over your name in the upper right corner, you'll see a dropdown menu with more options such as the Knowledge Library, SSH keys, API tokens, 2-factor authentication, Team settings, etc.
The dashboard is different enough from WordPress that it might take a few minutes to find what you're looking for.

Your websites are listed under Sites. Here, you can open the backend of the site, see the IP address, add a new site, upgrade your plan, etc.

It starts you with a temporary URL, but you can easily change it to your own domain under Domain Options. Here, you can modify the domain or add pointer domains that redirect your visitors to your master domain.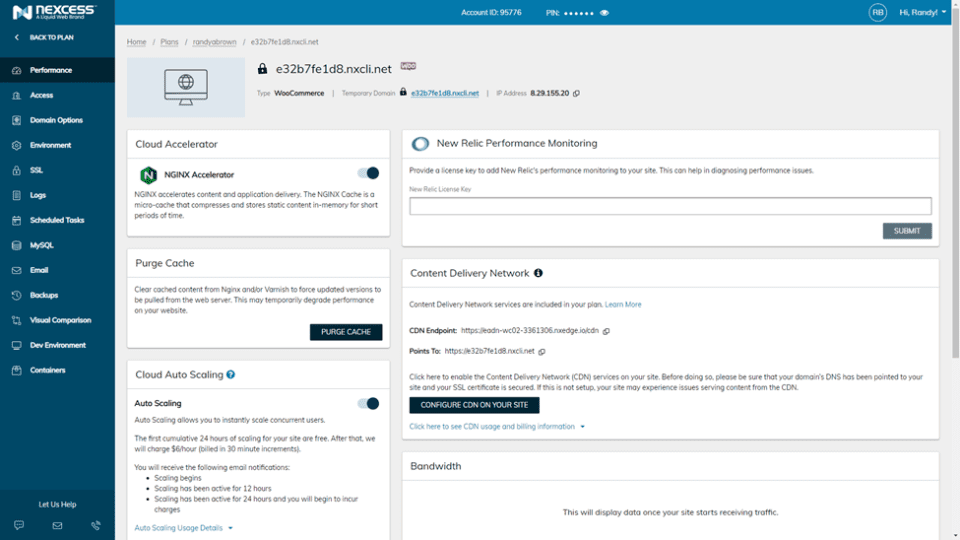 Clicking on the URL opens the Performance tab, where you'll see settings for the cloud accelerator, cache, CDN, scaling, bandwidth, and more. This screen also includes tabs for access (SFTP, FTP, etc.), domain options, SSL, scheduled tasks, SQL, email, backups, and more.

Create a staging environment to design your website before making the design live. You can copy the existing site or create it from scratch.
Staging and Development Environments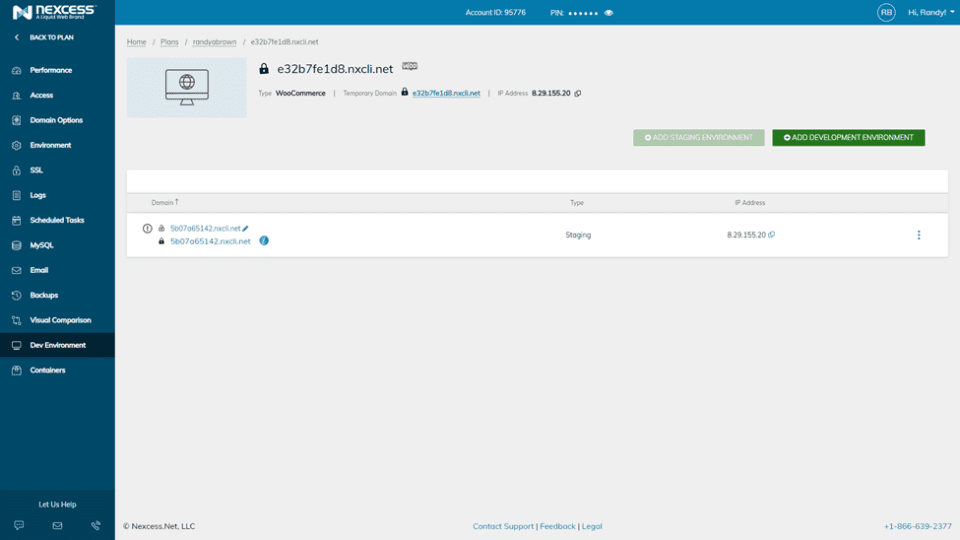 You can create a staging environment and a development environment. This is handy for design and testing.

The dev site can be merged into the production with a single click.
Team Accounts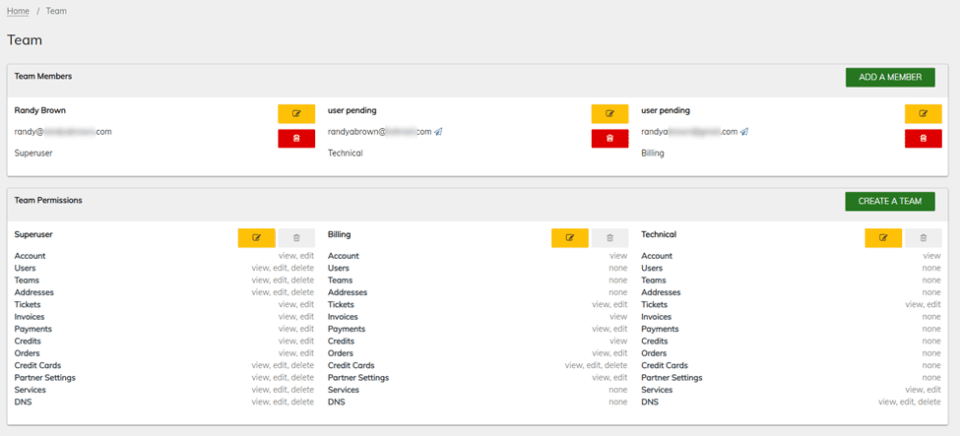 The Team Members tab in the Nexcess dashboard lets you add members and set their permissions. This provides your team has access to eCommerce administration. The number of team user accounts is unlimited.
Plugins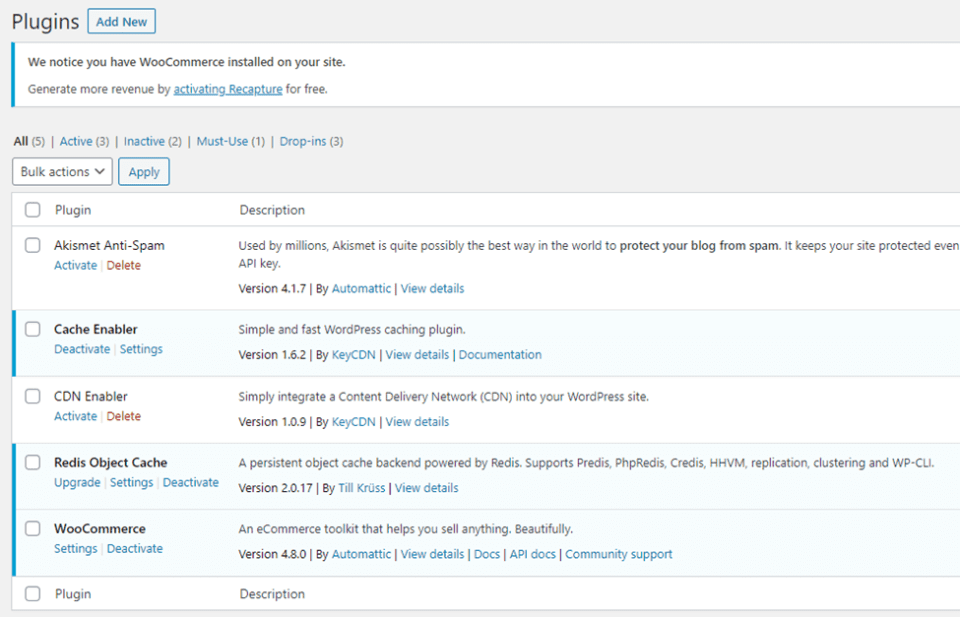 Several plugins in my test site were preinstalled including Cache Enabler, CDN Enabler, and Redis Object Cache.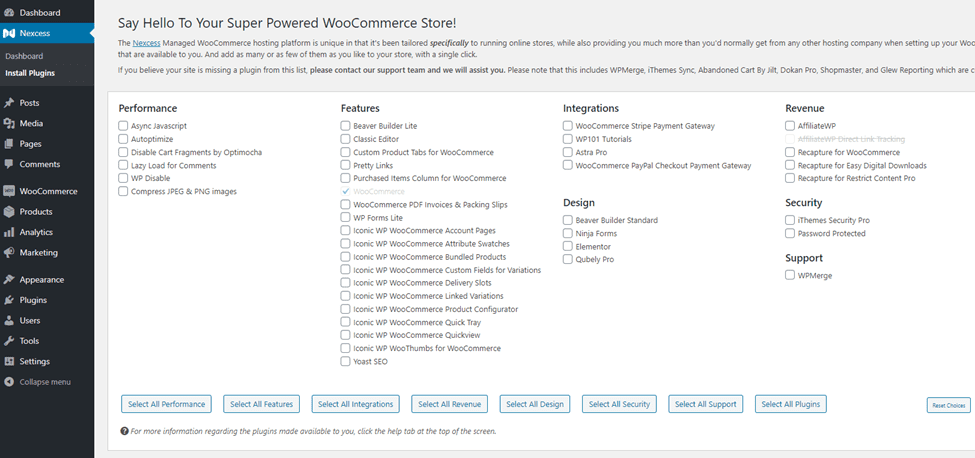 The Nexcess WordPress dashboard provides a list of 39 plugins that can be added. They're listed under categories that include:
Performance
Features
Integrations
Design
Revenue
Security
Support
The plugins include lots of IconicWP WooCommerce extensions, integrations with WP101 Tutorials, Astra Pro, Beaver Builder, Ninja Forms, Elementor, Qubely Pro, Affiliate WP, Recapture, etc. These are based on the plan you choose. The more expensive plans add several more premium plugins.
You can select them individually, select everything from specific categories, or select all plugins to install them with a single click. Several do require you to register, provide API keys, etc.
WooCommerce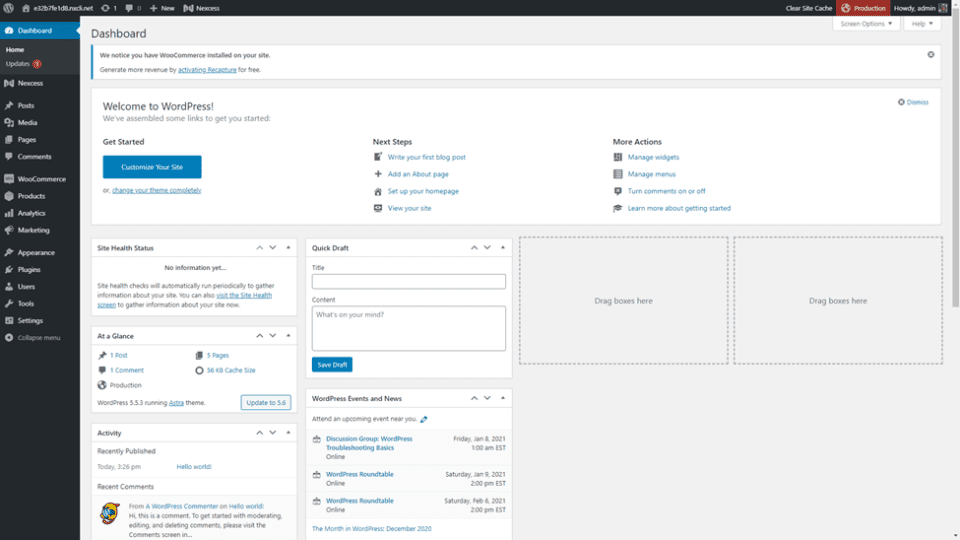 The WordPress backend includes WooCommerce and a few plugins already installed. You'll still need to go through the process of setting them up.
It's easy to manage your orders, inventory, coupons, upsells, cross-sells, and promotions. You can even schedule them with the built-in tools. Image features include compression, zoom, and mobile optimization.
Sale physical, digital, virtual, and external products. For shippable products, you can connect to ShipBob, ShipStation, or TradeGecko. Digital stores can sell memberships and subscriptions.
Products can show multiple variations. These still count as a single product, so it doesn't go against you in the number of products your plan includes.
Astra Pro and Beaver Builder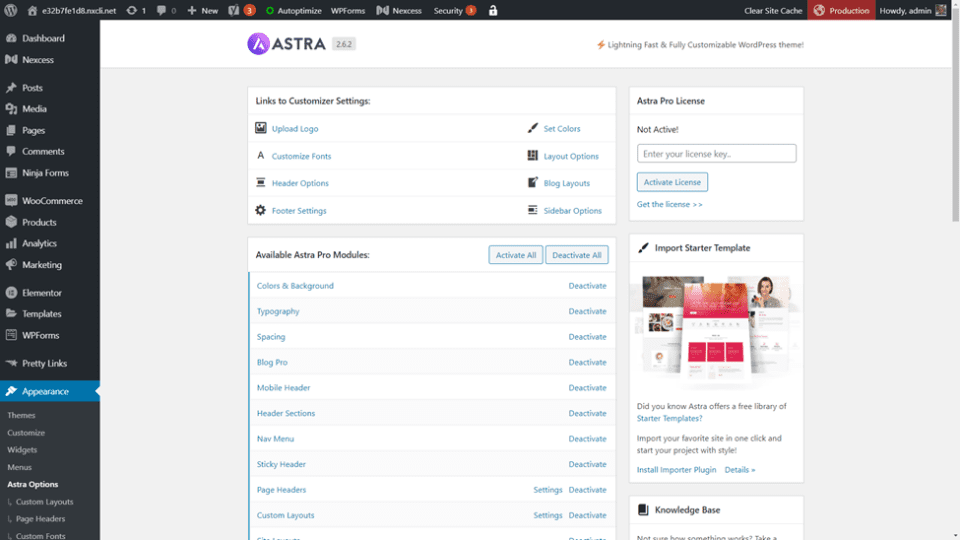 The Astra Pro theme and Beaver Builder are included and optimized for their servers and plugins. Of course, it still works great with other themes and page builders such as Divi, but they're not already optimized for their servers. Here's the Astra Pro dashboard where you can activate features, select a template, etc.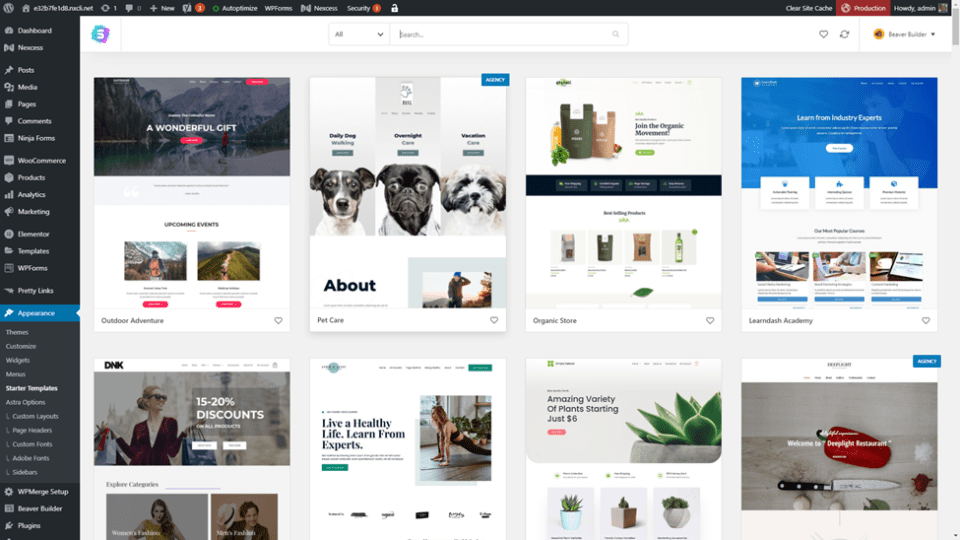 Once you activate the template importer you can select your builder and template to get started on your website design. The templates look professional and include images.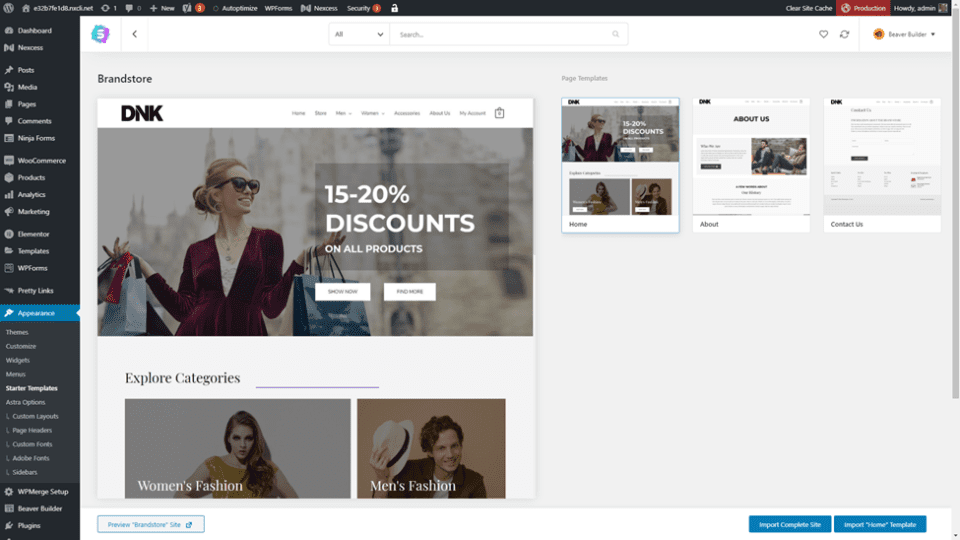 Import just a single page or the complete site.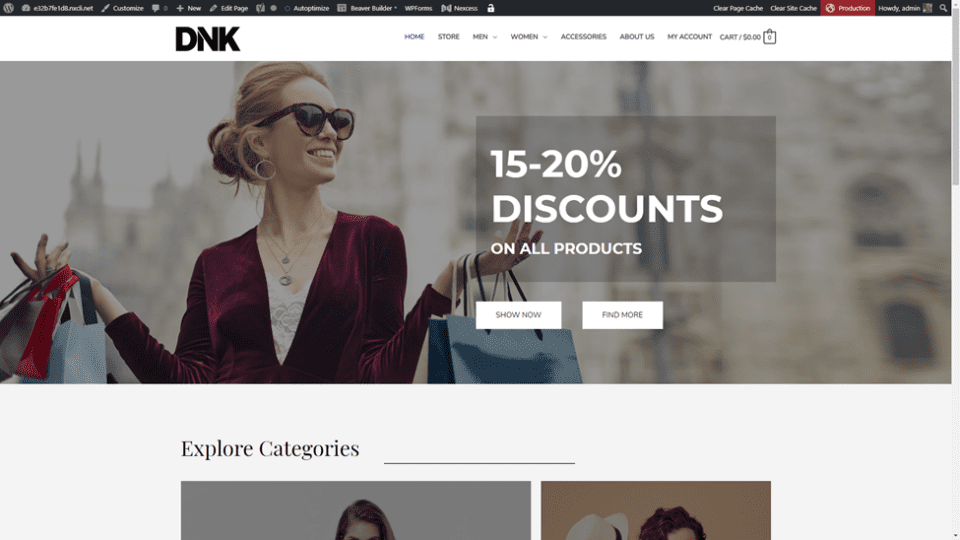 I've imported Brandstore for my test site. It automatically added images and test products.
Cart Abandonment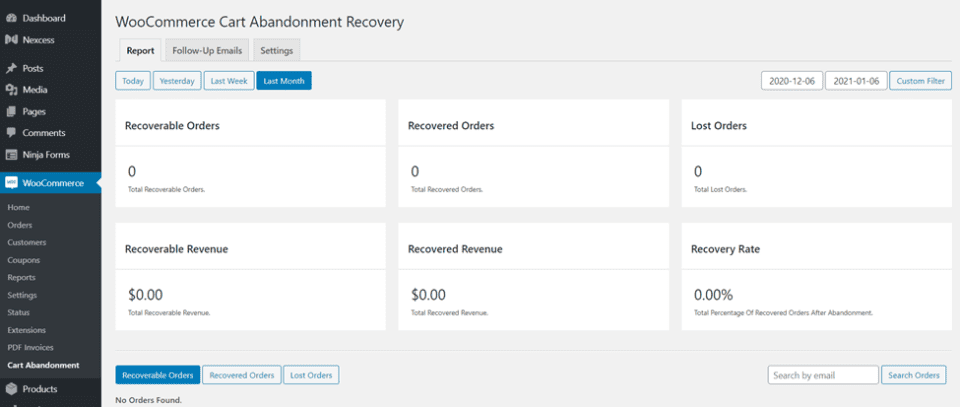 Cart abandonment for the lower-priced plans is handled through the WooCommerce Cart Abandonment Recovery plugin from CartFlows. This sends an email based on your settings and provides stats for the results. The more expensive plans add Jilt Pro. It essentially does the same thing, but with more features.
Speed
Rather than simply adding WooCommerce to managed WordPress hosting, Liquid Web optimizes their servers for WooCommerce. This means the focus is on the shop over everything else. Blogs and About Us pages are important, but it's the sales funnel that gets the attention. Caching ensures that your WooCommerce store loads two to ten times faster than it would run on other WordPress hosts.
Order data is stored in different tables. This reduces your query loads by 95%. This also increases your capacity by 75% without having to upgrade to a larger plan.
The servers are optimized for mobile so your website loads. They also include a premade responsive theme with a layout designed with mobile in mind. This is important because, as Liquid Web explains, 15% of eCommerce sales on through mobile devices. This means it's crucial for your WooCommerce store to work perfectly on mobile devices.
You have access to tools that test your site's performance. Run more than 20 performance tests to ensure that your site is ready for high traffic.
Performance Results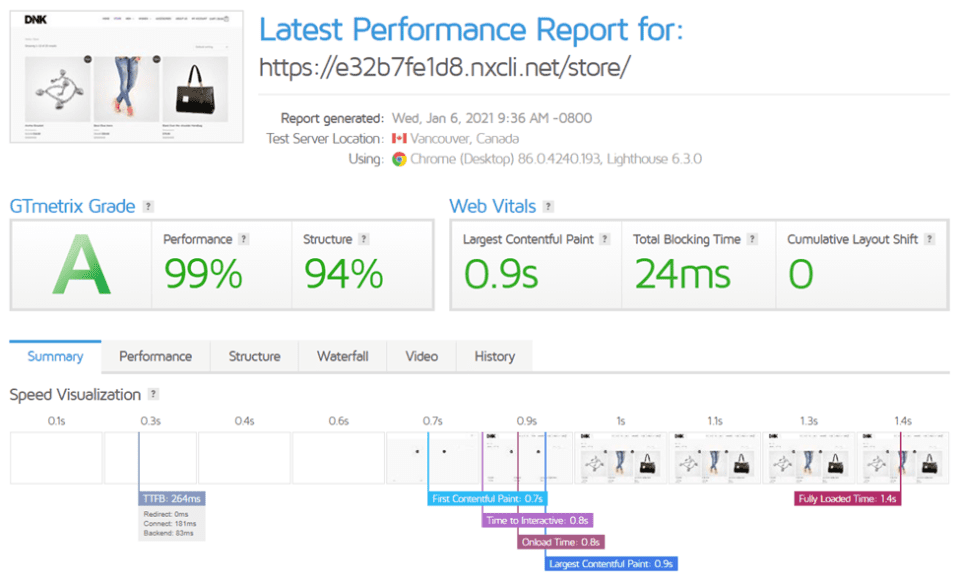 The shop page for my test site (using the Brandstore template) got a grade A from GTMetrix. The page was interactive in less than 1 second and it was completely loaded in 1.4 seconds. The score was the same for the home page. This is out of the box, with almost every expansion plugin installed and no adjustments of any kind, and 25 sample products included with the Brandstore template.
Knowledge Library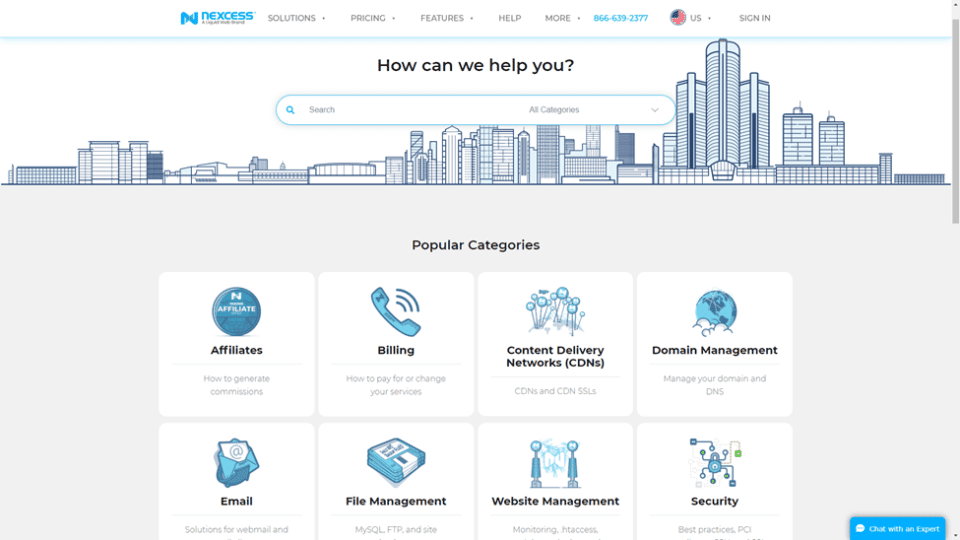 The Knowledge Library provides articles that take you through a topic step-by-step. You can search for the specific information you want or select a category and go from there.  Support is 24/7 and includes phone, email, and chat.
Plans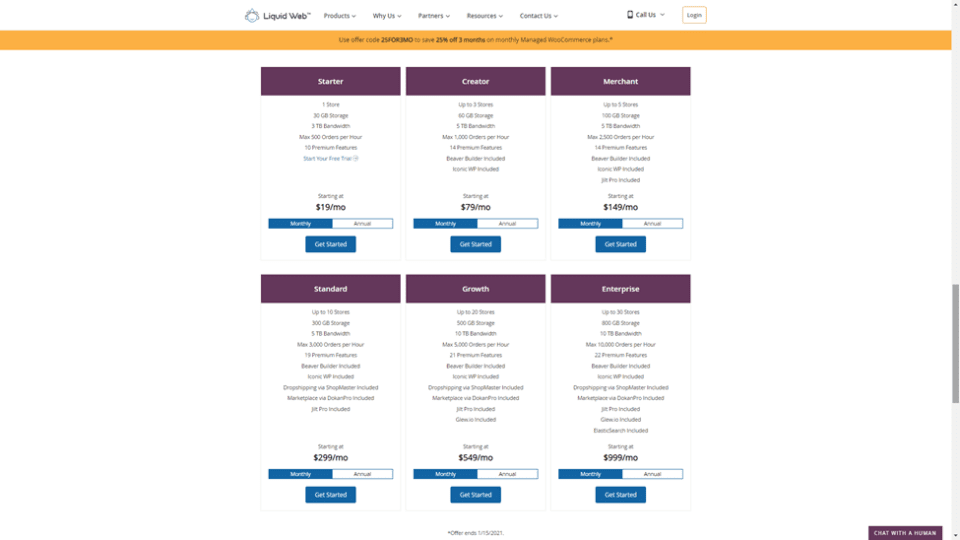 Liquid Web has 6 plans to choose from that goes from a small shop to an eCommerce giant. Each plan is scalable and includes value-added bundles. The plans are secure and make it easy to get your store set up quickly. Liquid Web's managed WooCommerce plans include:
Starter – $19/month, 1 store, 30 GB storage, 3 TB bandwidth, 500 Orders per hour, 10 premium features
Creator – $79/month, 3 stores, 60 GB storage, 5 TB bandwidth, 1,000 Orders per hour, 14 premium features, Beaver Builder, Iconic WP
Merchant – $149/month, 5 stores, 100 GB storage, 5 TB bandwidth, 2,500 orders per hour, 14 premium features, Beaver Builder, Iconic WP, Jilt Pro
Standard – $299/month, 10 stores, 300 GB storage, 5 TB bandwidth, 3,000 orders per hour, 19 premium features, Beaver Builder, Iconic WP, dropshipping via ShopMaster, marketplace via DokanPro, Jilt Pro
Growth – $549/month, 20 stores, 500 GB storage, 10 TB bandwidth, 5,000 orders per hour, 21 premium features, Beaver Builder, Iconic WP, dropshipping via ShopMaster, marketplace via DokanPro, Jilt Pro, Glew.io
Enterprise – $999/month, 30 stores, 800 GB storage, 10 TB bandwidth, 10,000 orders per hour, 22 premium features, Beaver Builder, Iconic WP, dropshipping via ShopMaster, marketplace via DokanPro, Jilt Pro, Glew.io, ElasticSearch
Ending Thoughts
Liquid Web's managed WooCommerce hosting looks to be an excellent hosting service. There are a lot of features and add-ons available. It is fast and, since it's managed, you don't have to worry about basic WordPress maintenance or security.
The ease of getting started and running the website is closer to competitors such as Shopify. It's still not a turnkey solution. You'll need to set up your store including WooCommerce and extensions. Liquid Web doesn't take a portion of your sales like Shopify and other services. If you already have a store, you can easily migrate your site with Nexcess and Liquid Web white-glove migration service.
Like all managed WordPress hosting, it is limited in what plugins are allowed on the platform. They do allow you to use different plugins than what they provide, which is great if you already have a favorite plugin for a service such as security. The main limitations are the limited number of products you can sell, customers, bandwidth, and storage. This is based on the plan you choose.
If you have the expertise and prefer to have unlimited access to your server and its configuration, Liquid Web also happens to be one of the best dedicated hosting providers. That said, it can get expensive, so it's mostly ideal for stores that get enough return on their investment to make it worth it. However, Liquid Web does have an excellent starting price for smaller stores. You can always start small and grow from there.
If you're looking for other managed WordPress hosts and want to compare them to Liquid Web, check out Pressable, Cloudways, SiteGround, and Flywheel.
We want to hear from you. Have you tried Liquid Web's managed WooCommerce hosting? Let us know what you think about it in the comments.
Featured Image via aurielaki / shutterstock.com