Categories act like the chapters of the book that is your website, and as such, they can be very useful for organizing your website content – when used well. With that in mind, you may find yourself wanting to do so much more with them than is possible by default.
You could write some custom code to modify how categories function, but WordPress plugins make it easy to add all sorts of functionality. WordPress category plugins can make categories much more useful and help to improve the usability of your website.
This article will look at several WordPress category plugins to help you improve your website by shortening URLs, adding category images, and easily creating lists of posts grouped by categories.
Let's get cracking!
How to Use WordPress Categories
Categories are an essential part of your blog's navigation, helping your readers to browse your content by related topic, instead of chronologically. There are also SEO benefits to be gained from using categories correctly – both through the addition of related internal links, and through helping search engines understand the topics your website covers.
We covered some best practices for using categories and tags previously, and we advise you to think carefully about the categories you choose.
With that disclaimer out of the way, let's take a look at some plugins!
Our Pick of the Top WordPress Category Plugins


If you need a way to create a list of posts within a particular category, List Category Posts is here to help. Used on over 100,000 sites and with an average star rating of 4.7, this plugin is proving very handy indeed for many site owners.
The plugin is easy to use, with little configuration required – just drop the shortcode into a post or page with the parameters you need. You can specify the category by ID or category name, and set the number of posts to display. Other parameters include post author, date, and post status, among many others.
The shortcode can be included on a page any number of times, with any combination of parameters. Advanced parameters include AND and OR operators on categories, other taxonomies, and even matching search terms.
Key features:
Simple configuration
Easy-to-use shortcode
Comprehensive parameter list
Customizable display through CSS
Sidebar widget included (less flexible than shortcode)
Price: FREE | More Information


The Categories Images plugin enables you to add an image to categories and other taxonomies. A 4.6-star rating and active installations on over 60,000 websites suggests that this is a useful tool for many.
Once installed and activated, Categories Images is enabled on all category and taxonomy screens. You can, however, exclude a taxonomy from from the plugin's settings page.
When editing a category or other taxonomy, you can upload an image or select one from the Media Library using the standard WordPress popup. The image will be previewed beside the respective category or taxonomy. The image can be displayed on the front end by using the documented PHP code in your page or post templates.
Key features:
Simple configuation
Uses WordPress Media Library to attach images
Image preview shown in WordPress administration
Display image on front end using code
Price: FREE | More Information

 The Category Featured Image plugin enables you to set an image for each category on your blog, but automatically uses it as the featured image for a post in that category if none had been set. This plugin has only had just under 300 sales, but has a 4.59-star rating, so is worth looking into if you need this functionality.
Once the plugin is installed and activated, there is little configuration to be done. You set an image for each category by using an external image, or one from the Media Library. You can then click a button to generate featured images for any posts that do not currently have one. The selected category image will be used for those posts.
Key features:
Select Featured Image for each category
Generate thumbnails from external images
Skip auto thumbnail generation on the Post edit page
Generate featured images for old posts
Price: $7 | More Information


Who hasn't wanted a way to exclude specific categories from a blog post listing somewhere on their site? For the more adept developers among us, this involves a simple adjustment to a query loop. For the rest of us, there's the Ultimate Category Excluder (UCE). Installed on over 20,000 sites and receiving a 4.6-star rating, this plugin is clearly solving a problem.
By default, WordPress will include all blog posts in its listings such as the home page, archive pages, search results and RSS feeds. Once you have installed UCE, you go to Settings > Category Exclusion in the WordPress administration interface. There you simply check a box for each category you wish to exclude from a listing. There's nothing more to it.
Key features:
No configuration
Easy to use
Simple checkboxes
Exclude categories from home, archives, search and feeds
Price: FREE | More Information


Perhaps you want to remove the word "category" from your WordPress permalinks – have http://yoursite.com/main-category instead of http://yoursite.com/category/main-category. Well, No Category Base is the plugin for you (and over 50,000 other websites). There are only a handful of reviews, but they're all five stars.
Just install and activate. That's it. There is nothing to configure or set up. The plugin even automatically takes care of redirecting the original permalinks with the category base to the new ones.
Key features:
No configuration
Automatic 301 redirects
Works with subcategories
Price: FREE | More Information


If you make a habit of placing your posts in multiple parent-level categories, you may want to control which one shows up in the permalink, since there can be only one. Instead of letting WordPress determine which category to use, try the WP Category Permalink plugin.
Even the WordPress Codex recommends using it for this functionality. Over 5,000 sites have gone that route, and with a 4.7-star rating, you'll likely be happy with the plugin too. It enables you to select a main category for your posts when you have multiple categories selected.
This is another simple plugin, with no configuration required. Once installed and activated, you will see the main category shown in bold on the Posts List page and the Post Edit page. When editing a post, you can hover over another category and click on Permalink to select that category as the main one.
Key features:
No configuration
Intuitive selection method
See main category from Posts List
Price: FREE | More Information

You're probably familiar with the concept of a sticky post — 'stuck' to the top of the homepage. Well, now you can have a sticky post for each category, thanks to the Category Sticky Post plugin. Over 7,000 sites have discovered this wondrous functionality, and those who have rated it have consistently given five stars.
Once the plugin is installed and activated, you will see a new field when editing a post that enables you to select a category in which to stick the post. Categories that already have a sticky post will be grayed out in the dropdown as you can only stick a single post per category. The sticky post will be displayed at the top of the first page of the category archive.
Key features:
No configuration
Select category in which to stick post
Display sticky post status in post listing
Price: FREE | More Information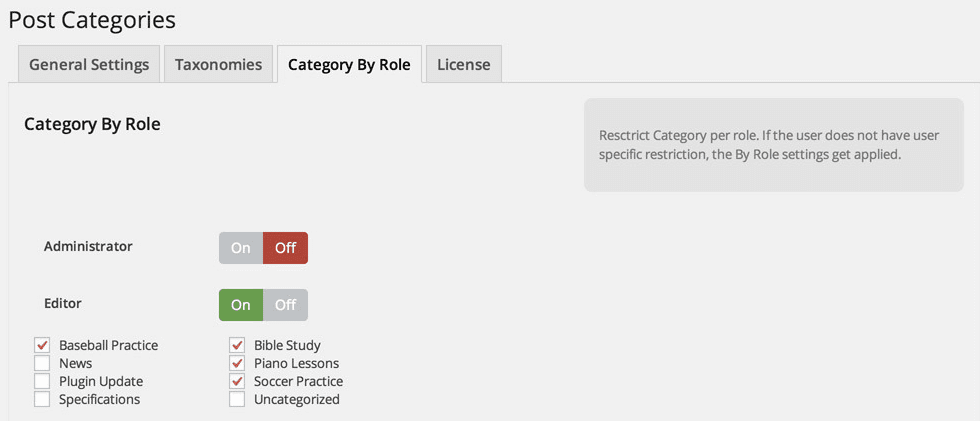 If you have multiple authors on your blog but want a way to restrict users or user roles to only post to specific categories, we have the plugin for you. Post Categories by User is a premium plugin that enables you to do just that. This is an upcoming plugin with only 50 sales so far and a 4.0-star rating, but definitely worth a look if you need its functionality.
After installing and activating the plugin, go to Users > Post Categories in the WordPress administration interface. You can configure the plugin to enable restriction by individual user or user role, as well as hide the options for specific taxonomies in the WordPress administration, if the user does not have access.
This plugin doesn't only work with the built-in WordPress categories – you can restrict access to all custom taxonomies as well. You can select which taxonomies to control with the plugin, as well as select specific terms to enable for users and user roles.
Key features:
Restrict by user and/or user role
Enable the taxonomies you want to restrict
Hide restricted terms in the post metabox
Remove the taxonomy from the menu
Price: $17 | More Information


If you have ever tried to re-organize your posts into categories, you'll know it's a pain. Even with the Quick Edit option and batch selecting posts, it quickly becomes tedious. Here comes a plugin to the rescue! Better Organization for WP Categories enables you to quickly and easily organize your posts and categories. Another upcoming plugin with only 33 sales and a 4.83-star rating, this one could prove very useful.
Installing and activating this plugin gives you a category tree on the left side of the Post Listing page in the WordPress administration. You can drag-and-drop posts into categories with ease. You can also easily create, rename, delete, and reorder categories from this screen. To make it all even better, the plugin works with custom post types and custom taxonomies, so get to organizing!
Key features:
Easy to use; no configuration required
Tree view of categories
Drag and drop posts into categories
Create, rename, delete and reorder categories
Works with custom post types including WooCommerce products and product attributes
Price: $17 | More Information
Conclusion
While categories are useful for organizing your blog posts, they do have some limitations which affect the usability of your site. With some simple tweaks, categories can be made much more powerful and become a critical part of how your website functions.
Above we've shared several WordPress category plugins – both free and premium – that can help you take control of your categories and better organize your site. You should be able able to find a couple that will add much needed usability to your WordPress categories.
Pretty much every WordPress site owner and administrator has needed to fiddle with the WordPress categories, so we would love to hear about your experiences. Share your tips and tricks for working with WordPress categories in the comments section below and subscribe to the comments to get updates on the conversation!
Article thumbnail image by igor kisselev / shutterstock.com