Chances are if you've been working on growing an email subscriber list for your blog for a while, you've heard the phrase "content upgrades." But what is a content upgrade, exactly, and how can it help boost your subscribers?
Put simply, content upgrades are bonus pieces of downloadable content used to attract new subscribers to your mailing list. They enter their email address, and boom, they get the free stuff! The tricky thing about them, though – and what makes them so effective – is that content upgrades should be tailored to the post they are being used on. That means a content upgrade is not simply general material you can use all over your site; it is specific to a particular post.
Harnessing this technique and only using a piece of bonus content in one spot on your site might not seem a time efficient or scalable way to boost subscribers. But in this article, you're going to discover that you absolutely do have time to create content upgrades, because they work. We're also going to cover how to get started posting your own content upgrades, to help boost your subscribers like never before.
Anatomy of a Content Upgrade
Content upgrades can take a few forms, which is why you may have never noticed them up until now. They can take the form of opt-in forms, which interrupt the content with a call-to-action to sign up; pop-ups or fly-ins; or buttons in the middle of posts that, when pressed, pop up a window asking for an email address.
Here are a few examples of content upgrades in action.
First, here are content upgrades at their most basic: a call-to-action in simple text, highlighted by a colored box. This example is from Brian Dean's blog, Backlinko.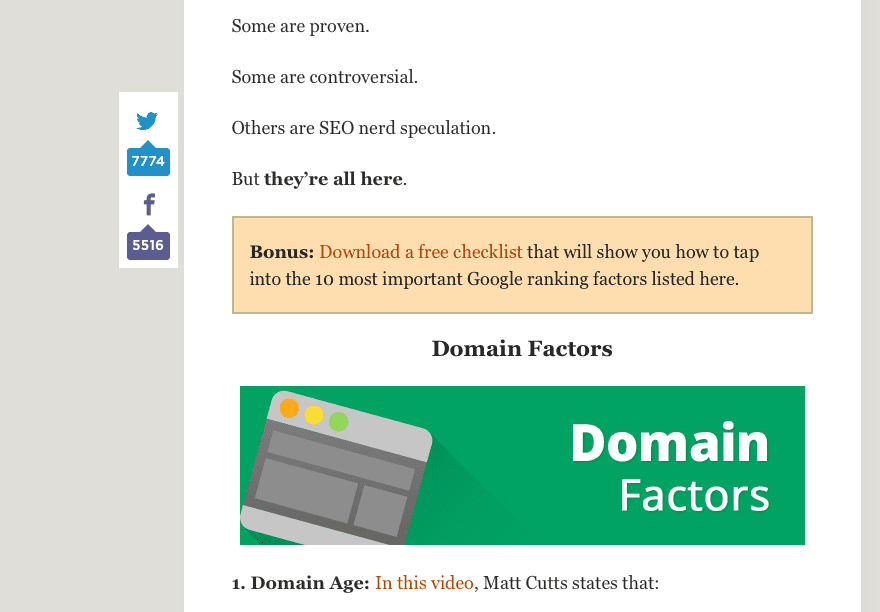 Second, here is an example of a popup content upgrade by LeadPages. Note that it perfectly relates to the post being read.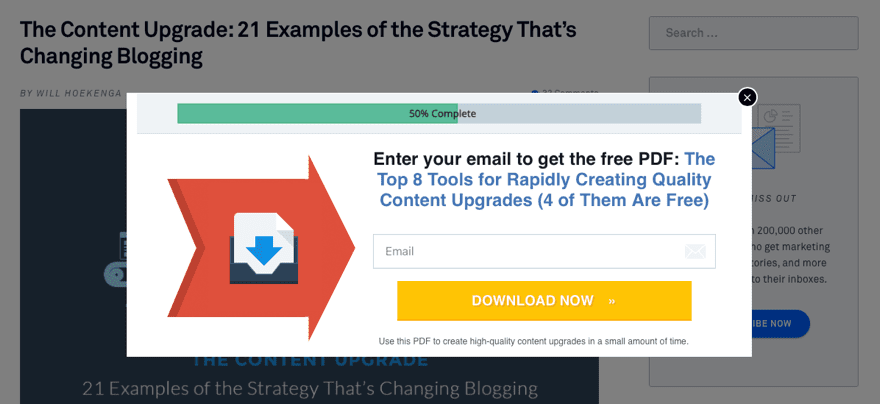 Finally, the CoSchedule blog is doing an awesome job with content upgrades – here is a beautifully-designed button that leads to a popover opt-in form.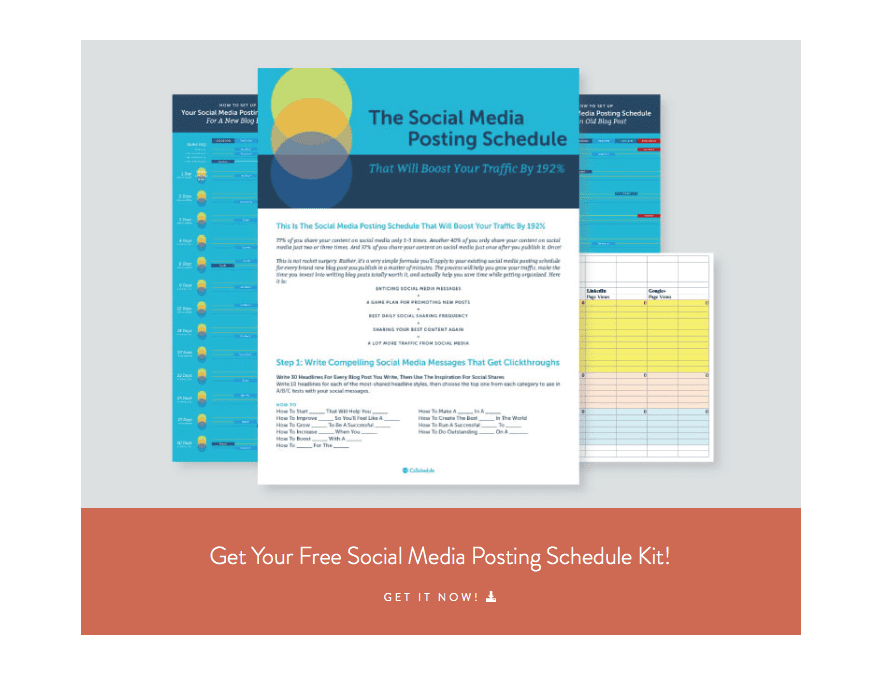 Clicking on the call to action opens the popover opt-in form.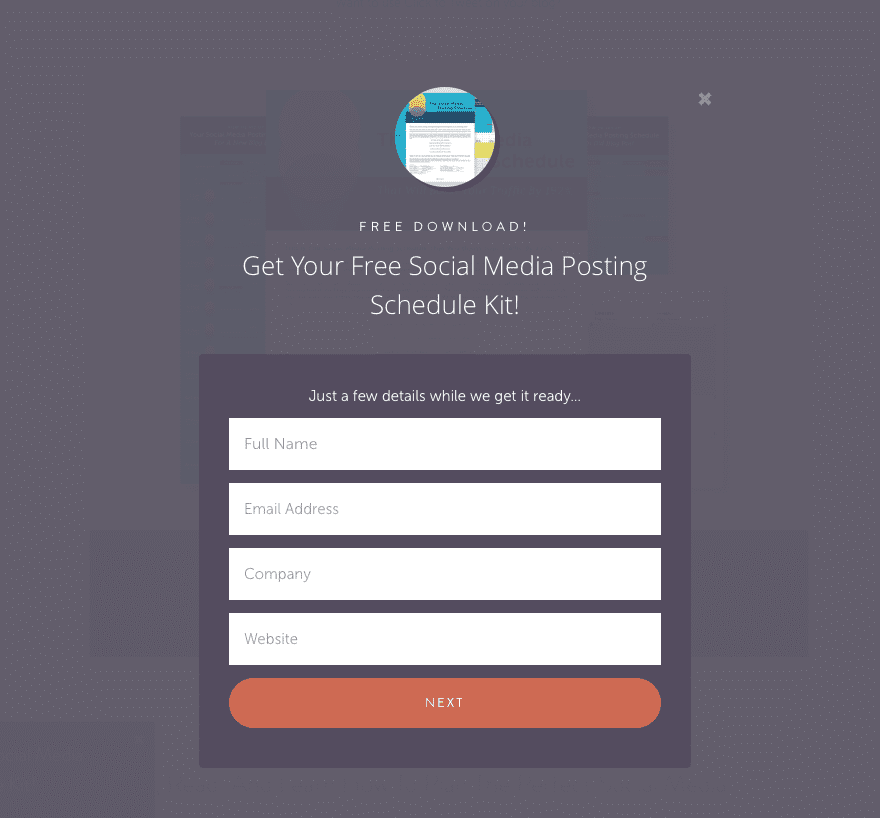 Whatever form they take, they will always have two things in common. First, they will relate very well to the topic at hand. So well, in fact, that the upgrade can probably only be used on that one post. Second, they will collect an email address, and once that email is collected, give the visitor access to free bonus content.
Why Content Upgrades Work
Put simply, content upgrades work because they address the real problem your reader is having, right now. It's why they are on your site. They landed on that page, often from a search engine, because they are looking to solve a problem. Your content upgrade is you offering to solve that problem, and then some because it is an extra golden nugget of information that they can get hold of for the price of their email address.
Different bloggers who have tried content upgrades have shared varying case studies about what has worked for them. Brian Dean from Backlinko had a 785% increase in conversions in his test. In a post for The Daily Egg, Devesh Khanal shared his own experience getting a 492% increase in conversions from content upgrades. This second one was for a content upgrade that Khanal reportedly created in minutes.
Clearly, content upgrades work, and it turns out that you don't even need to invest a ton of time or money into making them work for your blog.
10 Content Upgrades You Can Create Right Now
Here are ten ideas for content upgrades that are easy and cheap to create. Use these ideas to upgrade some of your top-performing posts and watch for the results.
A checklist summarizing the post. These are great for extensive or highly technical how-to posts.
A cheat sheet, which packs a ton of information into a concise and well-organized download.
A printable worksheet or planner This is great if your content requires the reader to follow along answering questions or entering their own information.
A nicely-designed, downloadable PDF of the blog post. Some people just prefer to download a PDF to read later! This also can include infographic versions of your blog posts, if you choose to create those.
Part two to the existing post, only available as a download.
A template or a kit readers can use in conjunction with the post, especially for how-to posts. This helps your reader get started right away, without having to determine how to organize their work.
An Excel spreadsheet or Google sheet pre-laid out with formulas and functions.
Original research or data referenced in the blog post. This is especially valuable as a resource to other bloggers doing research in your niche and can result in more backlinks.
A transcript (for recorded content such as videos and podcasts). Outsourcing the creation of this content is readily available at affordable rates from sites like Upwork and Fiverr.
A challenge or guide for adopting a new habit.
Content Upgrade Do's & Don'ts
There are some general guidelines to keep in mind as you start creating your own content upgrades.
Do really focus on making the content upgrade extremely useful to the kind of person who will be reading your blog post. Try to understand what extra information is needed for the post before you start creating an upgrade.
Don't try to adapt a general lead magnet (free bonus content) to suit specific blog posts. The reason it is general is because it applies to a variety of visitors to your site. A frequent reader will also just gloss right over a lead magnet they've passed up on before.
Do use an eye-pleasing design for your content upgrade. Pat Flynn of Smart Passive Income suggests hiring a designer to create a template you can use over and over.
Don't just package up the blog post into a plain PDF. There needs to be something extra – that's why it's a content upgrade.
Do promote the content upgrade throughout your blog post, not just at the end. Try to include a call to action at the top of the post and anywhere throughout that is especially relevant to the upgrade you are offering. In posts where Brian Dean offered the content upgrade at the beginning as well as the end of the post, he saw conversion rates 315% higher than those where he only promoted it at the end.
How to Create Content Upgrades in WordPress
At first glance, content upgrades might seem a little tricky to implement. While adding these bonus offers to your posts isn't the easiest feat in the world, there are some great services and plugins that make the process simpler.
Thrive Leads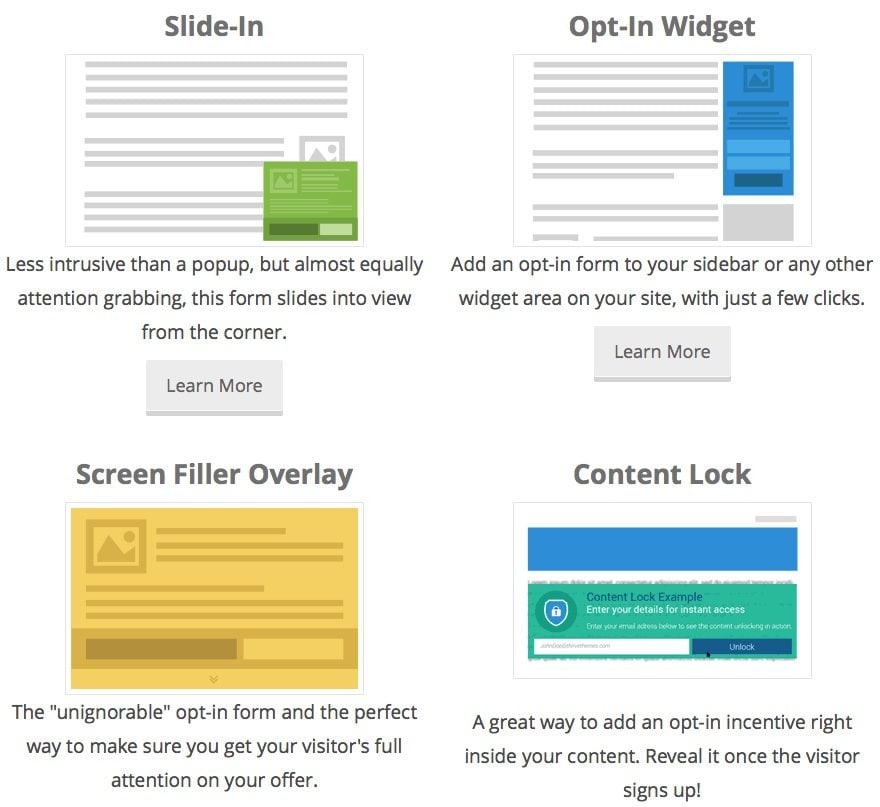 Thrive Leads is well-regarded by many bloggers for how easy it is to use. This plugin makes it simple to add opt-ins, A/B test, and see your results. It also offers a number of opt-in form styles, such as popups, sidebars, sticky menus, in-line boxes, overlays, buttons, and more. Thrive Leads offers a single-site license for a one-time price of $67.
MonsterLinks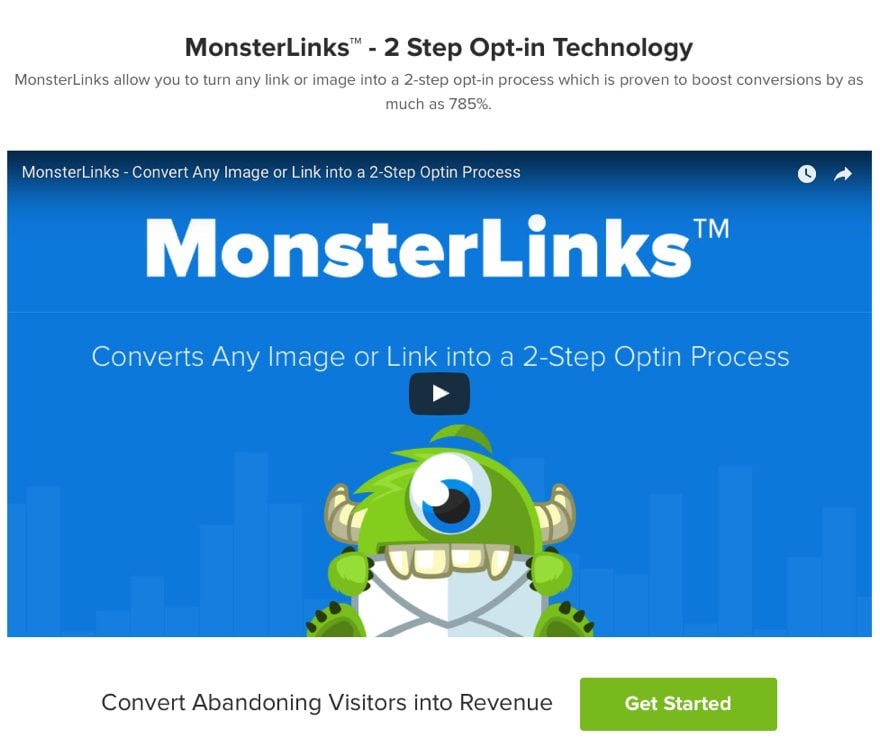 MonsterLinks is a tool within OptinMonster that allows you to turn any link or image into a two-step optin: your users click the call to action, then a popup appears, inviting them to subscribe. OptinMonster starts at $19 a month, or $9 a month billed annually.
Content Upgrades Pro
Content Upgrades Pro is one of the simplest and most affordable options on this list, at just $47 for a one-site license. It works similarly to the MonsterLinks plugin above, allowing users to click a button to open a popup opt-in. They also offer a free plugin that you can use to try it out. Watch out, though, as the plugin is very limited and has not been updated in a long time.
Easy Content Upgrades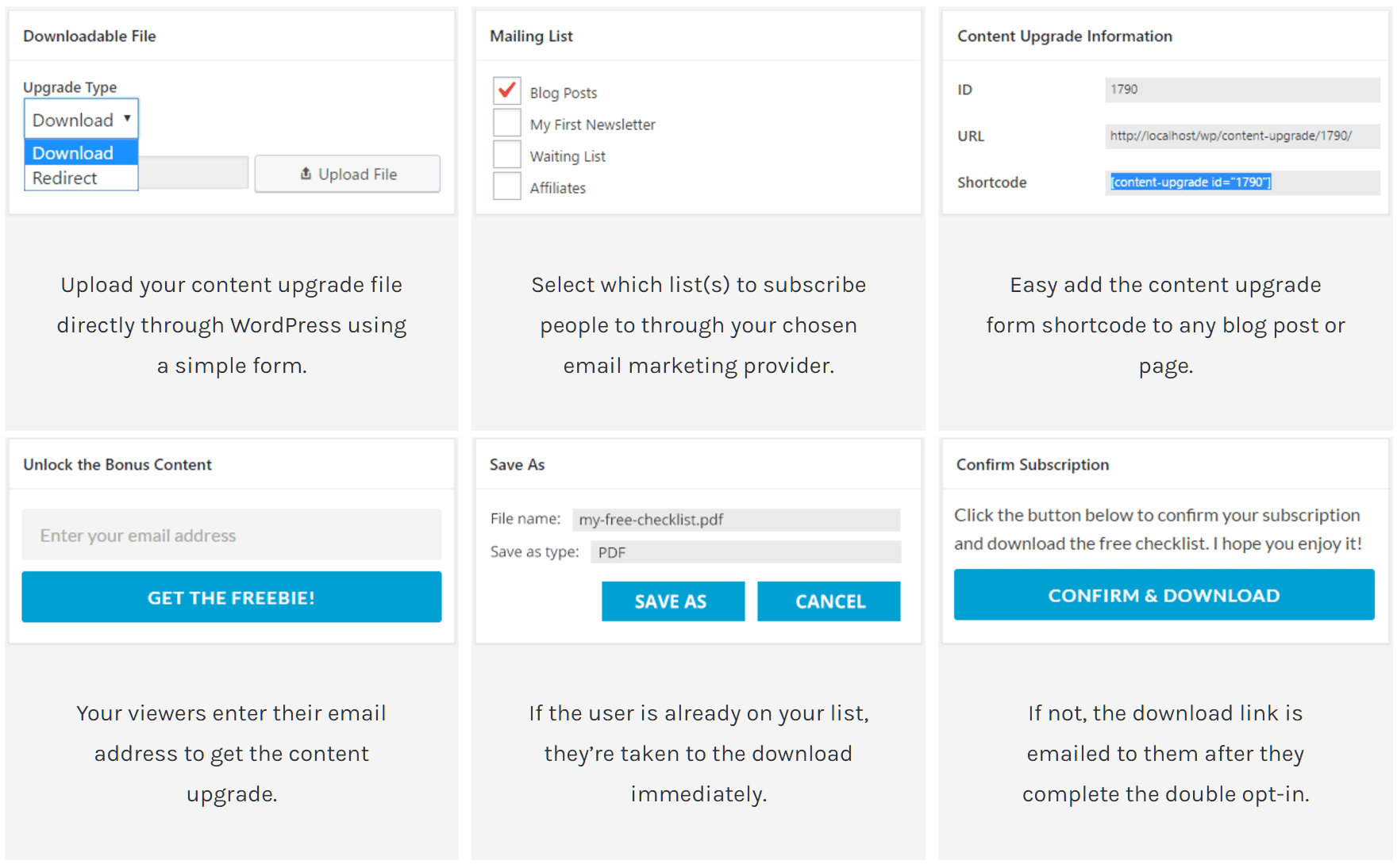 Easy Content Upgrades is, as the name suggests, very easy to use. In fact, the image above walks you through the simple six-step process of creating a content upgrade offer for your readers. The plugin starts at $29 per year for a single-site license.
Free Content Upgrade Management Options
Most of the content upgrade plugin options are paid plugins, but there are a few free options out there. Mentioned above is the free version of the Content Upgrades Pro plugin. You can download it from the WordPress repository here. Brittany Berger also outlines four different ways to create content upgrades for free using Zapier and other integrations in this post on her blog.
Also, don't forget our very own Bloom WordPress email opt-in plugin can help you boost subsribers and use content lockers to grow your list.
Final Thoughts
Content upgrades do take a bit of work at the outset because you need to create a piece of bonus content and then find a good way to offer it within your post. However, once set up, the results of this strategy can be very impressive. Content upgrades are one of the best ways to add more value for your readers and in turn, boost your subscribers.
Now that you know how to create and deliver content upgrades to boost your email subscribers, how are you going to use them on your site? Please share your thoughts in the comments below. 
Article thumbnail image by LITUSPRO / shutterstock.com