Selling a property is no walk in the park. Even if you have the perfect listing available, chances are you won't find the right buyers unless you know just how to show it off. That's where WordPress can help you.
WordPress offers plenty of ways to create real estate listings and display them in all their glory. In this article, we'll introduce you to one of our favorite tools to do so – the Easy Property Listings plugin. Furthermore, we'll teach you how to set it up from start to finish, including how to integrate it with Divi.
An Introduction to the Easy Property Listings Plugin

Easy Property Listings is more than a simple tool to create real estate listings. In fact, it offers enough features to power an entire real estate agency. It supports multiple agents, seven property types, and dozens of fields for each. Furthermore, the plugin is fully customizable and can be used alongside most themes (including Divi). It makes it to #2 on our list of recommended real estate plugins.
Key Features:
Integrates with most WordPress themes
Displays listings grids or lists
Fully responsive
Includes built-in tutorials
Comes with several unique listing types
Supports as many agents as needed
Price: The basic Easy Property Listings plugin is free, but there are several premium extensions available | More Information
How to Set Up Easy Property Listings (In 3 Steps)
Before we get started, it's worth noting that you should always back up your WordPress site before installing any plugins that implement major new functionality. If you're not sure how to do so, you might want to check out our complete guide to using the UpdraftPlus plugin.
We should also mention that the Easy Property Listings plugin is not the only choice available if you want to create real estate listings in WordPress. It's one of the best free options out there, but there are also premium alternatives, such as Estatik Pro.
Additionally, you might want to take a look at some of the real estate focused themes available, which work rather well with most of these options.
Moving on, let's get to setting up this plugin.
Step #1: Activate the Types of Listings You'll Need
After activating the plugin, an Easy Property Listings tab will appear on your dashboard. Click on it and choose the Settings option. The first thing you need to do is select which types of listings you want to display, and activate them: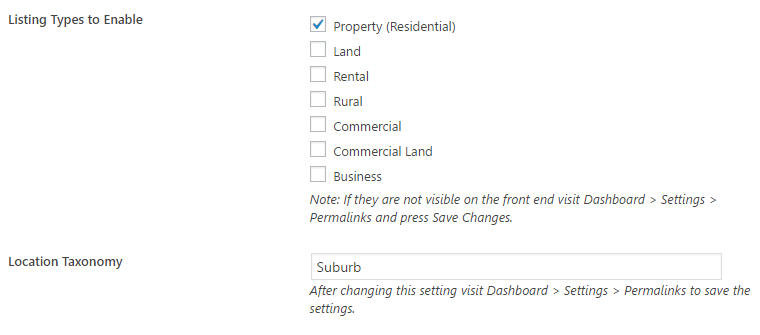 Once you've done that, scroll down to the Listing Single View section. In there, you may enable an option to automatically show galleries whenever a visitor clicks on one of your listings. We recommend that you enable this setting and add the number of columns you'd like displayed:

Now, save your changes and head to Settings > Permalinks on your dashboard. Once inside, click on the Save Changes button.
You'll now see additional tabs on your dashboard – one for every listing type you activated. We'll need to use these tabs to add our listings, but there's one step to go before we get there.
Step #2: Create Pages for Your Listing Types
Now that you've enabled the types of listings you want to display, you need to create individual pages for each of them. These pages will be entirely blank until you start adding properties, but you need to create them manually for the plugin to work.
Let's say, for example, that you activated the Business listing type during step number one. You'll need to go to Pages > Add New and type Business as the name of your new page: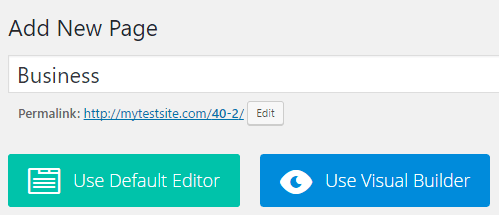 Now, take that same name and add it as your page's permalink: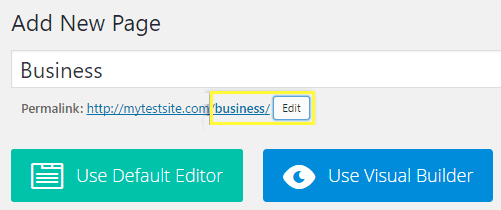 Then we're good to go. Hit the Publish button, and you'll be able to start adding properties under that particular category right away.
Depending on how many listing types you added, you may have to repeat the process several times. The only slug that's slightly different from the rest is that for the Commercial Land property type, which is commercial-land.
Step #3: Publish Your First Listing
We just created a blank page for our Business listings, so let's use that category as an example. If you enabled this option under listing types, a corresponding tab should have appeared on your dashboard: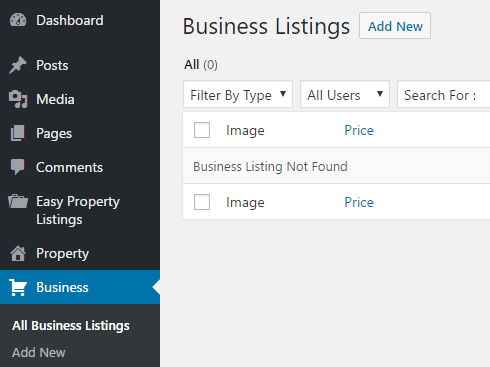 After clicking on Add New, you'll find yourself facing the WordPress editor. First of all, enter a name and description for your listing: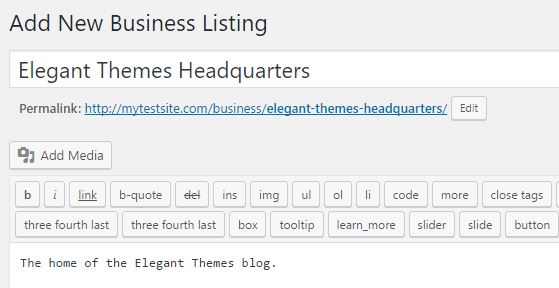 Next, you'll want to specify a listing agent. If the name of your agent matches that of a user on your site, the plugin will automatically output a short biography alongside the listing:

In this same page, you'll also need to input pricing details: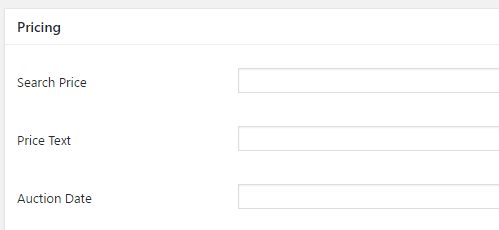 There is also a section for the address of the property in question: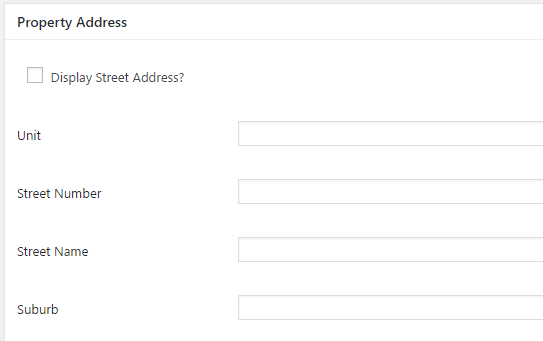 Aside from the information we mentioned, you'll also want to add a featured image to each listing. Furthermore, the plugin even enables you to add videos and floor plans for your listings: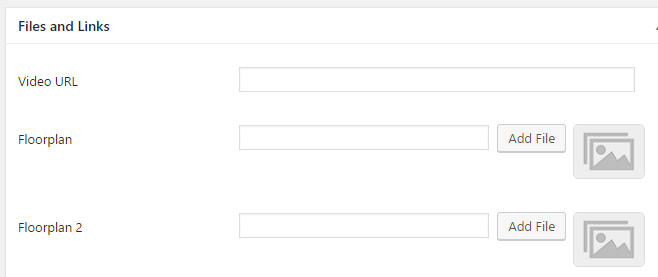 As you can see, each custom post type comes with a large number of fields to be populated. While this can be a bit cumbersome, detailed information should increase your chances of connecting with the right buyers. Once you've entered the relevant information, hit the Publish button and your property will be listed under the Business category (or whichever type you're using).
And that's it – you've added a listing to your website!
How to Publish a Listing Using Divi
If you're a Divi user, chances are you'll want to create and style unique pages for each type of listing on your site. Fortunately, Easy Property Listings includes a robust shortcode system, which enables you to include listings wherever you want.
To add one in Divi, open the page you want and load the Divi Builder. Then add a Code module where you want the property to show up: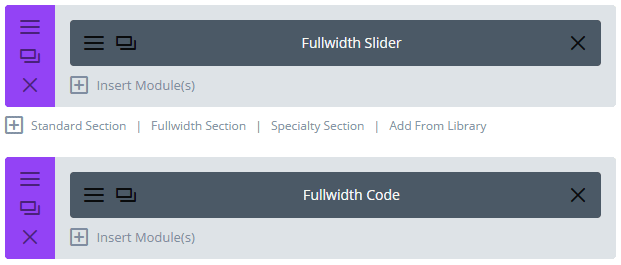 Now, open your Code module and locate the Content field:
At this stage, you should go ahead and check out Easy Property Listing's shortcode documentation, since there are too many commands to cover here. However, if all you want is to publish your listings for a single category, here's the shortcode you need to use:
[listing post_type="property"]
Just replace property with the type of listing you want to display, and you'll be good to go!
Conclusion
WordPress is an excellent tool if you're looking to get your real estate listings in front of as many eyes as possible. Whether you're a realtor or an agency, setting up a website to display your properties in all their glory is entirely within your reach.
In fact, all it takes is installing the Easy Property Listings plugin and following these three simple steps:
Identify and activate the types of listings you need.
Create individual pages for each type of listing.
Publish your first property!
If you're a Divi user, you can also easily integrate listings using the Code module.
Looking to integrate your website with an MLS listing service? Browse these top IDX plugins to see if they can help you out.
Do you have any questions about how to create real estate listings using WordPress? Subscribe and ask away in the comments section below!
Article thumbnail image by Stokkam / shutterstock.com