Outside of the content you write, your author page is your mark on the web. It's your virtual footprint on any given blog or site you write for. Which means it's important and you need to spend some time optimizing and customizing it. While many themes include author pages by default, I'm going to argue that you should spend actual time thinking about it and not just let the default settings fly.
Why? Well, to start, let's take a look at why you even need this page to begin with.
Author pages serve a variety of purposes. From establishing your online identity to giving you a chance to link to social profiles, author pages build credibility for your site as a whole and for the individual authors and their individual brands.
While you might be able to get away with not have an author page if you're the only contributor to your site, you absolutely must have them if you run a multi-author blog. You need to give each author a spot to shine. Even if you are paying your contributors (and you should be) it's still good form to offer a space to highlight what they do.
Author pages also act as a quick way to add a little bit more content to your site. Sure, they likely just feature a bio and post excerpts but still, the additional pages can make a sparser site look more robust. And when you're first starting out, you best believe details like that matter.
Finally, including author pages makes it much easier to engage in cross promotion. Contributors to your site can promote their personal websites, portfolios, and social profiles with ease. That makes for happier contributors. And happier contributors are more likely to feel appreciated and stick around for the long-term.
Evaluating Your Theme
One of the real advantages of using WordPress is you get to pick from such a wide variety of themes to style your site. If you're going to build a multi-author blog, it's especially important you make sure the theme includes an author.php file. This file is responsible for generating a page dedicated to information about each author of your blog when their names are clicked in the byline of a post.
If you discover your current theme doesn't include this, you'll either need to find a new theme that does include it or build the page yourself. A straightforward tutorial on doing just that can be found at WPBeginner. It walks you through how to make the author.php page then make sure the rest of your WordPress site refers to it the appropriate way.
Once this is done, your next step is to make any modifications you deem necessary to suit your site's specific needs. The WordPress Codex offers an excellent breakdown of the basics for building out your WordPress author template. This includes everything from linking to author pages from posts (the "written by" part) to creating a list of all of the authors on your site with links to their author pages to place in your sidebar.
Once the author template page is built you can start thinking about what should be included on it. Besides the list of posts said author has written for your site, the author's bio, social media accounts, contact information, and photo should be displayed.
This will likely be an expanded version of the bio featured at the bottom of posts if you use an author box plugin. Even so, you need to spend some time on it to make it just right. While the content you write is what makes your first and best impression, your bio is where you need to establish who you are, what you do, and whether or not you're for hire.
Your content is your content but your bio is where you get to sell yourself a little bit. And there's definitely nothing wrong with that, especially in the context of blogging. Though outright promotion is often frowned upon, making mention that you do work as a professional in your given industry and are available is worth doing.
It might be best to use an example here. Let's say, for instance, that you're a web designer. Maybe you write a tutorial on a blog and in your bio mention that you're a professional web designer and link to your portfolio. What if someone comes across this post and feels you're an authority? What if they click through to your bio? Well, then it better do your services justice, don't you think?
From there, a reader is turned into a potential client when he or she reaches out to you via your website or email or even social media. This wouldn't be possible if you didn't write a compelling bio that captures who you are and what it is you do.
It's always a good idea to write a different bio for every site you contribute to, by the way. As you likely know already, duplicate content is a major SEO no-no, so why take the risk? Besides, using the same bio everywhere is just kind of boring. It's a lot more interesting to your readers if you show a little personality in your bios and even include a little bit of humor. You want to set yourself apart, after all, and there's no better way to do that than to be yourself!
Social media profiles are always a good bet to include on your author page. Be sure to offer your authors the option to include links to their profiles on the "big" social networks like Facebook, Twitter, and Google+. You can include others, too, at your discretion. It's up to you how these profiles are displayed. Though typically, this is done via text links or icons.
Giving authors the chance to link to their social profiles helps to build a sense of community around your site as well. It gives site visitors a chance to cite post authors in their social media shares, too, which is good for your site and the author's personal brand. A total win-win if there ever was one.
Contact Information
You should also give authors the ability to add their contact information including an email address and a website. Now, this shouldn't be compulsory for your site contributors but giving them a space to thoroughly promote themselves and link to their presences on the web is a considerate thing to do. It also helps to ensure that when someone wants to contact the author, he or she can with little to no trouble.
And if your site authors are trying to build personal brands around their services, it's even more imperative that there be contact info listed in a prominent place. You wouldn't put up a website without a call-to-action, right? So you need to at least give readers a gentle nudge in the direction you want them to go—and that's often through contacting you through a link on your author page or in your author bio.
An author photo is also a nice touch. This can be featured in the author box, too, but will likely be quite a bit larger on the author page. This is a good thing as it can draw attention to who you are, quite literally. But not just any old photo will do, I'm afraid.
No, you actually need to spend some time and care in picking and right author photo. If you or a friend have a DSLR camera at home, it's worth it to take a half an hour to get a high-resolution author portrait done. It doesn't have to be top-notch or even all that professional. Depending on your industry, casual wear is totally fine. However, it's imperative that the photo itself is of high-quality and represents what you, as an individual and as a brand, are all about.
Sorry, no camera phone selfies allowed here.
Sometimes, your author photo will be pulled directly from your Gravatar. But what if you want to set up a custom option? What then? That question actually leads us to the next section quite nicely.
As you might've noticed by now, I'm a fan of the plugin roundup. And today's topic lends itself particularly well to featuring a plugin or two, believe me. I think this has a lot to do with the fact that you actually have a lot of customization options when it comes to your WordPress author page and even your author box. Add features, tweak the look and feel, and generally modify it to fit your theme and what it is you're trying to accomplish with all this content you publish.
If you want to add more features to your author page or box, or want to make some adjustments without having to dive headlong into code, the following plugins should help you out considerably: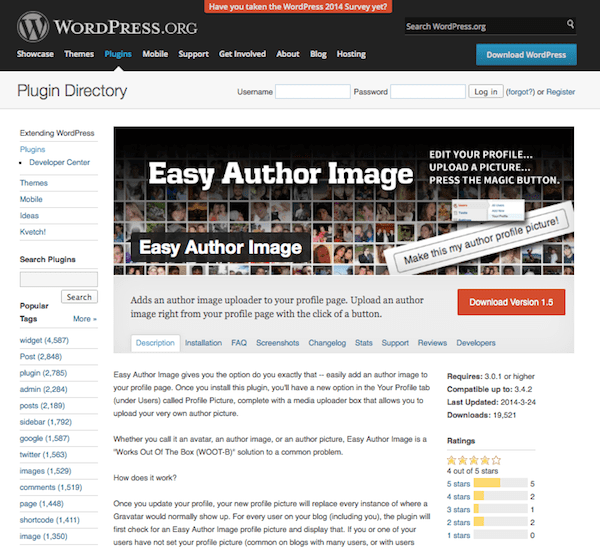 This plugin adds an image uploader to your profile page, making it a lot easier to add a custom image for each site you write for, thereby reducing your dependence on the default Gravatar. Once installed, the plugin automatically places the image uploader under Users > Your Profile in a new setting called Profile Picture.
Now here's a really simple way to display all of the authors on your site in one place without having to do any manual coding. Once installed, you can display a table of all users that have a specified role using the [authors-page] shortcode. This works in conjunction with the WP Biographia plugin.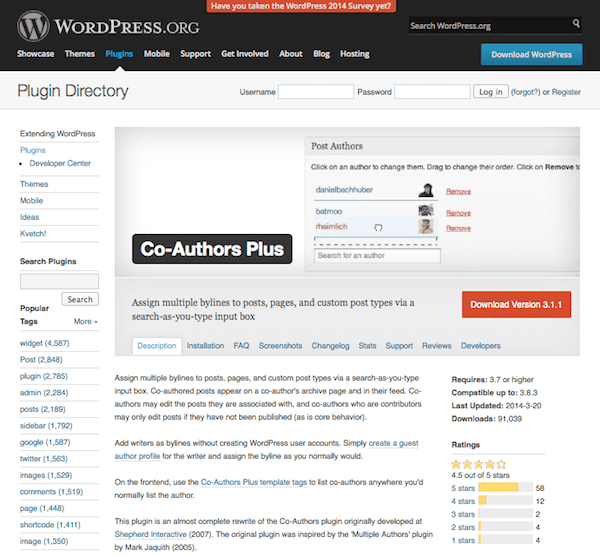 This plugin is really handy for ensuring everyone who deserves credit on a post gets his due. You can easily assign multiple bylines to posts and pages. This plugin also creates co-author pages that list all the posts written by the same combination of authors. Individual posts listed here also appear on each author's solo page.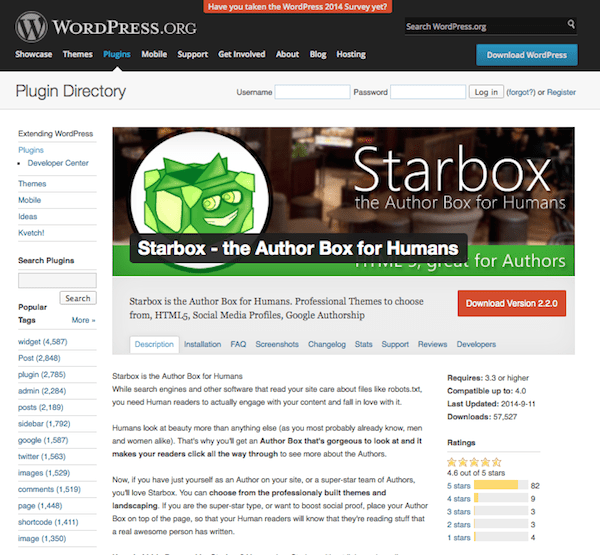 As I mentioned before, author boxes can come in handy by showcasing a little bit of information about a post's author at the bottom of individual posts. This plugin adds a stylish author box to your site and offers several themes to choose from to ensure it matches your site's overall design aesthetic. An attractive author box is more likely to encourage a click-through to read the author's full bio, too.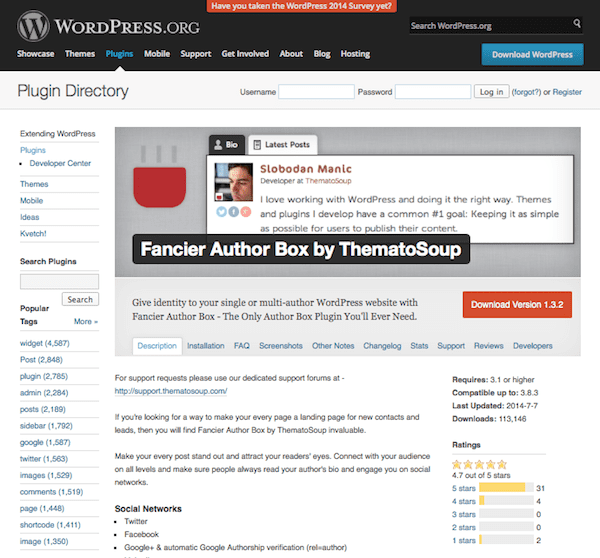 Because I couldn't leave you with just one author box option, might I suggest Fancier Author Box as well? It's tried and true, totally professional, and easy to configure. Plus, you can add a whole host of social media links if you're so inclined.
Wrapping Up
Building your brand is an essential component of doing business online. I mean, think about it: without a clear identity, how do you stand to differentiate yourself? How do you plan on carving out a niche for yourself in your industry? You ultimately have to think about how to sell you and an author page on your WordPress site and to those which you contribute is a good place to start.
Do you feel author pages are important for WordPress sites? Have you done anything to engage in better brand building using them? I'd love to hear about your experiences and your most creative ideas!
Article thumbnail image by vasabii / shutterstock.com