Building a website around your wedding is a great way to keep friends and family informed about your special day. It's also a great way to communicate to them about the schedules, location, accommodations, gifts, etc., without having to play phone-tag or stay on the phone for hours just to reach everyone every time there is an update.
A wedding website is also a great way to showcase the event. You can show off the cake, show a video of the wedding vows, showcase the photos in a gallery, and much more.
Some of these will just be shared as information. Others will be something that visitors will interact with. WordPress is the perfect platform for a wedding website. Here is a list of tips and plugins that will let you build your perfect wedding website to go along with your perfect wedding.
This article will take a look at setting up your website and utilizing some plugins for the key elements of your wedding website. So, before you say I do…
Customize Your Theme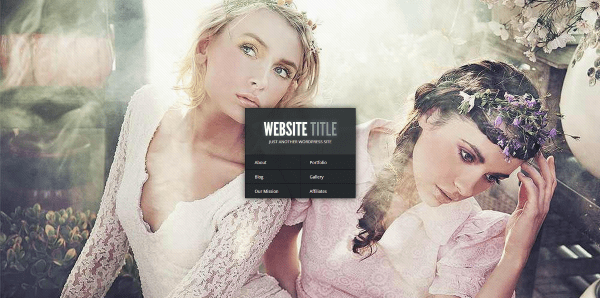 First, choose a theme you like the look of (Gleam is shown here), and then you can start personalizing it. To make your site more personalized, upload a custom header image and background image. The header image can be the invitation or a photograph of the lovely couple. The background image can be a nice floral pattern that isn't too busy. You can find nice free patterns on sites like Subtle Patterns, Mysitemyway, and Squidfingers Patterns. You can also modify your theme's colors to coordinate with the wedding's colors. Your theme can be modified using the wpanel for ET themes or use a plugin such as OptionTree.
Pages
You can use pages to categorize all of the needed information. Here is an example of some of the pages you might need:
About Us – information about how you met, the proposal – your story
Who's Who – a page that gives all the details about who is involved and what role they will play
Venue – this will include a map to the wedding and reception locations
RSVP – a page so you know who's coming and who's not
Blog – you can use the blog to keep your friends and family up to date, show off the rings, dresses, venue, and give news about rehearsals, catering, flowers, music, and more.
Photos – both a photo and video gallery
Links – this would include information about hotels, car rentals, local eateries, and so forth.
Gift Registry 
Guestbook
Plan Ahead
A wedding is a project. WordPress is a great way to keep the project on schedule and show the wedding information. Weddings can be either small or large events. In fact, they can be very large events with many hundreds of guests. Lots of things have to be planned well and even the simplest event planner plugin can be of great value.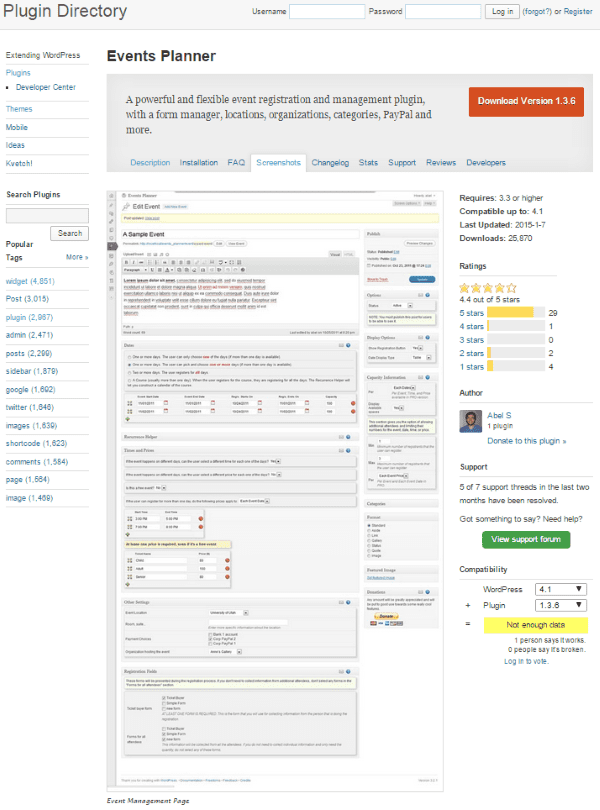 This free plugin is made specifically to manage events. It includes event registration, locations, categories, a form manager, PayPal, and more. It has confirmation emails, a downloadable list of registrations (status, payment info, attendees, responses, etc.), templates, and more. It uses standard WordPress tools such as custom post types, custom fields, and options.
There is also a Pro edition that lets you have unlimited dates, times, prices (for paid events), individual and group registrations, delete records, see attendees, send emails, and more. The Personal edition is $59 for one site and a year of updates and support. Advanced is $99 for one site and includes an advanced time/price extension, MailChimp extension, User extension, and an event shopping cart. The Developer edition is $299 for five sites and adds premium support.
Provide Venue Information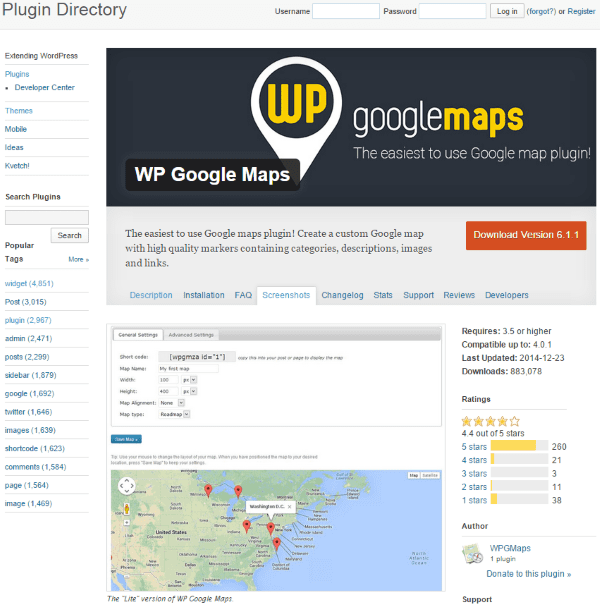 This one claims to be the easiest-to-use Google Maps plugin that doesn't restrict you on features. You can create a custom map with markers that have categories, descriptions, images, and links. There is both a free and a pro version.
The free version supports Streetview, lets you create as many markers as you want with animations, can be used as a widget, is custom sizable, lets you add polygons and polylines, and much more.
The Pro version lets you create multiple maps, show your visitor's location, add categories and descriptions to markers, filter by categories, use different icons, and much more. The pro version is $19.99.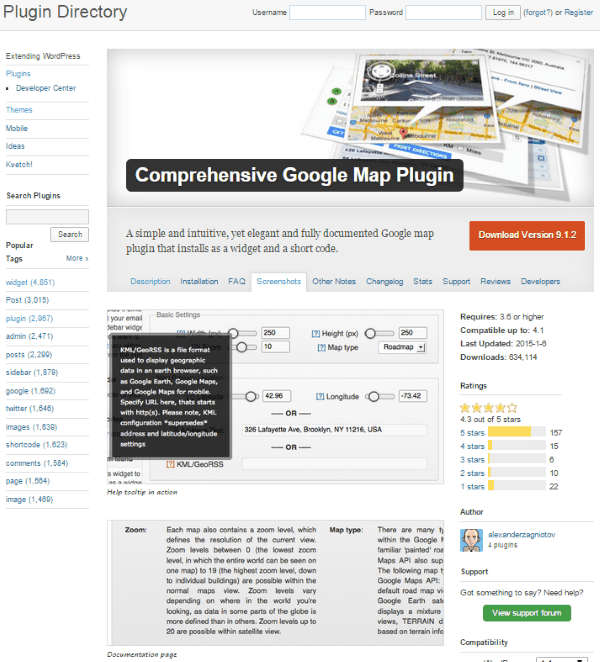 This is a premium quality plugin that's available for free. It can be used as a widget or placed in a post or page using a shortcode. It has 250 custom markers and it will aggregate all of your markers from your published content on a single map. It will also add your user's current GPS location to the map, making it easy for them to find directions from their current location.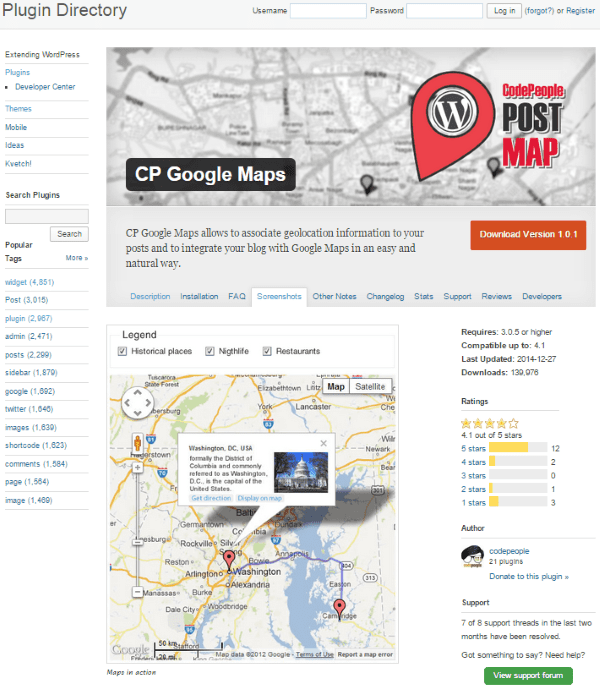 This one has unique features for themes that display multiple posts. The map will contain markers from the posts that make up the page. When you mouse over the locations, the post that marker is from will be highlighted. This is a great way to let users learn about important information by relating it to specific posts. It can handle large volumes of markers.
There is also a premium version available for $19.99 that uses geolocation data, allows multiple map points for each post, draws a route, allows you to create shapes on the map, displays the location of the user, provides a street view, and more. It can be used as a widget and includes 60 days of tech support as well.
As you consider interactive map options, delve into these map plugins too—we keep the list updated every year.
RSVP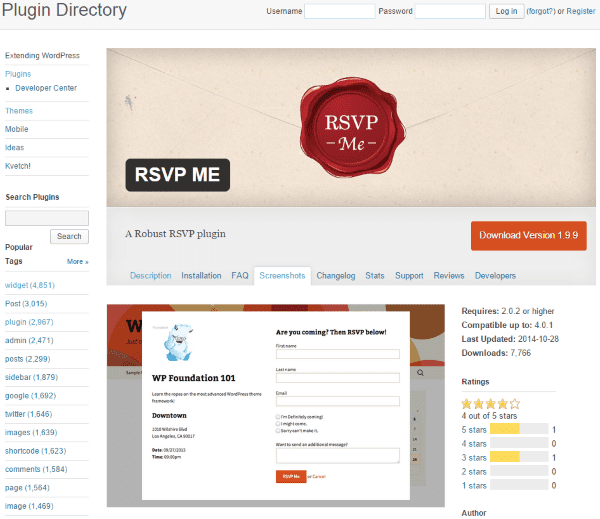 This one provides you with an event calendar widget that gives you a clean lightbox popup for the event. It allows you to specify the venue, address, date, and so forth. Visitors can respond through the events page or the calendar widget, and they can send an additional message with their responses. You can have multiple events in a single day, so they can respond to the wedding and reception separately. Events are searchable.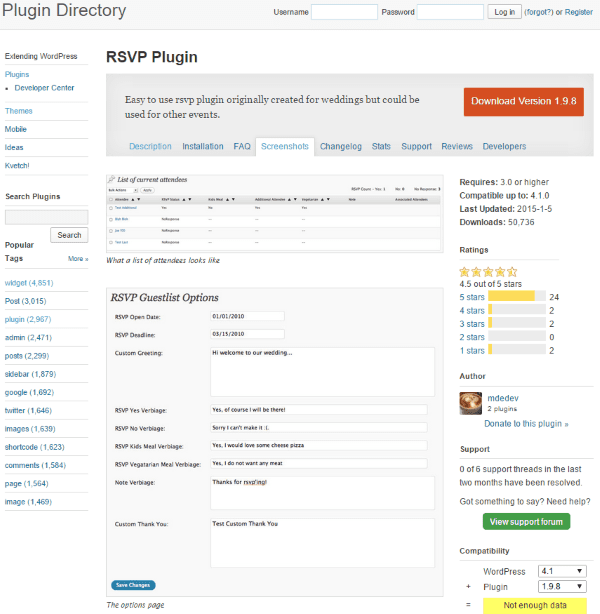 This one allows you to group guests together, so entire families can respond as a group. It has lots of features that include:
Specify the opening and closing date
Custom greeting
Specify the yes and no text
Specify the kid's meal
Specify the vegetarian meal
Custom thank you
Add, edit, and delete guests
Associate guests
Create custom questions that can be asked by each or specific guests
Email notifications
And more. It also has custom CSS styling. This edition is free. There is also a pro edition available for $19.95 that tacks on the ability to:
Create a custom message for each guest
Add multiple events
Import a guest list from excel
Export the guest list
and much more.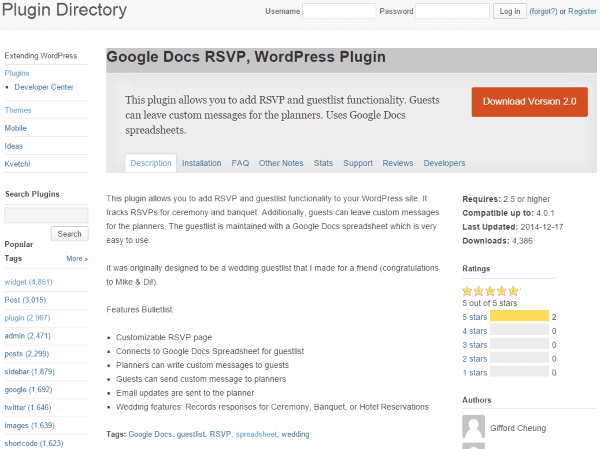 This plugin adds RSVP functionality to your website. It uses a Google Docs Spreadsheet for the guest list and allows planners to write messages to guests. Guests can respond to or send messages to planners as well and it sends email updates to planners. It will record responses for the ceremony, banquet, and hotel reservations.
Best RSVP Plugins for WordPress
Elsewhere, we've created a list of the best RSVP plugins for WordPress websites. We update the list regularly, so it is worth looking into to make your wedding RSVP work as smoothly as possible.
Countdown Timers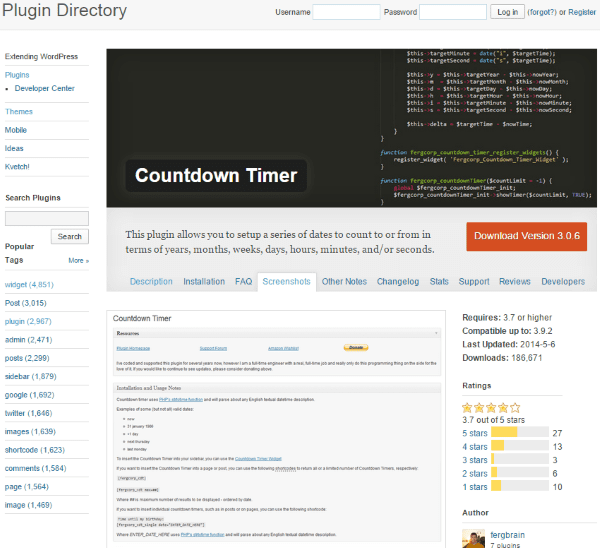 Countdown Timer, as its name would suggest, adds a countdown timer as a widget to your site, so you can place it in the sidebar instead of it taking up its own page. You can also place it within pages and posts if you wish. You can set multiple dates to countdown to, so you can use it for rehearsals, the wedding itself, the reception, and so forth. It is placed into the posts as a shortcode.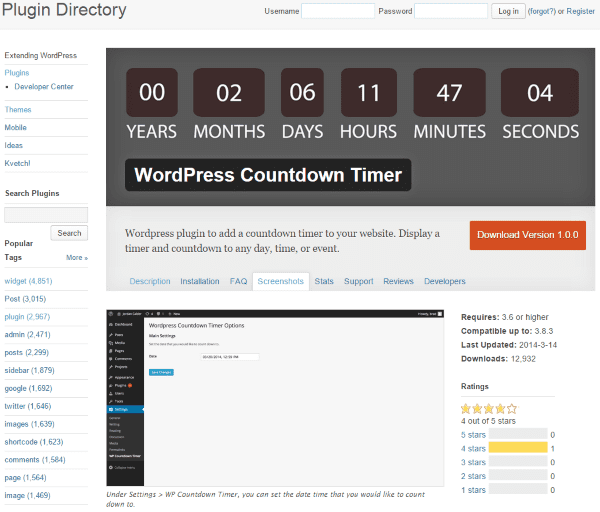 This free plugin gives you a countdown timer from years all to way to seconds. It can be used on any page with a shortcode. You simply set the date and time that the event will occur and anywhere you place the shortcode will display the timer. There are no themes and you can only have one timer, but it is easy to use.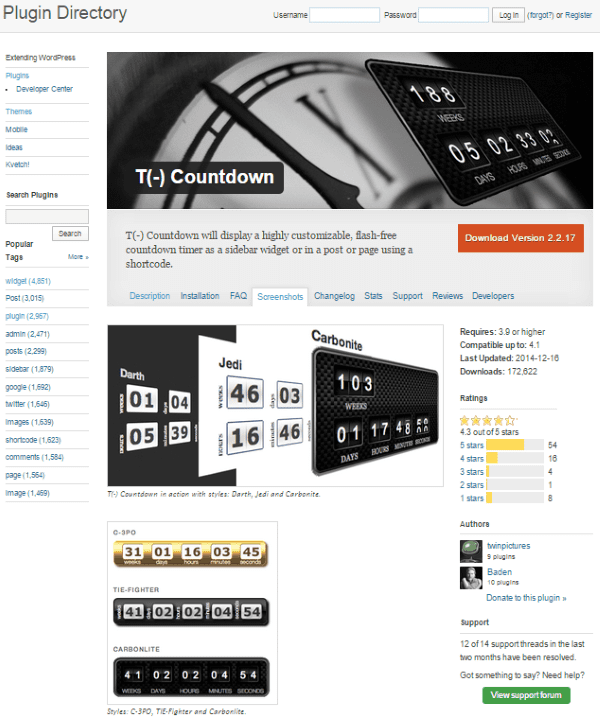 This one is highly customizable and can be placed as a widget in the sidebar or on pages and posts with a shortcode. It's customizable through CSS and you can set it so the entire widget is replaced with HTML when the timer hits 0.
Create a Guestbook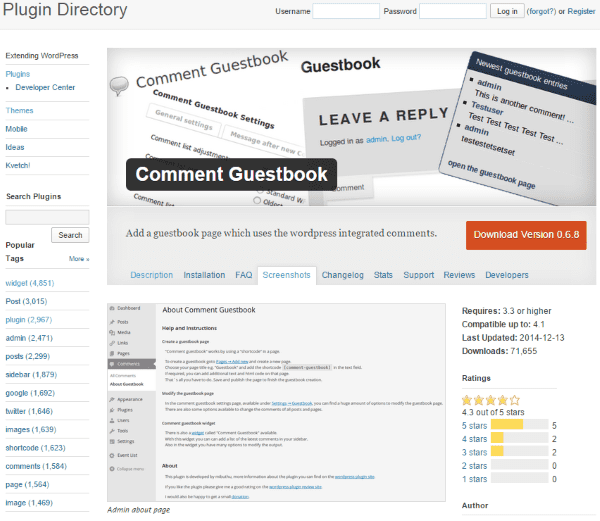 This free plugin adds a guestbook that is powered by the integrated WordPress commenting system. This maintains a consistent styling with your theme and if you change themes you don't have to modify the guestbook. All of the commenting features work the same for the guestbook, so you get email notifications and the ability to edit, delete, respond to, and mark comments as spam. It includes a form that you can place in pretty much any position you want. You can have the guestbook appear in the sidebar with your comments or keep them separate. The guestbook is placed with a shortcode.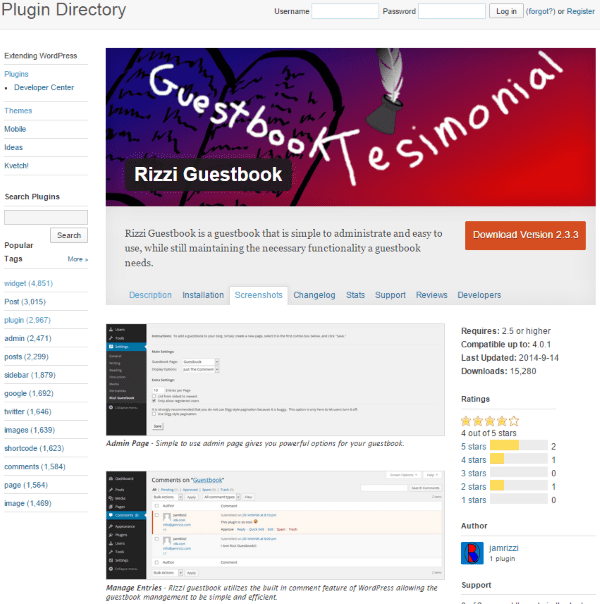 The goal of this free plugin is to be the easiest-to-use guestbook possible. It is a modification of the WP-ViperGB plugin. They've removed the features that were not needed, simplified the design, added support for mobile, and added display features. It lives on your website as a page.
Features include:
Optional date stamp
Control who can sign
Uses WordPress comments system
Automatic paging
Compatible with mobile themes
User friendly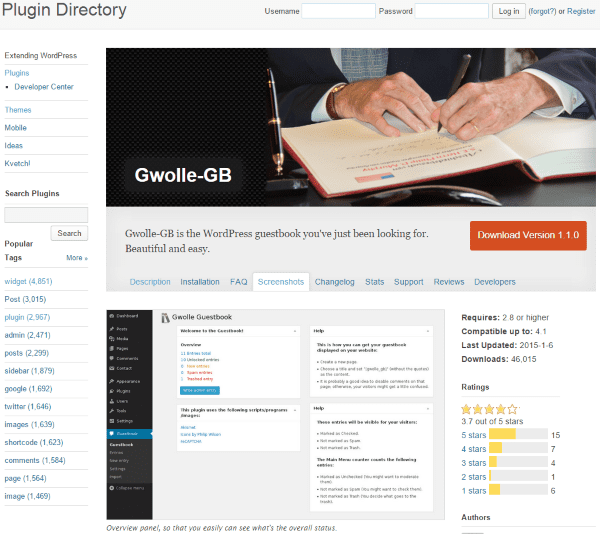 This is another free and easy-to-use guestbook that uses the WordPress commenting system. It provides a nice form for your guests to sign. It uses reCAPTCHA, Akismet, email notifications, and moderation just like regular comments. It also includes a log for each entry and records the IP address. It even has smiley integration.
Feature Photos and Videos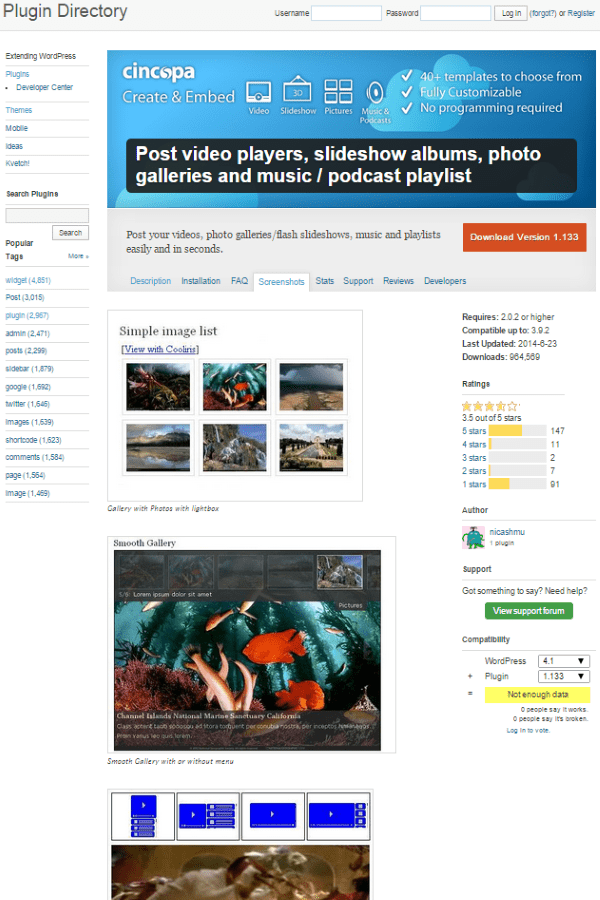 This is an excellent plugin that uses Cincopa for posting photos and videos of anything to do with the wedding from the venue to the wedding ceremony itself. It uses HTML5 and is responsive. It comes with more than 40 skins and includes a lightbox. Your media is easy to handle from a simple dashboard. It will display many file types and even gives you analytics, so you can know which photos your visitors like the best. It requires a Cincopa subscription.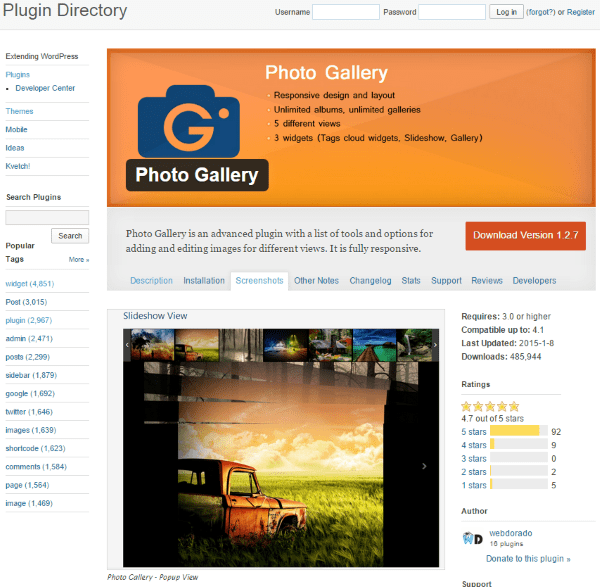 This is a responsive plugin that lets you edit images for different views. You can add image albums to posts and pages and to multiple widgets. You can add descriptions and tags, and you can organize your images into different albums. It will show thumbnails, a slideshow, an image browser, a compact album, an extended album, a tag cloud, and more.
There is also a premium version that will show a masonry view, blog view, a lightbox with 15 effects, has editable themes, allows for commenting, has social sharing, will show images and video, and more. It costs $30 for the Personal license for use on 1 site, $45 for a Business license for use on 3 sites, and $60 for Developer for use on unlimited sites.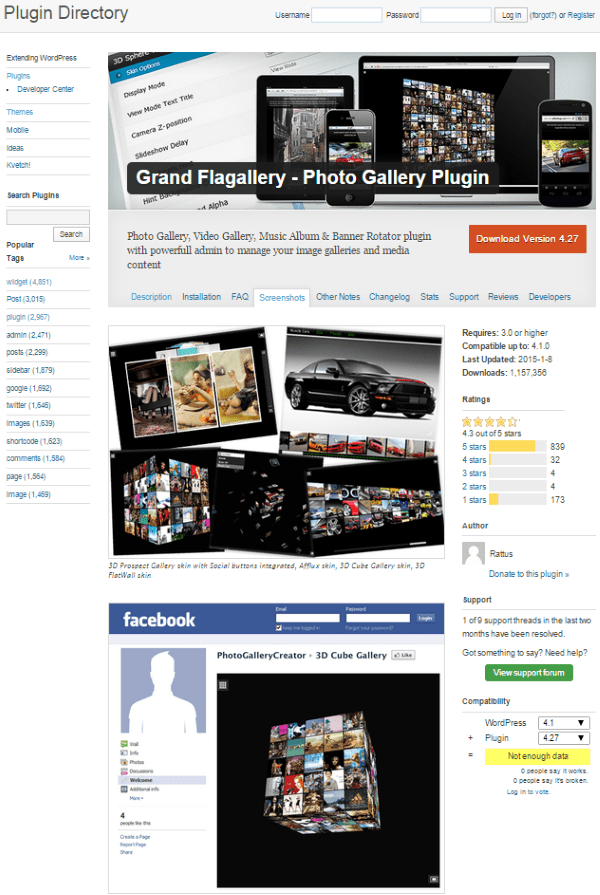 This free plugin provides an easy interface for handling photos, images, audio files, and video files. You can add descriptions to your images, MP3's, and video. You can create a photo gallery or group your pictures in a slideshow. It's SEO optimized and compatible with Google Reader, FeedBurner, and others. It includes widgets for banner rotator, photo gallery, and video gallery.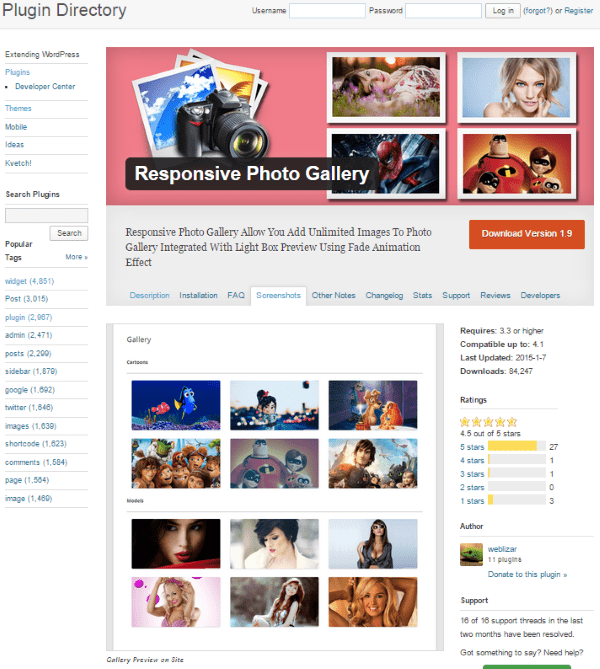 This one allows you to add unlimited images to a photo gallery. They can be placed on any post or page using a shortcode. It is responsive and has several animations and fade effects. It is based on the Bootstrap Framework. There are 3 design layouts and 2 types of color schemes.
There is also a premium edition for $10 that has 8 animation effects, 5 gallery layouts, unlimited colors, 520 Google font styles, drag and drop, 4 lightboxes, a masonry grid layout, hide and show gallery titles, gallery categories, and much more.
Offer a Gift Registry
You can provide a gift registry by offering links to an online registry such as an Amazon Wedding Registry, or you can integrate a listing into your site.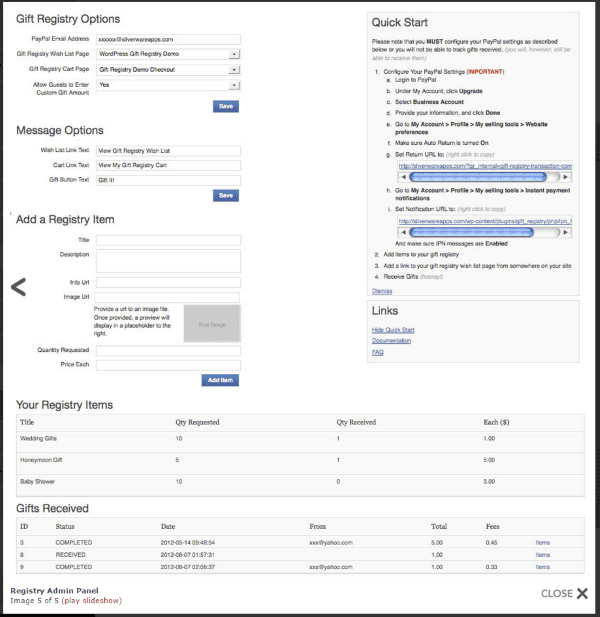 This one will add a gift registry to your website. You can place the items you want to receive with the prices and users can send you the money for the items via PayPal. Although it was recently updated, it will no longer by supported or updated so keep that in mind when downloading it.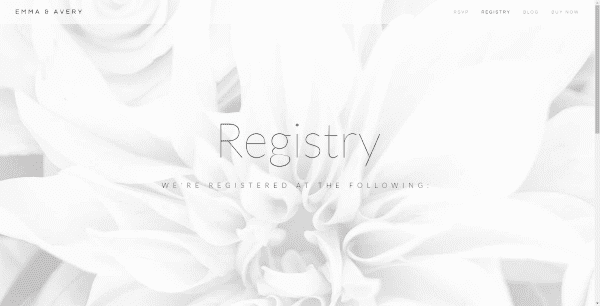 Bean Registry is a pretty wedding registry plugin that connects you to many online outlets. It's simple to use and add items to the registry. You select your stores from the dropdown icon and you add your URL to the registry through a shortcode. The plugin is free and supports 18 stores including:
Amazon
Bed Bath and Beyond
Bloomingdales
Crate&Barrel
Kohl's
REI
Sears
Newlywish
West Elm
Target
Macy's
The Container Store
RH
Pottery Barn
JC Penny
Etsy
Set Some Info as Private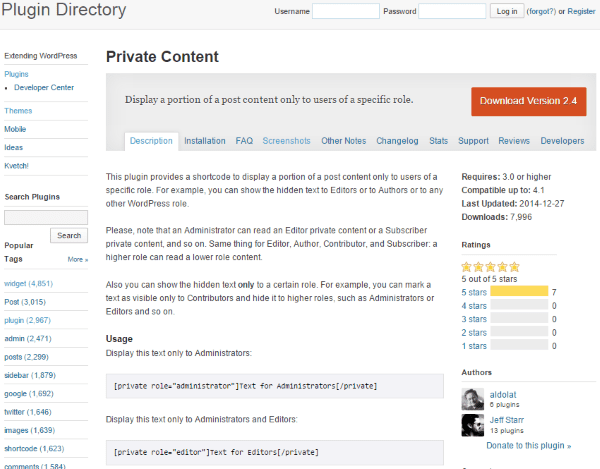 If you decide you want to keep your wedding website private and only share with those you choose, you can use a plugin such as Private Content. This one lets you display the content to users of specific roles. You can set your posts and pages to be viewable only by subscribers and the general public won't have access to it. It's a shortcode, so it can be placed on as many or as few pages as you want. It is free and is easy to set up and use.
Wrapping Up
It can be difficult keeping everyone informed of the latest wedding information. A website is one of the easiest, nicest, most complete, and most elegant ways of keeping everyone informed of your impending nuptials. With a few custom settings and by using some plugins, WordPress is the perfect solution to build your very own wedding website. By the way, you will also need to choose a theme! For that, be sure to check out our list of the best wedding WordPress themes.
How about you? Have you created a wedding website using WordPress? Did I leave out your favorite plugin, or do you have something that should be added to this list? I'd like to hear about it in the comments below!
Article thumbnail image by Redcollegiya / shutterstock.com