Email marketing is a difficult field for newcomers to break into. There are dozens of terms to learn, and a myriad of tools you need to get acquainted with to become competitive. Any way around, it's a lot of work.
The good news is that, as with other fields, you don't need to become an expert before dipping your toes into the water. To help you in your endeavor, we've put together a list of suitable tools of the trade, and a primer of the most critical metrics you should track. However, before we get into the technical aspects, let's take a moment to talk about why you should pay attention to this stuff.
Why You Should Track Your Email Marketing Metrics
Simply put, metrics are data that enables you to track specific aspects of your operations. When it comes to email marketing, the specifics we might talk about include open rates or what browsers people are using, for example. We'll get onto those later.
Metrics are an important aspect of any business strategy because they enable you to take actions based on hard data. For example, if you have a campaign that isn't doing so hot when it comes to conversions, there could be any number of reasons behind your problem. Taking action without looking at your metrics first would be tantamount to shooting in the dark. It might work, but it's not an efficient way of doing business.
The key is to know what metrics you need to watch out for, how to interpret them, and, most importantly, how to access them. Let's introduce you to some tools that will help you with the latter.
4 Tools to Help You Track Your Email Marketing Metrics
Instead of simply throwing a bunch of similar email marketing tools at you and helping you choose one, we've decided to cover different aspects of the email marketing process, with a bit of overlap. You can choose to use most of them separately, or combine them based on your needs.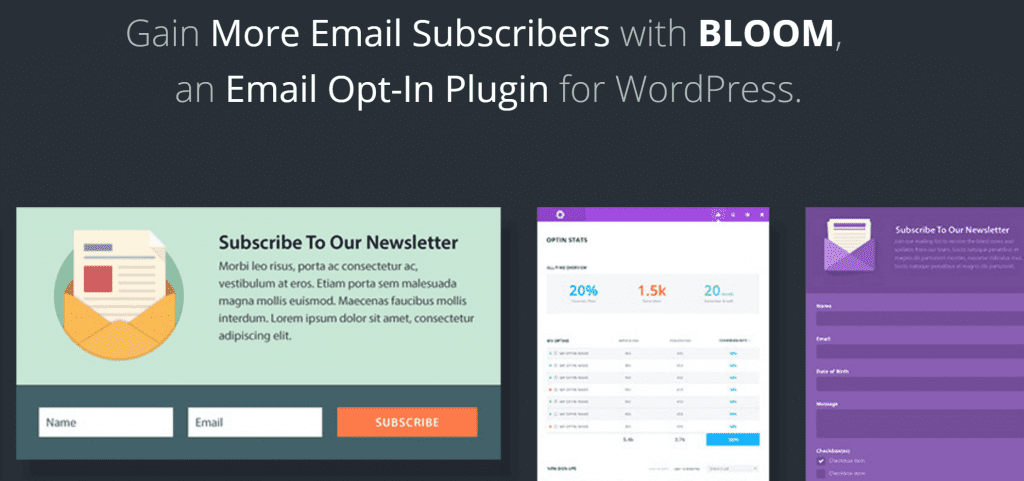 Before you can actually track your email marketing metrics, you need to build an email list. For Elegant Themes members, our email opt-in plugin Bloom enables you to do that by providing you with a plethora of styles to choose from. It supports pop-ups, inline, and widget opt-ins, among others. Furthermore, you get access to a robust analytics system to track your success in converting users to your email list.
Key Features:
Enables you to create opt-ins in six different style types, and over a hundred templates.
Lets you customize the behavior of your opt-ins according to your needs.
Integrates with all of the major email marketing platforms.
Helps track performance with an analytics system.
Offers A/B testing for increased conversions.
Price: $69 | More Information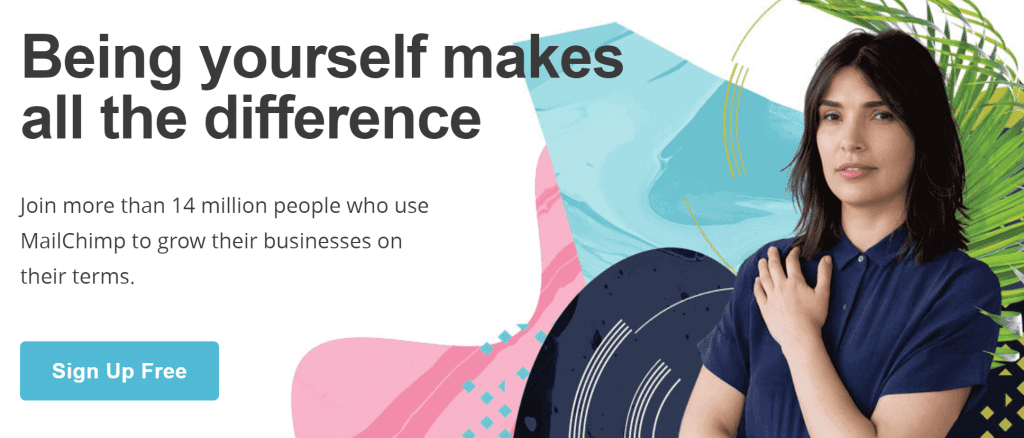 MailChimp is one of the biggest names around when it comes to email marketing. They offer a wide variety of features that enable both small and large businesses to run their email marketing needs from a single platform. MailChimp's platform is built on top of four key functions: a simple campaign builder, powerful email automation features, robust analytics, and hundreds of integrations with other platforms.
Key Features:
Enables you to build email campaigns using dozens of templates and a drag-and-drop system.
Lets you automate every aspect of your campaigns, including their frequency and targeted users.
Integrates with hundreds of third-party services, including most major e-commerce platforms.
Includes a robust analytics system, which enables you to track dozens of email marketing metrics.
Supports A/B testing.
Price: FREE | More Information

In some ways, Benchmark Email is a very similar tool to MailChimp. They both enable you to create email campaigns, grow your audience using analytics, and integrate with tons of other services. In fact, the similarities don't stop there. They also offer similar pricing tiers, and share a lot of minor functions. We would go as far as saying that choosing between Benchmark Email and MailChimp is a coin-toss. Try out both their free plans and choose your favorite from there.
Key Features:
Enables you to build email campaigns using templates and an intuitive builder.
Lets you segment your email audiences and automate outreach.
Integrates your email marketing with dozens of third-party services.
Tracks the performance of your campaigns through analytics.
Offers split tests improve your campaign's effectiveness.
Price: FREE | More Information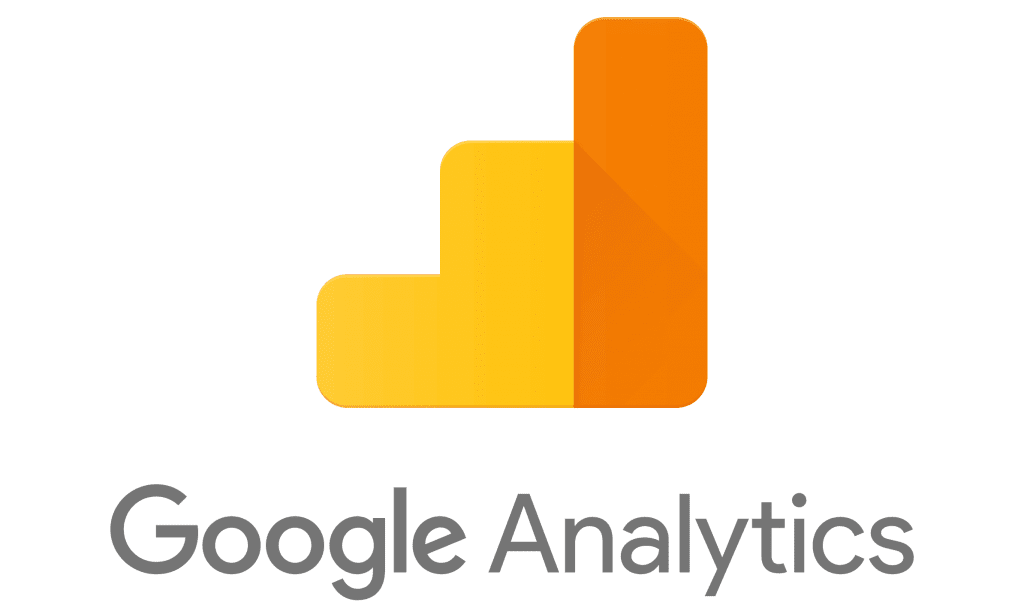 All of the tools we've covered so far offer analytics tracking, but they're outclassed in that aspect by Google Analytics (GA). Admittedly, you'll need to use another tool to actually set up your email campaigns, but that's a small price to pay for the sheer amount of email marketing metrics GA enables you to track.
Key Features:
Integrates with email campaigns, websites, and apps.
Supports dozens of relevant email marketing metrics.
Enables you to set up multiple conversion goals and track them.
Price: FREE | More Information
10 Email Marketing Metrics You Should Track
Each email marketing campaign is unique, but regardless of which tools you use or the approach you take, chances are you will come across these metrics sooner or later. We have a lot of ground to cover, so we've kept each section short and to the point. Keep in mind: you can always check back here later on, so you don't need to memorize all of them right away.
1. Open Rate
The first and simplest metric you should track is your open rate. Not every recipient will open every campaign you send, but those who do make up your open rate percentage. If your open rates appear to be on the low-end side of things, don't panic. Most email marketing campaigns average a little over 30%.
When it comes to open rates, the main factor that influences readers is your title. If you don't come up with a compelling subject line for your emails, chances are people are going to ignore them (or even flag them as spam). Once you have a compelling title in mind, you can set up open rate tracking using MailChimp.
2. Click-Through Rate
Click-through rates refer to the number of people who click on any links included in your email campaigns. To arrive at this figure, we take our total views for any given campaign, and calculate the percentage of visitors who went on to another page after clicking.
Every well-made email campaign should have a specific goal. It can be to achieve sales, provide users with relevant content, or even to get them to come back to your site, among others. Each goal should also include at least one call-to-action, and if users aren't clicking on it, chances are there's a problem with either your copy, design, your call to action – or even all three.
That's a lot of ground to cover, but we're going to point you to some excellent guides to get started on fixing each issue:
As with our last metric, MailChimp also enables you to track your click-through rate.
3. Clicks per Link
Your click-through rate only provides you with information about how many people clicked on any given link within your email. If you want to go a bit more in-depth and figure out which links people click on, this is the metric you want to track. The upside here is you can determine which content your readers prefer, and use that information to improve future campaigns. For information about how to set clicks per link tracking up, check the previous metric – it's included in the same MailChimp tutorial.
4. Conversion Rate
As we mentioned earlier, every good email campaign needs a goal – whether that's to achieve a sale, or just to get more clicks and visits on your website. When it comes to marketing, we say we 'convert' a user each time we succeed in these goals. Your conversion rate tracks the percentage of users that you've managed to convert.
The importance of this metric is self-evident. Each time you succeed in converting a new user, you're one sale or visit closer to success (depending on what your goals are). To track this metric, you need to define what your goals are, then set them up using your favorite email marketing tools. Sadly, MailChimp does not include goal tracking functions in its free plan, but Google Analytics does. You can integrate both platforms, then set up goal tracking inside of GA.
5. Bounce Rate
When we talk about bounce rate, we're referring to the percentage of users who open your email campaign, then leave without any interaction (besides maybe scrolling through). That means they don't get a chance to read through your copy, or click on any of your links.
MailChimp enables you to keep track of users who bounce, and can even remove them from your list automatically if the behavior persists over time. If you're not interested in the latter feature, Google Analytics has got you covered with plain old bounce rate tracking.
6. Unsubscribes
This email marketing metric needs no introduction. From time to time, users will unsubscribe from your email list. Maybe they didn't find your content relevant, or they just were tired of receiving too many emails. Either way, it's hard to figure out the exact reason why people unsubscribe, but you can work to minimize that rate by keeping the quality of your campaigns up.
Naturally, this metric is dead simple to track. Most email marketing platforms will include it in your main dashboard, but just in case, here's a guide to checking it out using MailChimp.
7. Spam Complaints
Spam complaints are one of the most dreaded parts of managing any email campaign. Essentially, it's what happens when a recipient reports your email as spam. Your email marketing platform likely keeps track of these reports, and if they climb too high, they might even take action against your account.
To be fair, most people only report emails as spam when they're either very low quality or pushy about their sales goals – so our advice about keeping the quality up earlier rings true here too. If your email campaigns are receiving more spam complaints than the norm, you have a big problem on your hands. MailChimp dedicates an entire section of its service to providing you with up to date reports about spam complaints.
8. Forwarding Rate
If a user shares your email campaign with someone else, they become a part of your forwarding rate. As you might suspect, this rate is calculated by taking the total number of subscribers and figuring out the percentage of those who forwarded on your email.
Your forwarding rate is a particularly interesting metric, since it reflects a level of enthusiasm for your content that rises above the norm. If someone decides to share one of your campaigns, you can be certain they consider its content relevant. As for how to track it, MailChimp enables you to add a Forward to a Friend link in your emails, which will offer a simple figure on how many people used it.
9. Time Spent
As its name implies, this metric refers to the amount of time that a user spends checking out your campaign. Your email marketing platform adds those times to work out an average, which is the rate of time spent within your emails.
Naturally, the longer users spend on your emails, the better. It means they're paying close attention to your content, and in all likelihood, may be more willing to convert. Google Analytics enables you to track this metric by going into the Audience > Overview section on your dashboard. Here, keep an eye out for the metric that says Avg. Session duration.
10. List Health
A healthy email list should have as few inactive recipients, bounces, spam complaints, and unsubscribes as possible. Think about list health as a composite of several of the email marketing metrics we've covered so far. If you can manage to keep them at reasonable (or healthy) levels, we can say that your list is healthy.
Since this metric is made up of multiple smaller ones, there's no straightforward way to measure it. As long as you keep an eye out for the four individual metrics we mentioned earlier, you should be set.
Conclusion
Email marketing is not a walk in the park, and succeeding in this field will require that you become familiar with a tool or two – as well as several trackable metrics. It might take some time, but this piece has offered a guide to those tools and metrics that warrant your time the most.
Let's recap the tools we've featured quickly:
Do you have any questions about tracking your email marketing metrics? Subscribe and share them with us in the comments section below!
Article thumbnail image by nerucci / shutterstock.com.