The Visual Builder Comes To The Divi Builder Plugin
We are excited to announce that the Divi 3.0 Visual Builder is now available in the latest version of the Divi Builder plugin, bringing visual front-end website building power to any WordPress website and any WordPress theme.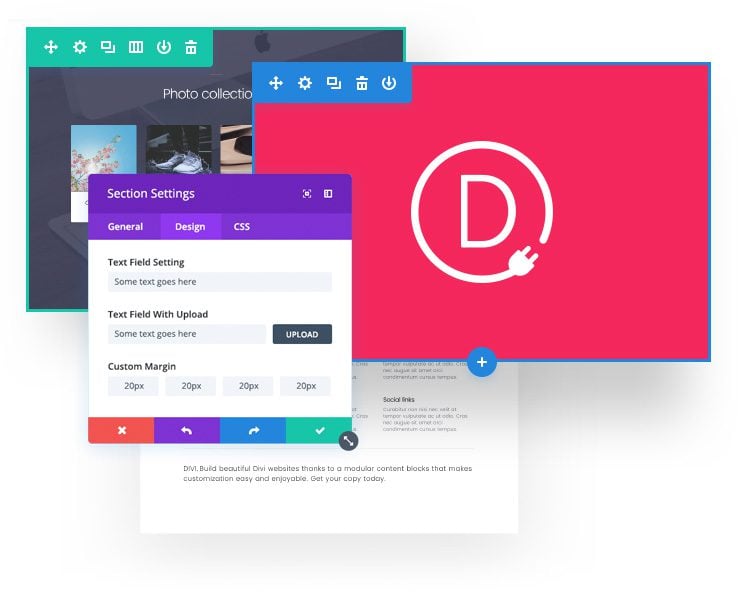 5 months ago we released our biggest Divi theme update yet, Divi 3.0, including the all new Visual Builder. The introduction of the Visual Builder was a revolutionary change for Divi, allowing users to design pages visually on the front end of their websites. Since its release we have been working incredibly hard to make the Visual Builder better, faster and more reliable. We have updated Divi 35 times since then. The Visual Builder of today is a far cry from what it was just a few months ago, and it's only getting better. We have been putting the Divi Builder through some incredibly in-depth testing to ensure that the Visual Builder will work great with all of the most popular WordPress themes on the market. It's through this testing that we were able to identify so many areas in need of improvement and fix them over the past few months. We couldn't be happier with the results.
So after much testing and perfecting, we are super excited to release version 2.0 of the Divi Builder plugin, now with the all new Visual Builder. Say hello to the ultimate visual design tool for any WordPress website.
Take The Visual Builder For A Test Drive
Works With Any Theme
The Visual Builder is now available for any WordPress Theme. This means you can use any theme you want, or even switch to a different theme from Divi, without having to sacrifice any of Divi 3.0's amazing functionality.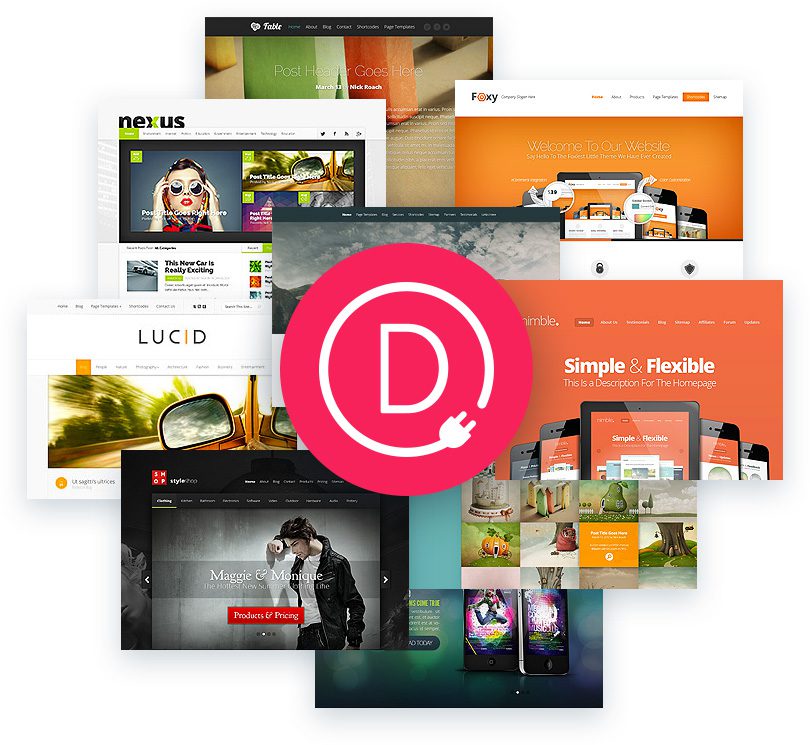 Now any WordPress theme can enjoy the power of instant visual WYSIWYG design. If you are using one of Elegant Themes's many themes, but wish you had the power of Divi, now you can! Simply install the Divi Builder plugin and you can use the builder's full suite of visual design tools to create stunning pages on any WordPress website.
Take The Visual Builder For A Test Drive
Enjoy The Power Of Instant Visual Web Design
The visual builder allows you to make changes to your website…on your actual website! Click into a paragraph and start typing. Highlight some text and adjust the fonts and styles. Drag an element and watch it move. Add new items from any of Divi's 40+ content modules, adjust module settings, save and load items from the library and see everything happen instantly. No page refreshes, little to no Ajax loading bars and absolutely no need to "preview" your changes because everything is happening in real time on your page.
Instant Content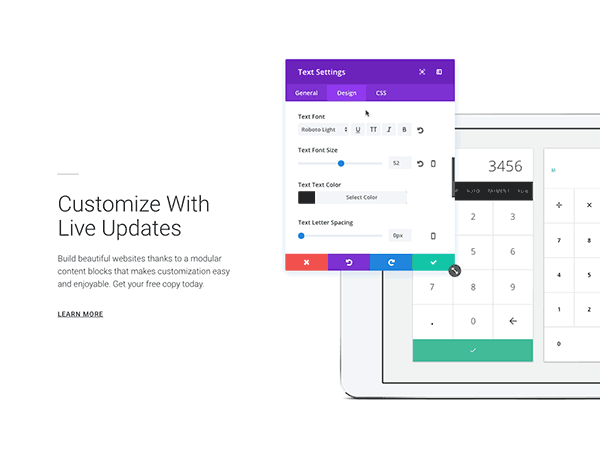 With the Visual Builder, you can build your website visually on the front end of your site. When you add something to your page it appears instantly. No page refreshes or loading bars, just instant gratification! The guesswork involved with designing in the back end is gone and there is no longer a need to preview your work as you design your page since everything is happening instantly right before your eyes.
Easy Inline Editing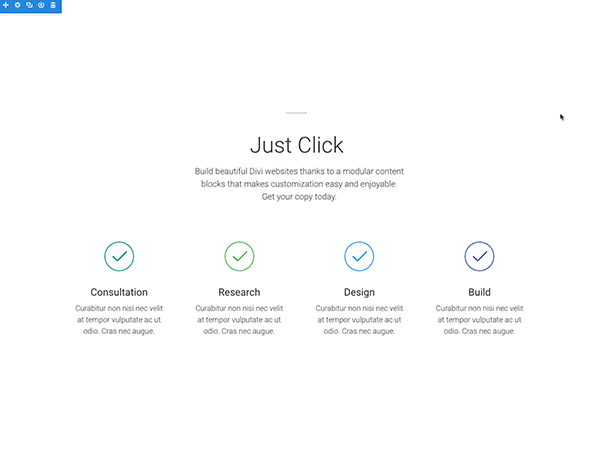 The Visual Builder comes with its own text editor that makes inline editing enjoyable again. If you want to add some text to your page, just click and start typing! Want to change the font, size or color? Highlight some text and make the adjustments right on the page.
Drag, Drop & Duplicate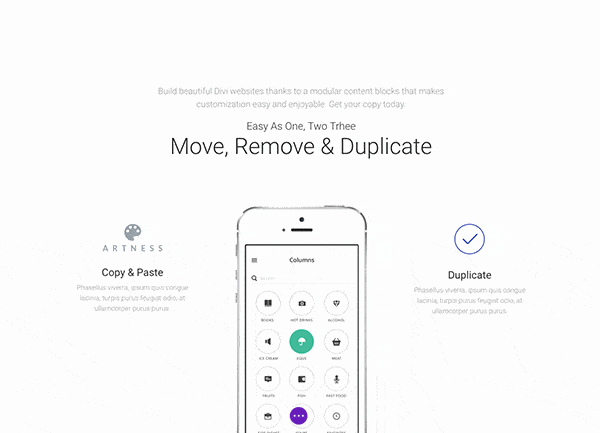 No builder would be complete without drag and drop, and this Visual Builder is no exception. It's easy to arrange elements on your page by simply dragging them from one location and dropping them into another. You can cut, copy and paste elements too.
Draggable Padding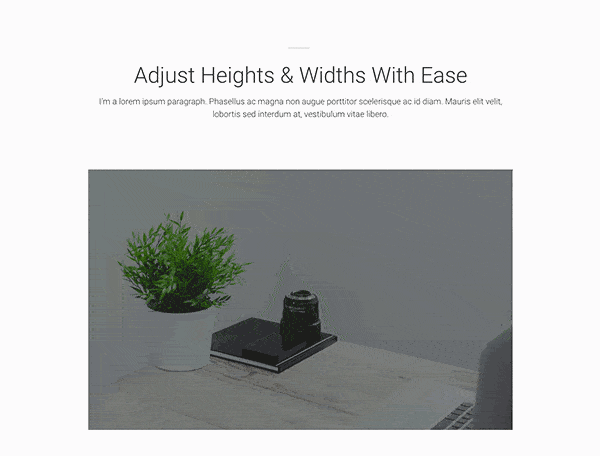 Now you can adjust the width, height and spacing between elements with a drag of the mouse. This is where the Visual Builder really shines, allowing you to make important design decisions in the best way possible: visually. Good white space is the cornerstone of every great design, but how would you know that your site is cluttered without looking at it? Design should not be done in the dark, and now it doesn't have to be.
Divi Builder Sync, Auto Saves & Browser Backups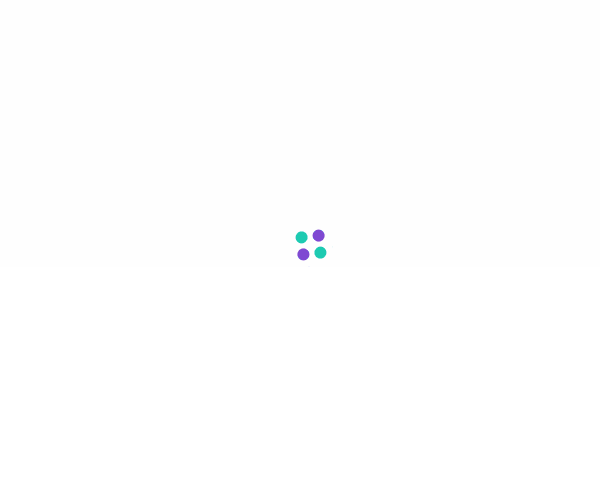 If you are still partial to the original Divi Builder, don't worry. Divi Builder Sync allows you to use both the new Visual Builder and the original Divi Builder at the same time in different tabs! Add content to your page in the back end builder and then make visual adjustments in the Visual Builder. The Divi Builder will keep everything in sync while you design your page.
The Visual Builder also automatically saves your work and keeps backups of your changes in your browser just in case you forget to save, your browser crashes or your internet goes down. For WordPress professionals, there is nothing worse than having your precious time wasted due to technical errors. Now you can rest assured knowing that the Divi Builder has your back.
Time Saving Keyboard Shortcuts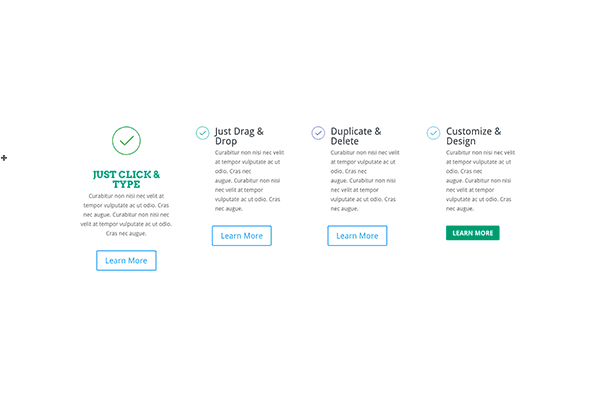 We have added an amazing list of keyboard shortcuts to the Visual Builder, allowing you to shave off hours of development time when building new sites with Divi. Pretty much every keyboard shortcut you would expect to work will work. Copy and paste, save and publish, zoom in and out, toggle through tabs and more. There are some more advanced shortcuts as well, such as: Copying and pasting styles, changing row widths, mirroring draggable padding, changing column structures, and adding new contents. These keyboard shortcuts, combined with the insane speed and visual nature of the new builder make for a perfect match of form and function.
Responsive Editing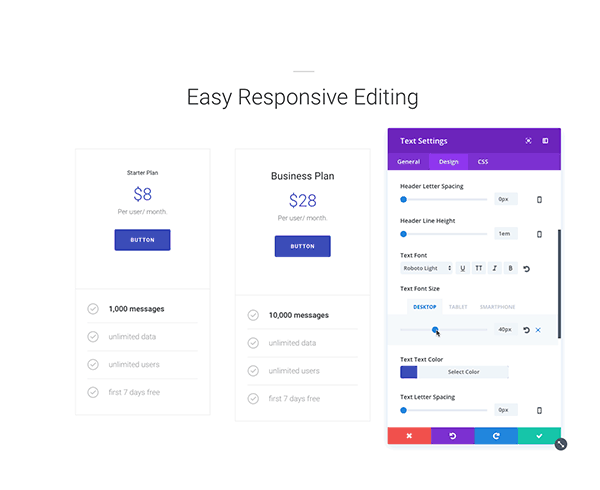 Responsive editing is better than ever when using the Visual Builder. Once responsive editing has been enabled, the Visual Builder automatically displays the content as it would appear on a mobile device, allowing you to make adjustments with the necessary visual context.
Take The Visual Builder For A Test Drive
Now Better & Faster Than Ever
Over the past 5 months we have been hard at work improving the Visual Builder. We have added new features and made it faster and more reliable. The Divi Builder plugin is getting the best version of the Visual Builder yet!
We have been busy since the release of Divi 3.0. Our whole team has dedicated themselves to improving the Visual Builder, fixing bugs and adding great new features such as: Divi Builder Sync, Keyboard Shortcuts, Copy & Paste Styles, Auto Saves, Browser Backups, Failed Save Detection, Improved Performance and more. We have updated Divi 35 times and made hundreds of improvements. It's really a joy to use the Visual Builder, and it's only going to get better!
Take The Visual Builder For A Test Drive