Custom Field Integration And
GDPR Compliance Tools
Divi now supports the ability to create custom email optin forms, including complete integration with all Divi email providers. This makes it easy to add GDPR compliance checkboxes, as well as create custom list segmentation and email autoresponders.
Today we are excited to announce custom field integration for the Divi Email Optin Module and for Bloom. You can now add custom input fields of various types and collect new pieces of information from your email subscribers when they opt in to your list. This data can then be used for list segmentation and email automation, as well as for recording GDPR consent. Our products have also received several additional updates to help you more easily comply with the GDPR and other data privacy regulations. Our goal is to provide our customers with the tools they need to feel comfortable with the way they comply with the GDPR, but we don't recommend rushing into using these options without first considering why you are using them. Ultimately it's up to you, and it will depend on the way you are using the data you collect.

Custom Field Integration For
All Email Providers
Add custom fields to your email optin modules and collect additional information from your subscribers.
Automatic Custom Field Detection
Divi and Bloom support 20 different email providers. These are the providers you use to manage your email list and to send emails. Each service works differently, but all of them support the collection of custom data. This data is collected using custom fields – additional input fields that you add to your opt in form to collect more information from your subscribers.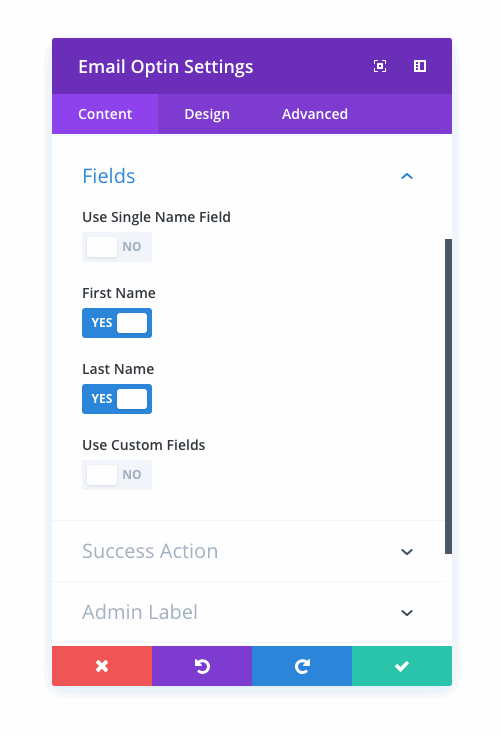 Divi and Bloom are now fully integrated with all 20 email providers and will automatically detect when you create custom fields within the email provider's system. When a custom field is added to a list, you will have the option to add that custom field to your opt in form. When a subscriber fills out your form, the information collected by your custom fields is saved to their subscriber profile. Several different input types are supported:
Text Input
Textarea Input
Checkboxes
Radio Buttons
Select Dropdowns
You can learn more about how to add custom fields to Divi in our latest documentation article.
Note: The new custom fields UI is currently only accessible in the Visual Builder.
Segment Your Lists Using Custom Fields

Using custom fields to collect additional information from your subscribers has a lot of uses. Perhaps the most important is list segmentation. Using the data you collect, you can organize your list into different groups and send different people different sets of emails based on their different interests. You can also use custom data sets to create email autoresponders that send customers automated emails based on the information they provide. For example, if someone signs up using a specific form with a specific custom field, you could set up an autoresponder to automatically send that person a freebie or a deal. This is where the power of email marketing really shines, and it's only possible using custom fields!

New GDPR Compliance Options
Divi has new options that will help you comply with the GDPR, including compliant consent checkboxes and reduced data collection.
Consent Checkboxes
Some of our customers have expressed the desire to add mandatory consent checkboxes to all Divi forms that collect and transmit visitor information, such as the Email Optin Module and the Contact Form Module. While this probably isn't necessary for most users, we want to make sure that everyone has the tools they need to feel comfortable with the way they are complying with the GDPR. Before rushing in and adding consent checkboxes everywhere, we encourage you to consider why you are adding them. In most cases, they probably aren't necessary and there are many lawful baseis for collected data under the GDPR. In fact, ICO discourages the use of consent when possible since it is more burdensome on both the data collector and the user.

Regardless, fully compliant consent checkboxes are now available in Divi and Bloom thanks to the above mentioned Custom Fields Integration. This allows you to not only add consent checkboxes to your form, but also keep a record of consent for each form submission in your email provider's subscriber records. This is a very important feature for those that wish to use consent as their form of lawful data collection, and something that many themes and plugins tend to overlook. This is the reason we went above and beyond with our email provider integration, to make sure that you are recording consent and not relying on a static checkbox.
Form Input Field Links

When adding custom checkbox fields to the Email Optin Module or the Contact Form module, you will now have the ability to attach links to the input label. For those that want to use checkboxes to record consent for their form submissions, these checkboxes will need to link to your website's privacy policy. Adding such links is now quick and easy.
Reduced Data Collection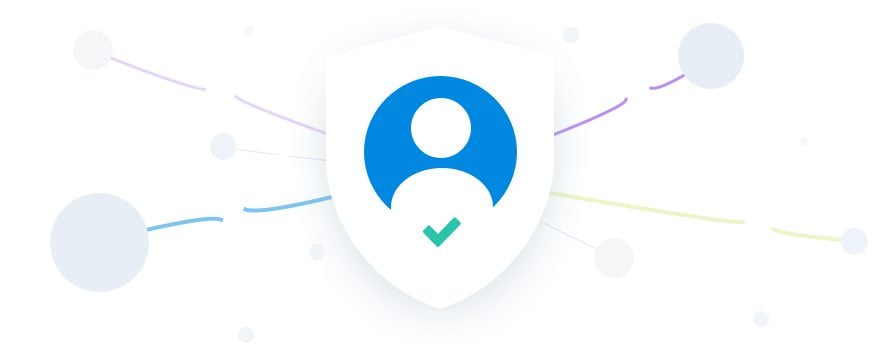 In order to make it easier for our customers to comply with the GDPR and other data privacy regulations, we have audited and reduced all of the data collection that Divi performs. This was pretty easy since Divi didn't really collect any data on your visitors in the first place. The only exception was with the Divi Leads Split Testing System, which used IP Addresses to determine which visitors should be served which version of your split test. In the new version of Divi, IP Address recording has been removed, so you don't need to worry about that.
Third Party Script Removal

Some of our customers have expressed concern about using third party scripts on their website. Divi uses Google Fonts to allow you to use custom fonts on your website. We also allow you to enter your Google API key to use Google Maps in the Divi Maps Module. Both of these integrations can now be disabled in the Divi Theme Options.
If you do not want to use Google Fonts, but you still want to use custom fonts on your website, don't worry! Divi allows you to upload custom fonts in the Visual Builder. You can download your favorite fonts from Google Fonts and then upload and host them on your own website instead.
All of these great new updates are available today, so download Divi and take them for a spin. Let us know what you think in the comments, and don't forget to check back next week for even more great Divi features coming your way.