MailPoet Newsletters isn't your typical newsletter plugin.
Unlike MailChimp or AWeber, MailPoet enables you to create newsletters and manage lists from within the WordPress dashboard. It's a truly native WordPress solution for managing your website's email marketing campaign.
MailPoet has a number of great features and offers a premium version with extended capabilities. It's no wonder it's one of the (if not the) most popular WordPress email marketing plugins.
In today's plugin review, we'll start by taking a look at MailPoet's features, then explore the benefits and drawbacks that arise with WordPress-native email marketing platforms.
About MailPoet
MailPoet is a native email marketing solution for WordPress that enables users to create newsletters, automated emails, new post notifications, and autoresponders. The plugin also comes with a widget that can be placed on your site to capture new subscribers.
MailPoet says it aims to make email marketing "fun, not frustrating". It was born from a desire to send great-looking emails without you having to leave WordPress and immerse yourself in an alien interface. To date, the plugin has racked up some 3.6 million downloads and boasts 200,000 active installs.
MailPoet Newsletters originally launched in 2012 as the Wysija Newsletters plugin, an acronym for What You Send Is Just Awesome. As the MailPoet plugin has risen to the top of the WordPress newsletter plugins, the MailPoet company has grown to a distributed team of 13 team members spread across nine countries. The MailPoet website boasts that the team speaks a total of seven languages – a fact that may have helped MailPoet add language support for nearly 30 languages so far.
Key Features
MailPoet is first and foremost a newsletter and automated email marketing plugin, so it makes sense that those are its key features. We'll cover the functionality of each now.
Newsletters
Getting started with MailPoet's newsletter builder is a piece of cake.
The plugin comes with a sample newsletter saved as a draft. It's called "5 Minute User Guide", and that's exactly what it is.
Even if I hadn't used other drag-and-drop newsletter builders or watched a six-minute getting started video that is embedded into the activated plugin's welcome screen, I doubt I would've had any trouble getting started with building my first newsletter.

Working with newsletters in MailPoet is fairly self-explanatory. When you edit a draft or create a new standard newsletter, you're prompted to create a subject line and choose a list.
Next, you build your newsletter in the drag-and-drop editor. As you move your cursor across the editor screen, you'll notice that nearly everything is clickable or draggable. A box of content widgets off to the right lets you add titles, plain text, WordPress posts, dividers and social bookmarks. You can add to an image repository in another tab for easy access to logos or other frequently used images.
Styling options include colors and fonts for all elements. Font options are somewhat limited, owing to the fickle nature of email programs. Themes, however, are not. There are several dozen free themes, which include not only layouts, but also PSD files. Premium users can choose from an extended collection of themes, also with PSD files included.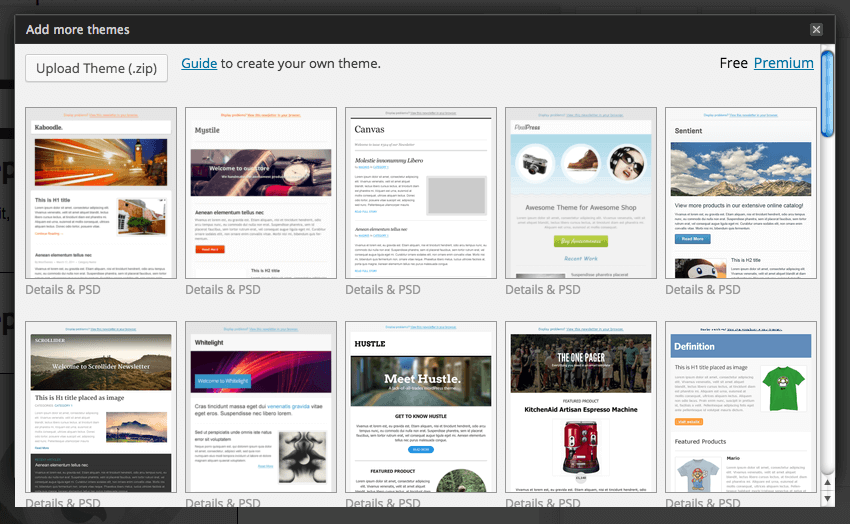 Finally, you have one last opportunity to review your sending details, set up Google Analytics to track your campaign (for premium users), then schedule or send your email. One thing missing here seems to be the ability to edit the email's preview text snippet. This has become a great place to get creative and grab the attention of subscribers with your marketing.
Post Notifications
MailPoet's Post Notifications feature might be familiar to you by a different name, such as "email alerts" or "RSS-to-email". Regardless of what you call it, this feature lets you automate newsletters to go out when you publish new WordPress posts. You can set up regular posts to go out every time new content goes up, or alternatively on daily, weekly, or monthly schedules.
The MailPoet team have done a good job with this feature, enabling what content goes out and what it looks like very customizable, yet very easy to set up. I'll let Kim from MailPoet tell you more about how that works in this two-minute clip below.
<iframe src="https://player.vimeo.com/video/46247528″ width="615″ height="348″ frameborder="0″ webkitallowfullscreen mozallowfullscreen allowfullscreen></iframe>
Autoresponders
MailPoet also lets you set up two other types of automated emails besides post notifications. Automatic emails can be triggered when:
a visitor subscribes to your list, or
when you add a new WordPress user.

The email can be sent immediately or held back any number of hours, days, or weeks. For WordPress users, automatic emails can be triggered for specific roles.
Subscribers
MailPoet's List and Subscribers dashboard has all the basics you need to manage an email list, as well as a few perks I wasn't expecting.
Individual subscribers and whole email lists can be added as promised by MailPoet in only two steps. You can then sort or move subscribers into separate lists. I was surprised by MailPoet's import and export options, which let you work with your list in either a CSV or Excel file format.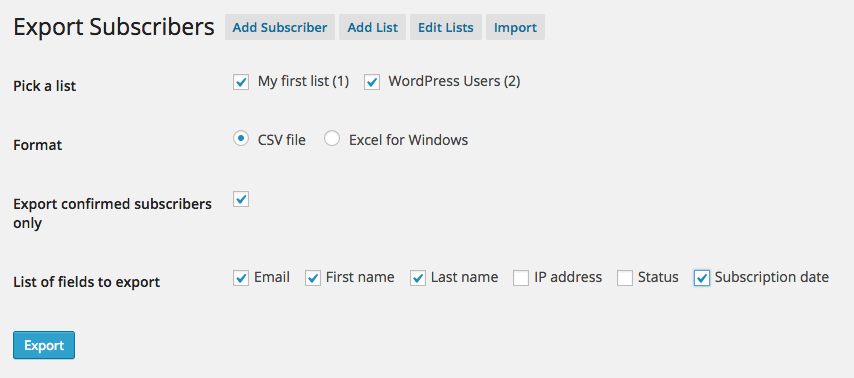 Still, I have to admit, I'm not keen on managing email lists inside of WordPress. After all, they constitute such a valuable asset for blogs and businesses, I worry about the potential loss of the list from a server issue, or worse yet, having the data stolen in a site hack.
Enterprise solutions such as MailChimp and AWeber aren't immune to hacking, of course. Still, I'm betting they have far better safeguards and redundancies than the average WordPress install. And of course, whether or not you have an email list filed away on your WordPress site, you should absolutely make regular backups and store them offsite.
Statistics
For the free version of MailPoet, analytics are a bit thin, but still actionable.
Free users will be able to see stats for opens, clicks, and unsubscribes on a per-newsletter basis. These metrics show up under the Newsletters tab.
Premium users are rewarded with a much deeper dive into email marketing data. This lovely (and long!) screenshot from the MailPoet team gives you a good idea of what you can expect in the stats dashboard once you've got some data to crunch. You'll also get to see stats for each subscriber and newsletter. Premium users can also tap into the power of Google Analytics, tracking campaigns through their Google Analytics dashboard.
Other Notable Features
Beyond the key features mentioned above, MailPoet offers a number of additional perks for getting the most from your email marketing efforts.
Sign-Up Widget: The plugin's sign-up widget can be configured and ready to go in only two clicks.
Single or Double Opt-In: You have the option to add subscribers to your list immediately, or require an email confirmation (which may be required for certain countries).
Display Optimization: MailPoet has made a point to display your email uniformly for users, no matter what email service or device is used to read your newsletter.
Sending Options: Your emails can be sent through your web host, Gmail, or any SMTP, such as SendGrid, Amazon SES, and Mandril.
List Segmenting: You can segment your mailing list according to opened, unopened, or clicked variables.
Up to 2,000 Subscribers: The free plugin allows you to add up to 2,000 subscribers to receive your newsletters.
Support: This plugin features rather extensive documentation. The MailPoet knowledge base has over 80 in-depth articles.
The premium version extends the features of the plugin quite a bit:
More than 2,000 Subscribers: The premium plugin removes the subscriber cut-off, allowing you to send to more subscribers.
In-Depth Stats: You get a detailed stats dashboard for newsletters and subscribers and the ability to see stats for individual subscribers.
Automated List Cleaning: The premium version adds automatic bounce handling.
Spam Score Test: You can test the likelihood of each of your newsletter drafts to end up in a subscriber's spam folder with this test. You'll get feedback on how to improve your score, too.
Improved Deliverability: The premium plugin lets you validate your emails with a DKIM signature, improving the odds your mail gets to the intended recipient.
Priority Support: MailPoet offers its premium license-holders priority support.
Other Considerations
While I'm finding MailPoet to be a solidly built, easy-to-use, and versatile newsletter plugin, I do have a few sticking points that keeps me from absolutely loving it.
Advanced Email Marketing Options
There are a couple of advanced options missing from MailPost and I'm not sure why.
To clarify, when I say "advanced", I don't mean complicated. These are simple toggle options found in other email marketing apps that can give a huge boost to your message open rates and click-through rates.
Firstly, I mentioned above the inability to edit the preview text snippet. For MailPoet, that text reads:

You've seen this message or a variation of it so many times, you don't even think about it anymore – until someone changes that message into an attention-grabbing hook that gets you to open the message. It can be a very effective trick.
Additionally, there doesn't seem to be a way to conduct A/B or split testing in MailPoet. That sort of makes sense, given that the plugin is focused more on automating your marketing. Split testing usually has to be set up by the email creator, scheduling different delivery times for the same message or trying different email subjects. Automation can play a role though; some programs will send both versions to a sampling of the list, then send the better-performing email to rest of the list.
Data Storage
Another concern I have with MailPoet is something I already mentioned above: storing your list on your own server within your WordPress install.
This situation makes me worry – the same worry I'd have storing my most valuable papers or possessions on the kitchen table rather than locked away in a safe. It's probably fine, unless something unfortunate happens.
A robust backups solution should provide peace of mind, but personally, I feel very comfortable in the knowledge that the likes of AWeber and MailChimp live and die by the reliability and security of their service. MailPoet doesn't (yet) offer me the same reassurance.
Security
Speaking of unfortunate situations, a review of MailPoet wouldn't be complete without mentioning a serious security flaw discovered last year, which eventually led to thousands of websites being hacked. I don't hold this against MailPoet, as there are plenty of other major plugins which have experienced similar issues, and because I think MailPoet acted promptly to patch the vulnerability.
There was some disagreement between Sucuri – the firm that discovered the flaw – and MailPoet over how to tell users about the problem, but here too, I think MailPoet has learned good lessons. In a New Years blog post, MailPoet wrote about the experience and the efforts they've made to improve their product and processes.
The Sending Issue
Perhaps my biggest concern relates to sending emails with all-in-one plugins like MailPoet.
You'll generally need a sending service to handle your newsletters. Two basic options are to use:
your domain host, which will subject you to daily send limits, or
a Gmail account, which isn't really designed for bulk mailing.
Alternatively, MailPoet has built a nice integration with SendGrid, a free SMTP (Simple Mail Transfer Protocol) service, which doesn't even require installing another plugin. Other subscription sending services will also work.
However, there appears to be some exciting news on this topic. MailPoet wrote in a blog post last fall that they are in the process of building the capability to send users' email beginning this year. The difficulties of sending email wasn't lost on MailPoet, which admitted 30 percent of their support questions were on this topic. I for one am excited to see how this development will improve the existing plugin.
Pricing Info
Price is a strong feature for MailPoet, placing it a bracket way under the likes of AWeber and MailChimp.
The free version gives users a good idea of the functionality and performance of the plugin. The extensive documentation also gives users plenty of info and screenshots to know what added features they can make use of after purchasing a license.
Besides the free version, MailPoet has three pricing options:
Blogger License: $99 per year for one license.
Freelance License: $249 per year for four licenses.
Agency License: $399 per year for unlimited licenses.
Walking through the checkout process was also surprisingly easy. The premium version installs a second plugin to add the premium functionality to MailPoet. It's very quick to get going using the premium version.
Conclusion
If you're looking for a flexible, automated and easy-to-use solution, MailPoet is a strong contender for handling your email marketing. It has great customization options; even within the free plugin.
I would recommend this plugin to beginners who are looking for an easy-to-use solution and for WordPress users who really want something that automates in a flash. I'd be hesitant to recommend MailPoet for users with very large subscriber lists, because of the complexities of sending, message delivery, and list storage. However, with the company's new sending service, that might become a non-issue wiin a few months.
I also am looking forward to MailPoet 3, due for release sometime this year. The MailPoet blog notes that they are building the new version from the ground up, and I look forward to seeing what they come up with next.
What do you think about MailPoet, and WordPress email marketing plugins in general? Share with us in the comments section below!