Running a website is great fun and for many it's their livelihood but if you want to make it a success, you'll need to find ways of increasing your readership. There are a number of different techniques you can use to achieve this, from creating email marketing campaigns, to distributing content on social media, and managing RSS feeds.
The trouble frequently is that things can often get a little overwhelming. With so many different channels to manage, it can be difficult to find time to actually create new content! Luckily, there are some great solutions out there, one of which is Feedblitz.
Feedblitz is the only all-in-one service that combines email marketing, social media, and RSS feed management. Find out more about this useful blogging tool below in my comprehensive review.
About Feedblitz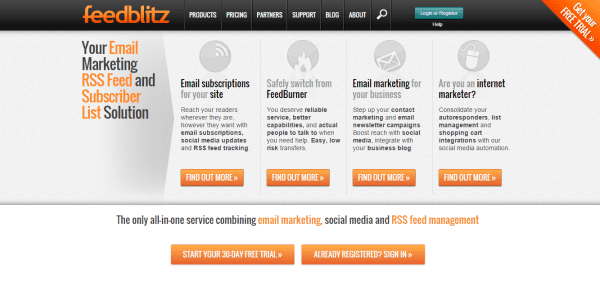 Feedblitz is an integrated RSS, social media, and email marketing system that was founded by CEO Phil Hollows in Sudbury, Massachusetts in 2005. Feedblitz allows blog owners to convert their feeds and blog updates into highly targeted email newsletters, which are then delivered directly to their subscribers via email. Feedblitz also gives blog owners the opportunity to turn their RSS feeds into social media updates for enhanced distribution.
Many people describe Feedblitz as being a better alternative to Feedburner (owned by Google). In fact, Feedblitz uses this claimed functionality gap as a part of its marketing campaigns. Its email marketing functionality has also been likened to services like Aweber and MailChimp. However what sets Feedblitz apart from all of these other services is the fact it offers an all-in-one solution, something that blog owners won't find anywhere else.
Feedblitz openly promotes its product as an alternative to Feedburner
Feedblitz Features
Feedblitz offers a wide range of email marketing and RSS feed management services for bloggers to benefit from. Here we will take a look at some of the key features of these solutions.
Email Marketing 
Simple Email Marketing
Feedblitz has been designed to make email marketing simple. No longer do bloggers have to take time out to create marketing emails and newsletter emails for their blogs. Instead they can automate the process using Feedblitz.
With Feedblitz, you can automatically create mailings from your blog, so that emails are sent out every time you share a new post. You can also manage multiple mailing lists, filter by content preferences, and tailor your settings around your audience's needs.
After publishing great content on your blog, the idea is that you share it as much as possible to attract new and existing readers. Feedblitz makes this easy by allowing you to automate social media sharing on Facebook, Twitter, LinkedIn, Google+, and other social media websites.
You can also embed social sharing buttons automatically into your marketing emails and RSS feed so that readers can share the content they like with their own followers. Don't forget to add social sharing buttons to your website as well. You can do that with our Monarch social sharing plugin for WordPress.
Powerful Scheduling
Although Feedblitz is designed to automate RSS to email processes; you will remain in full control of your content. In addition to providing comprehensive RSS to email scheduling options, Feedblitz also lets you schedule, send, and track traditional newsletters and email blasts.
Monetization Options
If you're taking blogging seriously and looking to make some money from it, you may be interested to know that Feedblitz provides a number of monetization options. Using its own email and RSS feed ad network, you'll be able to monetize your marketing emails and RSS feeds by including adverts.
Feedblitz also has its own affiliate program, which you may be interested in joining if you wish to earn money from your blog.
Subscriber Management
One of the great aspects of Feedblitz is that it makes subscriber management simple. You can import your subscribers from FeedBurner and other third party tools, without forcing anyone to re-subscribe to your blog.
In addition to this, you can also grow your subscriber list with FeedBlitz's shopping cart and third party form integrations that allow you to capture new leads in various places on your blog or website.
Once you have an established list of subscribers on Feedblitz, you'll be able to target your mailings using its advanced capabilities, which include audience segmentation.
Autoresponders
Like other email marketing services, Feedblitz has an Autoresponders feature, which is designed to help you automate your sales funnel and reward subscribers based on certain triggers.
RSS Feed Services

Engagement Tools
Feedblitz comes with a number of different tools that allow you to increase subscriber engagement within your RSS feeds. These tools include integrated comments, smart summary, and related posts.
Brand Your RSS Feed
If you have your own domain, you'll be able to serve and brand your RSS feed so your RSS subscribers belong to you. This means that if you decide to stop using Feedblitz in the future, you'll be able to redirect your subscribers so you don't lose them.
RSS Reporting
Feedblitz offers comprehensive RSS reporting that gives you a complete picture of your feed's circulation. From the reports, you will be able to gather a wide range of information from how many subscribers you have, to how many people are sharing your content via social media.
Benefits Of Using Feedblitz
With so many great features, it's easy to see why so many bloggers are signing up to Feedblitz. The integrated RSS, email, and social media system provides a wide range of benefits, some of which we have listed below.
Increase Blog Reach
One of the key benefits of using Feedblitz is that you'll be able to extend the reach of your blog thanks to its automated email and social sharing capabilities.
As the blog owner, you remain in full control of the channels that distribute your content and can choose from various different options from email and feed readers to electronic newsletters and social media sites like Facebook, Twitter, Reddit, StumbleUpon, and LinkedIn.
What's even better is that Feedblitz lets subscribers decide where they'd like to read your blog posts. When they subscribe to your blog, they'll have the option to choose from a list of channels including email, Twitter, Facebook, LinkedIn, Skype, and instant messaging services from the likes of AOL, Microsoft, and Yahoo.
Save Time And Effort
Using Feedblitz can save you a significant amount of time and effort when it comes to managing your blog subscribers and ensuring they find your new content. By automating the processes, you can spend more time on creating fantastic content for your blog and have the peace of mind that new and existing readers will be able to find it with ease.
Real Time Reporting
Another key benefit of using Feedblitz is its real time reporting tools. These tools allow you to gain a valuable insight into how readers are interacting with your RSS feed and emails. The reports are regularly updated with subscriber numbers, as well as information such as how many click-throughs your emails received and how many people have shared your posts via your RSS feed.
You can also gain information about interactions with your social media updates to get an idea of the type of content your readers enjoy reading the most.
These valuable insights provided by Feedblitz give you a great overview of your blog's performance and can also help you make better informed content decisions in the future.
Compatibility
Feedblitz is a highly compatible system. Whichever blogging platform you use, Feedblitz will be compatible e.g. Blogger, Drupal, Joomla, SquareSpace, TypePad, or WordPress, and more.
All Feedblitz users will need to know is their feed XML URL in either Atom or RSS.
Great Support For Set Up And Migration
One of the main issues bloggers face when using Feedburner is that it is not supported. This means, if they have any problems with their feeds, there's little they can do about it.
The good news is that Feedblitz is fully supported. The team behind the blogging solution provide support via email ([email protected]) as well as over the phone. They have also created a dedicated Knowledge Base, where you can find answers to popular questions about Feedblitz and also ask questions that haven't already been answered.

In addition to these support services, Feedblitz also offers a 'Help Me Now' service. This service is designed for bloggers who need help setting up their Feedblitz account or migrating their subscribers from another service like Feedburner.
Outstanding Deliverability
Feedblitz has a great sender reputation and takes best practices seriously to ensure your marketing emails reach your subscribers' inboxes. There'll be no limits on your mailings and no issues with blacklists, as Feedblitz is CAN-SPAM compliant.
Pricing
Feedblitz is currently offering a free 30 day trial to new publishers. You can either opt for the RSS only trial or the RSS and email marketing trial. I suggest going for the RSS and email marketing trial since it's free. If you decide that you don't want to use the email marketing tools after the thirty days is up, you can simply cancel and continue using the RSS feed management for just $1.49 a month.
If once the free 30 day trial is up, you do want to continue using the email services; you'll be moved to a monthly subscription. The amount you pay all depends on how many unique, active email subscribers you have. Feedblitz does not charge you for pending, deleted, or unsubscribed readers. Prices start at $1.49 a month for 0-9 subscribers.
The great thing about using the paid-for premium service is that ads won't be placed in your emails. Only active email subscribers are taken into account for pricing, so it doesn't matter how many RSS subscribers you have. Feedblitz automates subscriber management, so you don't have to worry about removing deleted or unsubscribed readers from your account to lower your fees. See below for the full list of prices.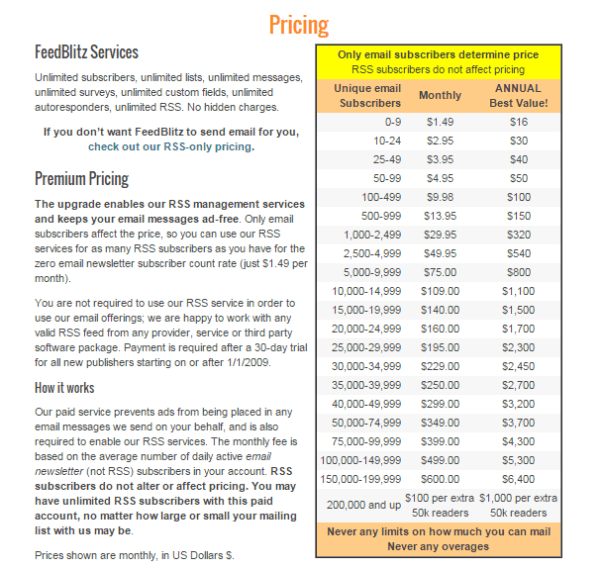 If you just want to use the RSS feed management tools and have multiple feeds, you'll need to refer to the prices in the table below instead.
| | |
| --- | --- |
| RSS Feeds | Annual Fee |
| Up to 25 | $15 |
| Up to 100 | $49 |
| Up to 250 | $99 |
| Up to 1,000 | $299 |
| Unlimited | $499 |
Wrapping Up
If you're looking for an easy way to manage your blog subscribers and extend your readership, then Feedblitz provides a fantastic all-in-one solution. It's a great alternative to some of the other RSS feed managers and email marketing solutions out there, as it can do it all for a very reasonable price.
While users may feel overwhelmed with the amount of information shared on the Feedblitz website, the actual sign up and set up processes are fairly straightforward. It is definitely worth making use of the 30 day free trial to see if it's the service for you, as you are not tied into a contract and can simply cancel it if you wish to.
Article thumbnail image by venimo  / shutterstock.com