Let me ask you one question:
How's the conversion on your site?
If your ears are now drooping and you suddenly feel the need to go skulking off to wallow in self-pity as you begin to ponder those numbers — don't.
Conversion is one of those things that just about every business and business owner wants and needs to improve so you're not alone if you look at your conversion goals and see that the reality of them coming to fruition is a bit far off.
The chances are that the reason behind that low conversion rate of yours that is just limping along is due to the fact that your posts and pages lack that little extra oomph to tip the scales in your favor.
That extra oomph is called Copywriting, and it's actually much more important than you think.
Not long ago, we covered the topic of what copywriting is, and now we wanted to cover where you can learn a bit more about it.
7 of the Best Blogs for Learning Copywriting as a Soloprenuer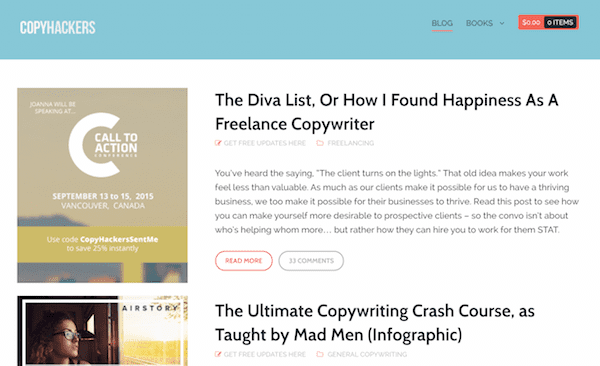 Okay. Time for a truth session:
I LOVE Joanna Wiebe — the main head honcho behind the mighty Copy Hackers blog.
I own every single one of the e-books Copy Hackers has made (seriously, some of the best money I ever spent) and in the first 5 sentences of her book, Where Steller Messages Come From she instantly changed the way I create copy:
You're not selling a product. You're not selling a service… [Y]ou're selling your prospects a better version of themselves. — Joanna Wiebe, Book One: Where Steller Message Come From, Copy Hackers
I swear when I read that it was like my eyes were opened and I could see the light.
It's that kind of eye-opening, in your face, easy to digest but totally butt kicking information that you'll find on her blog.
Joanna's focus is on conversion copywriting for the web. Her tips, courses, books, and blog all focus on teaching businesses the art of copywriting so that they can succeed with making their online ventures profitable.
Notable posts on the blog:
If you've never heard of Copyblogger, then you're about to get really, really happy.
As the name would suggest, Copyblogger focuses on how to write great copy for the web. However, much of what they have to offer will teach you the basic fundamentals of copywriting in general.
Although the blog is packed full of massively informative content on writing better content for the web (including some podcasts you might find of interest), one of the best features that they bring to the table is the 16 free e-books and a 20-part internet marketing course.
These books including titles like:
All you have to do is sign up for their free membership and then read these books so they can rock your world.
I wish I had them all printed as books so that I could scribble notes and dog-ear the pages that I re-read and reference all the time.
On a serious note, though, if you really want to learn the metrics of copywriting for the web, this is one of the best places to start.
Notable posts on the blog: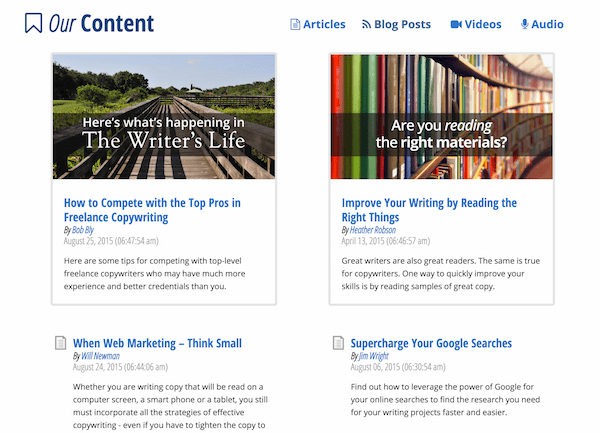 If you're super serious about learning copywriting or even becoming a copywriter yourself, then AWAI is the place to go.
They have seriously comprehensive copywriting courses put together by some of the top copywriters in the world. (I've taken the copywriting course… and it changed my life forever in so many good ways.)
But even if you don't want to become a copywriter or take any of the courses they have to offer, the blog and newsletter has some amazing gems to help to create better copy in just about every capacity.
Some of the great copywriters of our day like Bob Bly, Ed Gandia and Steve Slaunwhite (along with many others) contribute to this blog and impart their experience and knowledge to help you along the way.
Much of the content is directed at people who want to become copywriters, so if this sounds like you, then it is right up your alley.
Notable posts on the blog: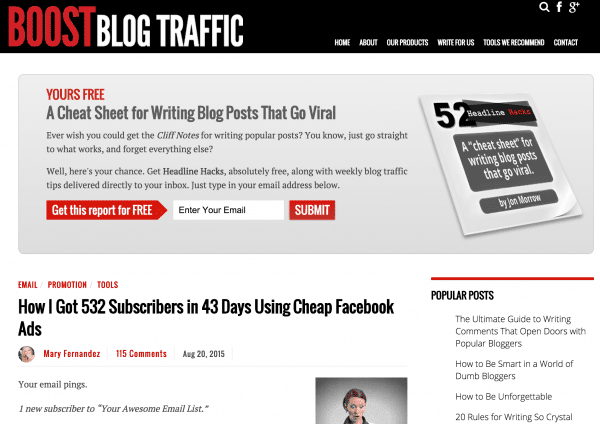 Just about every serious online entrepreneur has read something on Jon Marrow's blog, Boost Blog Traffic. What many people don't realize is that much of what Jon has on his blog will teach you copywriting skills.
Copywriting is (most often) writing words that get people to take a certain action. Boost Blog Traffic has multiple how to posts that teach people the ways of the digital samurai.
Notable posts on the blog (too many to number!):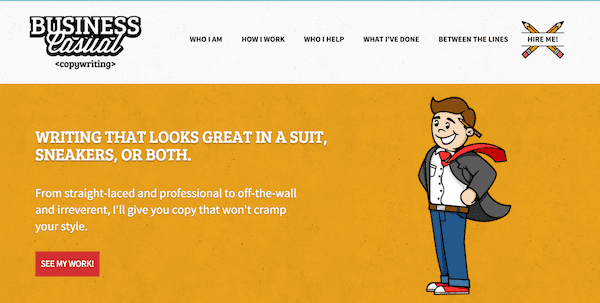 I am honestly a really big fan of Joel and his work. So much so that I wish I could spend a day or two picking his brain.
Not only is Joel a skilled web copywriter, but his blog has some great information and tips on how to write copy for the online world.
If you spend a few minutes reading through the content on his site, you'll quickly surmise on your own that both of those things are true.
Notable posts on the blog: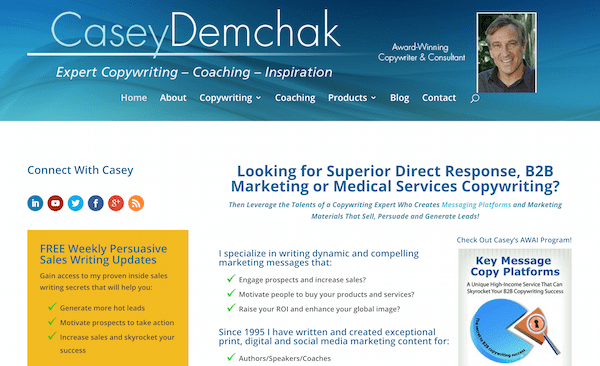 You may have never heard of Casey, but this guy… this guy is awesome. He's a skilled copywriter who dabbles in the dark magic that is B2B copywriting.
He doesn't keep all his tricks hidden in his hat, though. Casey's newsletter and blog are full of some pretty on point, eye-opening tips how to generate more leads for your business and increase your sales.
Notable posts on the blog: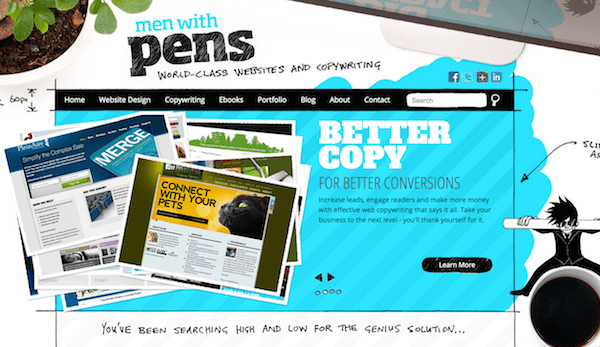 Okay, I've saved the best for last.
Men with Pens is captained by James Chartrand, and she (yes, she!) happens to be a seriously kick-butt copywriter. Not to mention she does web design and runs her own successful business. (Seriously, can I be her when I grow up?)
James has a pretty amazing story of how to really came into her own and what prompted her to start down this path of being a blogger/copywriter/web designer feminine phenom.
But stories aside, her blog is one of those ones that grabs you and then you find that you're the one who can't let go.
Notable posts on the blog:
Want To Get Serious with Your Copywriting Skills?
Here are some crazy awesome resources for learning how to write better copy. Whether you want to learn to write copy for clients or you want to use it to help you in your own marketing endeavors, these resources are ones to bookmark:
Article thumbnail via Legend_art // shutterstock.com