E-commerce enables you to reach customers from all over the world. However, due to the minimal requirements for starting an online store, the market is highly competitive, and it can be hard to stand out from the crowd. Providing product buying guides to help shoppers who are overwhelmed with the options available can help draw them to your business.
In this article, we'll explain what product buying guides are and why they're useful for e-commerce. Then we'll demonstrate how to create a product buying guide for your business.
Let's get started!
Subscribe To Our Youtube Channel
An Introduction to Product Buying Guides for E-Commerce Businesses
Product buying guides are online articles that help to inform customers about any important considerations when shopping for a specific item. They can point out differences in functionality, size, required maintenance, price, or other features between styles or brands. They're especially useful for 'high-ticket' items such as furniture or appliances.
For example, Wayfair provides several product buying guides for their appliances, including refrigerators. They include information on different types of refrigerators, how to determine what size is best for your kitchen, and the various styles available.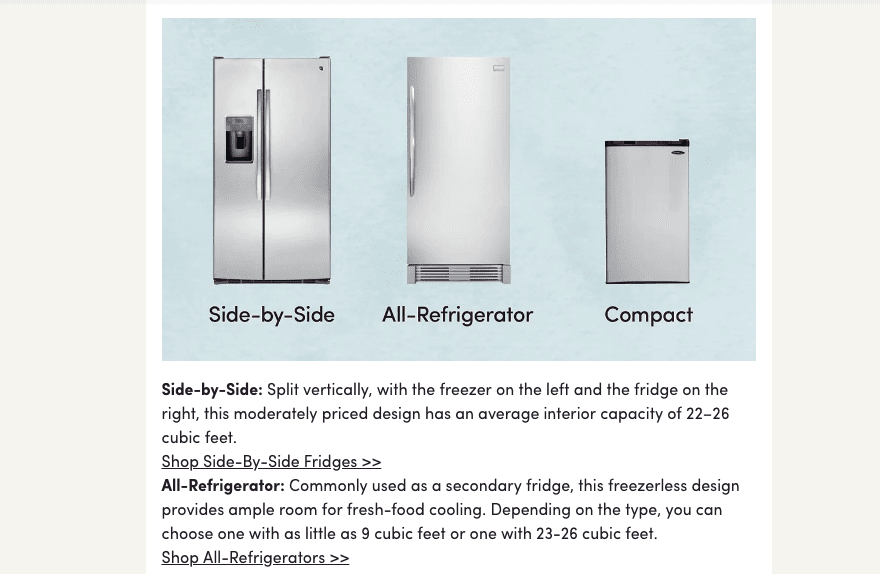 Overstock's rug-buying guide provides design tips on how to choose the right material, style, pattern, and color for your rug. It also includes an instructional video on how to choose a rug that's the right size for your room, and how to position it.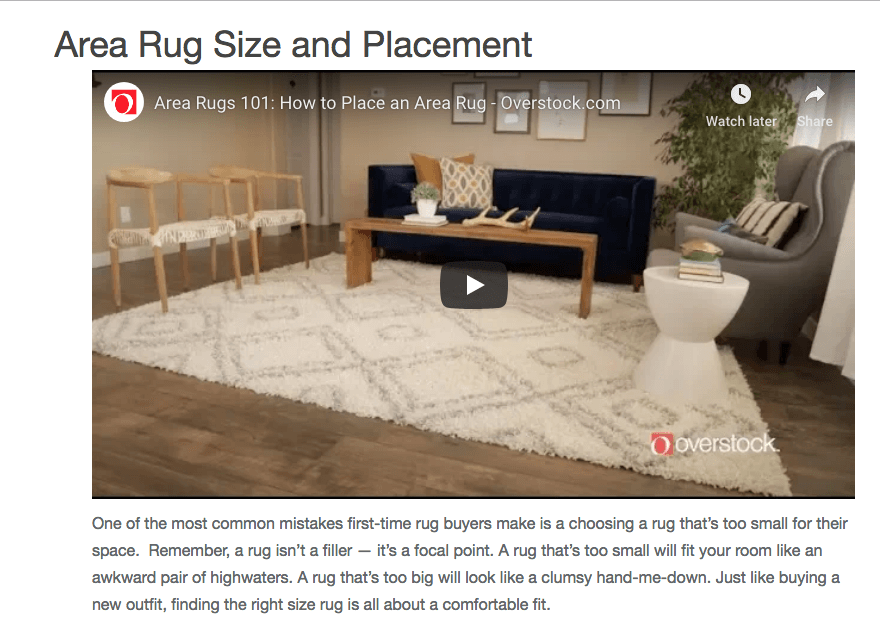 Well-crafted product buying guides provide the greatest benefit to customers. They're informative, factual, and protect customers from making common purchasing mistakes. For those with little experience buying certain products, or who are trying to choose between a few brands or styles, buying guides can help point them in the right direction.
However, guides also benefit sellers. They're great for boosting your Search Engine Optimization (SEO) to improve brand visibility. They're also used as a marketing technique, and including buying guides on your site can encourage customers to buy from your brand instead of your competitors. Plus, accurate guides that lead to satisfying purchases will inspire trust and loyalty in your customers.
How to Create a Product Buying Guide for Your Business (In 4 Steps)
Product buying guides can be created exactly as you would create a new blog post on your site, which means it's super simple to get started with, and provides a good way to organize multiple guides. For example, you could create a Product Buying Guide blog category where customers can browse your resources.
The steps below will help you create guides with relevant content that's accessible to your site's visitors. They'll also help optimize your content and promote your brand to increase visibility and sales.
Step 1: Define Your Audience to Know Who You're Writing for
Determining who are most likely to read your buying guide before you create it can help you tailor your content to their needs and values. For example, if you know your visitors value good deals and saving money, you'll want to highlight differences in price between brands and styles in your guide.
Likewise, if you're aware many of your customers fall into a certain demographic, you'll want to create guides for products that are likely to appeal to the group. If your customer base is largely urban, a product buying guide for hiking shoes probably won't generate much traffic. A guide for headphones or bicycles might be more appropriate.
You can find information on your site's visitors using Google Analytics. If your brand is on social media, tools such as Facebook Insights can also be useful. Once you've gathered your research, creating marketing personas or characters representing segments of your customer base can help you generate relevant content.
Step 2: Format Your Guide for Fast and Easy Reading
Most people who consume content on the internet do so much differently than they consume printed content. The majority only scan online content, so dense paragraphs with minimal section breaks aren't likely to hold a reader's attention. How you choose to display your content could make the difference between a sale and a 'bounce.'
Fortunately, there are several best practices for writing online content you can follow. The key is to make important information obvious to anyone looking at the page. Bullet points, subheadings, and text emphasized with italics or bolding will draw in readers' eyes. Putting most of your vital information in these forms will help keep visitors on your site.
Images and videos can also improve online content. They create visual breaks between long sections of text, and can sometimes deliver information more clearly than written content. Looking back at the examples from Wayfair and Overstock mentioned earlier in this piece, we can see how images and video are used to enhance their guides.
Step 3: Utilize Search Engine Optimization (SEO) to Draw In New Customers
Most customers use search engines to find new products. If you make the effort to optimize your site for search engines, you could tap into an extensive pool of new customers. Much like blog posts, buying guides are an opportunity to help your site rank for certain keywords and draw new customers to your site.
Your product buying guide's title, URL, and keywords will play significant roles in your SEO's success. These are some of the most important factors search engines consider when ranking pages. For WordPress sites, plugins such as The SEO Framework or Yoast SEO can help optimize these features.
Considering search intent, or the results a searcher hopes to see when they query a search engine, is another useful strategy. By optimizing for search intent you can target certain kinds of customers you hope will read your guide. The title How to Buy a Refrigerator, for example, would help your guide rank better for corresponding searches.
Step 4: Include a Call To Action (CTA) to Make the Sale
A well-written CTA encourages visitors to take action. When it comes to e-commerce, CTAs have been shown to increase conversion rates and sales. By making it fast and easy to make purchases, a CTA link or button can provide the extra push needed to get a visitor to commit to your product and become a customer.
The Wayfair refrigerator buying guide mentioned earlier in this article provides some examples of CTAs. The links to the Shop All Refrigerators category, and the encouragement to look specifically at certain styles mentioned in the guide, are meant to galvanize visitors to shop. Providing links to their own products decreases the likelihood of readers leaving Wayfair and buying from a competitor.
You can include several links or buttons throughout your guide as Wayfair does, or simply add one clearly defined CTA at the end of your post to guide readers to a category page for the product in your guide. How you style it is up to you, but make sure it's easy to find and its purpose is clear.
Conclusion
When it comes to competing in the e-commerce world, product buying guides can separate your brand from the pack. By increasing your site's visibility, building trust with customers, and enabling fast and easy purchases, buying guides can give your business a significant boost.
In this article, we've discussed product buying guides and how they can benefit your e-commerce business. Then we explained how to create a product buying guide:
Define your audience to know who you're writing for.
Format your guide for fast and easy reading.
Utilize SEO to draw in new customers.
Include a CTA to make the sale.
Do you have questions about how to create a product buying guide for your business? Let us know in the comments section below!
Article thumbnail image: MSSA / shutterstock.com