For as long as I have been a WordPress user the conversation surrounding free versus premium WordPress themes has been held. And just in case you're wondering, that's pretty much since the beginning. So it would seem that something so basic should have a final answer by now, right?
Perhaps. But so far, there have continued to be advancements across the WordPress ecosphere (themes, plugins, and core) that have continued to shift the conversation slightly this way, slightly that way, never fully landing on one side or the other.
A few years ago, I might have said unequivocally that it is always a good idea to go with premium themes. And if I'm honest, I probably still lean that way. I use premium themes for all of my own projects. However, a thought has been nagging at me for a while now and I can't help but feel it has some merit.
That thought is this: with all of the great plugins out there, including page builder/theme customizer plugins, couldn't one reasonably just amass the right suite of plugins and use a free WordPress theme as a starter base for their website?
The answer of course is yes, you could do that. Perhaps now more so than ever before. But whether or not its worth it would depend on the same thing as this decision has always depended upon: weighing the pros and cons. Which is exactly what we're going to do (and more) in today's post.
Pros & Cons of Choosing a Free WordPress Theme
As I mentioned above, it is possible to get by (even thrive) on a free WordPress theme. However, you will want to make sure that your needs are met after the following pros/cons are weighed and the guidelines below are met.
Free WordPress Theme Pros:
They're free!  That point pretty much makes itself I suppose.
Conveniently located within your WordPress Admin under Appearance > Themes. As opposed to premium themes which require a third party shop or marketplace. Of course that's not to say that you can't find free WordPress themes elsewhere but as you'll read in my guidelines below, you may want to avoid them.
Free WordPress themes tend to be compatible with a lot more plugins than premium themes. This is because all of the free WordPress themes in the official repository all have to meet certain standards to be approved.
They tend to be leaner than the popular "all-in-one" premium WordPress themes. So if you can find a free theme that meets your needs without providing all of the extra features that come with many high end premium themes then you may actually be better off.
If downloaded from the official WordPress repository, free WordPress themes will have undergone an official review process. This ensures a certain base level of quality and compatibility that you can depend on. Many premium themes choose to break WordPress development best practices in favor of more proprietary models, often without consideration of how this could negatively impact their users.
Free WordPress Theme Cons:
Free WordPress themes do not usually come with any kind of support. This can be a real deal breaker for many as it's often necessary to troubleshoot a bug or aspect of a new theme. You'll have to settle for general support via WordPress.org or theme user forums.
They also don't update as often. Which isn't a problem…until it's a problem. It can be really frustrating not being able to update your WordPress install because it will break your theme. This can also lead to security vulnerabilities.
Most free WordPress themes are lacking in terms of user experience–for both site creators and visitors. This is felt most keenly on the backend. Many premium WordPress theme shops/authors put a great deal of effort into making the use of their theme enjoyable. Free themes tend to skimp in this area.
Free WordPress themes are more likely to be security vulnerabilities. This as mentioned above as part of the update con but there are other ways they can be liabilities in addition to a slow development cycle. For instance, some free themes are specifically designed to carry malicious code. This is why it's always important to follow the guidelines I've included below.
Premium WordPress themes have a lot going for them, as you'll see below. However, with all of the premium theme authors and shops out there (this one included) singing their praises, it can be difficult to put yourself in a place where you actually consider their potential downsides. Hopefully the points I make below will help.
Almost all premium WordPress themes come with support of some kind; forum, email, phone, etc. This is a huge bonus for users of all skill levels. A lot of the time, learning how best to use a new WordPress theme is not so much learning this bit of code or that bit, but learning how the developers who created it think. Learning their logic allows you to figure more out for yourself; but sometimes a push (or several) in the right direction is a big help.
Generally, the quality of premium WordPress themes are much higher than their free counterparts. The reason behind this is simple. The revenue their theme generates funds their ability to make it better. For good shops/developers this creates a positive feedback loop where their products are continually getting better as more and more users come to use them.
Many premium WordPress themes come with advanced functionality. The good kind I mean. Such as advanced plugin suites (like WooDojo or Elegant Themes' plugins) or advanced admin panels that make customizations and general site configuration a lot easier.
All aspects of design are usually much better with premium WordPress themes. From page templates to backend admin pages/menus. When you're using your site day in and day out, good design goes a long way towards improving your productivity and maintaining your sanity.
Security is a huge priority for premium WordPress theme shops/authors. And they have the money to spend on meeting the high security standards of their customers (and the theme industry in general).
The update cycle with premium WordPress themes tends to be tighter and more responsive to changes with WordPress core and other important factors. This affects everything from small bugs to big security issues. There are a thousand little issues that can arise from an out of date theme. The only way to avoid them is regular updates, which premium theme shops/authors tend to be better at.
Sometimes the price point for your favorite theme can be quite high and yet still require further licensing fees in years to come. If you're just passionate about a hobby and not actually making enough money to offset your theme costs, a premium theme with monthly or annual licensing fees can seriously dip into your wallet.
Premium themes do not have an official review process. This means that premium theme shops/authors can ignore WordPress development best practices in certain areas. Sometimes this can cause minor annoyances, other times it can cost a lot more. Check out the premium theme buying guidelines below for more on this point.
Premium WordPress themes have a higher potential for "theme bloat". Which is the natural trade-off that occurs with more features and functionality. This does not always mean you are getting a "slow" theme or website, but it's more likely.
Your premium WordPress theme shop/author could discontinue their product. This, of course, is a concern for anyone using a WordPress theme. However, if a premium theme shop/author goes under and stops updating their products then you're not just in for a lot of work transitioning to another theme but you're also out of your money.
Guidelines for Choosing a Free WordPress Theme
If after reading the pros and cons above you have decided that you'd like to give a free WordPress theme a try, then I'd highly recommend following the following guidelines to make sure you negate as many of the cons as possible.
Only use a free WordPress theme from a reputable source. In fact, I'd recommend only using highly rated free themes from the official WordPress repository.
Make sure the theme author is active and updates regularly. When you are browsing themes on the repository, take careful note of the theme author's past activity, reviews, etc.
Scope out your support options. Some shops or authors of free WordPress themes do offer support. This can be a huge help if you're not an advanced user.
Choose something relatively new. For the author of a free WordPress theme to maintain an old theme they have to have a very large user base. Even if this is the case though, WordPress itself has changed and advanced. Newer themes will be designed to take advantage of that.
Quality Free Theme Examples
There are a ton of high quality free WordPress themes available out there. These are just three that I would use myself or hold up as good examples to compare other free themes to.
1. Twenty Twelve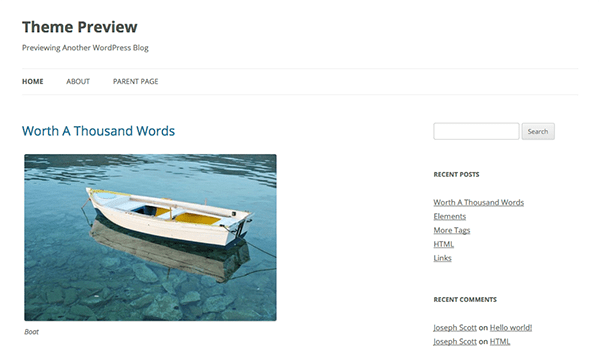 Twenty Twelve is a bit older but in this case that guideline can be bent. As the 2012 default WordPress theme with Automattic themselves authoring its safe to say that this theme will be kept up to date and following WordPress development best practices. On top of that, it's a really great, simple design, perfect for customization. It's layout works well for blogs or business websites.
2. Twenty Fifteen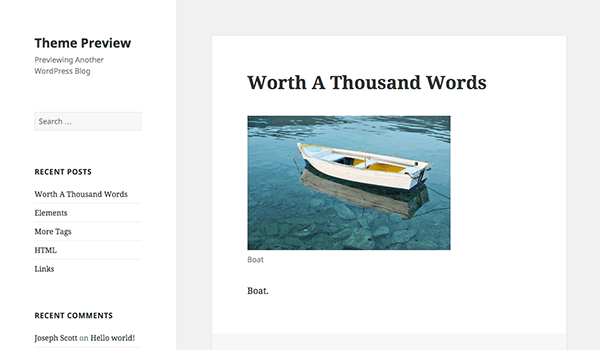 The Twenty Fifteen theme by Automattic is the 2015 default WordPress theme. It's great for blogging and designed specifically for readability with beautiful typography. Because it's the default and it's by Automattic, it's always going to be up to date and most if not all plugins will be made to be compatible with it.
3. Storefront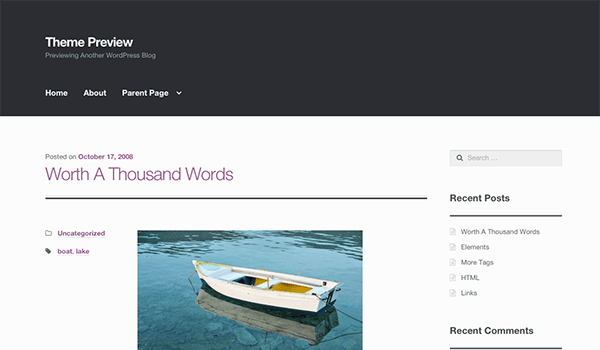 Storefront is a free e-commerce theme by WooThemes. It was built to function as a free compliment to their most popular plugin (also free) WooCommerce. It's responsive, flexible, and surprisingly powerful for a free theme. Plus, because WooThemes is so invested in this project it is always guaranteed to be up to date and compatible with the latest version of WooCommerce.
If you've opted for a premium WordPress theme then you are probably opting for a safer bet. But that doesn't mean you can't still go wrong. To ensure that you end up with a great premium WordPress theme and not just an expensive mistake, I'd highly recommend following the guidelines below.
Gage your acceptable price point on your actual income. Or, at the very least, on how much revenue you stand to generate through your purchase. This is a note primarily for freelancers and businesses. If you need certain features/functionality to function as a business, then WordPress tools are insanely affordable when compared to other "enterprise" software. Get what you need and make sure you're generating enough revenue to justify it.
Only go with the most reputable (and financially stable) premium WordPress theme shops and authors. There are a massive amount of developers out there who do not care about quality; they care about sales. Don't fall for ads or persuasive copy. Read reviews, pay attention to reputation, and choose someone with a great track record for excellence. Oh, and it's not a bad idea to check for their business vital signs too. A great product is only a great product for as long as it is maintained. If they go under then it's all a wash.
Check out their support offerings to make sure they meet your needs. Just about every single premium theme shop or author will provide support as part of your purchase. However, not all support teams are made equal. You want to find the ones with a great reputation for customer satisfaction. There's nothing worse than waiting around with your site down or looking bad while your support ticket goes unnoticed for days.
Choose a theme that actually looks pretty close to what you need. Otherwise, what's the point of paying for a premium design? Unless of course you're buying a builder theme like Divi or The X Theme, in which case it should be pretty easy to create whatever you need.
Don't become blinded by features. Choose themes with portability in mind! This is such a big issue. Don't let yourself get trapped by features that don't port to other themes. If you are ever forced to switch themes down the line you will have a major headache on your hands.
The three themes (or theme shops) below are ones that I have personally used and recommend to others. I should also mention WooThemes as their Canvas theme and suite of plugins is pretty great too.
1. Genesis Themes
Genesis by StudioPress is one of the most trusted and popular theme frameworks with a stellar library of child themes available. While not a builder theme like the other two options below, you can literally do anything with Genesis with the right child theme and plugins.
Price: $59.95 (one time, unlimited license) | More Information
2. The X Theme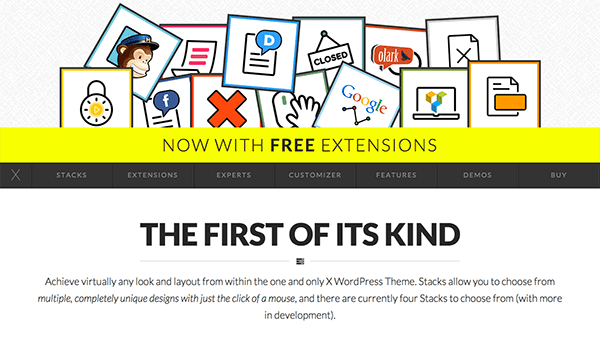 The X Theme is (and has been since its debut) the fastest selling theme on the Themeforest marketplace. Unlike many gimmicky Themeforest themes that look great but don't deliver, the X theme really seems to be standing up to the test of time. It's a modular builder theme with child theme like "stacks" that provide four different starting points for various types of WordPress websites.
Price: $63 (single site annual license) | More Information
3. Divi / Elegant Themes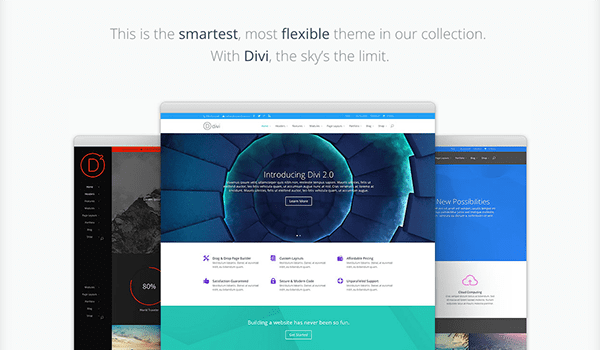 Finally we come to Divi and the Elegant Themes line of industry leading WordPress themes. Divi is a smart, powerful, flexible, and super simple theme to use. Even non-designers and non-developers can turn out amazing website after website with this amazing theme.
Price: $69/year or $249 lifetime | More Information
In Conclusion
I'm a big believer in making informed decisions because you've considered your options thoroughly, not because that's just what everyone says you should do. Which is why I'm not one to blindly recommend that everyone buy a premium theme.
For many businesses and freelancers dependent on their WordPress website for income, having access to premium support, a higher level of security, and better design options out of the box will seal the deal for them. But honestly, even those WordPress users might be surprised with how far they could get with a quality free theme, managed WordPress hosting (for both speed and security), the right plugins, and some customization.
In the end, as I said above, it all depends on you and your preferences after all of the pros and cons a have been weighed against your needs.
What are your thoughts on free themes versus premium themes? Which do you use? Please take a minute or two and share your stories and opinions with the whole community in the comments section below.
Article Thumbnail via Dooder // shutterstock.com