Welcome to part 1 of 5 of our Divi mini series How to Become a Successful Divi Web Designer. In this series, we're showing you a proven path that you can take from learning to build websites to becoming a professional web designer. We'll provide you with actionable steps that you can apply no matter if you're just starting out or if you're already an established web designer wanting to go to the next level.
---
Web Design is one of the most in-demand jobs in technology today. From small businesses, freelance agencies and corporations to non-profits and other organizations, the need for talented and competent web designers is only escalating. This series will empower those who are just starting out to those who are already established in a web design career.
A look ahead:
We're going to explore 5 steps of the path that I took in order to become a professional, successful Divi Web Designer:
Preparing to Become a Successful Divi Web Designer
How to Start Getting Clients for Your Divi Web Design Business
How to Grow your Divi Web Design Business
Maintaining your Divi Web Design Business and How to Keep Clients Coming Back
Engaging with Divi Nation and Taking your Web Design Career to the Next Level
By way of preface, this series is going modeled around the path I took and is geared around the use of Divi but you could apply many of these ideas to becoming a successful web designer even if you don't use Divi.
A few things to note before we dive in:
Most web designers gravitate toward being either a Designer (front end work, graphics and design of the site) or a Developer (backend of websites such as coding, functions, etc). I recommend learning a good mix of both in order to be successful in web design.
We're going to summarize many topics in this series and will guide you to resources but it'll be on you to act on these ideas and recommendations.
For the sake of brevity, we're outlining the most important areas of this topic, but there will be other areas you must consider learning about as well. Such as hosting, SEO, design principles, etc.
Entire college courses are dedicated to the subject of preparing professional web designers. In this series, we're simply outlining only the most important areas that I've learned in my real world experience to help guide you on your path.
Ok, now that we know what to expect, let's dive in!
Preparing to Become a Successful Divi Web Designer
There are, I believe, 2 areas that are most important in the life of a successful web designer. The Web/Technology and the Business/Personal side of web design.
Implementing the Web/Technology Side of Web Design
One of the most commonly asked questions I get when approached by aspiring web designers is "Where do I start?" With so many training and courses out there, it can be difficult to know what's most important to learn first. Here are the 5 most important pieces that I recommend learning about when you're just starting out:
1) WordPress

If you're reading this post, chances are you're pretty familiar with WordPress already but for those of you who aren't, a fundamental knowledge of WordPress will be the first step in starting your Divi web design career.
Building static HTML sites, using other CMS (Content Management Systems) like Joomla or Drupal are all good places to start, but at the time of this article, WordPress is nearing 28% percent of on the internet, so having a good understanding of WordPress will be increasingly important as it gains more popularity in the market.
Resources for learning WordPress:
The Elegant Themes blog here is absolutely one of the best free resources for learning about WordPress. You can also get more training at WP101.com and at Lynda.com among many other online training resources.
2) Divi

Yep, you guessed it. To become a successful Divi Web Designer, you need to know Divi 🙂 I, like most of the Divi community, use Divi exclusively for ALL my website builds. It truly is the one theme to rule them all because out of the box, it's a blank slate. Virtually whatever you want to do with Divi is only limited by your imagination or skill set.
Divi is simple and user friendly but at the same very in-depth and complex. One of the reasons I love it is that it's suited for designers who are just interested in the front end as well as the developers who want to be able to focus on the backend. It's also the most popular page builder for WordPress which means the demand for web designers using Divi is escalating by the day. So don't delay in getting on the Divi train!
Resources for learning Divi:
As you may or may not know, we recently started featuring daily Divi specific posts. The Divi Resources Blog is the best source of legitimate Divi learning resources and is made up of some of the top minds and contributors in the Divi community.
Reputable Divi Nation community member Geno Quiroz has some of the best beginner Divi training (Free and Paid Courses) available at quiroz.co. And don't forget to bookmark the official Divi Documentation Videos or download this free Divi Training Plugin for your site.
3) HTML (Hypertext Markup Language)

Ok, here's where people start sweating, but don't worry – it's not that bad 🙂 HTML and web code requires learning, patience and trial and error but if I can do it, so can you! You CAN build a site in Divi without any knowledge of code but I highly, highly recommend that you learn the basics of HTML as you'll find yourself frequently needing to insert codes and widgets to the Divi builder that are all HTML based.
Resources for learning HTML:
One of the best free online resources for learning HTML and code is W3Schools.com. Lynda.com is also one of the best learning centers online for HTML.
4) CSS (Cascading Style Sheets)

I initially dreaded CSS but quickly came around to it and now absolutely love it. The possibilities you can achieve are endless when you know CSS. Like HTML, you don't NEED to know CSS to build a site with Divi, but if you're wanting to do any customizations you'll need to have a basic understanding.
Here are some quick reasons I recommend learning CSS:
It's universal – It works on all browsers, website builders and web languages.
It's quick 
- It saves time on page loading instead of loading multiple image graphics.

It's global 
- It can control colors, settings and elements site-wide.

It's reusable 
- You can use the same settings on multiple sites.

It's free 
- There are numerous free tutorials and you don't need a paid program to write the code.
Resources for learning CSS:
The best way to learn CSS, I believe, is to take snippets from tutorials from here on the ET blog or check out much of the free CSS training resources at w3schools.com. Here are a couple of my favorite CSS/Divi specific training resources from fellow community members:
5) Image Optimization and Basic Design

You'll also need to have a fundamental knowledge base of not only design (so your sites look good), but some basic image optimization practices. If you're building sites with massive images that are big file sizes, your site will load slowly and it'll have numerous, negative impacts on your site.
Resources for Design & Image Optimization:
You can find numerous Divi site inspirations here on the ET blog and you can check out DiviThemeExamples.com which consistently highlights one of the best Divi designs around the web. You can also check in at my web portfolio to see some of my latest Divi creations for inspiration.
I use Photoshop and Adobe Bridge for my image optimization but you can also find numerous free image optimizers online such as www.jpeg.io. Now I'll shed some light on another important aspect of being a successful Divi Web Designer that can only be learned with real world experience. Or by reading this post 🙂
Implementing the Business/Personal Side of Web Design
1) Mixing Creativity with Business

One of the bigger challenges in web design is staying creative while also managing budgets, deadlines, client communication, emails, administrative duties, etc. I recommend, if possible, separating your business work from your creative work at all costs. You can do that practically by scheduling times in your day dedicated to just working on a site, graphics, etc. And vise versa; having dedicated email and business administrative time.
For example, I generally check my email at 3 main times during the day; at the start of the work day, around lunch time and before the day wraps up. If I'm working on a project and communicating with a client I'll have it open but I rarely have my email open all day because eventually it becomes a game of whack a mole and you can very quickly find yourself doing "reactionary" work all day.
So take my advice and put some systems in place to protect your creativity time and don't let the stresses of business intrude that.
2) Dealing with Different Personalities

When you're a web designer, you're not just creating websites. You're dealing with people and people are different. You will need to learn to adjust to different personalities in order to be successful. I delve into this topic in more detail on my DIVI NATION Podcast Talk (13:40) because this is one of the most valuable skill sets I've learned in running my own business.
You'll find that after you work with a certain number of clients, you start to see similar personalities. Some are organized, some are tentative, some are intense, some very easy going, some are very difficult, etc. You'll need to learn to adjust to these and remain "you" on every project. You can match and mirror different personalities to better relate to your clients but remaining balanced and adaptable will go a long way for you in developing strong relationships with different clients moving forward.
3) Adapting Quickly

The ability to adapt quickly to new technology is more important than any skill set you can have today. As a web designer, you will need to learn plugins, online platforms, software, new coding, etc for the rest of your web designer days. So don't get too comfortable.
I recently had to learn more about WooCommerce to help many of my clients who want to sell products online. I had to learn some advanced Event Plugins like Events Calendar and many extensions that had a learning curve to accomplish my clients' goals. But you'll find that if you're learning new technologies weekly, after a while it's easy to pick things up and you'll soon have a plethora of plugins and digital tools that will empower you to become more valuable.
So be prepared to learn quick, adapt fast and not get too comfortable!
4) Managing Projects

I was completely unprepared for this when I started my business. Having numerous projects on your plate is a good problem to have but it is, never the less, a challenge. It becomes a problem if you're not hitting deadlines and you're falling behind on work for your clients.
I go into more detail on managing multiple projects here so feel free to use that as reference for some actionable steps you can take. But in short, I recommend you do the following:
Prioritize Your Projects
Create a checklist or "to do" list
Set Realistic Deadlines
Delegate Work
Utilize Project Management Tools
Don't say YES if you can't follow through
5) Learning Patience and Perseverance

Finally, in order to prepare to be successful divi web designer, you'll need to learn the art of patience and perseverance. Bottom line is, it won't happen overnight. It takes time to learn the web tools we discussed. It takes time to get comfortable with HTML and CSS. It takes time to feel comfortable building a site from start to finish and it takes time to learn out how to sell your services and build your business. But progress is the name of the game. Take it one step at a time, learn everyday and don't be afraid to make some mistakes along the way!
In Conclusion
I hope you've enjoyed my recommendations for preparing to be a successful Divi Web Designer. Again, this information is what i've learned in my real world experience to be the most important when you're just starting out.
Tomorrow: How to Start Getting Clients for Your Divi Web Design Business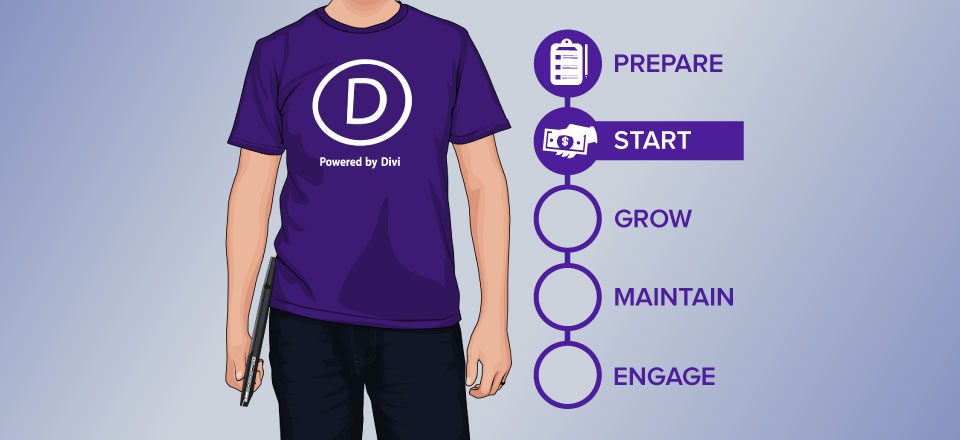 One of the most commonly asked questions I see in many of the Divi Facebook Groups and what I hear from aspiring web designers I interact with is "How do I start getting clients?" Tomorrow, you'll find out how I got my first clients and learn how you can too!
Be sure to subscribe to our email newsletter and YouTube channel so that you never miss a big announcement, useful tip, or Divi freebie!