Welcome to Day 48 of our Divi 100 Marathon. Keep tuning in for 100 days in a row of awesome Divi resources as we count down to the amazing release of Divi 3.0 on the final day of the series!
---
Lacking an online presence is a mistake that no business can afford to make nowadays, but having a shoddily built website can be even worse on some occasions. Customers need to know that they can trust your business without having ask around, and a professional site goes a long way towards assuaging their fears.
Our own Divi theme is a great fit for business websites of all shapes and sizes, and it comes with all the bells and whistles you need to launch a site that will make your competitors tremble in their boots. The best part is that you don't even need to take our word for it – we'll let this compilation of ten of our favorite business sites built using Divi do all the talking for us!
10 Outstanding Business Websites Built Using Divi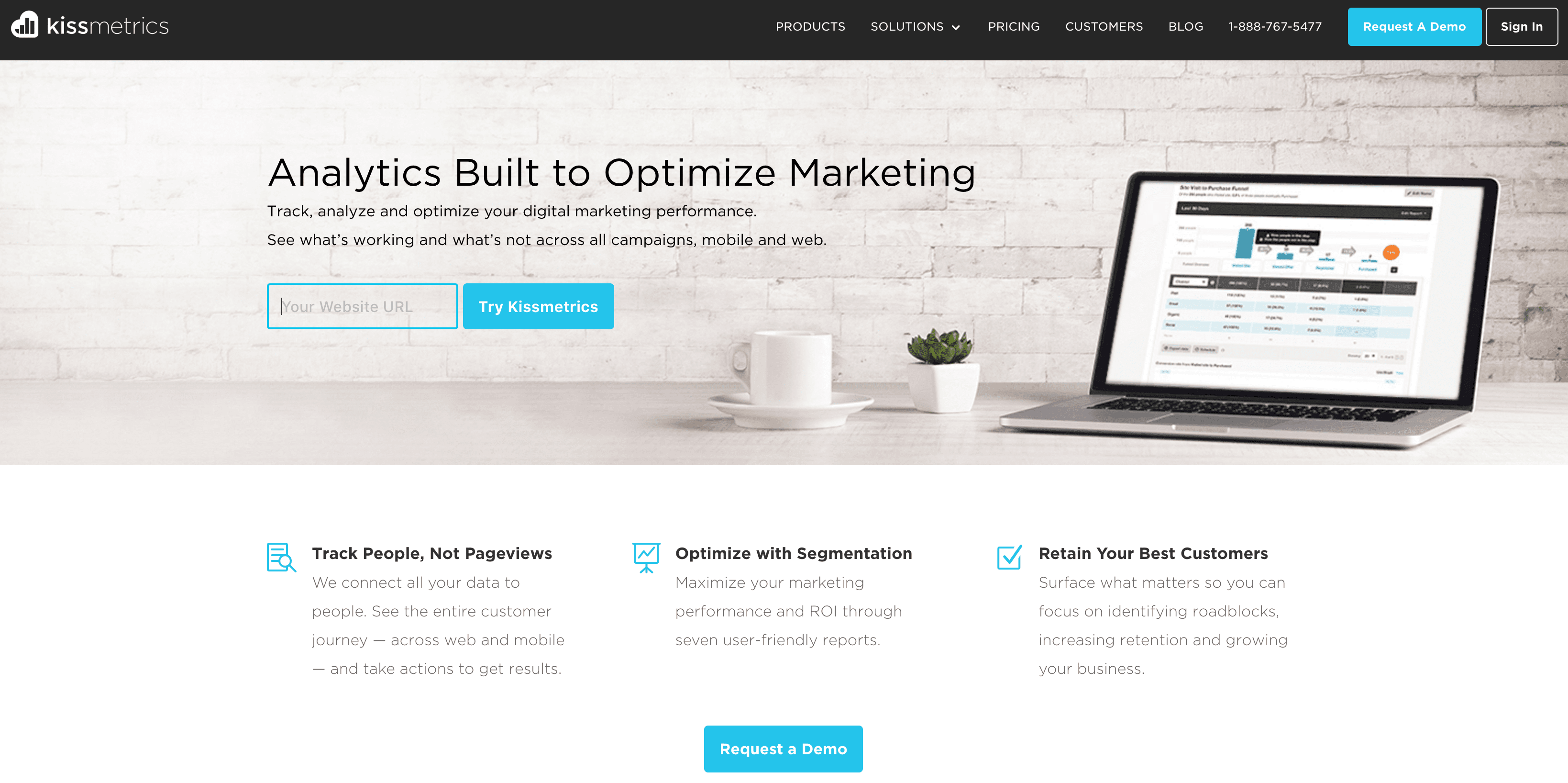 If you're in any way serious about online marketing, you'll no doubt have heard of Kissmetrics. Their blog is pored over by thousands of people daily, and is considered one of the go-to resources for online marketing and branding. In addition to publishing stellar blog content, Kissmetrics is a premier authority in marketing analytics, with their Analyze and Engage tools both helping you to optimize your digital marketing performance.
The Kissmetrics website is a great example of how to build a simple yet effective homepage. Above the fold you'll find a call to action (colored in blue for prominence) asking you to Try Kissmetrics, and below that is a simple use of the Blurb module. Call to action buttons are stand out in all the right places.
Below the fold is where the Kissmetrics website begins to build trust, by using the Circle Counters module to showcase Kissmetrics' strengths in statistics, the Testimonial module, and a showcase of recent clients – bookended by a final call to action to take their services for a test drive.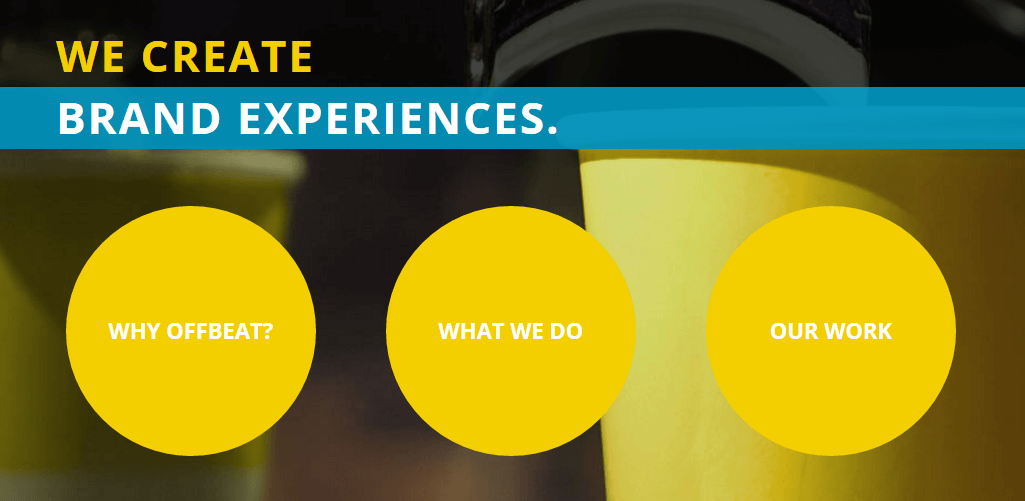 Offbeat Creative is a recently launched website for a creative agency that focuses on brand identity, interior design, digital applications, and general business consultations. It was built by Andrew Palmer, a longtime friend of the Elegant Themes blog, who also happens to be part of the team over at Elegant Marketplace and an administrator on the Divi Theme Users Facebook group. We think it's pretty safe to say that he knows his way around Divi, and you can see that for yourself on this website.
The site features a very minimalistic homepage, with strong taglines and blurbs that direct viewers to the most important sections of the website. The navigation bar features a subtle hover animation and makes good use of social media icons as well as including key contact information, both of which are crucial for business websites.
Our favorite part of the site is the case studies gallery, which make great use of relevant imagery while interspersing tidbits of information.

Apricum is a transaction advisory and strategy consulting firm that operates in the field of clean technology – and if you didn't understand most of the words we just used, that's alright. All you need to know is their site is a great example of a clean-cut, corporate look achieved using Divi.
How exactly does one go about achieving this coveted look? Well, we would point you towards their homepage, where you can see a good example of how to utilize contrasting colors to highlight key information in a measured way – so only what's absolutely necessary jumps out at you, while the rest of the information remains understated.
As you can see, the site uses the Header module with a text overlay and an orange background. The background makes the key information pop out, and the same color combination is re-used throughout the site for important sections and calls to action.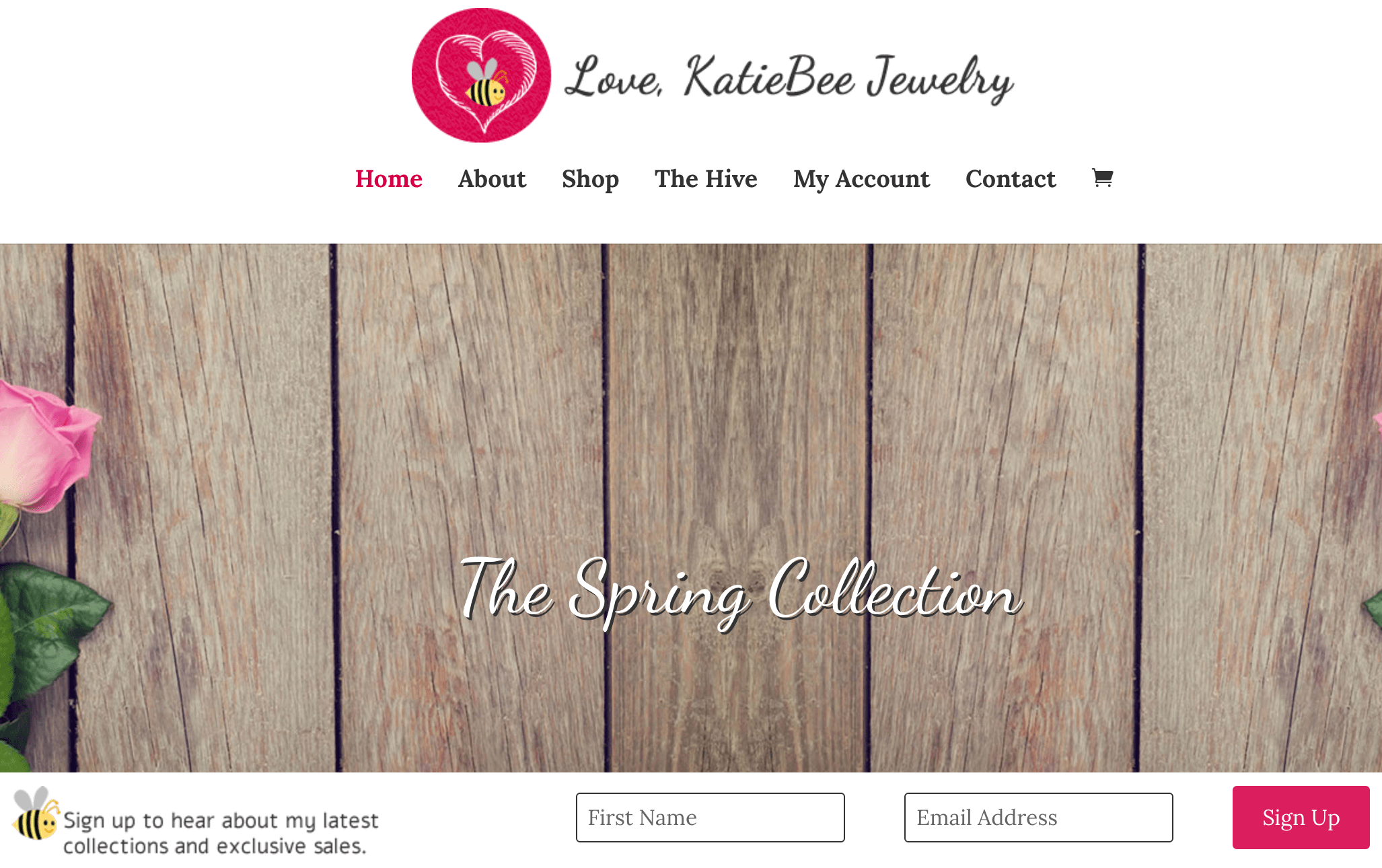 Katie Bee Jewelry create unique earrings, bracelets, necklaces, and more for women of all ages. The business began back in 2013 when Katie was just 13 years old, and from its humble beginnings, the business has now grown to sell jewelry directly from a Divi-powered website!
Katie's design is understandably feminine, with salmon and pink colors accenting the white background and black font. The design is elegantly simple, and the Email Optin and Social Follow modules are featured prominently on the homepage.
Of course, with KatieBee selling jewelry, the Shop module is central to the site's design, with a number of featured products also shown on the homepage.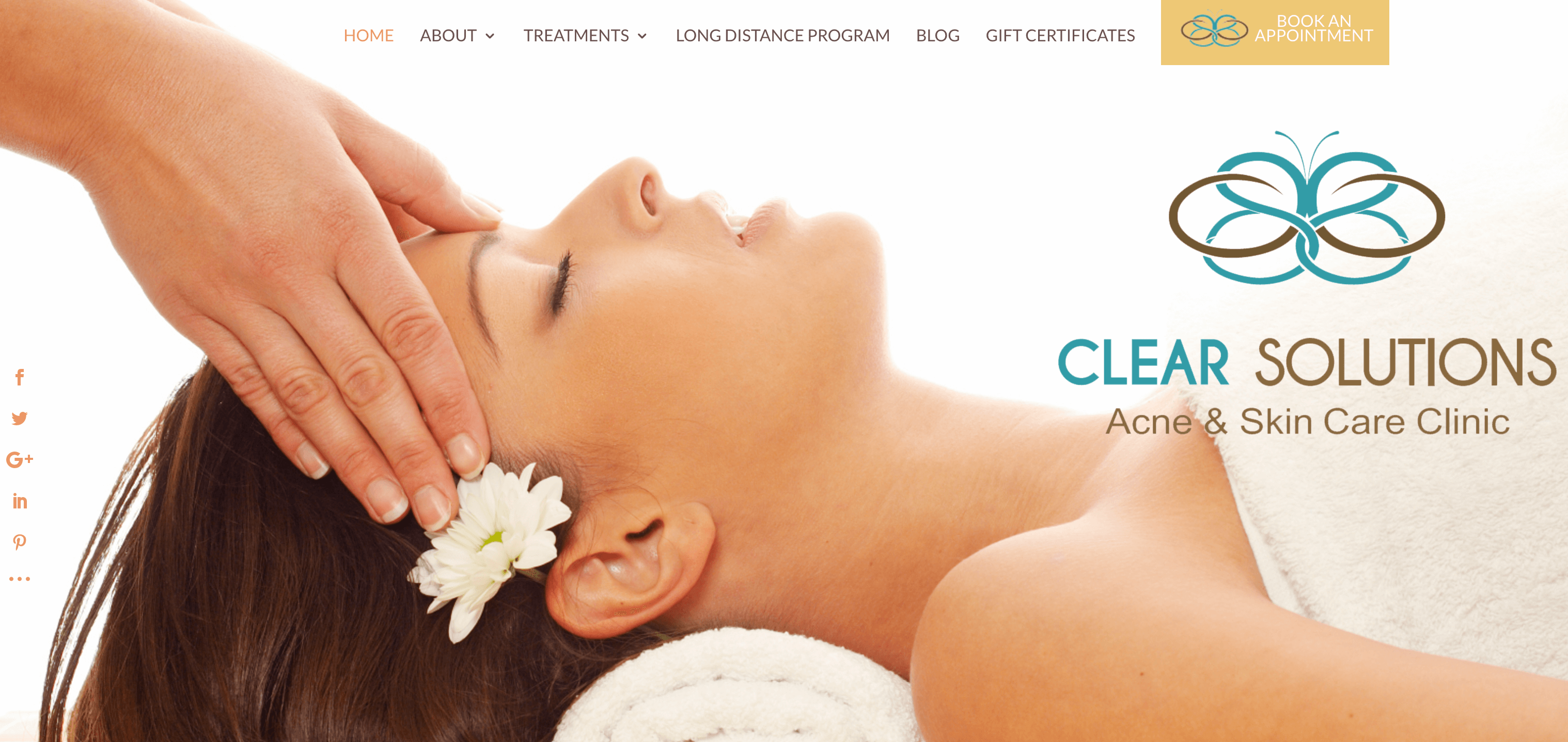 Kellie Campbell runs Clear Solutions – a skin care business specializing in acne treatment, based in New York. Learning her trade studying under a number of experts, Kellie knows what it takes to have clear skin – and her website is as equally pleasing to look at.
A transparent header (incorporating an animated navigation drop-down) enables the Fullwidth Header module to take center stage. Further on down the page, several brightly colored modules display the various treatments available, while the footer makes use of the Map module to assist customers in finding their establishment.
Finally, while Clear Solutions have used the Social Follow module throughout the site, they've also pressed our Monarch Social Sharing plugin into service, enhancing Divi's built-in functionality.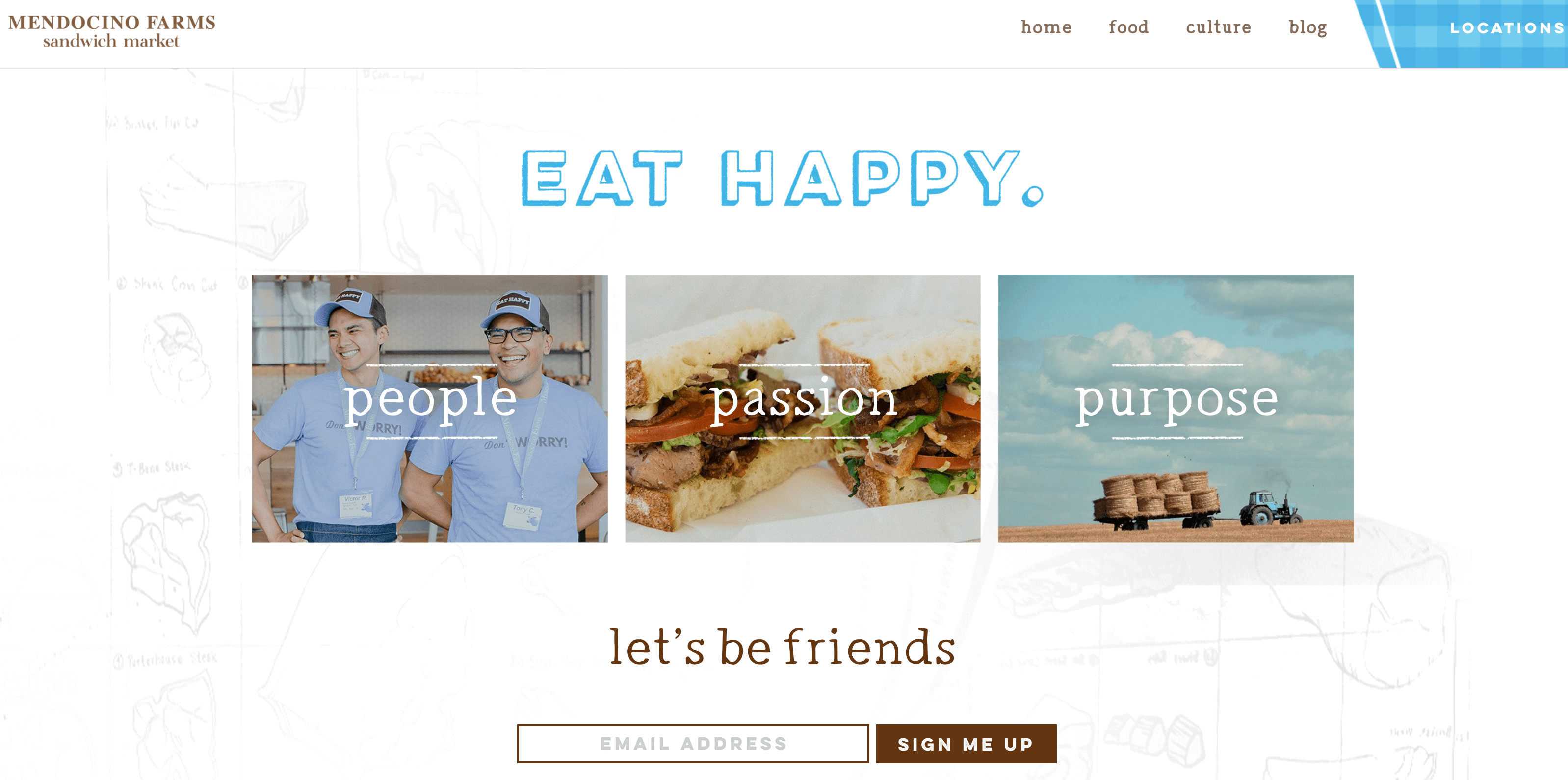 For a lot of people, good food equals happiness, and it's certainly the mantra of Mendocino Farms. They currently operate thirteen eateries throughout California, and have another two establishments coming soon. What's more, their website is powered entirely by Divi!
Their website is a bold and bright affair, with a clever use of the Image module to display not only images, but header text too. The header and navigation is well-designed, with subtle use of shadows on drop-down menus, and the footer has also been designed to resemble a second navigation menu – a nice touch.
Elsewhere, the Locations page features the Code module heavily – in fact, the further you dig into the site, the more there is waiting to be found. We recommend everyone to take a look at this site, just to see what you could potentially achieve using Divi!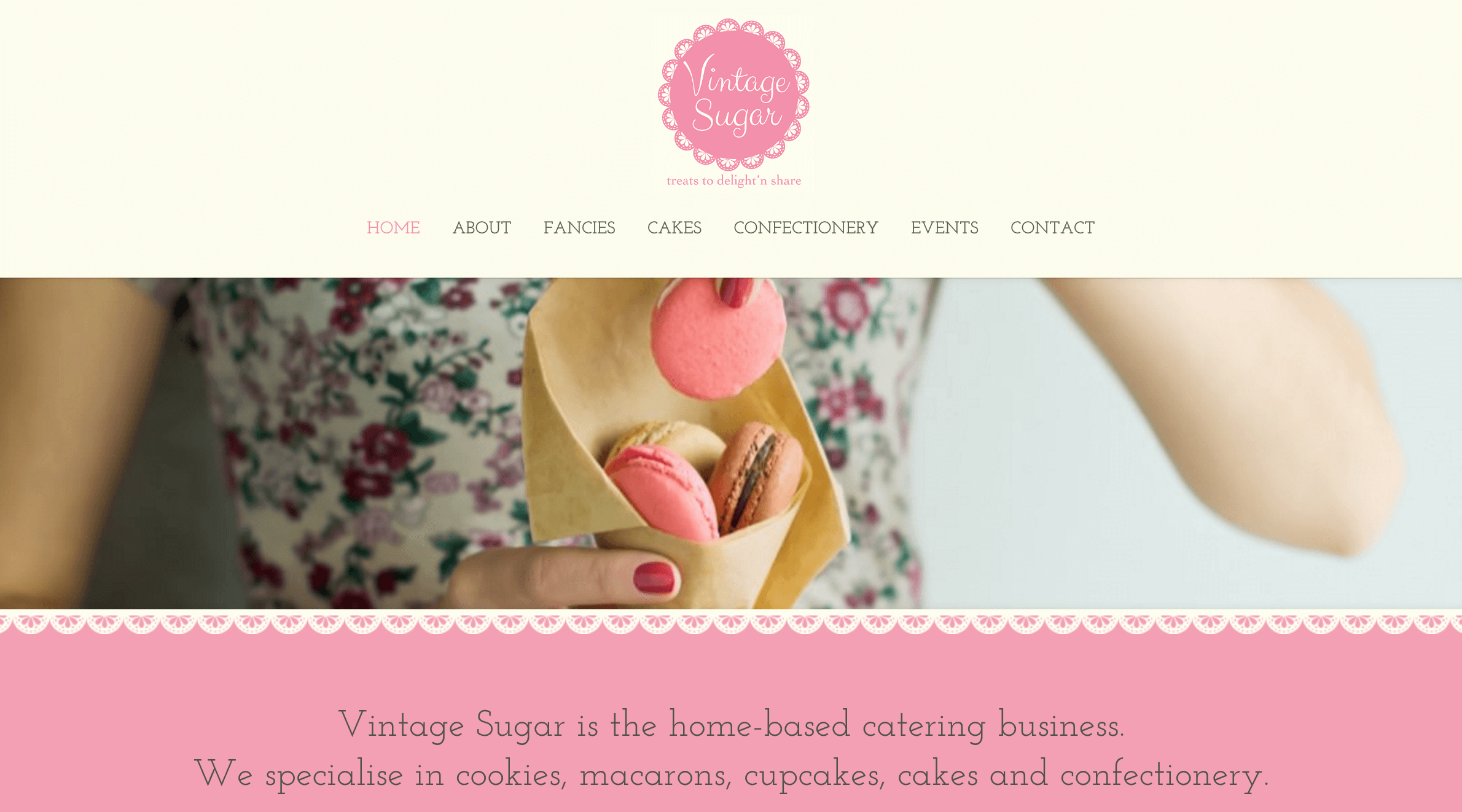 Australian-based Vintage Sugar specialize in cakes and confectionery – so they're welcome to swing by any time! They're a home-based business with an old-fashioned focus – and while they don't have a brick and mortar shopfront, they cater to all manner of events and functions.
In keeping with their old-fashioned bent, they've gone for a simple and elegant design for their website – overall, it shows that you only need to harness a little of Divi's power to create an outstanding website.
There are no sticky headers, full-screen images, or fancy animations here. Instead, they've gone for using the Blurb module to showcase their products, and the Image module to display the fruits of their labor. Finally, the Fullwidth Header and Fullwidth Slider modules have been used on each page to give some separation between the navigation and the rest of the content.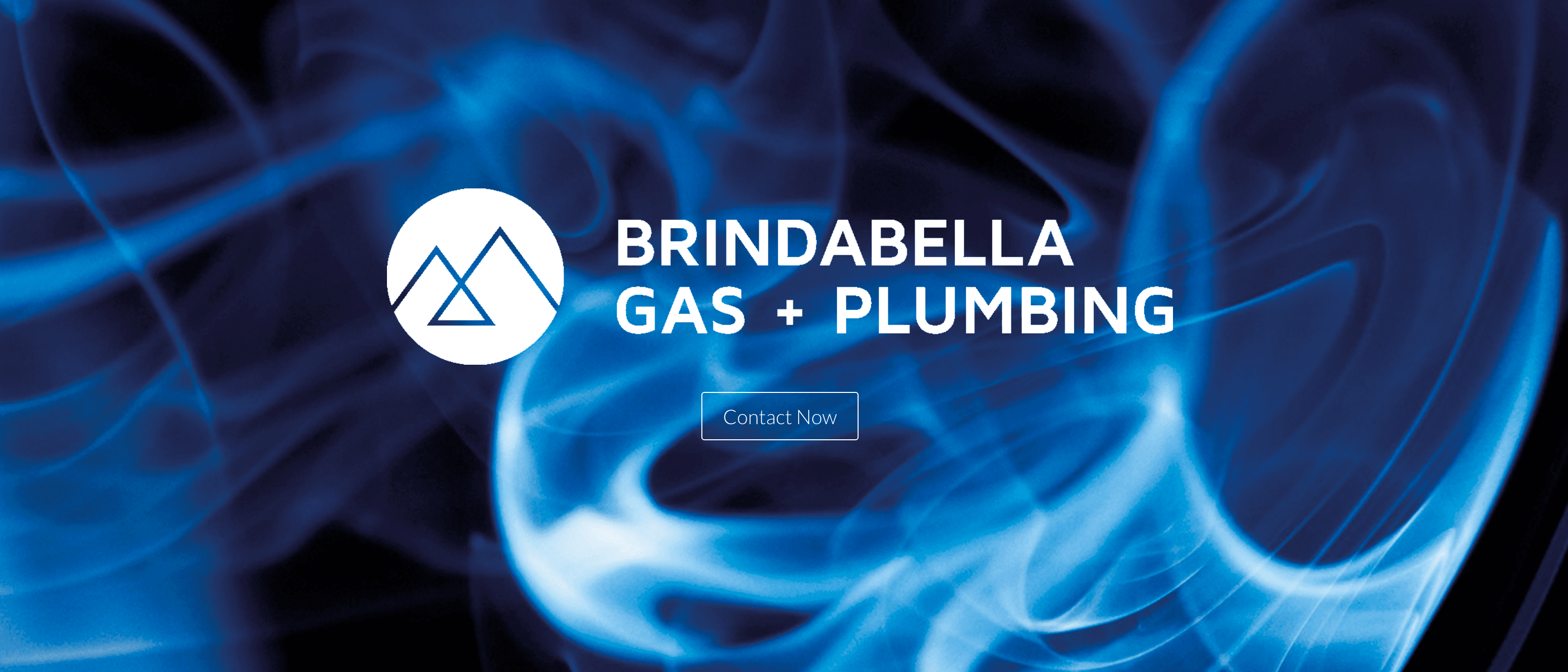 Another Australian-based company with a Divi-powered website, the clue to Brindabella Gas and Plumbing's line of work is in their name. Established in 2003, Brindabella is a family-owned business run by Matt Graham, who has over 15 years experience in the gas, plumbing, and heating industry.
The website makes use of the Fullwidth Header module right off the bat, and the sticky header has been designed with a completely different look to the standard navigation – it really shows off Divi's flexibility. The rest of the website is neat and tidy in order to achieve its main goal – pushing the available services. The Blurb module has been used to showcase each service with a bright logo, and elsewhere on the site, the Testimonial module helps to convey a level of trust to the customer by displaying some well-chosen quotes.
Finally, the Contact page has been well designed with great use of the Map module to provide the company location, and the Social Follow module to add another point of contact for potential customers.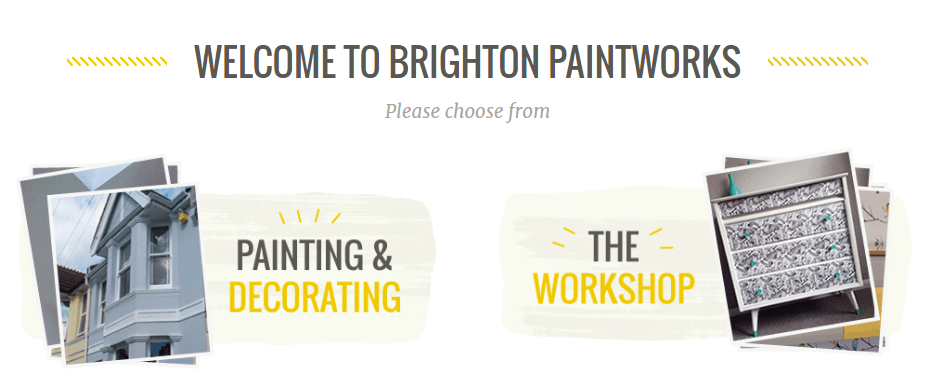 Brighton Paintworks is the colorful website of a Brighton (UK) painting and decorating business. It also happens to be the only website in this list that doesn't feature a fancy header, but that's not necessarily a bad thing! The site makes good use of that space by enabling viewers to decide which of the site's two portfolios they'd like to peruse, and follows it up with a colorful bio box for Brighton Paintworks' owner.
It's a very simple site from all angles, but it's also remarkably well put together. One of our favorite touches are the contrasting navigational bar and footer, which use the same color palette with contrasting backgrounds.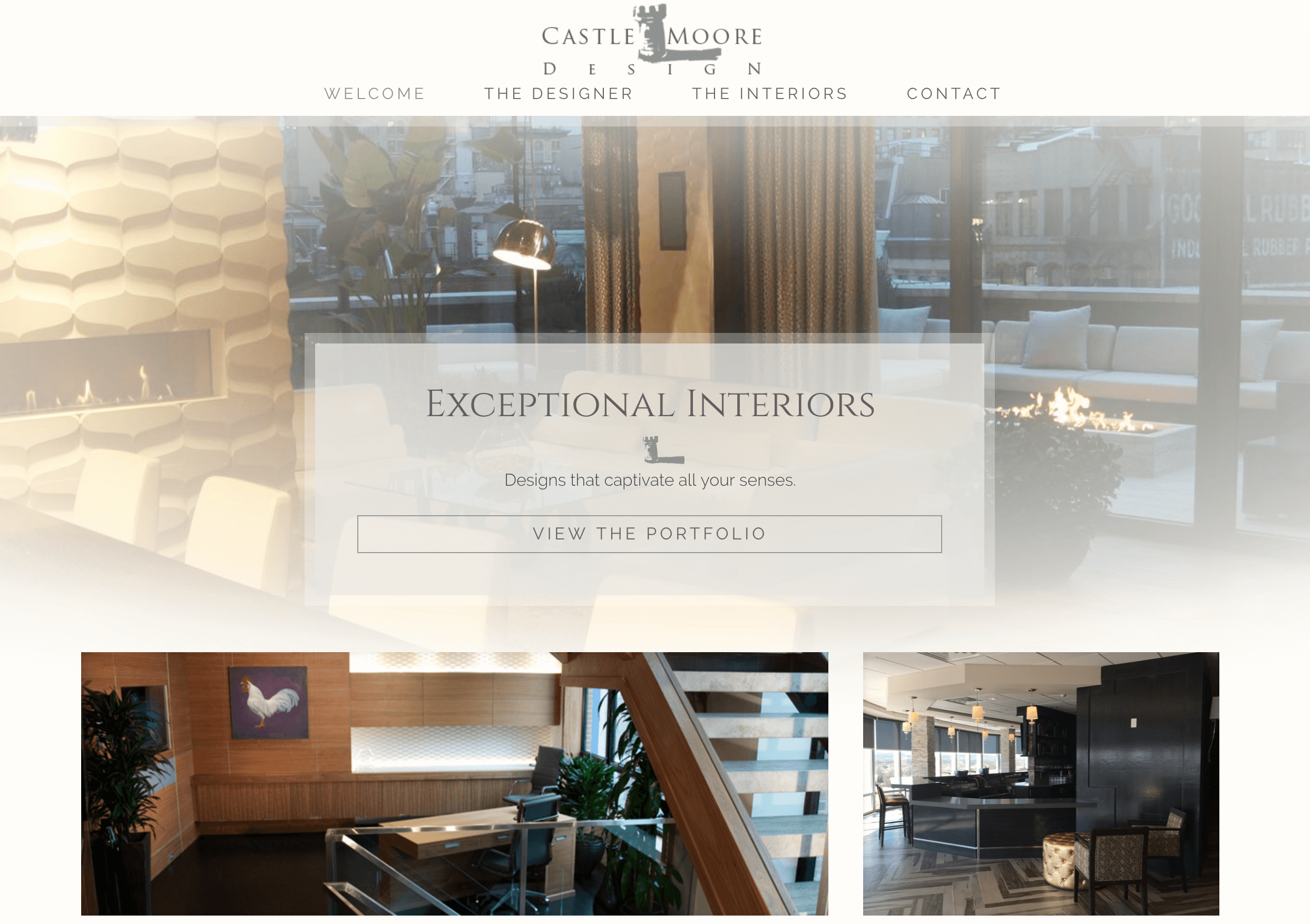 With over 20 years experience of interior architectural design, Glenn Moore can be considered an expert in his field. Castle Moore Design focuses mainly on the high-end markets of Lower Manhattan and suburban New Jersey, so it goes without saying they need to utilize Divi's power to create a compelling website.
Unlike other websites, each page of Castle Moore Design displays a title and tagline centrally using the Call To Action module. It gives each page focus, and it's a neat design choice that makes the website stand out as a whole. Further on down the homepage, creative use of multiple Fullwidth slider modules showcase various past projects. Finally, the Social Follow module has been used to link to Castle Moore's social media profiles along the bottom of each page.
Conclusion
Regardless of your field, having a solid business website will reward you with a bounty of opportunities to make your way forward, and the Divi theme includes all the necessary tools to help you achieve this.
If we've got you all pumped up about the idea of improving your WordPress business site, take a look at some of our past articles that focus on helping businesses grow:
Be sure to subscribe to our email newsletter and YouTube channel so that you never miss a big announcement, useful tip, or Divi freebie!
Article thumbnail image by Macrovector / shutterstock.com

Divi 100 Day 48
The Countdown To Divi 3.0
This post is part of our Divi 100 marathon. Follow along as we post free Divi resources for 100 days in a row! This 100-day countdown will end with the game-changing release of Divi 3.0, including our brand new visual editor built from the ground up using React. Divi 3.0 will change the way you build websites with the Divi Builder forever!
Let the countdown begin.