I had some free time yesterday, so I decided to make some fresh new icons! Throughout my years as a web designer, I have always had trouble finding beautiful icons with no licensing restrictions to use in my templates. It's especially difficult to find GPL-licensed (open source) graphics that can be used in WordPress Themes such as Divi. Today I am pleased to release our second open-source social media icon set, for free! This set includes thirty-five 32×32 icons in PNG and PSD format. You can use these icons however you like. There are absolutely no restrictions. I hope that you resell and redistribute them in your themes and plugins. If you post these icons for free on your site, it would be great if you could link back to this post!
This social media icon set includes icons for the following applications:
Facebook, RSS, Twitter, Dribbble, Pinterest, Instagram, Tumblr, Evernote, LinkedIn, Vimeo, Digg, DeviantArt, Bebo, Flickr, Posterous, Blogger, WordPress, Delicious, SoundCloud, Yahoo, eMail, StumbleUpon, YouTube, MySpace, Last.fm, DesignFloat, Orkut, Behance, Netvibes, Reddit, Forrst, Grooveshark, Path, Google Plus and Picasa.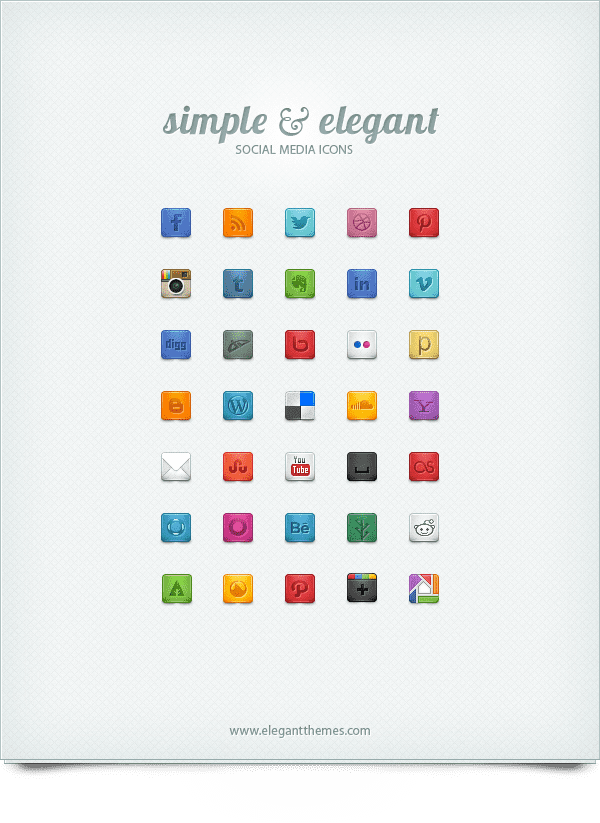 Share these icons using the following code:
Download Here