Welcome to Day 89 of our Divi 100 Marathon. Keep tuning in for 100 days in a row of awesome Divi resources as we count down to the amazing release of Divi 3.0 on the final day of the series!
---
In today's post I am excited to share with you a brand new Divi layout pack I created. Inspired by the Divi 100 posts, I thought I would show what can be done in just one day using the awesome (and free) Elegant Themes Wireframe Kits Vol. 01 and Vol. 02. I also took advantage of some of their other free layouts such as the Footer Layouts, Section Layouts and Contact Layouts.
Last week I decided to upload all their layout kits into one WordPress installation for my own personal reference. By building new pages within this installation containing all the other layout packs, it made it very easy for me to copy and paste sections, rows and modules from an existing layout into my new page simply using the Divi right-click copy and paste feature.
Before I knew it I had two new layout packs all my own. The first one is for churches and ministries (which I released on my own website) and the second is the fitness layout pack that I'm sharing with you today.
Check it out!
Downloading & Using Sarah Jade, the Crossfit Inspired Layout Pack by Geno Quiroz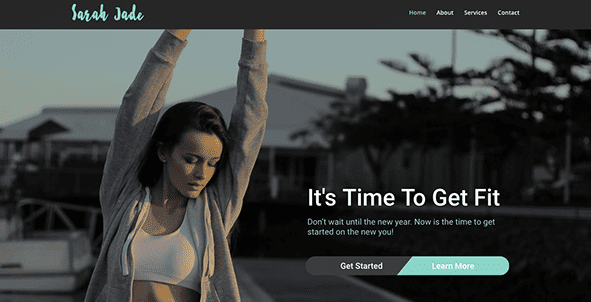 To use the new Divi Fitness Layout Pack on your own Divi website you will first need to download it using the button below. Next, locate the file Fitness Layout Kit #1 – by Geno Quiroz.zip in your downloads folder and unzip it. Then, navigate in your WordPress admin to Divi > Divi Library and click the "Import & Export" button at the top of the page.
When the portability modal pops up go to the import tab. Click the "choose file" button and select the All.json file or any of the individual files you want. Then click the blue "Import Divi Builder Layout" button and wait for the import to complete.
Once the import has finished you will now have the ability to load your new Divi Fitness Layout Pack on any builder powered page by going to Load From Library > Add From Library.
Subscribe To Download For Free
Sarah Jade, the Crossfit Inspired Fitness Layout Pack by Geno Quiroz
This Fitness Layout Pack is designed for health coaches, personal trainers, crossfit coaches, lifestyle coaches and gyms. But as with most layout packs and child themes, it can be repurposed for just about anything.
This layout pack includes 4 custom pages to help you get a head start on your next project.
Home
About
Services
Contact
If you'd like to view a demo of this layout pack in action, you can do so here.
Tomorrow: 5 Stunning Examples of the Post Title Module & How to Achieve Them
In tomorrow's blog post contributor Josh Hall is going to share five different ways that you can style the post title module. These various styles are especially useful for anyone regularly blogging with the Divi Builder because you can save a style and re-use it over and over again on each new post–substituting in new content, of course. See you there!
Be sure to subscribe to our email newsletter and YouTube channel so that you never miss a big announcement, useful tip, or Divi freebie!

Divi 100 Day 89
The Countdown To Divi 3.0
This post is part of our Divi 100 marathon. Follow along as we post free Divi resources for 100 days in a row! This 100-day countdown will end with the game-changing release of Divi 3.0, including our brand new visual editor built from the ground up using React. Divi 3.0 will change the way you build websites with the Divi Builder forever!
Let the countdown begin.