Hey Divi Nation, thanks for joining us for the next installment of our weekly Divi Design Initiative; where each week, we give away a brand new Layout Pack for Divi.
This week our design team breaks into the world of fashion with a fashion layout pack designed to be as flexible as it is stylish. With the eight different page layouts included in the pack, the website is going to look great right out of the box. And, the site isn't limited to the fashion niche. With a few customizations, you can build many different kinds of websites including blogs, small business sites, and even e-commerce sites.

Check Out The Divi Layout Pack
for Fashion Sites Below

Landing Page Design

Home Page Design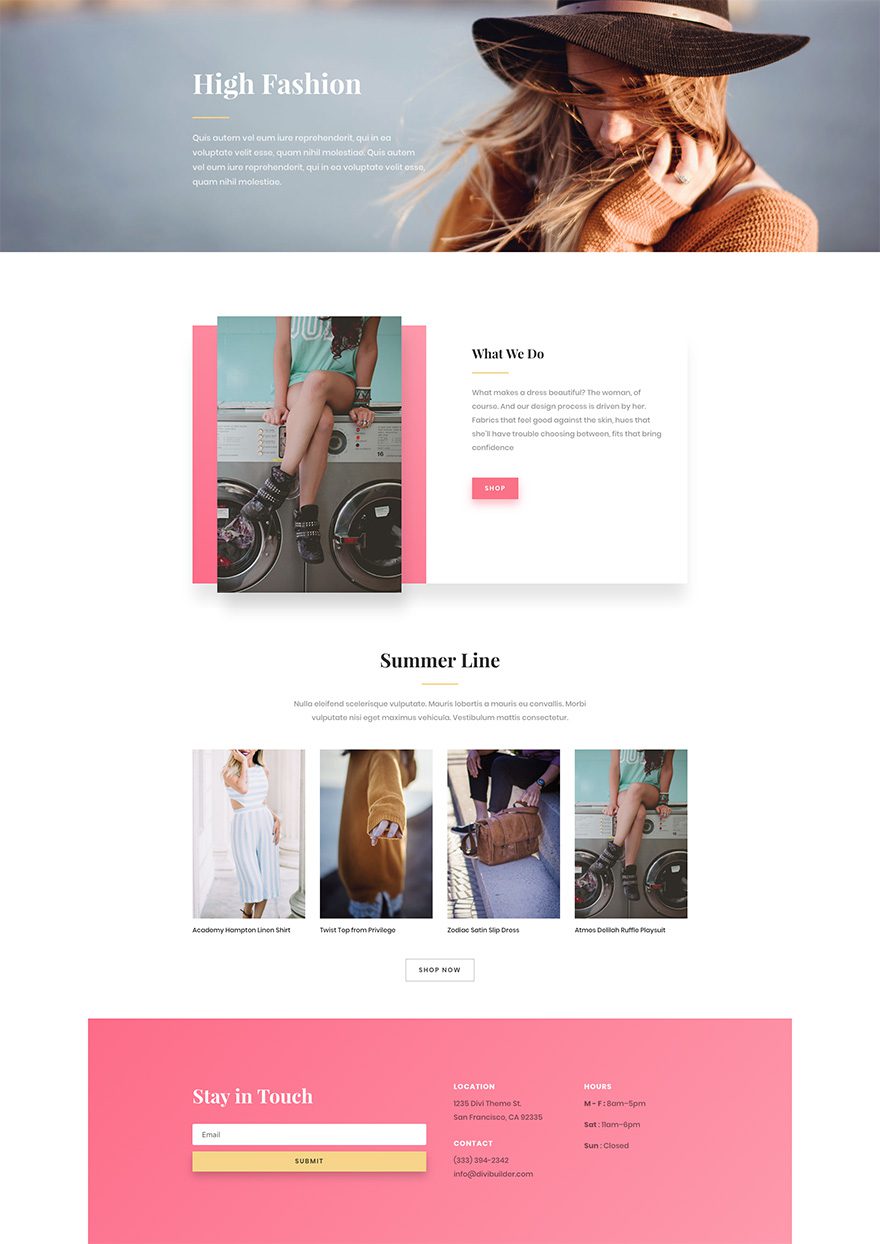 About Page Design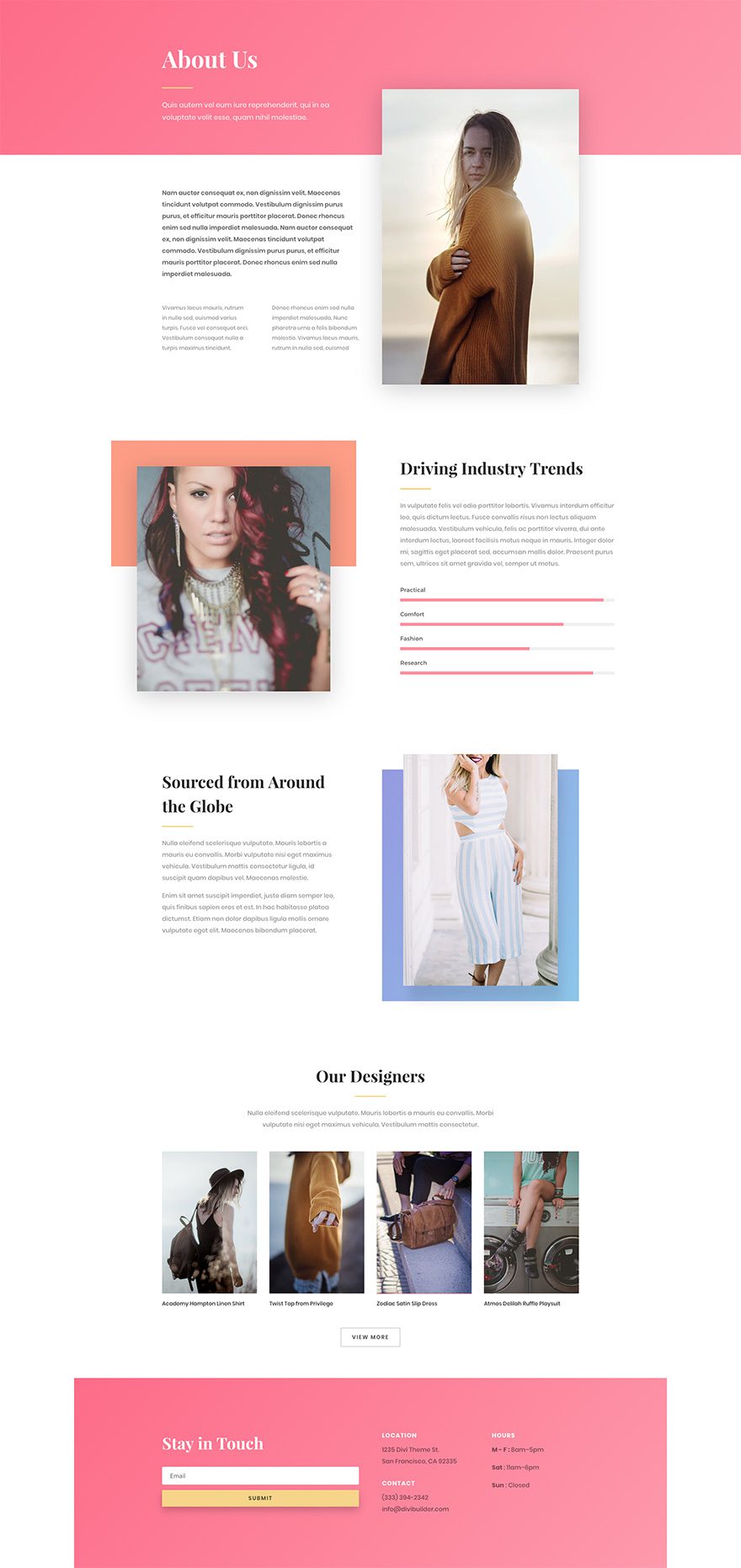 Blog Page Design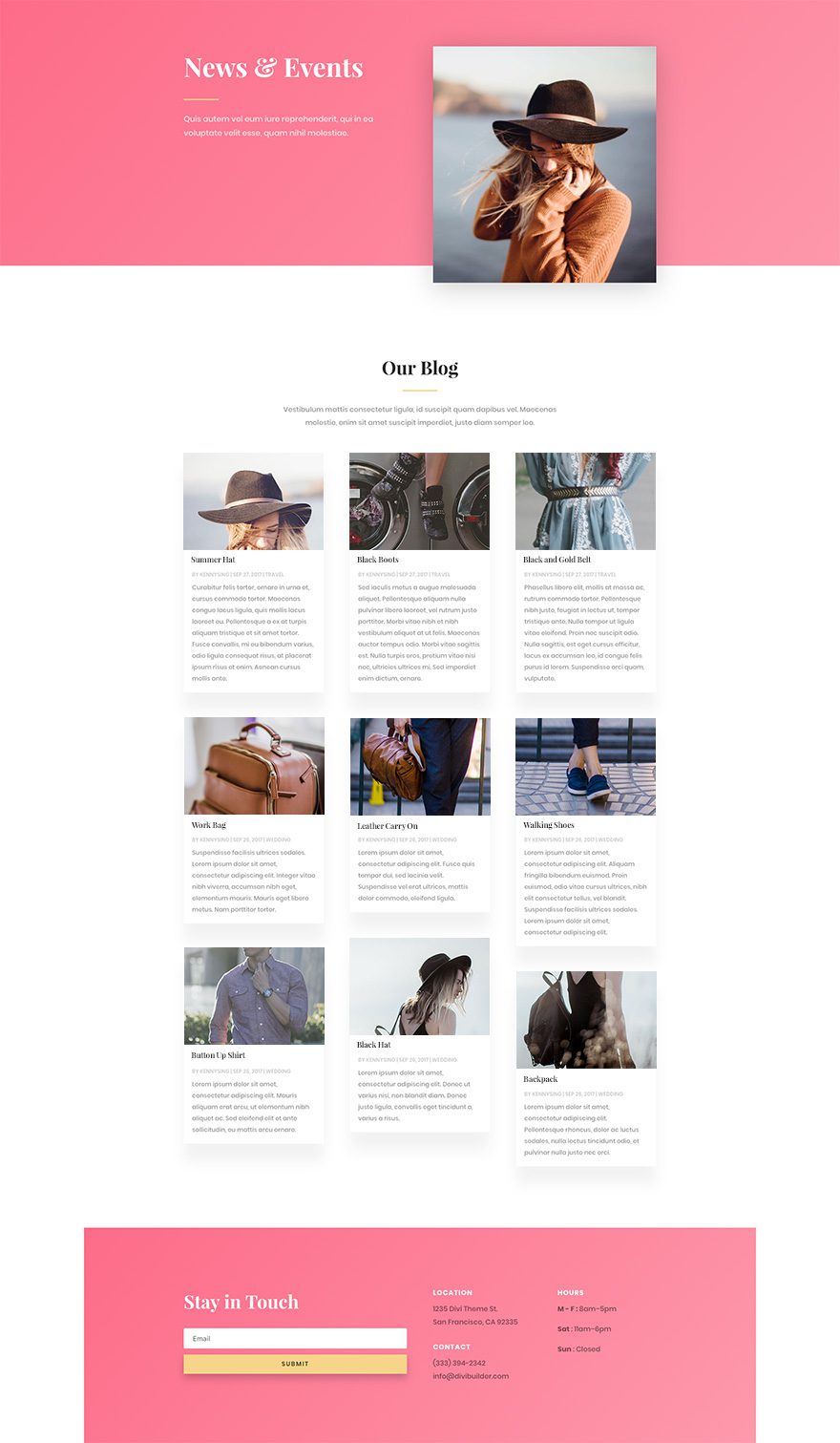 Contact Page Design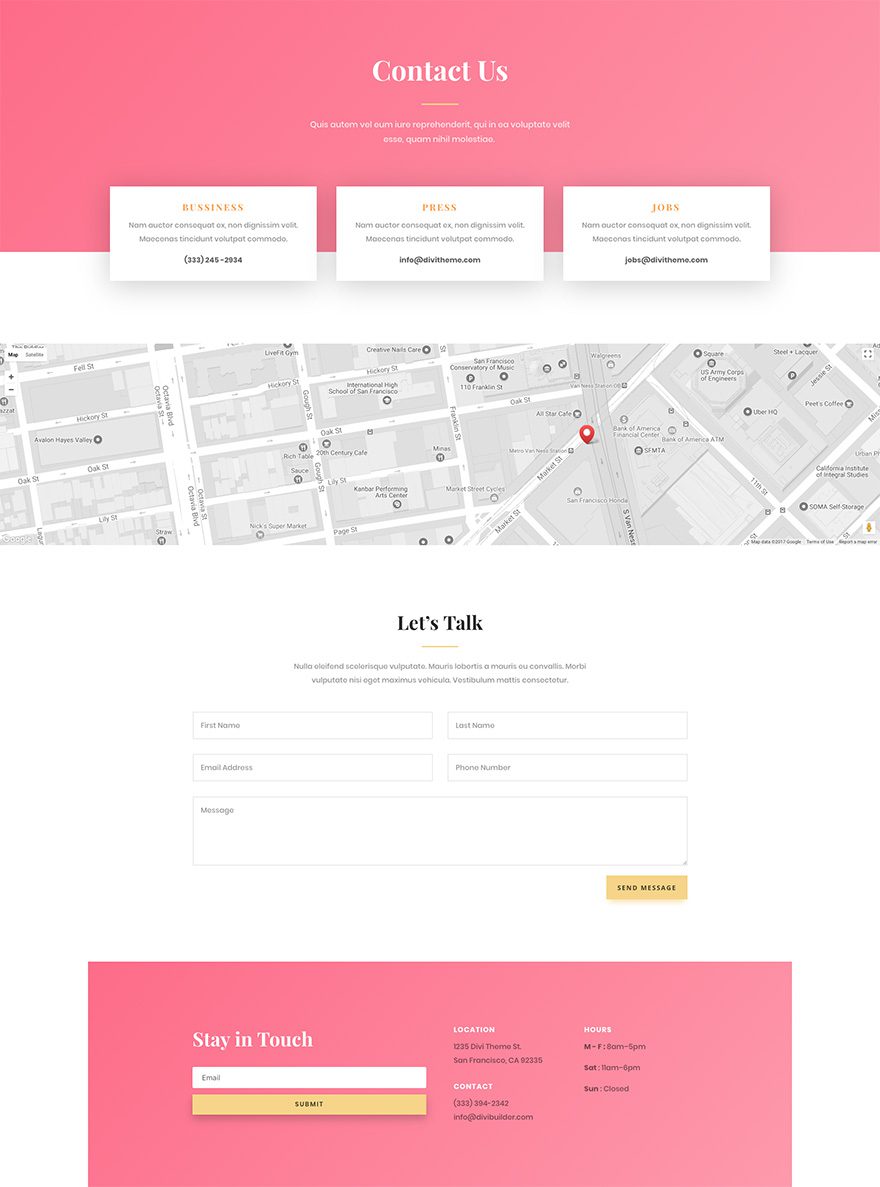 Gallery Page Design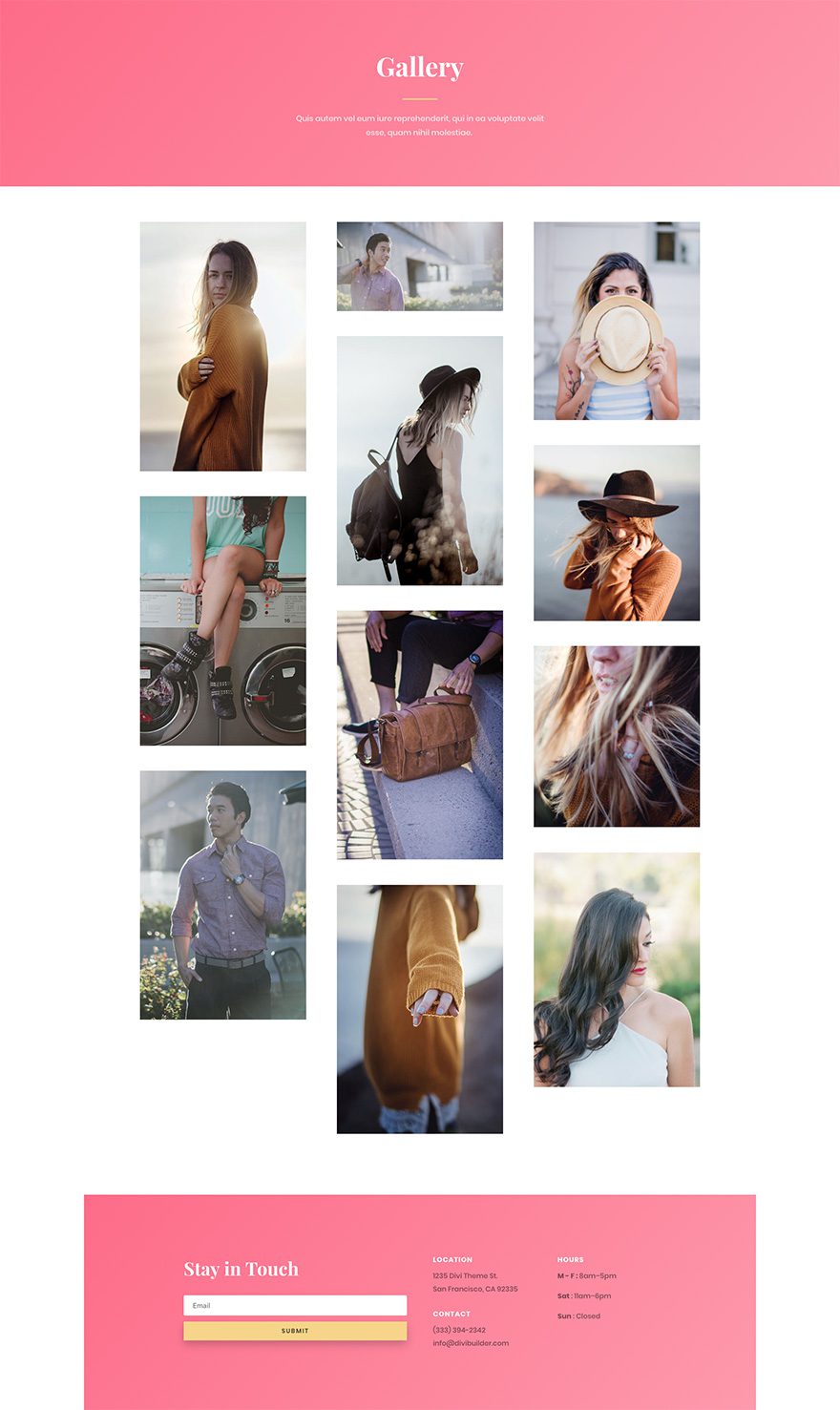 Shop Page Design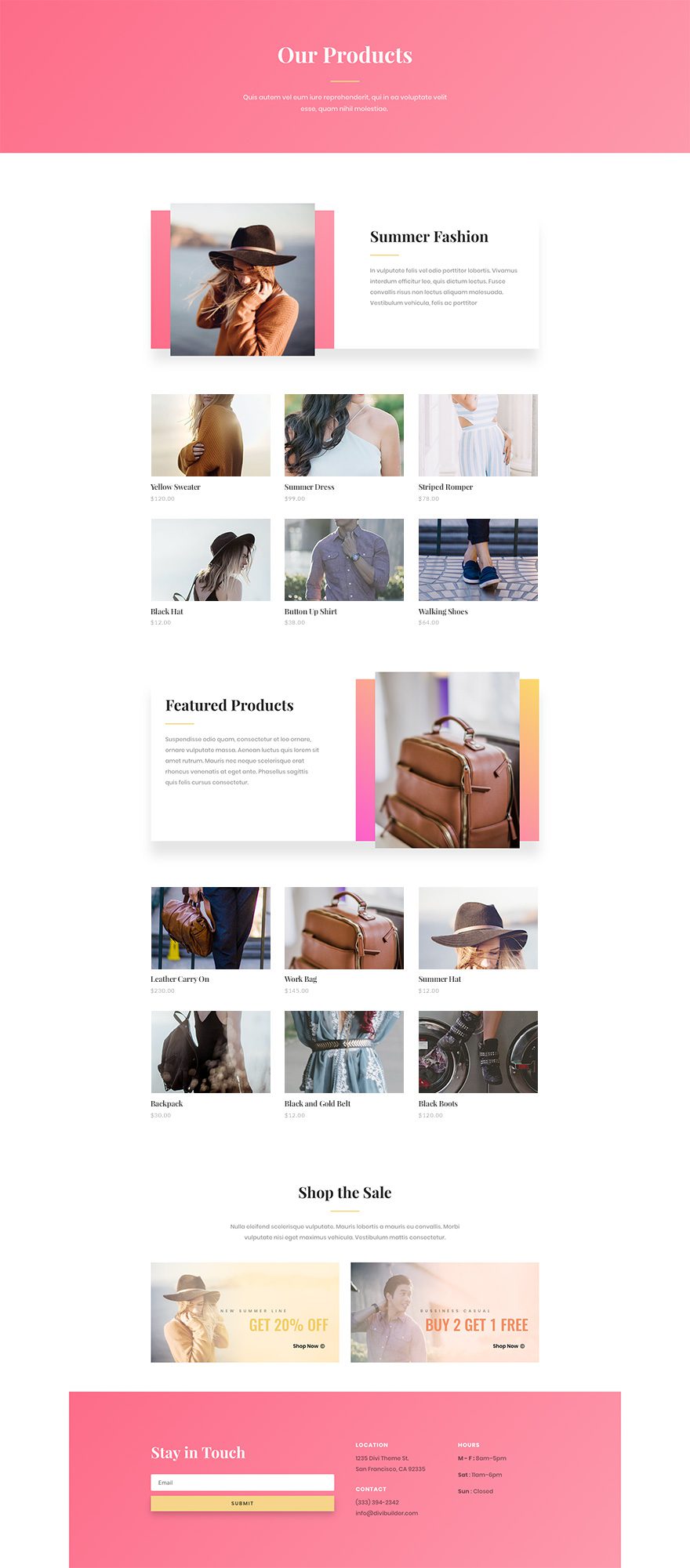 Designer Page Design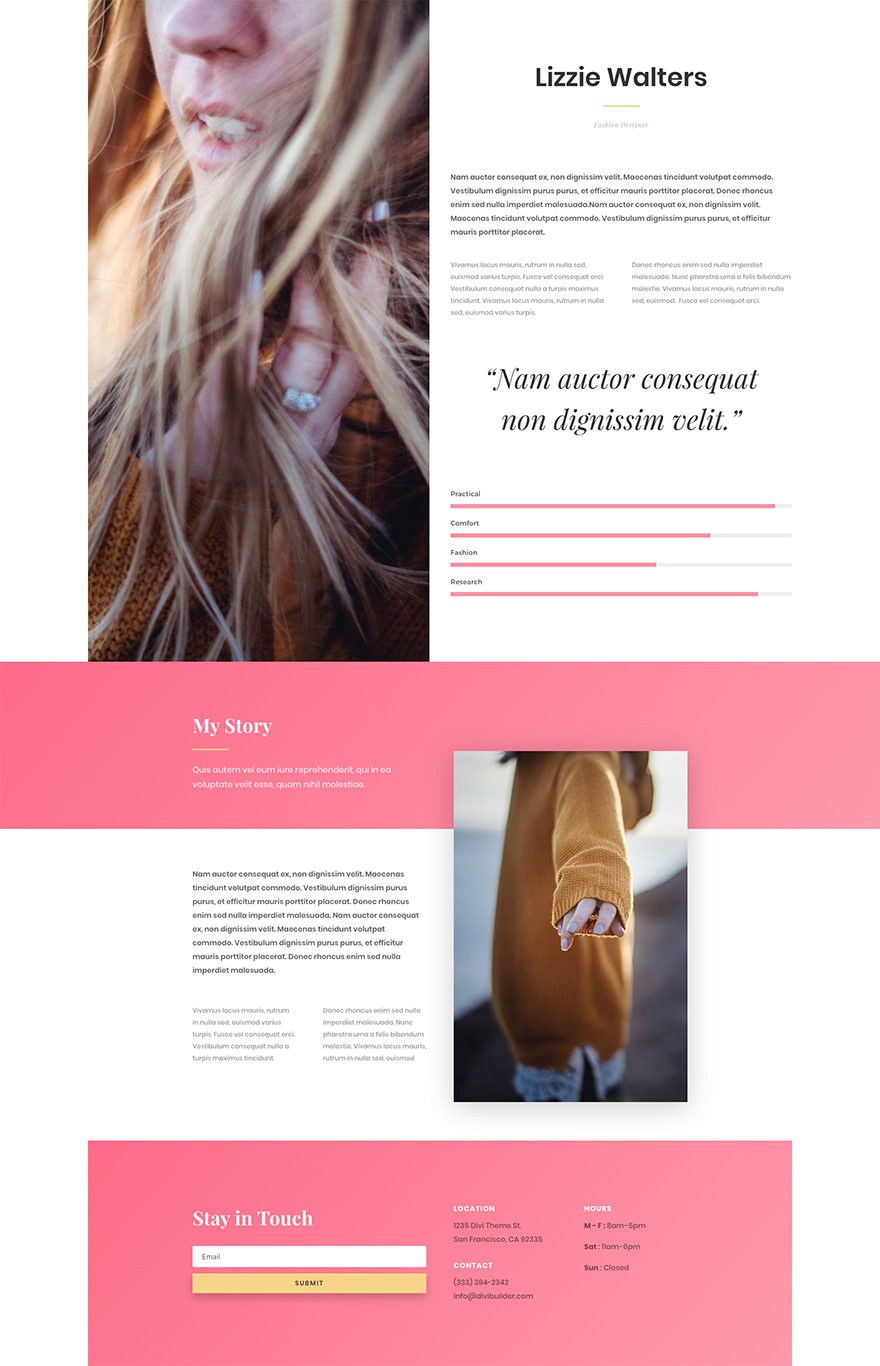 Key Features
One of my favorite things about this layout is it's flexibility. Changing the color scheme of the site would be really easy since all of the content areas have a white background. This makes it all the more flexible for your branding needs. I can see this being used by bloggers, small businesses, photographers, you name it.
But what really shines is how well it is built for e-commerce. The featured sections on the landing page organized and spaced nicely to showcase items on sale, by category, and popularity. The shop module is used throughout to display products in a way that matches the feel of the design. And I love the customizable promotional banners advertising "20% off" and "Buy 1 Get 1 Free". The fact that they aren't images and can be edited is a really helpful addition for an e-commerce site.
Keep in Mind
The shop page and product displays throughout the site require Woocommerce to be installed with products added. Also, be careful to keep all of your product images the same dimensions when adding new products so that they all have the same height on the page. It helps that all of the images for your products are the same size so they line up nicely.
Live Demos
Click the links below to see a live demo for each of the layouts included in the pack.
Download The Layout Pack
To use the Fashion Layout Pack on your own Divi website, you will first need to download it using the button below. To gain access to the download you will need to subscribe to our newsletter by using the form below. As a new subscriber you will receive even more Divi goodness and a free Divi Layout pack every Monday! If you're already on the list, simply enter your email address below and click download. You will not be "resubscribed" or receive extra emails.
How To Import The Divi Layout
Subscribe To Our Youtube Channel
Once you have downloaded the layout pack, locate the divi-fashion-layout-pack.zip file in your downloads folder on your computer. Double click the folder to unzip it and then navigate inside the divi-fashion-layout-pack folder. Inside this folder you will find 8 files, each of which is a unique layout that you can import into your Divi Library. To do so, navigate in your WordPress Admin to Divi > Divi Library > Import & Export. You can select the individual layout you desire or choose the All Layouts file to important everything at once.
Fashion_All.json
Fashion_About.json
Fashion_Blog.json
Fashion_Contact.json
Fashion_Gallery.json
Fashion_Landing.json
Fashion_Shop.json
Fashion_Home.json
Fashion_Designer.json
To load one of these layouts onto your page, activate the Divi Builder and then look for the "Load From Library" icon in the page settings bar (it looks like a plus symbol). Click this icon to launch the Load From Library popup and then navigate to the Add From Library tab. Here you can choose any of the eight layouts we've included in this pack to add to your page.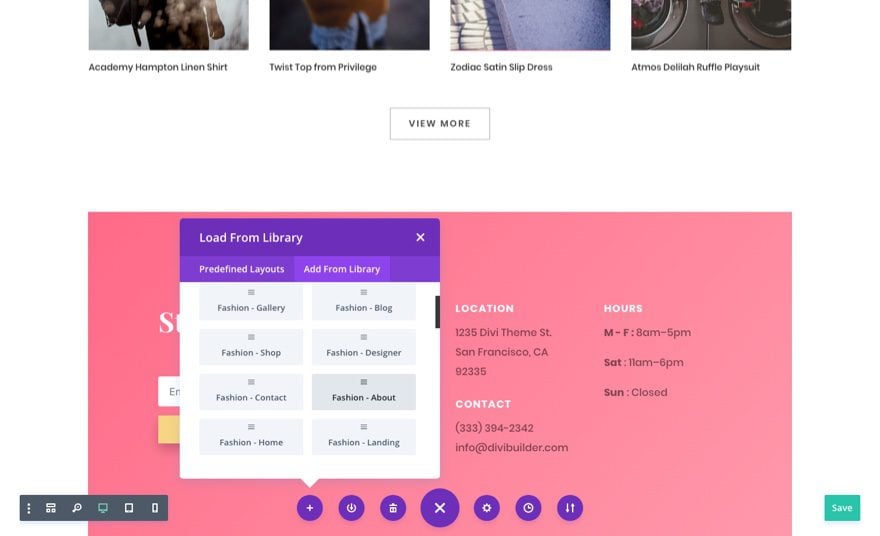 No Licensing Restrictions

The photos included with these layouts have no licensing restrictions. This means you can use them in all of your commercial projects without having to worry about paying licensing fees or attributing the photographer. Use them in your commercial websites, sell them within your Divi child themes, include them in your own Divi layout packs or just use them on your blog. We know how challenging it can be to find good photos and how confusing and scary the licensing that governs those photos can be. We want to fix that problem for our users.
Download the Full Res Image Assets
But Wait…There's More!
We hope you enjoy this fashion layout pack. And to help ensure that you do, we'll be doing a live stream on our Facebook page this Tuesday at 3pm EST to walk through how to turn this layout pack into a fully functional e-commerce fashion blog. This walk through will show you how to use elements of the different layouts to design a custom post layout for your blog, how to add a shop (with Woocommerce) to sell fashion products online, and more.
See you there!