Wedding websites have become a popular way to share the news and important information about the wedding. Any type of wedding website can be built with Divi. However, with Divi you don't have to create your website from scratch. Instead, you can use a child theme. In this article we'll take a look at 10 Divi child themes that are perfect for weddings.
Wedding websites tell about the lovers' story and provide guests with information about the time and venue, guests that will attend, food, and clothing including colors and styles, and lots more. They often use soft and elegant colors, fancy fonts, silver and gold highlights, portfolios, galleries, forms, and maps. Service providers use them too to show their wedding planning and catering services. We'll see all of those in this article.
I've included links to the demos but not where to purchase them because they're available in multiple marketplaces as well as on the sites of the developers. If you prefer to use layouts rather than child themes then stick around to the end and we'll look at two layouts made specifically for weddings. The child themes and layouts are in no particular order.
1. Emerie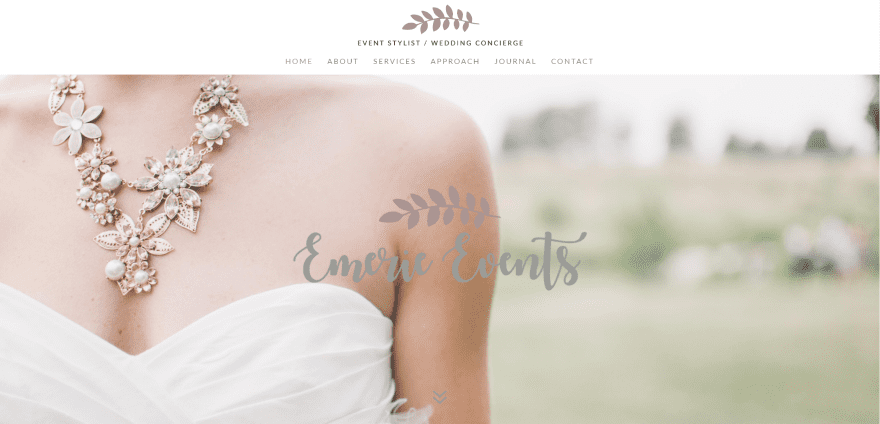 Emerie comes with 7 custom page and post layouts with a homepage, custom functions and styles, menu, and free logo files. The blog layout is great for use as a gallery and telling the couple' story. The site is white with a dusty gray highlight. The homepage uses full-screen images, parallax, and links to pages. It's a great choice for wedding and event planners, food and floral stylists, and wedding blogging.
2. Wedding Invitation Page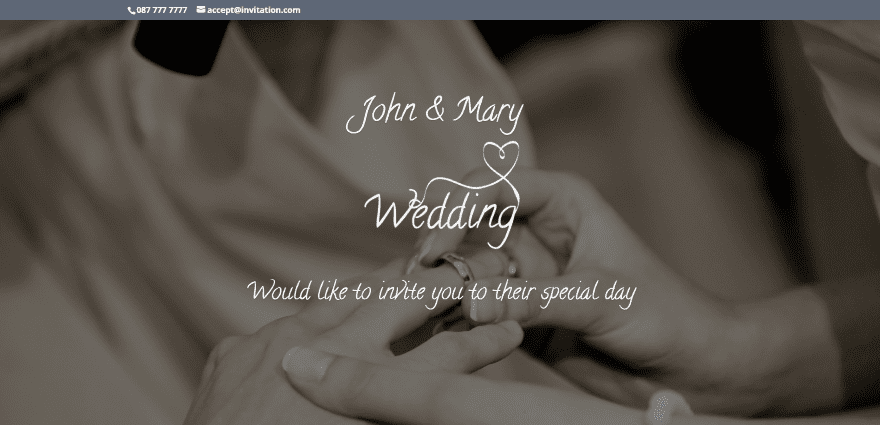 Wedding Invitation Page, as its name implies, is a single page designed to work as a wedding invitation. It includes a full-screen image in parallax, two-column sections with alternating text and images that show when, where, about the venue, an RSVP form, and directions. It uses a silver-ish/gray highlight color, elegant fonts, and floral designs. It's a great choice for wedding planners or anyone wanting to use a single page as a wedding RSVP form.
3. Toujours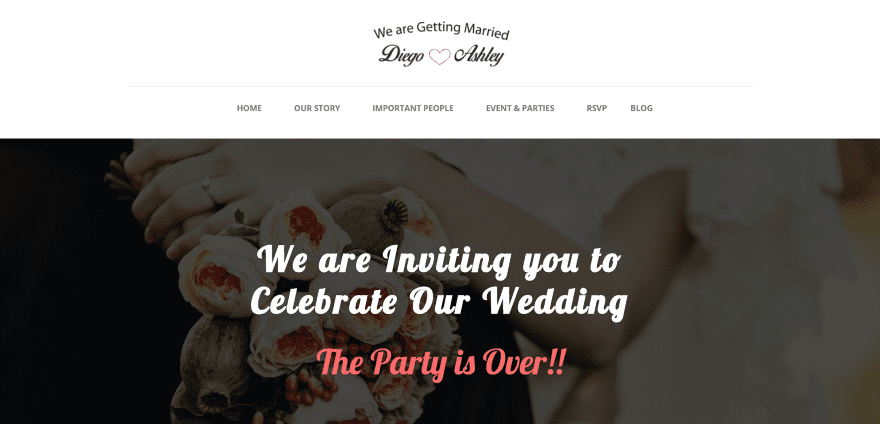 Toujours includes an image portfolio, contact form, profile page, guest page, blog, Google Map, social media, and free plugins such as a local schema widget for local SEO. The homepage includes an about section that details the bride and groom using person modules and elegant hover effects for the images. A timeline shows the history and wedding plans. Another section details the groomsmen and bridesmaids in styled person modules. It includes event details, RSVP form, blog section, image gallery, contact info, and more. The site uses lots of white, pink, and floral section dividers. It's a great choice to show details of wedding events.
4. Anna
Anna is a simple site with 5 page templates that include the homepage, About, Gallery, Testimonials, and Contact. Styled modules match the soft slightly orange-tinted highlights. The homepage displays a three-column layout with image and links to pages. It includes Google fonts and free logo files. It can be used for wedding announcements, RSVP signup forms, registry, guestbook, and more.
5. Soho for Divi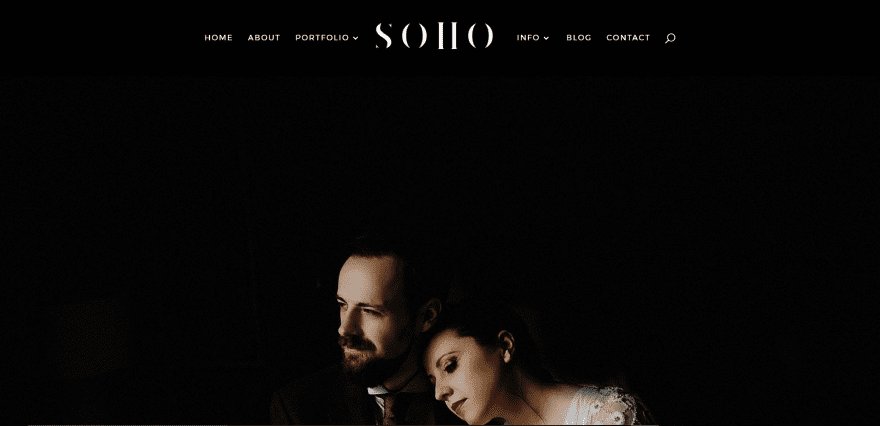 Soho for Divi includes 11 layouts with four gallery options and a premium plugin called Divi Portfolio Posts Pro to showcase your blog posts in a portfolio grid. The homepage displays a full-screen image slider, sections with information about the bride and groom, gallery, styled contact form, and a styled social sharing section. The sections include overlapping silver fonts. The site uses a white background with black highlights. It's a great choice for wedding events and photography.
6. Floraison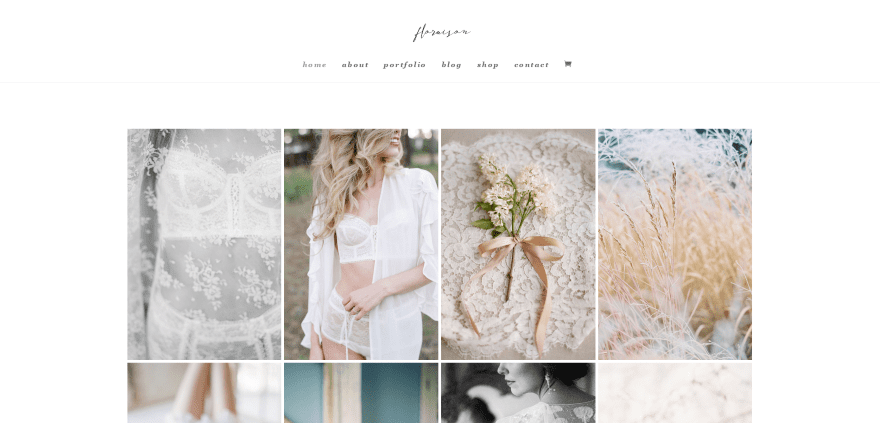 Floraison includes 9 page layouts, the premium version of the Essential Grid plugin, gallery image PSD templates, layered PSD files, and free fonts from professionally selected font parings. The homepage displays a four-column image grid. It also includes WooCommerce integration. It's primarily a white theme with dark gray highlights. It's a good choice for wedding events, catering, and photography services.
7. Reese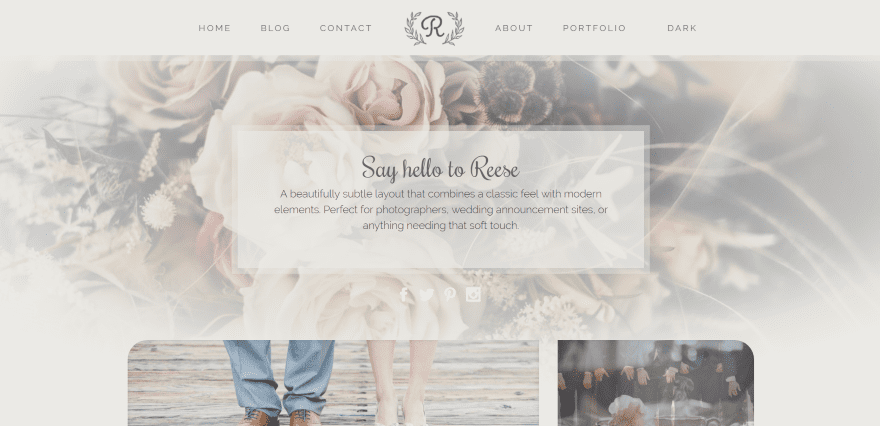 Reese includes 11 custom pages and post templates. Other features include a custom header, gallery, contact form, mobile menu, and login page, as well as a text-wrap feature. It includes sidebar styling, overlays, and elegant fonts. The homepage displays a welcome message in an overlay, a multi-column layout with image sliders, a link to the blog, and custom footer. Colors include light tan-ish backgrounds with purple header fonts. It's an excellent choice for wedding events, announcements, photography, registry, guestbook, and more.
8. The Wedding Planner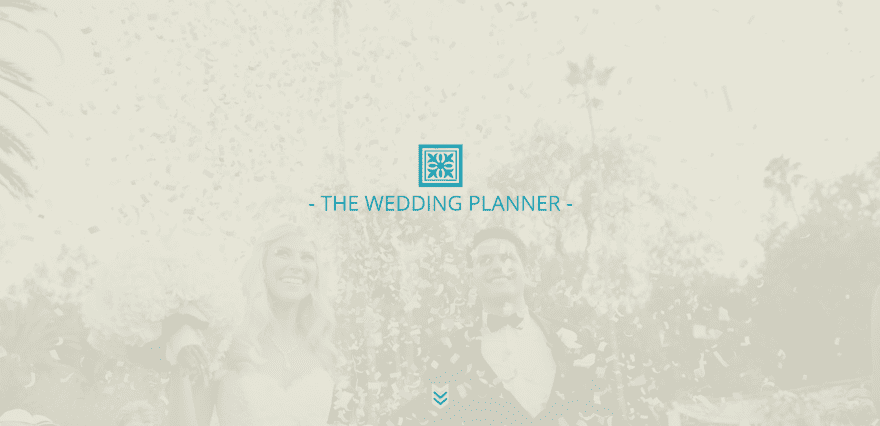 The Wedding Planner is a free child theme that includes 6 pages: Home, About Us, Our Services, The Blog, and Bookings. The homepage shows an overlay in parallax and an animated icon. The layout is two-column with alternating text and images to show the bride and groom's story, the venue, catering, bridal wear, and contact form. Smaller full-width sections provide taglines throughout the layouts. Colors include tan backgrounds with blue highlights. It's an excellent choice for wedding planners and wedding blogs.
9. Danielle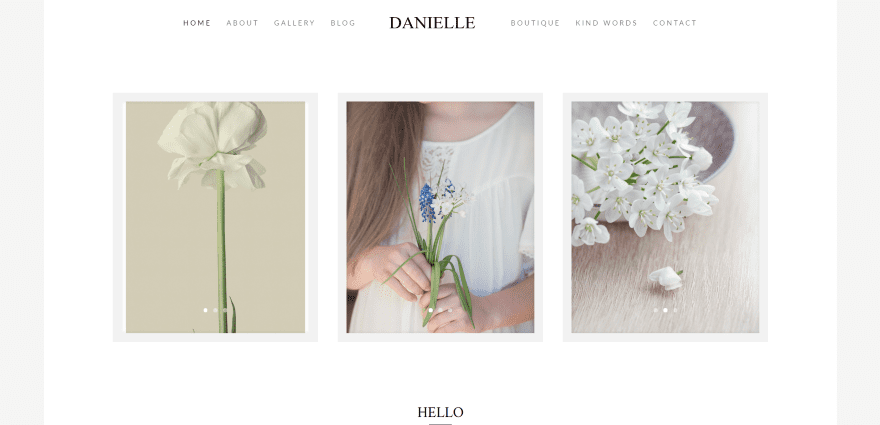 Danielle comes with 9 page and post layouts, widgetized sidebars, and WooCommerce integration. Layouts include multiple homepages, shop, blog posts, and categories. Other features include overlapping images, an Instagram feed, elegant borders for images, hover effects, a three-column gallery with sliders, and a four-column gallery grid. The theme is white with light gray highlights. It's a good choice for wedding events and wedding blogging.
10. Dual Café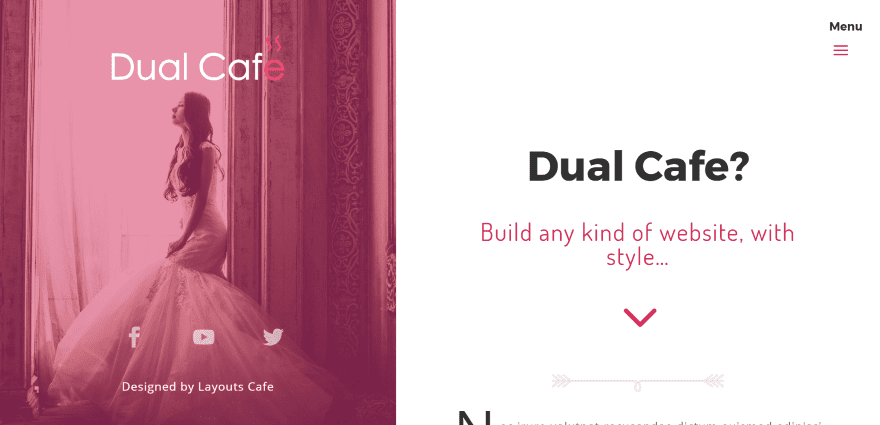 Dual Café is a multi-purpose child theme that's perfect for weddings. It uses a split-screen design. The left side remains in place – displaying an image with overlay, logo, and social links. The right side scrolls – displaying a tagline, 20 styled content modules, and a full-screen menu with hamburger icon. It includes 10 layouts, uses a white background, and has red/dark pink highlights which is great for those who prefer a bolder look. It's a great choice for wedding events and blogging.
Bonus: Layout Packs
If you're not looking for a complete child theme for your wedding website there are several layouts available to help you get started quickly.
11. Mandy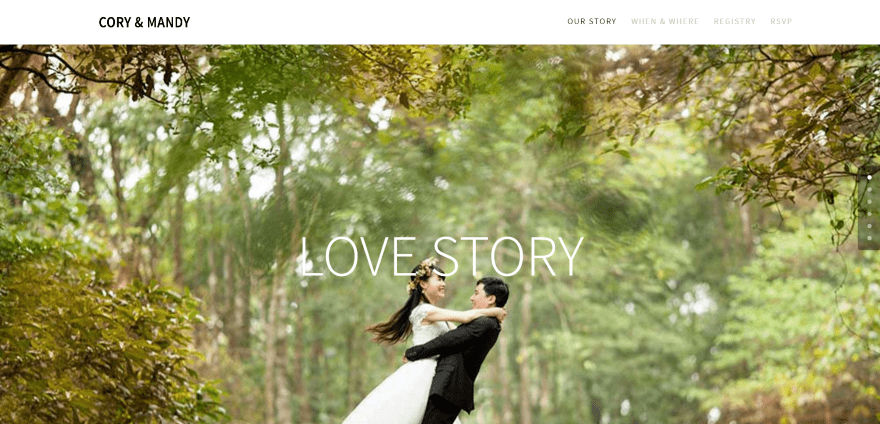 Mandy includes 5 pages with sections for RSVP, gallery, links to registries, etc. The homepage displays a full-screen image with tagline in parallax, information section, gallery grid, and several full-screen image sections with parallax to tell the story. Pages include Our Story (the homepage), When and Where (with links to map and hotels), Registry (with logos of stores), and RSVP (with form). It includes lots of parallax and uses clean fonts.
12. Wedding Website Layout for Divi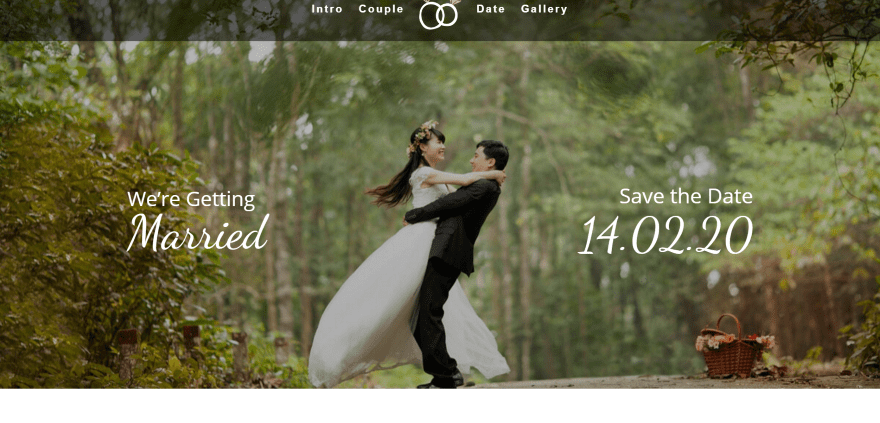 Wedding Website Layout for Divi is a free layout with a single page design. It includes a full-screen image with date, a two-column section introducing the bride on one side and the groom on the other, a styled section with countdown timer, styled blurbs with details about the wedding ceremony and party, and image gallery with overlays. It has elegant fonts and pink patterned backgrounds.
Final Thoughts
For anyone that wants to create a wedding website Divi has plenty of great-looking child themes to choose from. They use elegant colors and fonts, nice layouts, and provide you with the features you need to display RSVP forms, images, and information about the event. With these 10 child themes and 2 layouts there's sure to be something to meet your wedding website's needs.
We'd like to hear from you. What's your favorite Divi wedding child theme or layout?
Featured Image via pandora64 / shutterstock.com