Both amateur and professional videographers use Adobe Premiere as their main editing tool. It's a favorite, alongside Adobe After Effects. The purpose of Adobe Premiere Pro is to edit video and audio footage to create any type of video. Adobe Premiere Pro is a tool to make music videos, social media videos, YouTube videos, etc. The app is part of the Adobe Creative Cloud and is only available via subscription.
As content managers, we know that video is bigger than ever and keeps gaining popularity every day. Video is now a staple content style for brands in any industry. Content creators need to know how to use a video editing app like Adobe Premiere Pro. for that reason, we've put together the best Adobe Premiere Pro tutorials for 2019. Here are tutorials for beginners who have never used the app and also for regular users who want to know new techniques.
Tutorials in The Adobe Help Center
As always, the first place to look for Adobe tutorials is the Adobe Help Center. There are plenty of resources for beginners, intermediate and advanced videographers. These are the latest additions in their tutorial database. They are directed at intermediate Adobe Premiere Users.
1. Using Freeform to Arrange Clips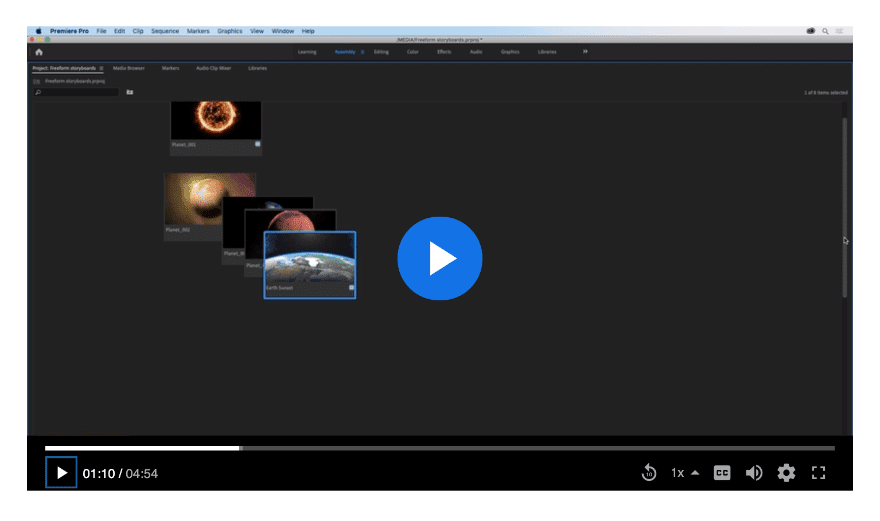 This tutorial is about the Freeform option in the editing panel. There are three options for how the clips dashboard is set up; list, icons and freeform. With the freeform option, you can arrange your clips in an intuitive way, with drag and drop tools. This technique is great for those people who prefer a more hands-on approach to editing.
2. Personalize the timeline panel
This short tutorial is for videographers who have been using Adobe Premiere Pro for a while. In this case, the main idea is to personalize the timeline panel. You will learn how to make the timeline work better and faster by customizing the audio and video editing controls.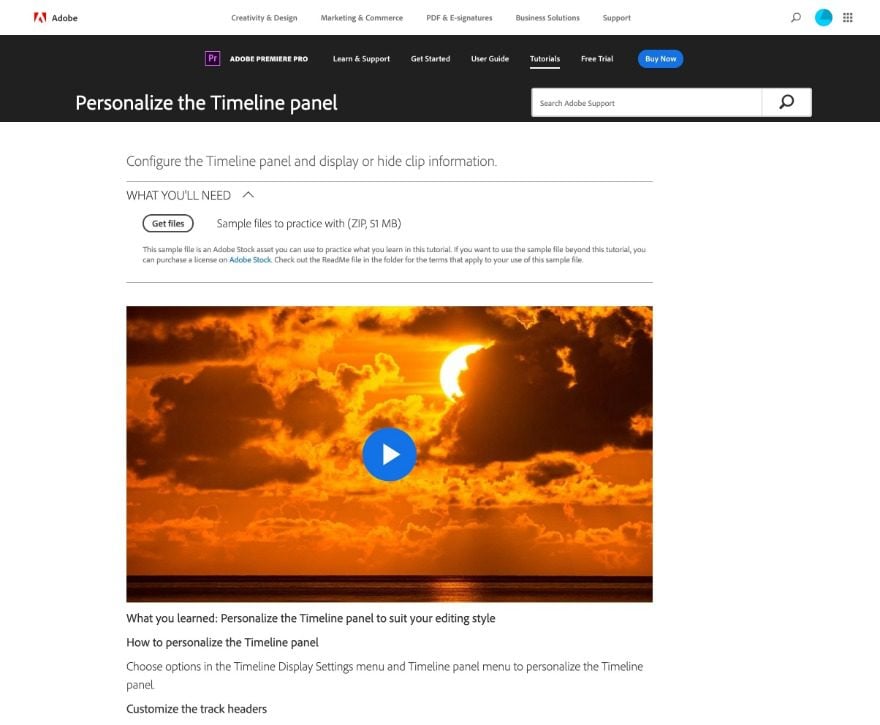 Tutorials by Unlock River
Unlock River is a company which unlocks phones. Surprisingly, they also have a strong YouTube channel with tutorials of all kinds.
3. Learn Premiere in 30 Minutes
The video below is for complete beginners. It will walk you through every single step to get started with Adobe Premiere Pro. From setting up the dashboard to importing clips and basic editing steps.
Watch the video on a different window.
Tutorials by iOgrapher
iOgrapher is a YouTube channel, especially for mobile videographers. He has lots of tips and tricks on how to make great videos with your mobile phone.
4. Learn Premiere Pro – Beginner Step by Step 2019
On this occasion, he created a step by step videos for his followers wondering how to get started with Adobe Premiere Pro. It's a great tutorial for all aspiring videographers using mobile devices or other cameras.
Watch the video on another window
Tutorials From Berkeley – Advanced Media Institute
5. Adobe Premiere Pro CC 2019
This tutorial is for beginners but it's detailed and quite intricate. It's from the Berkeley School of Journalism, so it has a more academic angle than a YouTube video. With this tutorial, you will learn every single thing about getting started with Adobe Premiere Pro at a professional level. This tutorial is for serious videographers who ultimately want to make a career out of it.
Tutorials by Premiere Bro
Premiere Bro is a blog run by a professional videographer who likes to share his knowledge. His site is full of resources, articles, news, and tutorials about Adobe and Adobe Premiere Pro. He is not directly affiliated with Adobe but does a great job of representing the editing app in his own way. Below are two of his latest tutorials for specific editing techniques with Adobe Premier Pro.
6. Using a Multicamera sequence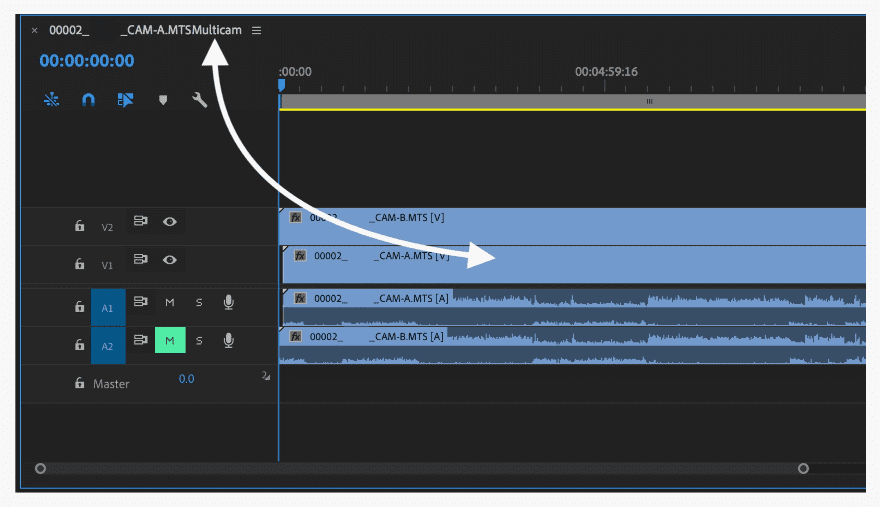 This tutorial is for intermediate to advanced users. Not every clip comes from the same camera, that's when a multicamera sequences come into play. This tutorial It's a step by step explanation for a little trick for editing multicamera sequences.
7. Link Adobe Premiere with After Effects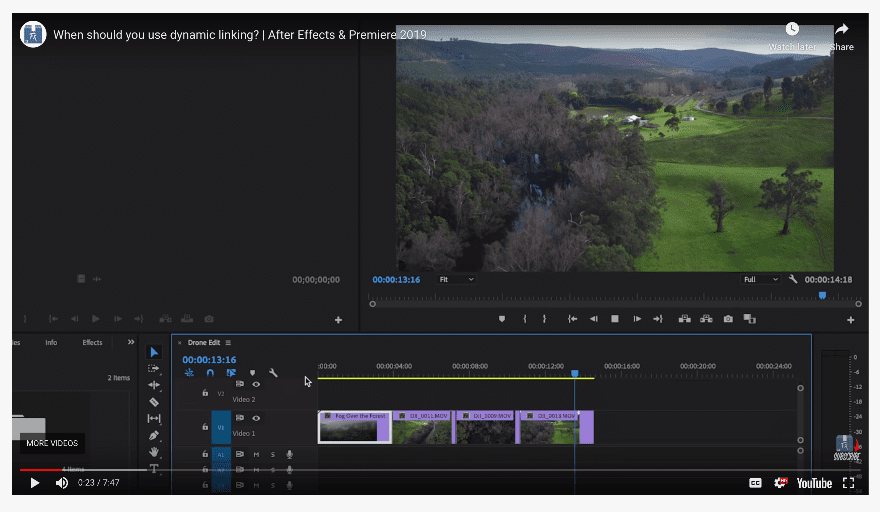 This is another tutorial for avid users of Adobe Premiere Pro. It explains 3 different ways to use the app linked with Adobe After Effects. By linking the programs together, a video can be edited in Premiere Pro and stylized with After Effects at the same time.
Tutorials by Cine Com
Cine Com is a tutorials website dedicated to videographers and cinematographers. Their site is full of resources, not only tutorials. The majority of tutorials are about creative effects which can be done with Adobe Premiere Pro and other video editing software.
8. How to Edit Faster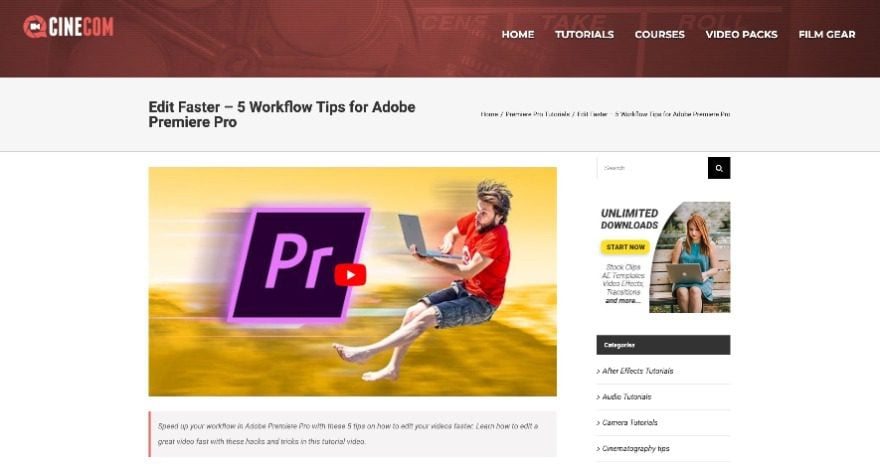 In this tutorial, you will learn 5 workflow tips for Adobe Premiere Pro. From grouping clips for color correction to how to export to After Effects without disturbing other clips. If you are already a user of Adobe Premiere Pro, you will appreciate this tutorial. It can really help you organize yourself better when editing videos.
9. 5 Easy Creative Effects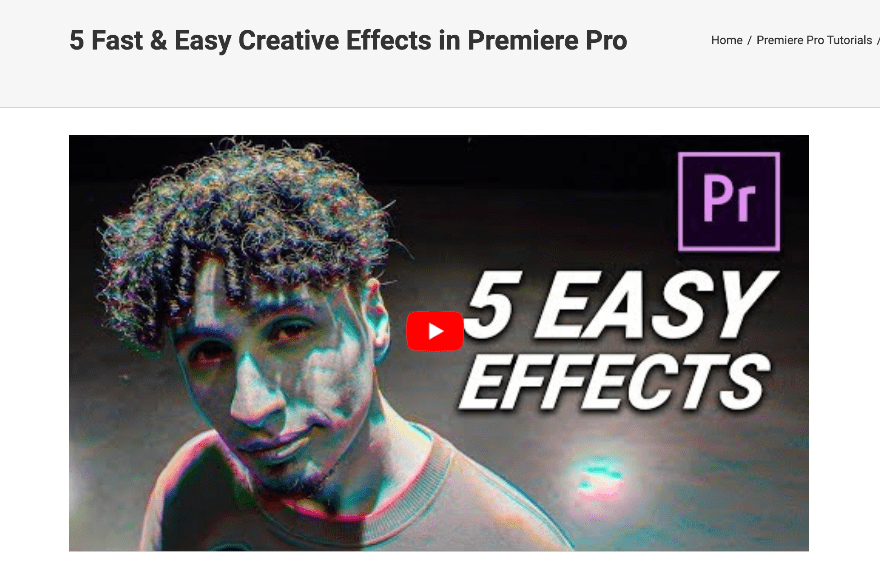 This tutorial explains how to use 5 different creative effects to apply to videos. From invert colors to the paint bucket tool, the host gives some great ideas for a creative video design. These tips are similar to what photographers do to photography.
10. Adobe Premiere Pro for Beginners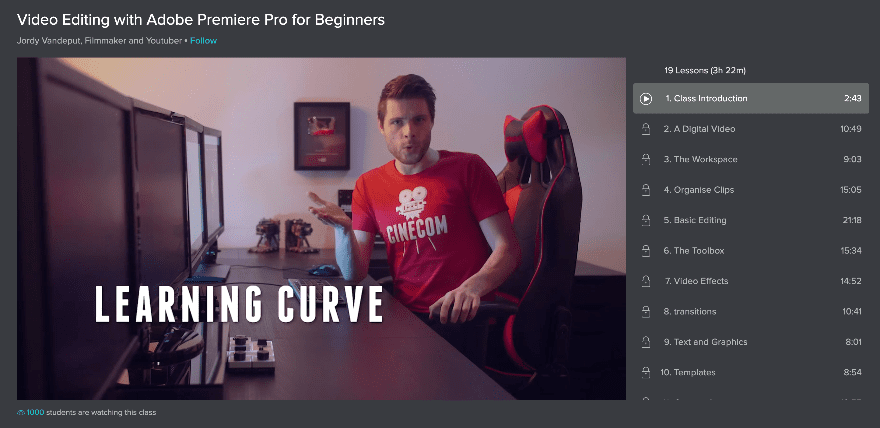 As you know, Skillshare is a learning platform for all creative fields. Not surprisingly, there are plenty of resources to learn Adobe Premiere Pro inside Skillshare. This is one of the newest and up to date courses available on the platform. The teacher is the same guy from the Cine Com website. He goes through all the steps for beginners who want to learn to make videos with Adobe Premiere Pro.
11. 9 Premiere Pro Hacks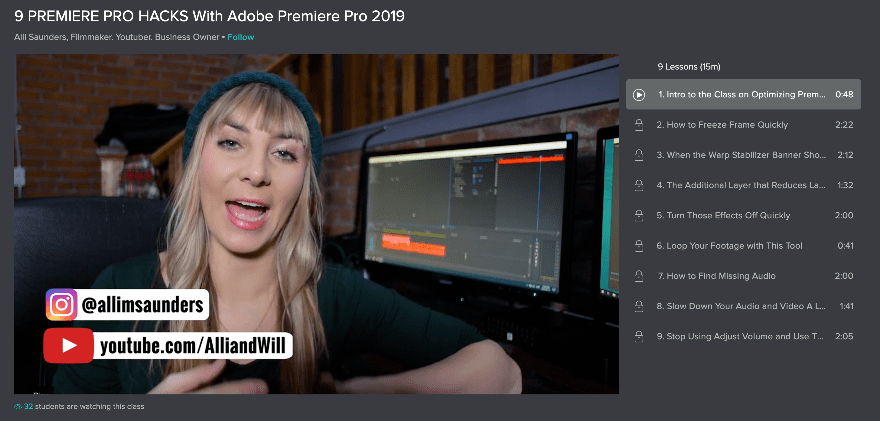 Another course on Skillshare, this time for intermediate users. This tutorial is about little known hacks for Adobe Premiere Pro. Like how to find missing audio, quickly turn off effects and other practical tips. These are useful hacks which will make creative editing easier and more enjoyable.
Tutorials by BVC Co.
Finally, we have an Adobe Premiere Pro tutorial for social media managers. This time we have a tutorial about how to make vertical videos for social media. The steps are easy enough for a beginner but can be used for users of any level.
12. How to make Vertical videos with Adobe Premiere Pro
Open the video in a new window.
It's a Wrap!
In this article, we offered you a selection of tutorials for Adobe Premiere Pro. From step by step tutorials on how to set up a timeline to creative effects and hacks and finally how to make a vertical video. We hope they inspire your creativity when making videos for your content. Let us know in the comments if you are a videographer or video content maker and found these tutorials helpful.
Featured image via alejik / shutterstock.com