Creativity is everything in the quest to create a unique online presence. In other words, it is what makes a web designer's world go round. But in order to exercise full creative capabilities, a web designer needs the right tools. And Adobe Creative Cloud, also known as Adobe CC, is one of those tools. There are so many amazing things you can do with Adobe Creative Cloud, and many of them will surprise you!
Adobe CC by Adobe gives users access to a software collection developed by Adobe for video editing, graphic design, web development, photography, and cloud team services. The announcement of its release happened in October 2011, leading into the 2013 announcement that Adobe wouldn't release new Creative Suite versions and that future versions of their software would be available through Creative Cloud. This is why Adobe CC has many of the features the Adobe Creative Suite had, but it offers many more applications individually or in the complete package of your choosing.
Adobe CC Apps You Should Be Using
As a designer, you want to ensure your websites have the latest of everything. You want visitors to interact and be impressed with the design while accomplishing what they are there to accomplish. Below, you will find descriptions of the Adobe CC apps that you should be using when developing a highly interactive, informational, and responsive website.
Project Comet (Coming Soon)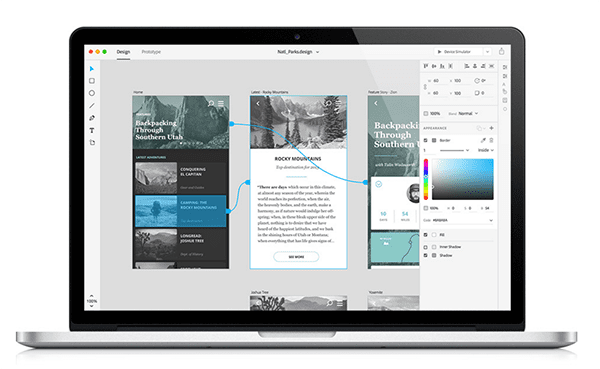 Slated to be released in early 2016 (so any time now) Project Comet is meant to be "a whole new experience in user experience design". What this app promises is that it will provide web and UX designers an all-in-one solution that allows them to take their web and app designs from start to finish. You'll be able to create wireframes, prototypes, interactive designs, and more. All of which you will be able to preview and share with others. This looks to be an important part of any web designers toolbox moving forward.
Adobe Animate CC (Coming Soon)
In November of 2015 Adobe announced that it would be discontinuing it's popular (and despised, depending on who you talk to) Flash application in favor of something new called Adobe Animate CC which will be designed to leverage new web standards like HTML5.
The new Adobe Animate CC will allow you to do all kinds of cool stuff. Here is a list of features from the blog post they published announcing the new app:
Drawing, illustration and authoring
Vector art brushes – Modify the path of a stroke after it's been drawn, and scale them to any resolution without losing quality. You can also make custom brushes and import brushes created with Adobe Capture CC.
360° rotatable canvas – Rotate the canvas on any pivot point as you draw to get the perfect angle and strokes. You can even use this feature with a Wacom Cintiq!
Improved pencils and brushes – Draw smooth, precise vector outlines along a curve and get faster live previews.
Easier audio syncing – Control audio looping directly on the timeline, without having to code.
Faster color changing – Naming tagged colors lets you change one color and have it automatically update your entire project.
Colored onion skinning – Easily orchestrate complex animations now that adjacent frames can have different color and alpha values.
CreativeSync integration
Adobe Stock – Browse and license millions of high-quality photos, illustrations and vector graphics directly in Animate CC. You can even add life to static content by adding animations to them.
Creative Cloud Libraries – Access colors, vector graphics and brushes directly as you work.
Output capabilities
Multiplatform support: HTML5 Canvas, WebGL, Flash (SWF), AIR, video, and custom platforms (such as SVG) via extensions.
4K+ video export – Export videos with custom resolutions for the latest Ultra HD and Hi-DPI displays.
Custom resolution export – Revitalize older content by resizing and optimizing them for any resolution, such as Ultra HD and Hi-DPI displays.
.OAM support – Export your project as an .OAM file for easy importing to Adobe Muse, InDesign, DPS and Dreamweaver.
Fireworks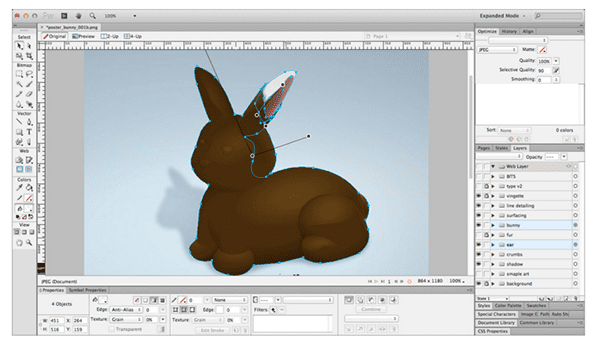 Fireworks is an app that allows you to create and edit a wide range of web optimized graphics. With Fireworks you can draw and edit vector and bitmap objects, add interactivity to graphics, as well as optimize and export graphics for the web. This app is a great tool to have in your web designers toolbox.
Brackets (Replacing the former Adobe CC app Edge Code)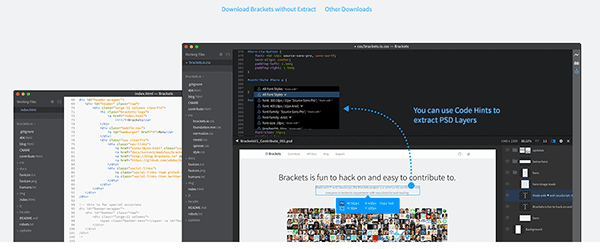 As of 2014, Adobe stopped developing their lightweight text editor Edge Code in favor of contributing to an open source text editor–Brackets. One of the best features of this lean, modern text editor is called Extract–which allows you to extract information such as colors, fonts, gradients, and measurements directly from PSDs and easily insert them into your CSS.
Brackets made the cut for our list of best code editors available in 2015 and it certainly remains a top choice today.
Illustrator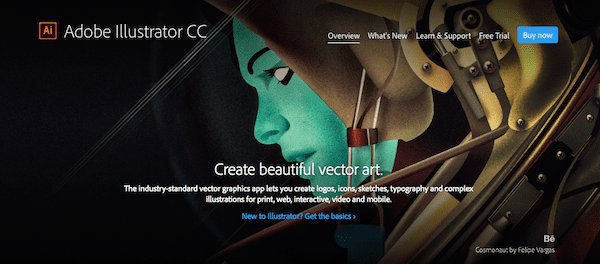 Chances are you encounter a client who is in need of a new logo. With illustrator, logo creation is taken to a whole new level. Take Illustrator's shape tools, for instance. They are now live, dynamically adjustable, and interactive. There is also a hinting feature that helps with the drawing of perfect shapes without using the control keys. If you have difficulty with accurately aligning objects, this is the tool that is going to save you time.
Photoshop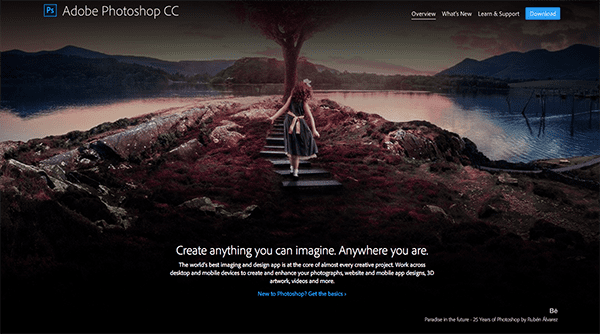 Photoshop has long been a favorite of web designers for creating mockups or even final web designs that will then be brought to life via HTML, CSS, and other code. In recent years tools like Sketch (and now the above mentioned Project Comet) have become popular and perhaps dethroned photoshop for some users as a go-to web design and prototyping application. However, with all of the utility that comes with Photoshop as what is undoubtedly the world's leading design application there is not reason not to be exceedingly familiar with it as a web designer in 2016 and beyond.
Lightroom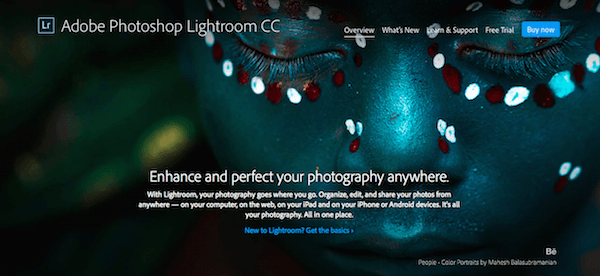 Photos are everything on a website. They have to be cropped properly, clearly, and tell a story. Lightroom allows you to adjust haze in specific areas of a photo, have complete color control, and you can edit photos on your mobile devices. With web browser-enabled photo editing, you can edit photos directly from your browser.
Premiere Pro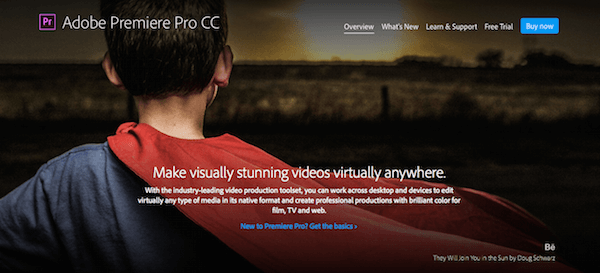 Video is becoming a more in-demand service for web designers. Video testimonials, advertisements, YouTube videos used to bring traffic to a website, and instructional videos are all becoming quite common. So why not have a good video production and editing tool? That's what Premiere Pro is for.
If you use tools such as final Cut Pro, you can migrate your projects to Premiere Pro. You have the capability to work across multiple projects, and you can edit using touch and gestures on your tablet. The end results are high-quality HDR videos with the ability to integrate smooth time remapping and frame-rate conversions. Do you want to demonstrate something in slow motion? Premiere Pro is going to get the job done. If you want to speed the video up, you can do that as well.
After Effects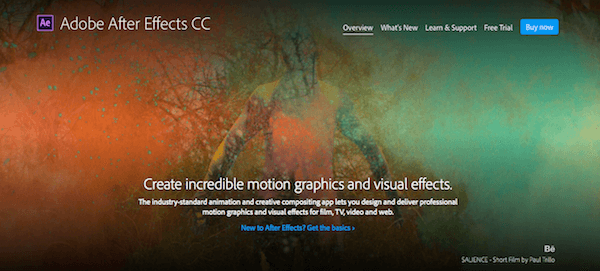 After Effects is another visual element that you can integrate into the videos on your website. You can add special effects to your video and you can even create a puppet animation. If you have ever seen those informational puppet animations on social media, After Effects is one of the programs used to create them. You can use captured shapes to put graphics into motion, too.
InCopy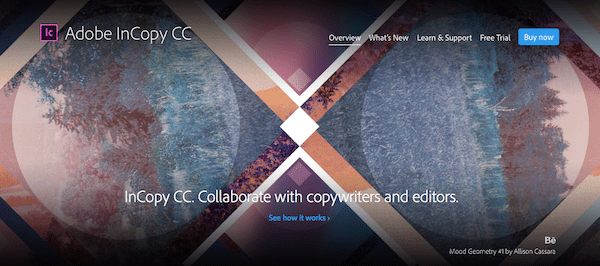 Content is king. Without it, a website with a thousand beautiful photos and impressive videos may not get the results that people are looking for. While multiple forms of media is important so that the site appeals to different audiences, visitors also want to be able to read about what the website has to offer. This makes collaborating with copywriters and editors extremely important. This tool organizes that collaboration so that everyone is on the same page.
Here are some of the aspects that make collaboration easier: You can establish a workflow, have standalone documents, import graphics, include metadata, save and export documents, work with managed files, share content, and assign tasks. There is an onboard thesaurus, editorial notes, track and review changes, and much more that works great for teams.
Bridge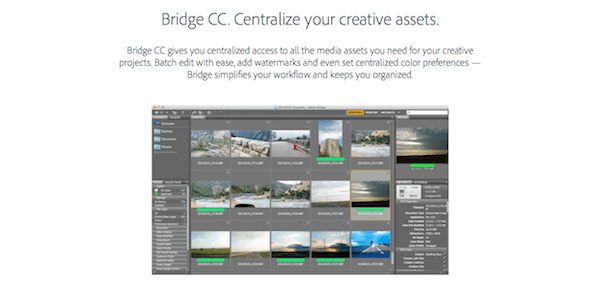 Bridge CC has a function that is extremely important to web designers. You get centralized access to all of the media assets that you may need for your projects. You can add watermarks, easily batch edit, and set centralized color preferences so you can get the uniformity you need all at once rather than having to set them individually. Your workflow is simplified and your designer friends will be impressed with how organized you are. This is an app that can work well for cloud teams.
Some of the features include an editable path bar, flexible batch processing, drag-and-drop, thumbnail views of different file types, and cross platform 64-bit support. As you know, having tools that save time in the design process is very important, especially since time is money.
Adobe CC Package Options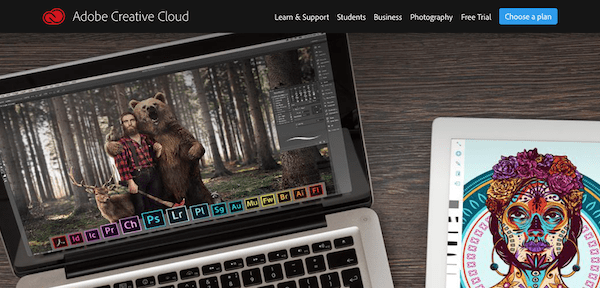 In order to take full advantage of Adobe CC's apps, you have to choose a package. The following are those packages:
Photography package – You receive the apps necessary for enhancing your photos, such as Photoshop CC, Lightroom CC, and all of the essentials to edit, share, and organize photos on your desktop and mobile devices. You also receive your own portfolio website.
Single App package – You receive one app of your choice with your own portfolio website and 20GB of cloud storage.
All Apps – You receive access to the entire collection of apps, along with a portfolio website and 20 GB of storage.
All Apps and Adobe Stock – You receive access to the entire app collection and access to over 40 million high-quality stock images that you can use on your websites.
Student and business plans are also available. The cost, paid via a monthly fee, is much less than if you paid for each program individually. Once upon a time, you had to buy a program–such as Photoshop–by itself for hundreds of dollars only for it to be updated in the near future. It can be painful to pay high dollar for a program that becomes obsolete in no time. Through the monthly subscription program, users are able to receive the latest software updates. Just imagine it: having software that is never outdated.
You can check out the full catalogue of Adobe CC apps here.
Tools that Streamline Your Business
The aforementioned Adobe CC applications are ways that designers and developers in different niches can streamline their development processes. There are many to choose from, so it is important to identify your needs and carefully select the applications that will perform the functions that will meet those needs. From Lightroom to adjust your photos to Bridge so you can be more organized, Adobe CC is a suite of apps that, if used the right way, can produce a return on your investment.
Now over to you. Are you interested in using Adobe CC? Do you use it already? Please share your experiences with these apps below.
Article thumbnail image by Turbo Vector / shutterstock.com