This post is part of our Customer Spotlight series. If you have an interesting story to tell and would like to share your experience with WordPress and Elegant Themes on our blog, please contact us!
My name is Rolf Inge Holden, aka Finge among friends, and I run ConversionLab, a conversion rate optimization agency out of Trondheim, Norway. We help customers boost conversion rates on paid traffic by running and optimizing landing pages through A/B testing (also known as split testing). We also offer email marketing and retargeting. The driving force behind everything we do is to increase conversion rates (% of visitors performing your desired action).
Starting a business
After working for 13 years in Sales and Marketing at DHL (the last 2 as responsible for all online marketing), I decided it was time to start my own business. Out of all the marketing I was involved in at DHL, using external landing pages was the single most effective tool we used.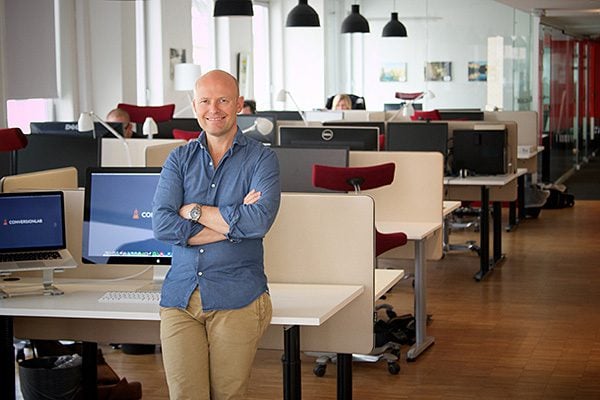 With that in mind, it was very clear to me that from day 1 my business had to be about external landing pages and conversion rate optimization (CRO).
Building a website
Once I had made the start-up decision I needed to get an online presence – fast. I started off with just a single landing page to let my friends and network sign up for a newsletter to stay updated on things to come. The «coming soon» page evolved into a one page website, and stayed around for quite some time. I was fortunate enough to get business from the very beginning, so I had to focus on my customers first.
Moving to WordPress
I soon realized that I needed a website that was scalable and would let me easily publish and manage content. After testing some various platforms such as Light CMS and Squarespace, I decided to go for WordPress. I simply did not find that the other alternatives gave me enough flexibility.
I had a clear vision of how I wanted our website to be. And to be honest I might have been a little bit too obsessed with details. Know the feeling? I used a theme as a starting point, and was able to pretty quickly get it going in the direction we wanted. However, I needed to hire an external web designer to get all the details just right both for CSS and html coding. The project ended up costing us twice as much as we had originally intended.
Discovering Divi

I believe we had our WordPress website live for around 6 months when I came across some discussions online praising the Divi theme. It peaked my curiosity. Since much of the website was custom made it did not scale very well. The bells and whistles we had weren't easy to use across the site, and we were pretty much stuck with the pages we had. This made me even more interested.
I first started playing with the Divi theme on a different domain in the beginning of May. It delivered everything I had hoped for, and I decided to make the move to Divi. Mid-May I literally moved our website over to Divi in a matter of 2 full days. I was able to create everything our previous site had in terms of functionality, and then some! Keep in mind I had to hire a WordPress expert to get the previous site just right.
With the release of Divi 2 we have been able to do even more cool stuff. The Divi page builder has given us a solid platform, that we even use to report our testing results to our customers as a page on our website, rather than the typical boring presentation or pdf. The CSS animations and various counters are perfect for displaying key performance indicators. Plus our customers love it!

For us, it's all about conversion. Our website is centered around generating leads (as any site should be), and Divi makes that really simple. We might have a few more call to actions than usual, but hey … it works 🙂 Of course we also A/B-test to continuously make the website convert even better.