Vanity phone numbers are easy for customers to remember, which also makes them better for brands to promote. Examples of toll-free vanity phone numbers are 1-800-CONTACTS and 1-800-FLOWERS. For the customer, there's little guesswork because the wording relates so closely to the brand or product. Also, both of these 800 numbers have websites with the same name: 1800contacts.com and 1800flowers.com. For these businesses, the vanity phone number has also served as an easy-to-recall URL. There are also vanity phone numbers that may not spell anything but that are catchy because of the sequence of numbers. For example, 1-800-123-4567 or 1-800-222-3333.
Subscribe To Our Youtube Channel
How Do Business Phone Numbers Work?
Business phone service usually runs over the internet. This is called VoIP, which stands for "voice over internet protocol." This type of phone service is less expensive than if the business used a traditional landline. Also, it comes with tools like call monitoring and analysis, call redirection and customized greetings. So long as you have an internet-connected device, like a smartphone or a laptop, you can use VoIP. Then, you can have calls forwarded to a landline or a mobile phone.
Toll-free numbers have certain dialing codes. The 800 number is probably the most well-known, but there's also 888, 833, etc. When a customer dials a toll-free number, they won't be charged for the call. Vanity phone numbers are often toll-free numbers, and it's more cost-effective to buy a toll-free vanity number than a local vanity number. Toll-free numbers cannot be hoarded, traded or resold. While you'll probably pay a fee charged by the phone service provider, the toll-free vanity number itself won't cost a premium. Also, note that you can't sell a toll-free number, so don't buy one with the hopes of reselling it.
6 Services That Supply Vanity Phone Numbers
It doesn't cost a lot of money to buy a vanity phone number, and you don't need a ton of technical experience or specialty equipment to get set up with one. The main question is whether or not the vanity phone number you want is available. Vanity phone numbers are first come, first served – if the number isn't available, it doesn't matter which service you use (similar to buying a domain name).
Several companies provide vanity phone numbers, plus other call management features. Here's what these services typically offer, though features will vary between providers and plan tiers:
Personalized vanity phone number (and local and toll-free numbers)
Extensions for different departments and/or employees, plus a name directory
Custom brand greeting that callers will hear, plus on-hold music
Professional caller ID for when you make outbound calls
Easy call routing to other extensions or departments
Business texting and video conferencing
CRM integration and reporting features
Let's get into a few of the best business phone services out there.
1. AirCall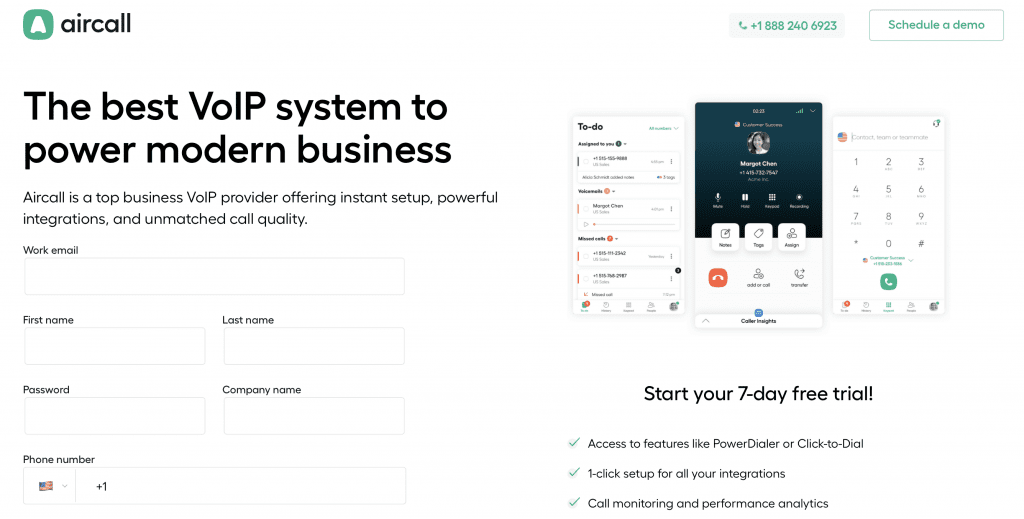 AirCall is a top-choice vanity phone number provider if you have a sales team or run a call center. Features include call queuing and unlimited domestic calls, and you can set up vanity phone numbers without paying an extra fee. AirCall also has a click-to-dial feature, which lets your employees auto-call a phone number. And with the call whisper feature, supervisors listen in on active calls and coach employees in real-time.
AirCall is pricier than the other options on this list. The Essentials package, the least expensive option, is $30 per user per month. The Professional package is $50 per user per month, and it comes with advanced sales features, like integration with Salesforce and live call monitoring. Both plans let you choose vanity phone numbers.
2. eVoice

There's one standout feature of eVoice that separates it from the rest: you can hire a live receptionist. If you feel it's important to your business that a real person always answer the phone, eVoice will be your top choice. They have vanity phone numbers, too, but you'll have to contact the company to claim yours and to find out the add-on charge. Use the search feature of another provider to see what's available first so that you know what to ask for.
Monthly plans start at $12.99 per month with a 30-day free trial. You'll only get 300 minutes per month with this plan, though, so you may want to upgrade to the Standard plan, which is $29.99 per month and comes with 1,000 minutes. Live receptionist plans start at $129.95 per month. Every plan includes standard features like call forwarding, call screening and custom greetings.
3. Grasshopper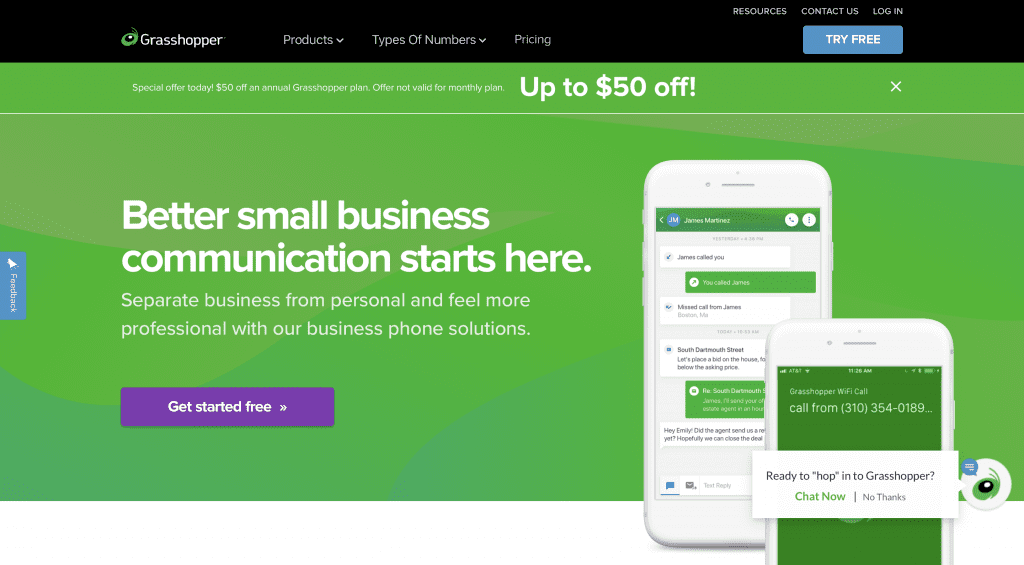 Grasshopper provides virtual phone numbers for businesses, and they have local, toll-free and vanity phone numbers. Their search feature is helpful because even if the number you want isn't available, they'll show you alternatives: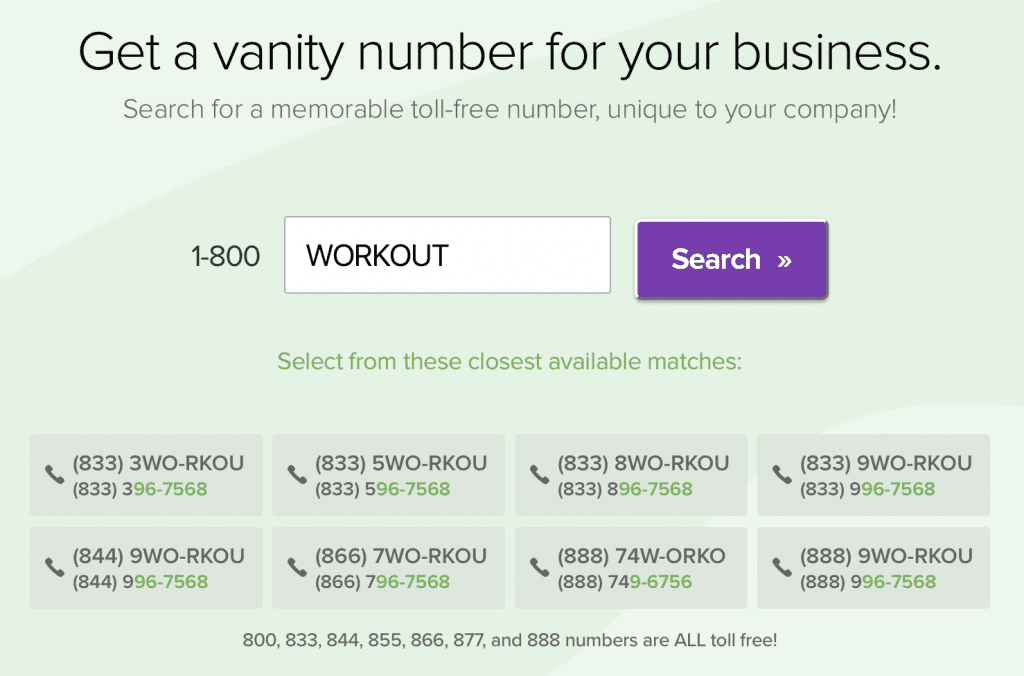 There are two types of plans to pick from, and both come with a business number (which can be a vanity number). The regular Grasshopper plan is for businesses that need a virtual phone system and related features, like call forwarding, texting and voicemail transcription. There's also Grasshopper Connect, which comes with additional ways to connect with clients, like Gmail integration and unified messaging to manage all communication in one place.
Once you've chosen your plan and signed up, you'll use the desktop and mobile apps to manage phone calls. If you conduct business and normal life from the same smartphone every day, the app helps keep business and personal communication separate. That functionality makes Grasshopper a great choice for freelancers and other types of solo workers who don't want to juggle devices and whose personal and work lives often overlap.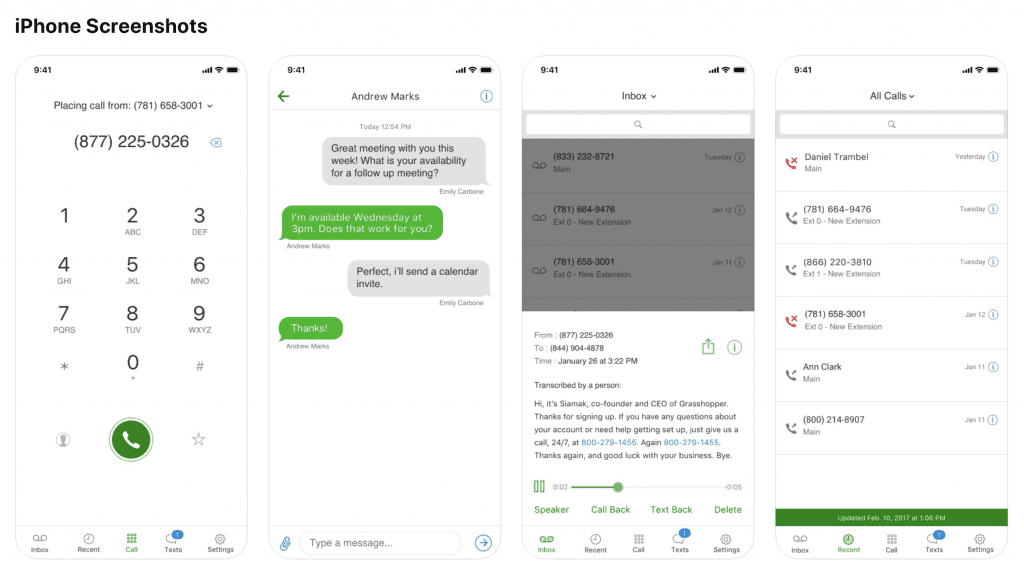 4. Phone.com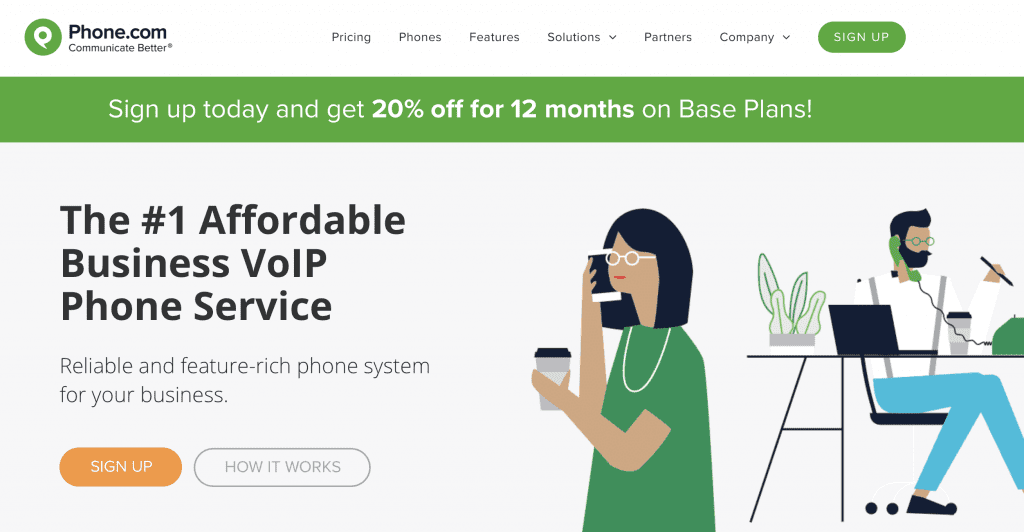 Phone.com lets businesses buy local, toll-free and vanity phone numbers. Plans with Phone.com have a monthly call minute limit, which makes it best for businesses that don't expect a ton of phone communication. Other services have unlimited calling, so if you receive a high volume of phone calls, a different service may be best for you.
Phone.com's search function is helpful because you can enter part of a word, or a number or pattern, and see what's available. You can also set your desired price range and see how much a specific vanity phone number will cost (this fee is in addition to the plan you choose). Toll-free numbers are a lot less expensive than local phone numbers. Compare the "daycare" to "dog" numbers below: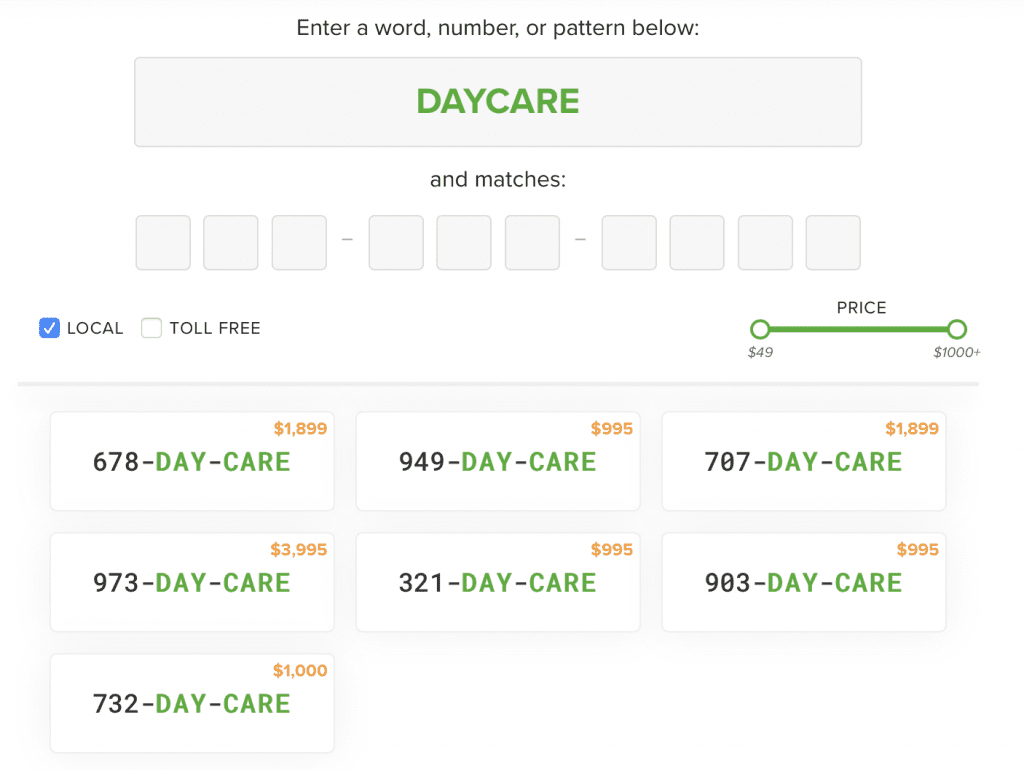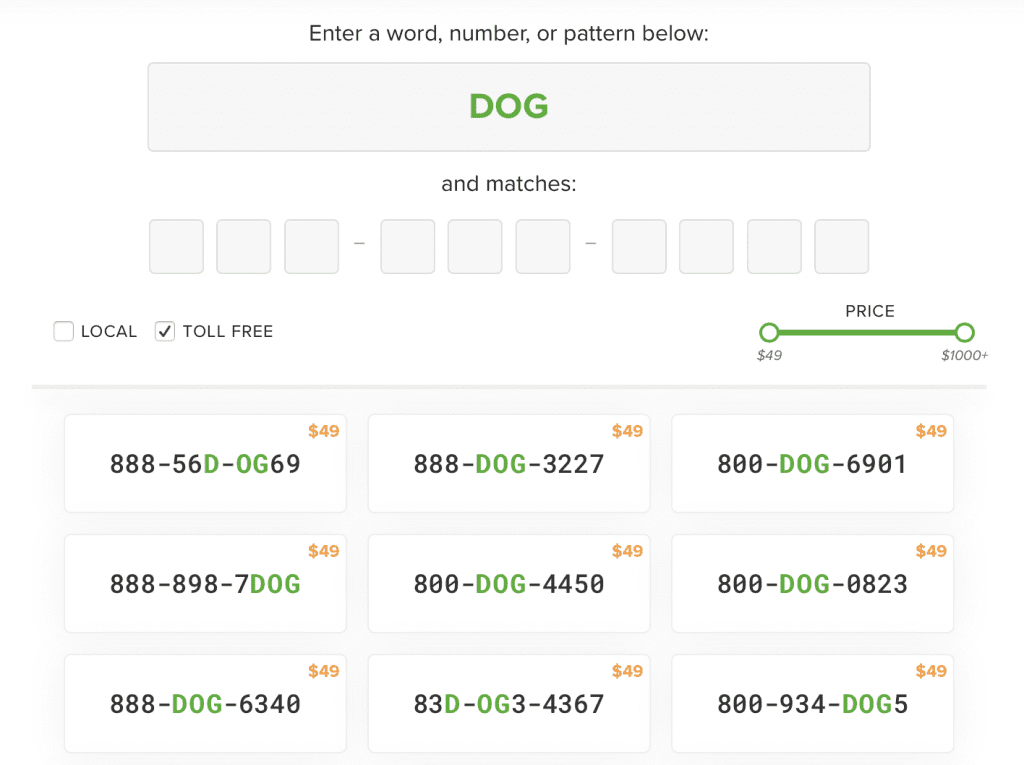 Once you've chosen a number, Phone.com reserves it for one hour. At that point, you'll pick your plan. The Base plan is $12.99 per month and comes with 300 minutes and 5,000 messages. The Plus plan is $19.99 per month and comes with 500 minutes and 10,000 messages, and the Pro plan is $39.99 per month and comes with 1,000 minutes and 20,000 messages. There are also plans with unlimited minutes, and prices start at $29.99 per month.
5. RingBoost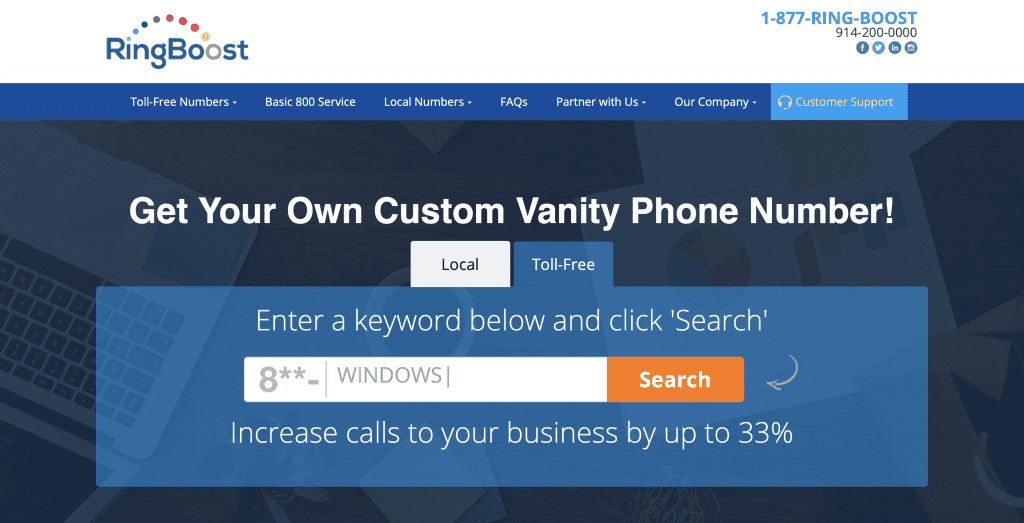 With RingBoost, you can buy vanity phone numbers, both local and toll-free, without having to pay for advanced phone services. Enter your keyword and get a selection of available phone numbers. Here are the toll-free results for "coffee":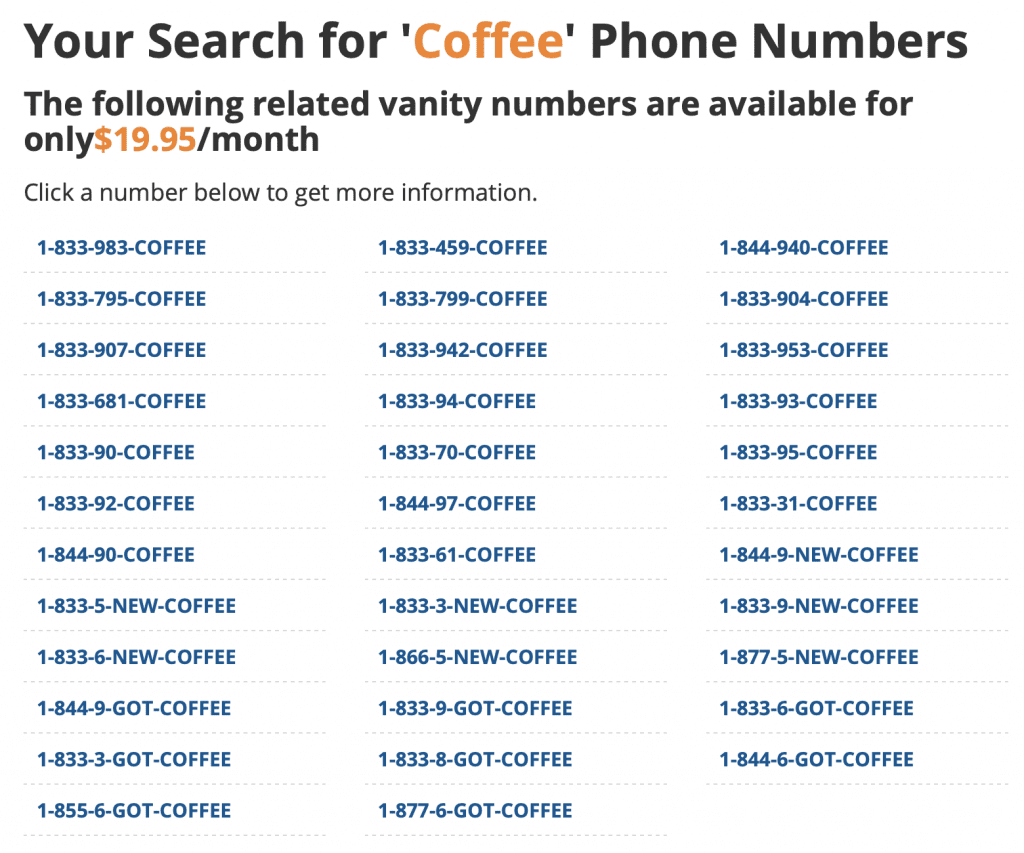 Their local search function is the most helpful of any service on this list. Enter your area code and click "Search" to find a list of available vanity phone numbers for your area. They represent all sorts of industries, like cleaners, exterminators, therapy, roofing, etc. When you click on a phone number, you'll be brought to a page to fill out a contact form and inquire about the cost of the phone number.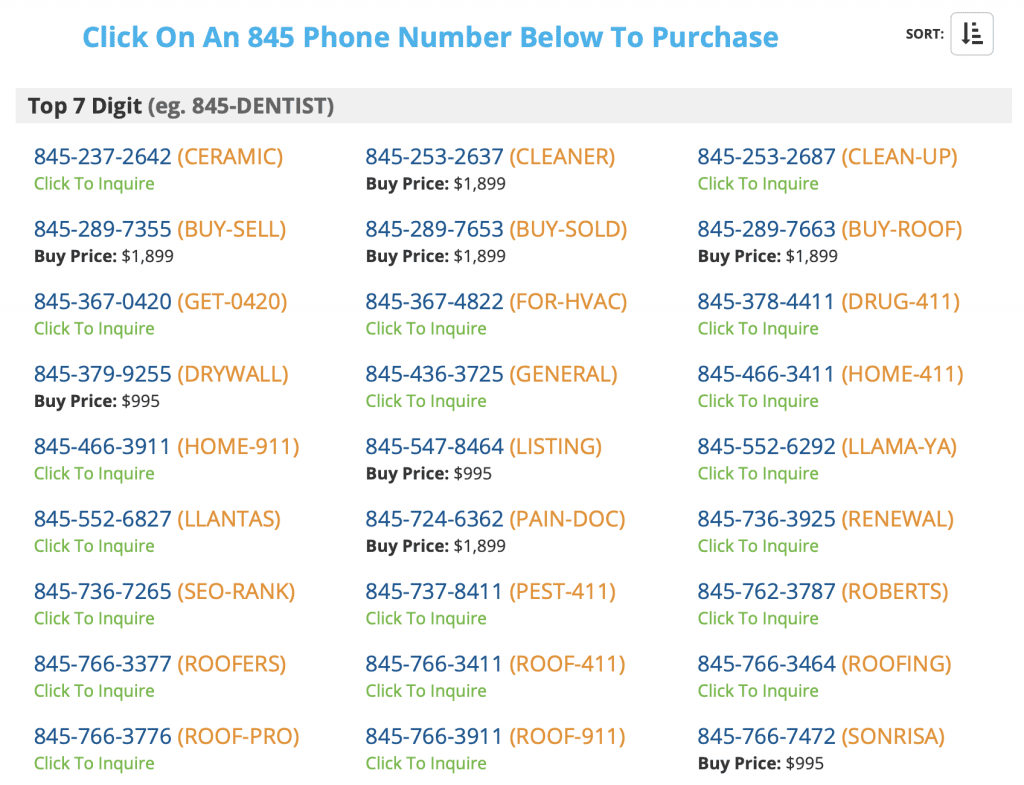 Once you've purchased your vanity phone number, you can set it up to forward to your business phone. When you buy a toll-free vanity number, you'll get a certain amount of free minutes per month. If you need more, you can buy one of their "minute packages," which start at $12.99 for 100 minutes.
6. RingCentral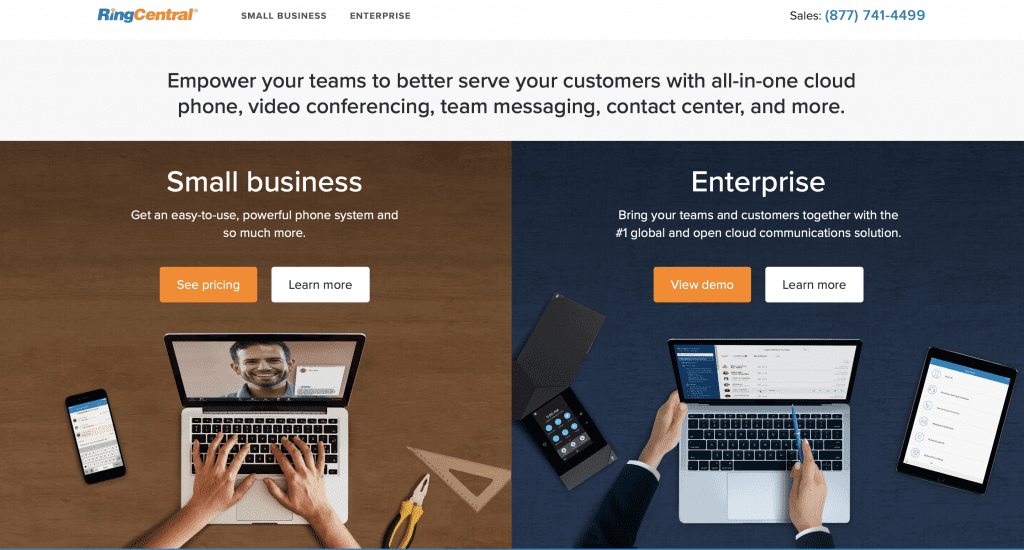 RingCentral is primarily for small businesses that need a local, toll-free or vanity phone number. A basic RingCentral plan with phone support costs $19.99 per month. There's a one-time charge of $30 to set up a vanity phone number, followed by a $4.99 charge each month to continue using that number. If you have 100 or more users, you'll have to sign up for the Standard plan or higher, starting at $24.99.
To get started, you'll select your main business phone number. Enter the number you're interested in to find out if it's available. The asterisks are wild cards, which means that you can let RingCentral pick whatever toll-free prefix is available. I was able to get 1-833-333-LINS: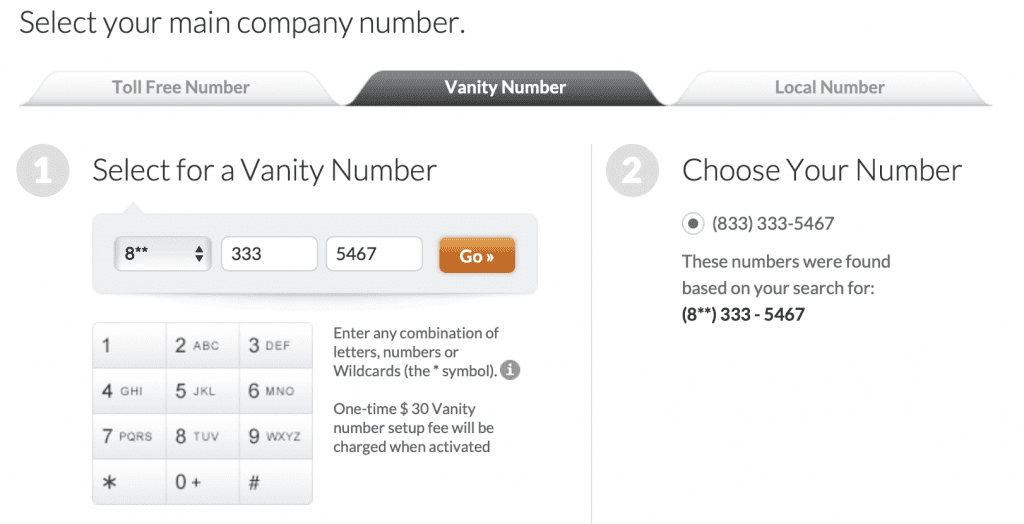 Using Click-to-Call Vanity Phone Numbers on Your Website
If you have a WordPress website, you can use a plugin to add a click-to-call button after purchasing your vanity phone number. With WP Call Button, you'll install and activate the plugin, enter your number, customize the button's appearance and choose where to display it.
WP Call Button has two types of call buttons. There's a sticky call button, which means it'll stay visible by moving as the user scrolls up and down your website. There's also a static call button that will stay in the same place and not move. Customers can use the call button whether they're on a computer or a mobile phone, and you can also opt to have it only display on mobile devices.
There are a few other click-to-call button plugins for WordPress (some for mobile-only), like the Really Simple Click To Call Bar, Call Now Button and Smart Floating Action Buttons.
If you don't have a WordPress website and need to add a click-to-call button using HTML, it's not too difficult. Once you've decided where you want the clickable phone number, you'll use the following HTML. I've used the number 8 as placeholders, but you'll use the actual phone number format.

The first digit will be your country code. In the U.S., that's "1," so your number would be formatted +18888888888. You can replace "Click here to call us" with whatever text you want – you may even want to use just the phone number.
How to Encourage More Calls to Vanity Phone Numbers
If your goal is to convert website visitors into calling customers, you can maximize the clickable phone number. Here are a few best practices:
Put the click-to-call number at the top of every web page so that customers can find it wherever they are.
Add the click-to-call number in the footer of your website, too. Visitors will often scroll all the way to the bottom of the page to find your contact information.
Include the number in your lead magnets. If people are interested enough to give you their email address, they may be ready to call you, too.
Put a click-to-call number in your exit pop-up. If a potential customer is leaving your site because they didn't find an answer to a question, this may salvage the relationship.
Not sure what's working and what's not? Use a bit of A/B testing. For example, see if different button colors encourage more calls. Or, see if placement makes a difference – do people call more if the number is on the top-left of the page instead of the top-right?
Wrapping Up
All types of businesses can benefit from vanity phone numbers. Big companies that handle a ton of incoming calls should look for rich features, CRM integration and reporting tools. Small businesses and companies with just one person at the helm may need fewer bells and whistles. They may even find that a vanity phone number with call forwarding suits their needs, no extra services required.
Before you sign up for a service, make sure the vanity phone number you want is available. RingBoost has the best search function on this list, whether you want a local or toll-free number. When adding your phone number to your website, make sure it's clickable from any device. Place it anywhere a customer may look for it or wherever it's likely to encourage a call.
Explore this topic even more by checking out our article Telephone Links: How to Add "Call-able" Links and CTAs to Your Website.