Are you looking to write short stories, novels, or comic books with the help of an AI story-writing assistant? Novel AI represents an often overlooked type of AI tool—not for business but for creative pursuits. This article takes a close look at one of the best
AI story generators
out there. We explore everything from its features to its pricing structure.
What is Novel AI?
Novel AI blends storytelling and artificial intelligence to help users write more imaginatively and faster. Unlike standard AI text generators, this service is tailored for authors and storytellers.

The platform offers features extending beyond essential text generation, adapting to your writing style and viewpoint. The result is a coherent manuscript full of other-worldly imagination. Novel AI is essential for anyone serious about mixing story craft and AI efficiencies.
Novel AI uses natural language processing (NLP) and deep learning to generate coherent and engaging narratives based on the user's input and preferences.
How is it Different from Other AI Writers?
Novel AI sets itself apart by offering unprecedented freedom with its AI manuscript editor. It uses its own AI models trained on real literature, allowing for a more nuanced and human-like writing experience.
While other AI writers may offer generic text (or primarily marketing), Novel AI promises a more tailored approach, adapting to your writing style and core pieces of world-building.
Novel AI Feature Review
There are many unique things about Novel AI. It brings a lot to the table that helps create stories faster. Let's see a few of these in detail.
AI Story Writer
Novel AI has two different AI modes that let you express creativity differently. Storyteller enables you to use a document to write yourself and supplement it with AI-generated content. This is a great way to have complete control over your storywriting. Text Adventure is a collaborative story adventure where the AI creates creative situations, and you add actions or dialog prompts that the AI runs with. We'll look at both of these modes below.
Storyteller
To start with Storyteller, you only need to give the AI a prompt to work with. Below, we used a simple prompt talking about Tonzoi and juggle prince. The AI immediately started writing an exciting opening line. From there, we could prompt the AI to continue writing in a particular direction.
Whatever the AI writes can be edited directly. This makes it great to touch on some of what it creates to match your vision better. It makes working with a storytelling copilot easier.
Text Adventure
In text adventure mode, you get to play a game that requires your imagination and reaction to what the AI sets before you. The AI will present you with an ever-developing story that you can react to. Adventure mode focuses on entertaining you by co-creating with you in the moment rather than helping you write a whole story.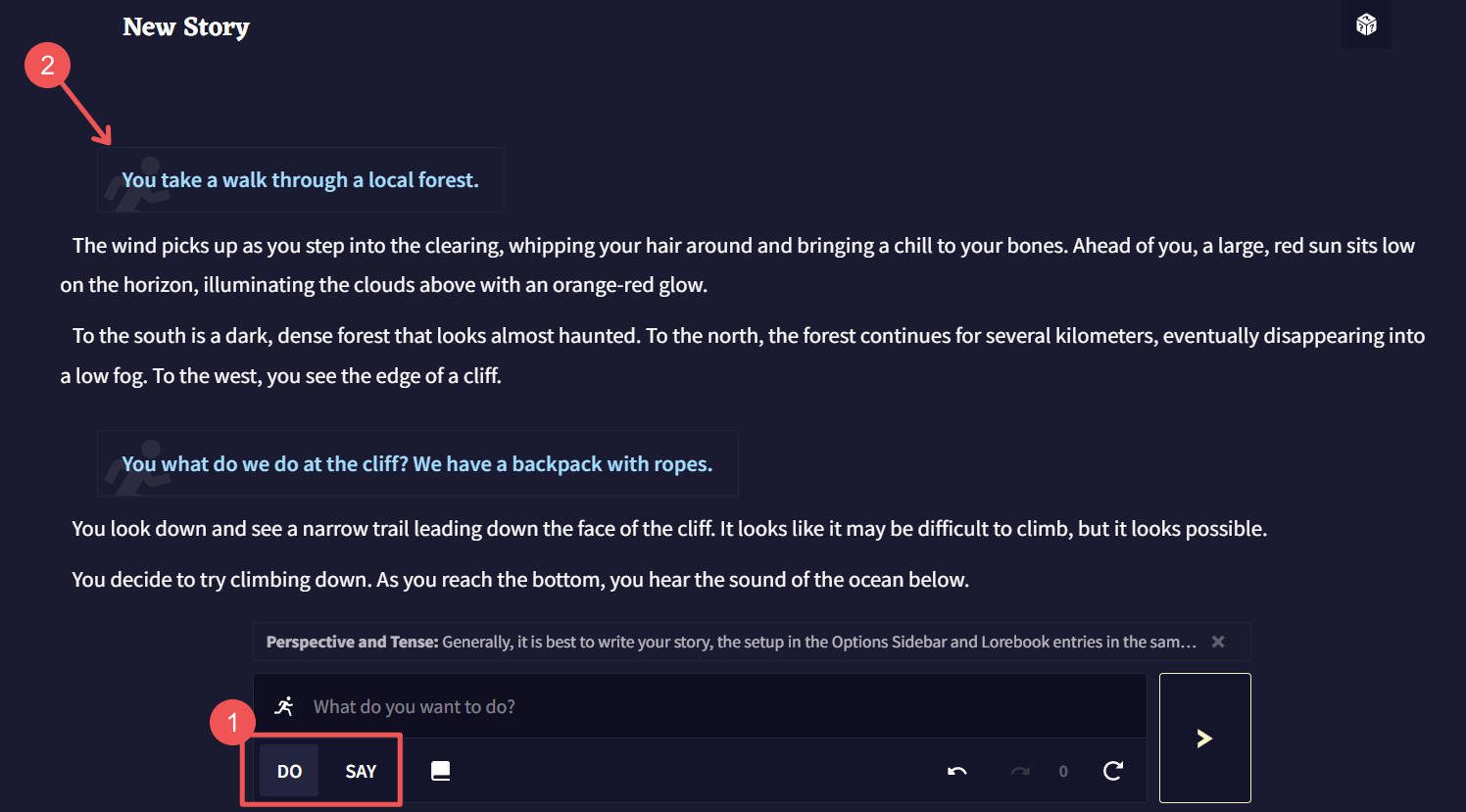 The AI will present you with a developing situation that you can then react to. You can "Do" or "Say" something based on what the AI gives you. Novel AI develops the story by considering your actions each time you interact with it.
It's like role-playing in Dungeons and Dragons with an attentive AI that never tires.
Lorebook
The Lorebook is Novel AI's digital locker for keeping story memories top of mind. This intelligent repository remembers the nuances of your characters, the geography of your settings, and the laws of your fictional universe. The AI uses these items as it develops your story.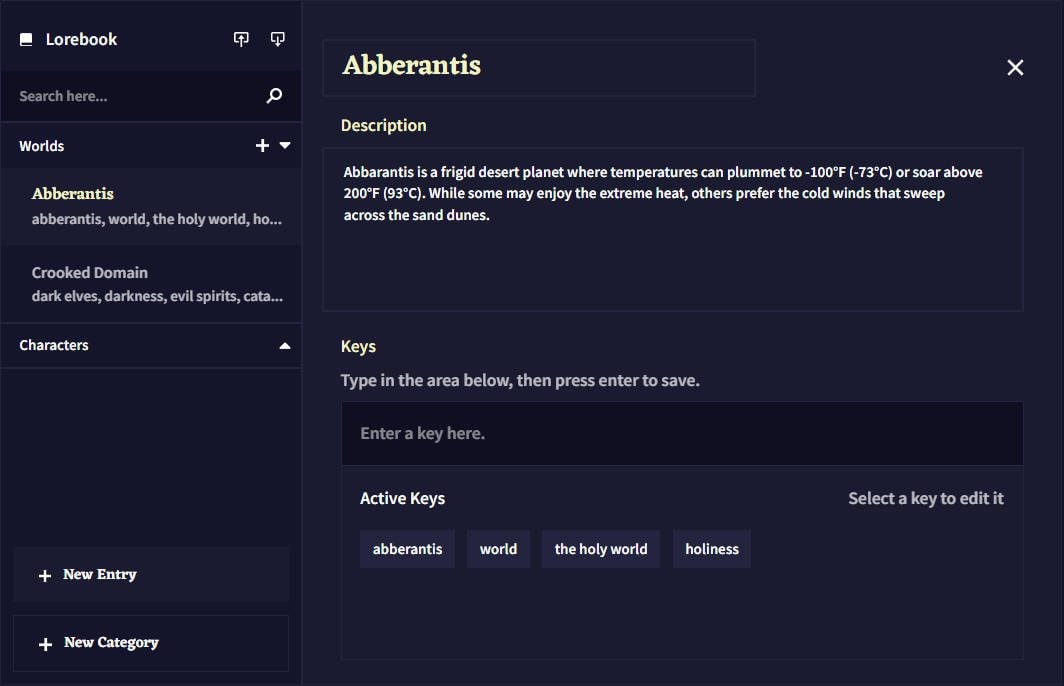 There's nothing worse than inconsistent details that make stories hard to follow. Consistency in storytelling is crucial, and the Lorebook ensures that your AI assistant adheres to the rules you've set, making your narrative more believable and engaging.
Customizable Editor
You probably didn't think editing your writing workstation was possible or even something worth thinking about. Novel AI includes this sort of feature, which allows you to design your writing space to your liking.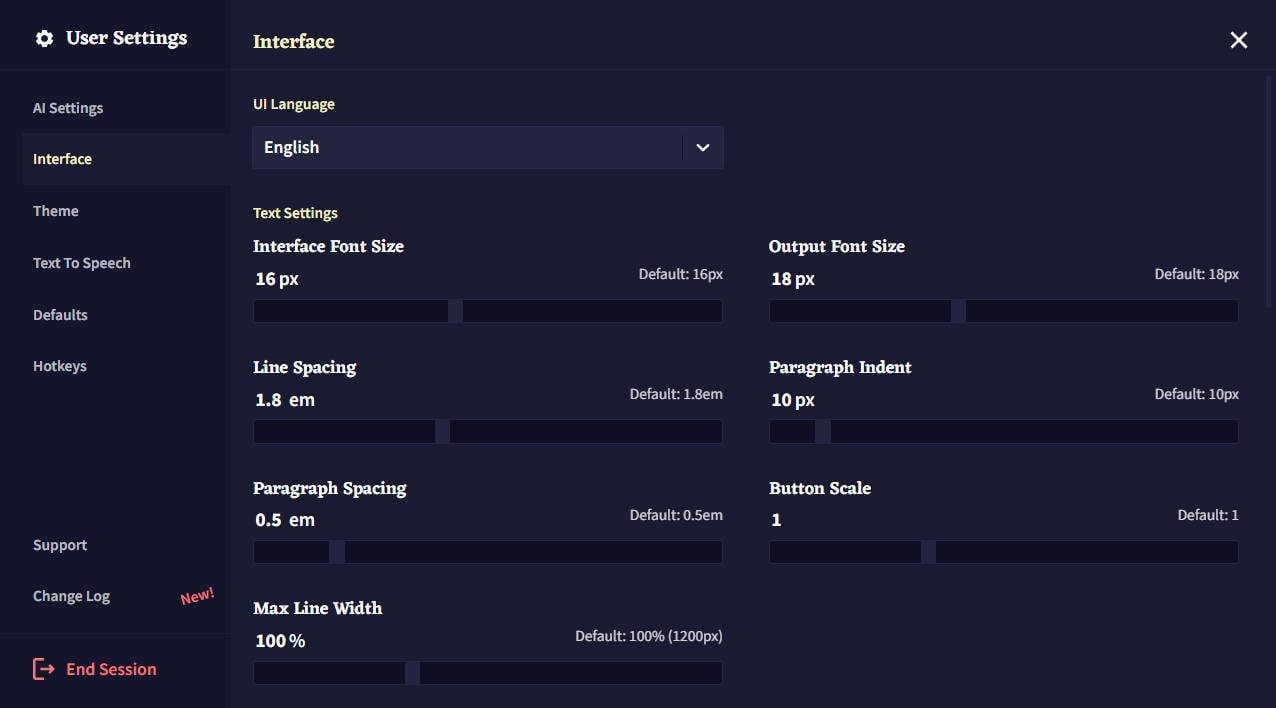 With Novel AI's theme editor, you can tweak fonts, sizes, and color schemes to match your creative mood.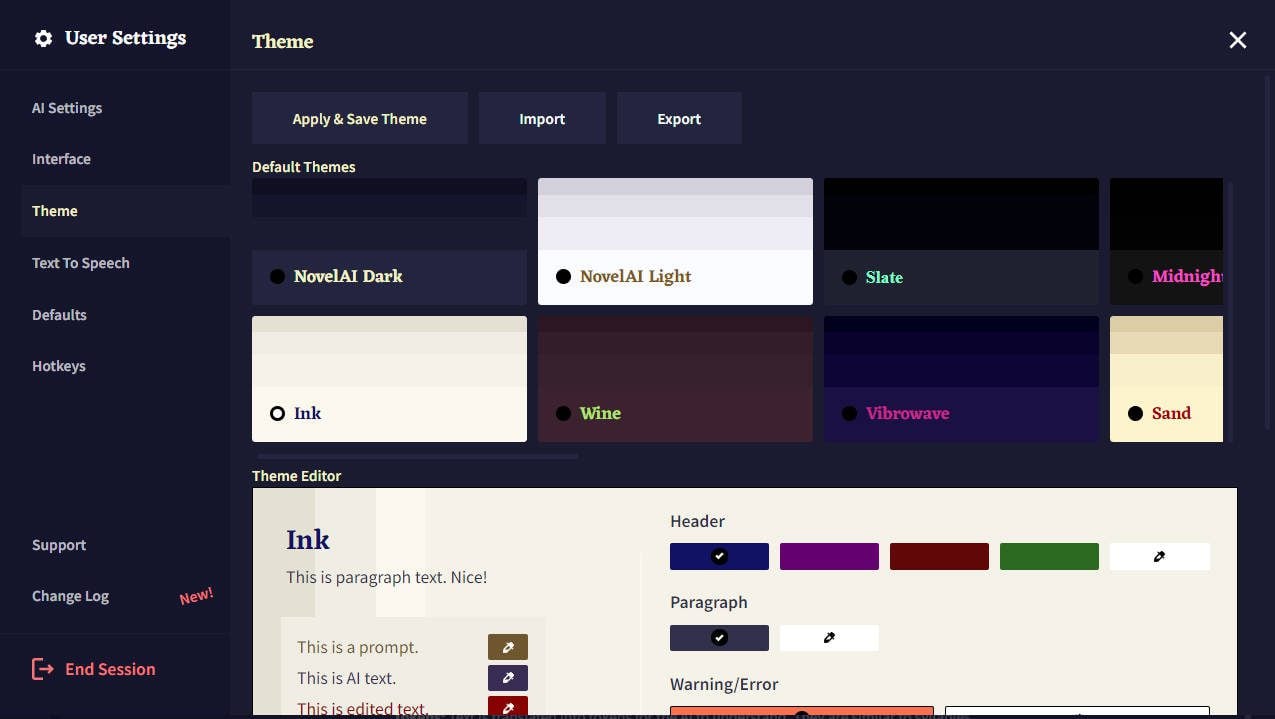 When your writing environment resonates with your creative spirit, the words flow more freely, and your stories come to life more easily. Plus, Novel AI has strong branding, which can distract you if you don't resonate with it. Themeing lets you make things look like you want them.
Visualize Characters with Image Generation
Have you ever wanted to see your characters come to life? Novel AI's image generation is perfect for visual storytellers using the AI writer and those who want a more visual experience. This dynamic canvas allows your characters to take form in vivid detail.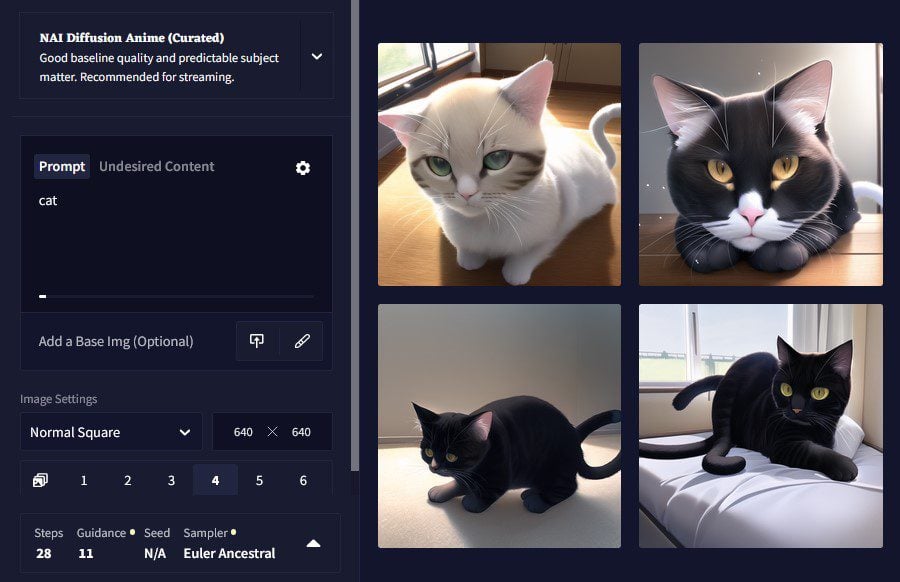 Advanced Anime Art and other specialized AI models translate your textual descriptions into compelling visual characters and landscapes—enriching your storytelling by offering a deeper understanding of your characters' expressions and essence.
Novel AI Pricing
Novel AI probably has a pricing plan that suits your storytelling ambitions. Get started for free or choose among their reasonably priced plans. Our thoughts and explanation on the pricing are below.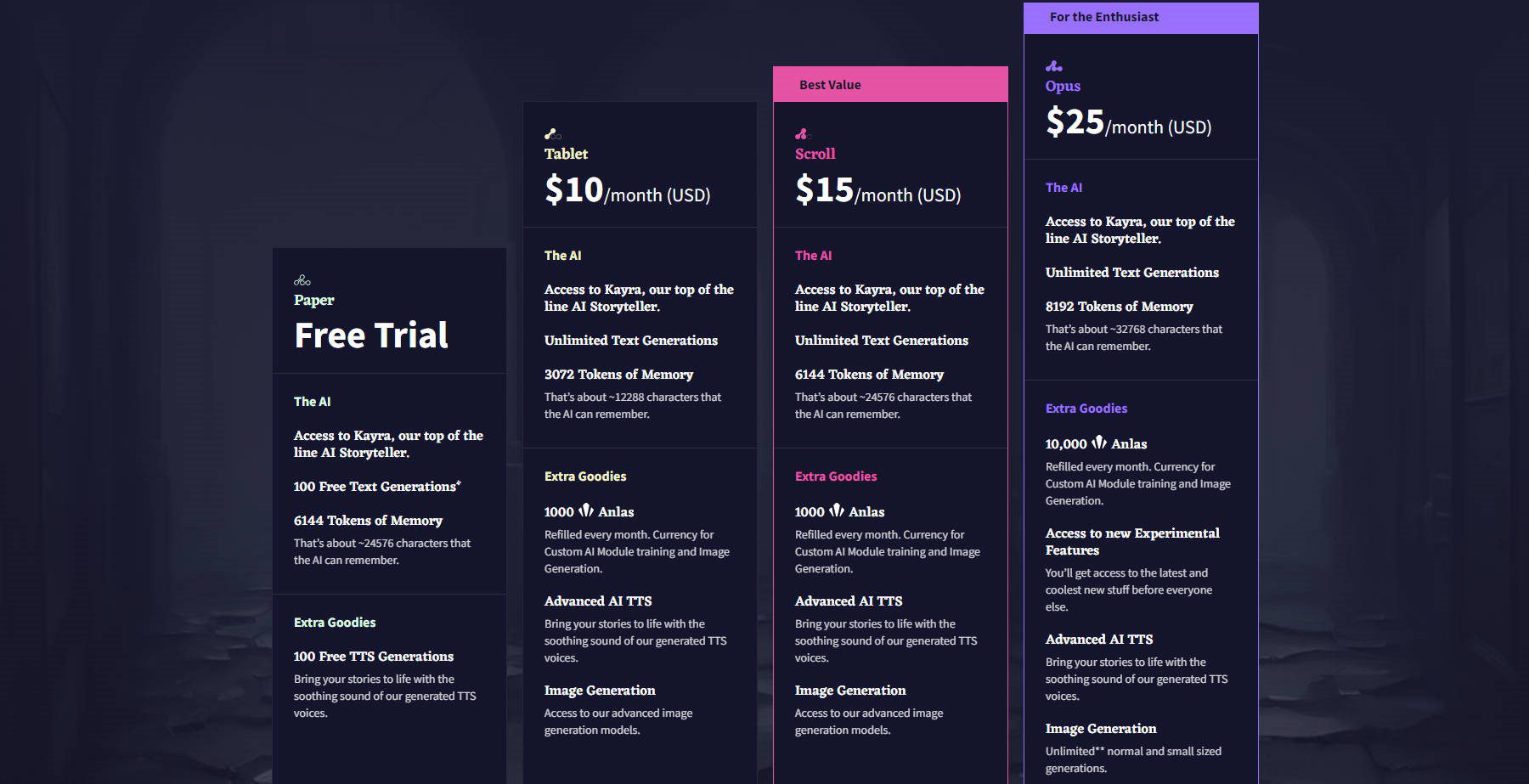 Paper (Free Trial)
Price: Free
The Free Trial is your gateway into the Novel AI universe. It's the perfect opportunity to test the waters without any financial commitment. You get access to Kayra, the AI Storyteller that's the heart and soul of the platform. With 100 free text generations, you can experiment to your heart's content. The 6144 Memory tokens mean that Kayra can remember a substantial amount of your story's context, characters, and settings.
Tablet
Price: $10/month
Stepping up from the Free Trial, the Tablet plan offers a more expansive playground for your imagination. You get unlimited text generations, so the sky's the limit for your storytelling endeavors. The Memory tokens are slightly reduced to 3072, but what sets this plan apart is the inclusion of 1000 Anlas. You can use these credits for custom AI Module training and image generation, adding another layer of personalization to your stories.
Scroll
Price: $15/month
The Scroll plan is essentially the Tablet plan but turbocharged. You get all the features of the Tablet plan but with an unspecified increase in Memory tokens. Kayra can remember even more about your intricate storylines and characters, making for a more coherent and engaging narrative.
Opus
Price: $25/month
The Opus plan is a treasure trove of features for serious storytellers and professionals. With a whopping 8192 tokens of Memory, your stories can be as complex and detailed as you want. You also get access to new experimental features, giving you a first look at the platform's latest innovations. And let's talk value—unlimited normal and small-sized generations make this plan reasonably priced, especially compared to other mainstream AI writers offering far less for a similar cost.
In Novel AI, you're not just a writer; you're a creator, a visionary. Whether you opt for the Free Trial or go all out with the Opus package, there's a storytelling adventure waiting for you. Because, in the end, it's not just about writing; it's about crafting worlds, one word at a time.
Pros and Cons of Novel AI
While many people really like Novel AI, especially creative writers and artists, it might not live up to everybody's expectations. Here are some pros and cons to consider:
Pros
Getting started with Novel AI is entirely free. Sign up and start using the platform without paying a dime. You'll have access to a range of features and writing modes. Best of all, you have access to 100 monthly prompts at no cost.
If you're struggling with writer's block, Novel AI can be a valuable tool to help you overcome it. By inputting keywords, prompts, or genres, you can generate text that can serve as inspiration or help you continue your story. You have the freedom to edit, rewrite, or optimize the generated text as you see fit.
Novel AI creates realistic images by inputting text or keywords. Users can customize visuals with style, color, and resolution options. Perfect for artists and designers bringing their stories to life.
Cons
Some users might find the cost associated with greater context limits as more than they are worth it.
The AI may generate inconsistent content based on characters, settings, and props, which may impact the story's quality and continuity.
Believe it or not, AI is still getting off the ground. You can expect to see Novel AI (and other AI tools) get increasingly better as language models get tuned to specific tasks.
Novel AI Alternatives
Novel AI is not the only option out there for creating written content with AI. Below are some alternatives that can do at least part of what Novel AI does, depending on your exact needs:
See our comparison article of the best AI story generators to see which one sits at the top of our list.
Review Conclusion
Novel AI is a powerful and versatile tool for writers, artists, and anyone who wants to unleash their creativity. It is easily one of the most interactive AI writers on the market, essential for co-writing a narrative or story with AI.
Whether you are writing a novel, a short story, or anything else, you can use Novel AI to generate text that suits your needs and preferences. You can also use it to create stunning images that complement your text or inspire you further. If you have used it, let us know your thoughts on Novel AI in the comments below.
If you want to learn about other AI tools, you can check out our other posts about the best AI writers, the best AI art generators, and other AI tools for productivity.