Everyone uses Slack. Well, not everyone, but a whole lot of people do. If you are looking for an alternative team chat app, either to get started with or to move from Slack onto, Mattermost is definitely worth taking a look at. Like WordPress itself, Mattermost is a open-source, self-hosted software that you can install, modify, and run for free. We're going to take a look at what it takes to run your own installation of Mattermost, as well as what benefits it has in relation to the golden standard in productivity chats.
Starting Out with Mattermost Team Chat

Mattermost, first and foremost, is designed with security in mind. Running software on your local servers can afford you a high level of security. The same can be said of running the software on a VPS or cloud server, as opposed to a shared or external host.
Perhaps more importantly, though, running Mattermost gives you complete and total control over your data. You control who sees what is moving around and within your company's communications. For many teams and businesses, that's such an important point, other team chat apps aren't an option at all.
For this, we're going to be running Mattermost on a Bitnami AWS instance so that because we can easily deploy it on a secure, rooted cloud server under our control. However, you can always use your local server, hosting plan, or something like a Digital Ocean Droplet, too. We chose Bitnami because they have a pre-installed and pre-configured Mattermost package.
This host typically starts at approximately $10 per month. However, when you consider that you'll be paying $5+ per person with Slack or another team chat app, hosting Mattermost on a scalable cloud or local server can make a lot of financial sense. Especially for smaller companies. Or for those who want a fast and powerful app without the risk of losing messages. (Which happens with the free version of Slack and other apps).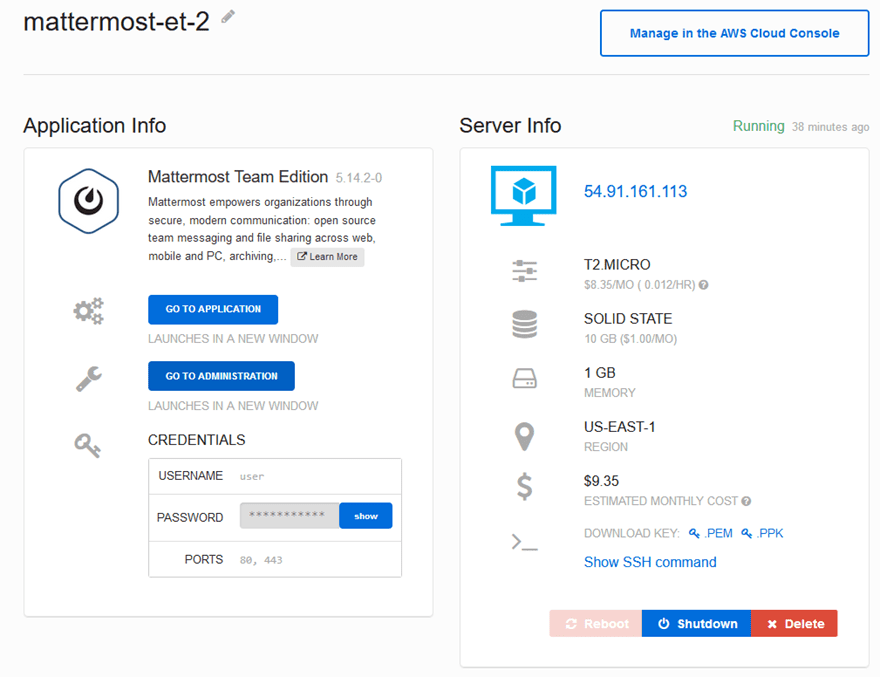 To actually access the installation and use the team chat app, you can use pretty much any browser, but like Slack and other team chat apps, you can download the Mattermost client for your respective operating system (or mobile device).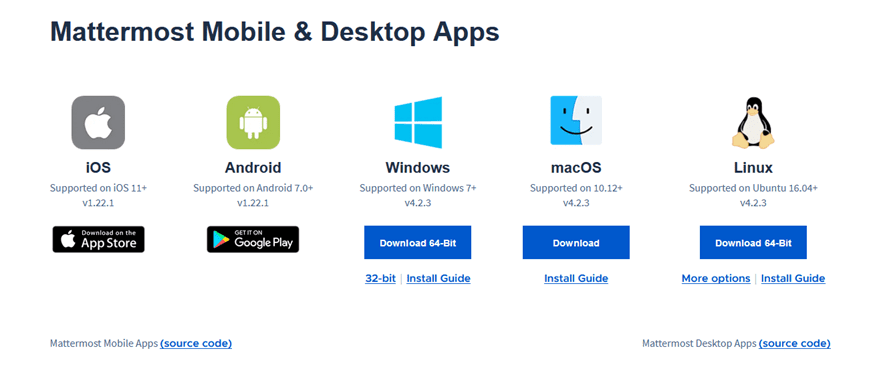 Once you get that going, it's time to dig in and see what the app can do for your team.
What Does Mattermost Offer?
On the surface, Mattermost is visually similar to other team chat apps. Slack, Discord, Zoho Cliq…they all share the same general aesthetic. You get Public Channels, Private Channels, and Direct Messages in a left-hand sidebar with the rest of the screen being the real estate for the actual chatting and work going on.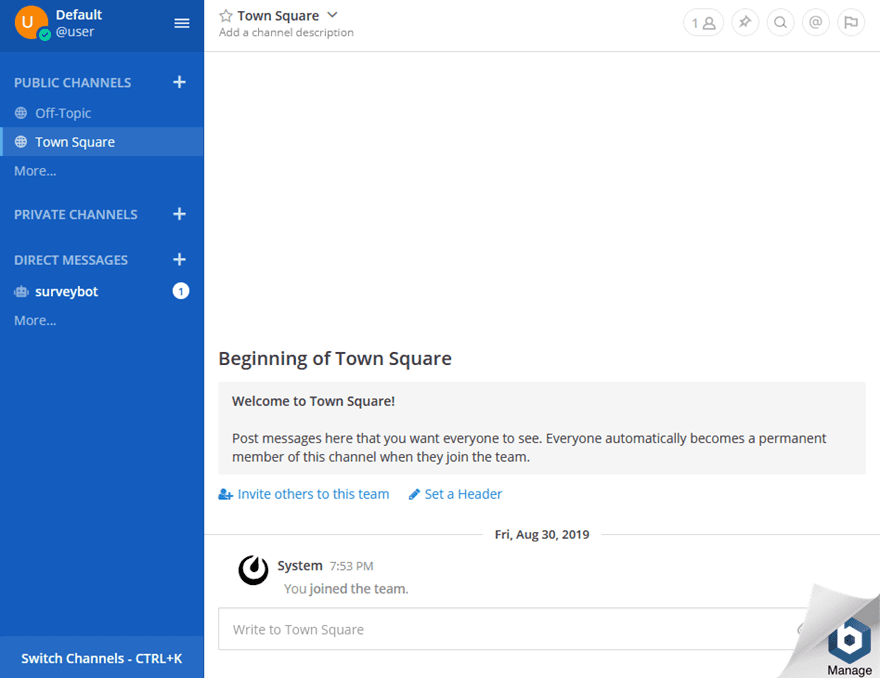 Teams
It's the options and control that really set Mattermost apart as a real contender for replacing Slack for your team. Under the Team Settings page found under the hamburger menu, you can control who has access to your Mattermost server. Rather than putting everyone into a single server for a whole company, Mattermost keeps people together by Team for easier access to the people with whom you work on a regular basis.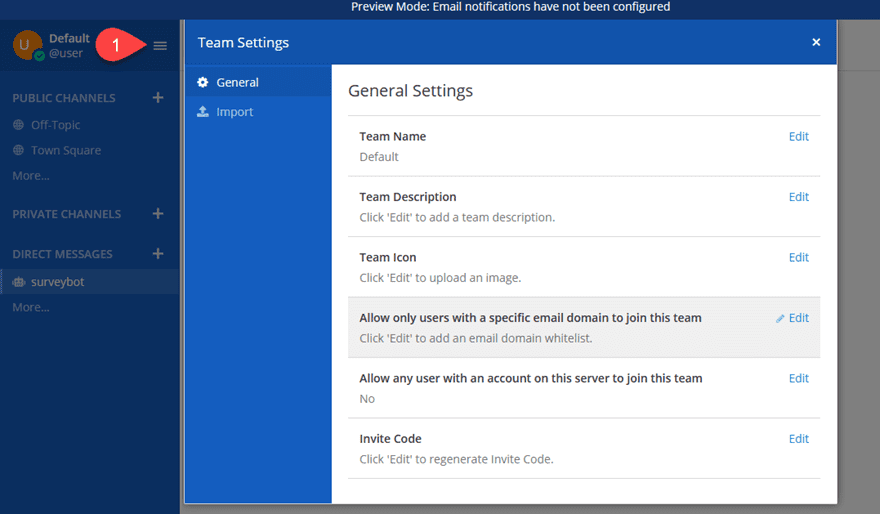 The Team feature is robust, and people can communicate across Teams via Direct Messages. That way, you can work up a group chat with the developers you need without having to deal with the clutter of being in a specialized channel full of chatter that doesn't pertain to your project.
Additionally, you only need one account to be on multiple Teams. So let's say that you're a Content Creator. You might also be a part of the Design team, working on various tutorials for your company's software. Or perhaps you're a Development Team member who also works with the Marketing Team to focus in on who the newest features are targeted toward.
Integrations
Here's one where it's a toss-up between Slack and Mattermost. Slack does offer a number of automatic integrations with many of the most popular third-party services. However, Mattermost has a slew of integrations in their app store, too.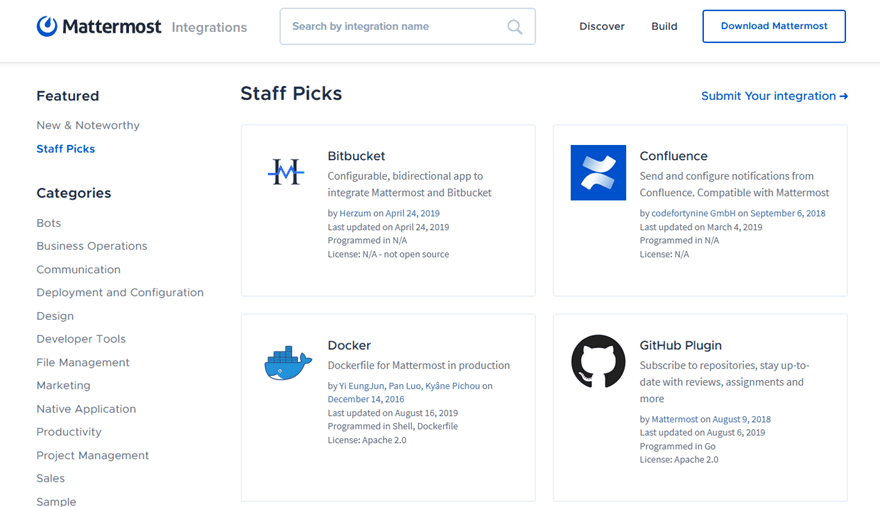 The nice part about Mattermost's integrations, however, is that you can do generally anything you want to via webhooks or internal development.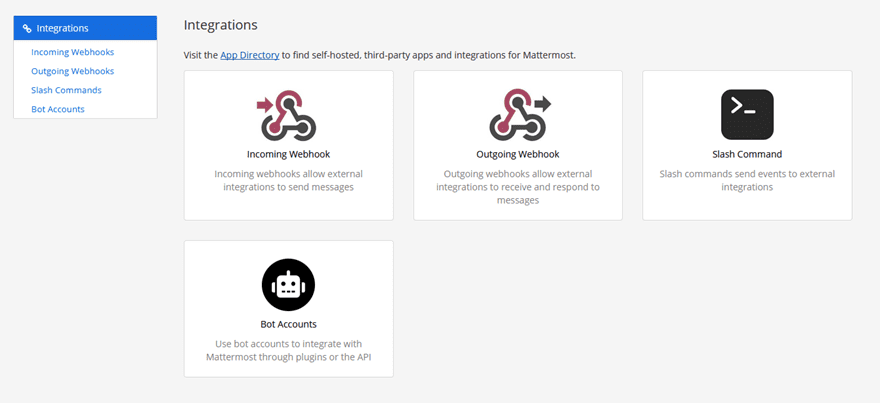 A big bonus in our eyes is the ability to create API-based bots, as well as you being able to create your own slash commands. Slash commands are incredibly important in a team chat app. They can really keep the work and communication between your team to its most efficient (especially when combined with keyboard shortcuts).
Analytics Console
The analytics for Mattermost are built right into the app, and they are amazingly robust. Because of the software being self-hosted, you get to see how the database itself is running (which is generally mySQL or PostgreSQL). You have server logs, team statistics, mail numbers, and so much more.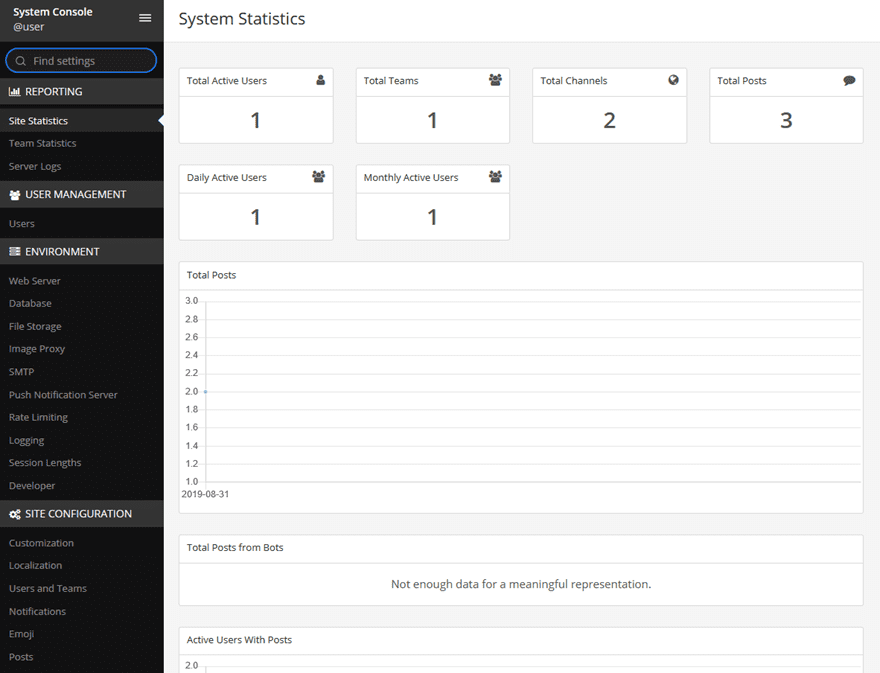 In many ways, Mattermost is designed for the best DevOps workflow possible. It is an amazing piece of software when looked at from under the hood. Your IT team is certain to get far more information out of this console than from other team chat apps. Plus, there's an external support team for Mattermost. When something goes wrong, you have the information to track down the solution immediately alongside the software support.
Chat and Workflows
We can't not mention how the actual chat works. And it works well. There's not a lot of discernible difference between the daily experience between Slack or Microsoft Teams, for instance. With Mattermost, that's still the case.
However, you do get a lot of quality of life features such as writing in markdown, inline code syntax highlighting (simply add the language before your in-line code block like "`css), and threaded conversations.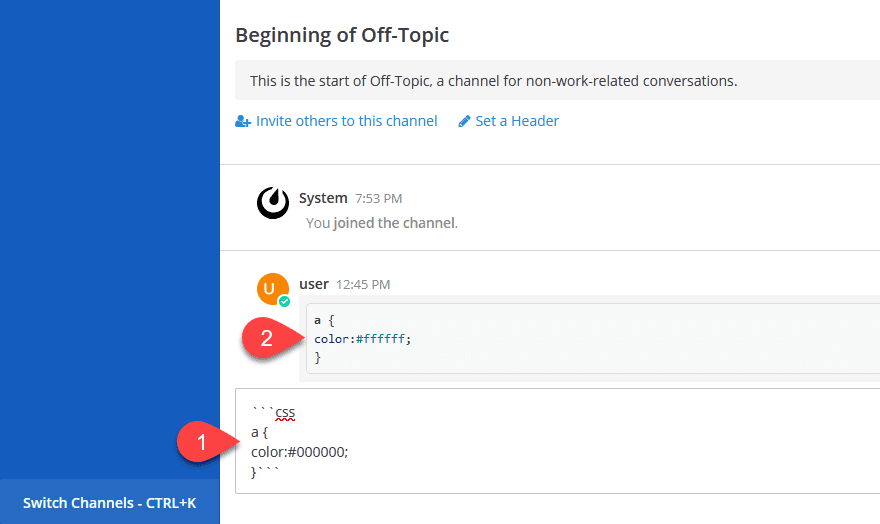 The whole experience is smooth, simple, and you shouldn't run into any issues in terms of UX or even UI. Mattermost is clean, efficient, and quick. Even in the browser-based version, the app is responsive with very little — if any — lag time between input and result.
Conclusion
Wrapping up, we are very confident at recommending Mattermost. Admittedly, this is not the most newbie friendly team chat app out there to get set up, but once it's up and running, the app does what it's supposed to do. The mobile and desktop versions are clean and quick and lightweight. The back-end and analytics are amazing for your DevOps and IT teams, and the security and data protection you get by running Mattermost on your own servers or cloud host make this a major player for those who need to keep their systems locked down, but with a lot of leeway on who has the keys.
Have you tried Mattermost? What are your thoughts about the app?
Article featured image by ProStockStudio / shutterstock.com