Podcasting and video creation continue to grow in popularity, but the production costs associated with them are often times too high a barrier to entry. AI voice cloning is one of the most promising technologies leveling the playing field for all types of new creators. These advanced AI tools make it easier (and cheaper) than ever to create more of the content that your audience cares about. You're going to be surprised at how easy it is to duplicate yourself and make your life easier.
This article covers many of the best AI voice cloning tools that you can choose from. We'll help you understand what's out there and which features stand out among them.
What is Voice Cloning AI?
AI voice cloning tools function by generating a synthetic voice that closely resembles a particular speaker. For these tools to work, a speaker provides a short voice sample that AI uses to create a cloned voice. But this isn't all. A separate AI process is applied to a written script (text to speech) that transforms the written content into an audio file. The audio file features a voice that is remarkably similar to the person who supplied it.
Advancements in AI technology continue to happen quickly, and while it cannot flawlessly reproduce the emotional depth and subtle nuances unique to human speech, progress toward this goal is mounting.
There are numerous sophisticated platforms that provide voice cloning and are used across industries ranging from education and entertainment to accessibility and security. We'll start our list of the best AI voice cloning tools with Descript, a popular audio and video editor.
Best AI Voice Cloners and Tools

Subscribe To Our Youtube Channel
Voice cloning using AI is becoming more and more common as more tools become available.
The AI Voice Cloning Listed In Order
Expand List
We'll show you the best tools for this task and start by showing a crowd favorite; Descript.
1. Descript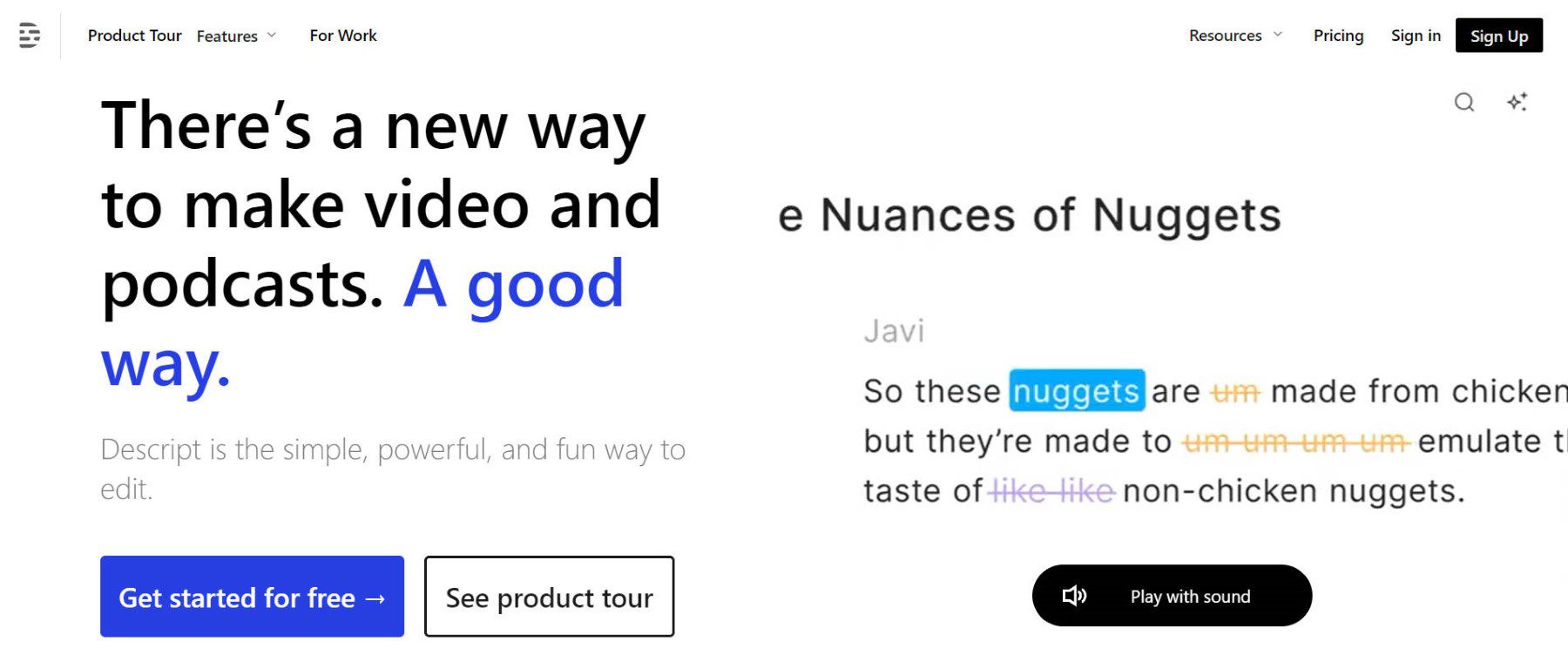 Descript is an audio and video editing app that has changed the editing experience for thousands of content creators. It converts uploaded audio to text and then lets you edit that audio by adjusting the text. Descript also sports what it calls "Overdub," which clones your voice but has you record a sample. It then can perform text-to-speech transformation using AI with a provided script.
Key Features of Descript:
Edit your pre-recorded audio like you're editing a Google Doc
With Overdub, create an AI-generated replica of your voice
Transcribes audio and video files with jaw-dropping accuracy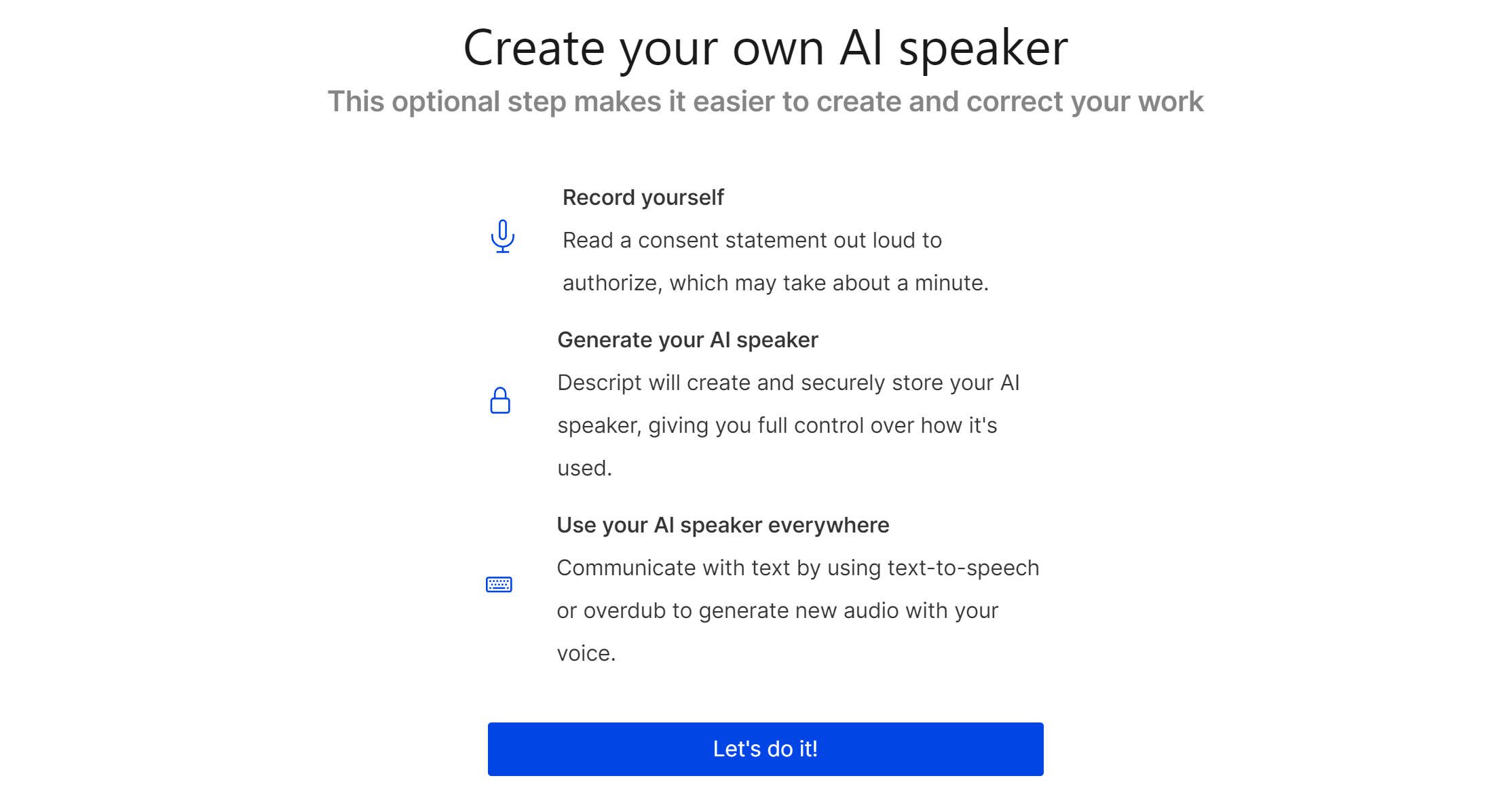 Overdub allows you to type in the missing audio for your already recorded uploads so that you don't have to break out your recording gear again. It makes post-production even easier, especially when there are last-minute additions to a script.
Best For: Descript is the go-to tool for anyone who's serious about audio and video editing but doesn't want to get bogged down in technicalities. Whether you're a podcaster, a video creator, or a professional who needs transcription services, Descript offers a streamlined, intuitive experience. Its Overdub technology is particularly beneficial for those who require realistic and customizable voiceovers but don't have the time for endless retakes.
Pricing: Free plan available with paid plans starting at $15/mo
2. Fliki

Fliki is a leader in voice cloning, text-to-speech generation, and AI video creation. Crafted by the architects behind Rytr, one of the best AI writing tools, Fliki offers AI generation of written text into high-fidelity audio and can even use your voice to do it. Fliki takes your storytelling to the next level by adding a visual dimension, making it a one-stop shop for content creators who crave efficiency without sacrificing quality.
Key Features of Fliki:
1800+ AI-engineered voices that mimic human intonation
Language diversity with 75+ languages and 100+ dialects
Stock media library for video content
AI models that clone your voice for TTS use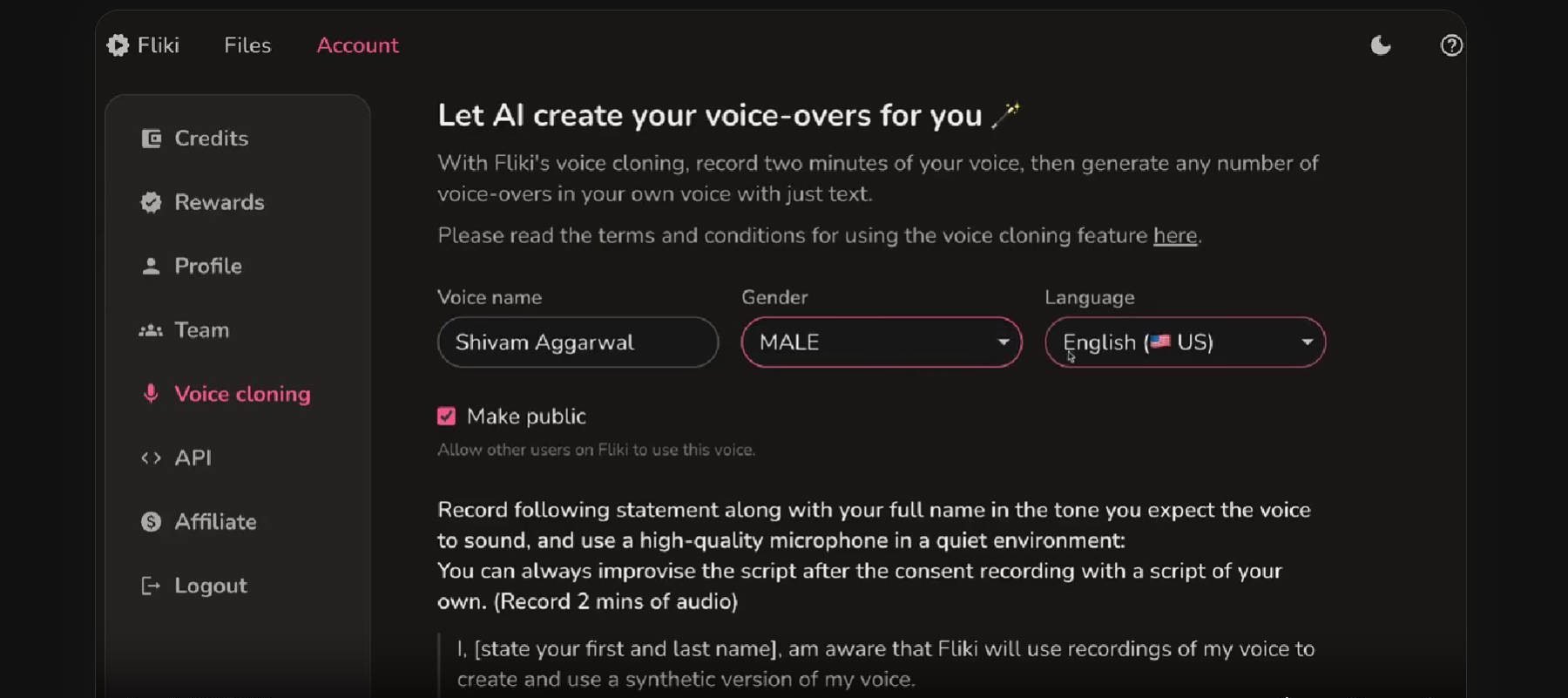 Voice cloning can create a digital twin of your voice, making your content personalized and deeply authentic. This feature is a godsend for those who need to produce voiceovers that carry their unique vocal signature but lack the time or resources for traditional voice recording. Fliki offers this for its AI video generator but does not currently support AI Avatars.
Best For: Fliki is primarily for people wanting to create realistic voiceovers for video (MP3s are available too). It has one of the cleanest UIs making it very simple to use. Specifically, for those looking for commercial rights to AI-generated audio and video, Fliki is a go-to voice cloning tool.
Pricing: Free plan with paid plans starting at $28/mo, but voice cloning is only available at $88/mo
3. Murf AI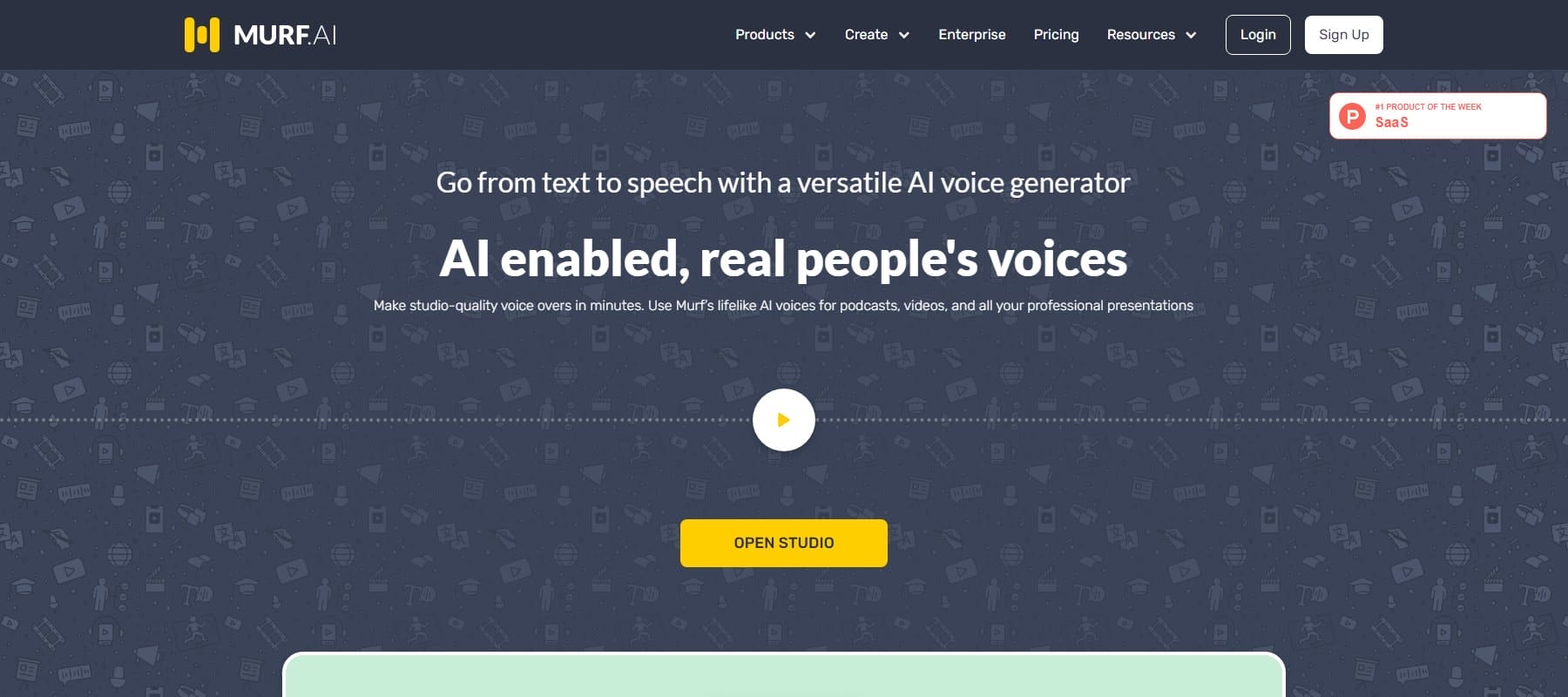 Murf.AI not only does text-to-speech but also voice cloning and collaborative editing. It can turn text into lifelike speech, transcribe audio files, and even does a great job of cloning your voice for that personalized touch. Like other tools on this list, it is a one-stop shop for many audio-related AI tasks and does it all in the cloud.
Key Features of Murf.AI:
HD audio exporting
Collaborative editing and team workspaces
Voice Cloning to reduce dependencies on recording time and gear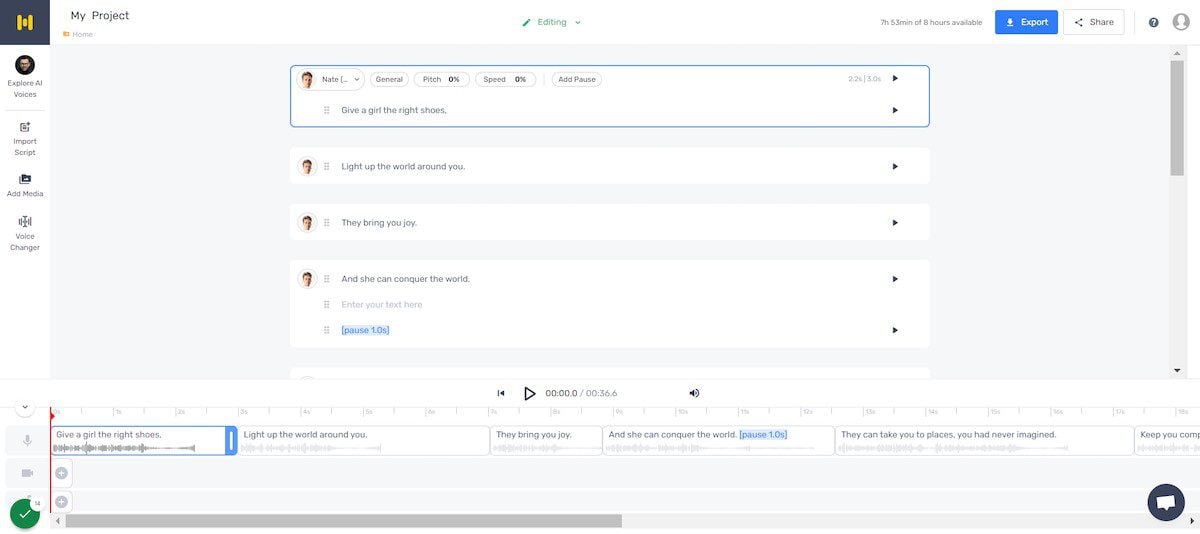 Murf.AI crafts an AI-generated voice that mimics your tone, pitch, and style by recording and uploading your voice samples. It's not just a feature; it's an investment in your brand's audio identity.
To learn more, check out our detailed review of Murf AI.
Best For: Murf.AI is an able platform for anyone needing to create high-quality audio. The voice cloning feature offers a unique way to maintain brand consistency across various audio channels. It's not the most expensive or the cheapest option, but for those needing an audio-first voice cloning platform, Murf is a great choice.
Pricing: Free plan available with paid plans starting at $29/mo
4. PlayHT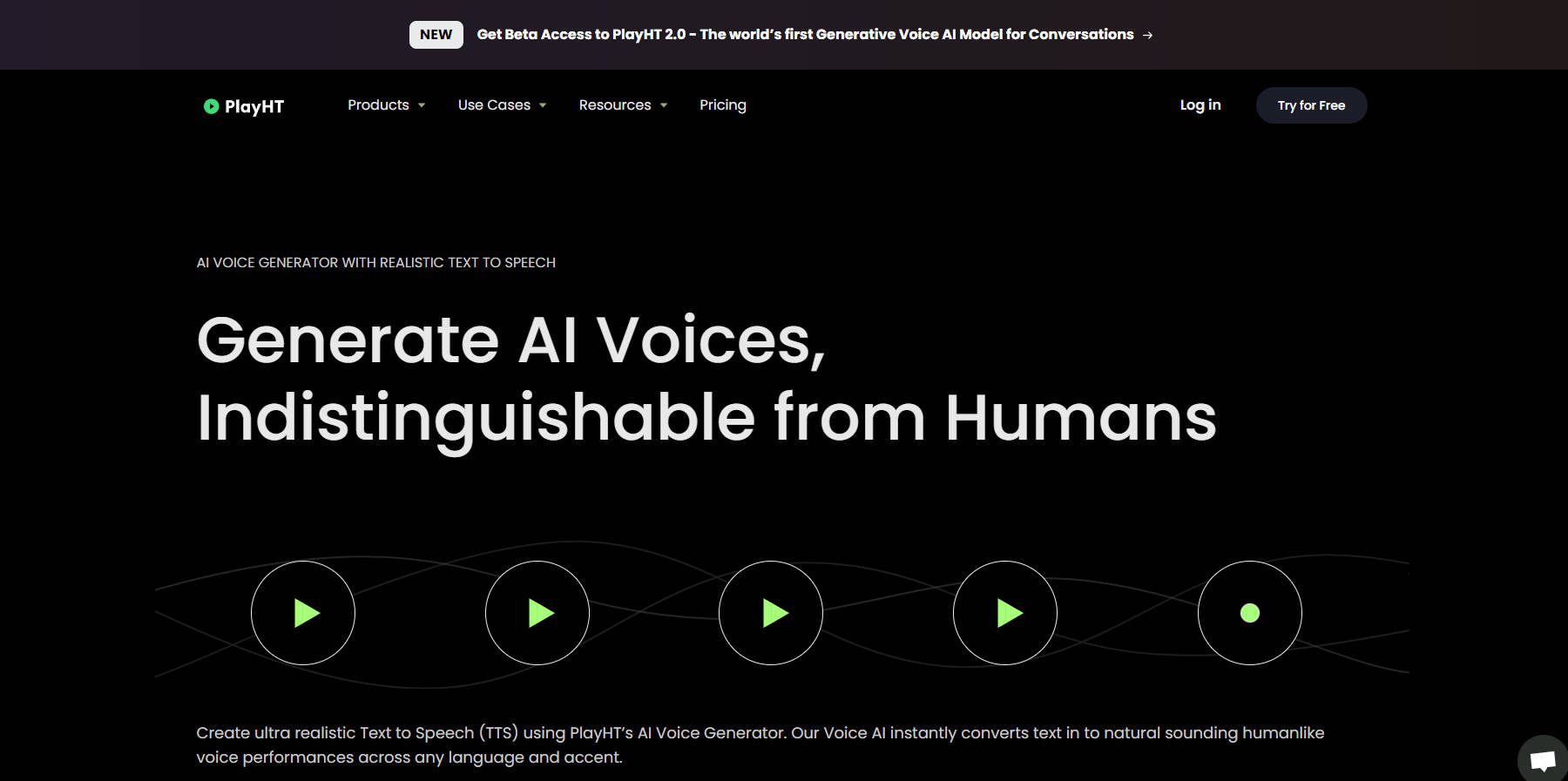 PlayHT is an audio studio that works in your browser. It offers a plethora of AI voices and customization options that make it a go-to for podcasters, video creators, and anyone in between. It's one of the best tools that takes your written words and breathes life into them, making realistic-sounding audio.
Key Features of Play.HT:
907 AI voice with tons of ultra-realistic voices
Emotional speaking styles for dynamic audio
High-fidelity voice cloning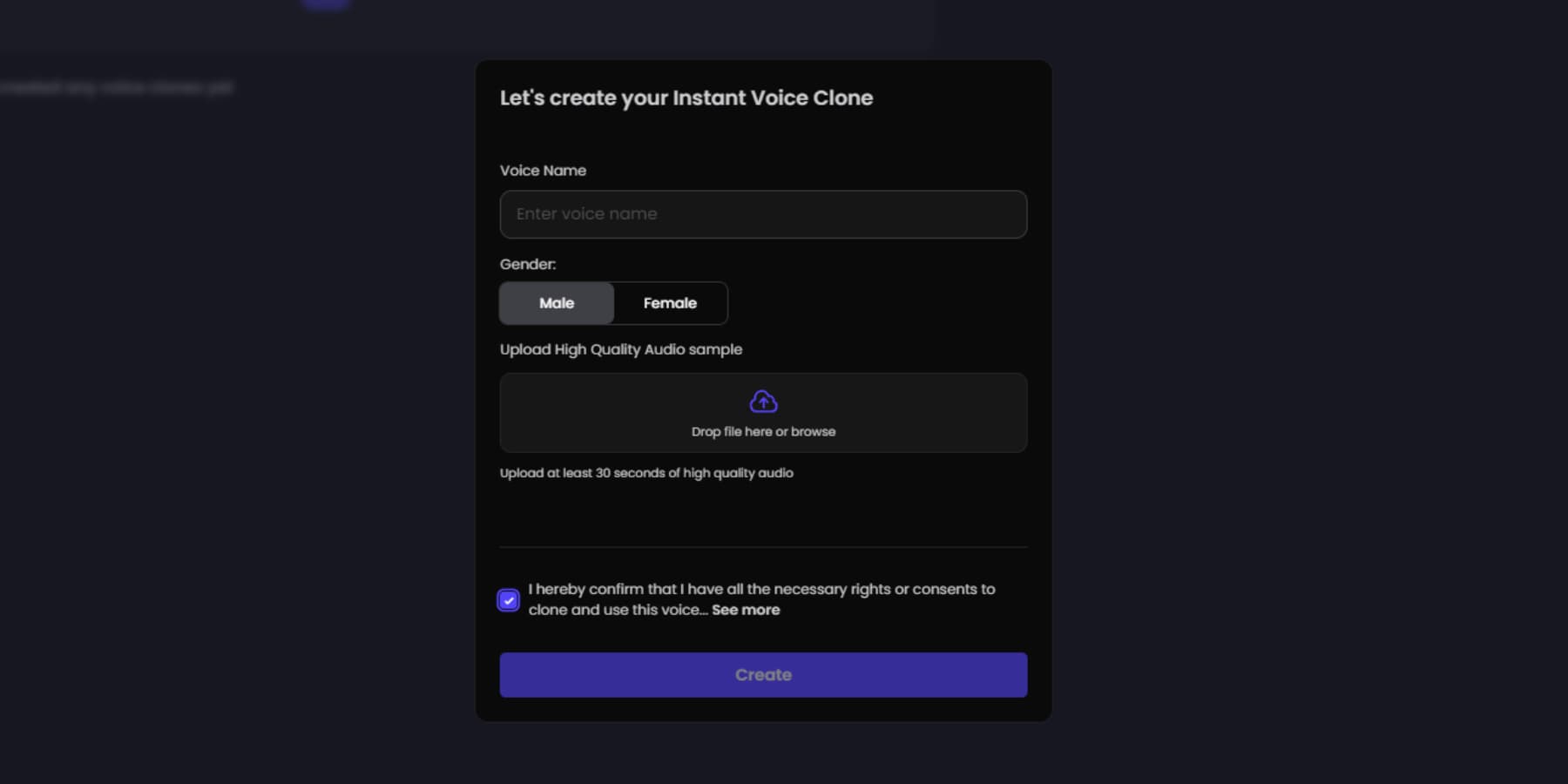 Play.HT needs an uploaded clip of your voice to get an AI-generated voice clone that can speak for you whenever you need it. Unlike other platforms, PlayHT likes to have a couple of hours of your voice for its AI to be able to replicate it fully. This higher threshold means that the voices created are of extremely good quality, and many people think PlayHT is among the best of related tools.
For more, check out how to make an AI voice with Play.ht.
Best For: Play.HT is great for podcasters and audiobook creators looking to generate longer works of audio. For video creators, the custom voice cloning feature allows you to maintain a consistent brand voice across all your content. PlayHT does not include a video creation tool, but the exported audio can be used for video voiceovers.
Pricing: Free to start, with paid plans beginning at $39/mo
5. HeyGen

HeyGen is a state-of-the-art AI video avatar generator that offers a more efficient video creation journey. It leverages advanced AI to produce lifelike avatars that deliver your script with unparalleled realism. HeyGen has carved a niche for itself in the realm of AI-driven video production. This is partly because of its AI voice cloning which it adds to its AI videos.
Key Features of HeyGen:
All-in-one solution for AI voice cloning and animated avatars
Create and clone your own personal avatar for a total replacement (only with the Enterprise plan)
Supports voice cloning in multiple languages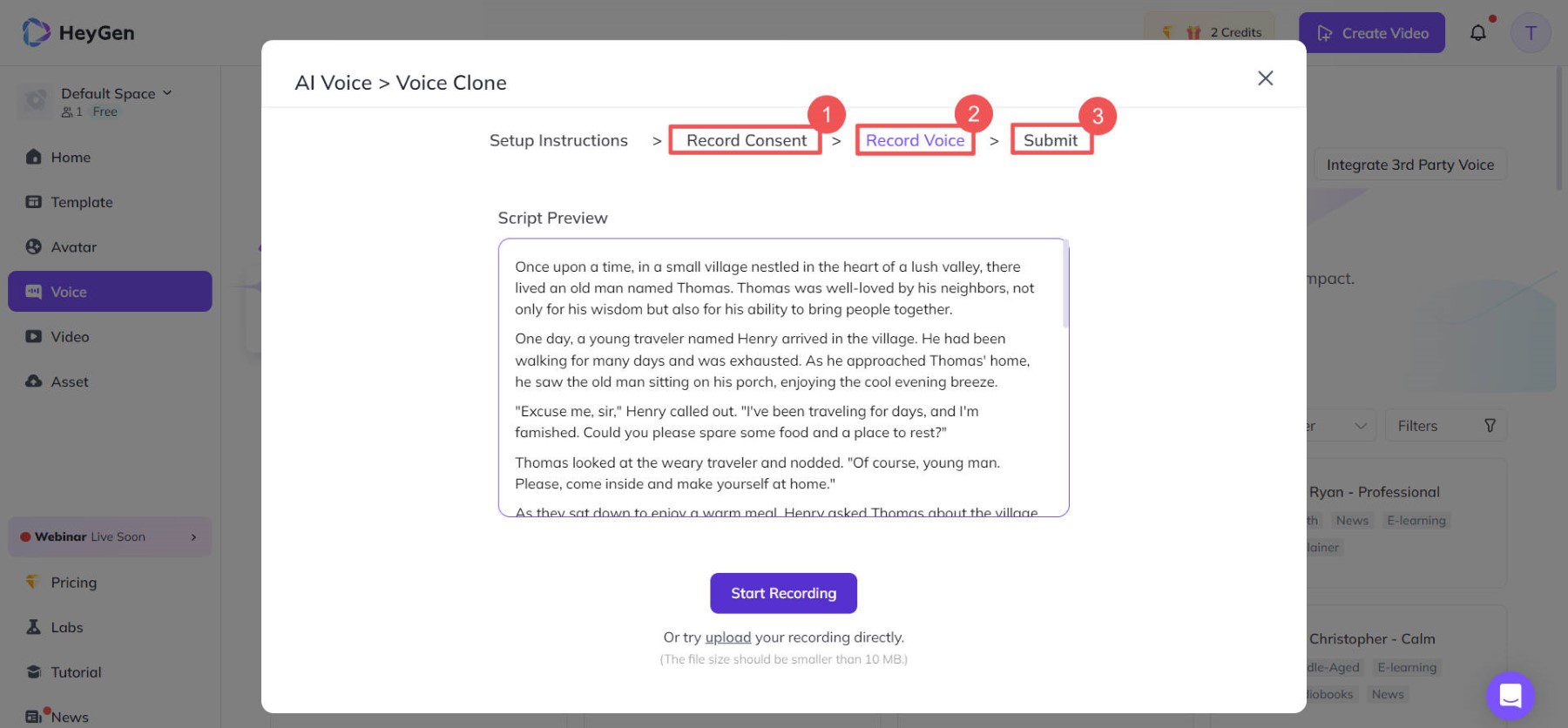 HeyGen uses artificial intelligence to create an uncanny replica of a human voice with crystal-clear audio. The process is straightforward—simply provide an audio sample, and HeyGen crafts an AI clone of your voice. This feature supports eight languages, making it incredibly versatile.
Best For: HeyGen excels in tasks that require quick, high-quality video production. It's a boon for marketers who need to churn out compelling video content without the hassle of traditional recording setups. Whether you're a solo content creator or part of a larger team, HeyGen offers features that can significantly cut down your production time and costs. We especially like this for course creators and knowledge-base teams.
Pricing: Free trial with paid plans starting at $29/mo (voice cloning requires an additional $99/yr with select plans)
6. Resemble AI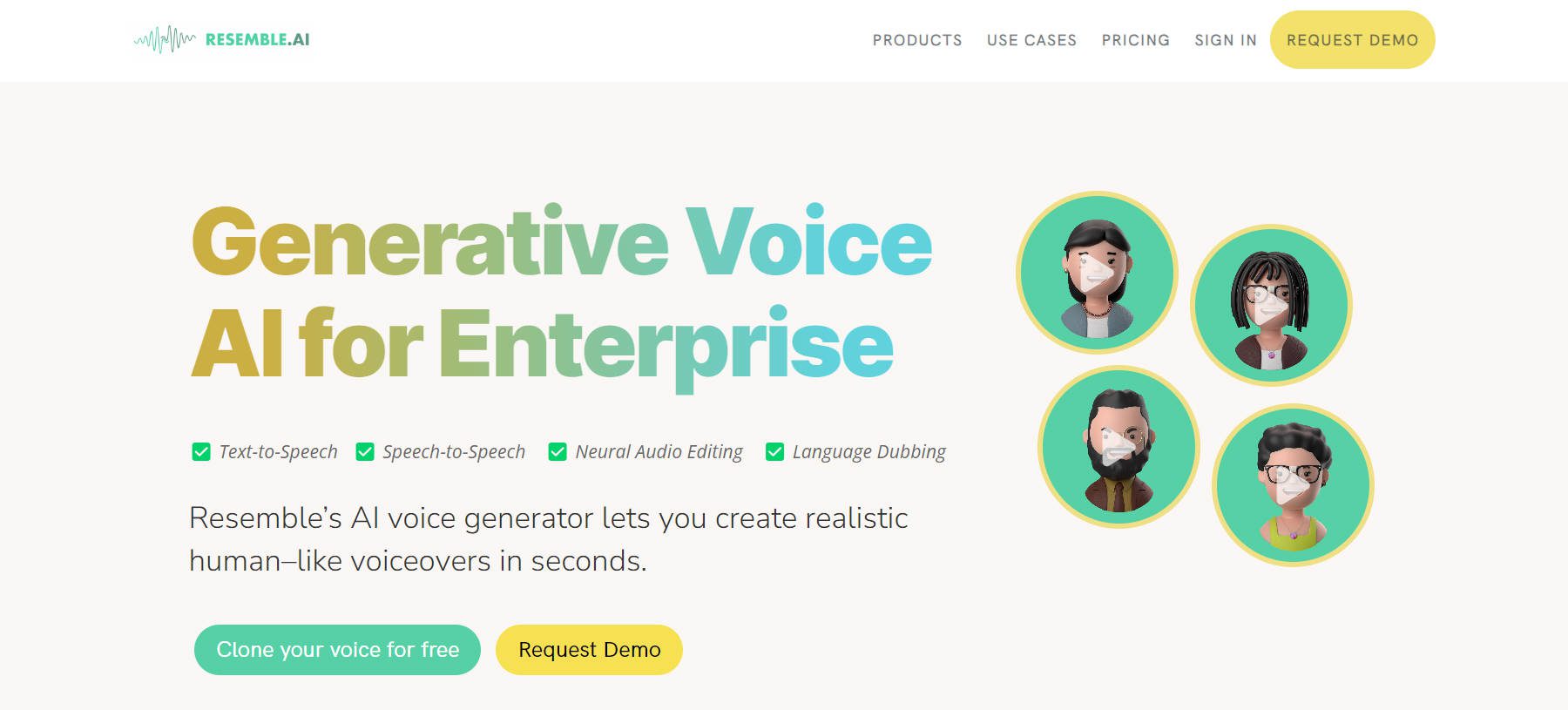 If you want to incorporate AI into your voiceover projects while still using your voice, Resemble AI is a perfect solution. This web-based platform offers tools that let you upload, type, or speak, generating an AI version of your natural voice. While there are a variety of pre-existing voices to choose from, Resemble AI can also help you create a truly unique voice for your project. With their editor, you can add inflections and emotions to your voice. Additionally, the platform supports multiple languages, allowing you to create custom and localized audio for any content you produce.
Resemble also has an audio-based AI detector (unlike many written AI content detectors) that businesses can use to determine the authentic origin of a particular audio file.
Key Features of Resemble.AI:
Multi-lingual in 24+ languages
Quickly clone your voice via uploaded voice samples
Enhanced emotion control for generated voices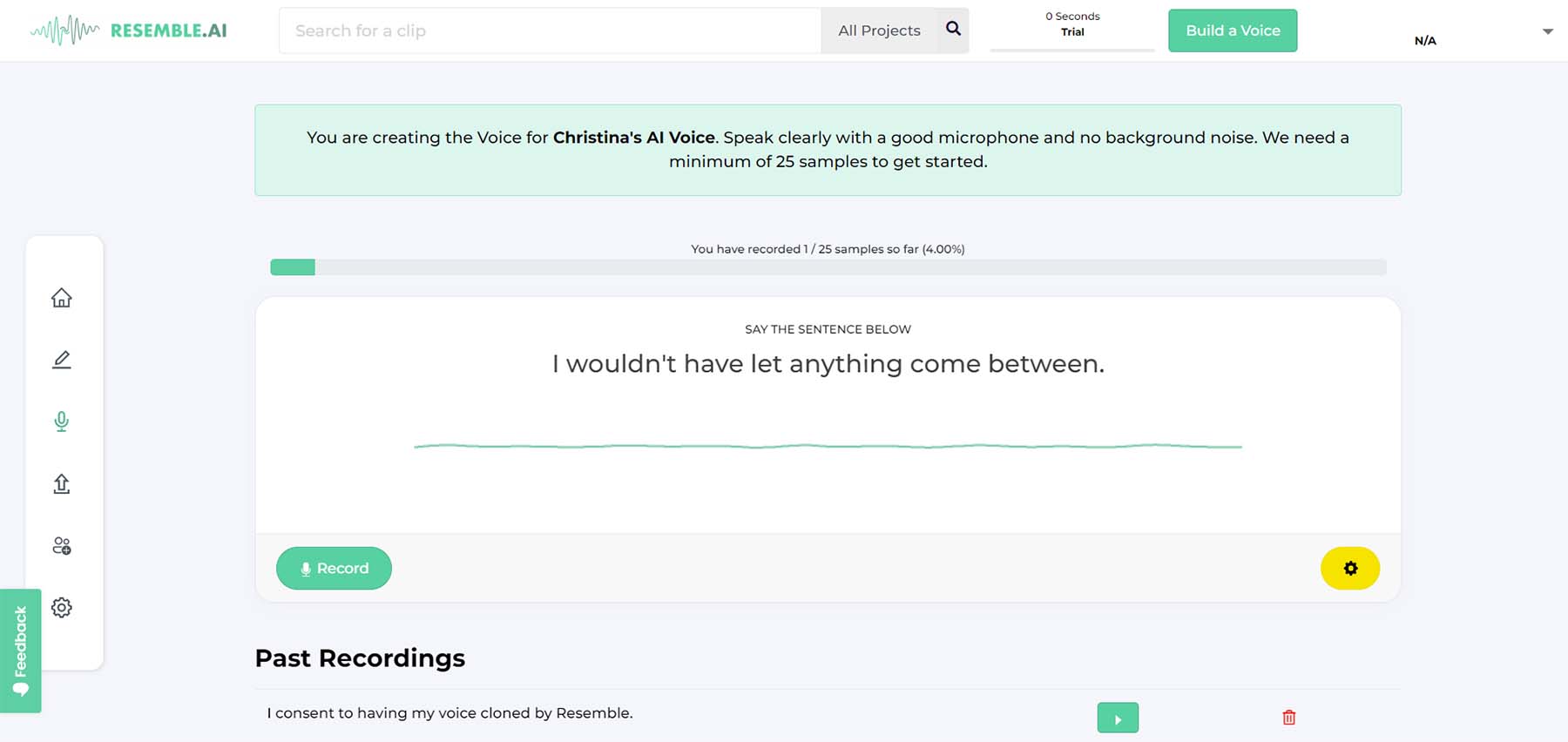 Resemble has you record 25 single-sentence samples for its AI system to accurately create a replica voice to be used for TTS voiceovers. It is really quick and easy to record these in the browser, and it takes less than 5 minutes. Users can upload even more samples than the minimum 25 if they feel like the AI needs more data to accurately emulate your voice.
Best for: Resemble AI is best for small businesses and users who want a high-quality AI audio generator with custom voice cloning. It's also great for enterprise businesses who want to watermark their audio with Resemble's AI technology.
Pricing: Usage-based pricing plans start at $0.006 per second
7. Speechify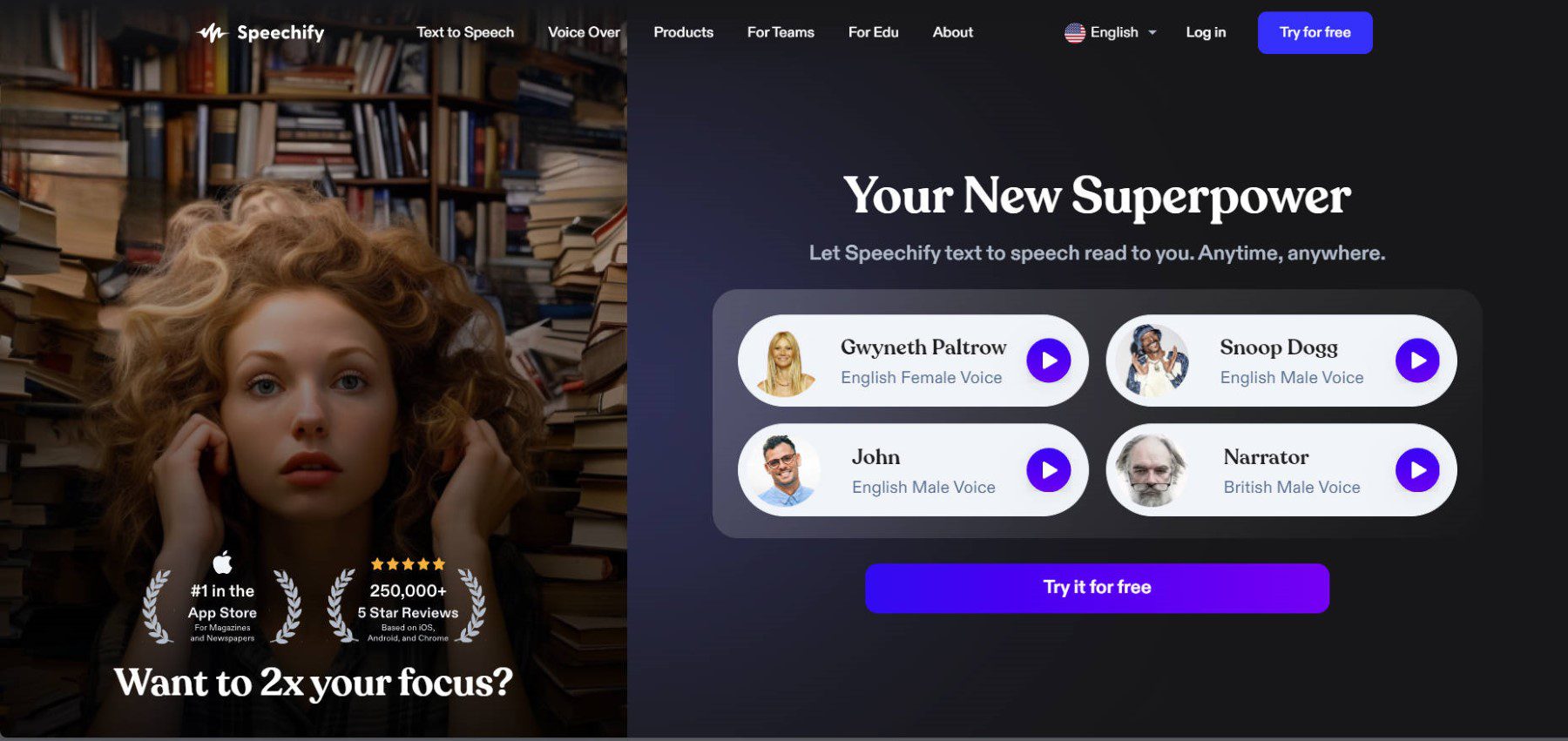 Speechify is one of the best text-to-speech tools that uses AI to create high-quality audio from written content. Unlike other options on this list, Speechify also has technology baked into your browser to help you read webpages aloud. It also has mobile apps so you can have your files (like PDFs) read to you. Pair that with its content creation tools for businesses, and you have a very useful app for multiple use cases.
Key Features of Speechify:
50+ premium voices
Voice cloning AI for dubbing
Turn any text into a smooth audio experience across the web and mobile devices
OCR image text and then to audio with TTS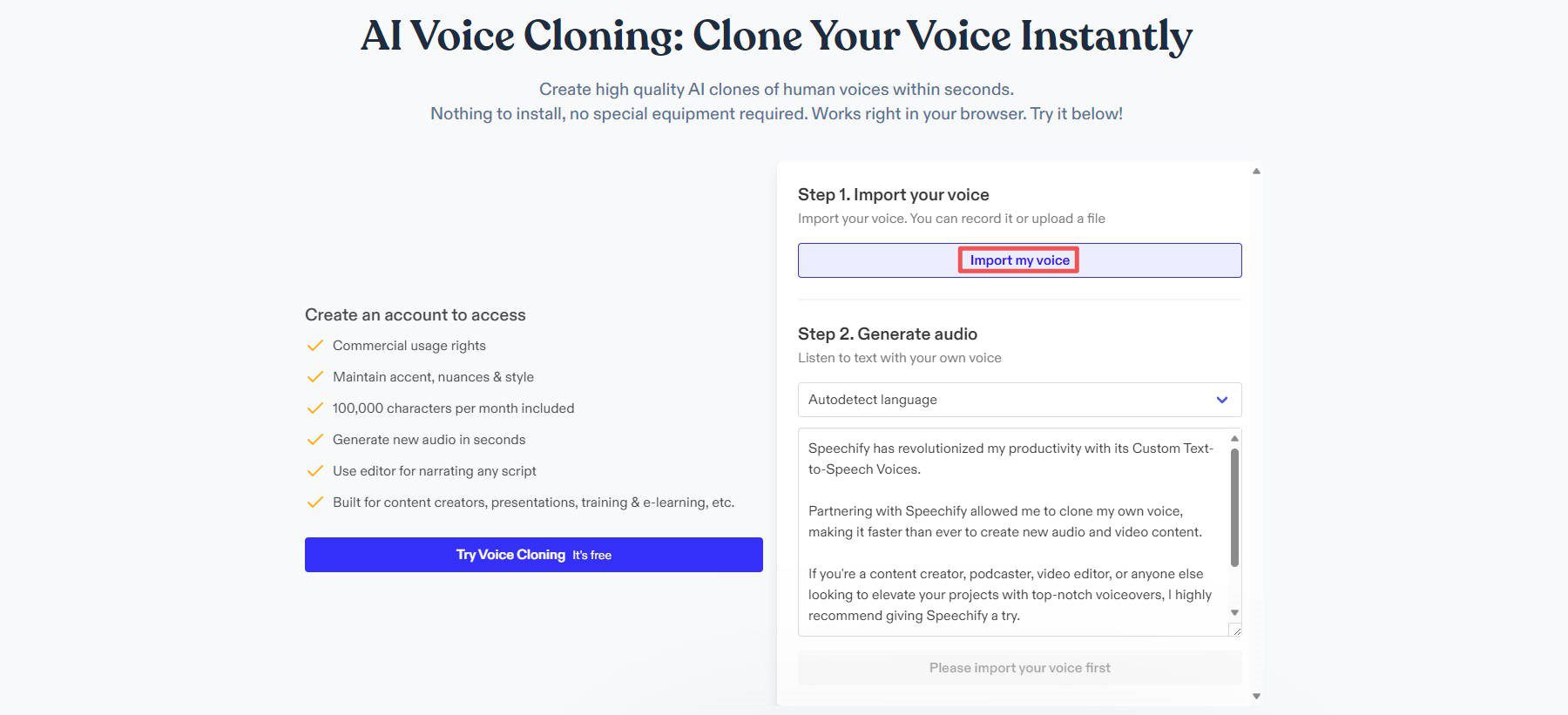 Best for: Speechify is an excellent choice for people wanting to be able to create audio content but also want an enhanced experience while digesting personal content. It helps people get more done by reading news articles, eBooks, and other content aloud. But, it also works for professionals needing to clone their voice and use that in their content channels.
Pricing: Free limited plan with paid pricing starting at $99/mo (separate price for web-based TTS for personal productivity)
8. LOVO AI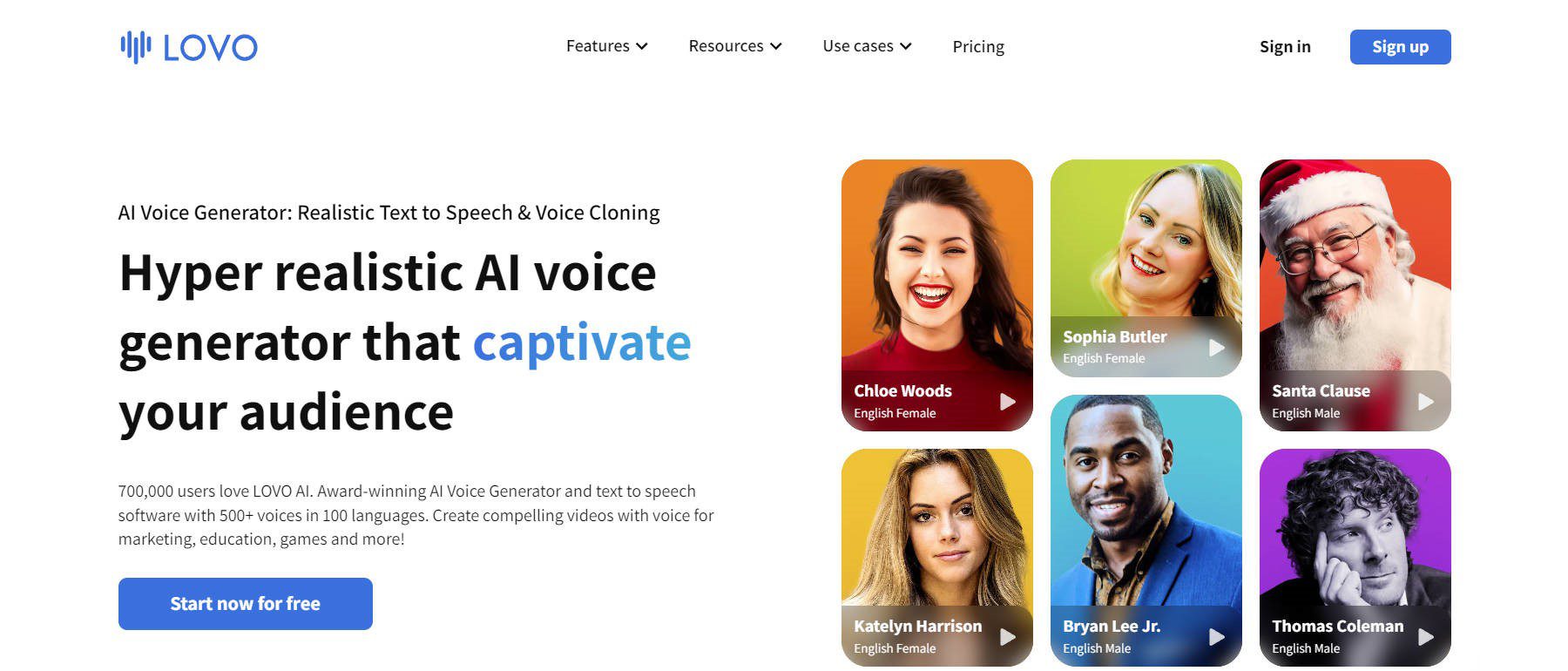 LOVO stands out as a top AI voice generator choice for video producers and audio engineers seeking comprehensive control over their audio content. Its TTS technology expertly simulates human voices in different languages and accents to produce life-like voiceovers that rival natural human speech. Furthermore, LOVO includes a video editor and an AI writer for scripting, letting users fully leverage the most popular types of AI tools.
Key Features:
400 voices in 100 languages with 25+ emotions
Full-featured UI for video editing and audio production
Easily music and sound FX tracks to your projects
Simple voice cloning to use your voice with TTS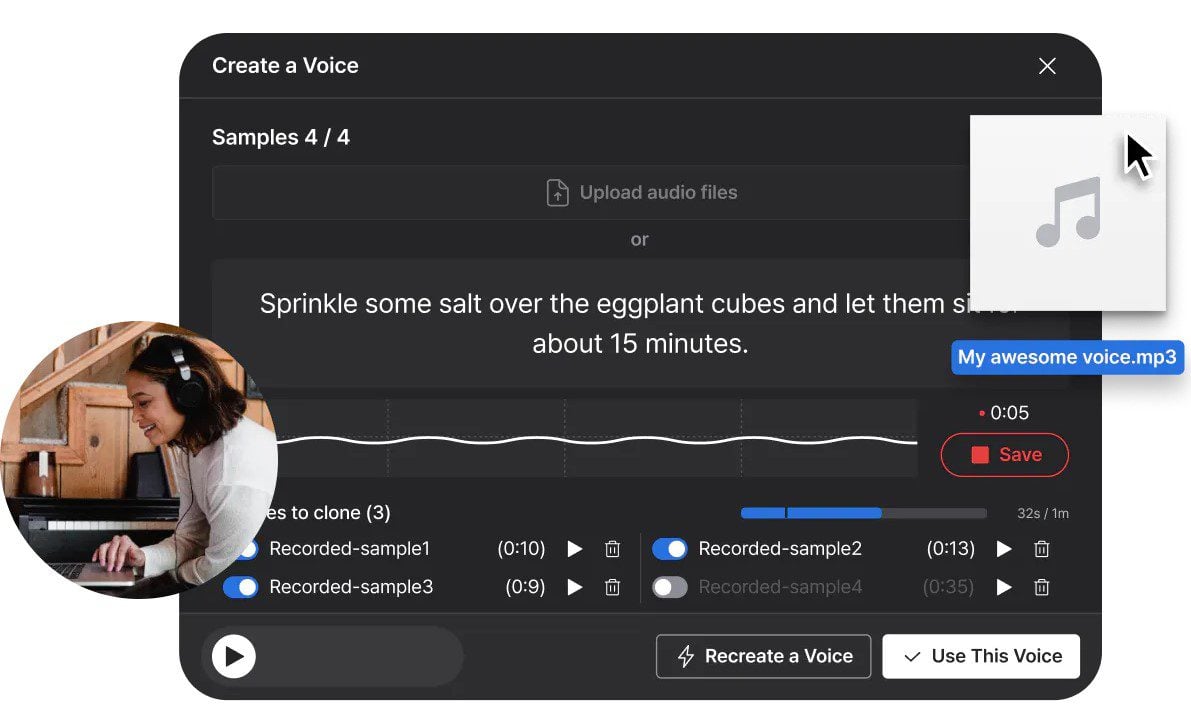 Best for: Lovo's interface provides a comprehensive platform ideal for podcast and audiobook producers seeking high-quality audio files. Additionally, it holds considerable appeal for audio engineers desiring in-depth control over their audio within their workflow.
Pricing: Free plan available with paid plans starting at $25/mo
Comparing the Best AI Voice Cloning Tools
We know we have covered many voice cloning tools with similar capabilities and features. All of the tools featured in this article have a voice cloner for users to leverage. Many of these tools also do standard text-to-speech voice generation with stock voices. It is less common for these tools to create videos and AI Avatar videos, but some do. But all these products will do the trick if you are after voice cloning for yourself or your team. Next, let's look at price considerations.
AI Voice Cloning Tools Price Comparison
One of the best ways to compare and pick between different tools is by price. Here is a breakdown of pricing for each tool:
AI Voice Cloning Tools Feature Comparison
Here's a look at the top 3 AI voice Cloners and how they stack up regarding their features.
🥇 Descript

🥈 Fliki

🥉 Murf AI

Starting Price Price
$15/mo
$28/mo
$29/mo
Create Videos
✔️
✔️
❌
Edit Previously Recorded Audio/Video
✔️
❌
✔️ (Audio)
Create Transcriptions
✔️
❌
✔️
URL to Video
❌
✔️
❌
Voice Changer
❌
❌
✔️
AI Avatar Generation
❌
❌
❌
Editing in the Cloud
✔️
✔️
✔️
Community Rating
4.5/5
⭐⭐⭐⭐⭐

Read Reviews
4.8/5
⭐⭐⭐⭐⭐

Read Reviews
4.6/5
⭐⭐⭐⭐

Read Reviews
Get Descript
Get Fliki
Get Murf AI
As you can see, AI voice cloners have a surprisingly large set of use cases, ranging from audio to video and new content creation to content postproduction. Luckily for you, there are plenty of options that cover each of these and more.
What is the Best AI Voice Cloning Tool?
Probably the best all-around voice cloning tool is Descript. Descript handles both audio and video editing features. Its voice cloning feature is only the tip of the iceberg, as it lets you do so much more than that. Fliki is a great tool for voice cloning but comes at the steepest price ($88/mo for the voice cloning feature). Murf AI is another routinely used tool and does many other audio editing tasks in addition to voice cloning.
For those looking at how AI can help you innovate your business and help you find more time for important tasks, check out these top AI Tools. You might also like our articles on the best text-to-image tools, Divi AI use cases, and the best AI writing tools.
Featured Image by Login / shutterstock.com