Cloudinary is not your standard image compression plugin. Instead, it's a total image management and editing platform, complete with API integration and CDN delivery. And it's so much more than that, too – it's a one-stop-shop for any-sized business (and the entire team) to upload, store, organize, manage, edit and optimize images.
Cloudinary uses the cloud to manage all of an application's image and video needs. Not only can you upload and store images and videos to the cloud using Cloudinary, but you can also use the platform's built-in tools to convert, crop, resize and edit your content – without requiring a third-party integration or a completely separate tool. And you can also optimize your multimedia for delivery, storage or the web.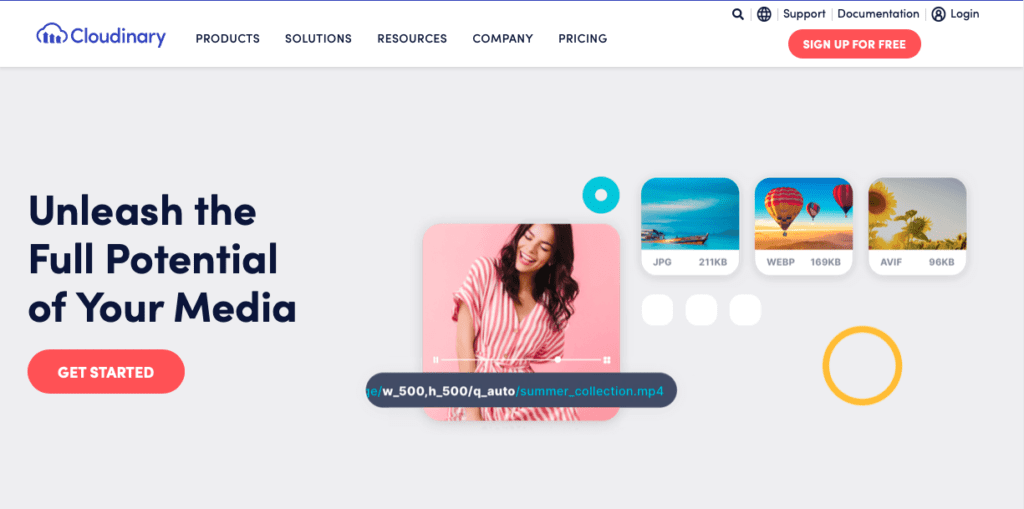 Cloudinary Features
Cloudinary has a broad set of media management tools for both mobile app and website developers around the globe:
Upload and store an endless number of images, and upload as many as one million a day. Storage comes with automatic backups and historical revisions.
Extract images from social network profiles or video thumbnails.
Apply image transformation on upload, such as auto-rotation, flipping the image, adding rounded corners or adjusting the opacity. You can also convert the format of the image (there's support for several formats, including Office documents). Make any of these changes at any point, too, even if you don't handle them during the upload phase.
Take advantage of SEO capabilities, including URL customization.
Use analytics and reports to get information about usage and optimize the performance of your multimedia.
Get technical support, plus a dedicated account manager and integration engineer.
Editing and Manipulation Features
Cloudinary also has a rich set of editing and manipulation tools:
Animated GIFs
Cropping
Effects
Face detection
Multiple image merge
Resizing
Video transcription
Watermarks
When it comes to effects, there's so much you can do with Cloudinary:
Black and white
Grayscale
Sepia
Blur
Sharpen
Brightness
Contrast
Oil paint
Overlays
Pixelate
Saturation
Vibrance
Vignette
Organization Features
With Cloudinary, you can organize folders and then safely share them with your team. And you can create role-based permissions so you know exactly who has access to what. Uploads can be auto-categorized or manually tagged – whichever works best for your workflow. With A.I.-powered search, find what you're looking for based on color, face, format, location tag, size or style.
API and CDN
Cloudinary has API integration, allowing for automation and connectivity features that handle business processes for you. Furthermore, API integration means that you can embed and share data between multiple applications and systems. For you, that means that you can integrate Cloudinary with just about any web application you already use.
And with Cloudinary's CDN, deliver online content fast across all devices. You don't have to use your own server to perform any multimedia tasks, either. Instead, you'll use Cloudinary's CDN, meaning you don't have to consume your own bandwidth or worry about your site slowing down.
Cloudinary Pricing
Cloudinary has flexible pricing options to suit practically any budget, including a Free plan. Below, we'll go over the main differences. If these don't fit your goals, you can also speak with the company about an Enterprise plan.
Free Plan
For personal projects, blogs and hobby websites, the Free plan may be just right. You can personalize the images and videos you upload, and you also get access to media transformations, video transcoding and freebie add-ons. The Free plan is for one user.
Plus Plan
Small teams may opt for the Plus plan, which is $99 per month, with a 10% discount if you pay annually. You get advanced customer support, backup functionality, auto-tagging features and access to add-ons.
Advanced Plan
Larger businesses and small- or medium-sized businesses planning to scale may benefit from the Advanced plan. The cost is $249 per month (or save 10% by paying annually). You'll get added benefits like custom domain support, an SSL certificate (for security) and role-based users. Five users can use the account.
Who Should Use Cloudinary?
Cloudinary is for brands that understand the importance of multimedia and know that visual assets improve the customer experience and drive conversions. The service goes far beyond basic image compression and editing, so it's for companies that want to go further with their creative assets. The platform is excellent for your business, whether you:
Already have an in-house or freelance creative team, but their time would be better spent on more sophisticated projects.
Can't afford a creative expert or team, and you don't have the time or interest to learn in-depth design yourself.
All sorts of brands, big and small, use Cloudinary to manage their visuals. Customers include GrubHub, Peloton, Whole Foods, Lyft and NBC. From that small selection alone, you can see how Cloudinary is able to improve an assortment of business types, from hospitality and athletics to retail, service-based businesses and news sources.
Use Cloudinary for Deadline-Based Projects
If you run the type of company that has to adhere to strict deadlines, Cloudinary can keep you on track. When you need a cover image, for example, and that's the last piece of collateral required to finish an article or publication, you don't have to wait for the designer to create one – something that becomes even more difficult if your team is in different time zones. With the Cloudinary media library, you can search for a visual – like one you've used in the past – and then make edits to create the right look for your project. Since you don't need to be tech-savvy to use the editing tools, you can do it on your own. That's a huge benefit when that's your only option, other than missing your deadline.
Use Cloudinary to Optimize One Image Several Ways
For retail shop owners, one image is often used over and over – on your website, mobile app, social media, newsletters, etc. Without a full-scale image management platform, you'd have to create different variants of the same image for every single use case. That's a tedious undertaking, even if you possess the tech skills for that at all. And you don't want to skip those optimization steps because that would impact page load time. Cloudinary lets you take one high-res image and then auto-optimize it based on how and where you need it to go.
Use Cloudinary to Keep the Entire Team on the Same Page
When you have a lot of team members who all work with the same visuals, it's difficult to figure out the most recent changes and who made them. If you use a homegrown solution – like saving final copies to your computer, commenting on them in Google Drive and then delivering them via Dropbox – wires are going to get crossed at some point. When that happens, an un-finalized version of an image or video may go on a website or in marketing material. With Cloudinary, everyone can access creative assets in one place. Plus, version control ensures that the most up-to-date version is easy to find.
Wrapping Up
Thanks to Cloudinary, businesses can get rid of their costly and complex media management tools. With Cloudinary, developers, creative directors, managers, marketers and every other professional who has their hands in multimedia can speed up the time it takes to get their content to the public. Create and use an endless assortment of crops, effects, formats and sizes for your multimedia, and rest assured knowing they're responsive and optimized for any and every screen. Automate as much as possible, make your workflow more efficient, create value-filled creative collateral and let your customers have better visual experiences when interacting with your brand.
Want to enrich your website with images? Check out our blog post about showing images from multiple Instagram accounts, as well as our explainer for adding interactive, 360-degree images to your WordPress site.