Effective storytelling is a key part of building a successful brand identity. However, to make the historical roadmap of your business compelling, it helps to present it in a visually engaging manner. This is why we recommend using a timeline to showcase milestones, achievements, and other important dates for your organization.
WordPress timeline plugins make adding a timeline of events or milestones to your site effortless. In this post, we'll discuss what these tools are and explore their benefits. Then we'll introduce you to seven of the best timeline plugins for WordPress.
Let's get started!
An Introduction to Timelines for WordPress Websites
As a business, you must be able to build trust and credibility with your audience. One of the most powerful ways to do that is through engaging storytelling. Letting customers know about where you started and how your brand came to be is an effective way to personalize your company and demonstrate your values.
Incorporating timelines on your website can help with this. In a nutshell, these are visual graphics that display a map of business-related milestones or content, typically in chronological order.
There are various types of timelines that you can add to your website. For example, one of the most popular options is a "dynamic content timeline". Typically, this is used to arrange your blog posts in chronological order (either ascending or descending). However, you can also organize them by category.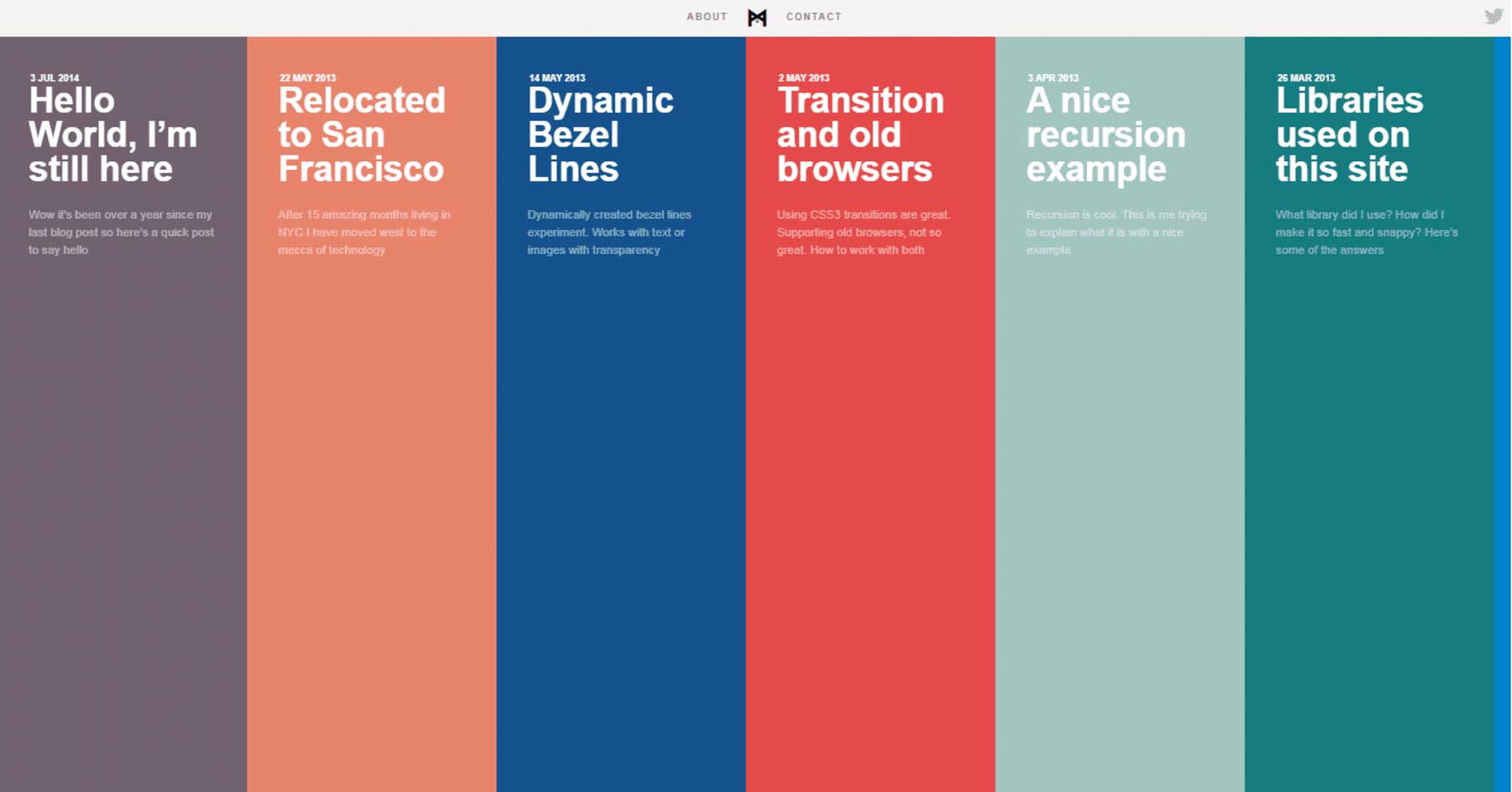 The purpose of this is to provide your users with a better way of browsing your content and locating content that was published at a certain time. Another benefit is that you can add an interactive element to the otherwise basic and bland list of posts.
A second popular type is "static announcement timelines", which are used to display company history and important events. For instance, you might use one on your About Us page to showcase the milestones your business has reached over the years.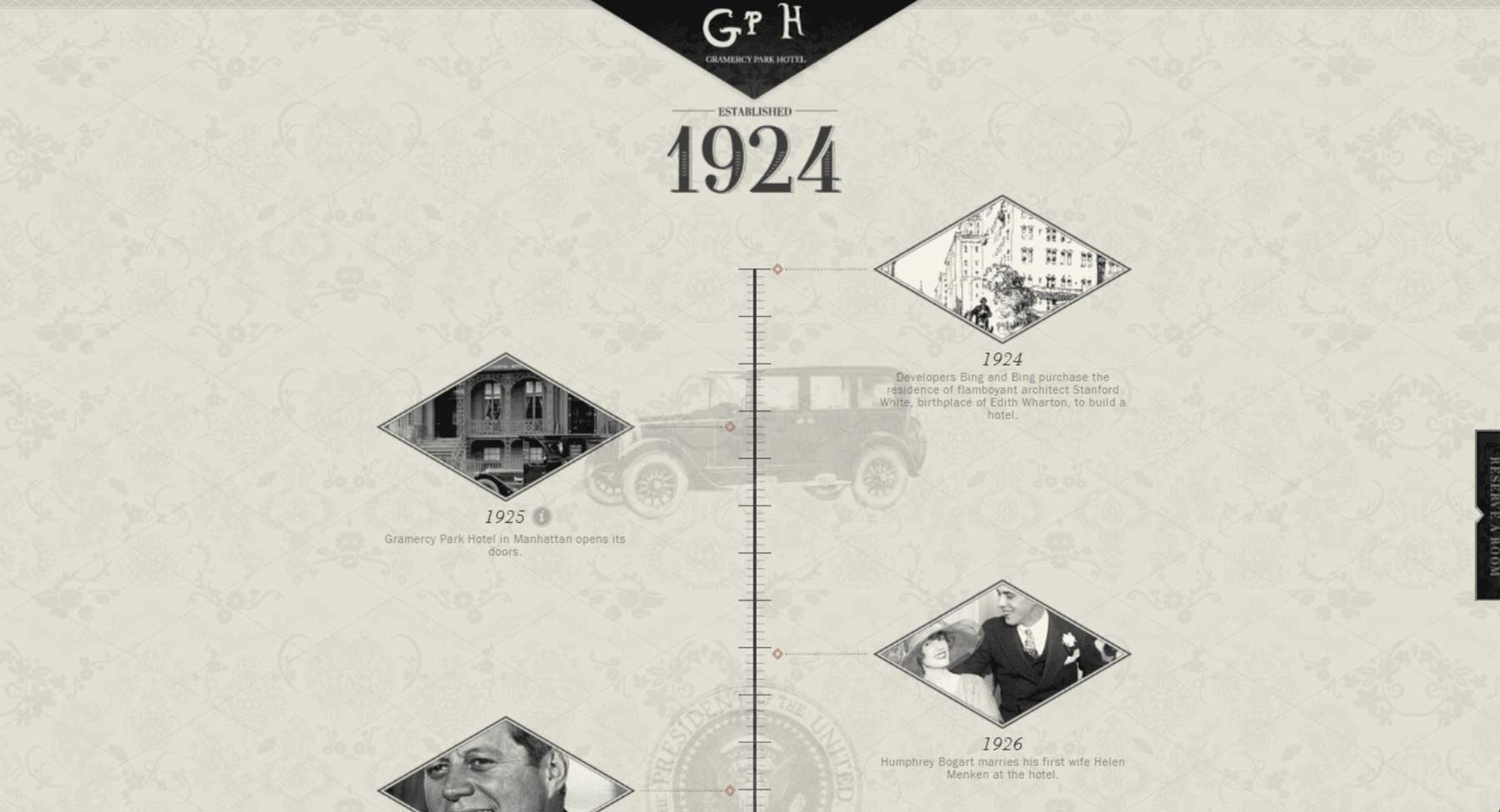 Adding either type of timeline to your site becomes significantly easier when you're armed with one of the best timeline plugins for WordPress. There are both free and premium options available, with features and functionalities ranging from basic to advanced.
The Best Timeline Plugins for WordPress
The type of timeline plugin you pick for your WordPress site will depend on a variety of factors. For example, you'll need to consider what kinds of timelines you'd like to create, as well as how much you're willing to pay.
In the list that follows, we've considered features, ratings and reviews, support, ease of use, and more. The result is seven of the best timeline plugins you can find for your WordPress website. At least one of these plugins should be a suitable option for your site, regardless of the type of timeline you want to create or your experience level.
The Best WordPress Timeline Plugins Listed In Order
Expand List
1. Timeline and History Slider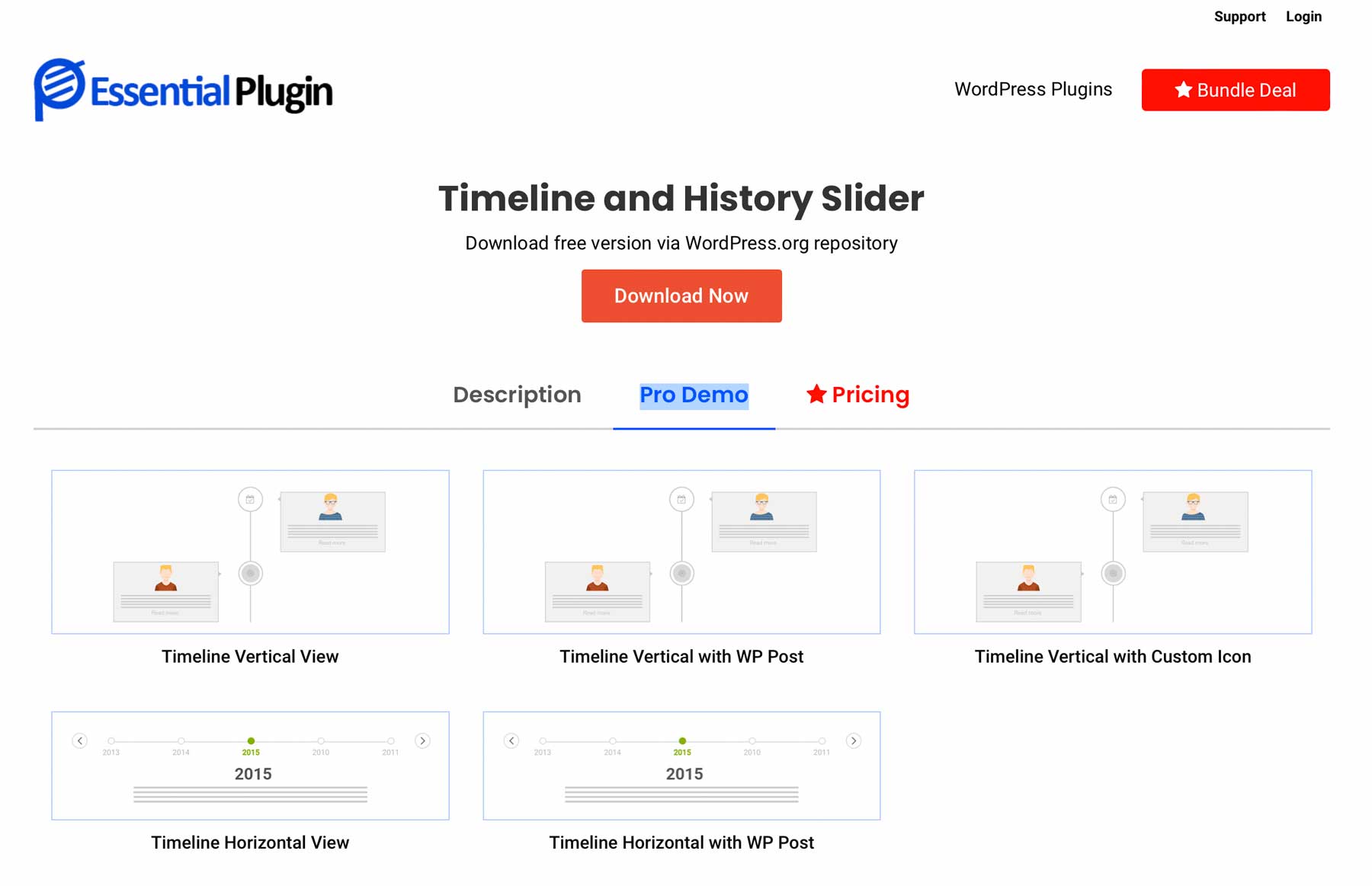 True to its name, the Timeline and History Slider plugin for WordPress lets you create a timeline slider to organize your blog posts by date. This freemium tool makes building and showcasing vertical timelines on your site quick and easy.
With this plugin, you can add a title, featured image, and custom content to each item: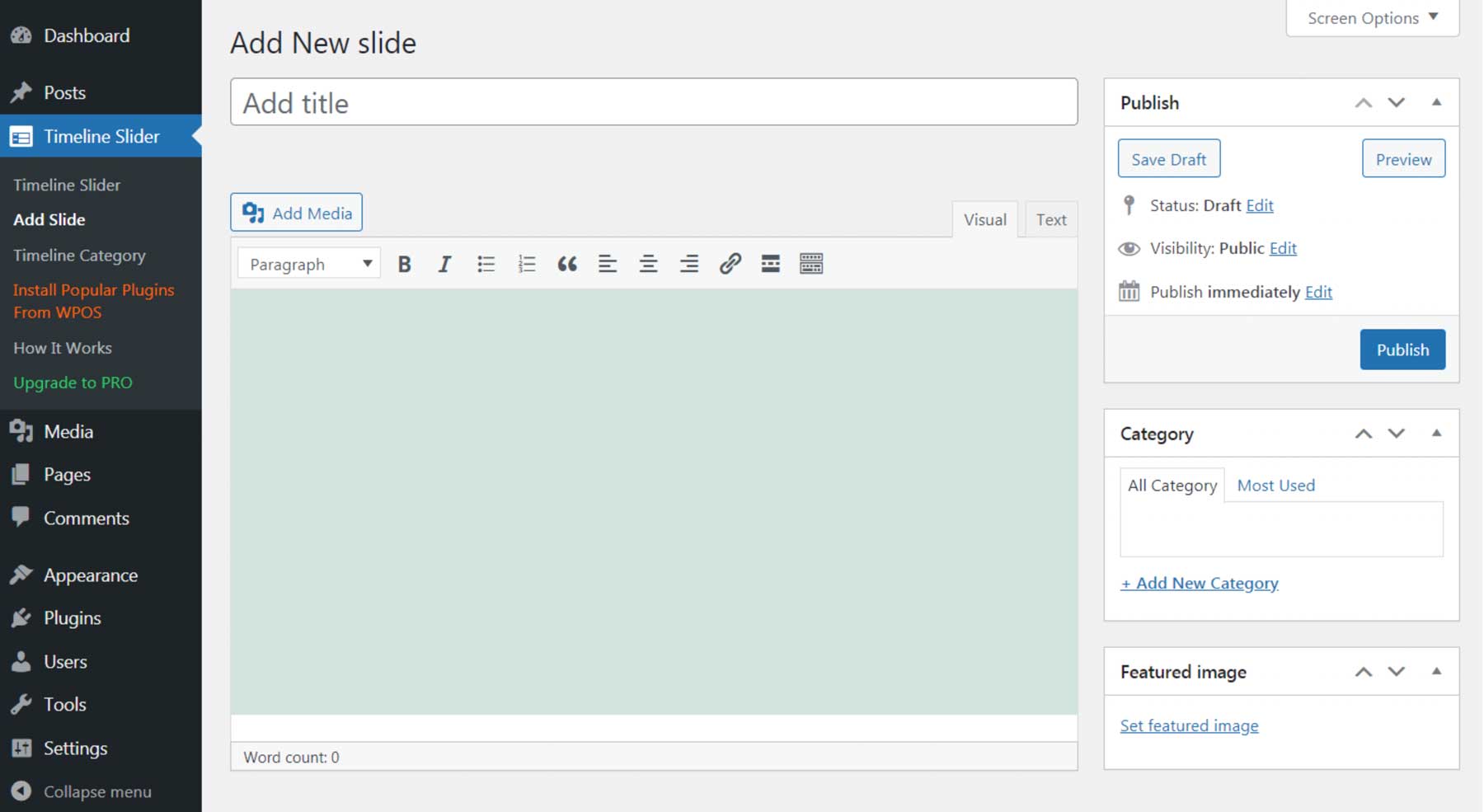 Also, the easy-to-use interface lets you navigate the timeline with your keyboard's arrow keys.
As with several other options we've looked at, there is both a free and paid version available. The free plugin ships with all the standard features you need to create a unique timeline. You can add it anywhere on your site via a shortcode.
Alternatively, if you don't mind paying a bit of money, you can invest in the premium version. However, it's important to note that this tool is included as part of an "Essential Plugins" bundle, so it will be notably more expensive than other premium plugins on this list.
Our favorite aspect of this handy plugin is that it comes with Divi Page Builder support. This means you can seamlessly integrate it with your posts and pages, and ensure an aesthetically-pleasing design without any coding.
Key Features for Timeline and History Slider:
Over a dozen beautiful designs
Shortcode options
Support for timeline touch-scrolling navigation
Vertical and horizontal timeline options
Fully responsive
Category management
Divi Page Builder native support

Timeline and History Slider is for you if…
…You want access to a lot of customization options, or you're a Divi user.
Pricing: Free, with a premium version starting at $169 per year.
Get Timeline and History Slider
2. Essential Add-Ons for Elementor
Essential Addons for Elementor gives you a variety of styling options for the more than 90 elements available. One of which is the Post Timeline widget, which allows you to showcase your site's posts beautifully.
With the "Post Timeline" element, you can customize the timeline to your liking by choosing the layout, number of posts, pages, or custom links to display, sorting options, timeline position, and more. You can also customize the style of the timeline by changing the colors, typography, and spacing.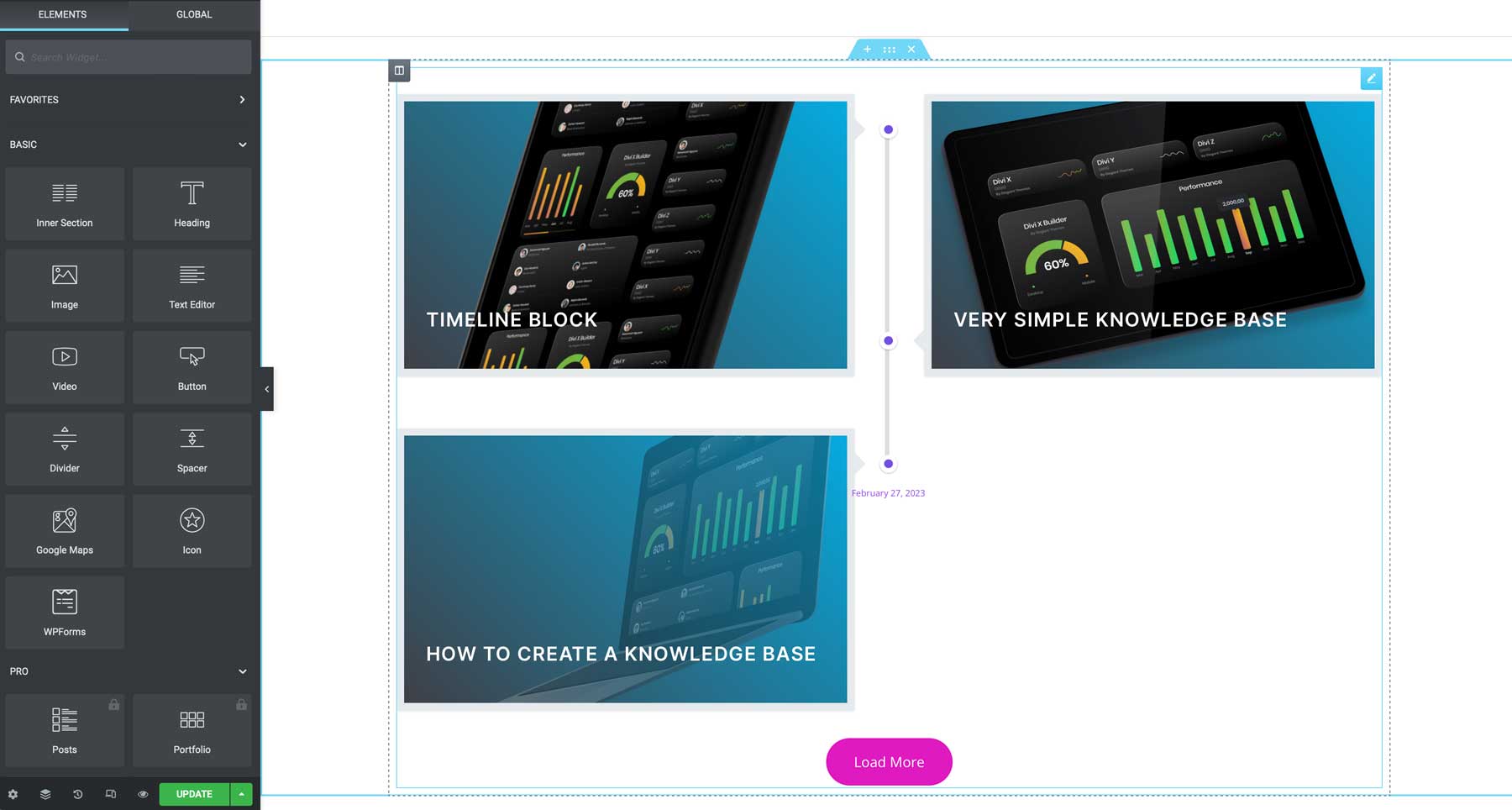 Key Features for Essential Add-Ons for Elementor:
50+ design elements with the free version
Unlimited styling options
Two vertical timeline layouts
Excellent Support through WP Developer
Essential Add-Ons for Elementor is for you if…
…You use Elementor and you're looking for elements to display timelines on your website. Essential Addons has nearly endless styling options, as well as other blocks to create an eye-catching layout.
Pricing: Free, with premium licenses starting at $49.97 per year.
Get Essential Add-Ons for Elementor
3. Qi Blocks for Gutenberg

Qi Blocks for Gutenberg is a collection of 48 free blocks created specifically for use with Gutenberg. One of the blocks – The Timeline Showcase block – is functional on any page or post, as well as templates and template parts through full site editing.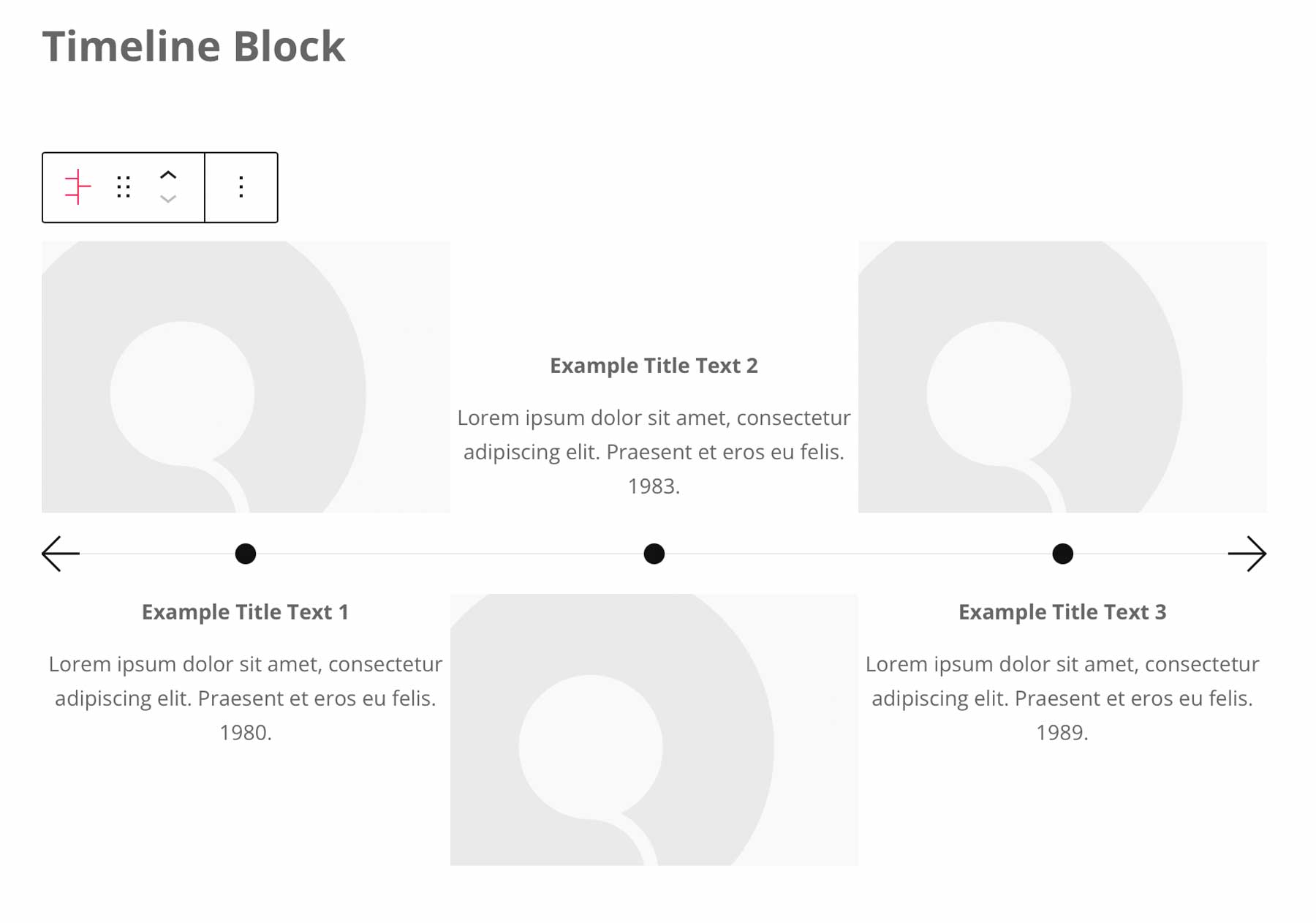 Styling is impressive with Qi Blocks. The Timeline Showcase block offers four layout options for both horizontal and vertical orientations. Furthermore, you can control the animation effects, number of columns, and adjust how the block appears on various mobile devices. However, the best feature of this block is the abundance of style settings. With this block, you can customize the appearance of both the images and text by changing the font color, family, and weight. Additionally, you can also vary the padding and margins to further enhance the design.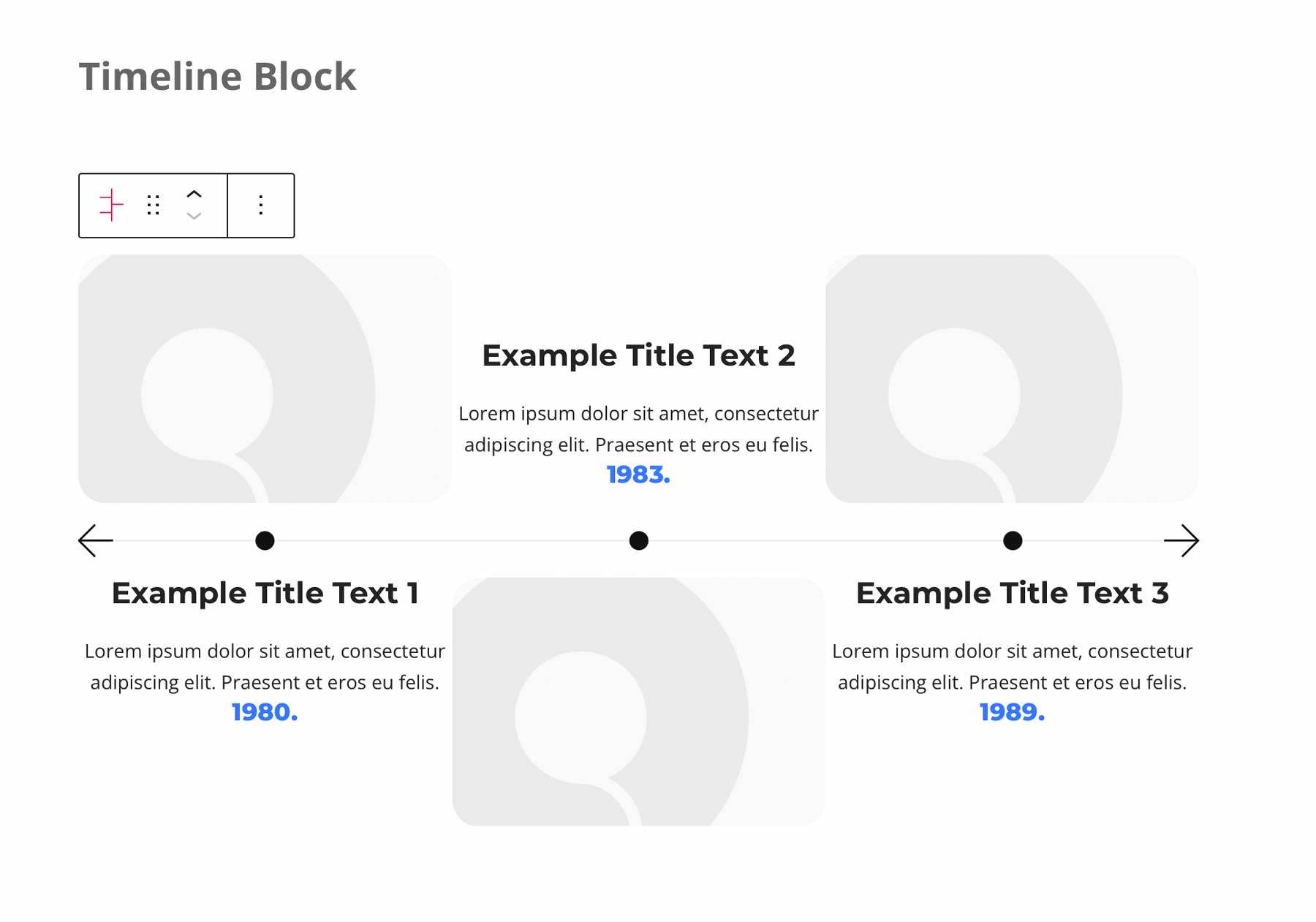 Key Features for Qi Blocks for Gutenberg:
Plenty of styling options
Extension of Gutenberg blocks
48 free blocks
Pro version offers 33 additional blocks
Qi Blocks for Gutenberg is for you if…
…You use Gutenberg Blocks and want more control over the elements you can use. The base plugin offers a variety of options and even more for the premium license.
Pricing: Free, with a premium version starting at $49 per year.
4. Timeline Express

Timeline Express is a freemium WordPress plugin that offers an expansive set of features for creating animated vertical timelines. This includes timelines for events, dates, announcements, and more.
You can easily add these features to your site via shortcodes. This tool is also packed with customization and design options, letting you choose from a collection of fonts, icons, and images: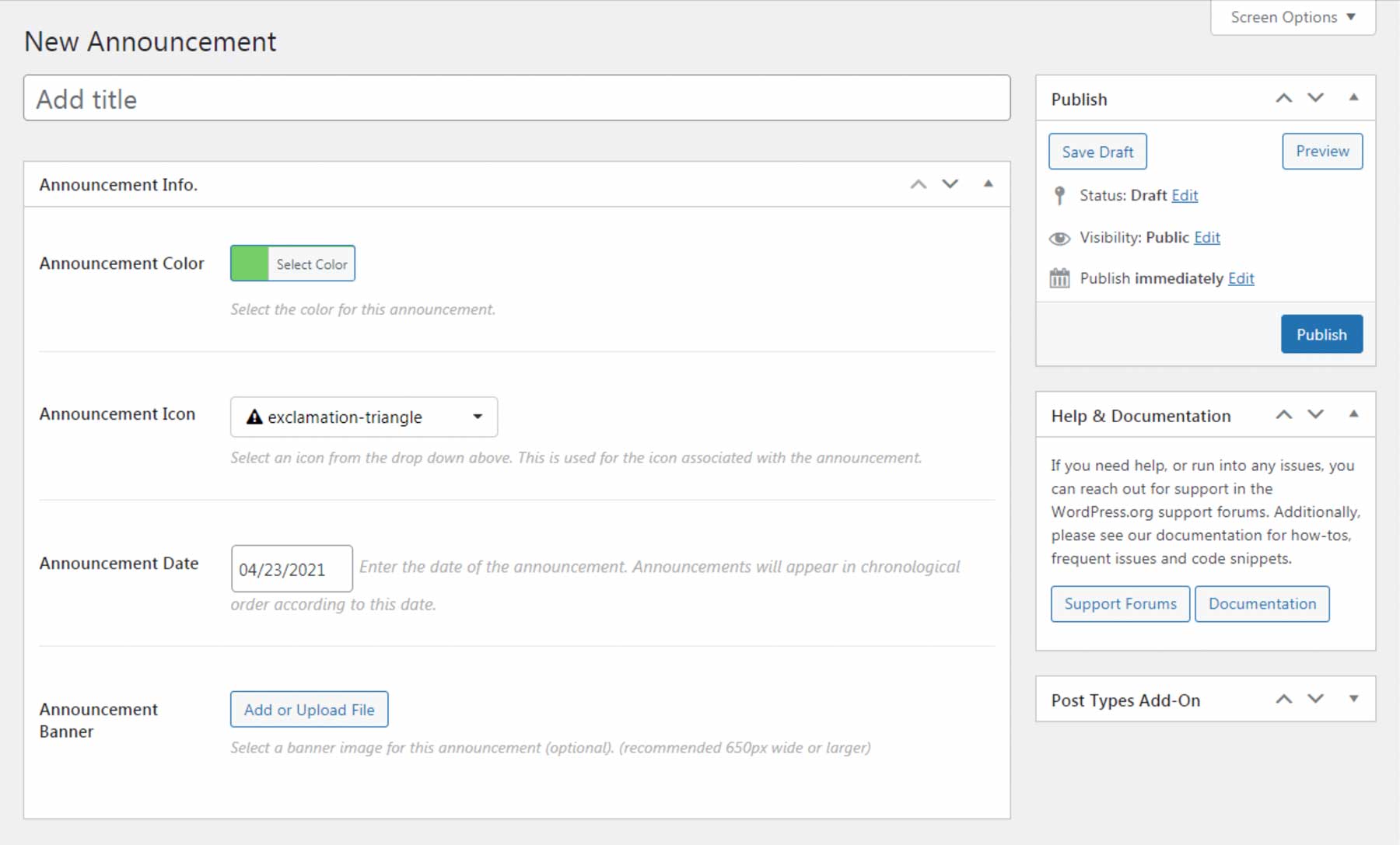 One of our favorite aspects of Timeline Express is its flexibility. You can use it for websites of all sizes and scales. For example, the free version ships with everything you need to build and display aesthetically-pleasing, vertical timelines. However, if you're looking for something a bit more intricate, you can access various advanced features by upgrading to a premium license.
Key Features for Timeline Express:
Flexible, responsive, and cross-browser compatible
Easy-to-use shortcodes for seamless integration
Custom images and Font Awesome icons
CSS3 animations
Ascending and descending order options
Localized date formatting
Translation-ready for international users
Multiple timelines (Pro)
Announcement categories (Pro)
Timeline sorting features (Pro)
Priority support (Pro)

Timeline Express is for you if…
…You want a single tool that can easily be used for various purposes and on multiple types of websites.
Pricing: Free, with a premium version starting at $29 per year.
5. Cool Timeline

If you're looking for the best timeline plugins for WordPress that offer both free and premium versions, Cool Timeline is another option to consider. It provides a quick and easy way to spice up the way you display your blog posts instantly.
This tool is loaded with various style options, making it easy to customize the timeline to your branding: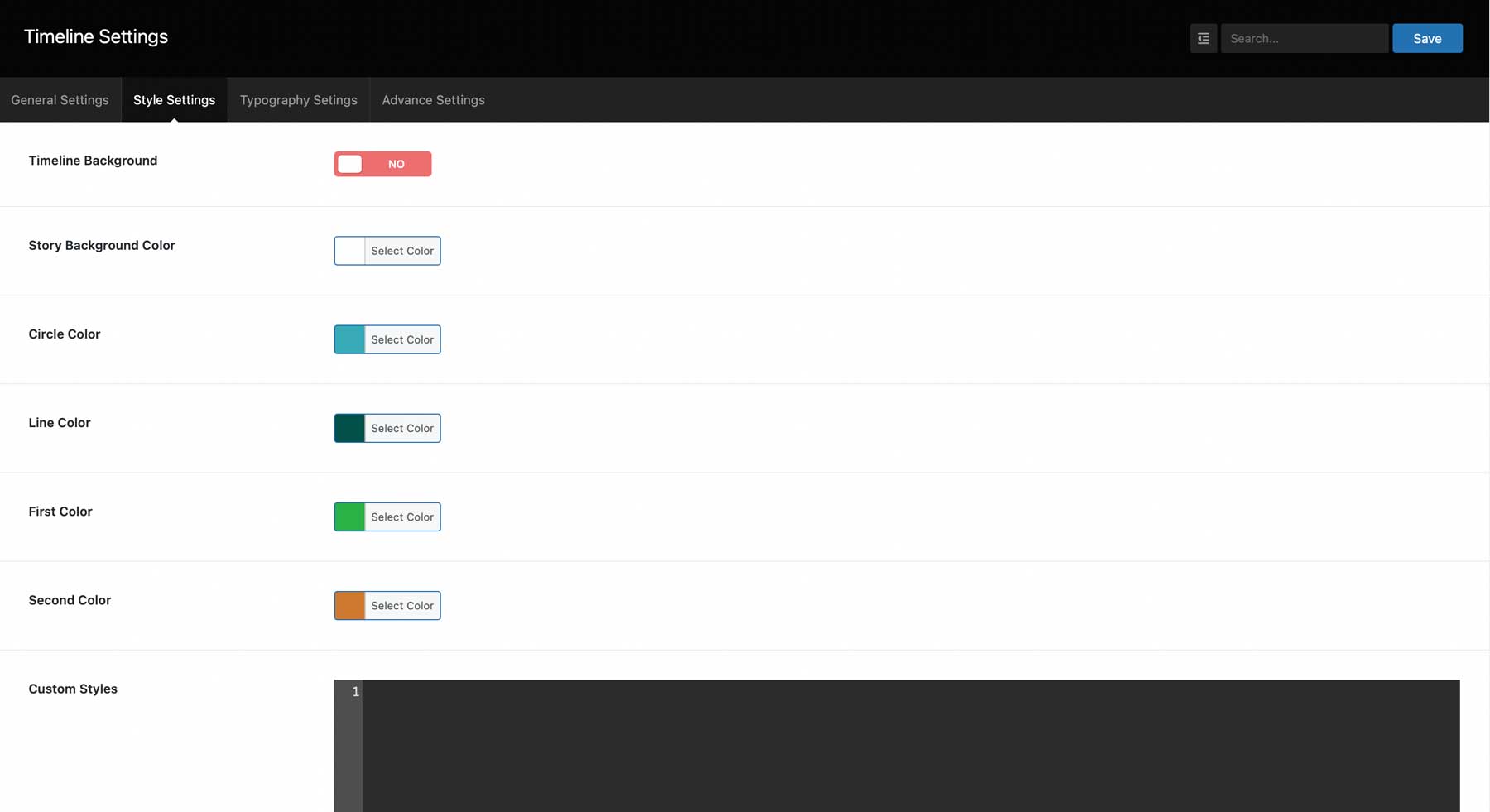 It also supports multimedia elements such as sliders, images, and videos.
Cool Timeline is an excellent option if you're interested in creating both vertical and horizontal timelines. You can use it to showcase important dates and milestones in your company's history and display blog content engagingly and practically.
Key Features:
Free and premium versions available
Both-sided and one-sided timeline options
Compact timeline option for saving space
User-friendly with extensive documentation
Over 20 horizontal and vertical timeline styles
Responsive, retina-ready, and modern design
Pop-up timeline images and the option to link to stories
Translation-ready with support in three languages
Animation effects (Pro)
Multiple timelines (Pro)

Timeline Express is for you if…
…You need your timelines to mesh well with your branding, or you'd like to experiment with their formatting.
Pricing: Free
6. Event Timeline

If you're looking for a very straightforward solution, Event Timeline is worth exploring. This freemium timeline plugin for WordPress lets you create and display vertical and horizontal timelines in either a classic or modern style.
Additionally, you can streamline the process by choosing from one of 18 pre-built themes:

It's an ideal solution if you want a simple way to display your company's history as a timeline.
Plus, thanks to its clean code, Event Timeline is also incredibly lightweight. Depending on the level of support and the extent of features you need, you also have the option of upgrading to the premium version.
Key Features for Event Timeline:
Classic and modern styles
Vertical or horizontal timeline displays
18 stunning themes
Responsive and mobile-ready
Support for multimedia files including images, audio files, and videos
Color picker and customization options
Multiple timeline stories

Clean, sleek design
Event Timeline is for you if…
…You want to keep it simple and create appealing timelines very quickly.
Pricing: Free, with a premium version starting at $10 per year.
7. Divi Plus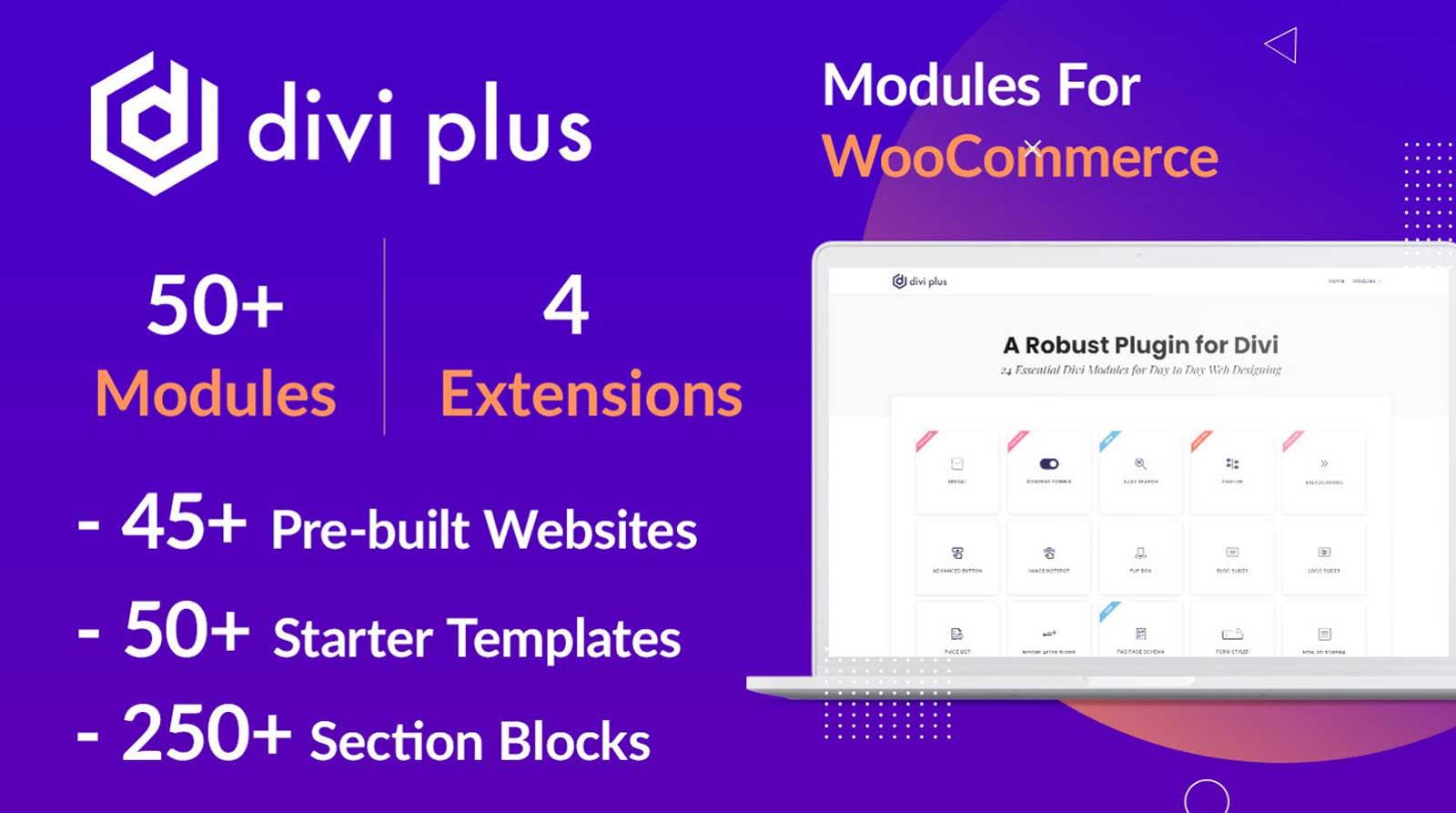 Divi Plus is a powerful plugin that enhances the already impressive design capabilities of Divi. With over 50 modules, 50 starter templates, and more than 250 sections, it provides a wide range of options to create stunning designs. One standout feature is the timeline module, which gives you the ability to display beautiful timelines on your website.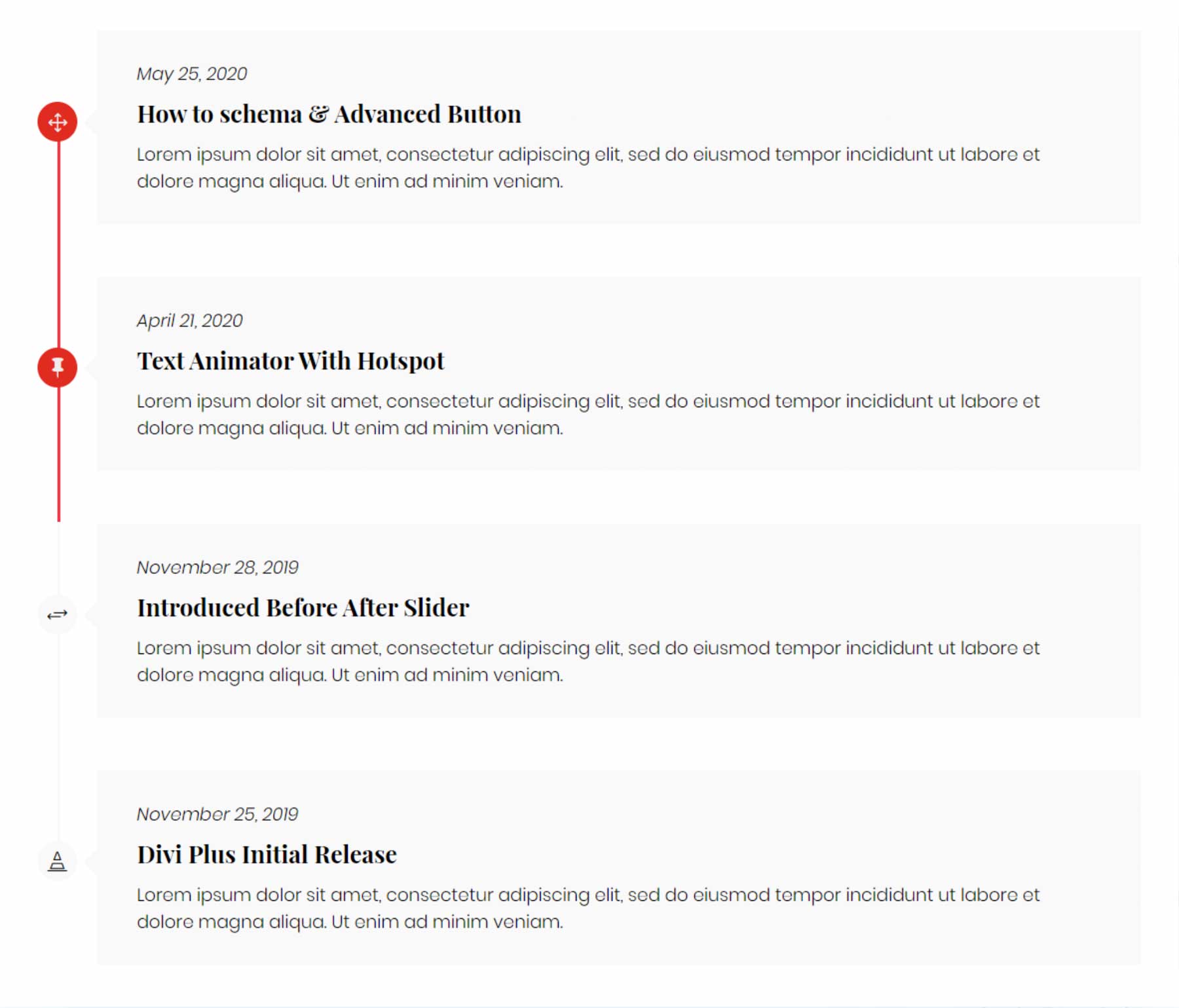 Furthermore, Divi Plus seamlessly integrates with the Visual Builder, the best no-code page builder available. By using this plugin, you gain access to all the design elements you need to create your timelines. You can display any type of content in a timeline format, making it a great tool for showcasing company history, product features, and more.
Key Features for Divi Plus:
50 starter templates
50 modules
250 sections
Highly customizable timeline module
Extends the functionality of Divi
Divi Plus is for you if…
…You're a Divi user looking to build timelines on your website. As an added bonus, you'll get additional elements to extend the number of design elements to choose from.
Pricing: Premium licenses starting at $79 per year.
Comparing All the Best Timeline Plugins
Your website likely serves many purposes. However, one of the most important is to let your audience know about your business, including its history. Whether you're dealing with an extensive amount of blog posts or need to organize a specific set of dates and milestones, adding a timeline can help.
Fortunately, there are plenty of timeline plugins for WordPress that you can use to simplify this process. To find the best one for your specific needs, here is a recap comparing our top picks.
Timeline Plugin Price Comparison
Let's see how our plugins compare in terms of price. We also want to give you a quick look at which ones have a free version so that you can demo them before committing to the premium version:
Timeline Plugin Feature Comparison
Now, let's see what makes our top 3 picks the best of the best in timeline plugins by comparing some of their features:
What is the Best Timeline Plugin for WordPress?
If you're looking for something that will work with any WordPress website, your best bet is Timeline and History Slider. If you are an Elementor user, Essential Add-ons will surprise you with an easy-to-use Timeline module for building timelines on your site.  And for our Divi creators, Divi Plus is an excellent choice for creating gorgeous timelines on your website.
Frequently Asked Questions (FAQs)
Before we wrap up, let's answer some of your most common questions regarding the best WordPress timeline plugins. Did we miss one? Leave a question below, and we will respond!
What is the best WordPress timeline plugin?
Timeline and History Slider
, with features such as premade templates, vertical and horizontal timeline options, responsiveness, and category management, is your go-to option if you're searching for a plugin that can function seamlessly on any WordPress site. Furthermore,
Divi Plus
is a fantastic plugin with features such as high timeline customizability, among many other non-timeline features for
Divi
creators looking to design stunning timelines.
What is the best free WordPress timeline plugin?
Timeline and History Slider
is an excellent option if you're looking for a free and reliable timeline plugin for your WordPress site with features such as responsiveness and shortcodes for easy placement.
What is a timeline plugin?
A timeline plugin for WordPress enables you to generate and display timelines on your website quickly. Timelines can present various types of information like company history, product development, important milestones, and event schedules.
How can I add a timeline in WordPress?
You can use WordPress timeline plugins such as
Timeline and History Slider
to easily add a timeline of events or milestones to your website. To do so, simply install the plugin, go to the Timeline Slider menu item on the admin menu, and add the timeline items. Once you have done that, paste the shortcode [th-slider] to the page/post you wish to display your timeline.
How can I create a timeline that is mobile-responsive?
What are the differences between the Timeline Express and Everest Timeline plugins?
Timeline Express
offers a free version of their plugin with the option to upgrade to a paid version for additional features. Timeline Express only provides the option of a vertical timeline and allows you to add icons and images to the timeline. On the other hand, Everest Timeline is a paid plugin requiring a subscription to access all its features, such as horizontal and vertical timelines, adding videos, custom fields to the timelines, and more.
How can I make a horizontal timeline in WordPress?
How can I make a vertical timeline in WordPress?
Can a WordPress timeline plugin improve my website's ranking?
Using a WordPress timeline plugin might be beneficial for your website's SEO. The plugins can assist you in arranging your content in a more user-friendly and organized manner. This may lead to improved user engagement, which sends an important positive signal to Google and other search engines.
What's the difference between navigation and a timeline?
A navigation bar is a horizontal bar typically at the top of a website, commonly used for browsing website pages, such as the about page, contact page, blog, and more. In comparison, timelines display progress toward objectives, roadmaps, important milestones, or significant events. Timelines can be horizontal or vertical and are usually on a particular page like the about or the roadmap page.
Looking for more great plugins? Check out this ultimate list of best WordPress plugins, which includes a top recommendation for each plugin type!
Featured image illustration  via VectorMine/shutterstock