You've probably heard the phrase, "Content is king," and a large content library is generally a good thing. However, the more posts you have on your site, the tougher it gets for readers to find your best work. In the worst-case scenario, they leave your site without ever seeing your 'keystone' content. One common solution is to provide a list of your most popular posts so visitors can easily find them. There are lots of plugins out there to help you implement this functionality on your site.
In this article, we'll explore six of the best popular posts plugins available. However, before that, let's discuss the concept of popular post plugins a little further, and talk about how to choose a solid option.
Let's dive in!
Subscribe To Our Youtube Channel
An Introduction to Popular Posts Plugins
A "popular posts" plugin does what it says on the virtual tin. It's simply a WordPress plugin designed to display a list of your most popular blog posts. The list often takes the form of a widget in a sidebar on your site, but it can also be embedded directly into pages.
The idea behind displaying your most popular posts is to make it easier for visitors to your site to find them. As your blog archives grow, it can be tough for newcomers on your site to locate your best content, and having a readily-visible list goes a long way toward solving that problem.
Now, there are a lot of plugins on the market that can display all manner of post lists. One of the most common is the "related post" list, which shows content in a similar category to what's currently being viewed.
Compared to these types of plugins, popular posts ensure that your absolute best content is showcased on every page, which can increase the chances of a user clicking through to read it. More popular posts might offer stronger opportunities to convert readers (for example, by capturing email addresses for your mailing list).
How to Choose a Popular Posts Plugin
As mentioned, there are plenty of plugins available that can display a list of popular posts. This being the case, choosing one can be tough. To help narrow the focus, there are a few factors you'll want to focus on:
Your budget. Obviously, budget will be one of the first (and most important) factors to consider. While many plugins are available for free, or with free trials, some of the best options are premium. Deciding whether you're willing to pay for this functionality, and how much, is a good first step.
The type of content you want to display. Next consider whether you want to display blog posts only, or if there might be some custom post types (like products) that you'll want to showcase. Not every plugin covers both.
How much customization you need. Is a simple list layout enough, or do you want the ability to customize your popular posts list to match your site's theme? Maybe you want to display the list on certain pages only. Plugin options vary in how much customization they offer and how many settings they expose to the user.
Ease of use. Finally, consider how tech-savvy you are. Are you comfortable digging through multiple settings menus – and if so, do you want to?
Answering these questions will greatly narrow the list of potential plugins. In fact, these were the primary criteria we considered when selecting the plugins on this list. Speaking of which, let's look at them in more detail now.
The 6 Best Popular Posts Plugins for WordPress
Once you know what a popular posts plugin is and how to choose one that's a solid match, it's time to actually make the choice. To help you out, we've narrowed the field down to six of the best popular posts plugins on the market. Let's take a look!
1. Jetpack

Jetpack is a plugin that many people have strong feelings about. However, since it's so popular and ubiquitous, it only makes sense to include it in this list – after all, it does offer a popular posts feature, and there's a good chance you already have it installed.
The popular posts list in Jetpack is called Top Posts & Pages Widget, and it gets the job done. The feature set is relatively basic (as you might expect), but that's not necessarily a bad thing.
Key Features:
Extremely popular: There's a good chance you already have it installed for other purposes.
Wide range of other features: You can potentially kill two (or more) birds with one stone.
Easy to use: Just turn the feature on and place the widget.
Jetpack Is For You If…
…you value simplicity and already have the plugin installed for its other features.
Price: Free, with paid plans starting at $19.95 per month
2. WordPress Popular Posts

WordPress Popular Posts is a powerful and feature-rich plugin that also manages to be easy to use – a rare combination. It supports the use of multiple widgets, and they can be customized to display posts based on the total number of views, comments, or average views per day.
Key Features:
Multi-widget capable: You can place multiple popular posts widgets on your site and configure different settings for each.
Highly configurable: There are themes, sorting options, and the ability to set a time range for displayed posts.
Easy to use: Even with all the customization on tap, this plugin is still simple to set up and configure.
WordPress Popular Posts Is For You If…
…you want a powerful, feature-rich, and customizable popular posts plugin.
Price: Free
3. Top 10

Top 10 is an extremely feature-rich option for displaying popular posts. It even has a built-in caching system for the widget, as well as its own API for developers to work with. This might seem like overkill for such a simple feature, but if you need flexibility, Top 10 has it in spades.
Key Features:
Packed with features: You'll be hard-pressed to find something this plugin can't handle.
Powerful admin interface: See your best-performing posts from the WordPress dashboard.
Extendable: Top 10 has its own API and plenty of hooks and filters, so if you've got some coding experience, you can extend its functionality as much as you like.
Top 10 Is For You If…
…you want everything and the kitchen sink when it comes to promoting popular posts on your site.
Price: Free
4. WP Tab Widget

WP Tab Widget takes a slightly different approach to popular posts. Rather than having to choose a single list based on either page views or comments, this plugin lets you have both, along with recent posts and tags – all in one widget. Each section is separated into tabs that only load when clicked, so it doesn't slow anything down, either.
Key Features:
Tabbed interface: No need to choose how to filter your popular posts when you can have them all.
Lazy loading: Content is loaded on demand, so the performance impact is minimal.
Highly customizable: Plenty of options for altering the appearance of the widget.
WP Tab Widget Is For You If…
…you want to display multiple post lists without cluttering up your sidebar.
Price: Free
5. Super Post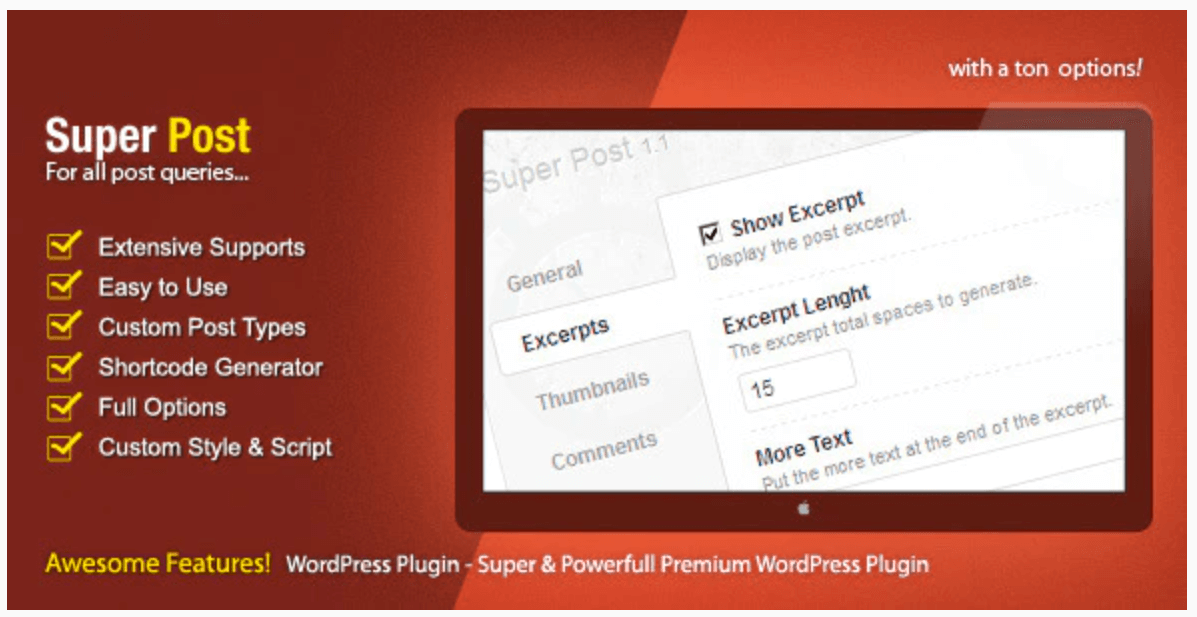 Super Post is a fantastic premium popular posts plugin that offers some impressive features for a low price. It enables you to query for, and display, basically any type of post you want. This includes popular posts of course, but you can also display content by tag, category, published date, comments, related posts, and more.
Key Features:
Multiple query types: Display posts by popularity, number of comments, tag, category, and more.
Sharing features for posts: Includes buttons for rating and sharing via popular social media sites.
Custom JavaScript support: Add additional features yourself with JavaScript.
Super Post Is For You If…
…you need extreme flexibility and value the support that comes with a premium plugin.
Price: $11
6. Display Posts

Last, but not least, Display Posts is a very simple yet good-looking plugin that utilizes shortcodes to display your content, rather than dragging and dropping widgets. The results look nice and are quite customizable. There's also ample documentation to tailor your popular posts to your needs should you wish, too.
Key Features:
Easy implementation: The shortcodes utilized are simple and make sense.
Excellent documentation: The developer has provided tutorials on how to implement different types of post displays.
Extension support: A variety of extensions exist for the plugin to further tailor it to your needs.
Display Posts Is For You If…
…you value simplicity above all else.
Price: Free
Conclusion
Your most popular content is that way for a reason, and it only makes sense to call attention to it. A list of popular posts can help visitors find the best content on your site and keep them engaged.
Whether you want a simple list of top posts or a highly customizable widget you can style to fit your site, there's a plugin for you:
Do you have any questions about popular post plugins? Let us know in the comments section below!
Featured image by Macrovector / shutterstock.com.