Although PayPal is one of the most popular online payment platforms, having alternatives available is always smart. Customers who don't already have an account likely won't want to set one up to make a single purchase, and international shoppers may struggle with this particular gateway.
Fortunately, WordPress is so popular that most major payment processors offer easy options for integration. There are several quality PayPal alternatives you can add to your website with relative ease. In this article, we'll go over three of the best.
Let's get to it!
Subscribe To Our Youtube Channel
Why You Should Provide PayPal Alternatives on Your Website
Whether you're running a standard e-commerce store, selling your services as a freelancer, or booking appointments through your website, you need a way to secure customers' payment information. PayPal is a popular platform for this task. It's fairly well-known and trusted, which makes it an ideal tool in many situations.
However, PayPal is far from the only payment gateway option you have. Offering alternatives to your customers may help increase your sales by streamlining your checkout process for some people.
For instance, if a customer doesn't have an existing PayPal account, they may consider it easier to abandon your site and buy what they need from a competitor than to sign up for another online service. Once a shopper clicks on your Checkout button, you don't want anything to slow them down and give them a chance to walk away.
Plus, for many countries, PayPal isn't the preferred payment gateway. You may lose out on international customers if you don't provide alternatives they can use to complete their purchases.
Studies show that offering multiple payment gateway options can increase online sales. After all, it enables your users to choose which processor they feel more comfortable with. That means even if you're working in a market where PayPal is king, offering an extra alternative or two on your website can't hurt.
3 Best PayPal Alternatives for WordPress Users
There are many fantastic PayPal alternatives to choose from for your website. However, not every payment gateway works with WordPress as easily as it should. For this list, we only focused on options that provide multiple integration methods with our favorite Content Management System (CMS).
Additionally, we avoided discussing PayPal alternatives that make little sense for most small businesses, such as cryptocurrency. The options below don't require you to learn whole new ways of collecting customers' payments – just new interfaces.
Finally, here's a quick breakdown of how much PayPal charges in merchant fees for comparison:
To get the lower rate, you need to apply for a special PayPal program. Keep these numbers in mind as we go over some top PayPal alternatives.
1. Stripe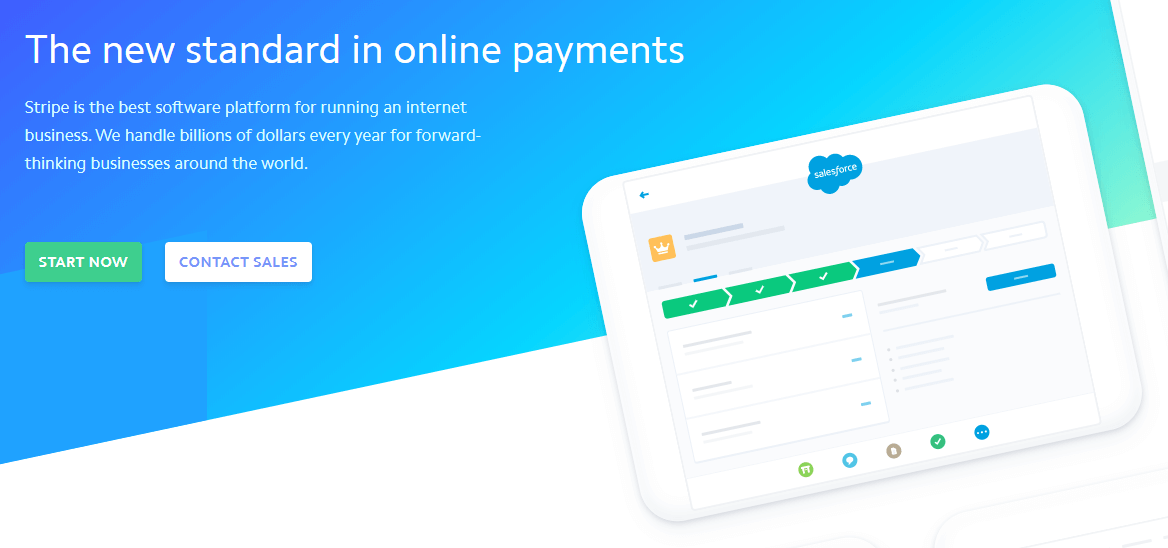 Stripe is one of the biggest PayPal competitors in the US market and also has a notable presence in several other countries around the world. It charges merchants $0.30 + 2.9 percent for each transaction, matching PayPal's base rates.
However, Stripe is much friendlier for global sellers. Its international transaction fee is just 3.9 percent compared to PayPal's 4.4 percent, although there is a one percent currency conversion fee.
It also offers local payment options so your customers can shop using the methods that make them most comfortable. If you have a significant audience in one of the 37 countries where it's available, Stripe is a decent option for your website.
Beyond that, Stripe also offers multiple integration methods for WordPress, including:
Out of the box, WooCommerce provides integration with Stripe using an official extension as well. That option is easier to set up, but it doesn't offer as much control over the checkout process as Stripe for WooCommerce.
Fees: $0.30 + 2.9 percent per transaction | More Information
2. 2Checkout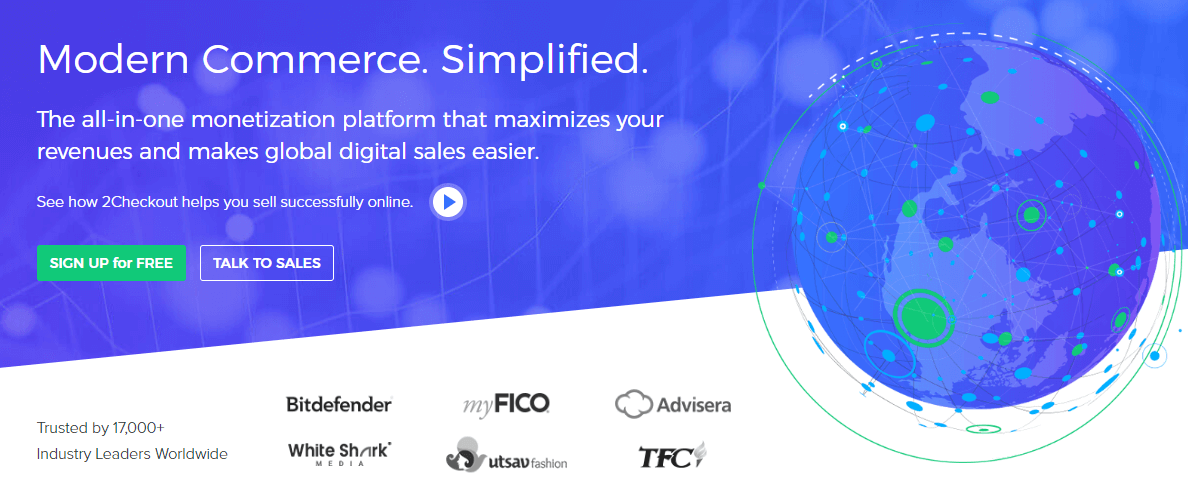 If you're looking for a payment gateway that offers as much coverage as possible throughout the globe, 2Checkout may be for you. It's available in over 200 countries and supports dozens of payment methods that vary from region to region.
As far as fees go, 2Checkout offers different pricing tiers. Their fees start at $0.35 + 3.5 percent per transaction. However, for users that only sell digital products and services, fees jump up to $0.60 + 6 percent per transaction – significantly more expensive than PayPal or Stripe.
If you want to integrate 2Checkout with WordPress, there are several plugins you can use to get the job done, including:
Despite its near-global availability, 2Checkout is perhaps not the most attractive option for freelancers or agencies due to its high fees. However, if you're operating from a country where PayPal isn't available, 2Checkout might be the best alternative due its wide reach.
Fees: $0.35 + 3.5 percent per transaction | More Information
3. Authorize.Net
Authorize.Net provides a simple way for you to enable multiple payment options on your site simultaneously. It's a well-known payment processor and charges the industry standard of $0.30 + 2.9 percent per transaction with its basic all-in-one merchant plan.
The most significant advantage of using Authorize.Net is that it supports multiple payment types beyond credit cards. Those include PayPal, e-checks, Apple Pay, and more. If you want to accept PayPal payments without using the platform directly, Authorize.Net can help.
There are several WordPress plugins you can use to integrate this gateway with your site, including a few we've already mentioned:
The major downside to using Authorize.Net is that it only supports a handful of currencies for countries in North America, Europe, and Australia. If your website has a significant customer base in other regions, you'll need at least one other payment gateway in addition to this one.
Fees: $0.30 + 2.9 percent per transaction | More Information
Conclusion
When it comes to payment gateways, PayPal is one of the biggest names in the market. However, there are plenty of PayPal alternatives that you can easily integrate with WordPress to give your shoppers more options at checkout. With the right plugins, you can enable several of them simultaneously.
Here's our list of top suggestions for PayPal alternatives you can use with WordPress:
Stripe: Out of all PayPal alternatives, Stripe is by far the easiest to integrate with WordPress and the most popular.
2Checkout: This payment gateway is an excellent option if you want around-the-world coverage, although its fees are somewhat high.
Authorize.Net: Although it's only available in select countries, this gateway makes up for it by providing multiple payment methods, including PayPal.
Do you have any questions about how to choose the right payment gateway for your online business? Let's go over them in the comments section below!
Article thumbnail image by Belozersky / shutterstock.com