Sometimes the traditional YouTube or Vimeo embedded player isn't what you need. Maybe you are running a membership or media site, or maybe you have any of a thousand other reasons you don't want your videos uploaded to a major platform. Or maybe you just don't like the YouTube or Vimeo default players. Either way, you will want an HTML5 player for your website. One that you can customize, control, and make sure that your content is delivered to your audience as professionally as possible.
Subscribe To Our Youtube Channel
1. Videojs HTML5 Player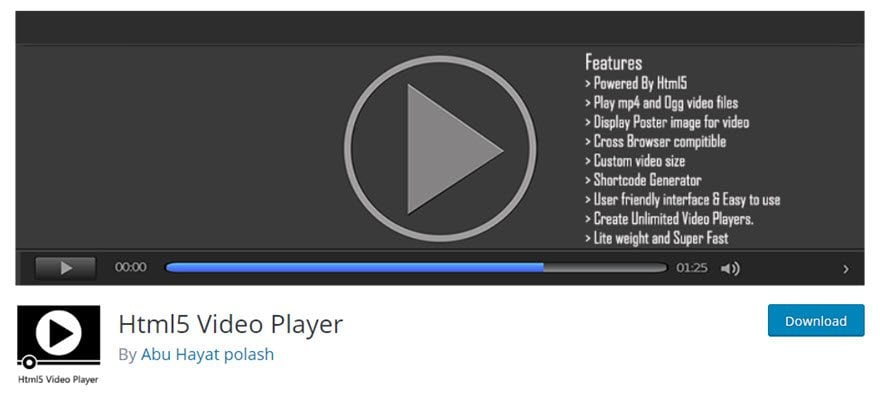 With the Videojs HTML5 Player, you get a no-nonsense, no-frills video player that does exactly what it sets out to do. The plugin generates a shortcode where you simply insert the URL of the video file you want to play. You can even embed a YouTube or Vimeo video, too, if you happen to have the direct media file URL (the one ending in .mp4, .webm, or something similar). But most likely, you will be streaming from cloud storage somewhere. One of the best parts about this plugin is the ability to set preloading behavior so that embedding a video using the plugin won't slow down your page loading speeds.
Price: FREE | More information
2. HTML5 Video Player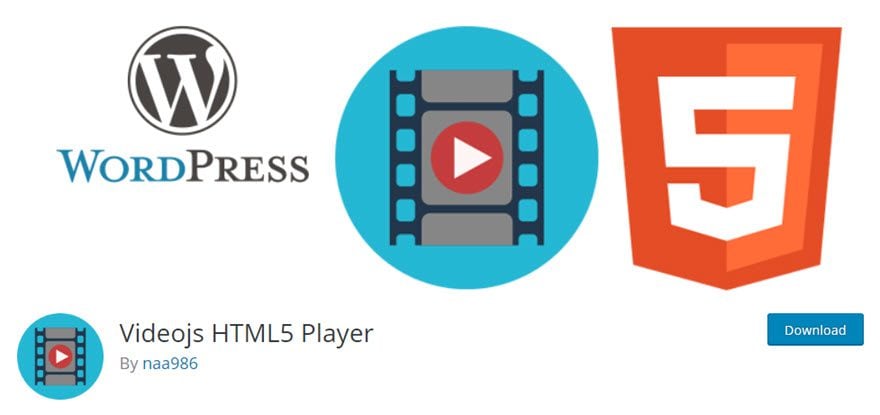 Another simply named entry on the WordPress plugin repository, if you need a simple player that just works, this one's definitely a contender. It's quick and easy to set up, and most importantly, the HTML5 player itself is responsive and fast. One of the better reasons to use this plugin is that it has been vetted and verified to run on browsers all the way back to Internet Explorer 7.
Price: FREE with Pro Upgrades | More information
3. ARVE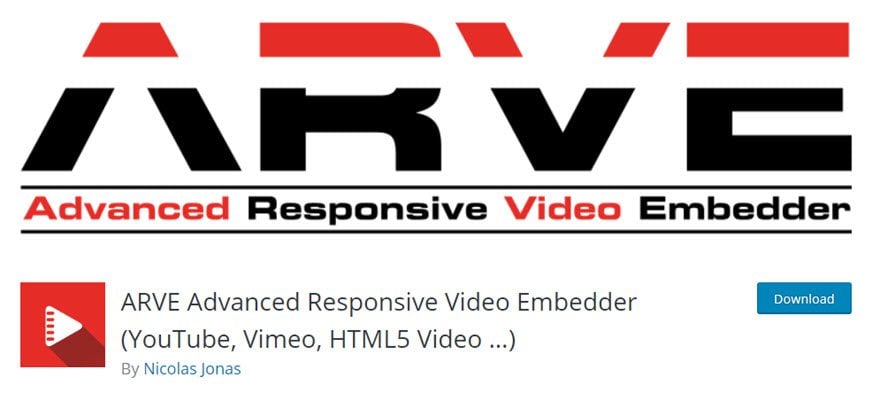 The Advanced Responsive Video Embedder (or ARVE for short) lets you use WYSIWYG editing to make sure that your video works right on your page. You can embed with iFrames from other hosts, but gives you options such as disabling ads and removing branding from those videos that come from elsewhere. You can use shortcodes if you want, but they aren't required for the plugin to work. Videos embedded with the player are automatically responsive, which means a lot for people who have ever had the problem with a fixed-width video completely skewing the navigation and experience on their sites. Additionally, ARVE is set up to stream from Google Drive or Dropbox immediately, as well as supporting various other providers you can find on the WP.org page.
Price: FREE with Pro Upgrades | More information
4. HTML5 Video Player WordPress Plugin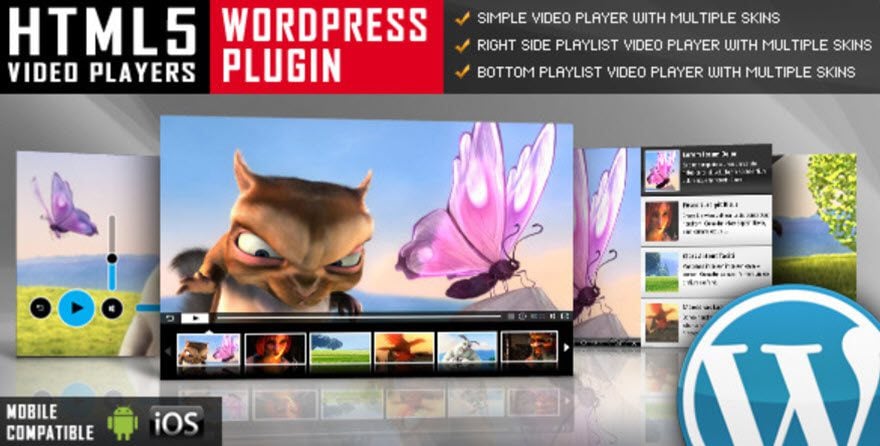 For $20 on CodeCanyon, you get one slick player. Fully responsive, plays .webm videos and .mp4 files, includes multiple skins, and has the ability to embed multiple players with different skins in the same page playing different videos. In full-screen mode, you have access to all the normal features (which isn't always true), and you get playlists and controllable positioning right inside your page. It's a full YouTube-like experience hosted on your own site, using your own videos and giving you all the control you can need. It is also available as a large plugin pack on CodeCanyon that is $33 for 26 plugins that significantly lowers the price of entry.
Price: $20 ($33 in bundle) | More Information
5. uPlayer
uPlayer is another premium addition to the list at $14 on CodeCanyon, and this one stands out because of its unique styling and themes. It gives off an almost Vimeo feeling, but you get a lot more control over how your content is presented. With support for hotkeys for playback control and autoplay on scrolling, not to mention that you get video statistics and reporting via the player itself including views, watch time, average duration, and viewer geography, uPlayer really stands out from its competitors.
Price: $14 | More Information
6. Ultimate Video Player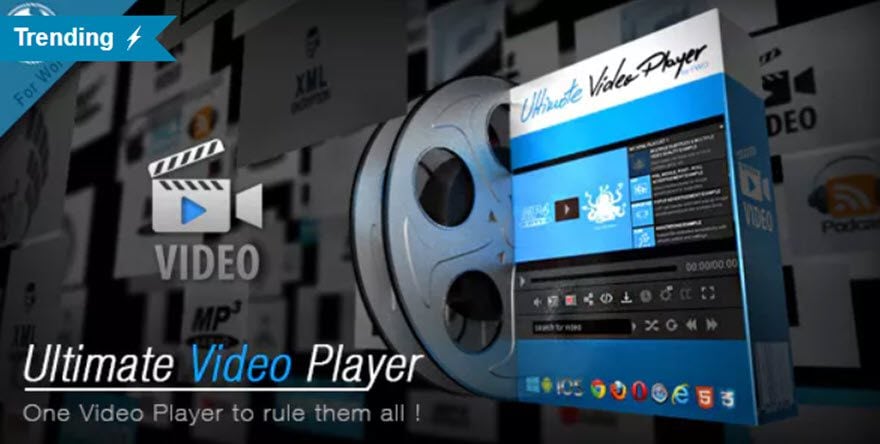 The tagline of one video player to rule them all is a lot to live up to. It does, however, appear that this HTML5 player succeeds at doing just that. The #1 player on CodeCanyon, the plugin is responsive, streams YouTube and Vimeo videos, supports audio-only content, has in-player playlists and categories, and includes support for VR videos and content as well as the ability to embed a live stream using it. It's more expensive than most other HTML5 players we have on the list at $49, but the specs on the player indicate why that is.
Viewers can adjust the quality of their video, even if there is only 1 media file, adjust subtitles, and even adjust the rate at which the video plays — slowing it down or speeding it up. In many ways, UVP is the ultimate video player because it does nearly everything its competitors do and more. If you need a premium, all-in-one solution, UVP is the HTML5 player you should check out first. See these if you're after a plugin for Live Streaming.
Price: $49 | More Information
7. Spider Video Player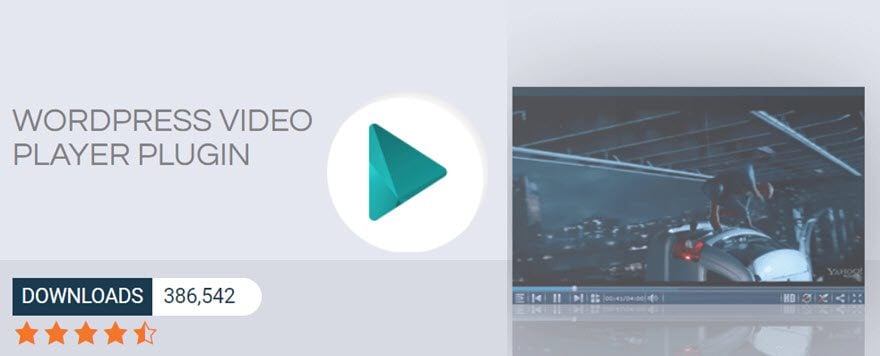 Web-Dorado's entry, the Spider Video Player, is chock full of features that most video embedders (that's you) need. The free version includes all the primary features as the premium, except you don't get support from the devs and your videos have a watermark. However, you can purchase the Personal License for $20 to remove that. The HTML5 player comes 7 themes, built-in social media sharing buttons, and HTTP, YouTube, and (maybe most importantly) RMTP support for those live-streamers who need to get their content out using their own platforms and not someone else's. Web-Dorado also includes Spider in one of its product bundles that runs $99, but if you need any of their other products, Spider is a worthy inclusion and may be worth the extra price.
Price: $20 ($99 in bundle) | More Information
Wrapping Up
No matter what reason you need a proprietary HTML5 player on your site, you have a lot of choices out there. If you need a basic one for some quick-and-easy embeds, there are plenty of free options out there to handle that for you. And if you're a prolific publishing powerhouse, then the more-premium plugins we've showcased above more than have you covered. Additionally, if you need something to spruce up Youtube videos, try out one of these recommended Youtube plugins.
What are your favorite ways to embed videos or audio on your site?
Article featured image by Mikhail Grachikov | shutterstock.com