Adding YouTube videos to your WordPress website can boost engagement, drive traffic, and provide shareable content for social media. Videos are a powerful tool for branding, marketing, and showcasing diverse content that appeals to audiences. Moreover, featuring videos on your site can improve its visibility in search engine ranking pages (SERPs), making them valuable for search engine optimization (SEO). To help you find the best WordPress YouTube plugin for your site's needs, we've compiled a list of our top recommendations in this post.
Let's get started.
What Are WordPress YouTube Plugins?
A WordPress YouTube plugin is an extension that can be installed on a WordPress website to display YouTube videos or feeds. It allows users to easily embed videos from YouTube onto their website and customize the display of those videos, such as changing the layout, adding branding, or adding additional options like video playlists or live-streaming (not all plugins handle live streaming, so check out live streaming plugins if that is your primary goal). They are designed to simplify the process of adding YouTube videos to a WordPress site without requiring users to have technical knowledge or coding skills.
The Best WordPress YouTube Plugins
To determine the best WordPress Youtube plugins, we considered several factors. First, we examined reviews and the number of installs, as these metrics can provide insights into a plugin's popularity and credibility. Then, we considered the features available in each plugin's free and paid versions. Based on these considerations, we present our list of the best WordPress Youtube plugins.
The Best WordPress Youtube Plugins Listed In Order
Expand List
1. Feeds for YouTube

Feeds for YouTube is a versatile WordPress YouTube plugin that allows you to embed YouTube feeds on your website and customize them to match your site's branding. You can connect to YouTube in two ways: through an API, the recommended method, or by connecting your YouTube account. While connecting your account is straightforward, creating an API Key is more complex but offers additional options, such as adding playlists, favorites, live-streaming capabilities, or single videos.
Key Features in Feeds for YouTube:
Channel feed (free version)
Embed YouTube playlist (pro)
Live streams (pro)
Single Videos (pro)
Extensive customization options for layout and feed styles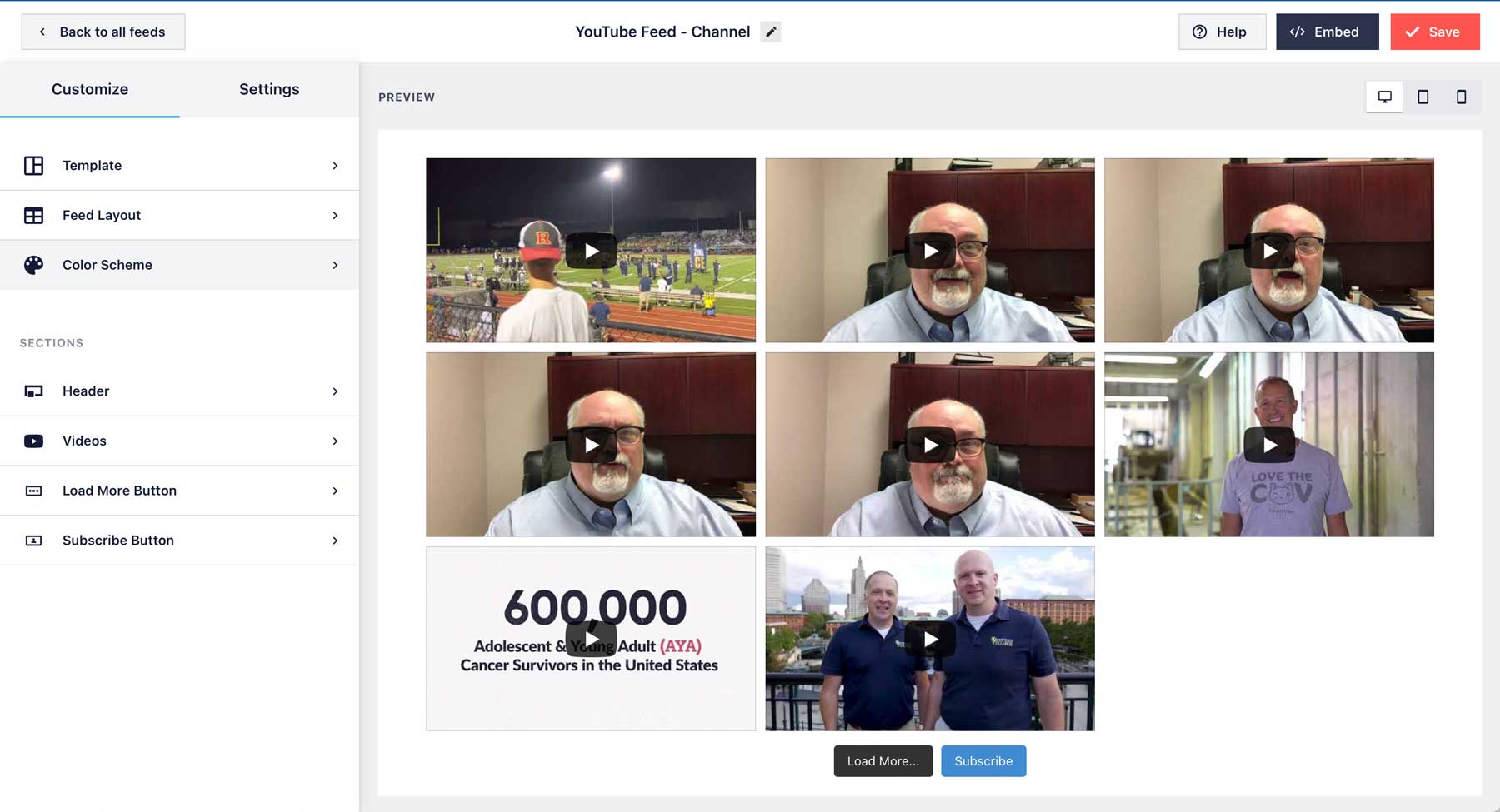 With Feeds for YouTube, styling your YouTube feed is effortless. The plugin offers several templates, including a carousel, cards, list, gallery, and feature your latest video, among others (pro only). Additionally, there are multiple layouts to choose from, giving you plenty of options to customize the appearance of your feed. You can also select a custom color theme and style the header and buttons of your feed, ensuring that it perfectly matches your website's aesthetic. With these features, you can create a cohesive look and feel throughout your website, enhancing your users' experience.
Best For:
Feeds for YouTube is one of the best WordPress plugins offering many customization options for YouTubers, bloggers, and businesses. It provides a straightforward way to showcase YouTube content on a website and elevate its visual appeal and engagement. However, to access all of the plugin's features, you must obtain an API Key, which could be challenging for beginners. If you're seeking a more straightforward solution for embedding videos, Embed Plus YouTube might be a better option.
Pricing: Free, with premium prices starting at $49 per year.
2. Envira Gallery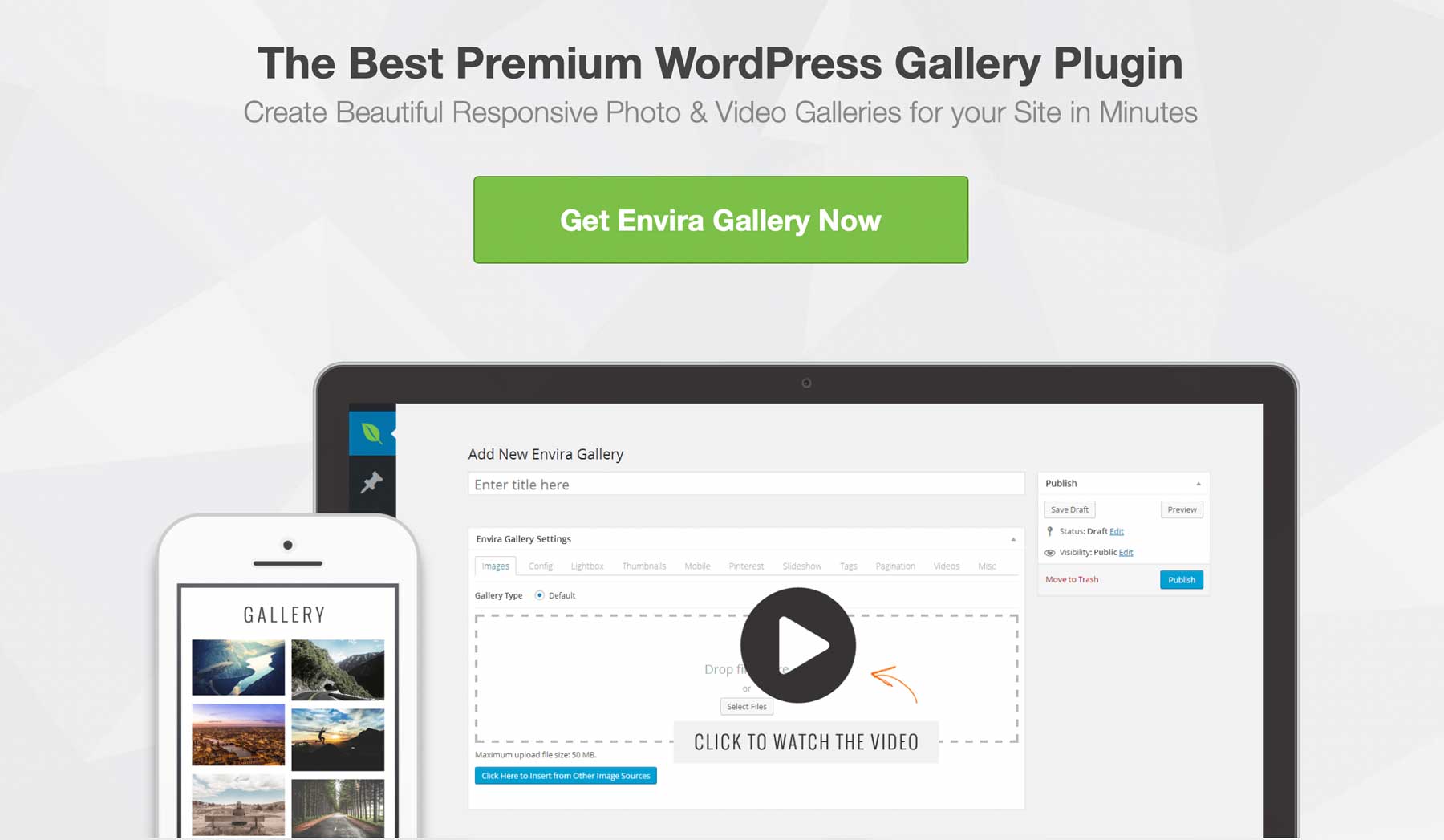 Envira Gallery is one of the most feature-rich gallery plugins for WordPress that also benefit YouTubers. With Envira Gallery, you can easily embed video galleries, feature videos in a lightbox, and embed video thumbnails on pages to create a visually appealing gallery to feature your YouTube content.
Key Features of Envira Gallery:
Add a YouTube gallery (pro)
Video lightbox (pro)
Video thumbnails (pro)
Extensive customization options
Envira Gallery offers various customization options, such as enabling lazy loading, defining dimensions, margins, padding, pagination, and choosing the number of columns. However, upgrading to a pro license is required to access these video features.
Best For:
Envira Gallery is ideal for photographers, artists, and bloggers who want to create robust image galleries and showcase videos. It's user-friendly and highly customizable. However, a pro license is required to access all the features. Consider the Video Gallery plugin if you're looking for a more cost-effective solution.
Pricing: Free, with pro licenses starting at $89 per year.
3. Embed Plus YouTube

The Embed Plus YouTube plugin is a powerful tool for WordPress users who want to improve their YouTube embeds. One of its unique features is offering more customization options than the standard YouTube embed code. Embed Plus allows users to easily control video playback, autoplay, and other video settings. Additionally, it has a video editor that lets users trim videos, add annotations, and create chapters, all within the WordPress text editor. This is convenient since users don't need to visit YouTube to edit their videos, saving time and effort.
Key Features of Embed Plus YouTube:
Supports all editors, including classic and Gutenberg blocks
Set parameters for autoplay, mute, and more
Edit videos directly in WordPress
Live stream with live chat
Defers javascript and lazy loads videos
Multiple layout options
Google, Bing, and Yahoo schema markup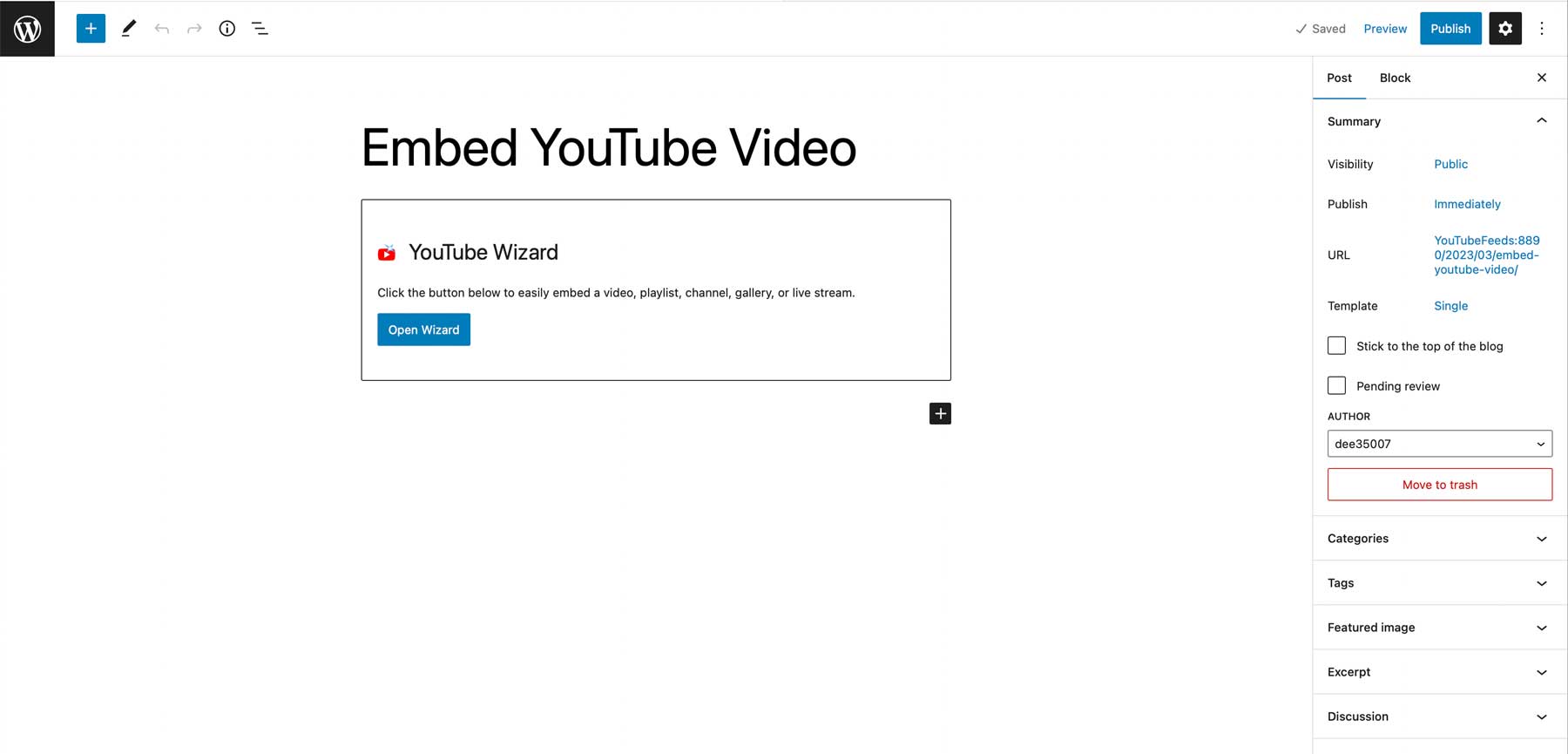 Embed Plus also supports live streams, live chat, and YouTube playlists, which can be added with the YouTube Wizard block in either the Gutenberg or classic editor. Moreover, it's compatible with other WordPress plugins, such as caching plugins, allowing easy integration into existing websites.
Best For:
Embed Plus is an excellent tool for website owners who want more control and flexibility over their YouTube embeds. Its user-friendly interface and customization options make it an attractive choice for those looking to enhance the functionality of their WordPress site with embedded YouTube videos. However, one downside is that users need an API Key from YouTube to feature galleries on their site. Although this is not a dealbreaker, it might be cumbersome for those unfamiliar with creating API keys through Google.
Pricing: Free, with pro plans starting at $39.99 per year.
4. Video Gallery

Our next best WordPress YouTube plugin is Video Gallery. With its user-friendly interface, it's effortless to create stunning video galleries on your WordPress website. Unlike other plugins, there's no need for an API Key – simply paste YouTube links into the setup wizard, and voila! You can customize your gallery by adding titles, descriptions, and overlay images to each video. The best part? There's no limit to the number of videos you can feature in your gallery. Plus, with the option to configure Ajax pagination styles, your users can seamlessly navigate through all your videos.
Key Features of Video Gallery:
Simple setup wizard
Embed video galleries with a shortcode
No API required
Add videos by YouTube link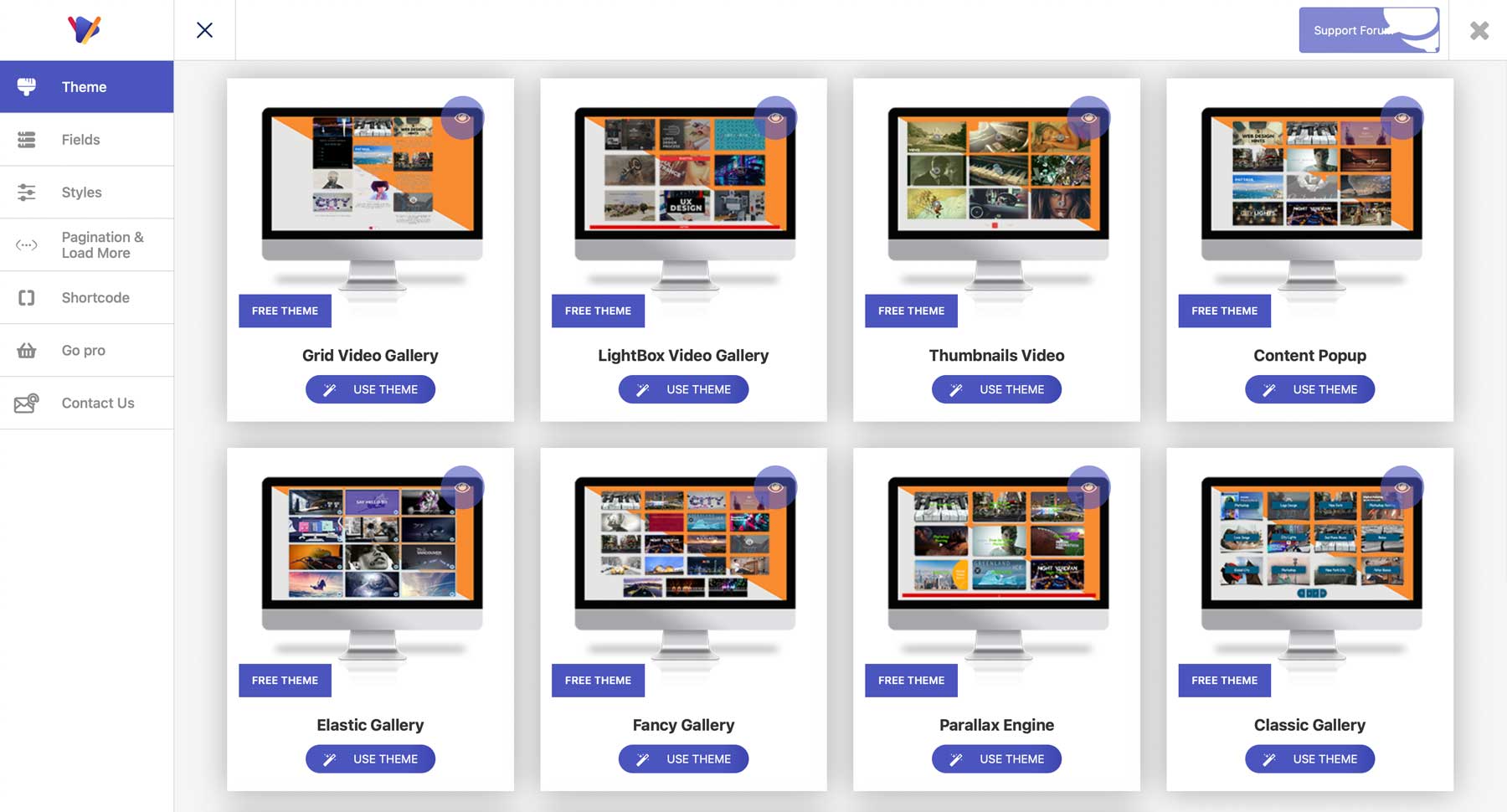 Video Gallery is a user-friendly plugin that provides a simple yet effective interface, including 9 themes, fields, and various styles, to embed a YouTube video gallery into your WordPress site with ease. Users can follow the setup wizard to configure the settings and embed galleries with a simple shortcode, making it easy to use even for those with limited technical skills.
Best For:
If you're searching for a hassle-free way to create video galleries without the need to host live streams or chat, then Video Gallery is the perfect solution for you. No need to fuss over creating a Google API Key; generate a shortcode to create a simple yet stunning video gallery. Though it may not offer many advanced features, it's still the best WordPress YouTube plugin for beginners. However, we recommend checking out Feeds for YouTube if you need a more robust plugin.
Pricing: Free, with pro licenses starting at $15 for six months.
5. WP YouTube Lyte

Our next top YouTube plugin on the list is WP YouTube Lyte – a straightforward and easy-to-use plugin for embedding YouTube videos. While you'll need a Google API Key to use this plugin, embedding video is a breeze once you have it set up. It offers customization options such as player size and position, and even the ability to force HD quality for your videos. Additionally, the caching feature helps keep your site clutter-free by removing old data.
Key Features of WP YouTube Lyte:
Force HD
Control video caching
Set player size and position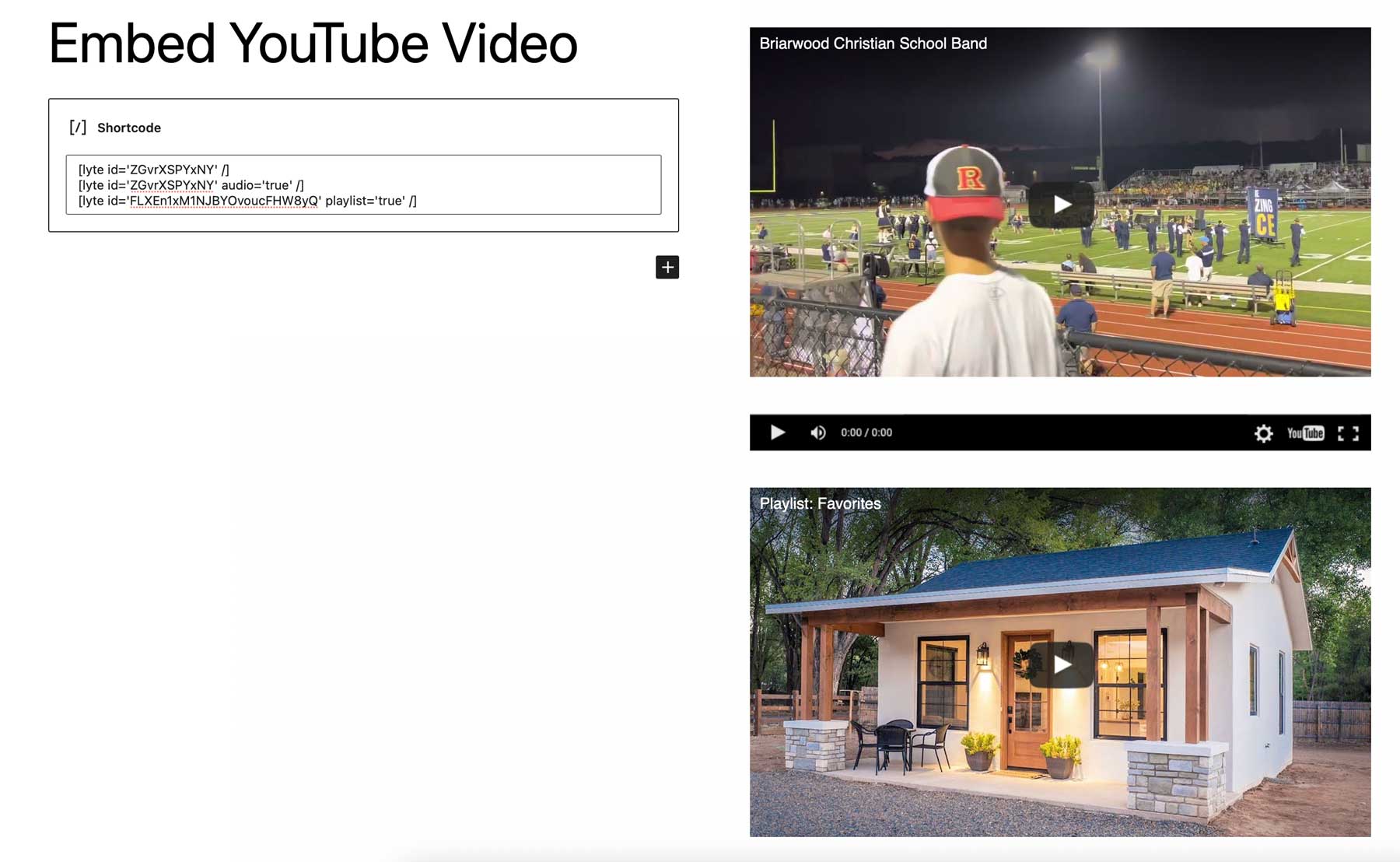 WP YouTube Lyte's ability to transform links directly into lazy-loading videos significantly reduces download size and rendering time. This unique feature lets you quickly paste links into the page editor, saving time and effort. Alternatively, you can use shortcodes to embed videos and playlists, giving you greater control over customization options such as auto-play, start time, and more.
Best For:
For those seeking a straightforward YouTube plugin that doesn't require extensive configuration to function optimally, WP YouTube Lyte is an excellent solution. This plugin offers user-friendly features and simple customization options, making it ideal for those who prioritize ease of use.
Pricing: Free
6. ELEX WordPress Embed YouTube Video Gallery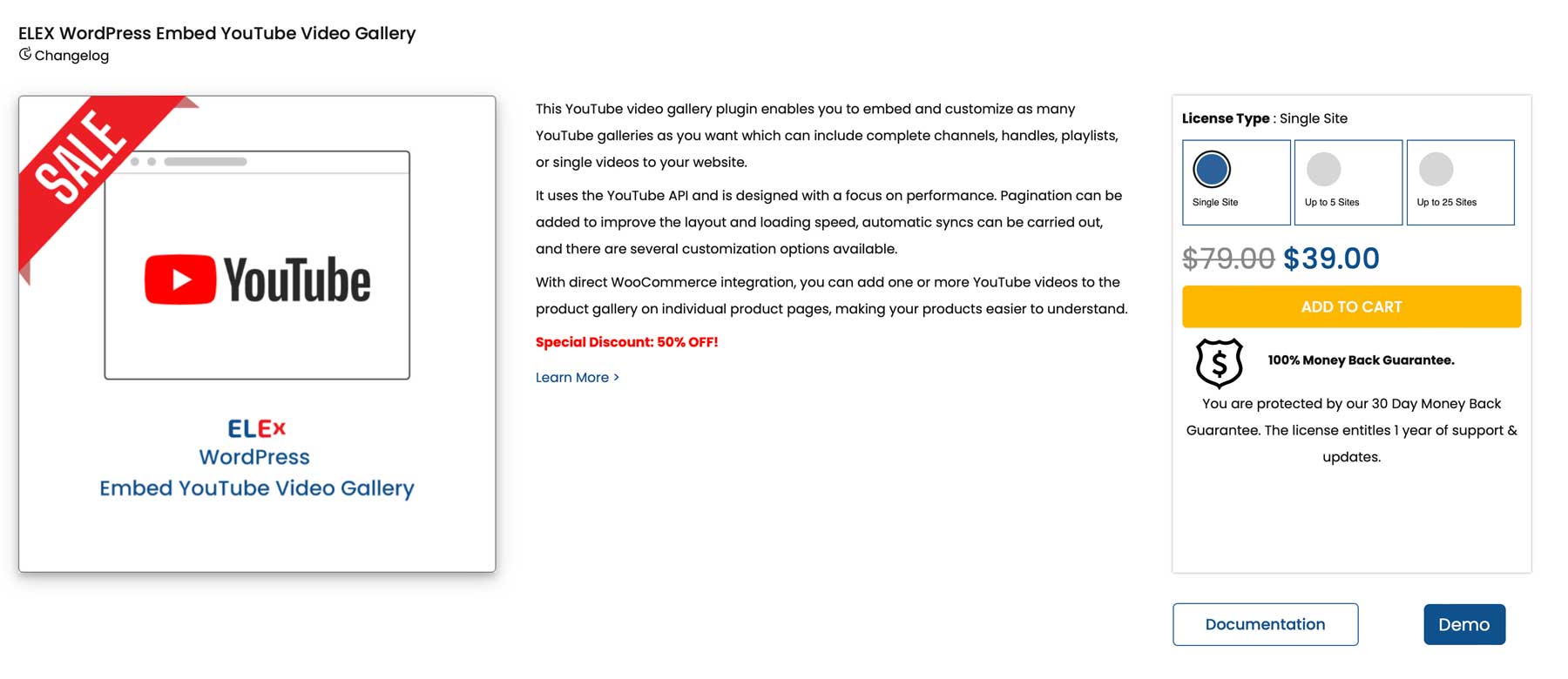 The next YouTube plugin on our list is ELEX WordPress Embed YouTube Video Gallery, which offers customization options to embed videos, playlists, and video galleries using shortcodes. With ELEX, you can tailor your video display with features such as customizable pagination, popup and inline play modes, and even the option to add a subscribe button.
Key Features of ELEX WordPress Embed YouTube Video Gallery:
Extensive customization options
Embed, videos, playlists, and galleries
Several play modes
Add a custom subscribe button
WooCommerce integration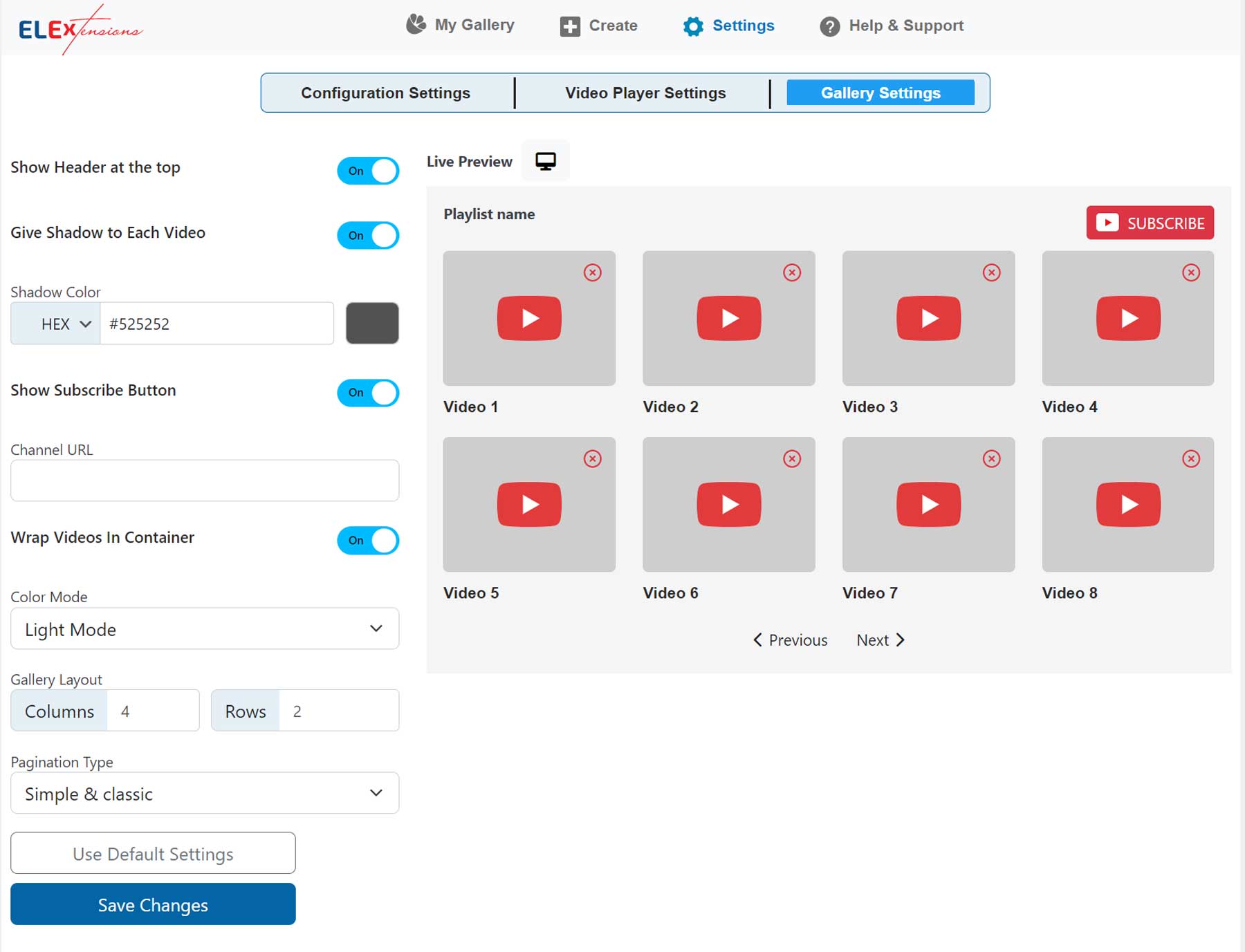 Additionally, the plugin offers extensive layout configuration options, including custom video containers, colors, hover effects, and drop shadows.
Plus, ELEX WordPress Embed YouTube Video Gallery offers unique integration with WooCommerce. With this feature, you can easily add product videos to your WooCommerce products and even specify their placement within the product gallery. Whether you prefer to display videos at the beginning or end of the gallery, ELEX makes enhancing your product pages with engaging video content easy.
Best For:
ELEX WordPress Embed YouTube Video Gallery's extensive customization options make it ideal for those who want to tailor the appearance of their video content to match their site's design. Additionally, the seamless integration with WooCommerce makes it an excellent choice for those who want to enhance their product offerings with engaging video content.
Pricing: $79 per year
Get ELEX WordPress Embed YouTube Video Gallery

Feed Them Social is a versatile social media plugin that lets you embed feeds from Instagram, Facebook, Twitter, YouTube, or any combination of these platforms. Whether using the free or pro version, you can access various customization options for your feeds.
Key Features of Feed Them Social:
Multi-platform social media embed plugin
No API required
Display a follow button
Ajax pagination (pro)
Setting up Feed them Social is a simple process. The plugin doesn't require the API, so you just need to connect to your Google account to display your videos. The plugin offers several customization options, including follow button placement, container color, and the number of columns, all of which are available in the free version. If you want to display more than six videos, enable Ajax pagination, or play videos in a popup window, you must upgrade to the pro version.
Best For:
Consider using Feed Them Social if you want to display multiple social media feeds on your website. The plugin lets you easily add YouTube videos by connecting your Google account without requiring an API. However, if you only need to display YouTube videos and don't require integration with other social platforms, you may consider using Video Gallery or WP YouTube Lyte instead.
Pricing: Free, with premium licenses starting at $50 per year.
8. EmbedPress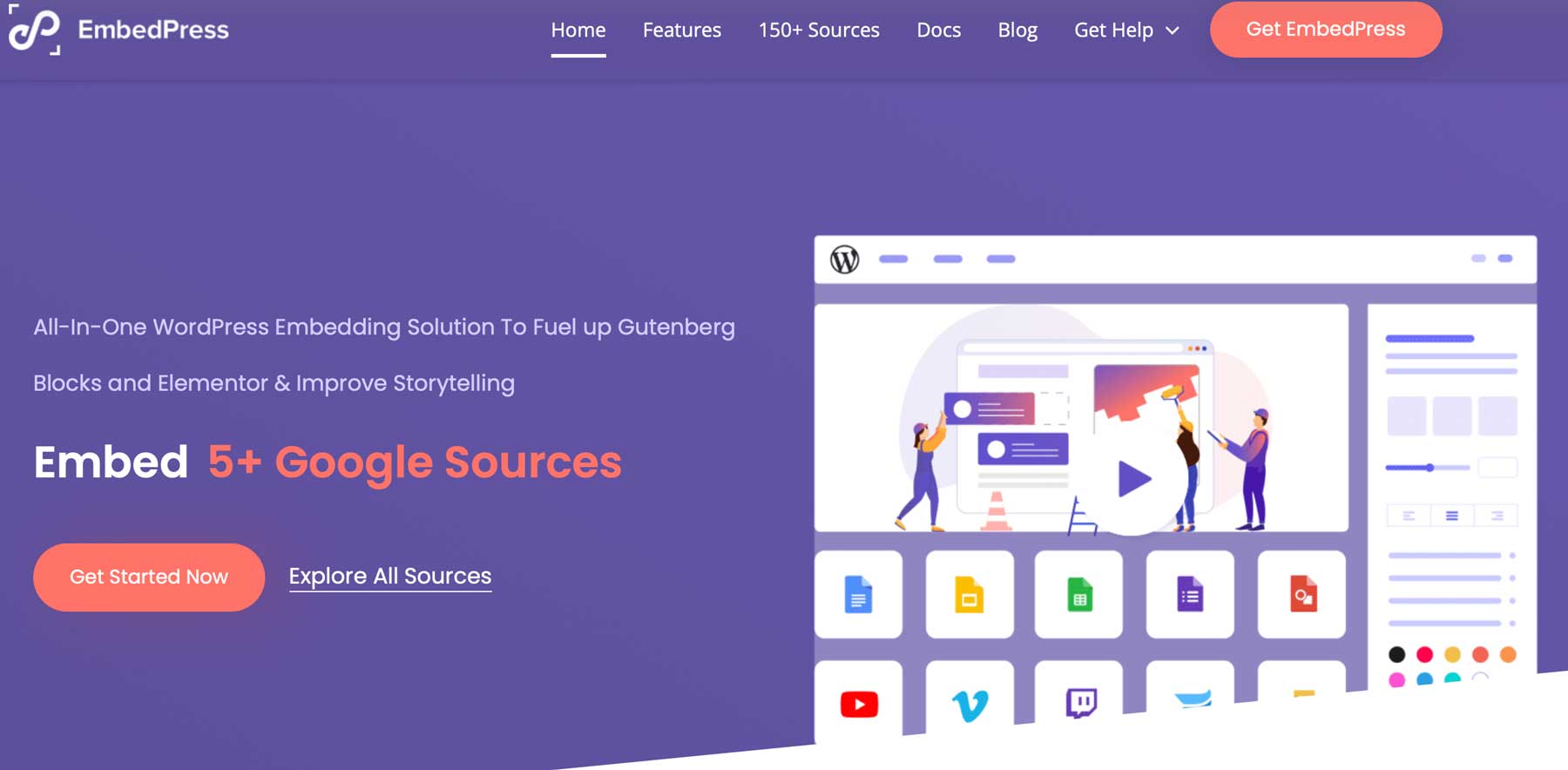 EmbedPress is a WordPress plugin that allows users to embed and display various types of media content on their websites with just a URL. It supports over 75 different types of media sources, including YouTube. EmbedPress provides customizable options for embedding, including player size, aspect ratio, and autoplay settings. It offers Gutenberg block, classic editor, Elementor integration, and shortcodes for easy insertion of media content into pages and posts.
Key Features of EmbedPress:
Embed feeds for various social media platforms, including YouTube
Seamless integration with Gutenberg, Classic editor, and Elementor
Robust customization options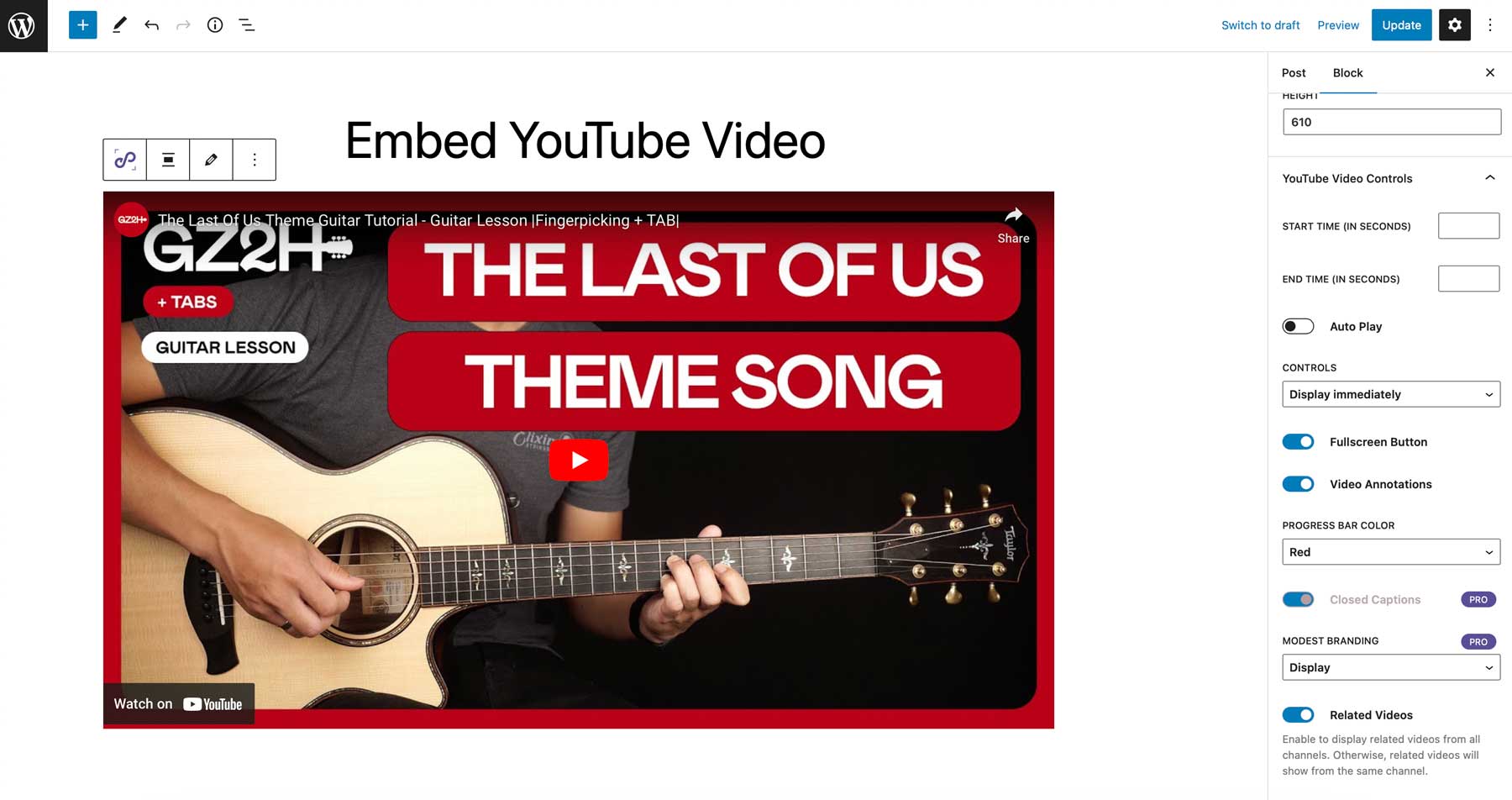 With EmbedPress, you can fully customize your YouTube feeds. You can adjust the number of videos to feature, set custom start and stop times for autoplay videos, enable fullscreen mode, and more. EmbedPress provides custom blocks for both Elementor and Gutenberg users, allowing for even more advanced customization options.
Best For:
For those who use Elementor or Gutenberg and want to embed feeds from various platforms like YouTube, Vimeo, Twitch, or Google Calendar, EmbedPress is an ideal solution. With its user-friendly interface, setting up EmbedPress is a breeze. Additionally, it offers a variety of customization options to make embedding videos on your website more convenient.
Pricing: Free, with premium licenses starting at $39 per year.
9. Video Gallery – YouTube Playlist, Channel Gallery by YotuWP

Another popular YouTube plugin that allows you to embed videos from your channel easily is Video Gallery – YouTube Playlist, Channel Gallery by YotuWP. With this plugin, you can create specific display parameters using a shortcode generator for displaying a playlist, channel, single video, or videos by keyword. The plugin offers multiple layout types and customization options to determine the number of videos per page, columns, pagination type, and more.
Key Features of Video Gallery – YouTube Playlist, Channel Gallery by YotuWP:
Robust shortcode generator
Feature videos by channel, playlist, and more
Configure player size, button styles, and title/description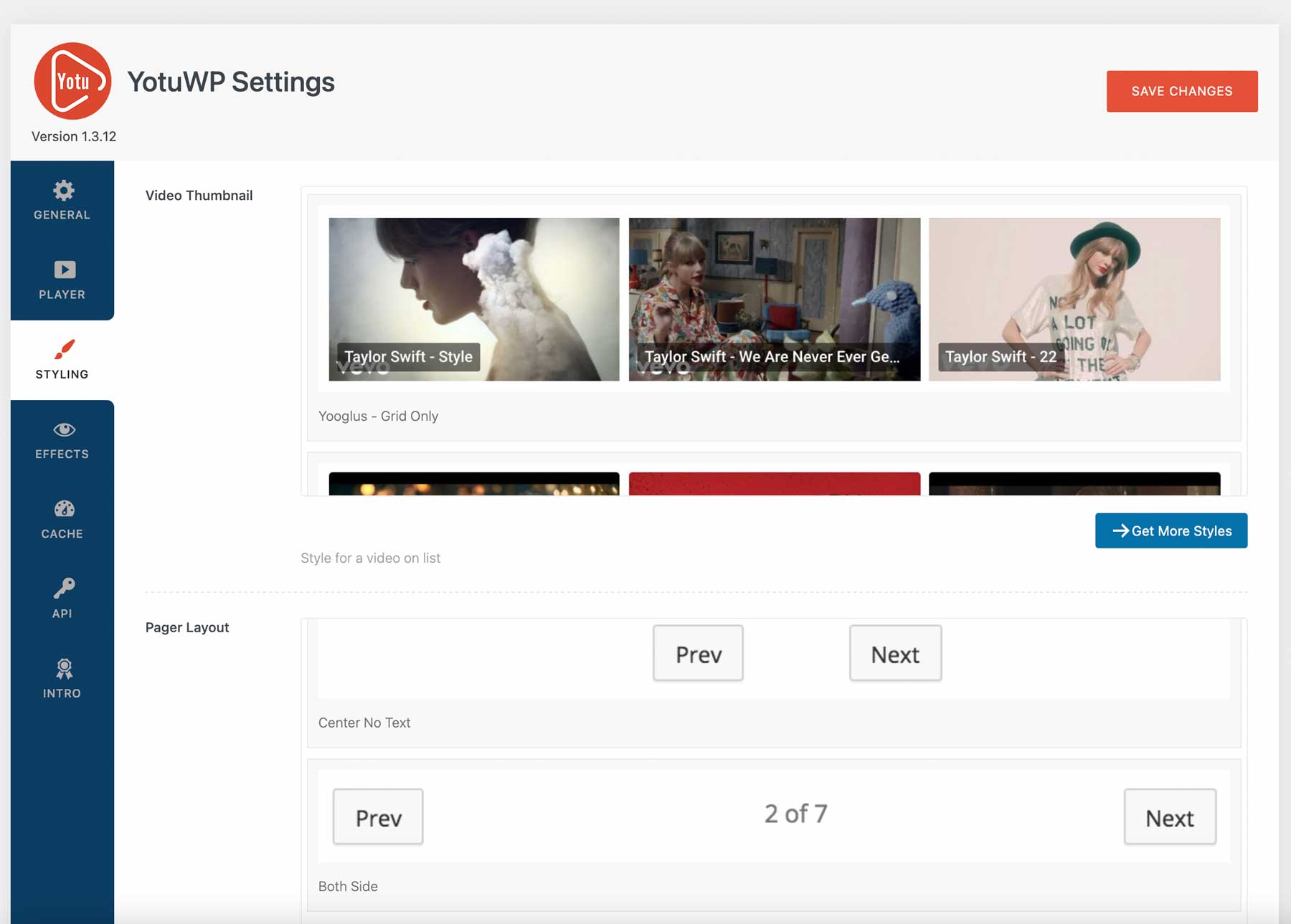 YotuWP allows you to customize your video gallery by adding video box effects, tweaking video thumbnails, page layout, pagination, and colors for each feature. YotuWP's caching feature also allows you to specify how often videos are refreshed, ensuring that your content is always up-to-date and your site remains speedy.
Best For:
If you're looking for a plugin that offers a variety of layout options, and the ability to style buttons, pagination, and feed type, then YotuWP is an excellent choice. Like similar plugins, YotuWP requires an API key, but the configuration process is easy once you have that setup.
Pricing: Free, with the pro license for a $21 one-time fee.
Get Video Gallery – YouTube Playlist, Channel Gallery by YotuWP
10. Automatic YouTube Gallery
Finally, Automatic YouTube Gallery is worth checking out if you're looking for a simple and user-friendly YouTube gallery plugin. This plugin lets you easily feature your channel's videos or playlists on your WordPress site. The setup process is fast and straightforward, with options to select a theme (classic for the free version, inline, popup, slider for pro), the number of columns and videos per page, and how your videos appear on your page or post.
Key Features of Automatic YouTube Gallery:
Easy setup controls
Multiple configuration options
Shortcode generator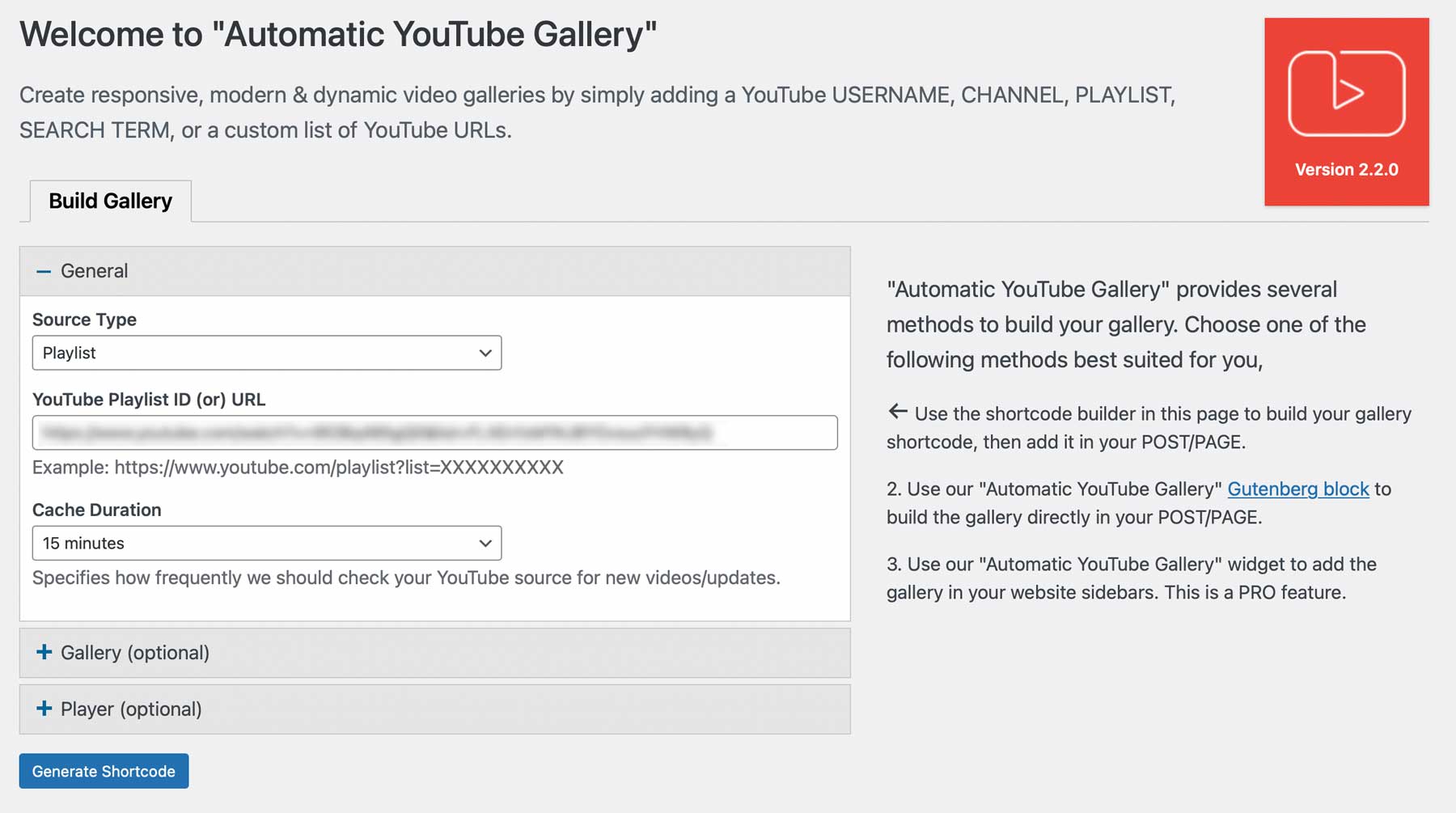 Automatic YouTube Gallery is a plugin that allows you to configure your desired display options and then generate a shortcode that can be used on any post or page in virtually any WordPress theme. While the free version of the plugin gets the job done, you may want to consider upgrading to the pro version to access additional features, such as the ability to feature your videos through different display methods.
Best For:
Whether you're a blogger, marketer, or business owner, Automatic YouTube Gallery offers a simple and effective way to showcase your YouTube content on your WordPress site.
Pricing: $3.99 per month (billed annually).
Comparing The Best WordPress YouTube Plugins
Choosing the best YouTube plugin for your WordPress website can be challenging, especially with many great options. Thankfully, we've showcased quite a few that will work well for most.
YouTube Plugin Pricing Comparison
Before settling on one plugin, we suggest giving a few of them a test drive. With free versions offered on the majority of our entries, you'll be able to try out several of these (if you wish) before you purchase a premium solution. Using the comparison table below, you can peruse the YouTube plugins featured to get a better idea of which is perfect for your needs.
YouTube Plugin Feature Comparison
Our top YouTube plugins all come with impressive features. However, each one provides a different way to embed and control videos on your website. Feeds for YouTube is the most robust with multiple ways to showcase your videos, including playlists, live streaming, and video galleries. Alternatively, Envira Gallery is primarily used for creating galleries with lightbox functionality. Finally, there's Embed Plus for YouTube. It encompasses the qualities of our other two, with added features such as the lazy-loading of videos, which is a great way to keep your site speedy and SEO-friendly.
What is the Best WordPress YouTube Plugin Overall?
After carefully considering features, ease of use, customization options, and support, our top pick is Feeds for YouTube. Not only does Feeds for Youtube offer an extensive range of features and customization options, but it also has excellent performance optimization and caching capabilities. This ensures your site runs quickly and smoothly, even when displaying multiple videos.
If you're looking for more WordPress plugins, make sure to check out our ultimate list of recommendations for each plugin type!
Frequently Asked Questions (FAQs)
Before we wrap up, let's answer some of your most common questions regarding the best WordPress YouTube plugins. Did we miss one? Leave a question below, and we will respond!
What is the best YouTube plugin for WordPress?
When examining factors such as functionality, user-friendliness, flexibility, and support,
Feeds for YouTube
is the most suitable choice. Not only does it come with a vast array of features such as responsiveness, multiple feeds, live stream and playlist support, multilingual capabilities, and customization possibilities, but it also boasts excellent performance optimization and privacy features.
What is the best free YouTube plugin for WordPress?
Feeds for YouTube
is also our top pick for the best free YouTube plugin for WordPress for several reasons, such as its user-friendly interface, basic customizable features, and responsiveness. Additionally, it also provides regular updates to its users.
Can I embed a YouTube video without a plugin?
Yes, you can embed a YouTube video without a plugin by pasting a YouTube video link between embed shortcodes or using the native YouTube block on a page or post. However, you won't be able to optimize or customize the look of this embedded YouTube video without a plugin.
Which WordPress YouTube plugin is GDPR compliant?
Feeds for YouTube
is the plugin among the list, which is GDPR compliant with features such as making third-party requests only after the user's consent and locally storing posts and images. Moreover, it integrates with well-known GDPR plugins such as CookieYes and Complianz.
Which WordPress YouTube plugin supports a live stream feed?
YouTube live stream lets channels broadcast live video content enabling creators to connect with their viewers, as viewers can engage with the content through live chat and other interactive features. Creators can use YouTube live stream for various purposes, including live events, Q&A sessions, product launches, etc.
Feeds for YouTube
and
Embed Plus YouTube
are two plugins supporting incorporating live videos into feeds.
What are the top features to look for in a WordPress YouTube plugin?
The top features to look for in a WordPress YouTube plugin include ease of use, customizable player appearance, responsive design, SEO optimization options, page speed optimization, and support for multiple video sources.
How does adding YouTube feeds to my website help me?
Adding YouTube feeds to a website can help increase engagement and draw traffic. It can provide visitors additional content to consume and improve the website's overall visual appeal. Additionally, featuring YouTube videos helps establish the website as a reliable source of information or entertainment and can increase the website's search engine rankings.
Can embedding YouTube videos help me with SEO?
Yes, embedding YouTube videos on your website can help with SEO. Videos can improve engagement and lower bounce rates, signaling to search engines that your website provides valuable content. Additionally, if your YouTube video is optimized with relevant keywords and descriptions, it can appear in search results and drive traffic to your website.
Can an unlisted YouTube video be embedded?
Yes, you can embed unlisted YouTube videos. However, only those with direct access to the page or posts with the embedded video can view it. It will not be visible to the general public on YouTube or through search engines.
Will add a YouTube feed slow down my website?
Adding a YouTube feed to your website could slow down your website with added scripts YouTube may bring. However, there are ways to minimize the impact on website speed, such as using lazy loading techniques or a plugin like
Feeds for YouTube
, which has inbuilt measures to optimize YouTube feeds, such as caching, dynamic data loading, and image optimization.
Need more plugins? Check out all our articles featuring the best plugins to use in WordPress.