There are lots of people who post their Instagram pictures on WordPress. And there are a lot of WordPress Instagram plugins that let you incorporate your feed into your blog. But what if you want to go the other way? Publishing content from WordPress to Instagram might be something you want to do, not only to increase your blog's reach and get more life out of your content, but also to expand your social radius and the content you provide your followers on a totally different platform.
Subscribe To Our Youtube Channel
WordPress to Instagram? Really?
Yes, really. You might be thinking this is an odd move because WordPress is a blogging platform and Instagram is a photo sharing social network. However, over the past while, people have begun to post longer and longer content on Instagram. It has very much turned into a true microblogging platform in addition to the social network it began as.
And when they opened up the Instagram API to allow external services to post to user accounts, things really opened up.
And given that you are already creating content on your blog, you can absolutely have it perform double duty on Instagram. Best of all, it's not hard to do. You just need a plugin for social media that specializes in automation.  We happen to know of some. How about that?

First off, Blog2Social (as you may be able to tell by its name) is not an Instagram-specific plugin. There are many plugins out there that focus on connecting Instagram to your website, but Blog2Social doesn't just stop at one social network. You can use the plugin to post from WordPress to Instagram or any of 16 social media platforms. For this, however, we're going to focus on Instagram.
The plugin itself is free. You can 100% post to Instagram and the other networks from WordPress using the basic version. The Premium version, however, is where you get access to automation. For $79 USD, you can automatically post to Instagram from WordPress. With  the ease of the plugin and the other premium features you get,  we feel that it's worth it. But if you don't want to pay, you can manually share from the plugin, too.
If you're iffy on whether you want the premium upgrade, you can get a free 30-day trial of Premium. That way you can check to see which one is the better fit for you.
Going from WordPress to Instagram
First, you're going to need to install and activate Blog2Social. It's in the WordPress repository, so it's easy to install. Once activated, you will have a new Blog2Social option in your WP dashboard near the bottom.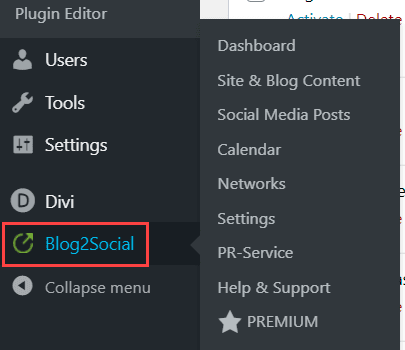 When you hover over the new item, you should see the Settings page in the menu. Select it and check out the few things you might want to set up first.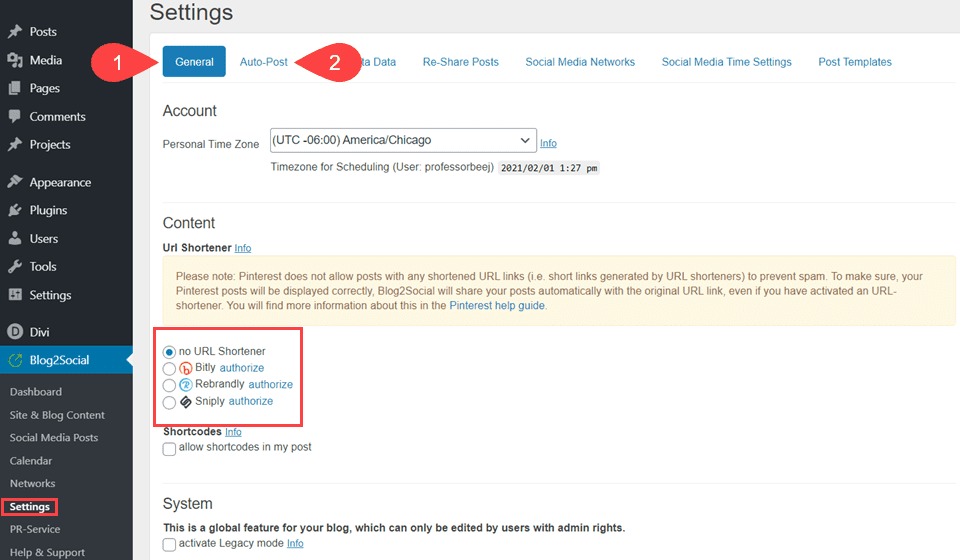 In general, free users won't haves a lot to tinker with here. However, we do urge you to set your time zone correctly since it ties to your social networks, too, and to add a URL shortener service if you use one. Since you're sharing to Instagram from WordPress rather than a hub like Buffer or HootSuite, you will need to track your own URL analytics. That said, Instagram doesn't allow live links in the body of a post, so this is less important for you than if you take advantage of other networks, too.
In the Auto-Post tab of the settings page, you can adjust the specifics of how the plugin handles pushing to Instagram on its own. Again, for free users, you won't have access to this feature, but Premium users do. (And remember the free trial to give it a shot.)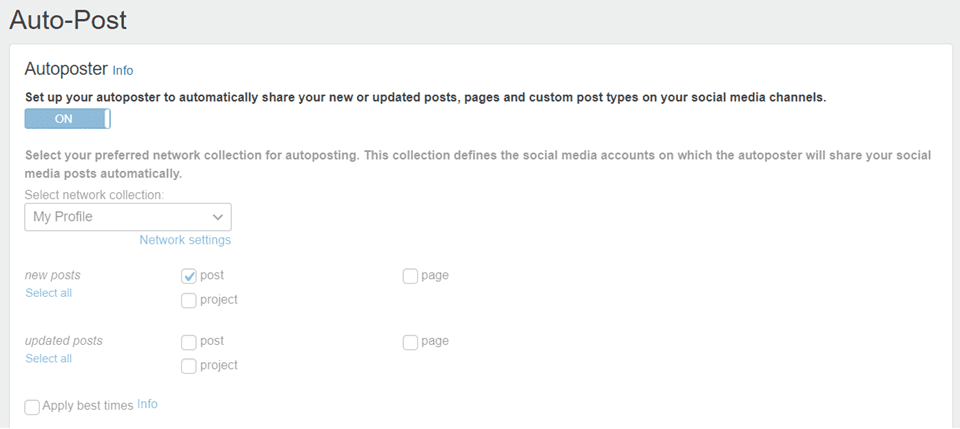 Most sites will only want the Post option selected under New Posts, meaning that only newly published posts will get shared to Instagram. However, some might want to include Updated Posts, too, in order to get more eyes on a newly fixed or more relevant content. If you don't update very often, this could be a nice way to re-share your content without much (or any) extra work.
Connecting to Instagram & Sharing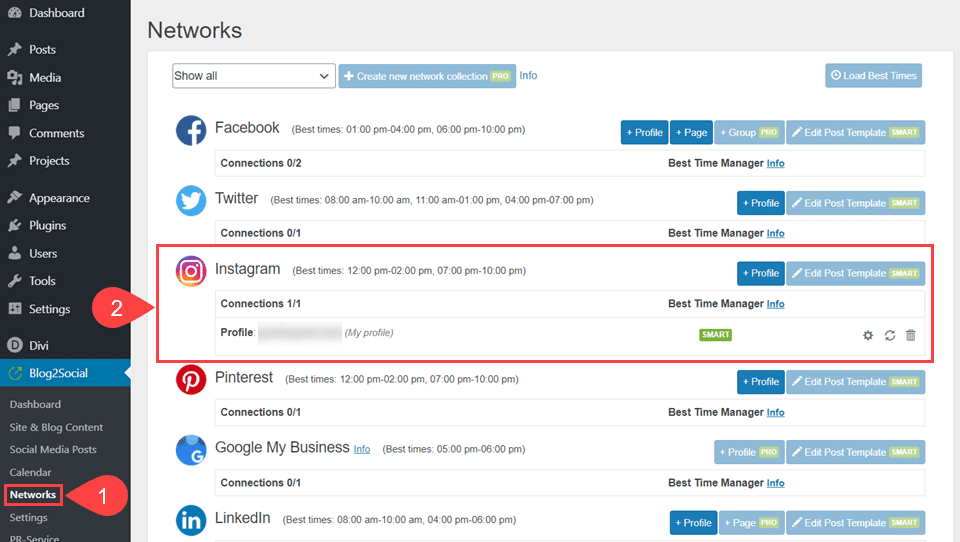 Connecting your blog to Instagram is no trouble at all. The Networks page under Blog2Social in your WordPress admin panel gives you a full list of the 16 supported social networks. Instagram is near the top, and you will just need to sign in and verify your account credentials.
When you do sign in, you will be given a warning modal that looks like the image below. It warns that you may receive an email or message saying your account is being accessed from the Cologne area of Germany, and that it's okay. Their server is located there, so you don't have to worry about an account intrusion.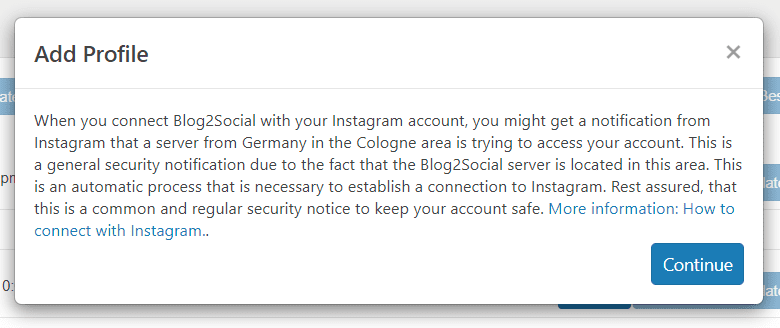 Also, Blog2Social will tell you they will contact you via your account for a verification code. This code will be sent to the account email by Instagram. You just need to enter the code into the box Blog2Social shows.
When you're verified, it's good to go, and you can start sharing from WordPress to Instagram immediately.
Setting Up The Posts
When you start a new post in WordPress now, you will see the Blog2Social Custom Sharing & Scheduling metabox in the right sidebar of the editor. It gives you overall sharing stats for the post (from re-sharing and so on, too), but also tells you whether auto-sharing is on. This will say either deactivated in red if you're a free member or activated in green if you're a subscriber.
Even though your posts will automatically be shared to your Instagram account, you may want to post something about them more than just that once.
Navigate to the Site & Blog Content menu item. You should see a list of all posts on your blog. You can filter and search by title, author, what's already been shared, and so on.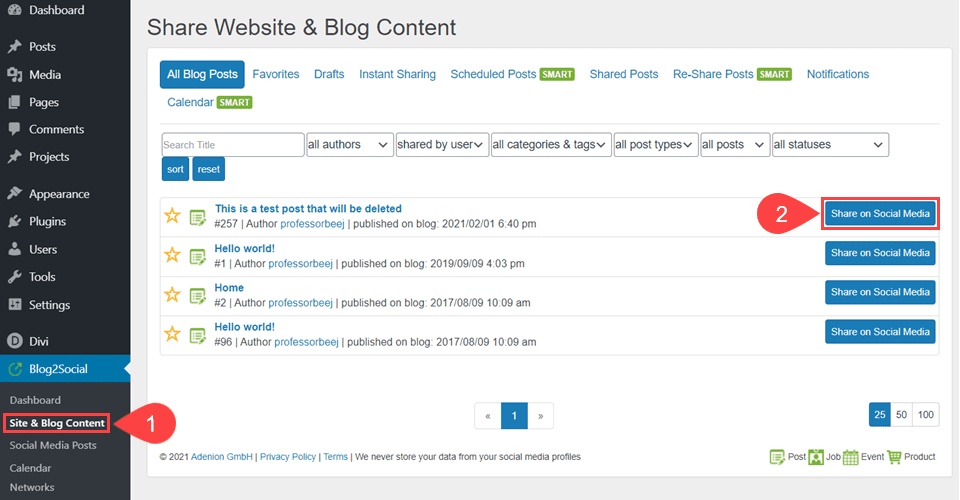 Click on the Share on Social Media button to be taken to the setup page for a new social post.

The page here is straightforward. You can adjust the body and image of the post to be shared, both of which are pulled from the Featured Image and the post text. Decide when to post it, immediately or at a set time. You may also add other social profiles to cross-post with, too.
If you click the Show Calendar button in the lower-right of the pane. The content calendar appears, and you can schedule the post out for whenever it suits your marketing needs the best. Or save it as a draft for later.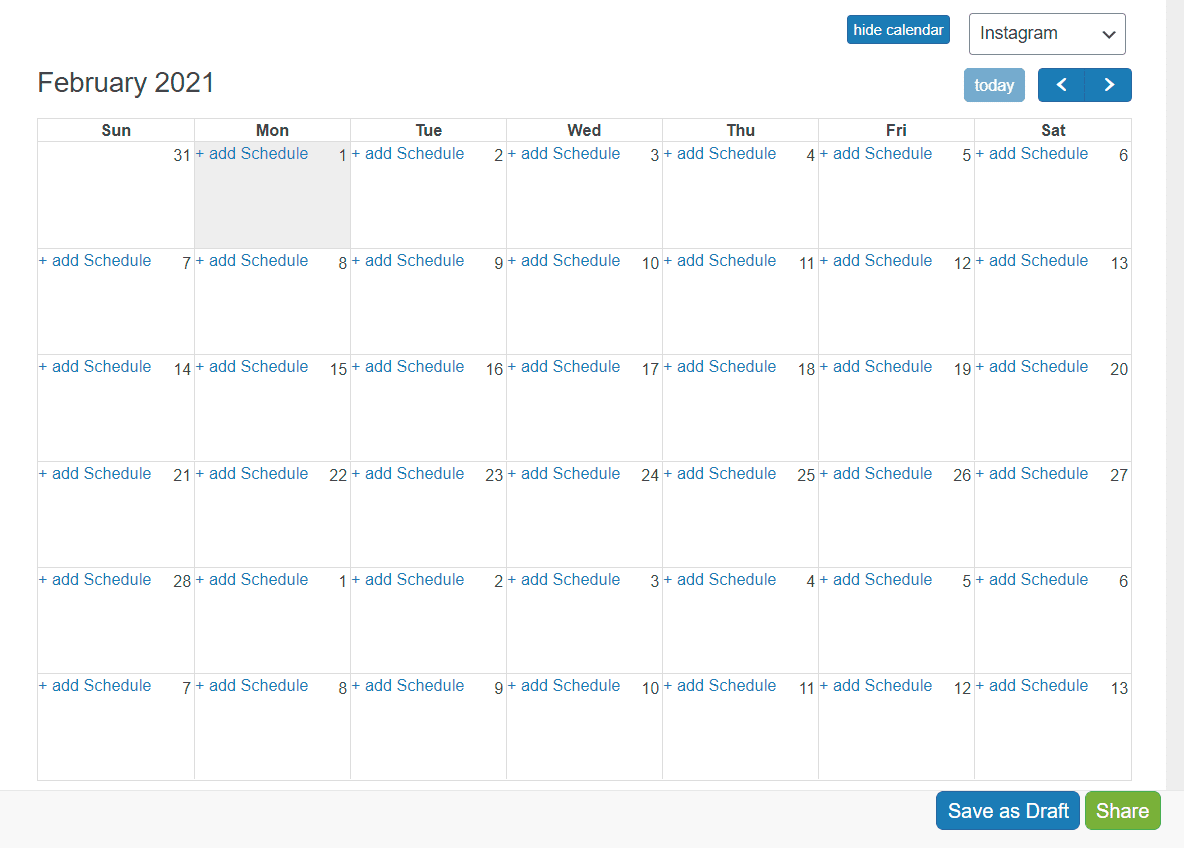 Bear in mind that scheduling is also a Premium feature for Blog2Social. But if you're using this as an automation tool for when you post, the automation of scheduling out Instagram posts from WordPress makes the upgrade doubly worth it.
Wrapping Up with WordPress to Instagram
We feel that the best option for WordPress users to get their content easily and quickly to Instagram is the Blog2Social plugin. It's simple to use, quick and lightweight, and it offers both free and premium users a host of options. While it does take the Premium upgrade to get the automation, which is where a lot of the power comes, even free users can post from WordPress to Instagram in just a couple of clicks.
What uses do you see for posting content from WordPress to Instagram?
Article featured image by wild0wild / shutterstock.com