There's a fevered interest in Google+ among the social media marketing crowd the last few years.
Webmasters and marketers alike are thumping from every available pulpit that Google+ is an effective way for your business to be the facilitator of engaging conversations that matter to your customer base.
This is correct. Google+ has grown at a surprising rate and it's the number 2 social media platform around the globe. With over 540 million monthly active users, it's becoming the hub of online activity and can increase the ROI of your social media efforts tremendously.
But the list of things you can do with Google+ is a long one. You can (and should) utilize every feature from creating a Google+ business page to creating distinctive groups of people with Google+ Circles. Today – however – let's get into a feature that's often overlooked but has a lot of potential…
These communities are groups created on a specific subject that can be anything from gadgets to science fiction. An individual or a business can create a Google+ community around any subject of their choosing to engage other users on the network with an interest in that subject. As a result, communities can create a direct connection with your target audience, helping them join the discussion.
With 150,000+ communities and counting, it's about time you start giving this Google+ feature serious consideration.
Using Google+ Communities
Even if you're not too familiar with Google+ communities, joining or creating one is 100% foolproof. Here's how you can get started:
Participating in Communities
Log in to Google+ and then select 'Communities' from the left-hand panel. You'll then see 'Recommended Communities' based on the communities that individuals in your circles have joined.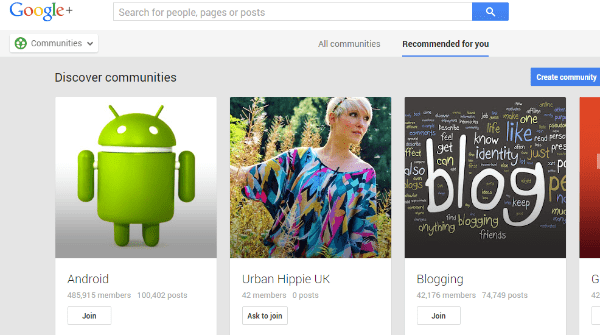 From there, you can use the 'Community Search' bar to search for communities by the subject/niche. Type in a query to discover your desired community, and then click the 'Join' button. If you need moderator approval, click the 'Ask to join' button.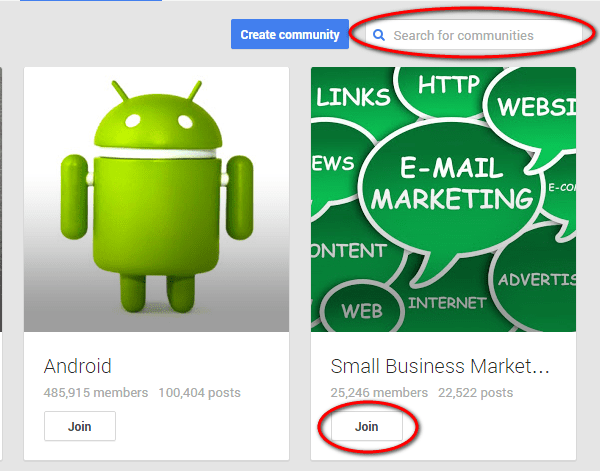 While scoping out communities, you'll notice that a lot of them have topics of discussion organized in categories. To share something within a community, go to its page and post a comment/video/image/link.
Let's say you want to share something in a fashion community, you choose a community covering this topic and then choose the category you want to post in.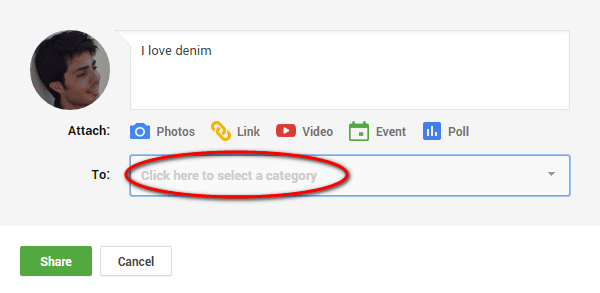 Creating your own Community
If you've the resources to run a group, you can create your own branded community. Click the 'Create a Community' button, and then select whether you want your community to be public or private. Here's the difference between the two:
Private: People request to join a private community. Moderators need to approve membership, and only members can see the posts and updates. A private community may not be listed in search results.
Public: Anyone can join the community and see posts and updates, or the community owner can set it as 'request to join'. A public community is listed in search results.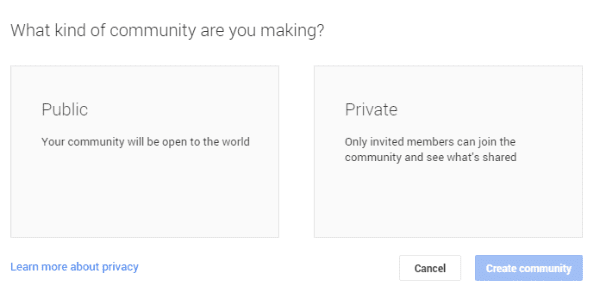 When you create a community, you get only one chance to set it as a public or a private community. You can't change a public community to a private one, and vice versa.
The next step is to pick a profile image, a cover photo, a name, a description, a tagline, and discussion categories. These should be eye-catching and consistent with your brand. Include keyphrases in the tagline or community name that people may use to search your business.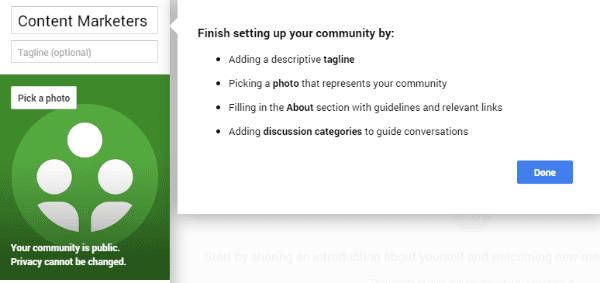 Next, select 'Edit Community' > 'About' section and write the description for your business. This section lets you include a phone number, a business address, and hyperlinks such as website URL. If you're a local business, you can include your location with the 'Add Location' option. Once all done, you can invite people to your community, or share the community to the public with the 'Share Community' option.
A community can also be listed on your Google+ business page. In this case, people visiting your business page can connect with your community as well as participate in the discussion.
Tips to keep in mind
Create engaging categories for your community. Choose these wisely because should you choose to delete a category later on, the posts within that category will also be deleted. The recommended ones are:
Introduce yourself
Post something new
Q/A
Industry news
Hacks & Tips
Chat/Discussions
What We Don't Know
Add moderators to help manage your community. The rule of thumb is to pick someone who is an active member. Click 'members' below the community profile image, select the right of the member from the drop-down menu as a moderator, and click 'promote from member to moderator'. Only the community's owner can add moderators or delete a community. Moderators can perform the following actions:
Remove posts
Remove members
Ban members
Add or edit categories
Add additional moderators
Set community rules for joining, participating and posting. Here are some rules to highlight for members:
Use proper category for posts
Be respectful to other members
No off-topic posts
No adult content
No spam
No self-promotion
No duplicate content
No promotion of other communities
Add value to the group with relevant content
If you violate community guidelines, your posts may be removed and you may be permanently banned
After creating the community
Once you've created a community and invited people to join it, don't stop. Below are some tips to drive engagement:
1.Post & curate interesting content
Members of your community will expect insights, expertise and opinions on the community subject, so keep your community well-stocked with content that pulls members in, including text, images, GIFs, quotes, videos, case studies, questions, infographics, blurbs, white papers, etc.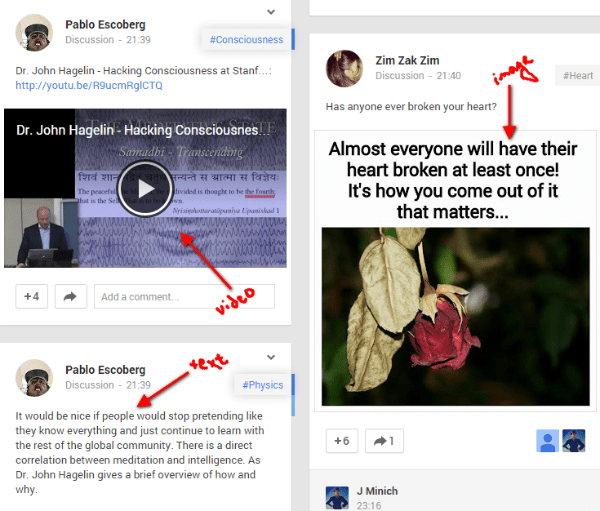 For Docs, Sheets and Presentations, check your community's 'sharing settings' and select 'anyone with the link' to allow members to view shared documents. Don't shy away from sharing content from a popular/reliable source that is applicable to the community: you want to be known as a reliable source of information.
Be careful to not promote your business openly, but share your expertise and knowledge on the subject. Post best content at the best times, such as videos on Fridays. You can also use hashtags to complement your posts and improve their discoverability. When posting just images and videos, write a short description to let members know what it is about the visual content you feel is worth mentioning.
Note: Treat your community members like you'd treat your email subscribers: they expect you to contribute frequently. Add strikethrough, bold and italicize to add emphasis to your content, just as you would in emails and blog posts.
2. Engage & offer customer service
People flock to Google+ Communities to participate in discussions, so engage with members to drive engagement. You can use '+mention" any member to let them know you're engaging with them, as well as +1, share, and comment on their content.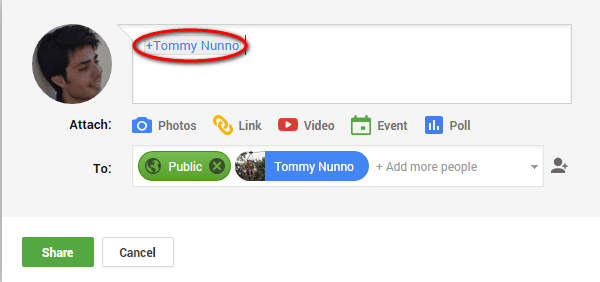 Join other communities to participate in discussions and attract members of those communities through your expertise, but don't spread yourself too thin by getting involved in multiple communities.
To make your community stand out, don't just be someone who posts and participates in discussions. Make your community a forum where not only your team handles and addresses member queries, but pro members and participants pitch in with helpful answers, saving you time and money. You can get close friends on board to help with managing the community as it grows.
Note: A tool like SumAll will enable you to see how your engagement strategy affects your social media marketing campaign. You can add your Google+ page as well as Google+ pages of your competitors to measure engagement results.
3. Launch hangouts & events
Google+ Hangouts can add intimacy to your community. You can use them for workshop connects, live product demonstrations, new unveilings… the uses are endless. Using Hangouts, you can have discussions, meetings, and conversations with community members; the human touch will help you develop even stronger relationships. Members can watch an archived replay on YouTube if they miss your Hangout session. You can broadcast to all members, or conduct small town halls with 10 members at a time.
When starting a Google+ Hangout, invite the Community instead of inviting your Circles. All communities will appear below the list of circles that can be invited. This implies that any member of the community can join.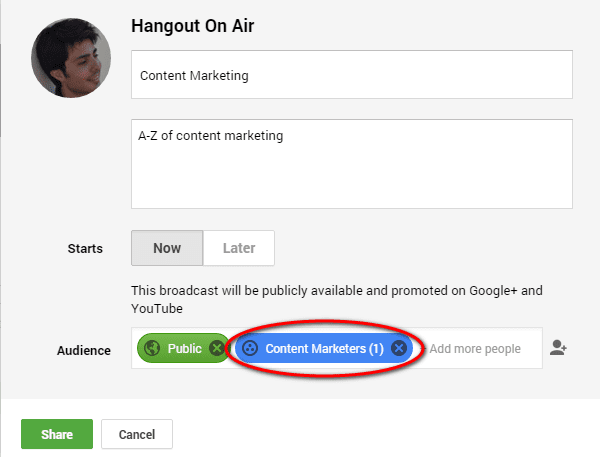 Bonus tip: If you want to schedule a Hangout, ask members about a suitable time: use doodle.com to create a poll for votes. Once a time is decided, you can use the 'Events' feature. Add an event under the community name, and then click on Advanced under event options to make it a Hangout event. Use the RSVP feature to get an idea of how many members might tune in. Use 'Hangouts on Air' to broadcast the hangout publicly if more than 10 people express interest in the Hangout.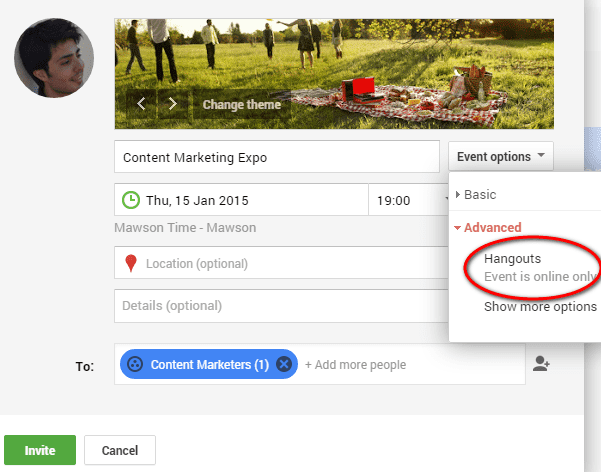 Communities for inspiration
Whether you're brand new to Google+ Communities and learning the ropes or itching to find success, here are some wonderful catch-all communities for inspiration:
Thinker is a community that covers social commentary to depth and includes engaging oddities, posts, facts, and quotes that make its members want to explore more of the story, and they might learn something new. While some folks are able to sneak in posts that are not thought-provoking, most of the links, news and information in this community are good enough to keep your tea break interesting each day.
Good deeds and social media? Sounds like a lonely crusade right? Not anymore with this passionate group of like-minded individuals willing to motivate its members towards the cause and even back up their endeavors. Created by Gabriel Reynoso, the community covers the association of cause marketing and social media.
This community encourages good business practice. Members are vocal and seek intriguing commentary. The owner, Gideon Rosenblatt, encourages members to share valuable links that provide new information as well as communicate to contribute business knowledge.
The community covers all things creative like: logo, typography, illustration, branding, print design, web design, and motion graphics. Members can share their own designs and receive feedback, find great tricks and tips, discover freebies such as icons, UI kits and backgrounds to download, and more. Graphic Design has set strict rules for its members.
Final verdict
So there you have it: All bits and bobs of creating a Google+ Community, building a rapport and spurring members towards successful participation. The great thing about these groups is that they are a hot bed for members to come up with their own ways to use them.
Your turn. What is your experience so far with Google+ Communities? We'd be interested in hearing your thoughts or any suggestions you'd like to make.
Thumbnail image by hobbit / shutterstock.com