Keeping accurate records is a necessity, as is making sure you're getting paid properly and on time for client projects. Luckily, there is an increasing number of accounting apps on the market and many of them will work well for WordPress developers.
But there are also some things to look out for. Picking the wrong accounting app can cause real headaches. It's much easier to make the right choice the first time around.
So, if you have a few minutes, grab yourself a cup of strong coffee and let's spend some time talking about how to pick the most appropriate accounting app for your WordPress development business.
Not All Accounting Apps Are Created Equal
The companies creating most of the popular apps have caught onto our disdain for all things accounting. To counteract our attitudes, they've worked hard to create user interfaces that are visually appealing and apps that are efficient – automating or speeding up the most time-consuming tasks.
For the most part, they have been successful in their attempts. Keeping on top of your books is not the chore it once was. Invoicing takes but a few clicks, reminders are automated, and bank reconciliation no longer takes an entire Saturday afternoon.
When picking an accounting app, it's important that you are not drawn in by a flashy user interface or features that seem oversimplified. Not every accounting app comes with the same features, and there are even a few that should probably drop the "accounting" moniker altogether.
WordPress development may not be complicated from an accounting perspective, but there are a few features that I think are critical. While no app is perfect, some provide a more robust feature-set than others.
Accounting Features Important to Developers
Chances are, as a WordPress developer you're running a remote business. Although if you've built yourself a small agency, you might be sharing a physical space. Maybe you have employees or maybe you rely on contractors.
All these variations are the reason there is no such thing as the perfect accounting solution for every developer. Your needs will vary and they are also likely to change over time. When you're trying to pick out an accounting app, think a few years down the road – anticipate your future needs.
Here are a list of features you might want to consider as important:
Online Accounting is a relative must. Most – if not all – online accounting software offers security and encryption that's as good as what you get at your local bank. If you are also working with an accountant or bookkeeper, it's incredibly convenient to be able to share access if and when required.
A Mobile App may not be critical, but it sure makes life convenient. Being able to enter expenses on the go and snap a picture of a receipt makes life less complicated. And when you find yourself having to kill some time, it's nice to be able to catch up on your invoicing.
Quotes are an essential part of business for most WordPress developers. Being able to create a quote for a prospective client and then turn it into an invoice with a few clicks is a huge time saver.
Invoicing is a must-have feature, but you'll be surprised to discover that not all accounting apps treat invoicing with the same degree of importance. An extremely simple and well-rounded invoicing process is at the core of what makes FreshBooks so popular. It just goes to show what a headache developers and freelancers around the globe consider invoicing to be.
Payments are another part of accounting that has become increasingly simplified, thanks to online payment processors. All four of the options discussed below offer the ability to accept online payments through third-party payment processors or have an in-house option. Gone are the days of "the check is in the mail".
Paying Bills and keeping track of expenses are a must-have feature. Make sure that if you have many bills to enter each month, the process is efficient. For example, just recently FreshBooks automated the expense categorization process. Prior to June 2015, it was a real headache to manage this process manually.
Bank Reconciliation was once the worst part of accounting. Spending all day reconciling your bank account only to find that you're a few cents out could be heartbreaking. Thankfully, most accounting apps have simplified the process, but make sure you do your homework if this is an important feature for you.
Multi-Currency accounting has become increasingly important in today's global economy. Having to convert multiple currencies at the end of the year can be a real headache. If you receive payments from clients around the globe, this is a feature worth paying for.
Reporting is a pretty standard feature in all accounting apps these days. The ability to take a quick snapshot of your financial picture is convenient, and access to real-time reports make it easy to keep up to date with the health of your business.
Payroll. While two of the apps (Xero and QuickBooks) discussed below have some basic payroll features included, in most cases you'll require the use of a third-party integrated service. For a lot of developers, payroll won't be a critical feature so we won't discuss it in too much detail here.
Four Top Accounting Apps
After considering which features are most important to your development business, you'll be in a better position to pick the appropriate accounting app. Spending a little extra time researching is worth the effort, because nothing is worse than entering all your data into an app only to discover it's missing a feature that you really need.
Many apps can be integrated. For example, Freshbooks invoices can be automatically imported into Xero (you'll understand why you'd consider doing this in a moment) using third party apps like Zapier. The problem with this approach is that although it increases functionality, it also increases your monthly expenditure.
One exception to this might be if you contract out your bookkeeping to a third party. If that's the case, they'll able to export data from your app into whichever accounting program they're using and balance your books from there.
FreshBooks bills itself as a cloud accounting app and it has a lot of positive features that work in its favor. The software (mobile app included) is incredibly easy to use and is constantly improving. In addition, FreshBooks' invoicing capability is awesome and they offer multiple payment gateways including PayPal, Stripe, Authorize.net and direct credit card.
However, with all of its great features, Freshbooks is missing one key ingredient in that it's not a true accounting app. With no ability to reconcile your bank account, you are left having to export your data to another program like QuickBooks or Xero. While this isn't necessarily a deal breaker, it does mean you'll be paying for two separate programs.
Key Features:
Pricing starts at $19.95/month for up to 25 clients.
Extensive invoicing capabilities.
Multi-currency invoicing.
Expense tracking and receipt storage.
Very easy for clients to pay invoices.
Easy to use time-tracking.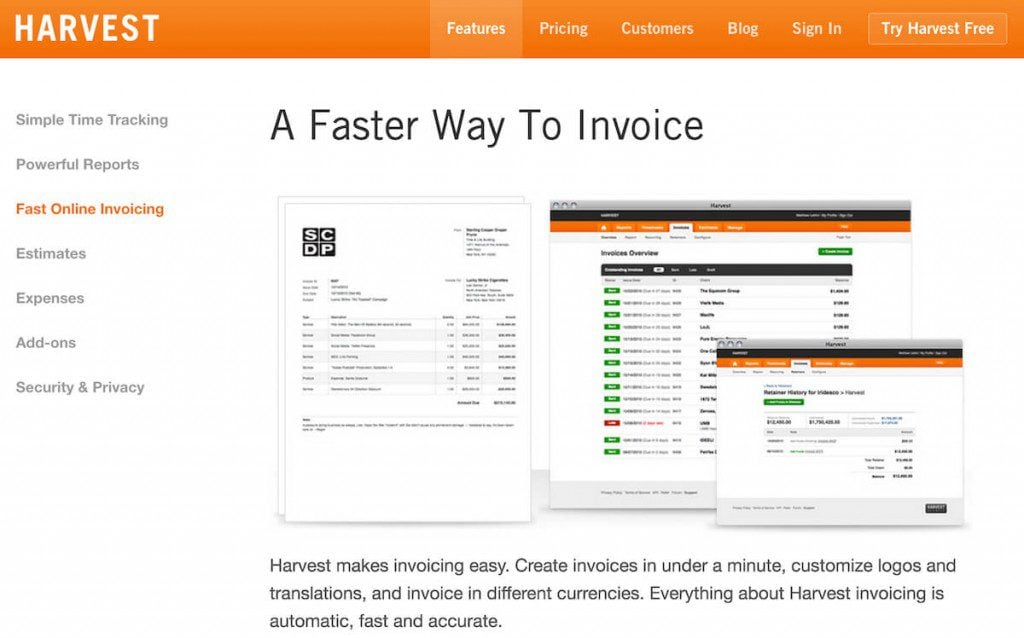 Harvest advertises itself as "simple online time tracking software", which is a mild understatement because it also offers full invoicing and expenses tracking. But, similar to FreshBooks, Harvest's strength lies in the time tracking and invoicing since it's not a true accounting app.
If you're running a small agency and require additional staff accounts, Harvest seems the cheaper way to go, offering up to five users at the $49 price point. Compare this to Freshbooks, at $39/month with one additional user, plus $10 for each additional.
Even with the great time-tracking features and easy invoicing, you'll still be left wanting if you require more robust accounting features.
Key Features
Solo pricing starts at $12/month.
Easy and effective time tracking.
Invoicing with three online payment gateways.
Simplified project management.
Integrates with both Quickbooks and Xero.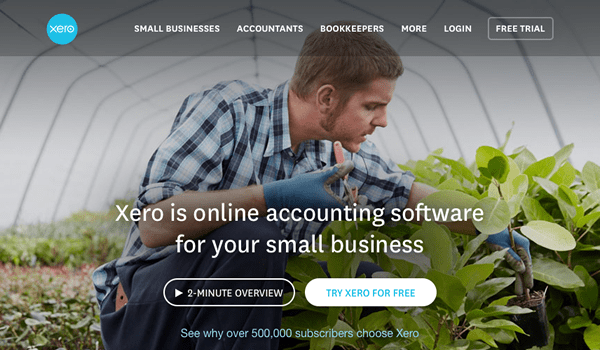 Xero claims to have "beautiful accounting software". Can accounting software be beautiful? That's for you to decide but for the most part, Xero does present a simple, easy to use and highly functional interface. Plus, Xero is what you can consider a full-featured accounting app.
Where Xero falls just short is in their invoicing capabilities. Yes, with just a few clicks you'll be able to send an attractive invoice to clients and have them pay via your chosen gateway. The only step missing is to automatically record that payment in Xero, which saves you from having to make a manual entry. A small detail, I know. The invoicing is good enough in Xero that I would have a hard time justifying the use of a separate invoicing app.
Although it's slightly more expensive with a full-featured plan starting at $30/month, it might be a small price to pay for unlimited users and the ability to perform a full bank reconciliation. One thing to note is that if you want multi-currency accounting, you'll need to upgrade to the premium plan that costs $40/month.
Key Features
True full-featured accounting and automatic bank reconciliation.
Manage multiple bank accounts.
Simple quotes and invoicing with multiple payment gateways.
Create recurring invoices and payments.
Simple payroll features and advanced integration options.
Great support.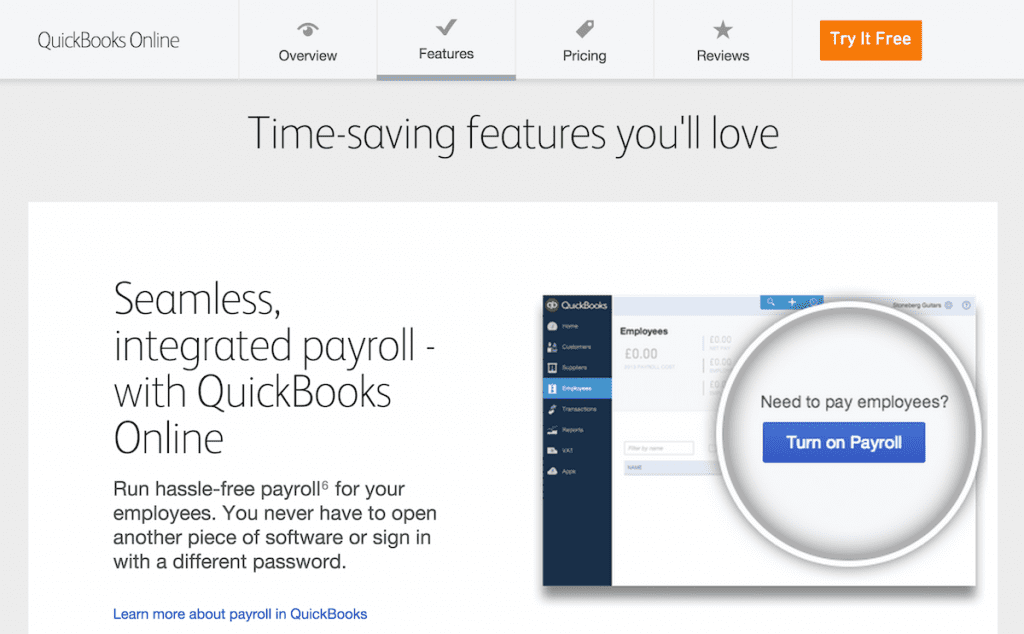 Intuit QuickBooks has made the transition from desktop software (still available) to SaaS. Being the second of our four options to provide full-service accounting, QuickBooks online has been around for a long time. They offer competitive pricing that starts at $39.95/month for features comparable to Xero.
One drawback to QuickBooks is that if you allow clients to pay their invoices via a "pay now" button, you'll have to rely on QuickBooks' in-house payment processing. Not a huge issue, as their rates per transaction are competitive, but still, it would be nice if Intuit gave you an alternative option.
Key Features
Manage revenue and expenses.
Create quotes and invoices (including recurring).
Time-tracking.
Accept online payments (through Quickbooks).
Multi-currency accounting.
Conclusion
Depending upon your specific requirements, any one of the apps that we've listed in this post will work well for developers, designers or small agencies. If you rely heavily on invoicing with time tracking capabilities, FreshBooks or Harvest are probably your best bets. Just be prepared to pay for a separate app capable of managing your bank account(s) as well. Alternatively, be prepared to hand off your invoice and expense information to a bookkeeper who can match your records with your bank statement.
If you're looking for a full-featured accounting app with good – but not quite amazing – invoicing, consider Xero or QuickBooks Online. Because of the ability to choose a payment processor and add additional users as required, I'd probably give a slight edge to Xero.
There are many lesser known accounting apps available that we haven't covered here.
If you've tried one of the apps discussed or if you've got another accounting app that you're in love with, please share in the comments below!
Image Credit: Sentavio / Shutterstock.com