WordPress login pages are easy to use, and they're decently secure. The only downside is that they all look exactly the same out of the box, and the platform doesn't provide you with a quick way to customize yours. That's where plugins such as the WordPress Login Designer come in. This kind of tool enables you to change nearly every aspect of your login page, including appearance and functionality.
In this article, we'll talk about the many reasons it pays to customize your WordPress login page. Then we'll introduce you to the Login Designer plugin, and explain what it can do for you. Let's get to it!
Why You Should Customize Your WordPress Login Page
A WordPress login page's function is simple – it enables you to access your dashboard easily while keeping unauthorized people out. It doesn't need to look stylish to accomplish that goal, but a little flair never hurt anyone. Plus, there are several concrete benefits to taking the time to customize your login page.
Let's talk about a few key advantages:
It can make your website look more professional. Plenty of big companies use WordPress for their websites. However, some people might think your site isn't that reliable if it uses the stock WordPress login page.
It's an excellent opportunity for branding. For example, you can replace WordPress' logo with your own, and make sure the entire page looks like a natural extension of your website.
You can increase its usability and security. WordPress' login screen is secure out of the box, but you can add extra functionality for more peace of mind.
To sum up, you can separate most login page customizations into two categories: aesthetic overhauls and usability enhancements. Changing your login screen's logo and background, for example, falls into the former category. Adding a captcha to the screen, on the other hand, is all about increasing security.
The plugin we're going to talk about today is mainly focused on style optimizations. However, there are plenty of other options you can implement alongside it if you want to improve security as well.

The Login Designer plugin was created to help regular users customize their login screens without having to hire a designer or experiment with coding. It does this by enabling you to use the WordPress customizer to tweak every aspect of your login screen and preview the changes instantly.
You might think we're exaggerating when we say that you can customize every element, but that's a pretty accurate statement. For example, if you want to tweak the Lost your password? option using this plugin, you can change its font, color, size, and position, or even disable it entirely. That's only one element out of many that can be adjusted, and the editing process is very intuitive.
Key Features:
Change every aspect of your login page using the WordPress customizer.
Click on any element you want to tweak to see what changes you can make.
Replace your login screen's logo and background.
Enable or disable elements at will.
Preview any changes instantly.
Price: FREE | More Information
Our Firsthand Experience Using the WordPress Login Designer Plugin
We tried Login Designer out for ourselves, to see if it lives up to the hype. Throughout the next few sections, we're going to offer our impressions within three important categories. We'll talk about the plugin's ease of use, variety of options, and applications. Let's get to it!
Ease of Use
There's a learning curve to most WordPress plugins. Generally speaking, the more features a plugin has, the longer it will take for you to master it. However, in this case, the learning curve is almost nonexistent.
If you've ever used the WordPress customizer to make changes to your website, then you already know everything you'll need to use this plugin. As soon as you activate it, you can jump to the Appearance > Customize page in your dashboard, and look for the new Login Designer tab within:

You can also navigate there instantly by going to Appearance > Login Designer. Either way, once you've arrived your current login page will appear to the right:

At this point, you can click on any of your page's elements, and the plugin will show you what customization options it offers. For example, here's what you get when you click on the WordPress logo: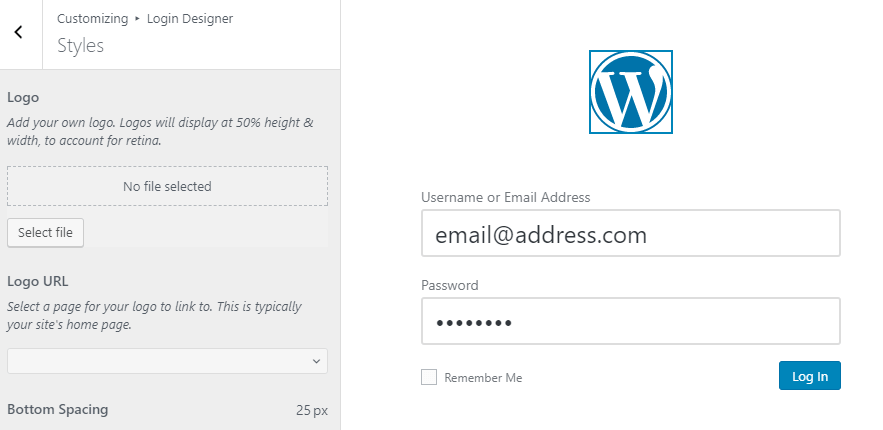 As you can see, you're able to add your own logo, include a link, modify the spacing, and so on. Changing any element you want is incredibly simple. You can even choose from three pre-built login page templates to save yourself some time: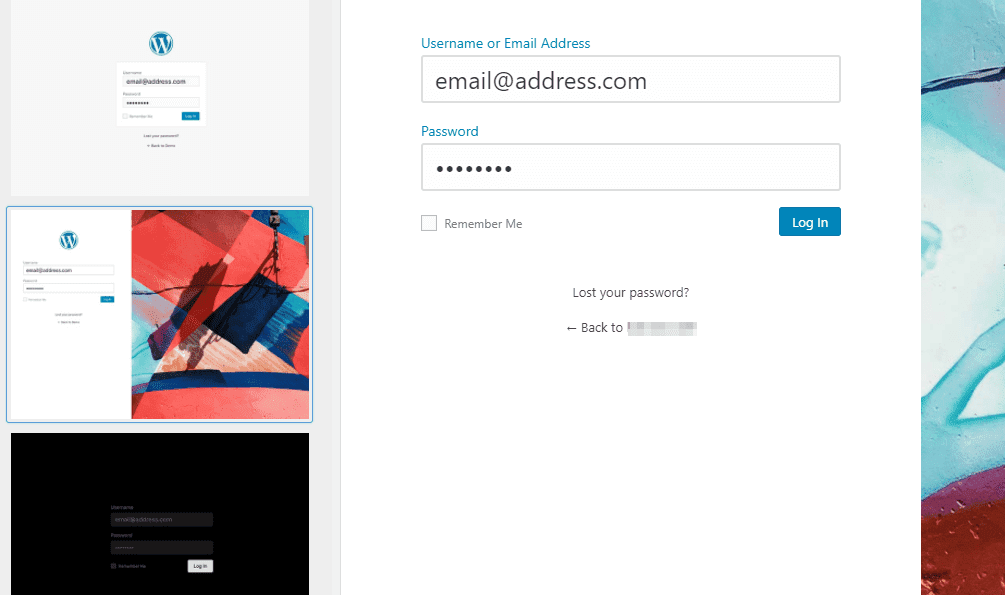 You can overhaul your entire WordPress login page in just a few minutes if you're already comfortable using the customizer. Even if you aren't, each setting and option provides simple explanations, so you won't have any problems figuring out what to do.
Customization Options
The Login Designer plugin may be simple to use, but that isn't worth much if it doesn't offer you a decent range of customization options. Fortunately, this plugin provides a wide variety of choices.
Here is a list of the elements it enables you to tweak on your login page:
Your username and password fields.
The label text for your username and password fields.
Your Remember Me option.
The Log In button.
The Lost your password? and Back buttons.
WordPress' default logo (above your login form).
Your login screen's background (which you can replace with an image or a solid color).
For each of these elements, you can play around with their colors, sizes, and even text (in the case of labels). All it takes is a few simple changes to completely overhaul your login screen's style. However, there's also enough depth for you to spend some time creating exactly the look you want.
Who Should Use the WordPress Login Designer?
The Login Designer plugin is a fantastic choice if you want to overhaul your login screen's style. It's easy to use, it offers a broad range of customization settings, and you can make all the changes you want without leaving the WordPress customizer.
With that in mind, we're comfortable recommending this plugin to just about anyone who wants to update their login screen. During our testing, the only downside we found is that there's a visual glitch when using this plugin with the Divi theme. For example, here's what the customization menu for your username and password fields looks like, using the Twenty Seventeen theme: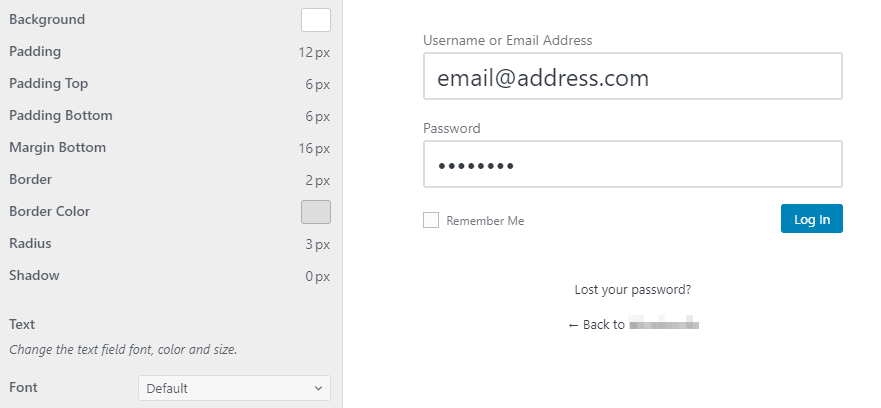 Now, here's that same menu on a website running Divi as its active theme: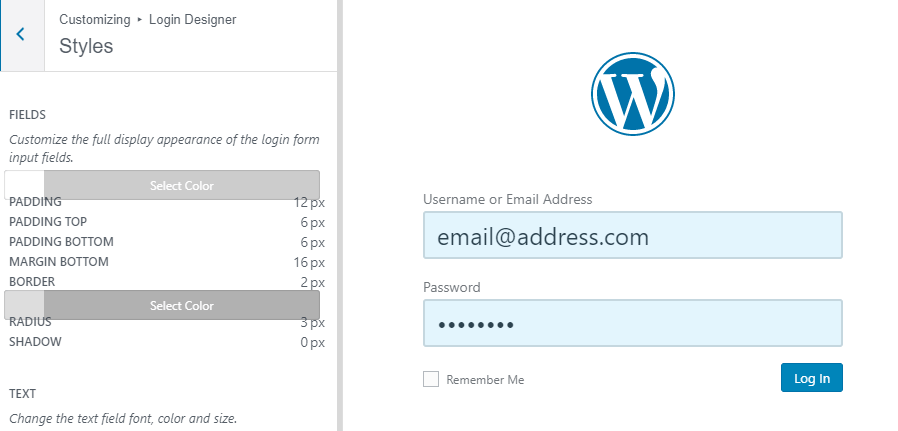 As you can see, all the options are still there. However, Divi's color buttons jumble the user interface up a bit. To be clear, the plugin is still perfectly usable, and some menus look perfect (such as the logo change settings). This is just a visual bug, but it's one some users might find annoying. If you aren't bothered by it, you'll still be able to use Login Designer to tweak your Divi site's login page to perfection.
Conclusion
Customizing your WordPress login page is a nice touch that can make your website look more professional. Plus, doing this provides you with an excellent opportunity to add your own branding to the login screen, and create consistency for users on the front and back ends of your site.
There are a lot of tools you can use to customize your login page, but the WordPress Login Designer plugin is one of our favorites. It's easy enough to use that you can fully customize your login page in a matter of minutes. Moreover, it enables you to tweak nearly every element of the page using the WordPress customizer.
Do you have any questions about how to use the WordPress Login Designer plugin? Ask away in the comments section below!
Article image thumbnail by adichrisworo / shutterstock.com.