Writing and publishing posts on WordPress takes enough time on its own. Having to then go to Facebook and post links can become so time consuming that it can be difficult to get it all done. When you add on top of that the need to schedule your posts for specific times, meaning you schedule each individual post, you might start to wonder how you have time to do anything else. Well, there are some ways around this that will save you time and keep you from having to go to Facebook and schedule each post. One way around this is to post your updates from WordPress itself.
Let's take a quick look at how scheduling posts to Facebook works and at some easy solutions to speed things up a bit.
Schedule Facebook Posts
What if you want to schedule Facebook posts to be timed with your WordPress posts? There are several ways to do this. Some involve manual scheduling, while others involve a more automatic solution.
Facebook's Scheduler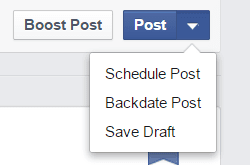 Facebook has a scheduling tool built in to the posting system. Here's a quick look at how it works.
This one is simple. Write your post as normal. Instead of clicking the button to post, select the drop-down and click Schedule Post.
Choose the date and time you want the post to be scheduled for.

You're all set! Your post will automatically be posted at the time you chose. The problem with the scheduled posts is that you have to go to Facebook, upload, and schedule each post manually. It works great for what it does, but it doesn't save you any time. Another problem is the earliest it will let you schedule the post is 10 minutes from now. What if you want it to post sooner than that? You either have to post it manually, or choose a different method entirely.
A better way is to schedule each post automatically from a single dashboard. You can write your posts and schedule them all without having to upload each one and schedule them individually. If you manage a Facebook page you can see what app was used to make the post. To anyone else it just look like a regular post. So you can be on Facebook without actually having to be on Facebook. Here are a few apps that do this perfectly.
Buffer provides some easy methods to post your WordPress posts to your Facebook page. You can fill up your Buffer and schedule your posts from the Buffer app itself, or you can install one of several Buffer plugins and run it from your WordPress dashboard. Let's take a quick look at both methods.
The Buffer App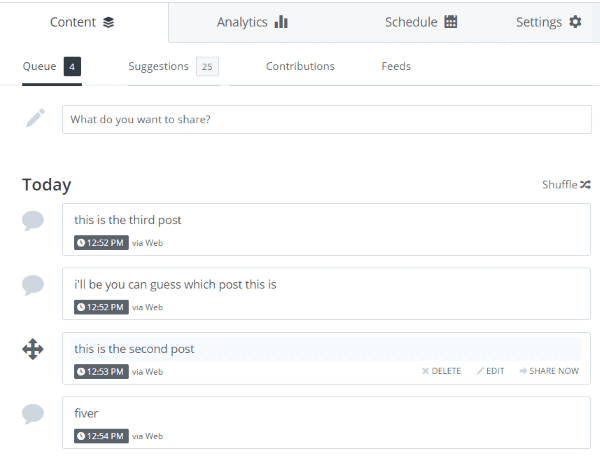 Using Buffer, you simply type up your posts and click the Add to Queue button.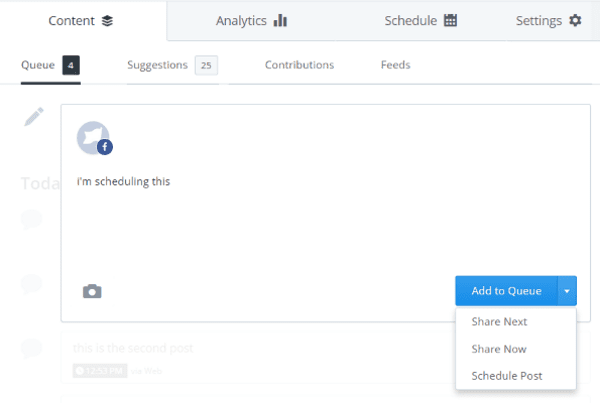 You can easily choose the date and time and your posts will be posted for you. After the times are chosen you can move the posts by drag and drop if you want to post them in a different order. The time of the post stays with the location. So if the first location is scheduled for 10:00am, the second for 10:03, and the third for 10:07, and you move the second post to the top location the second post takes on the top location's time of 10:00am and the post that was scheduled for that time now has the time of the second location of 10:03. You can even shuffle them randomly if you want.
One reason this is easier is it takes far fewer clicks to schedule your posts than using Facebook's scheduler. Also, this will let you schedule as soon as a minute from now, where Facebook's scheduler will do 10 minutes at a minimum.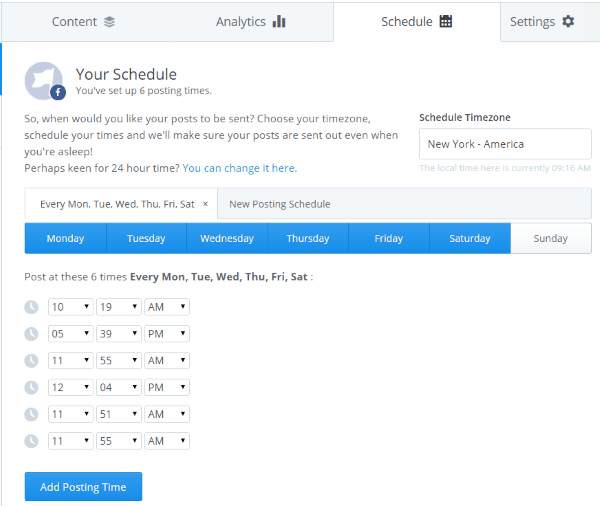 Another option is to let Buffer schedule your posts for you. You can choose how many times a day you want your updates posted. You can even choose which days and which times.
Buffer will allow you to connect to multiple profiles, so you can schedule for more than one profile from the same dashboard. You simply select the next profile as a tab and start posting to it.
Buffer will also give you analytics for each post, showing you how many comments, likes, and shares each post got. You can view them by recent, most popular, least popular, etc. You can also rebuffer any post.
Another advantage in using Buffer is it will also post to Twitter, LinkedIn, Google+, and app.net. Not bad for the free edition, right?
One problem with this method is you have to go to Buffer and paste in the links and snippets from your posts. An easy way around this is to use Buffer's RSS feature that is found in the Awesome plan.
To see analysis, insights, posts by date, export, add new posting schedules, 10 social profiles, 100 posts in your Buffer, and 15 RSS feeds you'll have to upgrade to the Awesome plan for $102 per year. Using the Buffer feeds option you can send your posts directly to Buffer so you don't have to post them manually.
Another way to post them automatically to Buffer is by using a plugin.
Using a Buffer Plugin – WP to Buffer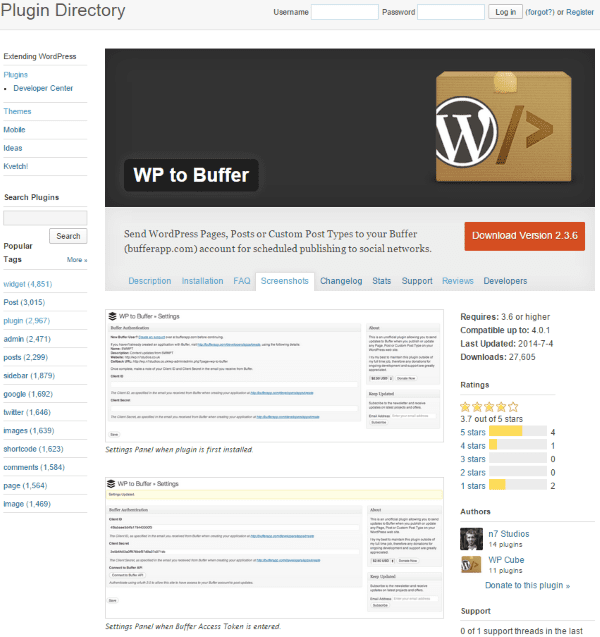 When it comes to Buffer plugins you have several options. WP to Buffer is a free plugin that does what we want it to very nicely. Any time you publish an update, whether it be a post, page, or a custom post type, WP to Buffer will send the update to Buffer. It just requires your Buffer access token. The advantage here is that you can have all of the scheduling functions of Buffer without having to do anything more than publish your posts on WordPress.
There are two ways to schedule posts from Hootsuite. One way is the use the Hootsuite app. This works fine, but you have to leave WordPress and go to Hootsuite. Also, it will post anything you write within Hootsuite, but what if you want to post directly to Facebook from WordPress? Well, there is a solution to that problem – the RSS feed. You can also integrate Hootsuite into your WordPress dashboard using the WordPress plugin. This has several advantages. First, let's take a quick look at Hootsuite and how it works, and then we'll look at the plugin and see the advantages it offers.
The Hootsuite App
Hootsuite has some really good scheduling features.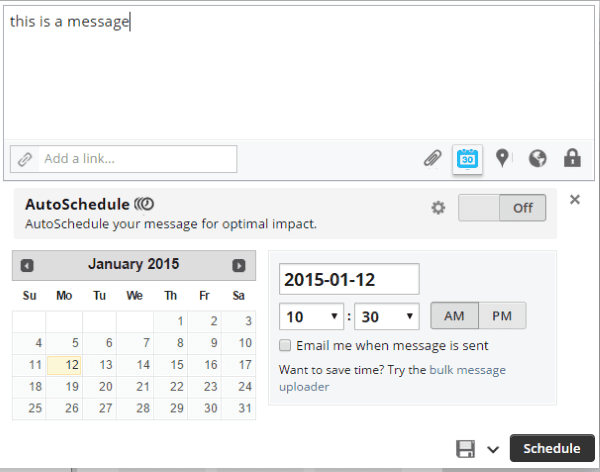 Simply write your message and then choose the date and time you want it to post. You can choose the time in 5 minute increments. You can have it send you an email when the message is posted. There is also an auto-scheduling feature. You can schedule up to 10 messages per day, choose the times to post between (for example, you can have it post between 8:00 am and 10:00 pm), and choose which days to post. Then you just write your messages and Hootsuite takes care of the posting for you. It will post to pages, groups, and your personal wall. All of these features are a part of the free Hootsuite account.
All of that is nice, but it requires you to write your posts within Hootsuite. What if you want Hootsuite to publish your WordPress posts directly to Facebook? The answer to this is the RSS feed.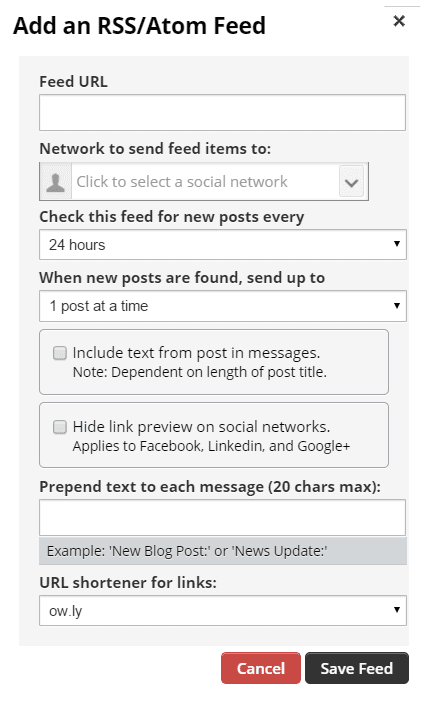 The feed will be posted to your Facebook page. You simply give it your feed URL, tell which network to send the links to, choose how often it should check your feed for new posts, choose how many posts to send at a time, choose whether to post a portion of the text or just a link, choose whether or not to hide the link preview, prepend the message (give it a title such as "My latest post", "From the blog", etc.), and choose which URL shortener you want to use.
If you select for it to check your feed every hour, and then tell it to send one post at a time to Facebook, your latest posts will be posted automatically within an hour of them being posted on your WordPress site. It works like a charm! I gave it a test with the parameters of checking every hour. It posted to my Facebook test page and included the title, a portion of the text (actually all of the text – it was very short), a shortened link from ow.ly, my logo, my site's name, and a link to my home page. It looked every bit as elegant as I hoped it would. This RSS feature is also part of the free Hootsuite account.
If you upgrade to Pro for $14.99 per month you can bulk schedule your messages, schedule hundreds of messages, launch multiple campaigns at once, manage 100 social profiles, and add team members.
The Hootsuite Plugin – Scheduling and Posting Directly from WordPress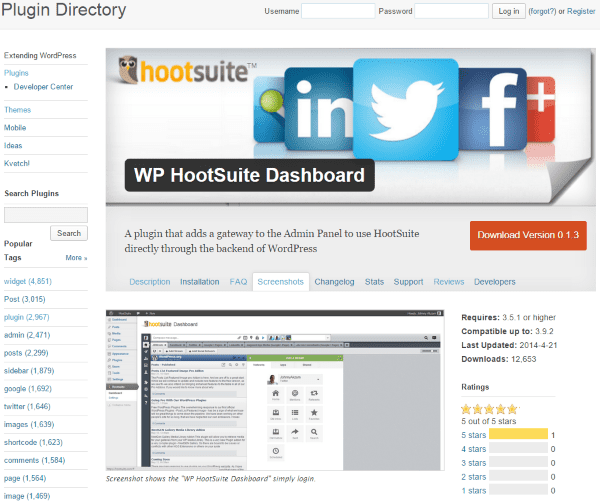 The Hootsuite plugin brings all of the functionality from the app and integrates it into you WordPress dashboard. It works the same as the app, but it gives you the convenience of having everything in one place. Other than that it's the same as the app. It works with the free and pro edition of Hootsuite.
Automatically Posting to Facebook
It is possible to have your posts automatically upload when you make a new WordPress post. The easiest way to do this is by using a plugin. This is a list of plugins that will post to Facebook for you.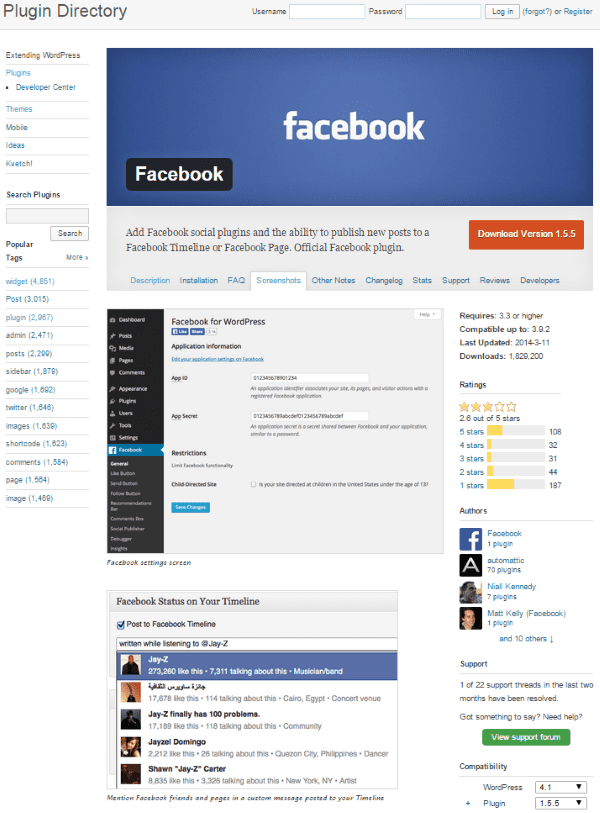 This is the official plugin from Facebook. Among the many features of this plugin, it has a feature called Social Publisher that will publish your WordPress posts to your Facebook timeline. You have to set up the proper associations to get it to work. Once you've properly set up the plugin you have to associate your Facebook account with your WordPress user profile. Set up does take some time. You can choose who it shares the posts with. Choices include Public, Friends, Only Me, and Custom.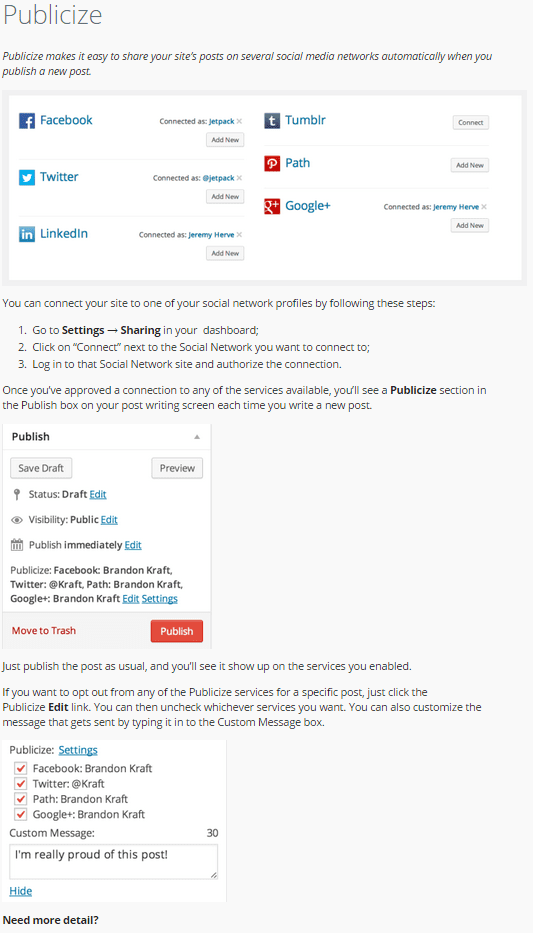 Publicize is part of the free Jetpack suite of plugins from Automattic. It lets you automatically share your posts on your favorite social networks. You have the choice of whether it will post to your personal profile or to a specific group that you own. You can also set the posts to be visible to only your friends, just yourself, or you can hide it from specific friends if you want. It is easy to set up and use.
You simply publish your post as usual and it's posted on Facebook for you. Facebook will choose an image that is at least 200×200 pixels to set as the featured image. You can choose if this connection is only available to you or all users of your blog. Your posts will be published on Facebook at the same time you publish on your WordPress site. This plugin is one of the easiest to set up and use.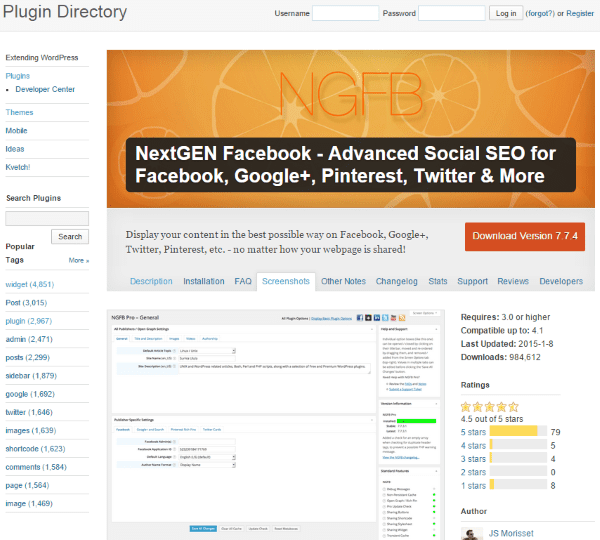 This one will let you share your social media in many ways. One of those methods is pasting your URLs directly into your social media websites including Facebook. It does Open Graph and includes configurable image sizes. It will include your hashtags.
There is also a Pro version which adds lots of features including a configurable title and description, exclude specific tags, and more. Price is per site. The more sites you buy it for at a time, the cheaper the price per site. For use on 1 site costs $44.95, 2 sites costs $36.95 each, 3 sites costs $31.50 each, all the way to 100 sites for $16.95 each. The pro edition comes with a large library of modules that are compatible with specific plugins including:
HeadSpace2 SEO
JetPack Photon
MarketPress – WordPress eCommerce
Polylang
WooCommerce
WordPress SEO by Yoast
WP e-Commerce
I installed the free edition and it had some conflicts with Yoast's SEO plugin and with WooCommerce. It might need the pro edition for use with these plugins.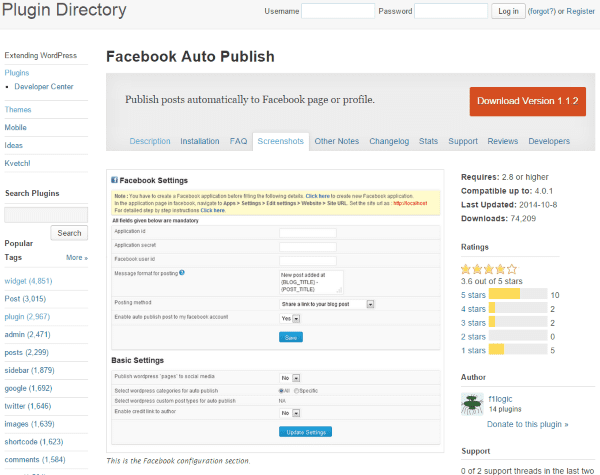 This free plugin lets you publish your posts to Facebook automatically as a text message, text message with image, or as an attached link. You can filter posts based on custom post types and as categories. You can also post to specific pages on Facebook. It will publish the post title, description, excerpt, permalink, Blog title, and user nickname.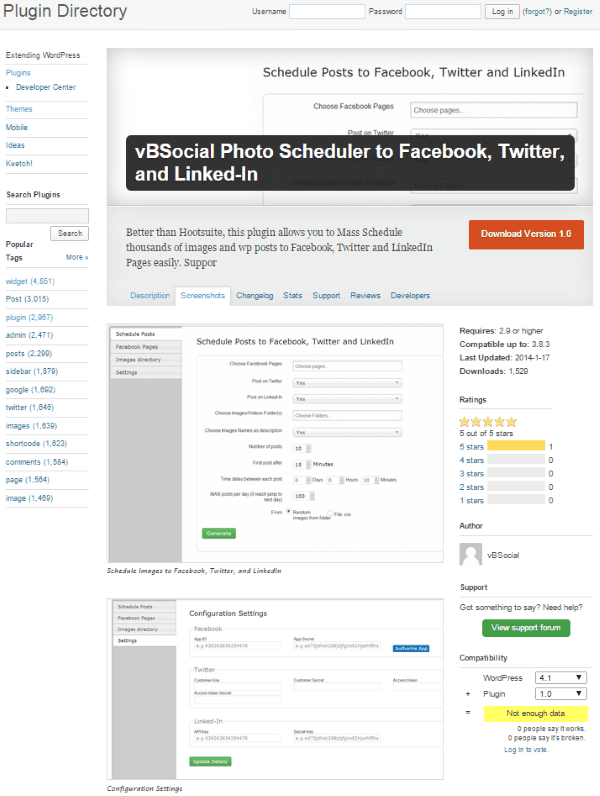 This is one of the better plugins out there for scheduling your posts for Facebook. You can schedule thousands of posts at a time and it will post photos and blog posts. you can schedule them at intervals you choose.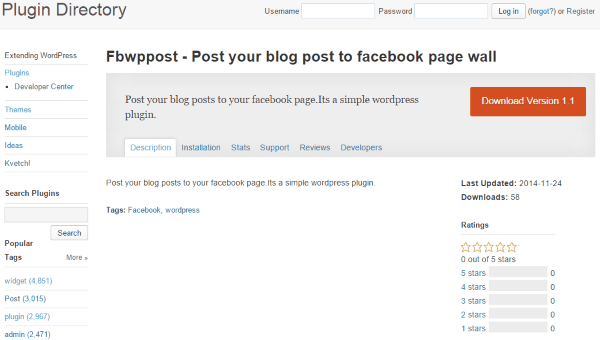 There isn't much information about this plugin other than it will post your blog posts to your Facebook page. I installed to give it a test drive, and here's what it actually does. It gives you a list of your posts and a button attached to each post. You can select any recent post and click the Post button, and boom – it's posted to Facebook!
It requires the Facebook page access token, as you would expect, and it gives you instructions on how to get it, but it will take some time to go through the instructions and set up. What it doesn't do is post automatically. But, it does give you an easy way to select your posts and post them any time you wish. You can even go back through your old posts and repost them to Facebook any time you want.
Wrapping Up
Posting your WordPress updates manually to Facebook can take a large chunk of your time, but with the use of a good app or plugin, you can have them automatically posted for you. You can even have them scheduled to be posted at the best times for social media interaction.
Did I leave out your favorite method? Do you have a trick, app, or plugin to share that will publish your WordPress posts to Facebook? I'd like to hear about it in the comments below!
Article thumbnail image by mayrum / shutterstock.com