Want to import your content directly from Google Docs to WordPress?
Not everyone enjoys crafting content using the WordPress visual editor, after all. Many people prefer to use the world's leading online word processing tool, Google Docs, to edit their first draft.
Of course, the main headache of taking this approach is having to migrate the content from Google Docs to WordPress. It eats up time that could be better spent elsewhere.
Fortunately, Wordable – recently rebranded from Postable – is a simple solution to this problem. It lets you import content from Google Docs to WordPress effortlessly. All it takes is a single mouse click.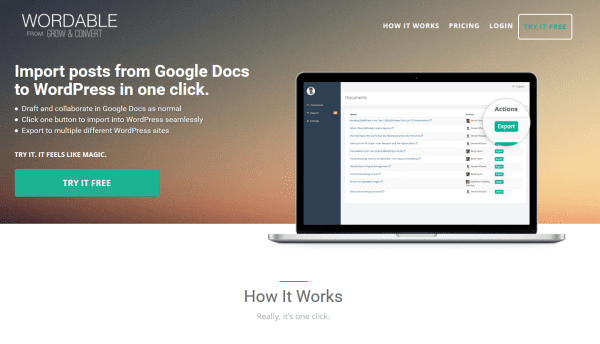 That means you're free to use all of Google Docs' features, including online collaboration, without the hassles of moving your content across to WordPress.
Sound good? Great, because today, I'm going to show you how quick and easy Wordable is to use.
How to Setup Wordable
Start by setting up a Wordable account. Access the Wordable website, then hit the Try it Free button in the top-right.

Now, you'll be asked to sign in to your Google account – we will be using Google Docs, after all.
On the next screen, you need to confirm the Wordable permissions by clicking the Allow button.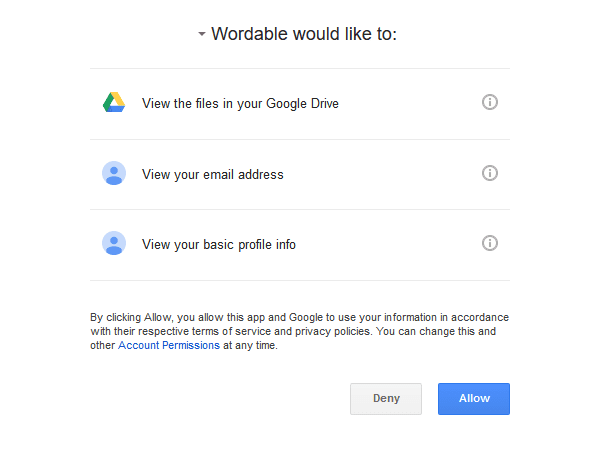 So far, so good. Now it's time to sync Wordable with your WordPress website. Make sure you connect it with the website you want the Google Docs posted to.
You need to input your site's URL, followed by the correct WordPress login credentials.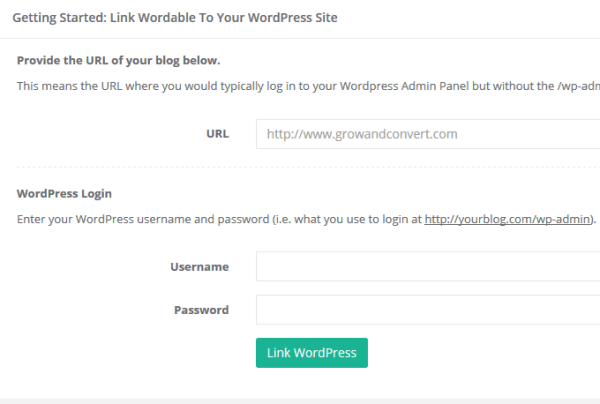 This will take you through to the Wordable dashboard. Here, you'll see a list of your existing Google Docs.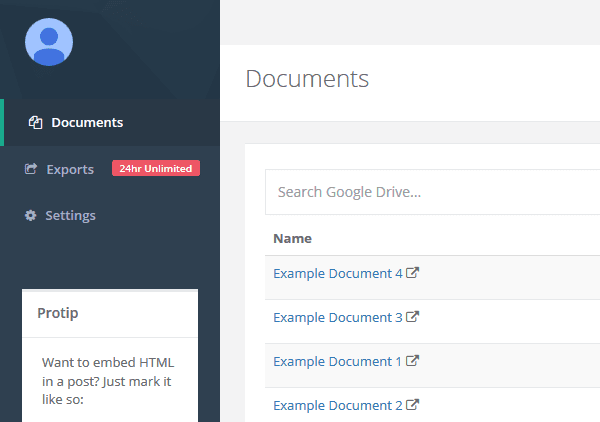 From Google Docs to WordPress
Let me quickly show you what happens if you want to create a new document. To do this, navigate to the Google Drive, then click New > Google Docs.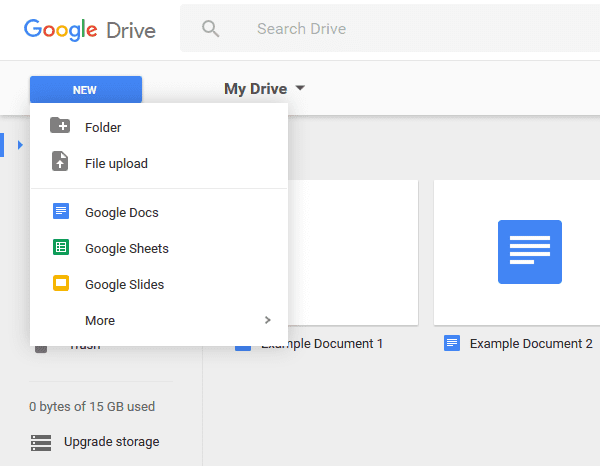 I want to put Wordable through its paces, so I created a dummy document.

The dummy document consisted of several formatting challenges you would likely see in a typical blog post, including:
Header tags
Bold and italic
Bullet list
Hyperlinks
Images
Now head back to the Wordable dashboard, click the Documents button to refresh, and there is the new document.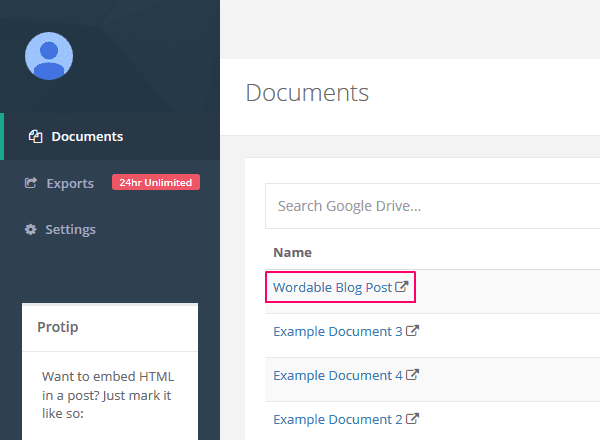 The next step is to migrate the Google Doc to WordPress. To do this, simply click the Export to WordPress button.

Exporting the document takes just a few seconds.

Now when I log into WordPress, there is my post.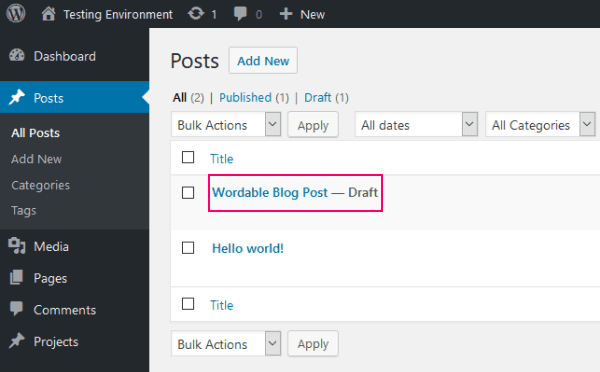 Wordable did a good job at migrating the content across. It passed every one of my simple formatting tests, as you'd expect.
Most impressively, Wordable exported all of the post's images to the WordPress media library. In my opinion, image exportation is the main benefit of using Wordable over copying and pasting. Copying and pasting works for the majority of the formatting, but you will have to manually upload your images to WordPress, then add them to your post – and this takes time.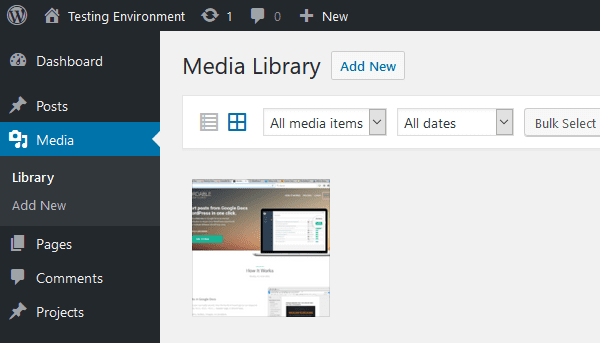 Wordable will only move the post from Google Docs to WordPress in draft form, though. The final step is to hit the Publish button next to the WordPress visual editor.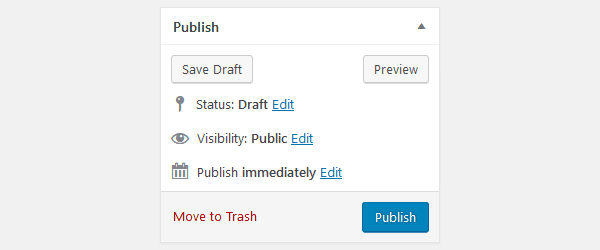 Job done!
Wordable Review
Overall, Wordable works pretty much as advertised – exporting from Google Docs to WordPress can be achieved in just a single mouse click (though this comes with a caveat).
The formatting of the post was excellent, with simple formatting challenges like bold, italics, and hyperlinks passed with flying colors. Most impressively, Wordable exported my Google Docs images into the WordPress media library, which was super-convenient. However, if you want to implement more advanced formatting – font sizing, colors, and alignments – Wordable falls short. I rarely use these formatting options, though, so for me this wasn't a big deal.
The whole process from start to finish took no more than a few seconds. However, Wordable was not without a few gripes.
First of all, actually publishing the post was more than a one click job. After completing my document, I had to log in to Wordable, click the one-click export button, then log in to WordPress, go to my post, and then hit publish.
Now, if you're bulk uploading posts from Google Docs to WordPress, this process is tolerable – you could import hundreds of posts in a few minutes, then publish them as you please. However, for a single article, the process felt like more hard work than I was expecting. A Google Docs extension or even the option to auto-publish the exported posts would not go amiss.
The big question is, of course, how does Wordable compare with the main alternative – copying and pasting?
Well, Wordable does save you time, though nothing like the 3.1 hours per document it claimed. Wordable also did a much better job with the formatting, plus copying and pasting does not import images. In short, Wordable definitely feels more effective, convenient, and less laborious than an old school copy-paste job.
The Verdict
So is Wordable worthwhile?
Well, that depends on who you are and how you plan to use Wordable – and how much you hate manually migrating from Google Docs to WordPress!
If you run just a single website and publish content infrequently, the $19/month price tag is probably a fairly big deterrent.
However, Wordable is targeted at larger networks of websites. The $19/month premium account offers unlimited exports and lets you connect your Wordable account with unlimited WordPress websites. In other words, you can collaborate with your team using Google Docs, and then use Wordable to manage all of your Google Docs to WordPress exportation needs from one central hub
If you're in charge of submitting lots of content to multiple clients' websites, this proposition probably sounds quite attractive – it can potentially save you a lot of time and effort, and all of a sudden, that $19/month price tag doesn't look bad at all.
For those of you still on the fence, you can try Wordable for free for 24 hours.
Are you using Wordable? How do you export content from Google Docs to WordPress? Share your thoughts in the comments below! If you are a Google Docs user looking for helpful info, checkout out our top ten Google Docs tips.
Article thumbnail image by Blan-k / shutterstock.com.