One thing I really love about the WordPress community is that its not always about commercial use cases. Just as often a plugin or theme is created because it serves to help WordPress users express themselves or share their thoughts easier–not just get more users/customers.
The topic of today's post is one of these instances. There are probably not a lot of commercial uses for turning a page of your WordPress site into a multi-network social stream but its fun, creative, and a good way to consolidate your content if you're an avid participant on a number of other platforms.
In fact, that's probably the best use case I can think of for these types of plugins. If you're the type of user who does not necessarily like creating standard WordPress blog posts but are actively providing quality status updates on facebook, tweets on twitter, videos on youtube, pins on pinterest, photos on instagram, and quick blog posts on tumblr–then putting all of that content in one place where you control it (and own it) may be very worth while.
It may even help to boost your social follows across platforms as it becomes a place for one follower group to be exposed to different types of content you produce elsewhere. If that sounds like something you'd like to be able to do, then these are the plugin solutions for you!
Free Plugin Options for Creating a WordPress Social Feed
The first two plugins we'll be looking at are free plugins from the WordPress Plugin Repository. But like many of the best free plugins out there, that doesn't mean they don't provide a lot of value.
In fact, unless your most active network is not supported by one of these two (or you absolutely need a feature built into one of the premium options) I would definitely recommend giving these a whirl.
Feed Them Social

Feed Them Social allows you to display custom feeds for Facebook pages, groups, events, albums, photos and covers. It also supports Twitter, Instagram, Pinterest, and YouTube.
You can use this plugin to pull in your own content or those of others. This could be useful for either compiling all of your social content in one place or for tracking and curating influencers on topics you're interested in.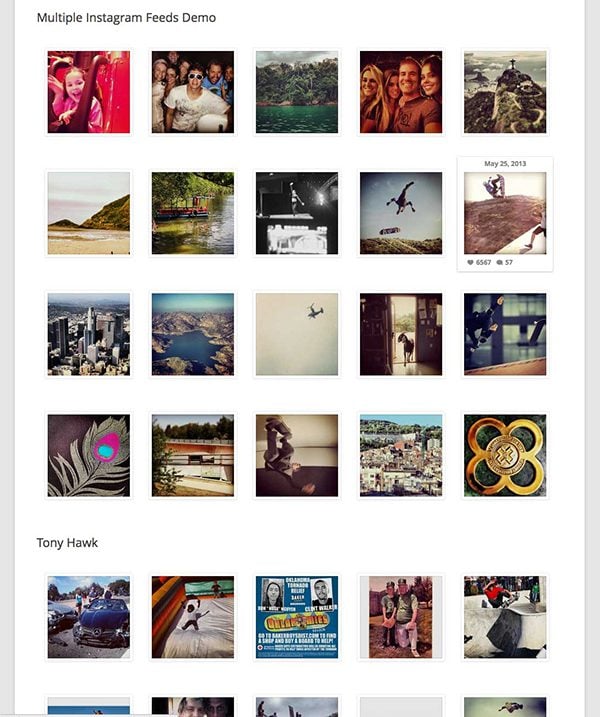 Key Features:
Pull social feeds into posts
Pull social feeds into pages
Pull social feeds into the sidebar
All via shortcode generator
Social Networks Included:
Facebook
Twitter
Instagram
YouTube
Pinterest
Download | View Demo | More Details
GC Social Wall

GC Social Wall is designed to pull your connected social feeds into one masonry style wall. When it's all set up, I think it has a sort of tumblr feel to it that I like a lot.
And like Feed Them Social above, you are not limited to just your own content. You can pull social content in from other users, or in the case of instagram, multiple types of filters including popular, tag, users, and location.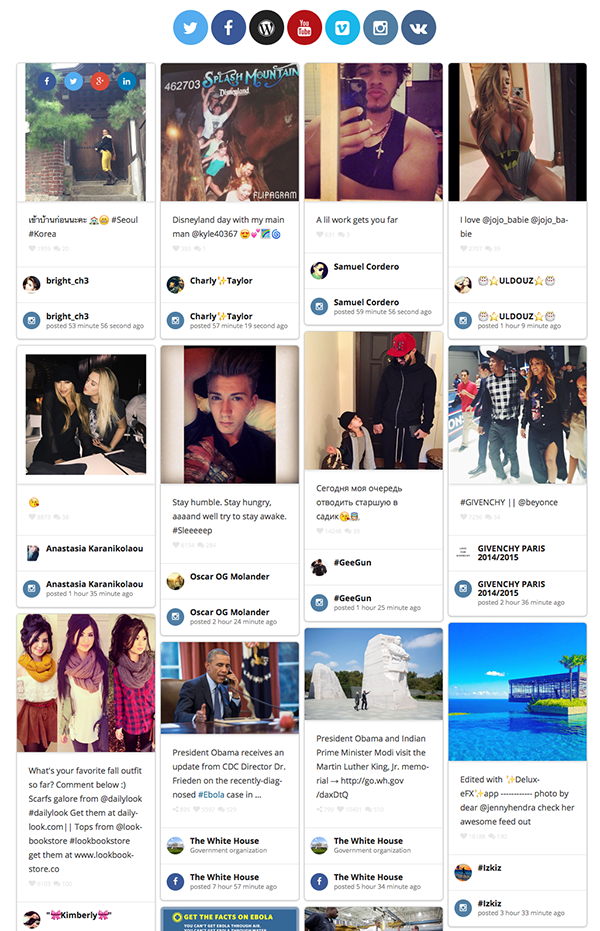 Key Features:
Support for custom social icon display
Social icons on post hover
Masonry style posts
Free support
How-to videos
Social Networks Included:
Twitter – user tweets
Facebook – page posts
WordPress – post types
YouTube – user videos
Vimeo – user videos
Instagram – popular, tag, user, location
VK – user wall posts
Download | View Demo | More Details
Premium Plugin Options for Creating a WordPress Social Feed
Next up we have our two premium options. Both are very affordable for the amount of power and functionality packed into them. If you love the concept but not the free options, I wouldn't hesitate trying one of these two instead.
WordPress Social Timeline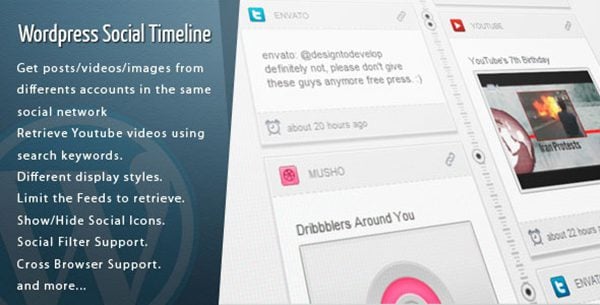 WordPress Social Timeline definitely takes it up a few notches from the free plugins featured above. It supports more social networks, has better display options, more features, and (I think) a nicer design.
Over-all this plugin really gives you a lot more control over the content that is brought in and how its displayed. Two of my favorite features are how it displays image and video content via lightbox (instead of taking people off of your website) and how you can design different timelines for multiples posts/pages/widgets. Check out the full feature list below to help dream up your favorite use for this cool plugin.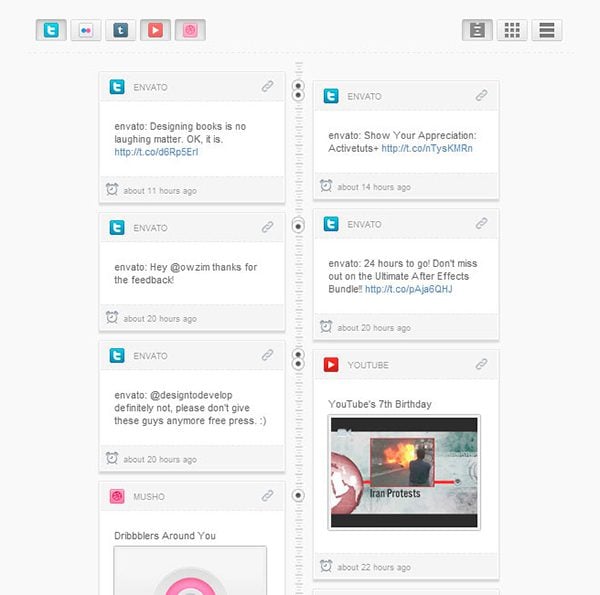 Key Features:
Can be used on pages, posts, or in the sidebar
Can have multiple timelines with different settings
Inserted via shortcode
Get posts/videos/images from different accounts in the same social network
Retrieve YouTube videos using search keywords
Choose from different display styles
Set filters on content feeds
Show/Hide social icons
Displays image and video content on page via lightbox
Translation
And more
Social Networks Included:
Twitter
Facebook
Instagram
500px
delicious
Flickr
Tumblr
Soundcloud
YouTube
dribbble
digg
Pinterest
Vimeo
Lastfm
RSS
Price: $13 | View Demo | More Details
WordPress Social Stream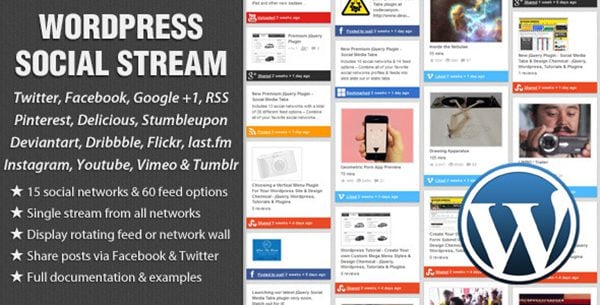 Finally we come to our last plugin option for creating a social feed with WordPress: WordPress Social Stream. This plugin is perhaps the best looking of all the plugin options with only one major drawback that I could find.
Unlike WordPress Social Timeline above, Social Stream does not display images and videos in a lightbox or on the page. Instead, if a post is clicked it immediately takes you to the source in a new tab. This isn't bad per se but it definitely encourages people to leave your site. Which, if I'm taking the time to curate something across multiple networks, I want people to stay right where I've gathered everything.
On the upside though, I think WordPress Social Stream is beautiful. Not only is its design great but its animations are smooth and filtering between social networks is a breeze. It also seems to have more feed options than any of the other plugins which means you have tighter control over the content you display.
If a future update of this plugin included the ability to view all content on the page then I would say this is the clear choice. It still may be for many based on its quality in other areas.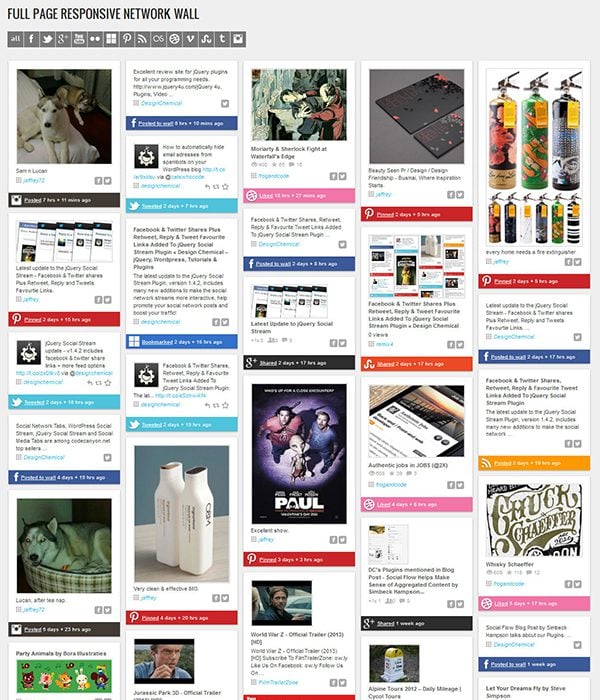 Key Features:
15 Social networks
60 feed options
Single stream for all networks
Display rotating feed or network wall
Share posts via Facebook, Twitter, Google+, and LinkedIn
Social Networks Included:
Twitter
Facebook
Google+
Instagram
Delicious
Stumbleupon
Pinterest
Dribbble
YouTube
Vimeo
Flickr
Last.fm
Deviantart
Tumblr
RSS
Price: $16 | View Demo | More Details
In Conclusion
After spending some time with each of these plugins I sort of wish I had a good excuse to use one on a regular basis. I especially like the two premium options because they offer more control, a better design, and more content sources.
I'm torn between which of the two premium options I like the best though. Like I said above, I think the clear victor between them would be WordPress Social Stream if it did not take visitors away from your site for click on content.
However, I also happen to think that it is possible that its design and sharing features may still give it an edge over Timeline. But, I can't say for sure without spending more time playing around with them. If you have, then I'd be really interested in hearing your thoughts in the comments below.
Finally, the two dominant use cases I can see these plugins being put to use for are either creating a central hub for your own social media content (which you own and control) or using a special page, post, or sidebar feed to actively curate content from around the web in certain niches.
I could see this tool really empowering someone talented at curation but without a good central hub.
But what are your thoughts? Do you like these types of plugins? Would you use one? Share your opinions with us in the comments below!
Thumbnail image via Max Griboedov // shutterstock.com