In today's tutorial, we're going to show you something you might have thought of doing but never knew how; changing your default blog category from uncategorized into something else. By default, the category of your posts will automatically be 'uncategorized' if you don't decide to assign another category to it manually. Uncategorized is, technically, a category as well. Each post you create has to belong to a category. It's just part of how the posts in WordPress are structured. That's why you can't delete the uncategorized category.
Before diving into the final solution, we'll first give you some reasons on why you should use categories and why you potentially would want to change your default blog category to something else than uncategorized.
Why Use Categories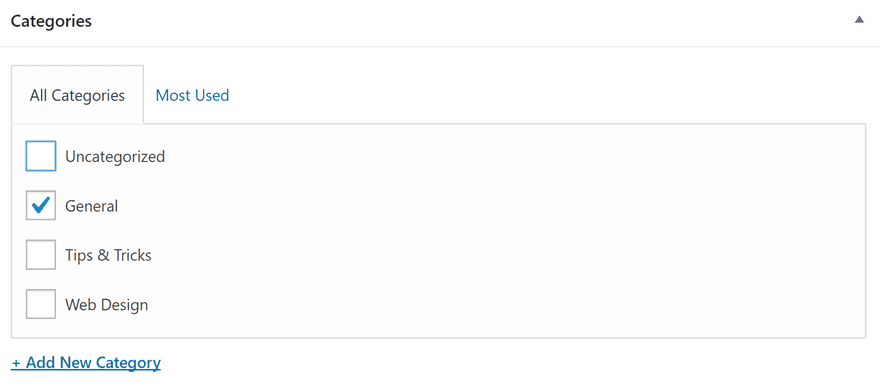 Using categories can really bring added value to your WordPress website. That's why we'd like to share some reasons briefly before going to the next part of this post.
SEO & User Experience Purposes
Using categories is one of those things that benefit your website's SEO and user experience in the long term. Your users will more quickly find their way through the articles they like, without having to put in too much effort. And if they immediately have the ability to click through without having to look for topics, your bounce rate will go down.
Organization Reflects Dedication
Creating categories and assigning your posts to those categories is in overall not such a big effort to put in. However, the organization you'll notice on your WordPress Dashboard is the same organization your visitors will experience on your website. It's all about creating a certain habit of classifying the post you create. After a while, it'll just feel natural. Having this organization on your website is especially important when you have returning visitors. These visitors will, after a while, know your website by heart. If you offer them that consistency, they won't feel like they're losing their way on your website.
Category-Based Sharing
Another big advantage you have is category-based sharing. Your website or blog might be handling various topics. But that doesn't mean that every visitor is necessarily interested in all the topics that are provided. The categories do a very good job at classifying the different posts into a certain category. And if someone wants to share posts related to that category only, they'll have that possibility. Focus and expertise lead to appreciation from the audience. Instead of building content for the different buyer personas in your audience, you kind of segment the content which leads to a more personal and succeeding approach.
For Divi Users: Category Use Within The Divi Builder
Another advantage worth mentioning is the fact that some modules let you display per category. You can, thus, dedicate pages to one specific audience and finish off with some posts of your website that are within the category that is relevant to that page. The modules that allow you to display posts per category are the Fullwidth Post Slider Module and the Post Slider Module.
Why Change Your Default Blog Category to Something Else Than Uncategorized
Now, you might have already created your categories (or you're about to) but you're still wondering: why change my default blog category into something else? Let's have a look at two reasons that may help you figure out if this is your way to go.
In Case You Forget Changing it Manually
One of the reasons why you might want to set your default blog category to something else is in case you forget sometimes. Writing and finishing a good blog post requires a lot of work behind the scenes. It's not uncommon that you forget to change something while being focused on something else. And in case you're the one to publish the posts, this can go unnoticed for a while. For people who read a blog by category only, that means they won't have any knowledge of the blog post you created and put so much effort into.
However, if you have a general category that you can standardly assign to posts,  you'll still reach a part of that audience that visits your blog by category.
When You Get New Content Writers on Board
If you're producing a lot of content, you'll probably need to hire freelance writers or staff writers after a while to keep up with the growth of your website. Learning the organizational structure of a company takes time. Every new contributor or staff member has to get used to the different approaches that the company uses. By setting a default category other than uncategorized, you're already making sure the post won't end up in the forgotten category of your website.
Change Your Default Blog Category
In the last part of this post, we're going to show you how to actually change your default blog category.
Creating Different Categories For Your Website
The first thing you'll need to do, if haven't done that yet, is create different categories for your posts. To do that, go to your WordPress Dashboard > Posts > Categories.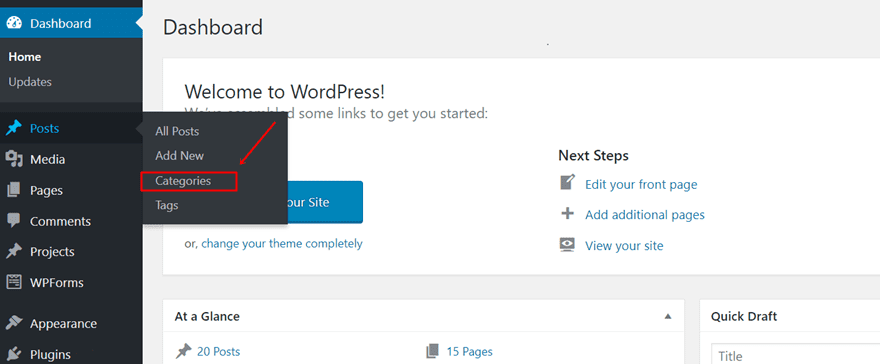 In the form located on the left side of the page, add as many categories as you want. Make sure you have a category that matches all of your other categories as well (such as general).

Assigning Posts to The Categories
The next thing you'll need to do is assign your posts to categories. To do that, go to each post individually and change the category to the category it belongs to.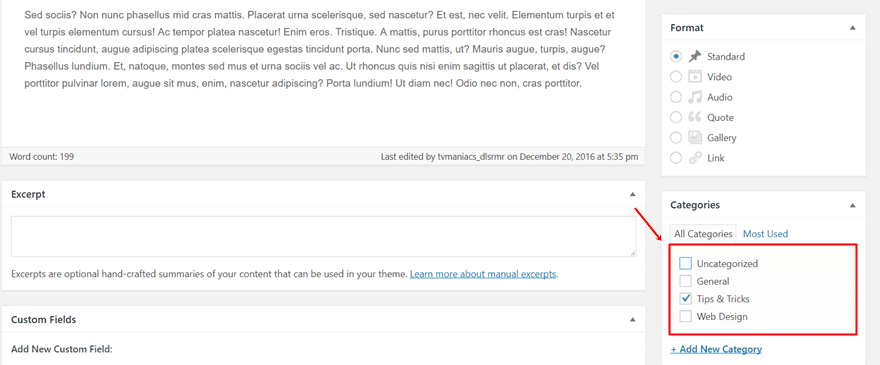 Choose Your Most General Category
After having gone through the two previous steps, it's time to pick the most general topic. This topic is usually something like 'general'. Choosing your most general topic will, in most cases, probably be the most used category. And even if you ever were to forget to change the category of one of your posts, the chances are pretty high the post is still relevant to that category.
Change Your Default Blog Category
After you've chosen your most general category,  you can go ahead and change your default blog category. To do that, go to your WordPress Dashboard >  Settings > Writing > Default Post Category > Select the most general topic you've chosen in the previous part of this post.

Final Thoughts
In this post, we've provided you with some additional information about blog categories. More precisely; we've shown you why and when to use blog post categories and why you should consider changing your default blog category. We also provided you with the easy solution to making the change to your website right away. If you have any questions or suggestions, feel free to leave a comment in the comment section below!
Be sure to subscribe to our email newsletter and YouTube channel so that you never miss a big announcement, useful tip, or Divi freebie!
Featured Image by kristinasavkov / shutterstock.com