Companies have worked on building their brand for as long as companies have been in existence. We recognize brands just from their logo or colors. We visit their websites and social media networks. We even share their content with our own networks.
Building a brand isn't just for business. In fact, we all have a personal brand. Just like any brand, building a personal brand is something that will happen online with or without our input. But you can take control of your personal brand and turn it into what you want it to be. How? Using the same tools and techniques that businesses use to build their brands.
Materials used for brand-building have included brochures, business cards, Facebook and Twitter accounts, LinkedIn, and of course websites. Building a personal brand is just as important as building a company brand. This is true even if you build your company's brand apart from your own. What do I mean by this?
Let's say you're a writer that writes tutorials about WordPress. You have a website that focuses on WordPress tutorials and the site is known by its tutorial branded name and not by your name. If you guest post on another site, the post will be more important and valuable to readers of the site if they are familiar with you and your work. Not just "a gal that writes on that site," but you… they know you by your name. You have your own platform; your own brand.
You can use your WordPress website as your hub to the world. Visitors might connect with you on one site or network, find your website, and then connect with you on other networks. And using WordPress is a great way to build your personal brand. This article will look at how to do this with the purpose of promoting your work and services. However, aside from a portfolio and services, these ideas work just as well even if you don't provide services. Let's take a look at what's involved in building your personal brand, and then we'll take a look at how to build your brand using WordPress.
Elements of a Personal Brand
When you think about your brand, think about how your potential clients will interact with it. Think about how they will recognize your brand and share your information. Here are some of the ways they can learn about you and your brand:
Your name and URL
Your services
Your connections
Your portfolio
Your social network
Your contact information
Your website
Your "About Me" page
Your email URL
Your bio
Google Yourself
Use Google and other search engines to audit your online presence. Knowing your current status (or the current status of others with the same name as you) will give you a starting point in building your brand. Keep a check on what others are saying. Use alerts so you know when others mention you. If you do come across a situation that needs to be addressed, respond and resolve issues as quickly and professionally as you can.
Your Personally Branded WordPress Website and Email
Building your personal brand is about promoting yourself. Your URL should be your name, or at least a variation on your name that is available. Try to get a .com. This is important even if you use a different website to work from. Why? Because you can use it as your email address–even if you just use the URL as a redirect to your primary site. If I got an email from an address like [email protected] telling me they could improve my SEO I'd delete it straight away. Your email address should look professional and send your clients to the website you want them to go to.
Your Website's Design
Use a theme that looks and works well. You want to look professional. Use colors and fonts that match your brand. Use images and categories that portray the kind of work you do. Elegant Themes' portfolio themes do this nicely.
Logo
A logo is one of the most identifiable branding elements. Clients will recognize it instantly. WordPress lets you take advantage of your logo by letting you place it front and center on your website.
Develop a sharp logo that stands out and is easily identifiable. Think about Facebook, Twitter, and Pinterest. Did their logos come to mind? You can picture them in your mind and you recognize them immediately. They're simple, yet identifiable. They're distinguishable. They look great on mobile devices.
Your logo should tell your story without much effort. If possible, hire a designer to create your logo for you. Hire a designer that gets the foundational message of your mission (you don't have to pay that much). If you have to create your own, draw pictures that relates to your mission and will connect you with your readers.
Colors
Just like your logo, the colors you use say a lot about your brand. You want to use colors that your clients can associate with your brand. For example, when you think about Barbie, you think about a specific shade of pink (Barbie Pink – for real). You can do the same thing with your WordPress site. Use your color-pickers and specify color combinations to represent your brand. When readers see those colors they will think about you.
Produce Relevant Content
When you own a blog you have the ability to produce any kind of content you want. Resist. Resist the urge to publish anything and everything that crosses your mind. Resist the urge to rant about the cab-driver that took you the wrong way, or that guy that pulled into your lane without looking.
Produce content on your specific topic that others will want to read. Produce content that others will want to share. Give readers a reason to come back to your website. Create in-depth articles and reviews that your readers will find helpful.
The same goes for sharing content. Share content that will add value to your followers. Associate yourself with strong brands in your topic. Give good and proper links to other quality sites and articles. Don't plagiarize. Cite your work and give proper references.
Your Portfolio – Samples of Your Work
The work you do tells your readers a lot about you. Even if you're not trying to sell through your site, your WordPress site could include samples of your work. This can be a page that includes a gallery, a list of samples with links, and an image in a widget in your sidebar. You can feature a sample on your home page using your featured slider. You can do this with a portfolio theme, or you can use a plugin that adds some nifty features.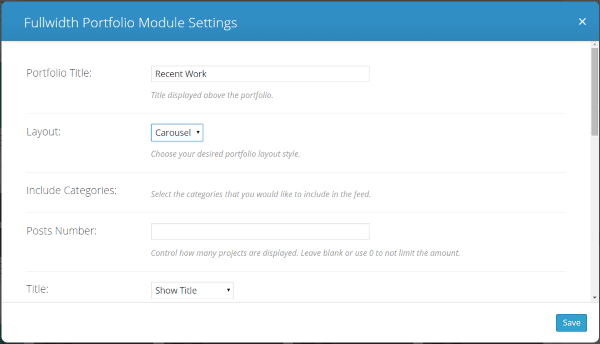 Divi includes a portfolio module that's super easy to use. Just create a page using the page-builder and add the module. Then select which categories to use in your portfolio and then show them as either a carousel or a grid. You can make as many portfolios as you want. You can also build a filterable portfolio.
Divi is part of the $69 per year Personal plan that includes access to all themes, perpetual updates, and premium support.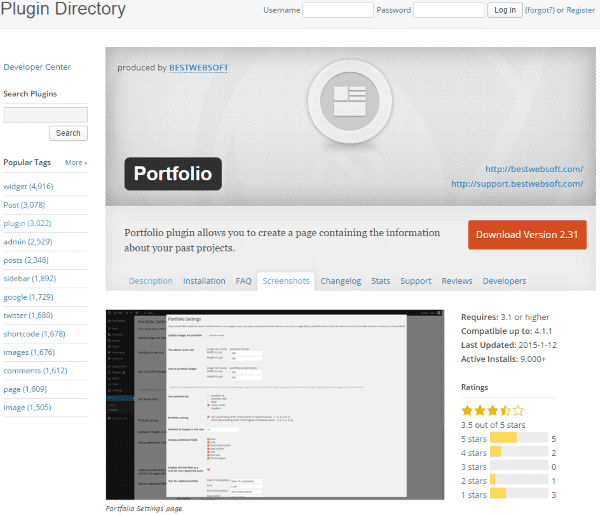 This free plugin lets you add images (which can be screenshots of your samples), and then place links on each one. You can determine the thumbnail and image sizes and choose how many images to show. You can sort them by date, titles, random, etc. It will show text that includes information about the project, a link, and more. It adds a portfolio tab to your dashboard. You create the portfolio details just like you would create a post. You then create a page and select the portfolio template in the page attributes. It's simple to use and looks great.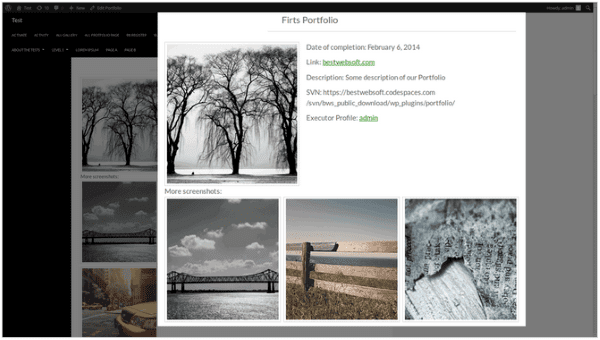 Services You Provide
Along with your portfolio will be a page that tells the types of services you provide. You can so this by writing your services on a page, creating graphics, using a theme with this built in, or using a plugin.
Divi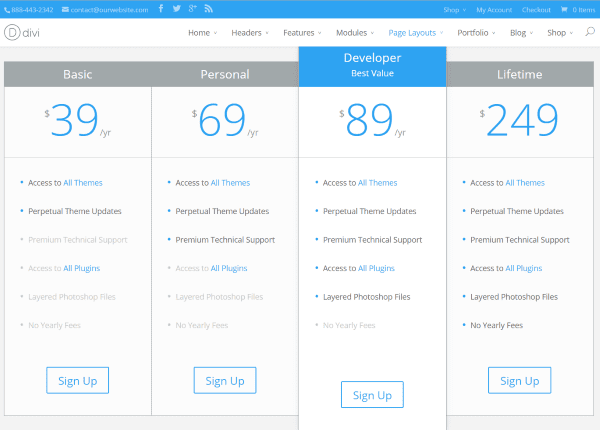 ET's theme Divi has modules that let you create pages to show off your services in a neat table complete with pricing and features. You create a layout using a module called Pricing Table. You then fill in the details. You can even add images, links, HTML, and more. You can make the table featured if you want. And you can have as many pricing tables as you want.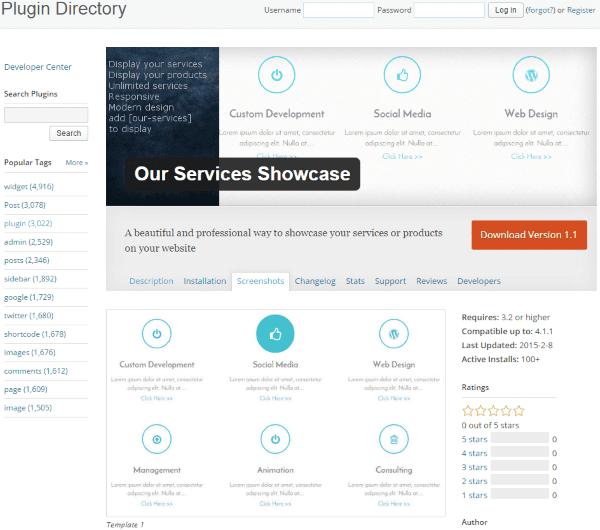 This free plugin lets you create services in the same way that you create a post. It provides icons that change size as you mouse over them. You can choose from two different templates and customize the font sizes and colors. You choose how many services to display and the text for the link. You can have as many services as you want. You can place the list of services on any page or post with a simple shortcode. The result is clean and elegant and it's responsive.
One of the most important tools you have at your disposal is your social network. Make your social network activities visible so other can follow and connect with you.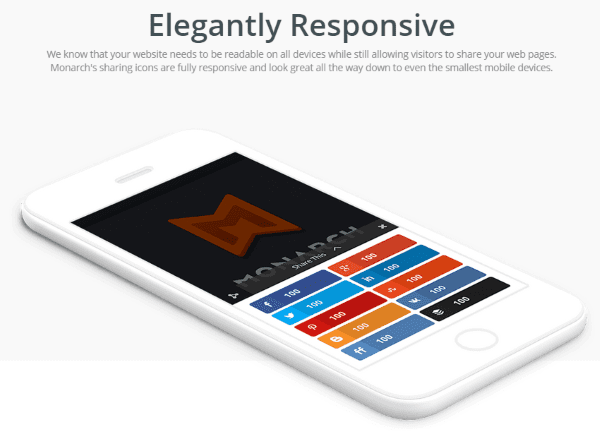 Monarch is ET's social media plugin that was designed to get you more followers and shares. You can place it in five different locations on your site, on images and video, and have it to automatically pop up or fly in based on three different triggers. It has several different icon styles and you can customize your own colors. It includes counts of shares. It even has a dashboard where you can adjust your settings and see your stats. You can import and export your data.
Monarch is part of the $89 per year Developer plan that includes access to all themes, plugins, layered PSD files, perpetual updates, and premium support.
Your Bio
You should place your bio at the end of any content you write. Spend some time and write a great bio that rocks. It should establish who you are, what you do, and tell if you are available for hire. It will let you hype and sell yourself as a professional in your field.
Notice that my bio appears at the bottom of this article. It shows my picture set apart from the rest of the content, then my name as a large title. Then there are two sentences about me. The first tells what I do and where I am from. This establishes my credibility as a professional. The next sentence is a little about my lifestyle and hobbies. It shows that I am a real person that you can relate to, making me personal. You know from this that I like coffee and sci-fi. It's more interesting and even has some humor, giving potential clients and followers a better idea of what to expect if they reached out to me.
I have a real personality and this personality will show through in my writing. Sonic screwdriver. (I just proved my point, in case you were wondering what I just did there). I've always wondered what would happen if a DeLorean drove into a Police box doing 88 MPH. Talk about not needing roads…
You can use the little bio section in your WordPress profile, but a by far better choice is using a plugin to create a fancy bio.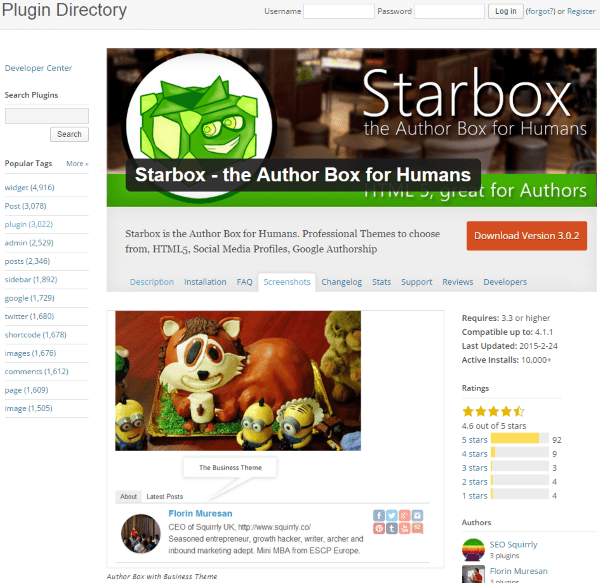 This free plugin will show your photo, your name, your bio info, provide social media links so your fans can follow you, and has a tab with your latest posts. It was designed to be pretty and capture the attention of your readers. It will use the bio info that you've placed in your WordPress user bio. You can place the bio in your posts and as a shortcode in widgets. You can choose its size, position, and one of six themes. Plus, it's very easy to set up and use.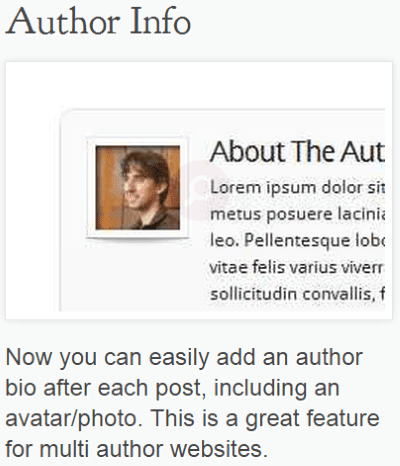 You can also place bio information in any post or page using ET's shortcodes. It adds a button to your visual editor called Add Author Bio. You simply click the button, supply a URL for the image, choose whether or not to allow resizing, add your bio information, and click OK. It will add the bio after the post.
ET Shortcodes is part of the $89 per year Developer plan that includes access to all themes, plugins, layered PSD files, perpetual updates, and premium support.
About Me
You can easily create an About Me page that includes some good information about who you are and what you're all about. You can take this a couple of steps further by including widget in your sidebar, such as those that come with many ET themes or an About.me widget.
ET About Me Widget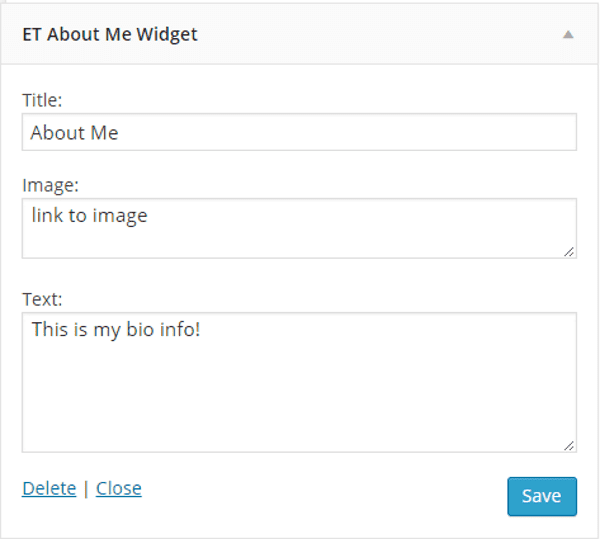 The ET About Me Widget lets you title the widget, place a link to the image you want to use, and write a short bio. It's a quick and easy way to display your bio in your sidebar. You can even include HTML if you want.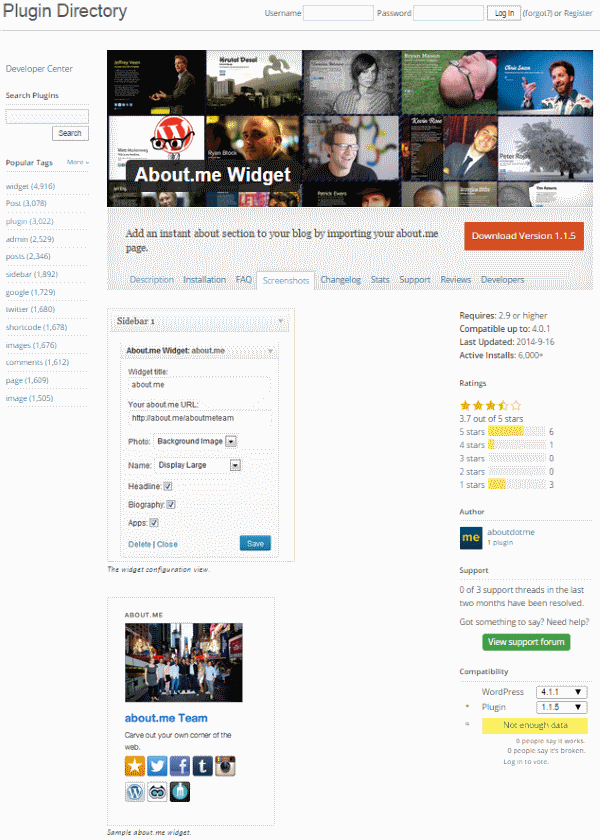 One more thing to consider is integrating your About Me page from a social networking website called About.me. About.me is an interesting site for self-promotion that anyone can, and should, use to the greatest extent. Once you've set up your About.me account and filled in all of the information, you can integrate your page into a widget on your WordPress website.
This free plugin will include your photo, your text with URLs, and your social media links. You can customize how the information displays within the widget. You can choose between background photo, bio photo, or to not show a photo. You can choose how large your name displays, or to not display it. You can choose to whether or not to show your headline, bio, and apps. It is very simple and easy to use. Once you make changes at About.me, those changes are made on every site that you use this widget. This allows you to change information in one place and it is reflected everywhere you need it.
Contact Information
Rather than just a contact page (which you should have) you can also display your contact information on your site. You can easily do this by using text in a widget. Another way to do this is by placing it in the header with something like GC Message Bar or a theme that has this function built in like Divi.
Divi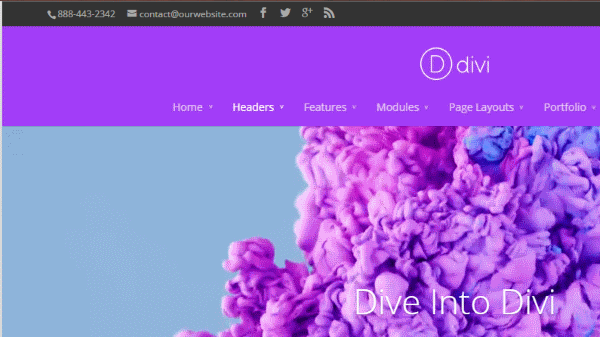 Divi lets you place a bar in the header that keeps your phone number and email on the screen at all times. As visitors scroll down the page, the header will shrink slightly but remain on the page. This places your contact information within their line of sight and keeps it there without it being disruptive to your content. It also includes links to your social networks and RSS.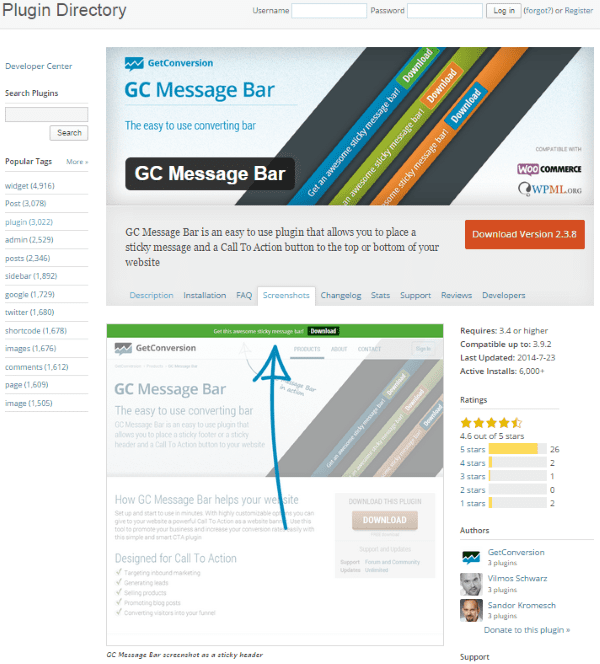 This free plugin lets you place a message bar at the top or bottom of our screen. You can customize the message any way you want, so you can use this to place your phone number and email address on your site. It has a button that can lead to any URL you want it to (such as your contact page). The bar remains in place as visitor's scroll up or down, so your information is always available to them. It has many styles to choose from and you can customize it to match your site.
Wrapping Up
Whether you're doing business or not, WordPress is an amazing tool for building your personal brand. With just a few tools and techniques your WordPress site can help you build a personal brand that is recognizable and one that others will share and follow.
How about you? Have you built your personal brand with WordPress? Did you use the plugins and techniques that I mentioned here? Did I leave out something that you would like to add? I'd like to hear about it in the comments below!
Article thumbnail image by Bloomua / shutterstock.com