Facebook needs no introduction. Today it boasts over 1.6 billion monthly active users, and if you haven't extended your marketing efforts onto the platform yet, it begs the question – what on earth are you waiting for?
Well, the good news is that getting started with marketing on Facebook is honestly not that hard – anyone can create a page and start accumulating a following right away. Doing it right, however, will require you to get acquainted with a multitude of tools in order to maximize the efficacy of your efforts. You'll need to engage with your followers, track your analytics, manage your ad campaigns, and know exactly which content to publish and when.
Thankfully, given Facebook's popularity, there are hundreds of such tools available to help you kickstart your marketing efforts. Let's take a look at our favorite 12 of them.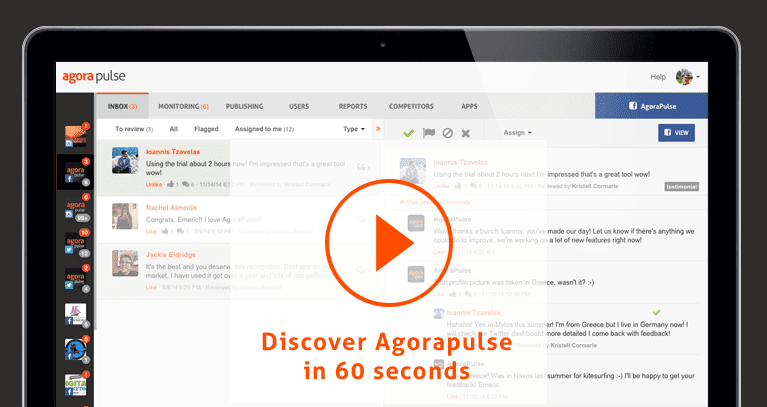 Agora Pulse is a social media management platform that offers solutions for multiple platforms such as Twitter, Instagram, LinkedIn, Google+, Youtube, and, of course, Facebook. The platform provides users with their own social media inboxes to keep track of their incoming interactions, analytics reports, and comprehensive data regarding their followers, among other tools.
Features:
Enables you to handle publishing (including scheduling options) to multiple social media platforms from a single dashboard.
Automatically filters incoming interactions to platform-specific inboxes.
Collects new content from all your feeds into a single daily report.
A notification system enables you to keep track of new interactions as they occur.
An automatic moderation system provides you with the option of creating custom rules, to keep your social media pages clean.
Provides you with a tracking system for your Facebook shares and mentions.
Comprehensive analytics system with reports that can be easily exported to PowerPoint.
Includes multiple Facebook-only tools such as a quiz application, photo contests, sweepstakes, personality tests, fan voting, and even a coupon app.
Price: Starts at $15 per month | More information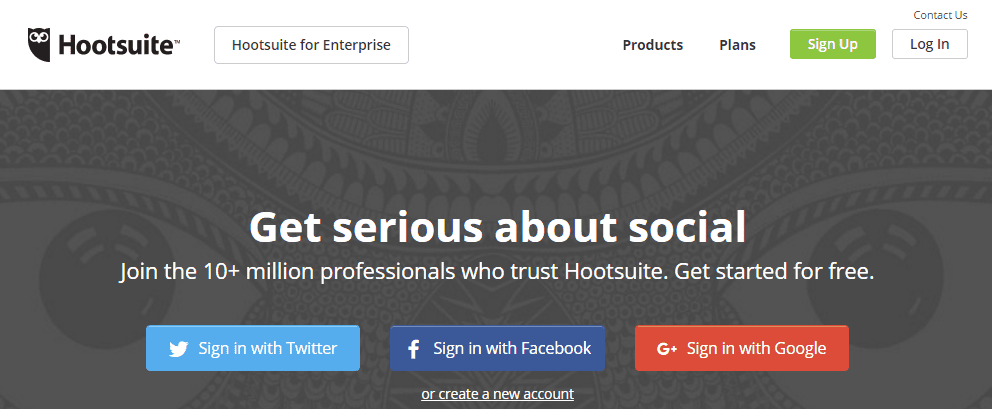 Hootsuite is another multi-platform social media management tool that offers support for pretty much every platform available at the moment. As far as Facebook is concerned, Hootsuite offers solutions for engaging with followers, publishing new content, analytics reports, follower insights, and advertising.
Features:
Quickly respond to social media interactions from a single dashboard, which also enables you to create automated responses.
Use filters to narrow down interactions from followers located in a specific area, or using a particular language.
Manage your publishing duties with scheduling tools, targeted content, and the ability to designate specific team leaders who have final approval over everything that gets published onto your social media pages.
Track engagement thanks to thorough analytics reports, which can be automatically shared among your team.
Provides you with information regarding the best times to publish new content based on past activity trends.
Includes support for Facebook ads.
Price: Free, with premium plans starting at $8.99 per month | More information
Buffer is an easy-to-use platform that enables you to manage all of your pages and accounts from the same place. While it may not feature the functionality of the previous two entries in this round-up, Buffer is an overall much simpler to use platform. It's a solid tool for small enterprises that would benefit from a comprehensive Facebook marketing tool.
Features:
Enables you to create and schedule your Facebook posts (as well as multiple other media platforms) from its dashboard.
Includes its own powerful graphics editor which provides you with the necessary tools to make your images stand out.
Using either its browser extension, iOS, or Android apps, you can automatically add content from across the web to a sharing queue for your social media accounts.
Price: Free, with premium plans starting at $10 per month | More information

Oktopost is yet another social media management platform, albeit one designed explicitly as a business-to-business (B2B) solution. This distinction comes, of course, with a higher price tag, albeit one well worth the price for those businesses looking for an upscale solution.
Features:
Enables you to manage your social media publishing strategy through Oktopost campaigns, featuring categories and extensive analytics.
Provides you with a detailed editorial calendar.
Using queues, you can add posts to your existing calendar, and let Oktopost automatically assign them to previously customized time slots for maximized efficiency.
Includes social acquisition statistics, which track conversions driven by your social media activities.
The analytics platform tracks which kinds of content perform better for different audiences.
Comes with a built-in content curation engine, which helps you discover relevant content for your social media accounts.
Price: From $400 per month | More information

Socialbakers Analytics is a company dedicated to providing a thorough analytics solution focused on social media platforms, including Facebook. Using their platform, users can access information regarding the performance of competing brands and pages, and track general industry trends.
Features:
Enables you to compare the performance of your content to your competition, custom groups, or simply measure it against overall industry trends.
Track how your organic content is faring against its promoted counterparts.
Provides you with detailed reports, which can be set to be automatically delivered at specified intervals.
Includes thorough analytics regarding your Facebook advertising campaigns.
Price: From $75 per month | More information

While on the surface DrumUp looks like another social media management platform, in truth this service is mostly focused on automating your content strategy and marketing efforts. Using DrumUp, you can sharply cut down on the time spent managing your Facebook pages, thanks to its curated list of content recommendations, scheduling tools, and mobile apps for updates on the go.
Features:
DrumUp automatically looks through the web in order to find high-quality content relevant to your followers, which is crucial to increasing your following.
Aside from Facebook, it also offers support for Twitter and LinkedIn accounts.
Provides you with hashtag recommendations for your content, to maximize the number of viewers for your content.
Includes smart scheduling tools.
Chrome extension, iOS, and Android apps are available to manage your account from anywhere.
Price: From $19 per month | More information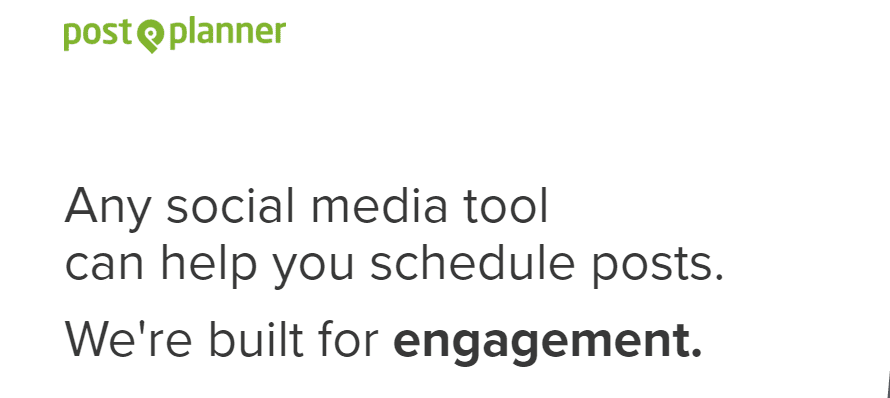 Post Planner is a service that helps users find the most engaging content for their particular fields, and helps them schedule it for the perfect time – maximizing the number of people that will be exposed to it on Facebook. Its focus on maximizing engagement through simple curation, and its low price point, make it a great choice for small businesses looking for a boost to their Facebook marketing strategy.
Features:
Provides you with curated content tailored to your followers, to maximize viewer engagement on your Facebook page.
A simple scheduling tool enables you to plan your content strategy months in advance to boost your productivity.
Includes a recycling feature which, when enabled, will reuse your popular content after a decent period of time.
Price: Starts at $7 per month | More information

Pagemodo is a platform meant to help users create a Facebook social media presence from scratch, and provide them with the necessary tools for growth in the long term. In order to achieve this, they provide you with a simple cover photo and welcome tab design tools, as well as post designers – and that's without going into their management functions.
Features:
Provides you with the right tools to design a professional-looking Facebook page from scratch, and simultaneously launch your social media marketing efforts.
Start selling your products right away, thanks to custom tabs and contest creation tools.
Enables you to provide coupons on your Facebook page.
Suggested posts feature will help you find engaging content and then schedule it in advance.
Price: From $4.50 per month | More information

LikeAlyzer is a no-frills tool that provides you with an analysis of any Facebook page you want, including analytics information and Facebook statistics. While the main page itself doesn't look like much, the tool it provides is pretty darn useful for anyone looking to gain a quick insight into their Facebook performance at no cost and in a matter of minutes.
Features:
Generates a report for your Facebook page with a single click.
Provides you with an overall performance score, as well as the median scores of the competition regarding content publishing rates, and the average number of likes.
Tells you exactly how many likes your publications have accrued, as well as the rate at which your likes are growing.
Tracks your engagement statistics.
Price: Free | More information

Qwaya is a Facebook ads manager tool for marketing professionals, which provides them with multiple key functions to manage their work from a single platform. For example, using Qwaya, you can conduct powerful A/B tests by using Facebook's data to target only the audience you want.
Features:
Powerful A/B testing tool for your ad campaigns.
Enables you to automate the structure of your ads, so you can handle larger campaigns more easily.
Provides you with timing information to maximize the return on your ads by running them during the most effective windows.
Integration with Google Analytics right from your dashboard.
Add tracking URLs to your ads, such as those provided by Google Analytics, so you can link them to third party tools.
Price: From $149 per month | More information

Driftrock is an ad campaign manager for Facebook, tailored as a B2B solution that has served prestigious customers such as BMW and Coca-Cola. This tool provides you with a customer relationship management platform to increase your Facebook leads, and make sure that your ads are displayed during the best time windows, among other functions.
Features:
Helps you increase your lead conversion rates through a comprehensive customer relationship management system.
Schedules your ads for peak conversion times.
Its smart ad creation technology helps you cut down on ad costs, while maximizing their efficacy.
Enables you to create dynamic ads, which are updated as your stock moves.
Price: Price on request | More information

AdRoll is a marketing platform that works with over 500 ad exchanges in total, including social media giants such as Twitter, Google+, and Facebook. Their Facebook services are focused on retargeting tools, reach maximization, and the use of predictive technology to increase conversions.
Features:
Provides you with early access to the newest Facebook ads features.
Makes sure that your ads are designed with mobile devices in mind to maximize their reach.
Save money on your campaigns by letting AdRoll bid for you.
Automatically schedule your ads so they display at the best possible times.
Price: Depends on the size of your campaign | More information
Conclusion
Gaining a foothold on Facebook from a marketing perspective may not be the simplest of endeavors, but if you put in the time and pick the right tools, the potential rewards can be incredibly good.
If you're not sure exactly where to begin, let's do a quick recap of which tools to use for which purpose before wrapping things up:
Do you feel these tools will impact your Facebook marketing efforts positively, and is there anything they lack? Subscribe and share your experience with us in the comments section below!
Article thumbnail image by Ivan Ryabokon / shutterstock.com