Did you know that there are around 500 million Tweets sent every single day? That means that, no matter how well-written your Tweet is, there's a very good chance your audience might simply miss it. And it's the same with other social networks – it's getting easier and easier for your posts to get lost in people's busy news feeds. That's why it pays to reshare old WordPress content multiple times over its lifespan.
In this post, I'm going to show you exactly how to do that automatically by using a handy plugin called Revive Old Post. It's free and easy to use.
The first reason to reshare old content is to better reach your existing readers. There are two main reasons your current readers might not see your posts:
It gets lost in their feed. Or, because many social networks are decreasing the organic reach of posts, it might just never show up in their feed in the first place.
They're located in a different timezone and aren't online when your first post goes live.
Resharing your content can fix both of these problems. You can reshare in your main time zone to give those readers another chance to catch your post in their news feed, and you can also share in different time zones to make it easy for your global readers to see your posts.
Another reason you need to reshare content is to reach new potential readers. If your blog is growing, your social audience will grow as well. That means you might have followers today who never had a chance to see your old posts. Resharing content will allow you to reach these new social followers and get them into your back catalog of content.
These aren't just pie-in-the-sky ideas either, Tomasz Tunguz found that reshared content on Twitter still got a significant number of retweets (though there was a dropoff from the first share).
Resharing Old Content Using Revive Old Post
Revive Old Post is a popular plugin that allows you to automatically share and reshare your content. In the free version of the plugin, you can:
Share new posts that you publish as well as reshare old posts
Choose the minimum time delay between social posts
Choose how many posts to share
Use specific hashtags in your shares
Include links that go back to your site
Exclude categories or specific posts from being shared
If you upgrade to the pro version, you'll also get custom post types support, the ability to use multiple social accounts, LinkedIn support, custom scheduling, and more.
For the purposes of this post, though, I'll be using the free version.
Installing and Configuring Revive Old Post
You can install Revive Old Post like any other plugin. Once you activate it, you'll see a new tab in your dashboard: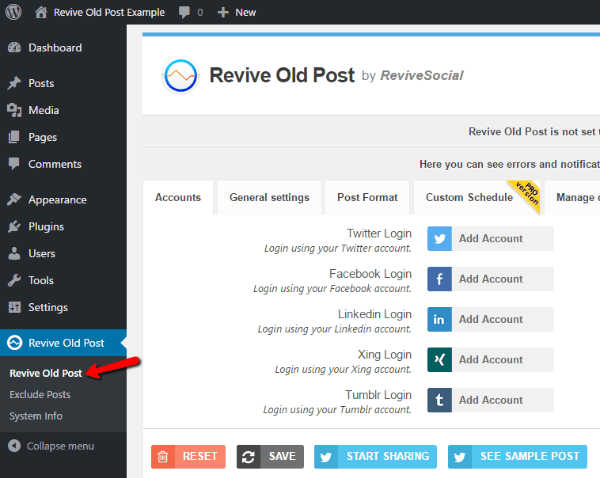 Here's everything you can do from the Revive Old Post tab:
Accounts – link the social accounts you want to automatically share to.
General Settings – set details like the minimum time between shares, how old a post should be before resharing, and more.
Post Format – choose the format and content to include in your social shares.
Custom Schedule (Pro Only) – create a custom schedule for sharing your content.
And in the Exclude Posts tab, you can exclude individual posts from being automatically reshared:

The first thing you'll want to do after activating Revive Old Post is to link the social accounts you want to use.
First, go to the main settings page for the plugin. Then, all you need to do is click Add Account by the social network you want: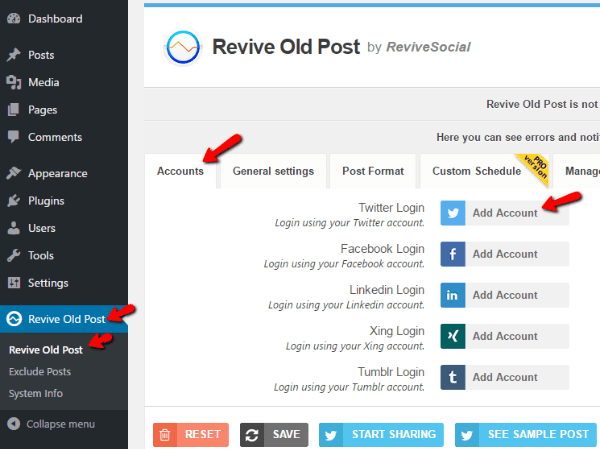 Then, Revive Old Post will ask you to grant posting permission for that network. For instance, if you add your Twitter account, you'll need to authorize Revive Old Post like this: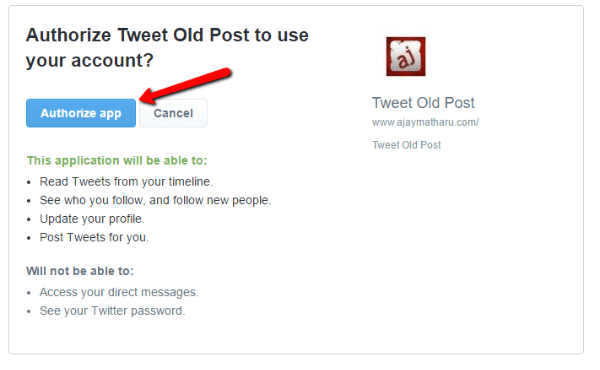 Set Your Sharing Preferences
After you link your social accounts, you should set up the actual sharing schedule for your posts. To do this, go to the General Settings tab: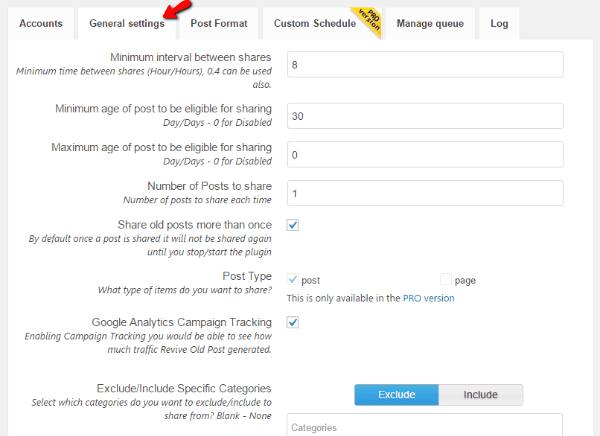 Here's what you should definitely configure:
Minimum interval between shares – specify the minimum amount of time between shares in hours. For example, if you don't want the plugin to share more than once every four hours, you should enter "4".
Minimum age of post to be eligible for sharing – set the minimum number of days since publishing that must have passed. For example, if you don't want to reshare a post until it's two weeks old, enter "14".
Maximum age of post to be eligible for sharing – similarly, set the maximum eligible age of a post. If you don't want to share posts that are older than 3 months, you should enter "90".
Number of posts to share – set how many posts to include in each share. Leaving this as the default of "1" is probably the best idea.
If you want to get more specific, you can also include/exclude categories, select image sizes, and set up analytics tracking.
After you tell the plugin when and what to post, you want to tell it how to post. You can do this by going to the Post Format tab: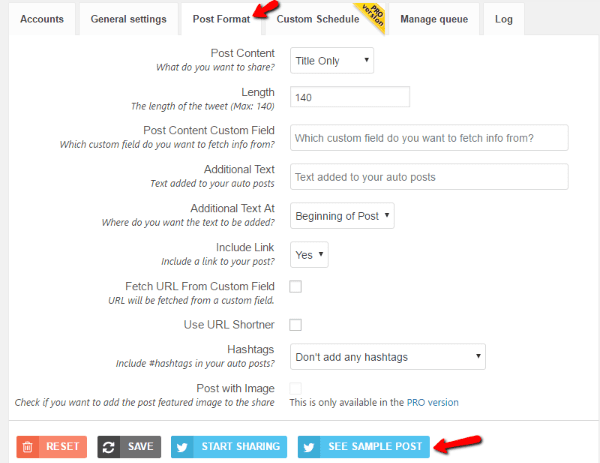 Here's what you'll definitely want to configure:
Post Content – choose whether to include content from the title, body, both, or a custom field. Usually, title is the best option here.
Post Content Custom Field – this is somewhat advanced, but you can set up a custom field to pull content from. You would then manually enter the share text in each post's custom field.
Additional Text – you can input a specific bit of text that you place either at the beginning or end of your posts.
URL Settings – configure if you want to include a link in your posts and whether or not you want to use a URL shortener.
Hashtags – choose which, if any, hashtags you want to automatically include.
Now that you've set everything up, it's a good time to click on SEE SAMPLE POST so you can get a live preview of what your share will look like:

Start Sharing Your Posts
When you're happy with how your preview post looks, click on the START SHARING button:

Revive Old Post will give you a countdown and tell you exactly when your next piece of content will be shared: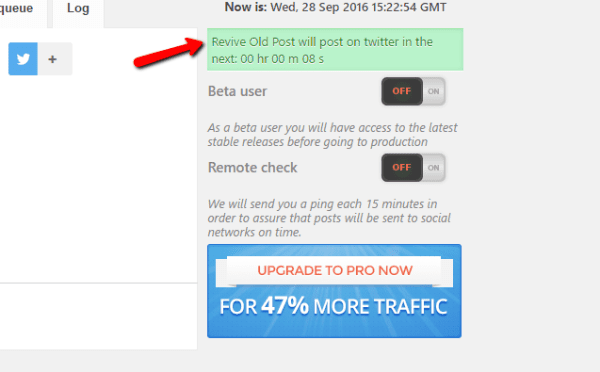 Remember, Revive Old Post will share your content according to the rules you set up under General Settings.
And if you ever need to exclude an individual post, you just need to navigate to the Exclude Posts option.
Wrapping Things Up
Setting up Revive Old Post should only take you ten or fifteen minutes. And once you've got it set up, it will work in the background and continue sharing all your old content. Essentially, unless you ever want to change anything, it's set it and forget it.
With how easy it is to set up, there's no reason not to start resharing your content. Just remember that reshared content should only be one part of your social strategy. You need to interact with followers and promote your new content, too.
Article thumbnail image by Bloomicon / shutterstock.com