MailChimp is one of the most popular platforms for sending mass emails to your subscriber list. It is a great platform for sending your newsletter campaigns. It's been used for everything from sending messages to your readers, to preselling products and services, to sending sales ads, catalogs, newsletters, and blog snippets, event alerts, and even full blog articles come to mind.
All of that is interesting and stuff, but readers have seen them for years. They expect them. It can become same-old, same-old. Sometimes readers want something different. They want something a little more creative.
Well, as you would expect, if we dig a little deeper we find that there are other, more creative, ways to use MailChimp. If you get creative with your templates, MailChimp can do far more than supply a newsletter. You can do some interesting things with email alone.
Why email? According to the fine and un-biased folks at MailChimp, email is still one of the most effective and creative ways to reach your audience. One reason for this is it's convenient for readers. I know I like opening my email to see something that I don't have to go out of my way to read. If I can read it right then and there, in a page I've already opened, I'm more likely to go ahead and read it. If I have to remember to go to the website… what was I saying?
In this article I've taken a look at 10 things that are not your ordinary ways of using MailChimp templates. Some are creative, and some are downright inspiring. What are some of those creative and inspiring things you can do with MailChimp? Let's look and see.
The 10 Things
A note about the links and images – I've linked to examples from MailChimp. There are plenty of others, but these help show what I'm talking about. They're just examples of how you might use a template to create what I'm talking about. I'll bet you can come up with even more.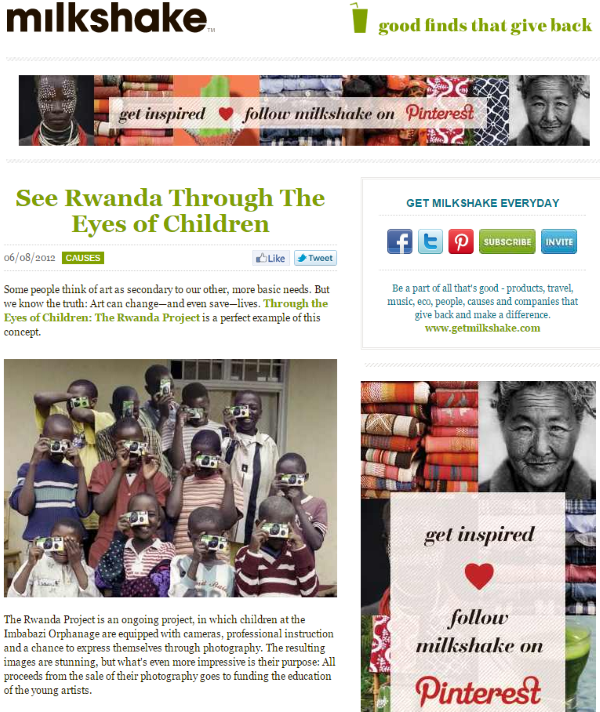 Magazines often send newsletters through email that contains information about their latest issue. They're usually short snippets of the articles from the latest issue with links to read the rest of the articles. Rather than just sending links to your latest magazine articles, you can develop your magazine specifically to be sent via email.
The magazine would be small (or at least light on images), but it wouldn't need to be large. Instead, it would need to be focused. Think quality over quantity. When you're writing to a specific niche or audience it's more likely to be read by your target audience. They don't always need a lot of articles. Readers in some niches would be happy just to have one article.
Why would you want to send the magazine in the email instead of just sending links? It's a matter of convenience. Thinking about magazines in the physical world, are you more likely to go to the store just to get the magazine, or do you prefer to have it delivered to your door?
Sure, a simple click might be all that's required to get to the website, but would you click on a link if you only had a minute or two to read? Especially when you consider that you'd still have to click through the website to read the articles. And then they're all those other distractions.
If the article was already on your screen in the email you just opened, you just might appreciate not having to leave your email and go to another site just to read an article, and you might go ahead and read it.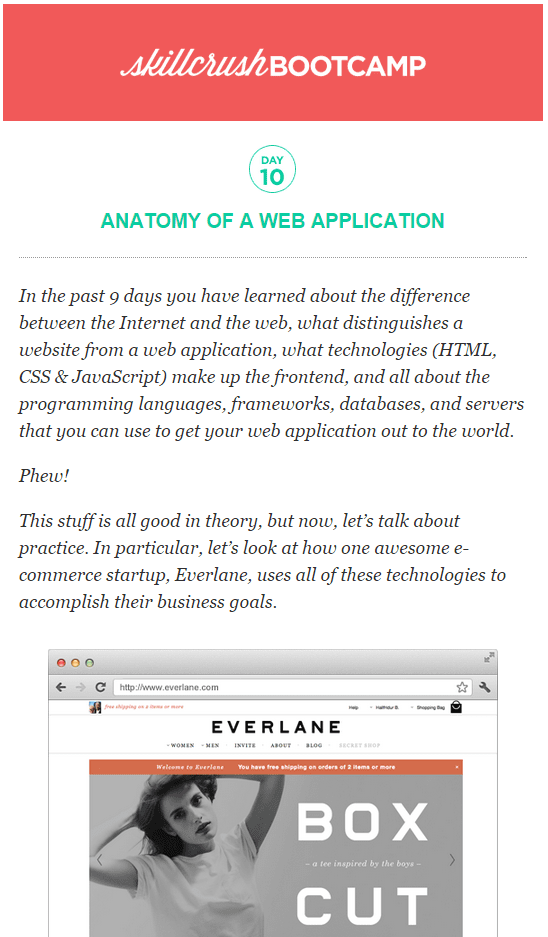 You have talent. I know you do. You can share that talent by offering a course. Just pick your topic. The convenience of email can be a wonderful way to give or take a course in just about anything. It could include the complete lesson or it could include links to videos. You could have plain text or HTML with full color photos.
Examples include:
HTML
Photography
Writing
Drawing
Web design
Business
Any kind of how-to that can be taught online
A course that's delivered to your readers is more likely to be used because it removes that extra step of going to the website. This helps cut down on the procrastination level.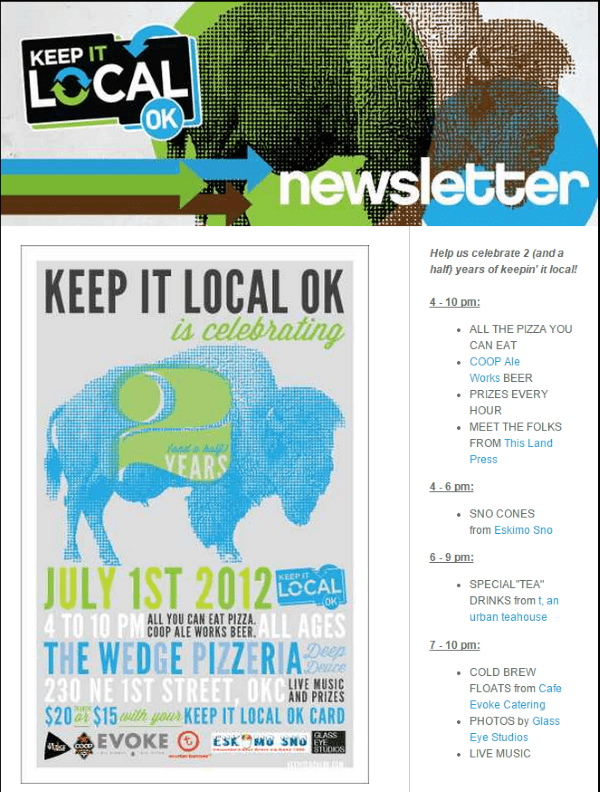 This isn't the New York Times. This isn't even your larger local newspaper that covers news for your surrounding area. This is a newspaper that is made specifically for your local community. Maybe this is a small section of your town. Maybe it's just your neighborhood. Maybe it's just your building.
It would include news that most newspapers would ignore in order to make space for the larger stories that pertained to more people. There's plenty of news in your local community that's newsworthy but it's never reported. Your friends and neighbors might appreciate something that was written just for them.
You can niche this down in a different way and provide local information to a specific group such as farmers, surfers, cooks, etc.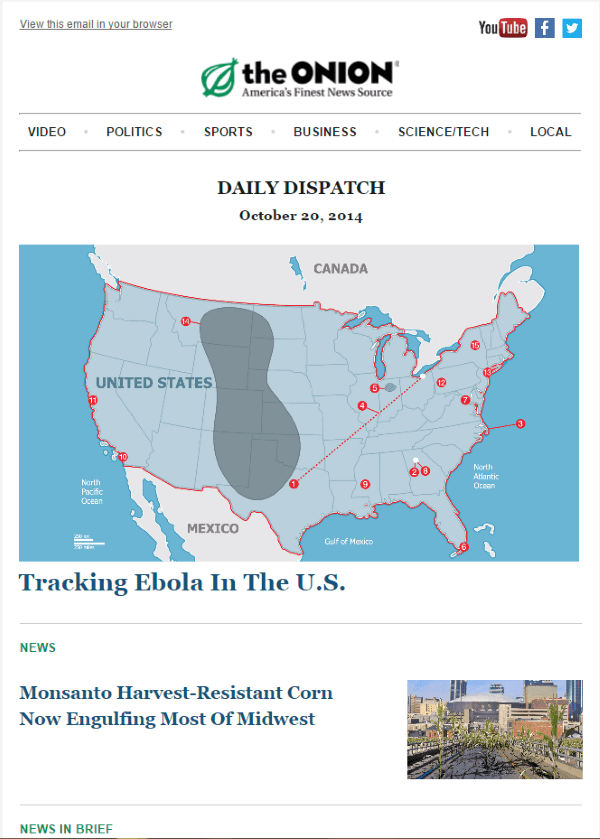 Rather than just a newsletter, you could send out top and current news within a specific niche. This could include news stories, interviews, what's new or coming soon, etc. Popular news is everywhere, but it can be difficult finding news for a specific group such as tractor mechanics or guitar luthiers. You could send out star charts to your fellow astronomy enthusiasts. Maybe this is a newspaper that covers the major stories around a specific location, group of people, or industry. It could appeal to corporate management teams within a certain industry or company. The sky's the limit.
Lists of Tips
People love getting tips. You could send something like the tip of the day, or a number of tips in each email. This would work best in a specific genre such as writing fiction or writing songs. Readers that are looking for tips on writing sci-fi probably won't continue to subscribe if your tips are how to swing a bat on Monday and how to make your own clay on Tuesday. Even coaching, on any topic, would works as tips.
It doesn't even have to be a list. It could be one simple tip that takes a few seconds to read or one large tip that takes several paragraphs to explain.
Classifieds
You could send out your very own classified ads. This could either be for a specific genre such as cars, comics, and baseball cards, or have multiple genres but focus on a specific location such as San Diego or even the smaller surrounding areas. It could be supported by local ads.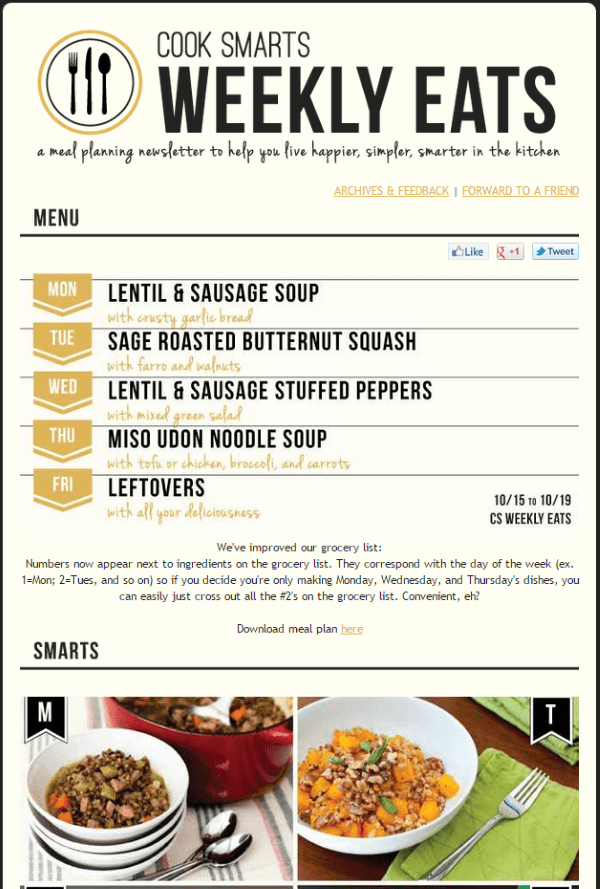 Recipes are popular. There are many ways you can take advantage of recipes. You could have a recipe of the week or you could send recipes for a specific niche or group. Where this would really shine is for topics that don't have a lot of coverage or have special diets.
For example, those with G6PD have to be careful with iron supplements in their diets even though they have anemia. Sounds strange and most people wouldn't even consider the idea. They have to stay away from fava beans, soy, and get lots of b vitamins and antioxidants.
Creating and modifying recipes is a lot of work and busy moms don't have time to do a lot of searching for them. Specialized recipes delivered to their inbox is something they would look forward to everyday. Some special diets, such as those for weight loss or diabetes, are prominent online. But something like G6PD… not so much.
Another way this would work is your readers wouldn't have to search for recipes for a specific type of cooking or baking. For example, if your topic was creating interesting sculptures with chocolate, specialized cookies, BBQ, etc.
Email is a great way for authors to share news about their fiction work, but what about the work itself? Why not share a novel – one chapter at a time – in email? It would be a great way to get readers interested in the rest of your work. You could send out a short story a few pages at a time and then link back to your larger line of novels.
You could give away the first novel in a series in order to get readers hooked. You could a special email-only novel that only your most devoted fans can read. This will help build interest and fan-loyalty, and it's also a great way to set up presells for any upcoming releases.
Trivia
Trivia's awesome. I mean, who doesn't like trivia? 95% of the world's population likes trivia and that's probably a fact. It can be a fun distraction, especially when most email is just trying to sell you something. Trivia could be about a specific genre, time period, fiction, fun facts, music, and, well, anything!
For example, if you love Star Wars, you could send out trivia that includes the movies, books, games behind the scenes, information about the actors, places in fiction, places in the real world, the design, toys, comics, posters, real world equivalents, writing style, and much more.
If you love WordPress (and I know you do), you could send out trivia about WordPress. It could even double as tips, or the history of web-development using WordPress. Your clients could learn a lot about WordPress (which might take some of the pressure off of you) and they would think about you the next time they needed to hire a WordPress expert.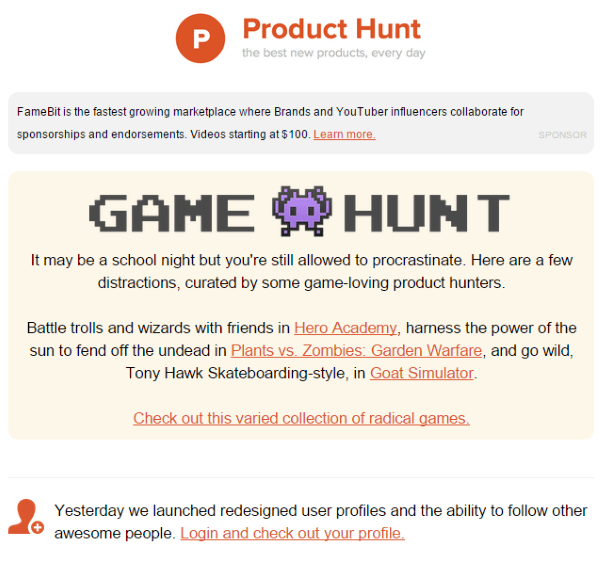 You can create some cool games in email. For example, a scavenger hunt where you send your players out into the wild to find specific items, or geocaching where your players have to find a specific location marker. These are not games that are interactive through the email itself, but actually take place in the real world. The responses for the results, such as finding the item or location, might or might not take place online. That's up to you.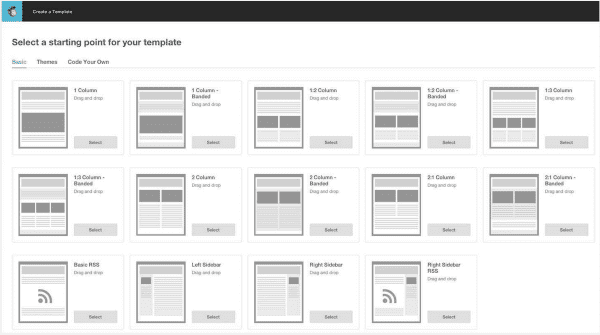 Now that you know the kind of things you want to build with your MailChimp templates, you're going to need to know how to get them. There are three ways to get a MailChimp template:
Use a premade layout. These are the Basic default starter emails. They're responsive and you can drag and drop the elements to create your own design.
Use a theme. These are premade templates that already have unique design elements applied. You can still use drag-and-drop and tweak them in any way you want. There are lots of themes available from third-party developers. Some are free and some are premium. You can find them by searching for MailChimp templates (surprising, I know!).
Code your own. You code them by hand. You can paste in your code using a text-editor, import HTML into the template dashboard, or import a zip file that includes your HTML and images.
How to Build Them
If you decide you want to build your own MailChimp templates, you're going to need some info to get you started. Fortunately MailChimp has provided some extensive tutorials on developing your own templates (a great source is the Email Design Reference. Another is MailChimp for Designers). Here are the things you'll need to know how to use:
HTML
MailChimp Template Language
CSS styling
Declaration blocks
Background images
Editable content areas
Editable image areas
Repeating content areas
Hideable content areas
Variable content areas
Merge tags
External links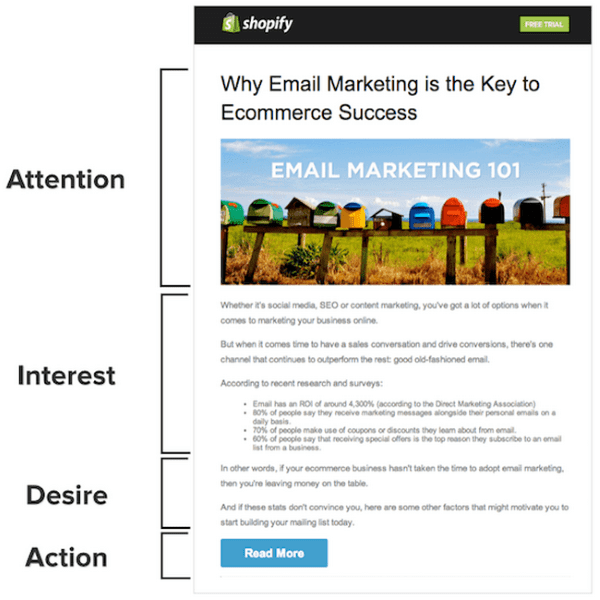 Whatever you decide to use your MailChimp templates for, a great design would lead the reader in the way you want them to respond. You can see in this image the four sections of a great email design:
Attention
Interest
Desire
Action
Follow this type of design concept and you can get the desired response from your audience.
Some Quick Tips
If it's close enough to what you need, use basic templates and predesigned themes as a starting point and customize it to suit your needs.
Alphabetize your CSS rules to make them easy to read and find.
Instead of wrapping your content within HTML tags, style your content by targeting the content's container with CSS.
Reduce the number of editable styles in order to simplify the template editor.
Don't repeat styles from one section to another if a global style will do the job.
Automatically pull in the campaign title by including the *|MC:SUBJECT|* merge tag within the HTML title tag.
Save the template without any content so you can reuse it over and over again.
Remember, there's a limit to how much an inbox can hold. If you constantly fill up your readers' inbox to the point that it takes them too long to open the email and they're always having to delete them to make space, they'll end up unsubscribing.
Don't spam. Spam is bad. Thou shalt not spam.
Create something awesome. Your readers' inboxes are already flooded with things they don't pay attention to. Create something that they want to open, read, use, and share.
Don't forget to include social links in your email.
Check out MailChimp's inspiration page for ideas.
Check out the MailChimp Knowledge Base when you get stuck.
Wrapping Up
This is just scratching the surface of showing that MailChimp can do much more than newsletters, sales flyers, and updates. You can use it as your primary content delivery system. You can send anything from news to fiction to how-to tips. With a little bit of creativity and inspiration, your MailChimp efforts will shine and get you the kind of attention you want.
How about you? What inspiring ad creative ways have you used MailChimp templates? I'd like to hear about it in the comments below!
Article thumbnail image by Kraphix / shutterstock.com